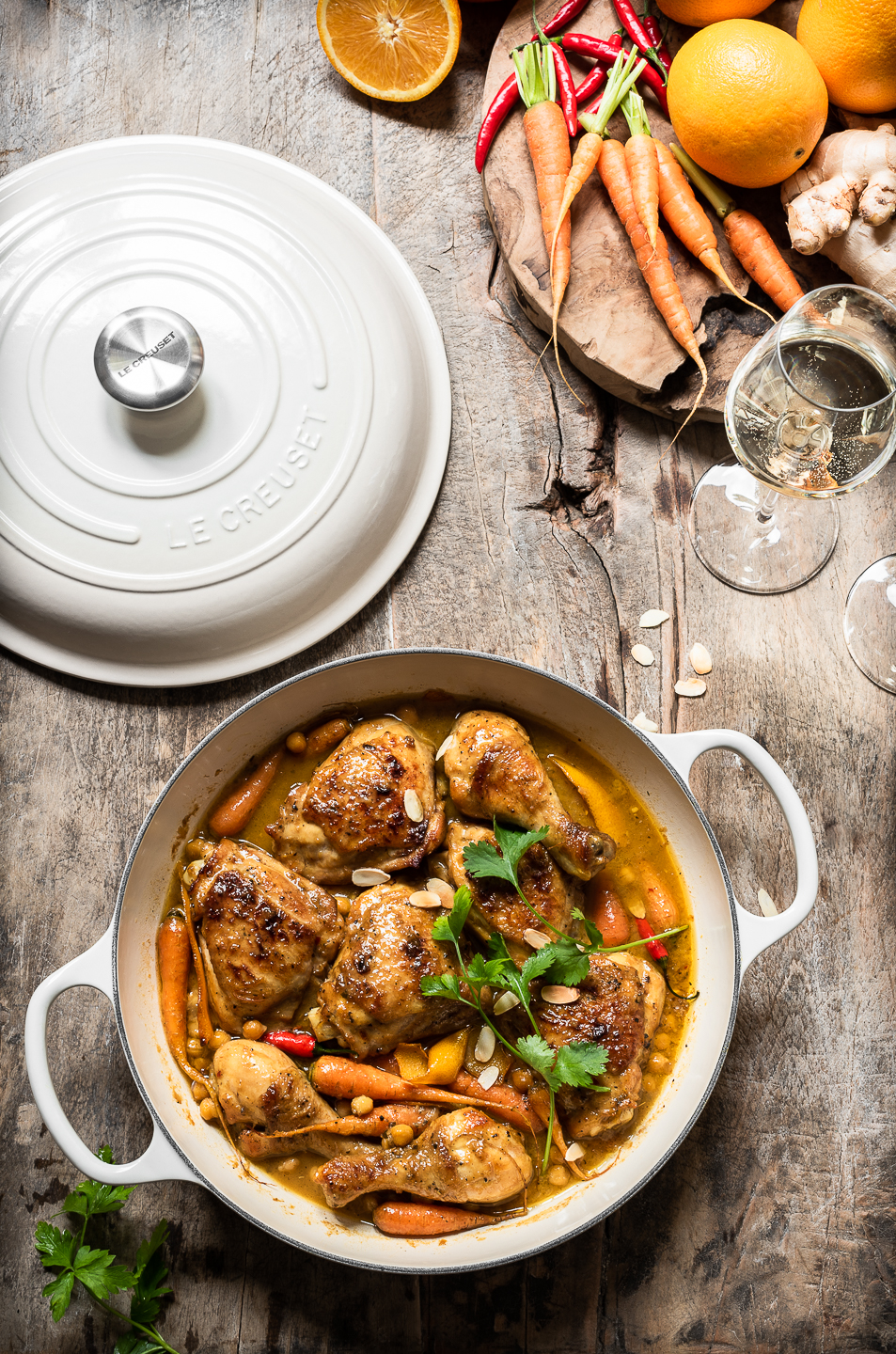 When the cold rolls in, it's time to cocoon at home and embrace slow cooking, with hearty casseroles and deeply flavourful stews. To save you scrolling through hundreds of recipes in search of the perfect casserole or curry, I've gather together 25 Winter Warmer recipes that know how to comfort. And what better than a one-pan wonder? For my Moroccan inspired Saffron and Honey Chicken Casserole, ginger and orange do a sterling job of melding all the flavours.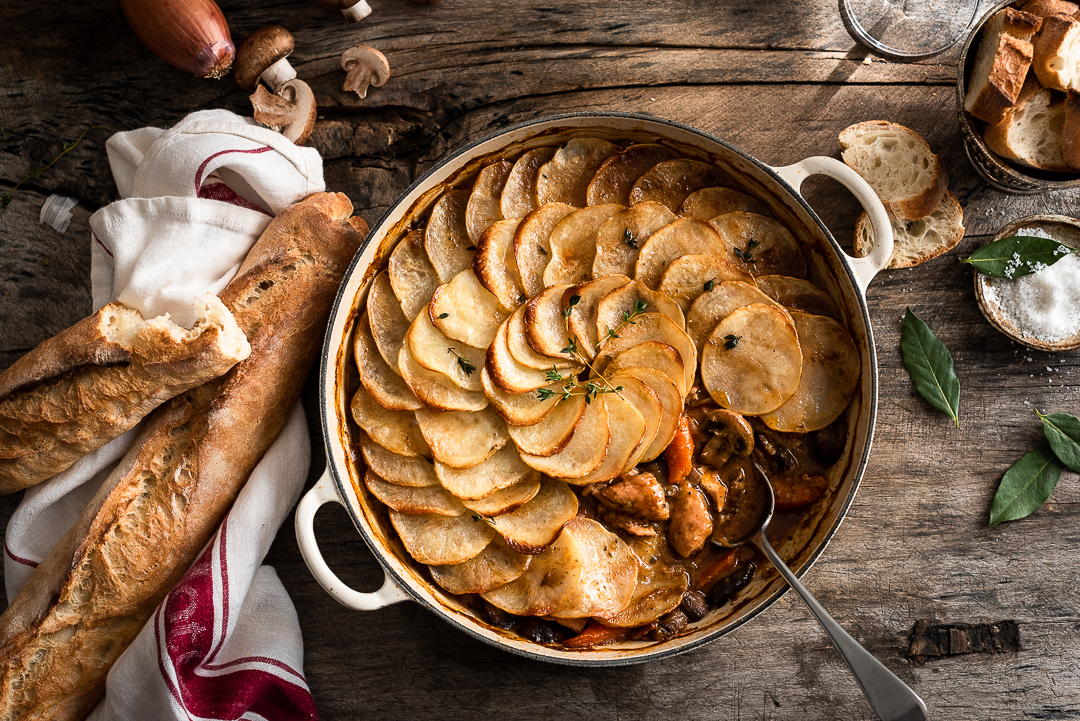 Some recipes are best saved for the weekend, like this Coq au Vin pot pie. It is proper French cooking that's immensely pleasurable and rewarding. As with most stews and casseroles, an overnight sojourn in the fridge does wonders to the flavour, adding to its rich complexity, which means, you should really make it the day before.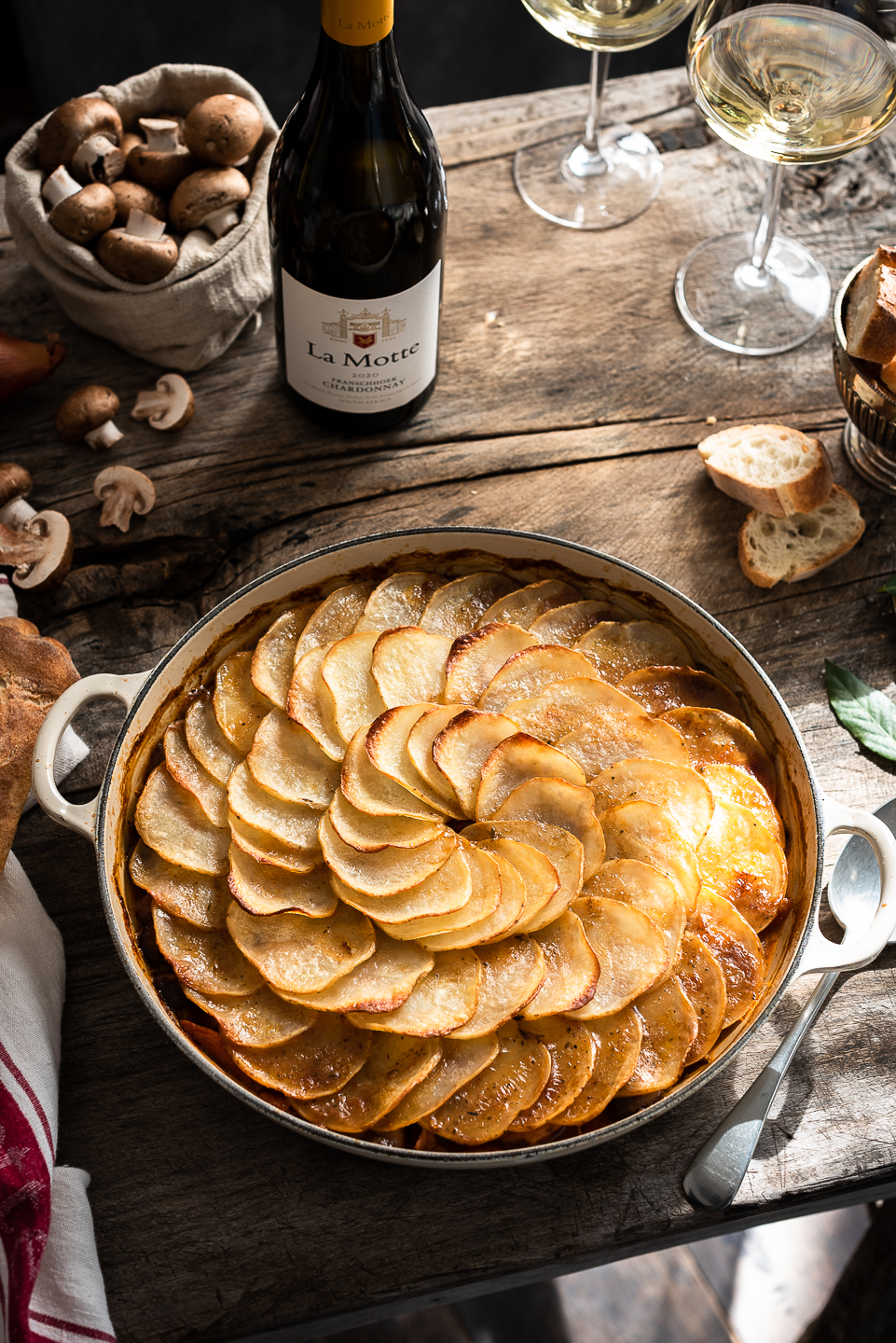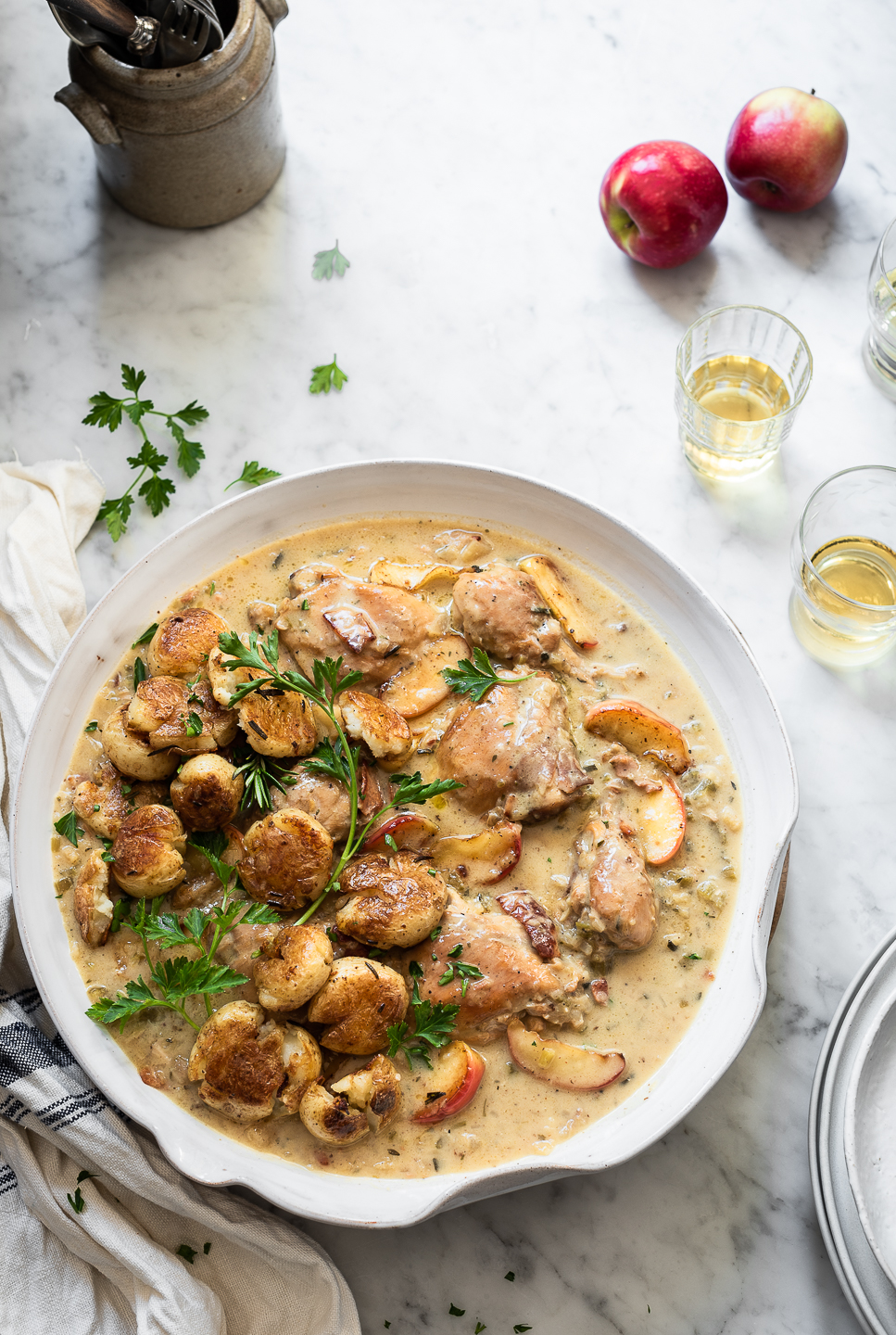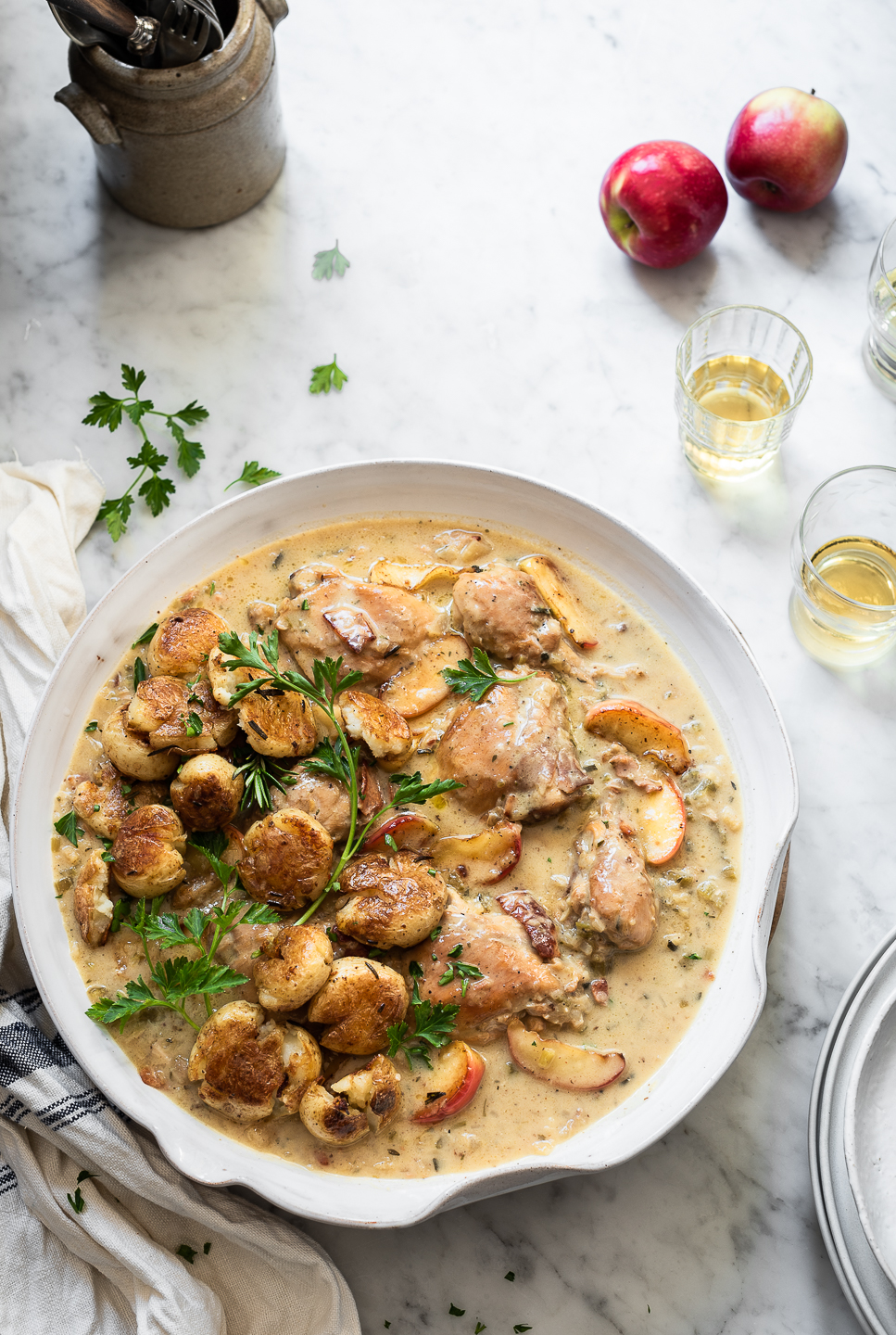 Normandy chicken with caramelised apples and crisp rosemary potatoes. This French classic encapsulates the essence of the autumnal orchid. We'll be using apples, cider and brandy, each of which play a unique role in making this creamy chicken casserole one of Normandy's finest.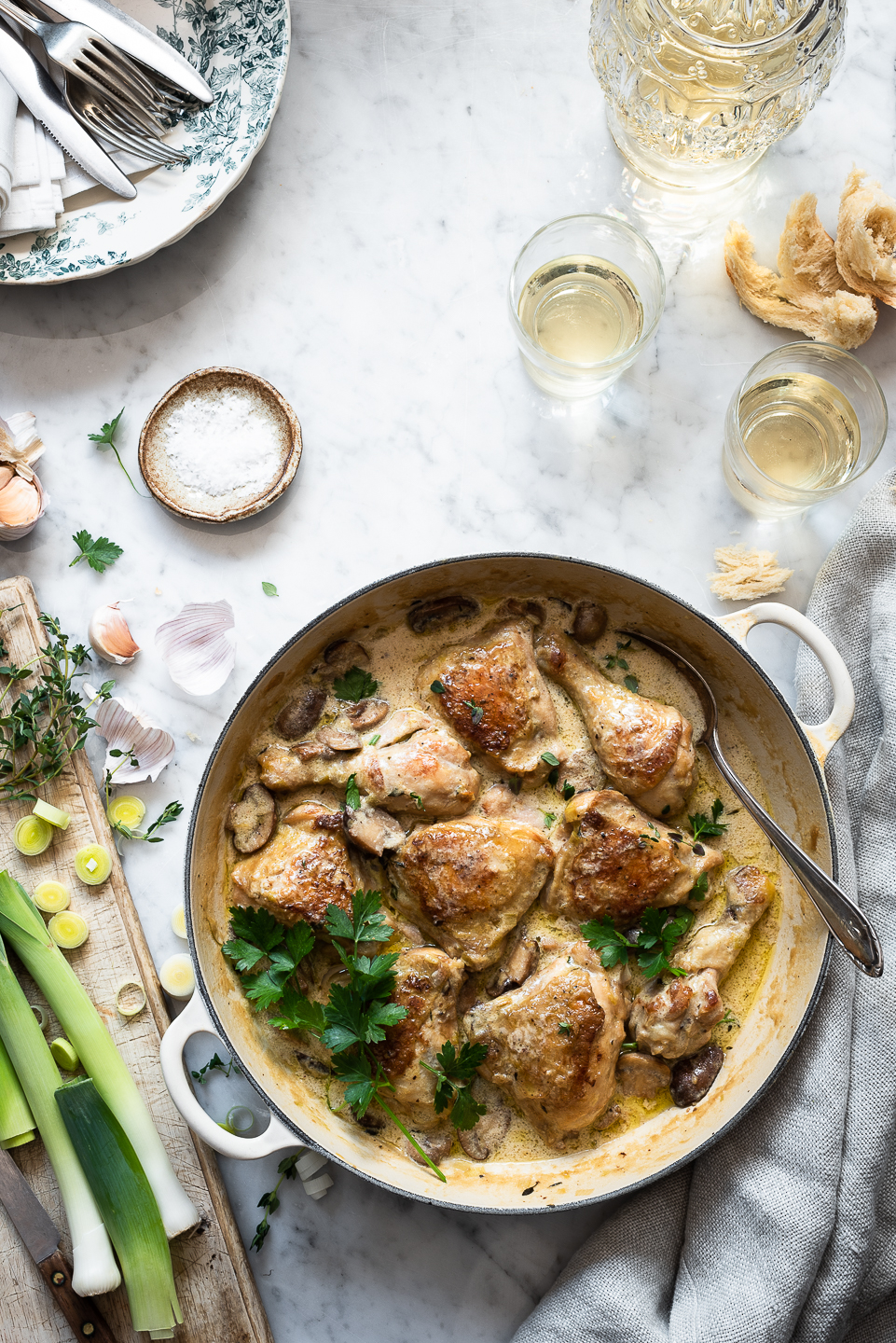 What I really love about this creamy Chicken and leek casserole is the simplicity of ingredients. Nothing wild or exotic. Just a couple of the usual suspects that can easily find their way into your shopping trolley – Chicken thighs, leeks, mushrooms, a bottle of white, cream and parsley.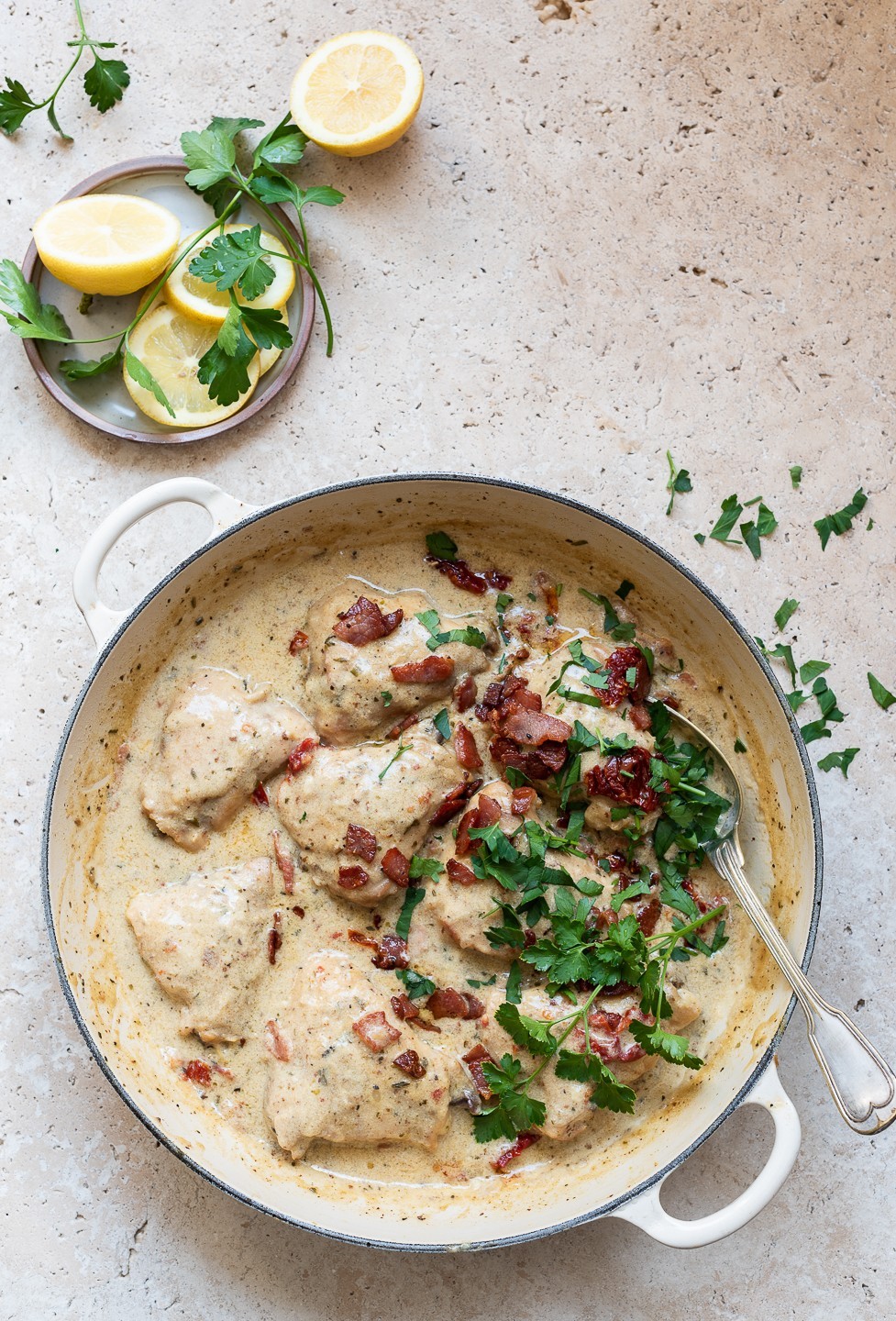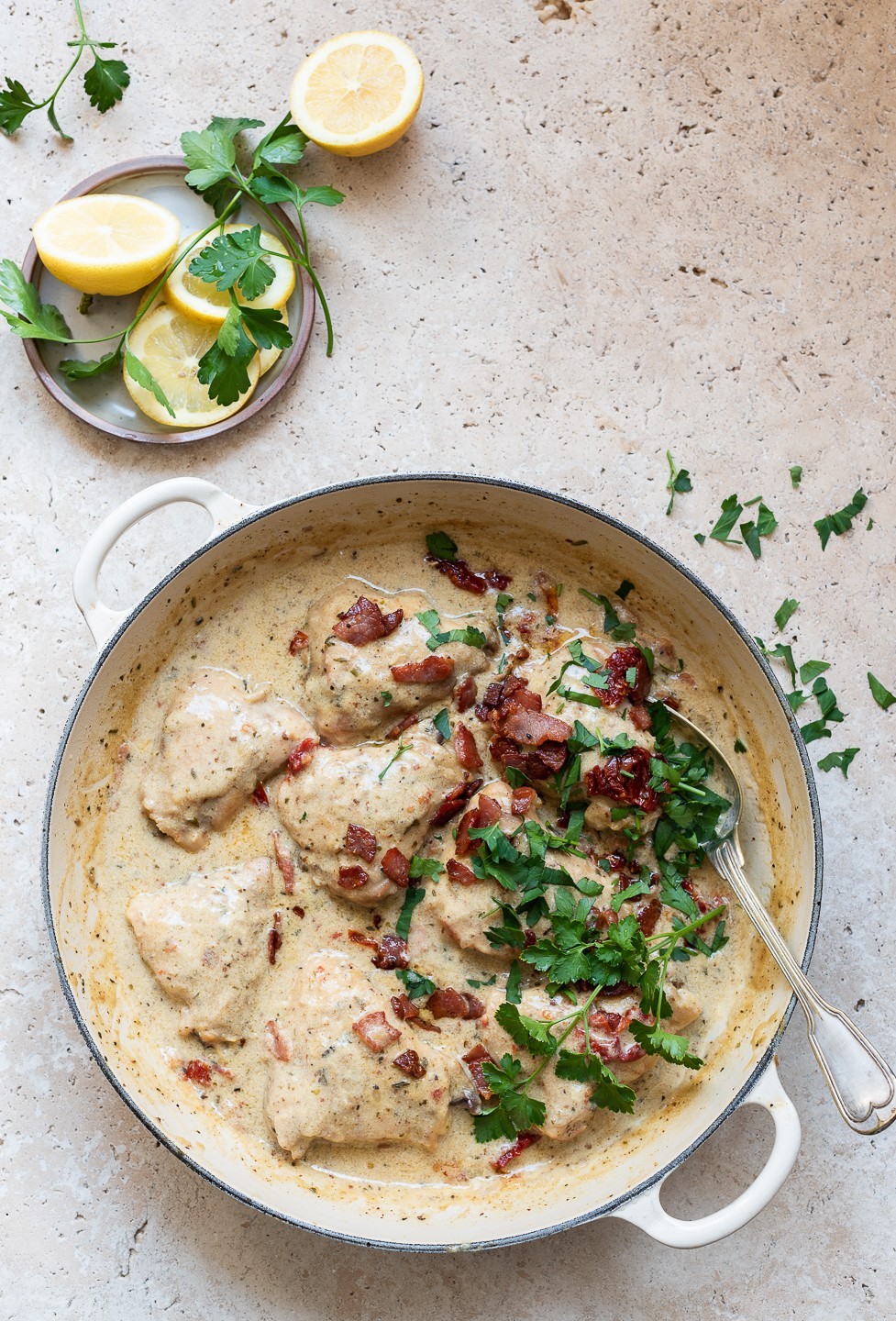 Rosemary and Bacon Chicken has all the makings of a family favourite – succulent chicken, creamy sauce, sundried tomatoes and crispy bacon bits for salted crunch. Not much to argue about there. I'd serve it with fluffy mashed potatoes and maybe flash-fried tenderstem broccoli or steamed green beans.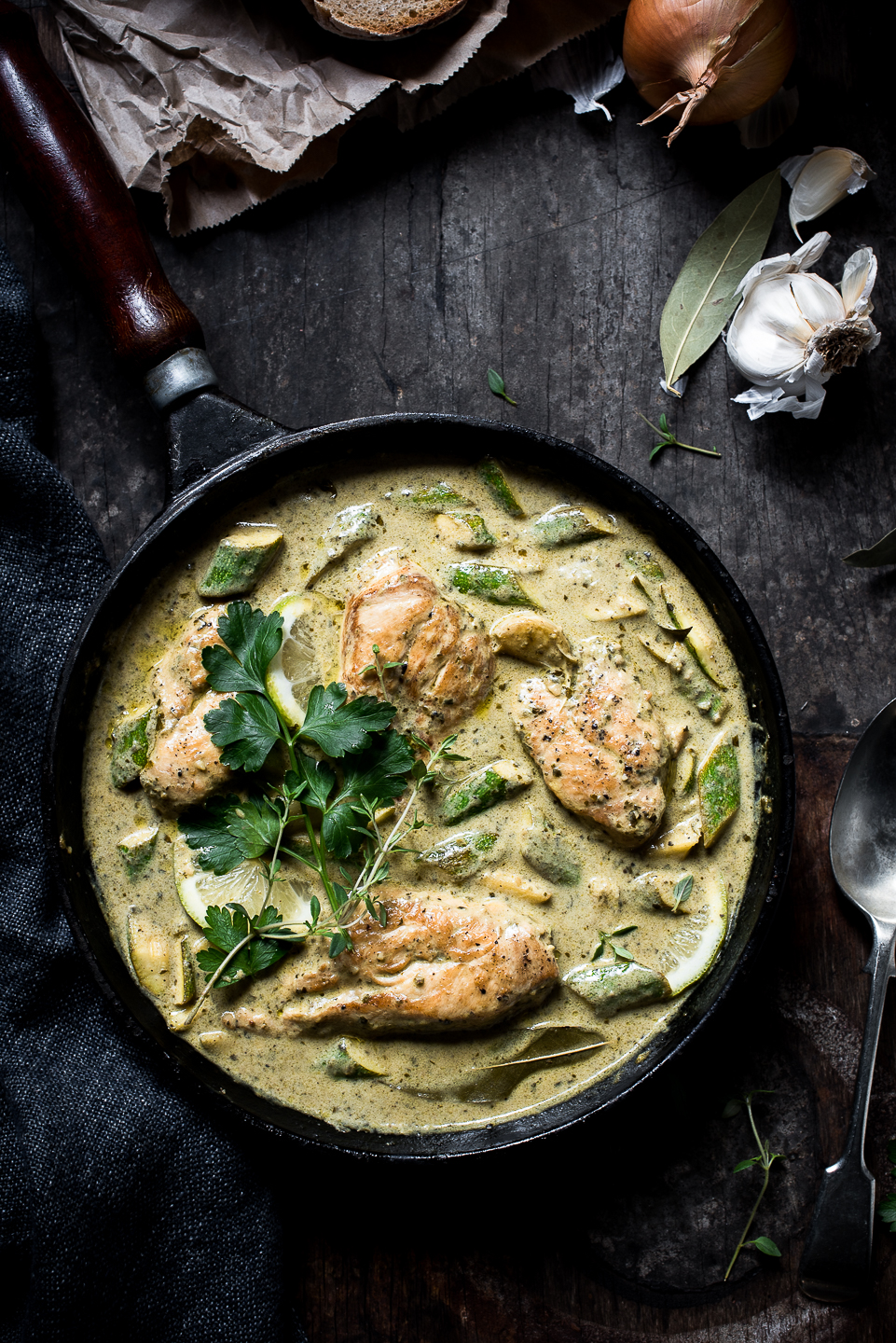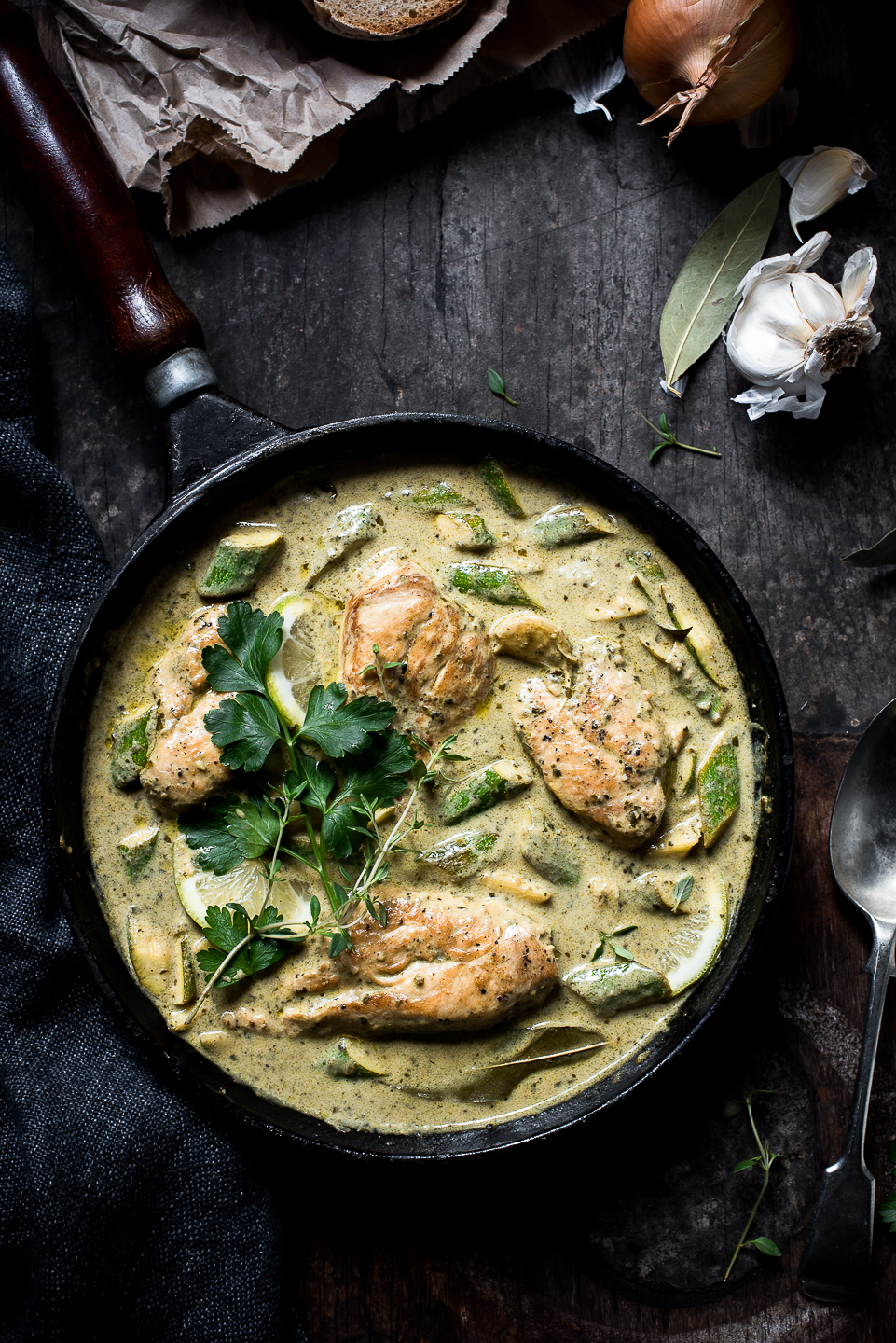 There are a couple of ways to serve Pesto chicken, the obvious choice being pasta, creamy polenta or mashed potatoes. All three are fitting and simple. If you go the pasta route, cut the chicken into strips or bite-sized pieces before frying. A warm ciabatta bread is an eager bedfellow here and is, in fact, the answer for most saucy situations.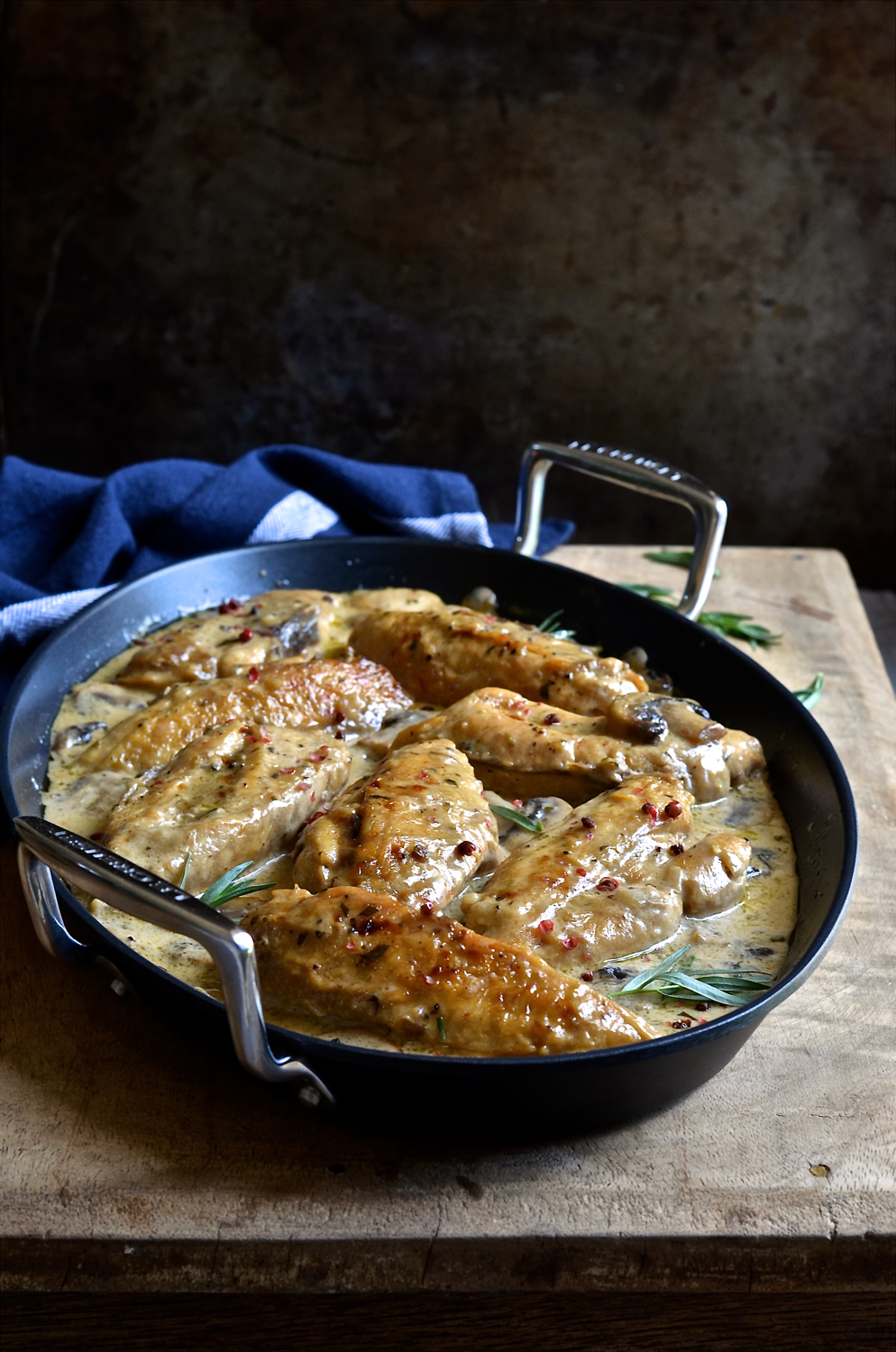 Tarragon cream chicken with pink peppercorns and mushrooms. It's the kind of food I imagine myself eating in a French country kitchen with crusty baguettes bought from the local boulangerie, roughly torn and passed around, along with a casual bottle of wine to wash it all down.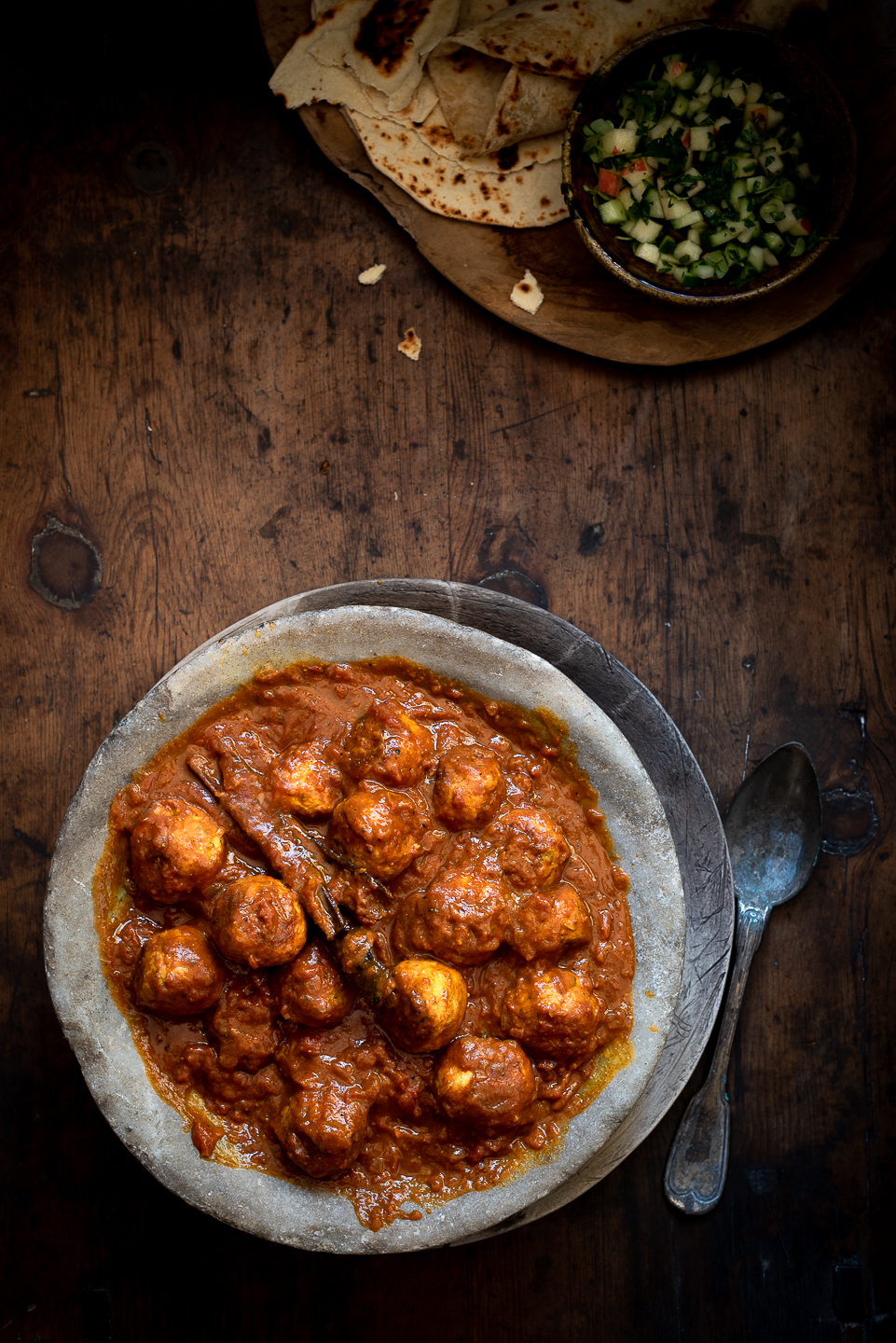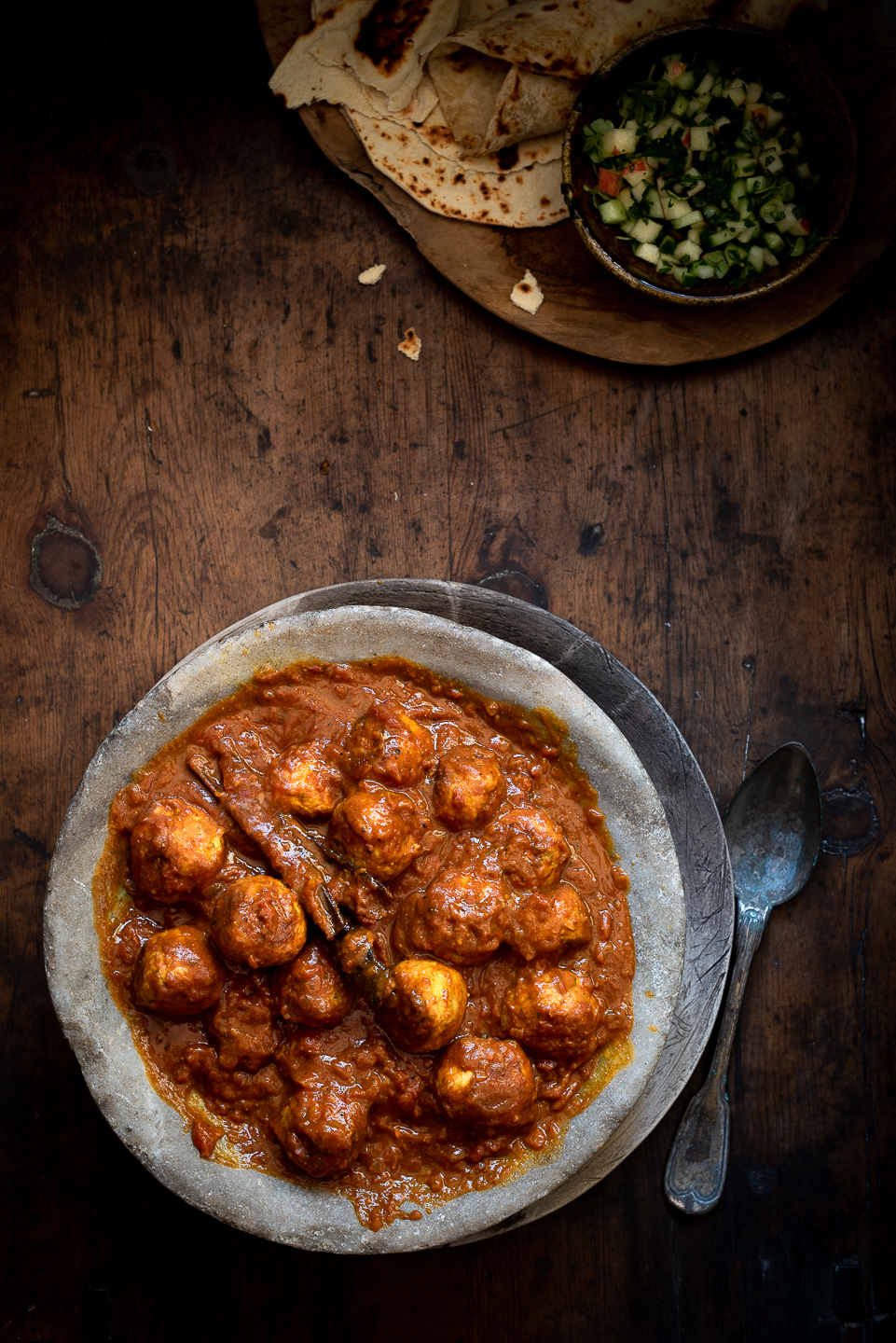 These Cape Malay chicken meatballs are not to be missed.  I made them for Sunday lunch. By Monday, I was ready to make them again. In the 6 years of blogging, meatballs, chicken and cake, have been amongst the most popular recipes on the blog. This is the first chicken meatball recipe. I think it is going to rival Ottolenghi's Ricotta meatballs, for sure.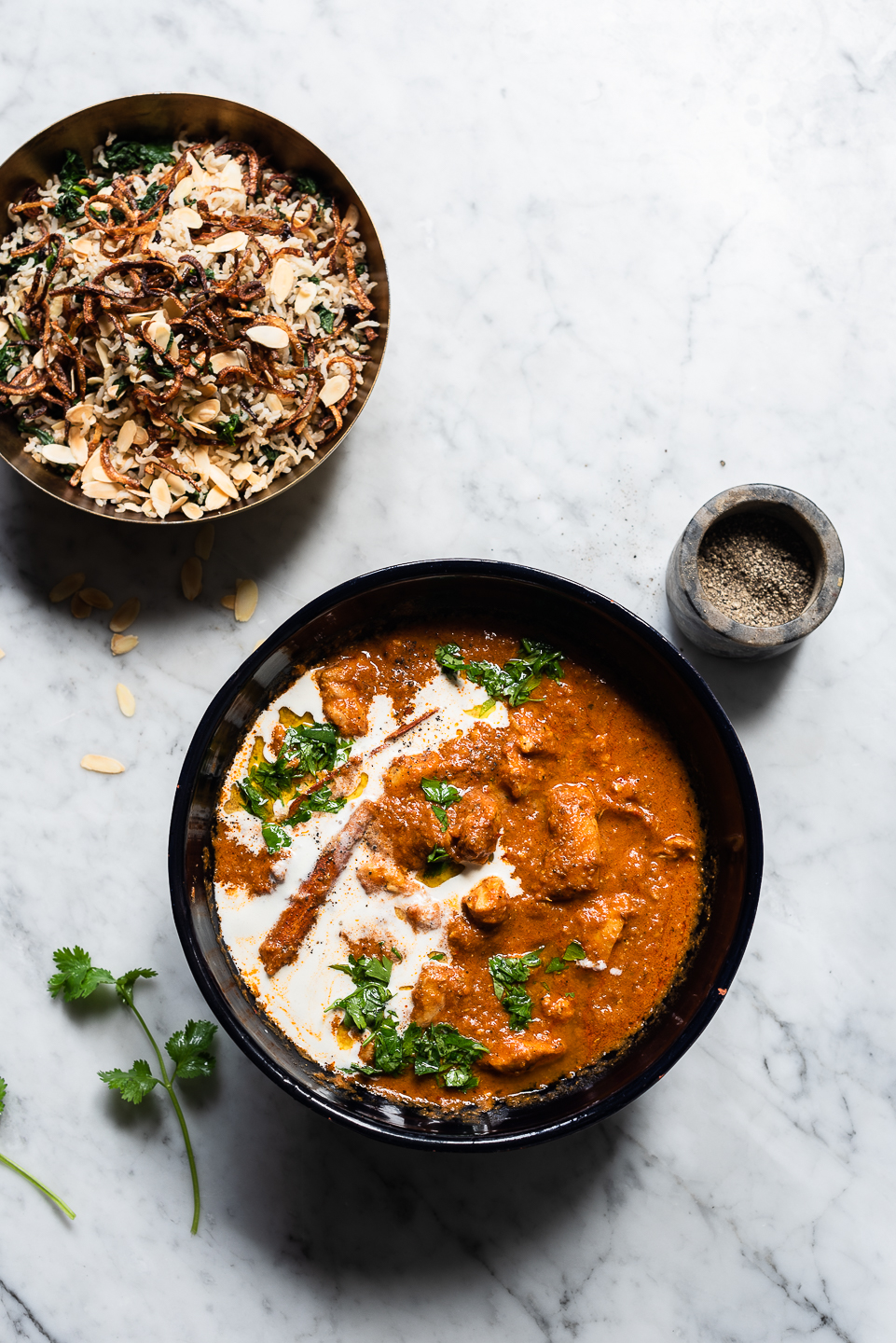 A two ingredient butter chicken curry? Yip, it's possible, with the help of Pesto Princess' new Butter chicken curry sauce. Not usually one for instant anything, preferring the cook from scratch route, but, even cooks who love to cook, a lot, get weary and need secret support that tastes like home food. And this butter chicken curry delivers on all scores.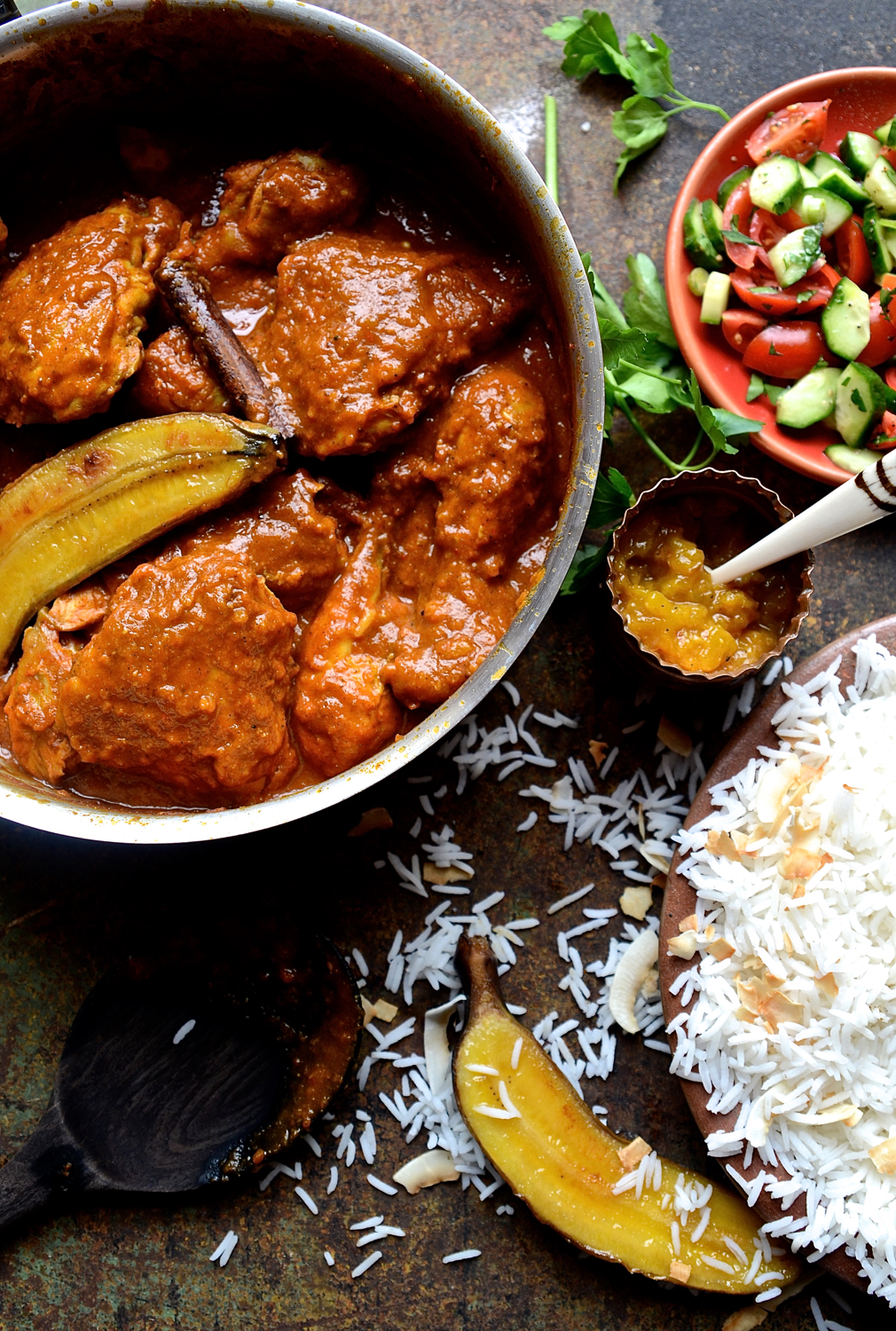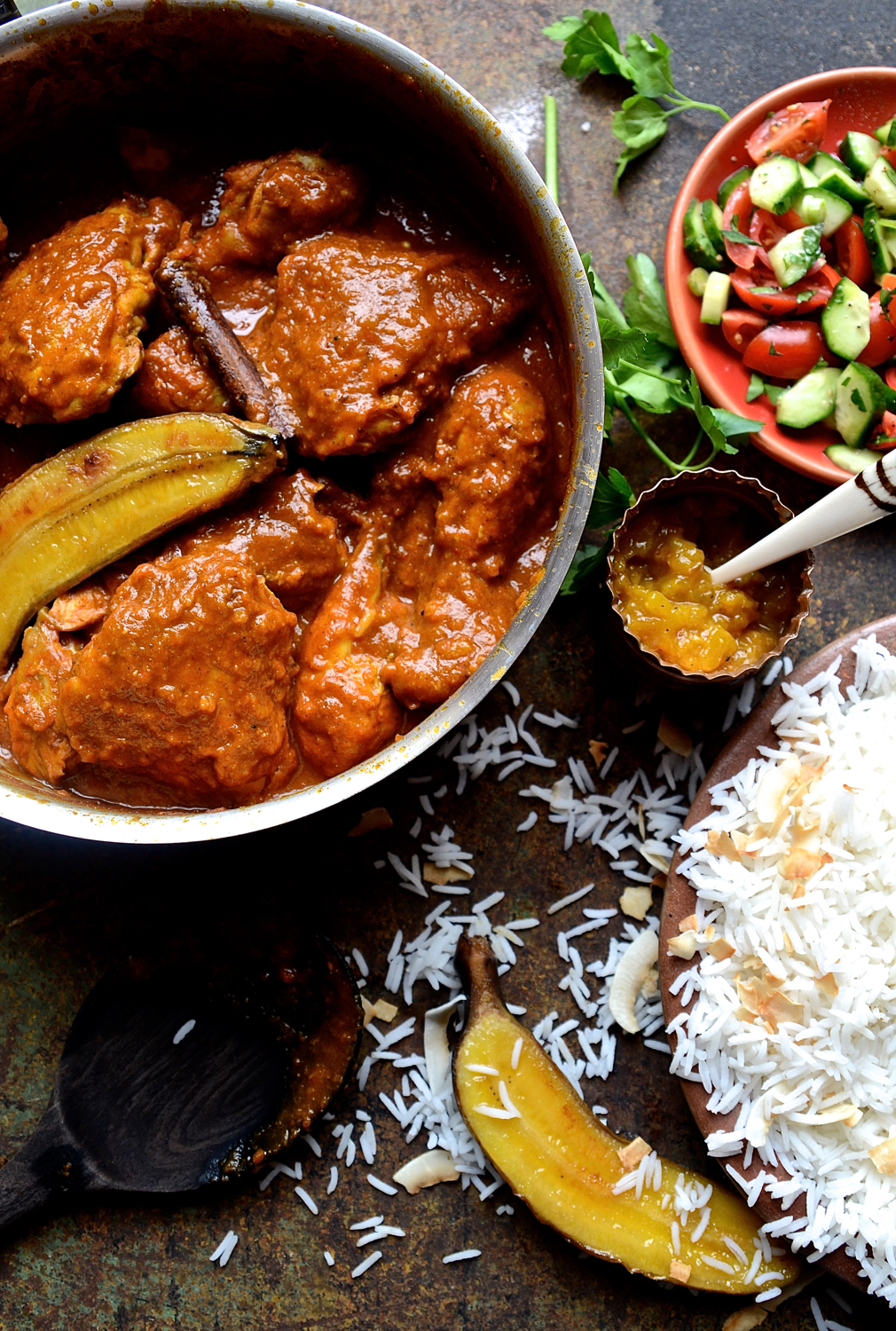 Roasting whole spices for a traditional Malay Curry might seem tedious but, make it elevates curry to the next level. Dry roasting whole spices releases the perfumed oils and intensifies the flavour. Although not traditional, I've made a Malay spice paste. It works a treat. While you have everything out, it's probably worthwhile making a double batch. Curries are one of the easiest ways to entertain, especially if you make it the day before.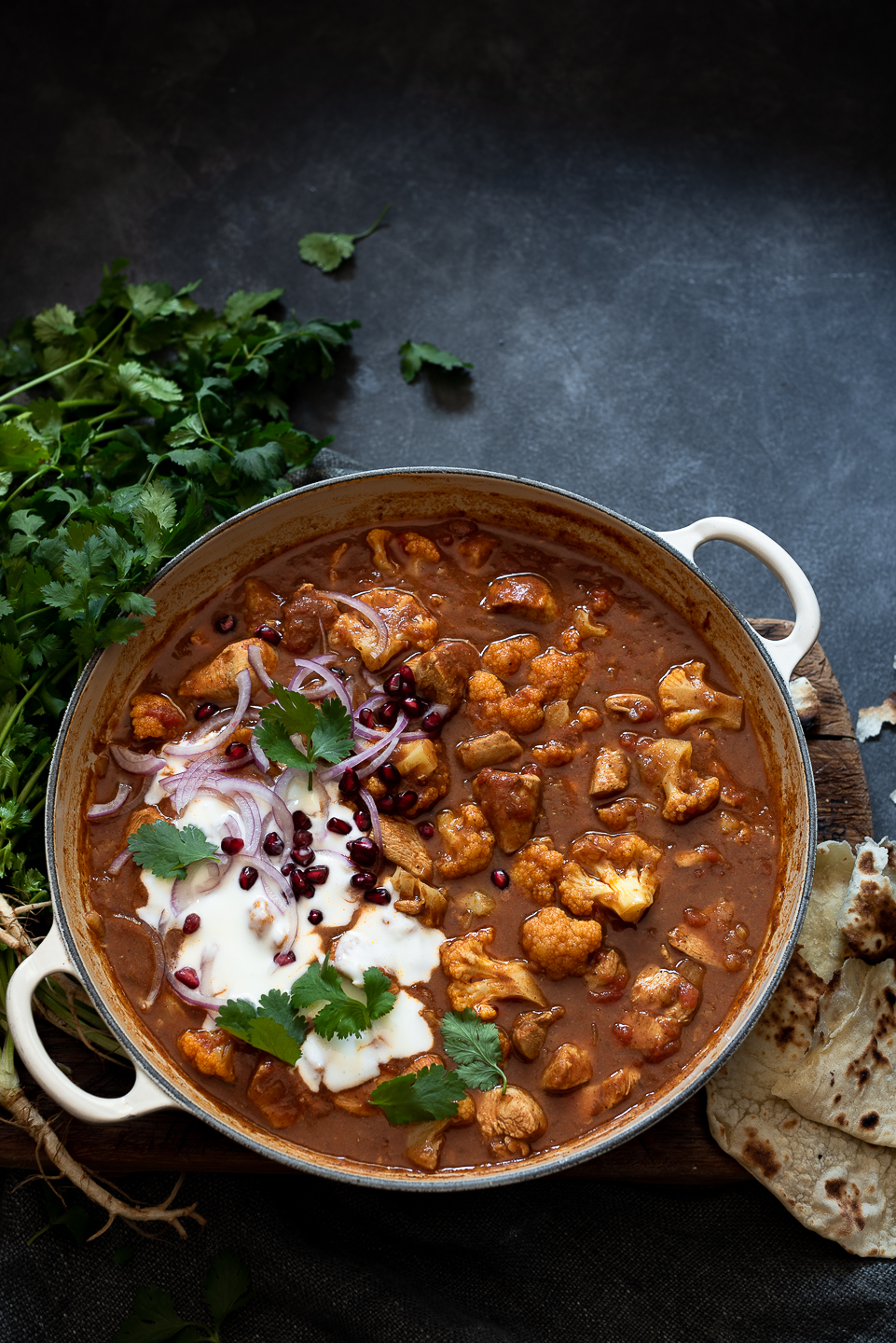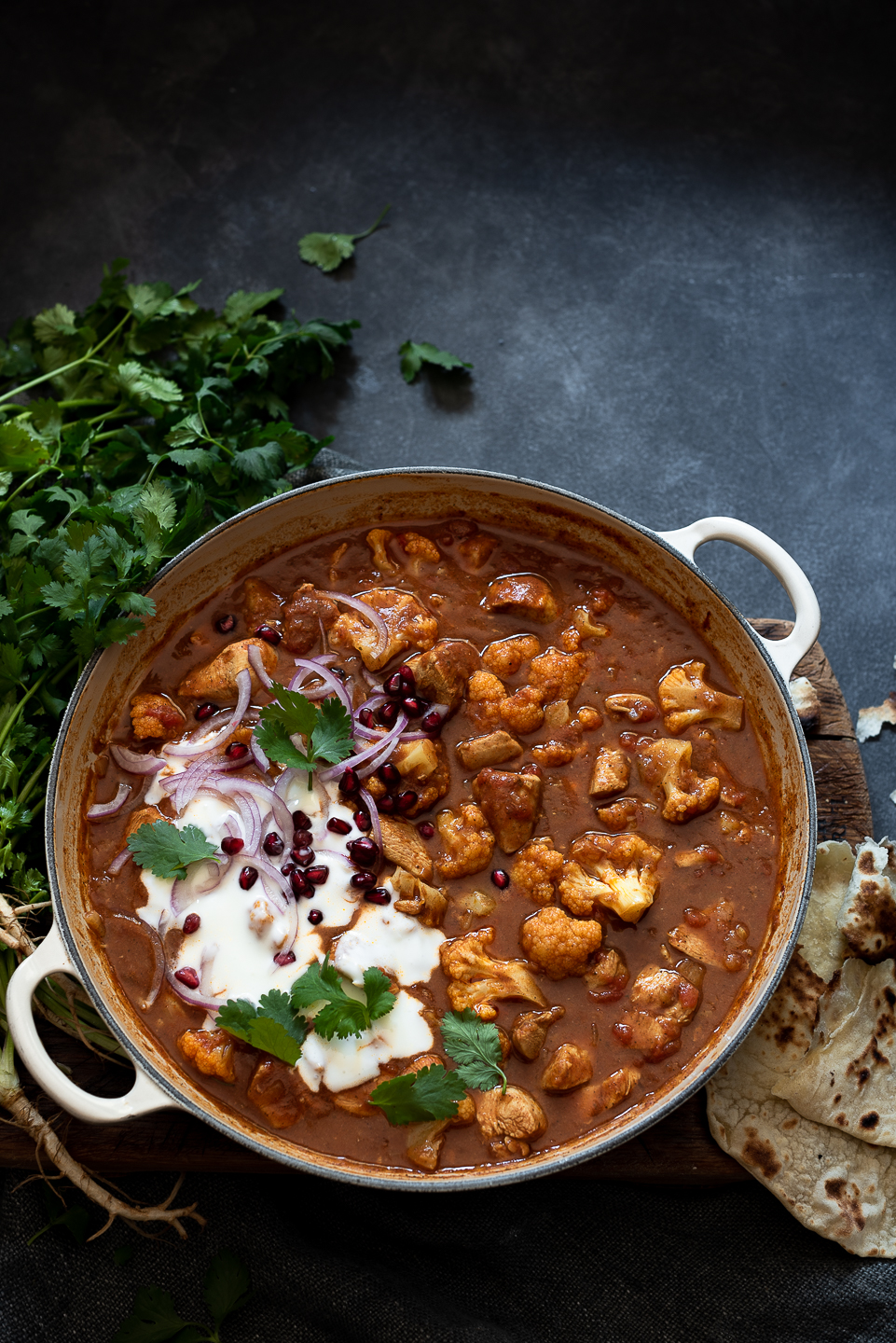 Chicken and Cauliflower Korma is the work of mere minutes. It's the kind of food you want to make when you need everything to happen in one pot. No fancy cooking, just good food, made simple. And because we all need short-cut support every now and then, we're leaning on a handful of kitchen staples like tinned tomatoes, coconut milk and a ready made Korma curry paste from Woolworths.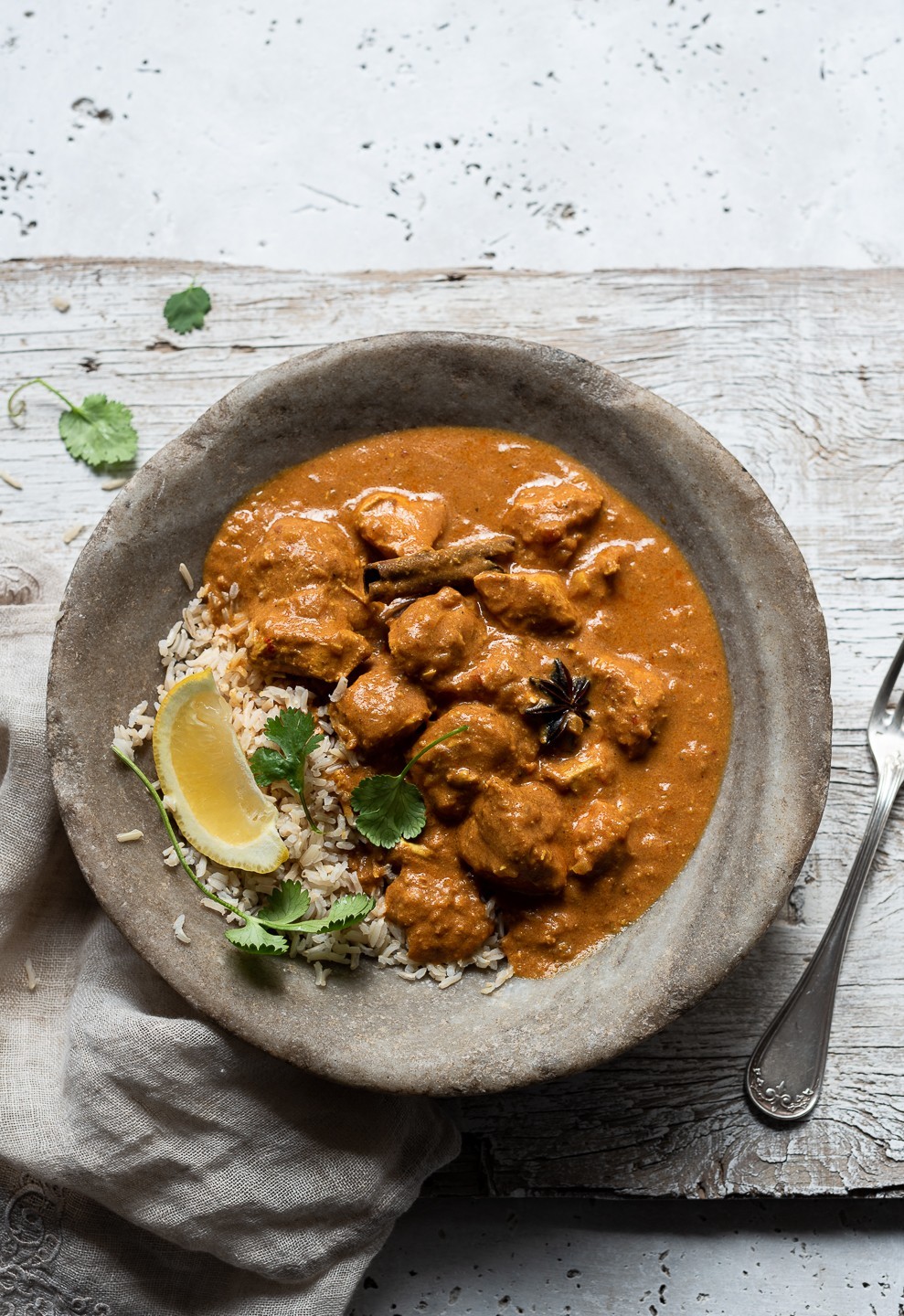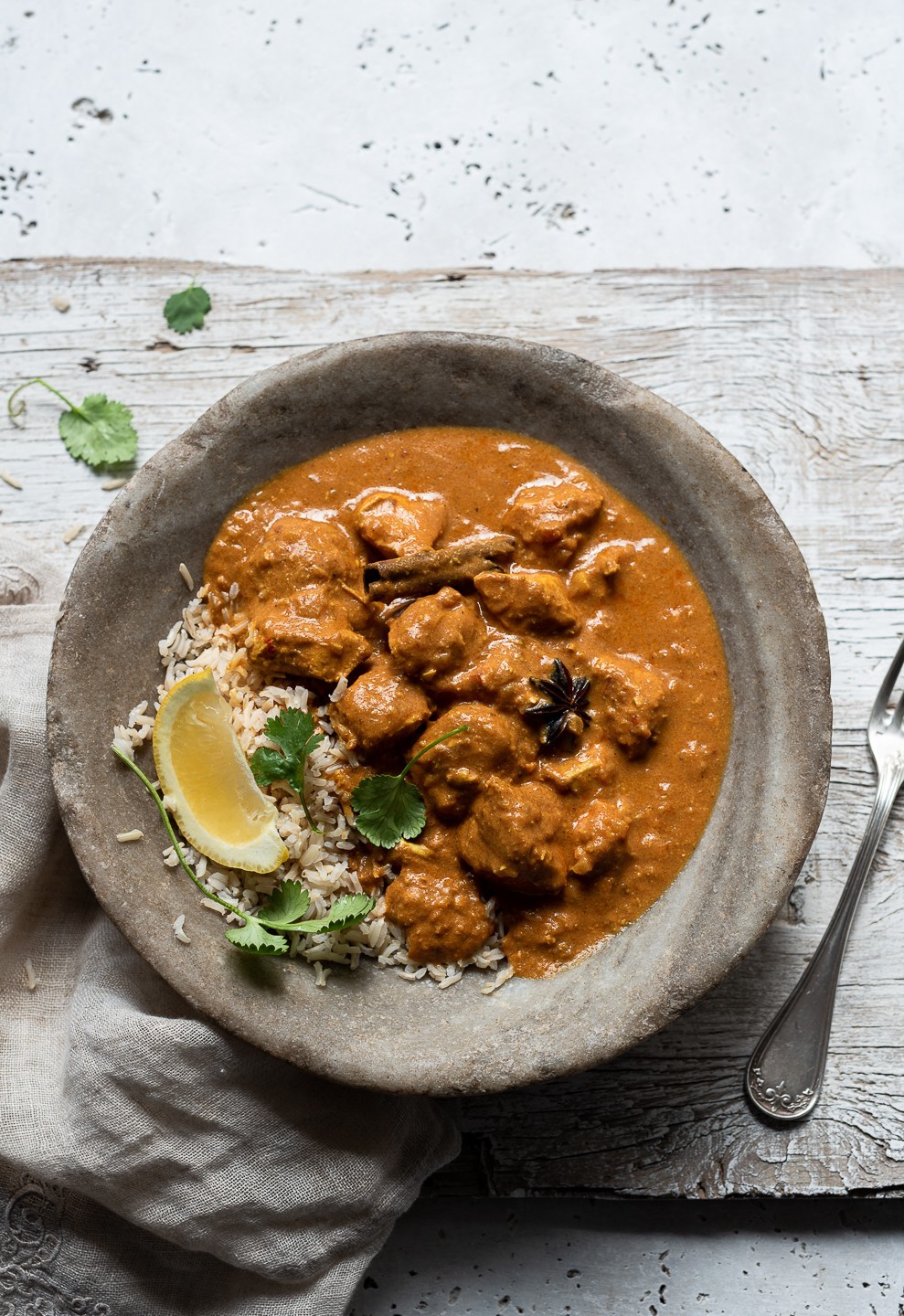 The secret to any good curry rest squarely on the sauce. A formidable sauce needs a well-balanced combination of spices, none dominant, but rather supportive. Here, for this Healthy Butter Chicken Curry,  the heat is mild and family friendly. Feel free to add extra chilli at the end, if you think it needs it.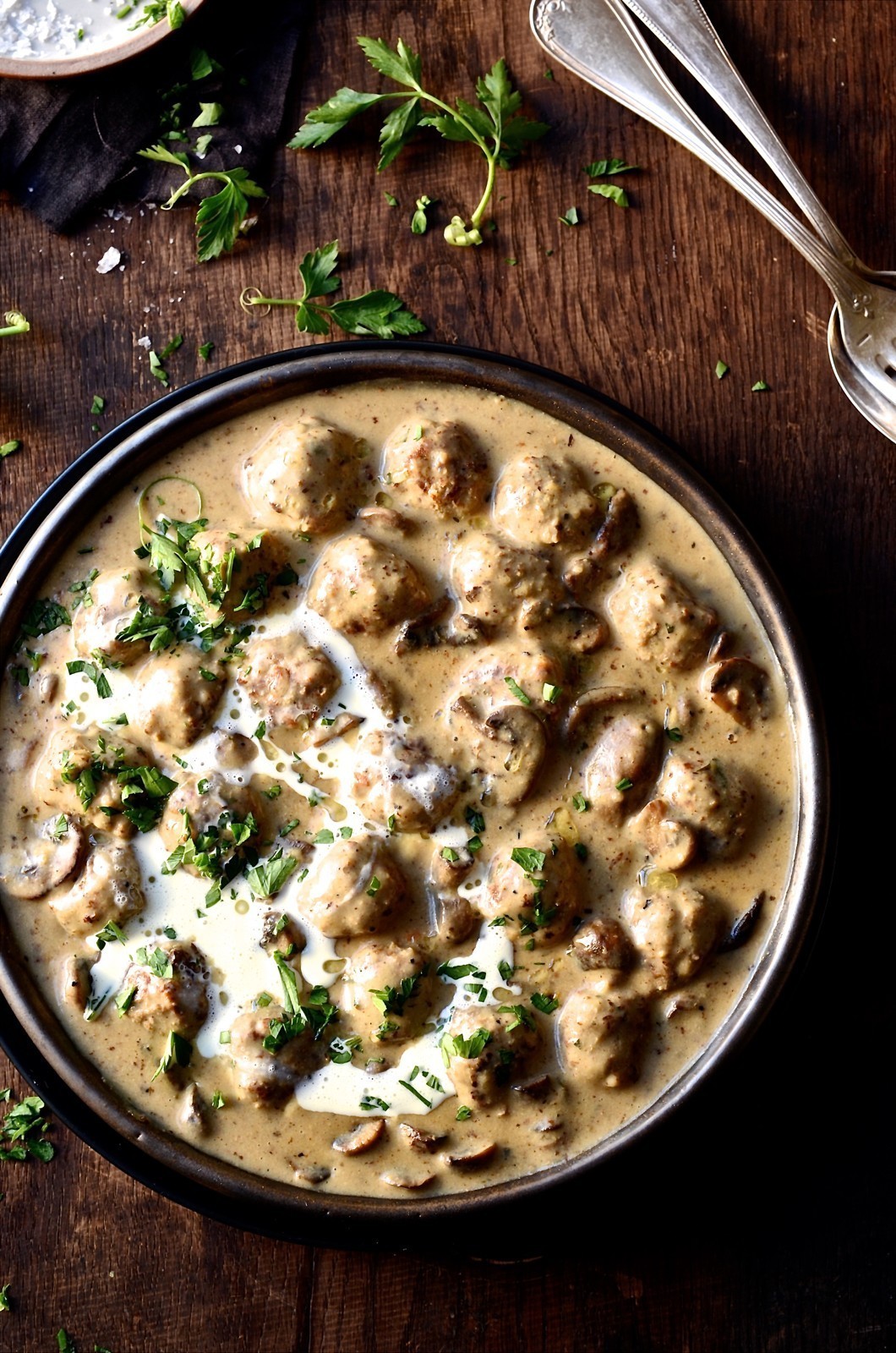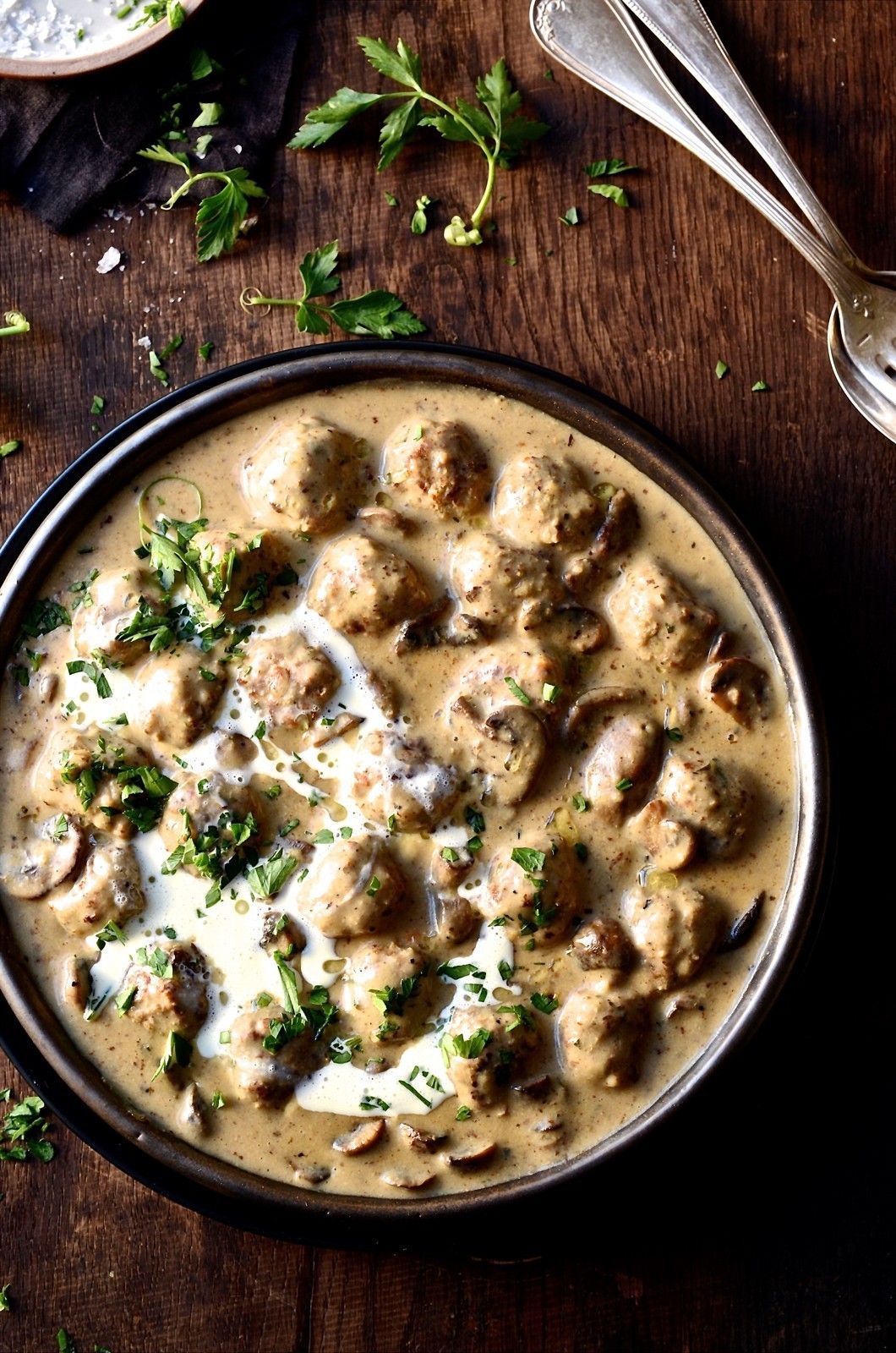 Traditionally, Swedish meatballs are made with pork mince. I made it with beef mince and it worked a charm. I've also added mushrooms to the sauce and a drizzle of lemony extra virgin olive oil to contrasts the richness of the sauce. Fluffy mashed potatoes or tagliatelle are happy bedfellows.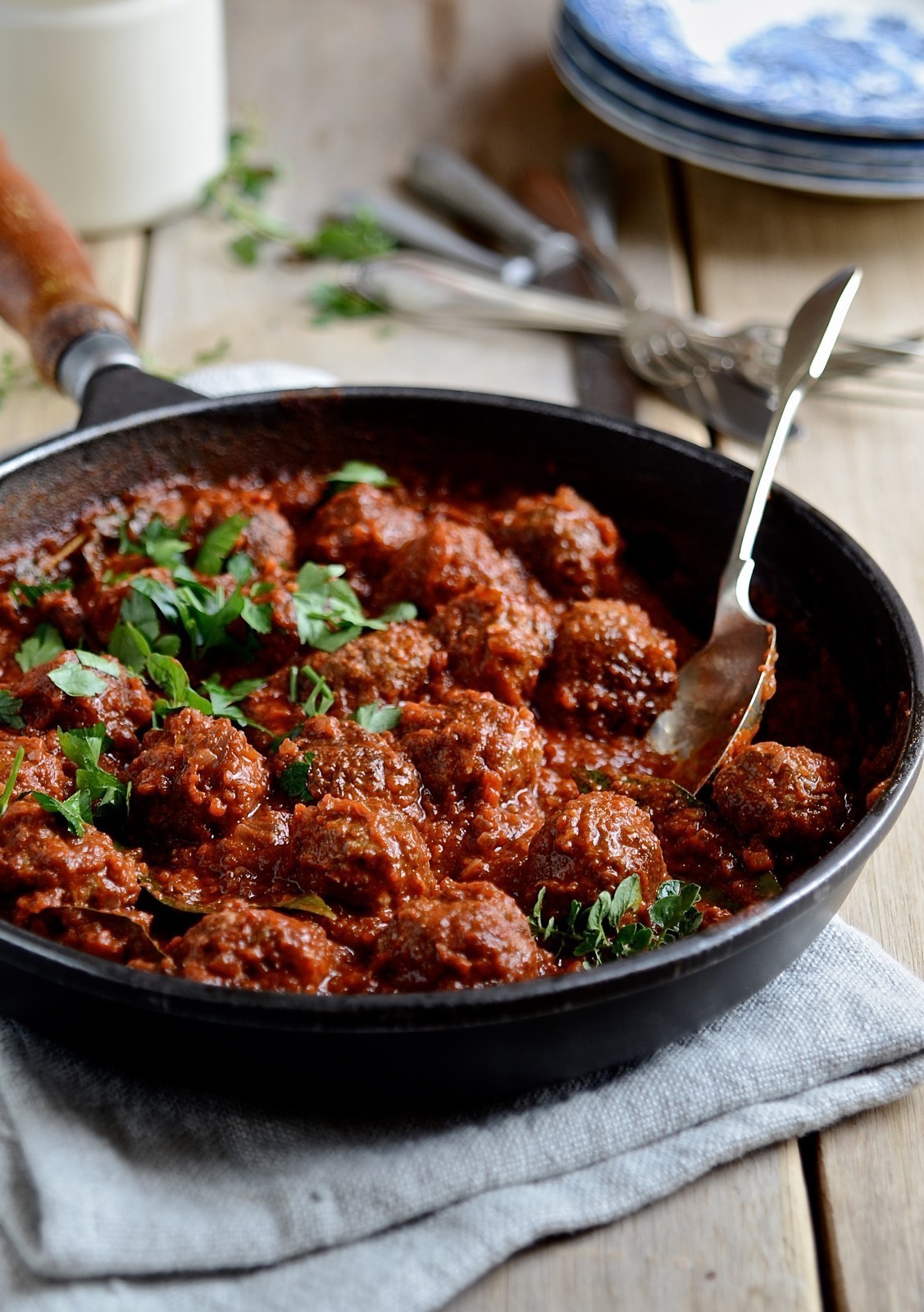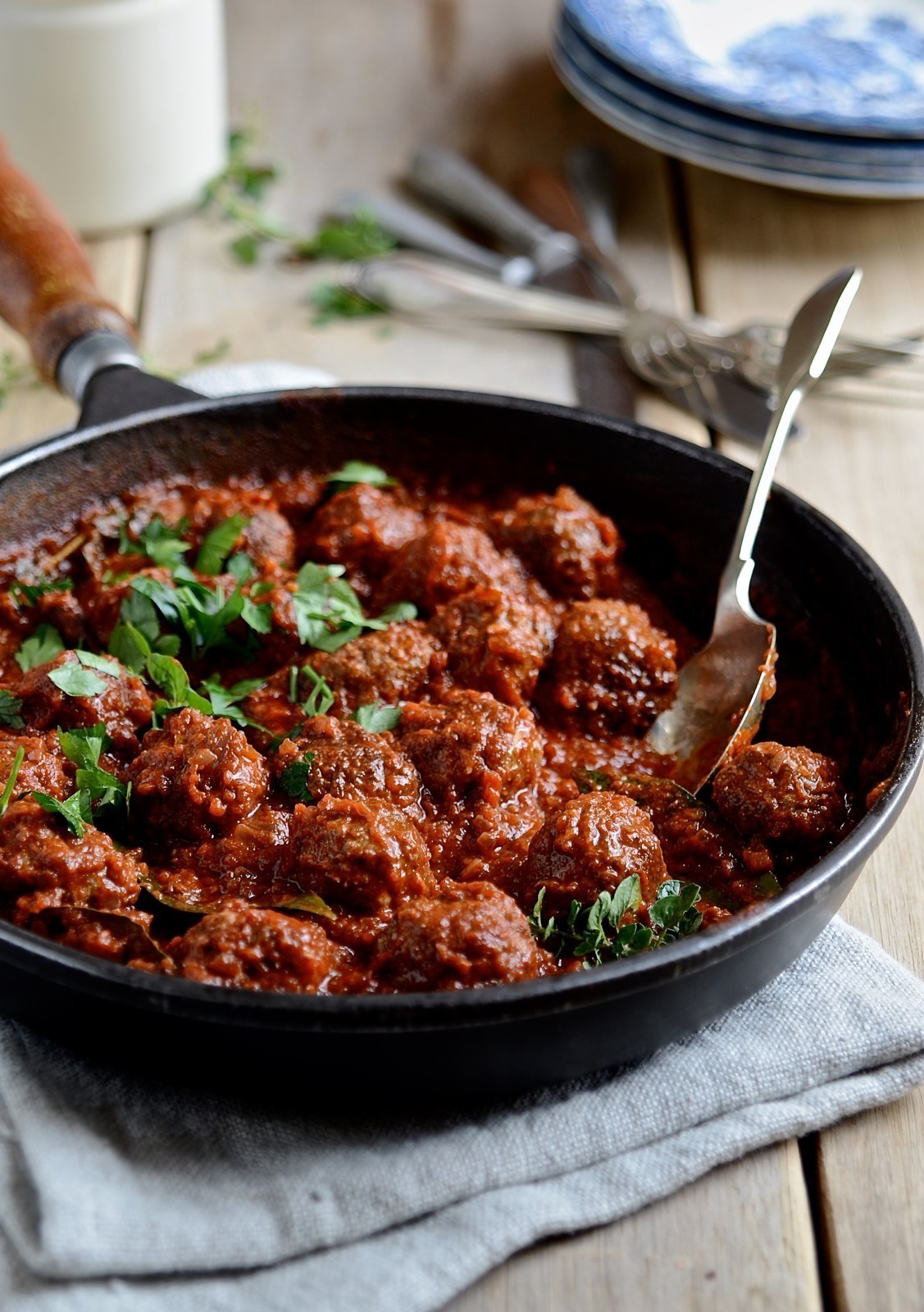 Moorish Spanish meatballs taste like the  best tapas supper. Insanely delicious. I should really make them more often.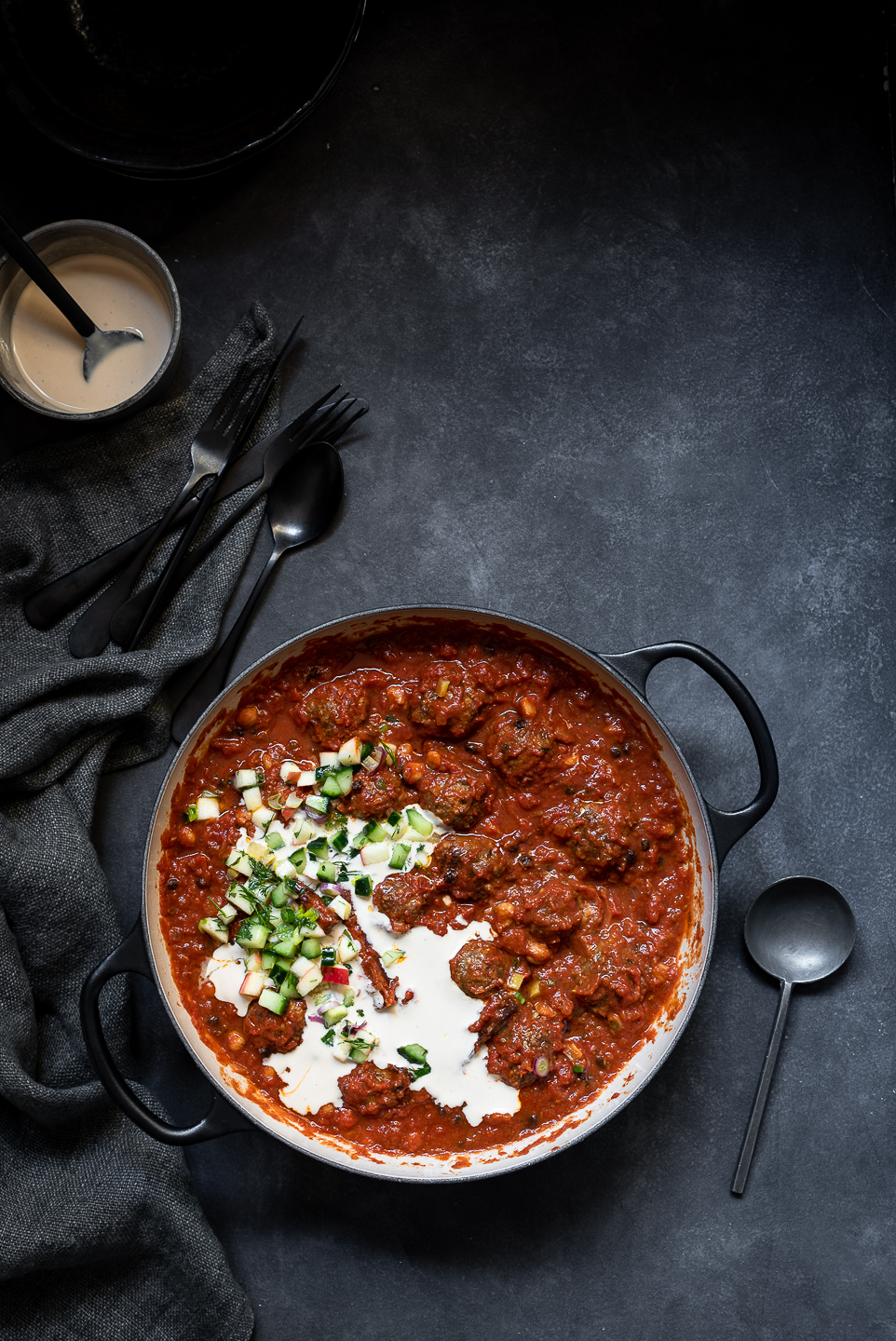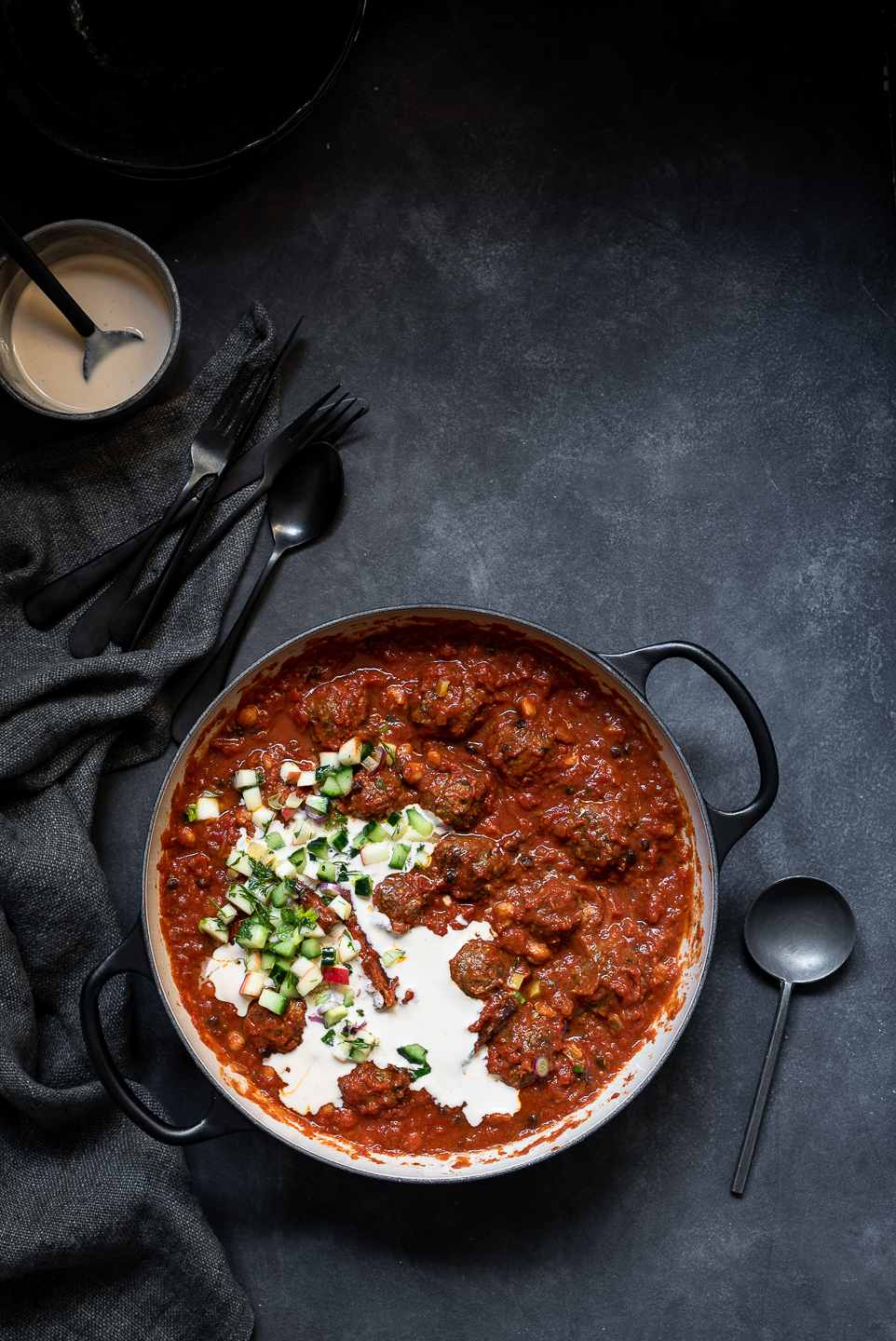 Initially, these Ras el Hanout Meatballs were headed for the Ebook. In the end, choosing which recipes to include came down to space.  So here they are then. For meatball lovers, because there are many of us. Offer them with flatbreads  or heavily herbed bulgur wheat and something cool and crunchy, like say maybe, a cucumber chutney or radish pickle.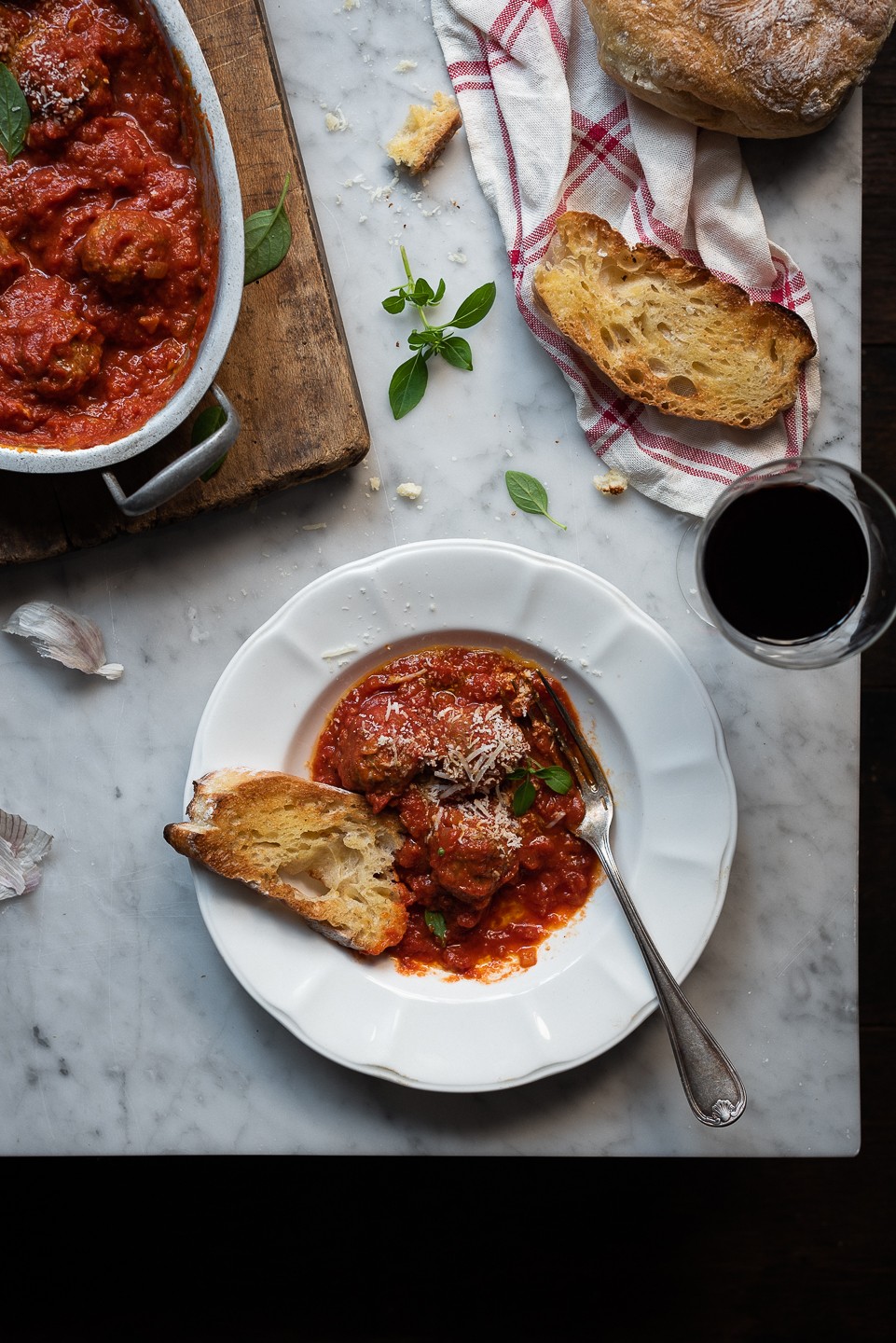 I still recall my mother's savoury meatballs being amongst the most wrestled for dish on the supper table. Some 40 years on, my Parmesan Meatballs with Sundried tomato sauce are following suit. They're from the cookbook, with rave reviews from everyone who's made them.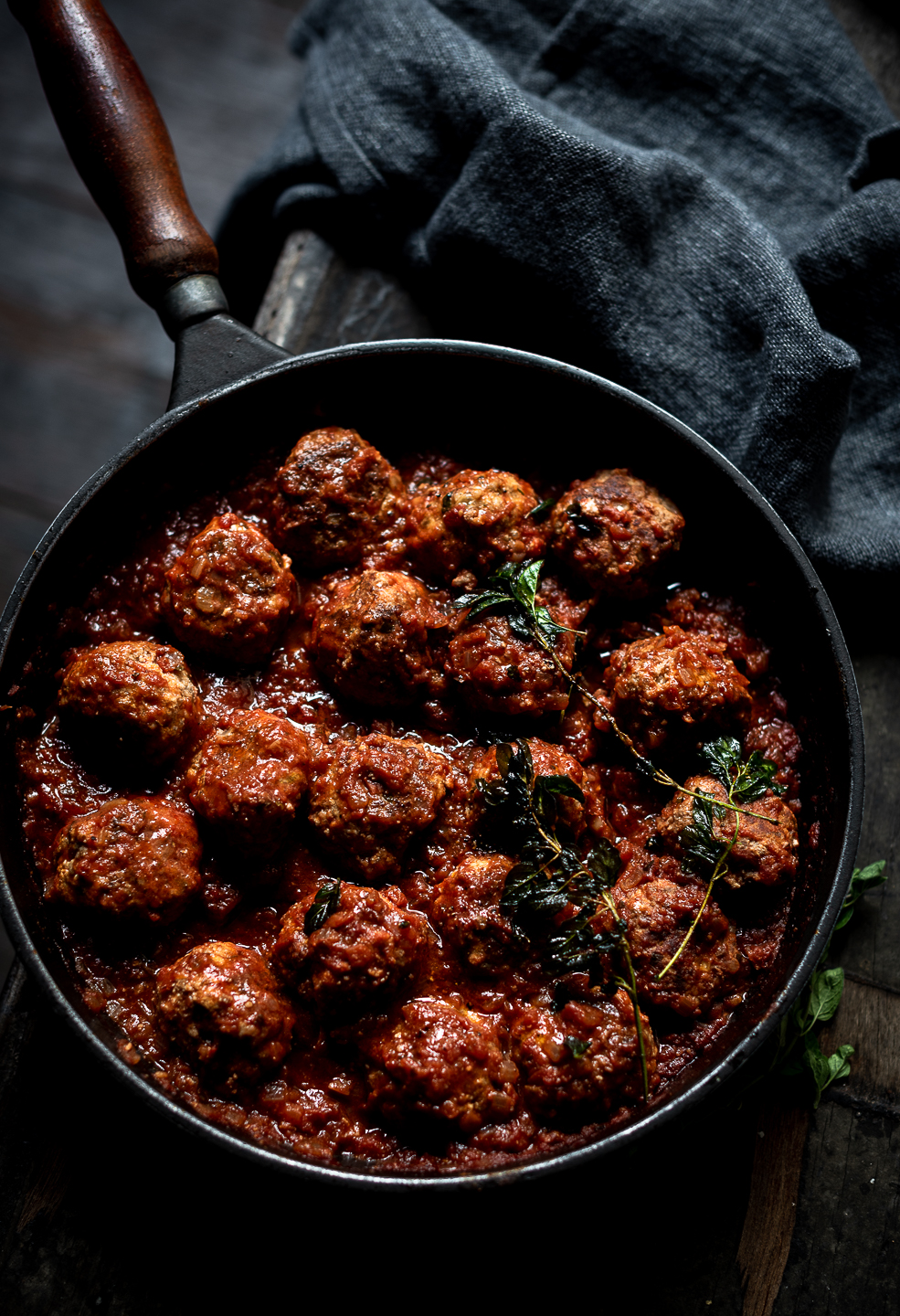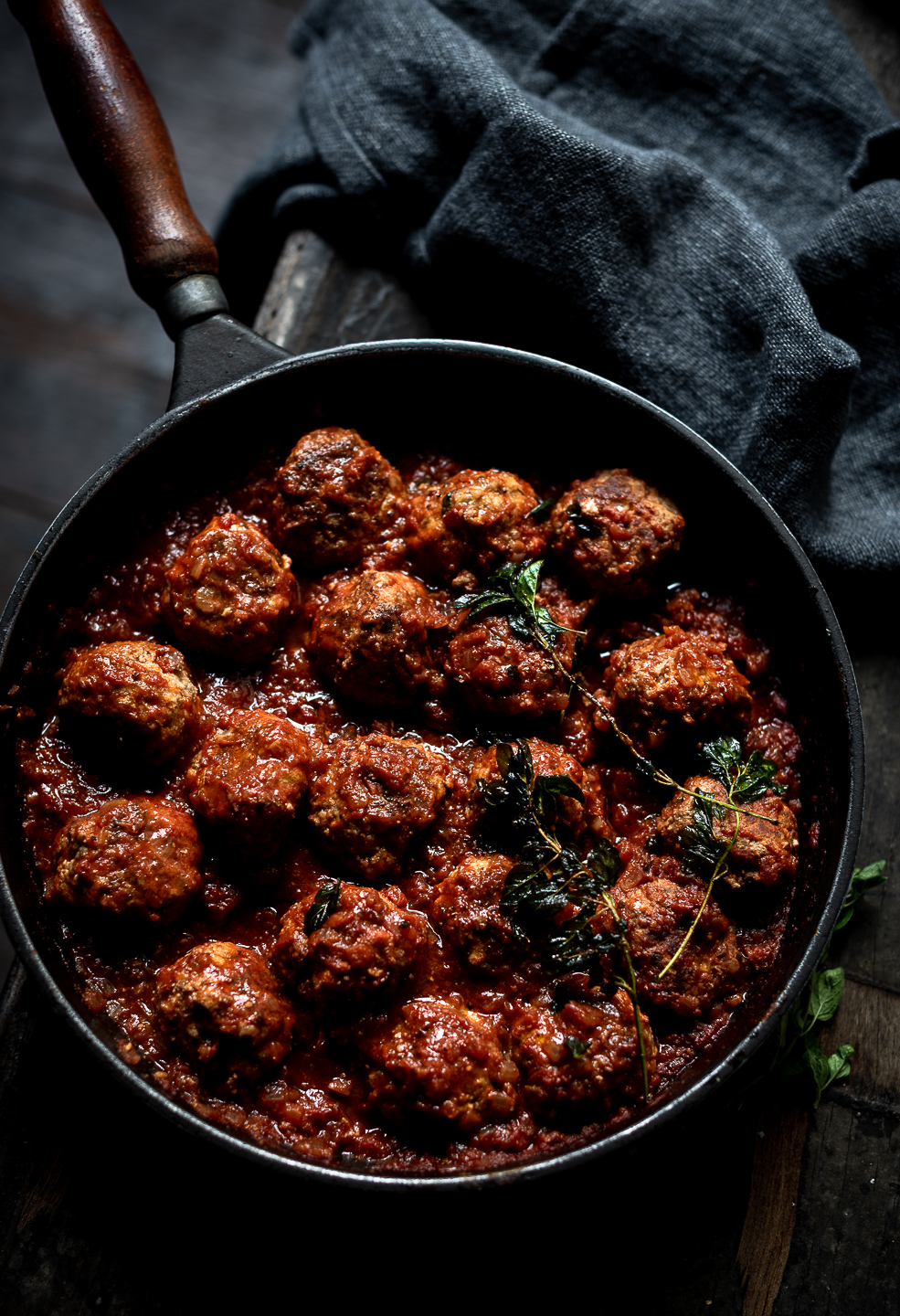 To deepen the tomatoey flavour of these  Ricotta and oregano meatballs, I stir in a little tomato paste. If you don't have the paste, just leave it out.  To mimic the herby flavours in the tomato sauce, I pan-fry a couple of sprigs of oregano and scatter them over the top. They're almost like wafer-thin, herb crisps. So delicious!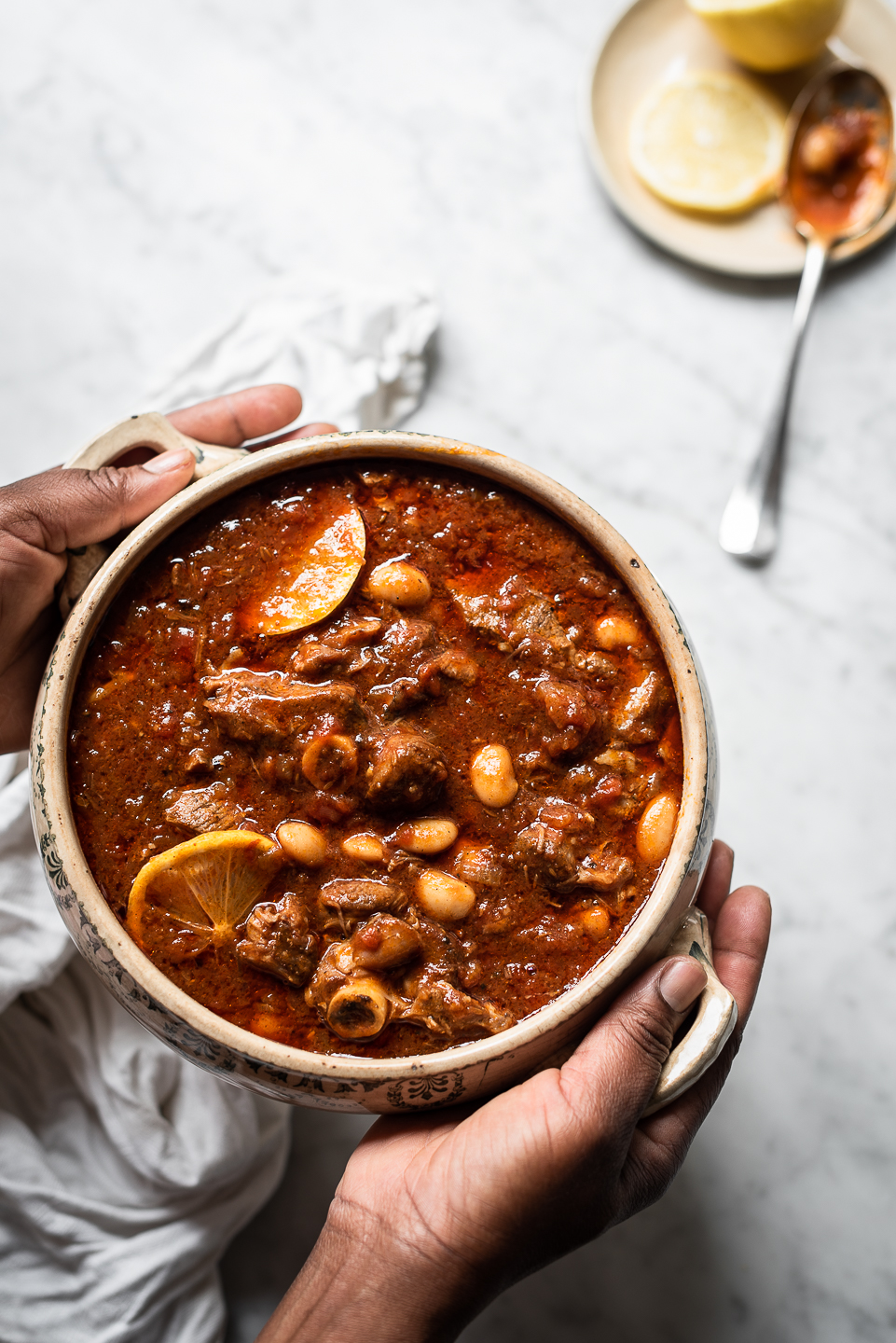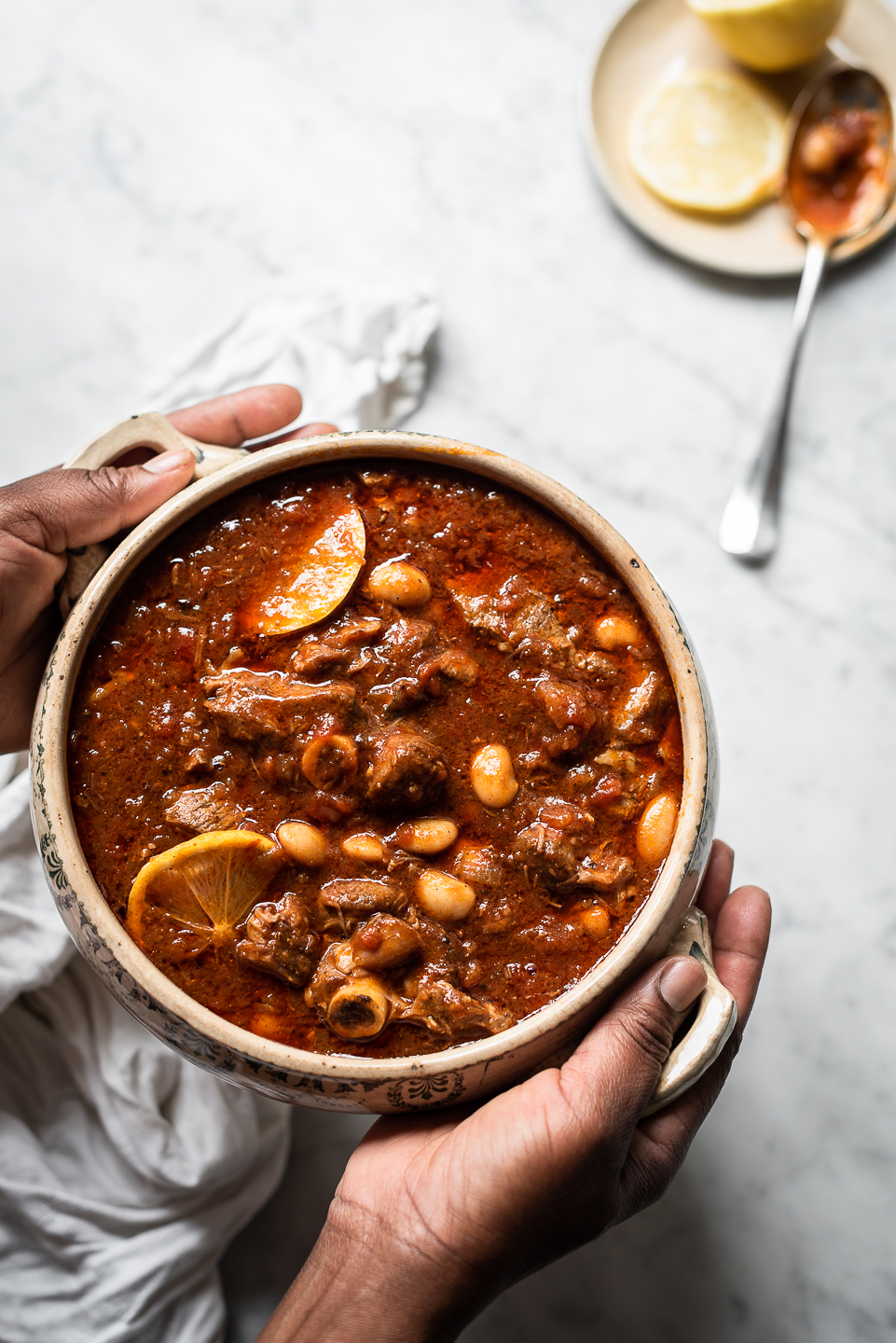 The flavours of my Lamb Knuckle Bredie are redolent of classic Cape Malay cuisine, rich in personality and a complete joy to eat.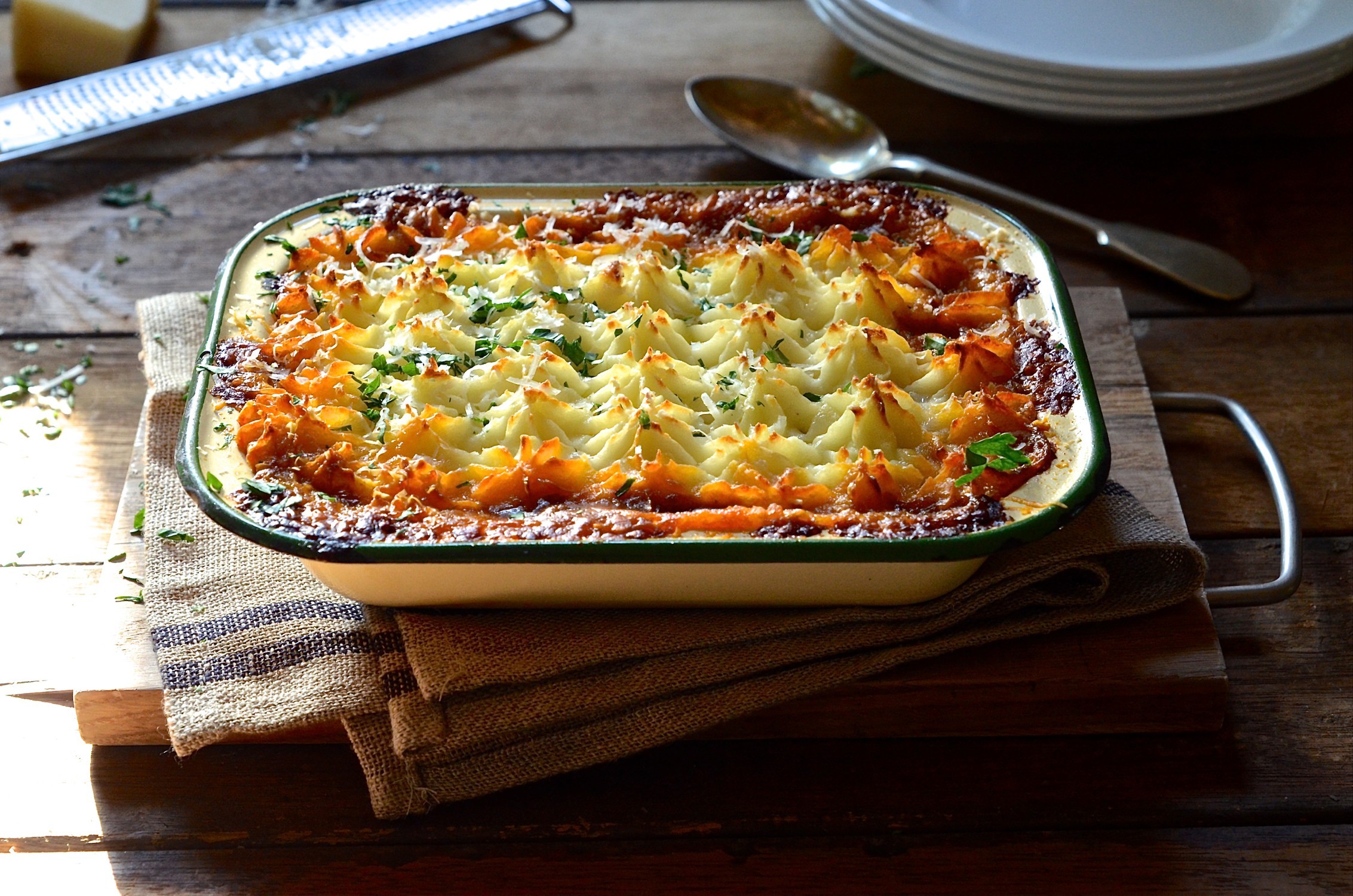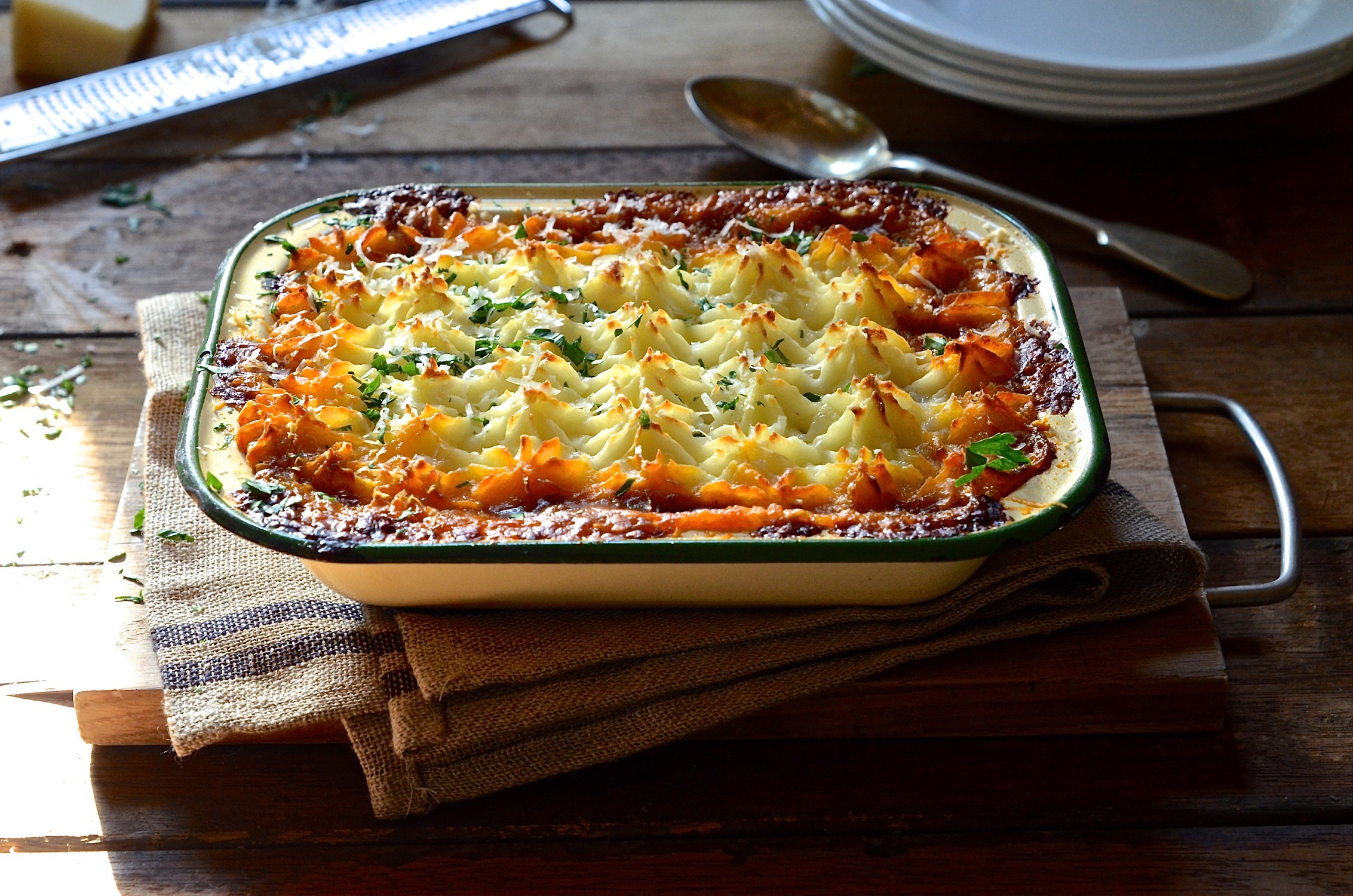 Traditionally, cottage pie is made with ground beef, while Shepherd's pie uses lamb. In our home, lamb was a luxury and reserved for special occasions. Whenever I make roast lamb, either for Easter or Christmas, I put just enough lamb aside to make a Bibby's Shepherd's pie. The savoury flavour of the rich gravy is balanced by the sweet fattiness of the lamb and mashed potato topping.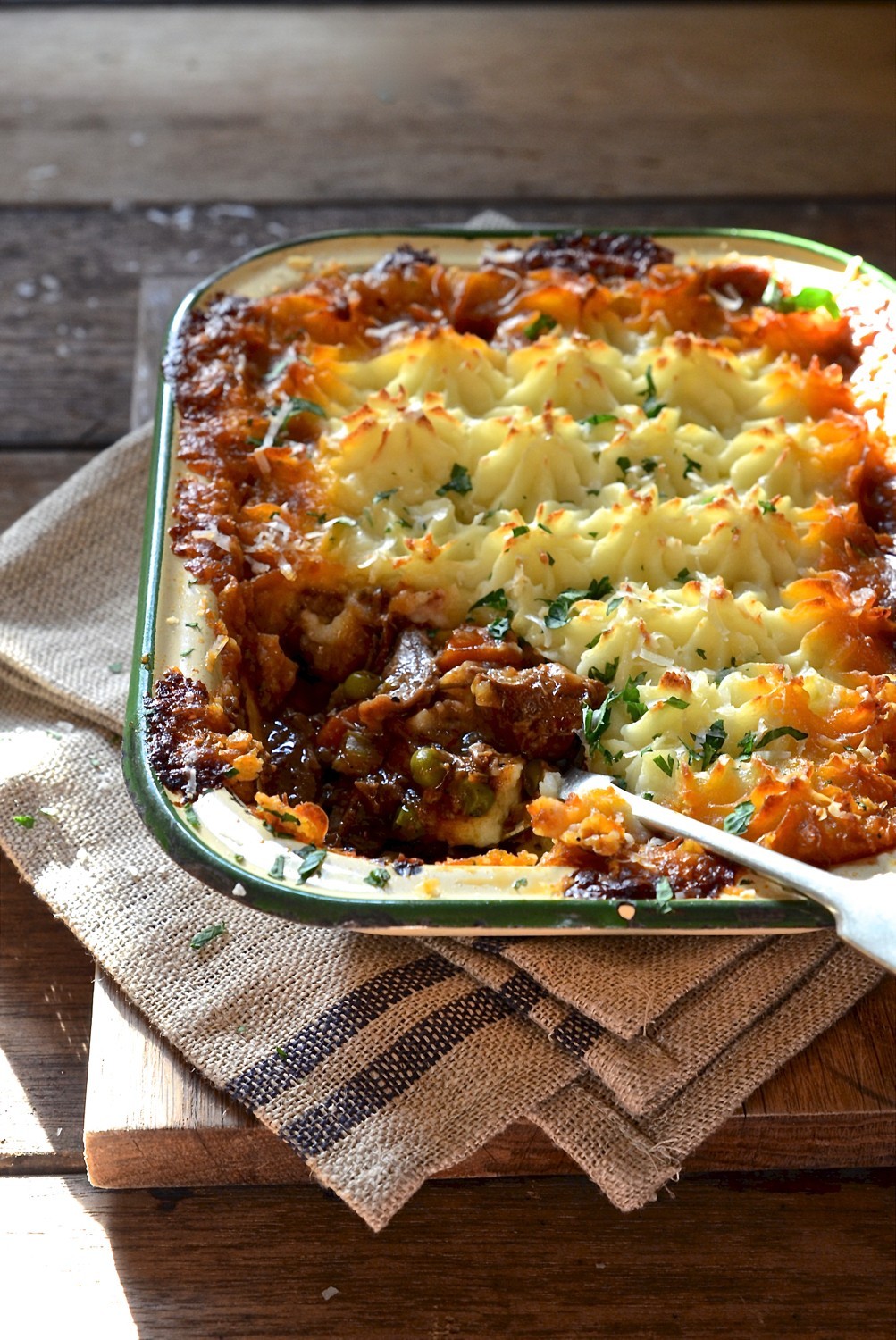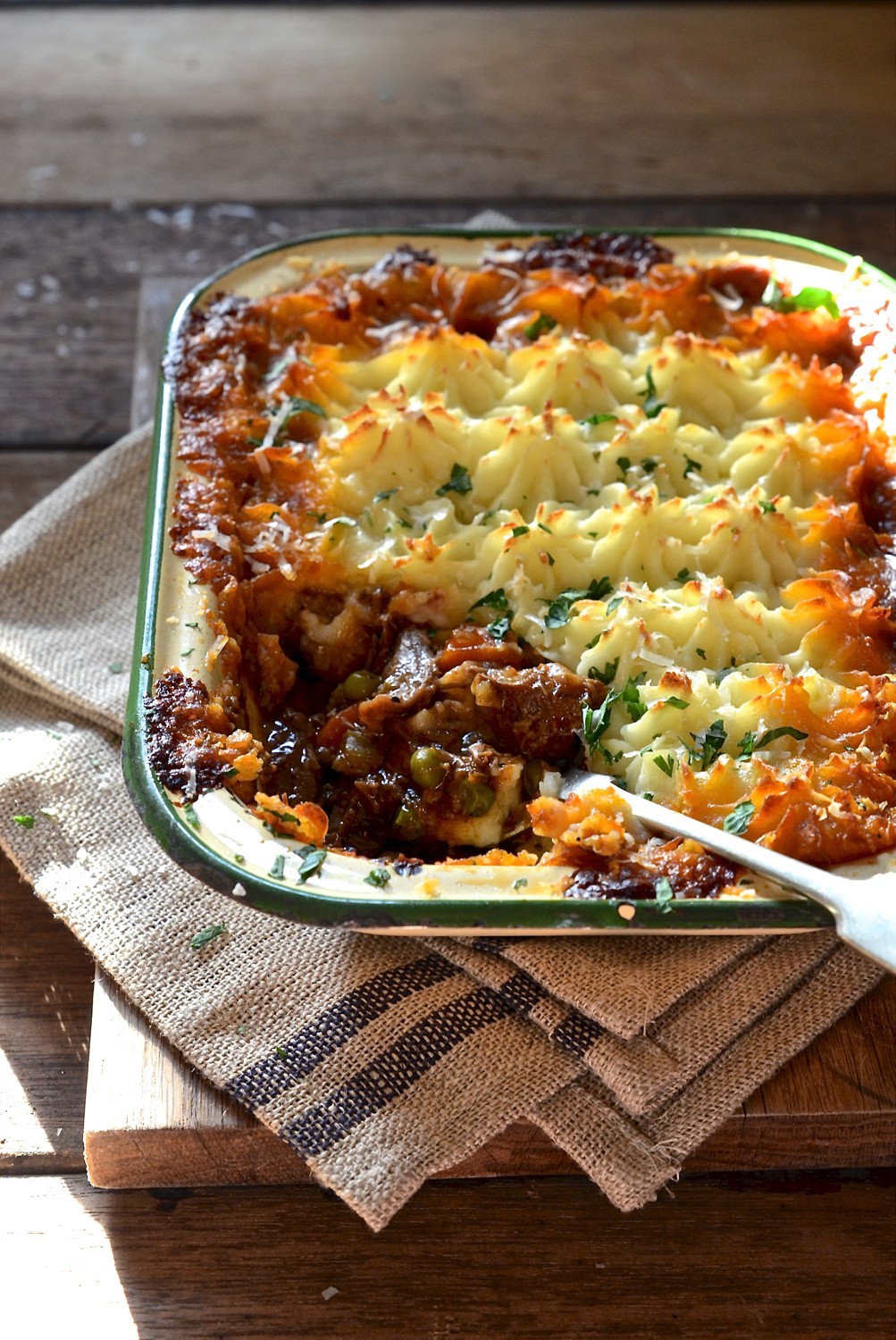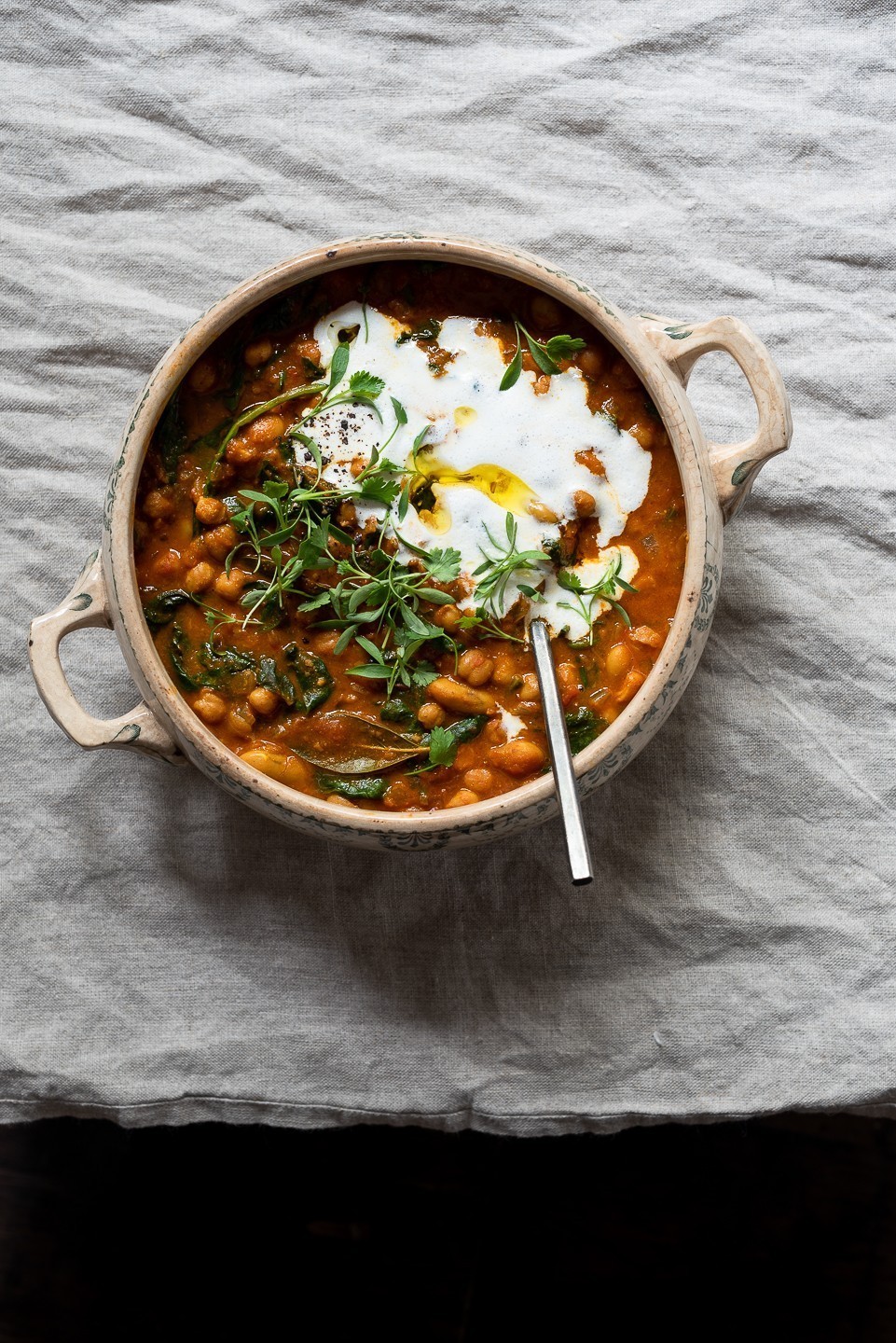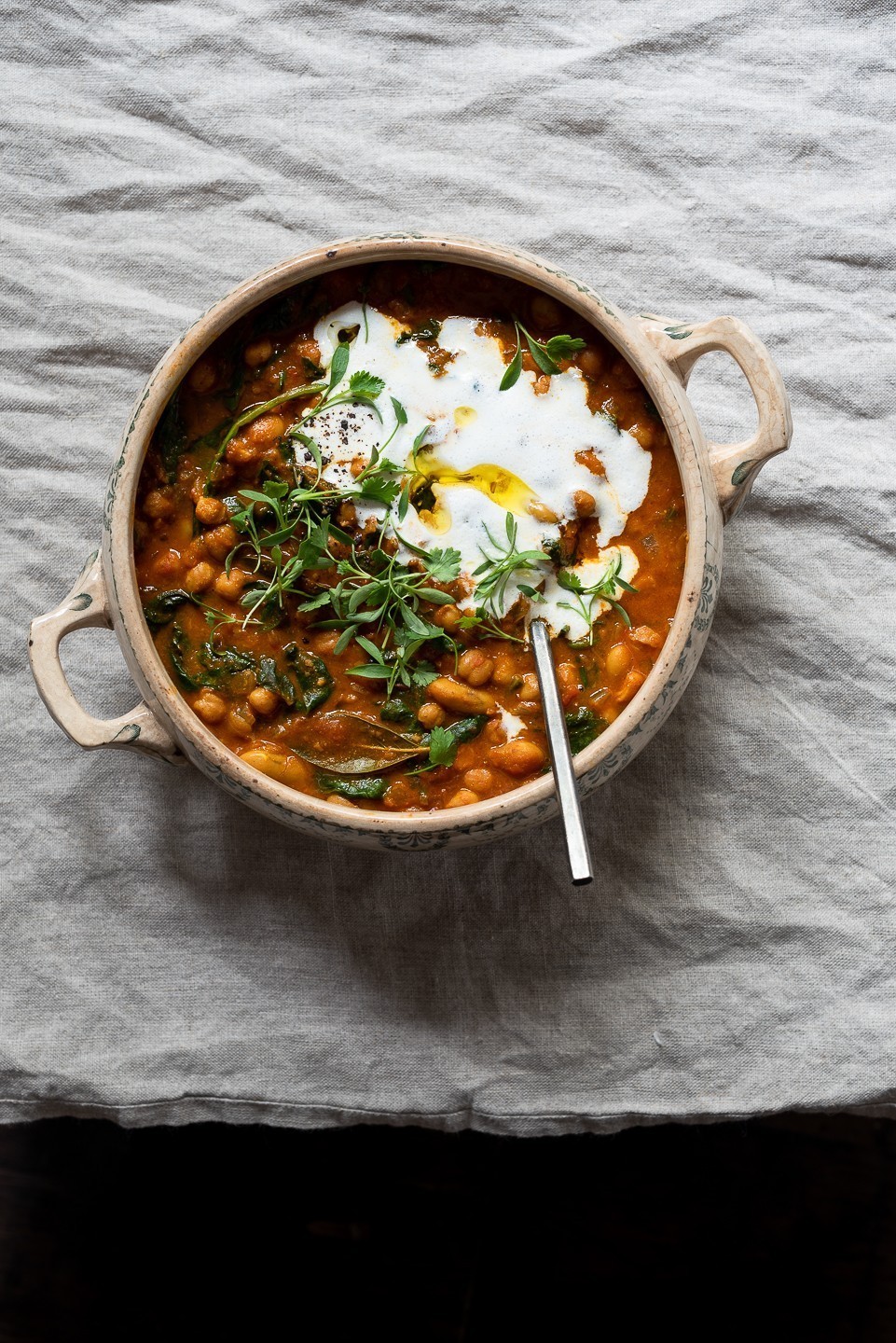 This Ginger and turmeric chickpea stew is wholesome and hearty,  with golden coconut sauce. Serve with wild rice and creamy yoghurt. As with most stews and curries,  the complexity of flavours ease and mature overnight. On day one it is good, day two, even better.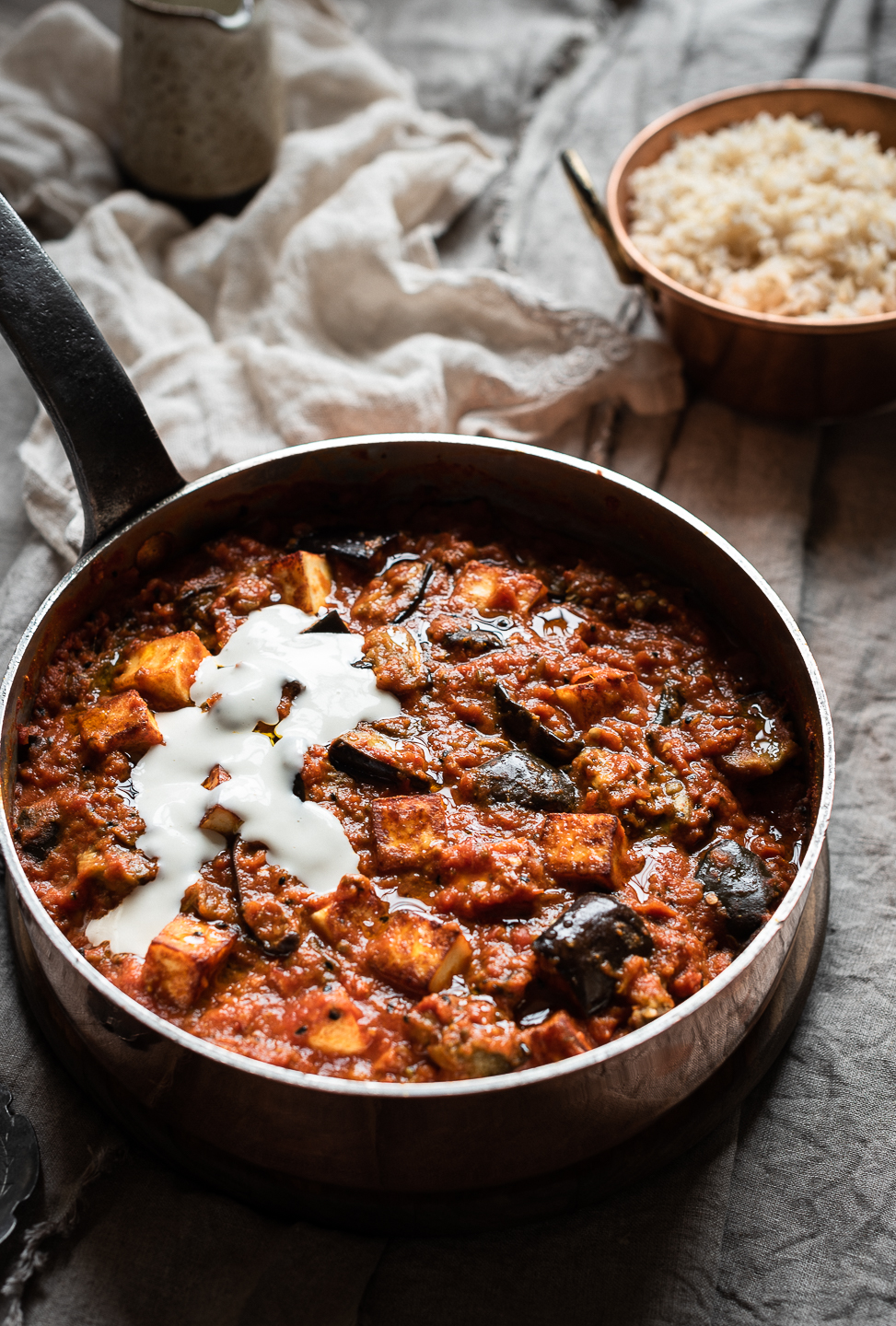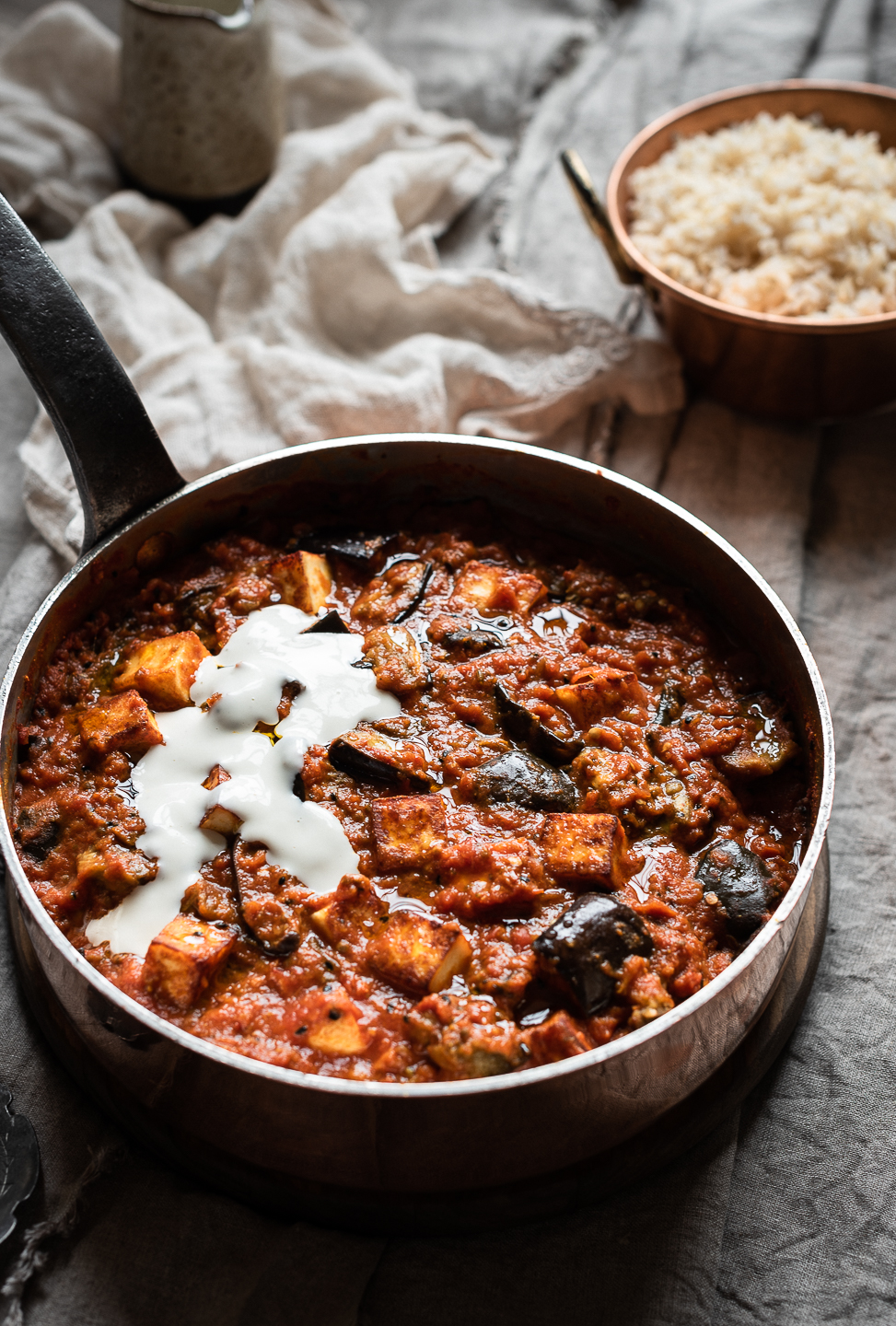 This Aubergine curry with paneer has been one of the most made recipe from the cookbook. Meaty, in a vegetal and deeply flavourful. The tahini sauce adds a creamy element that pairs perfectly with aubergines.
While risotto is far from difficult, it is possibly one of the trickiest pasta dishes to master. But, when done right, a plate of silky risotto that ripples on a tilt, is a beautiful thing. Some might argue that risotto is simple. It's just rice, isn't it? Often though, simple is the trickiest to get just right. Much like the sourdough saga, you need to read the unspoken language of food, instinctual nuances and clues that suggest either more or less of a particular ingredient or time. Constant tasting, texture and consistency are our best guides, and this is true for most cooking, but especially so when making risotto.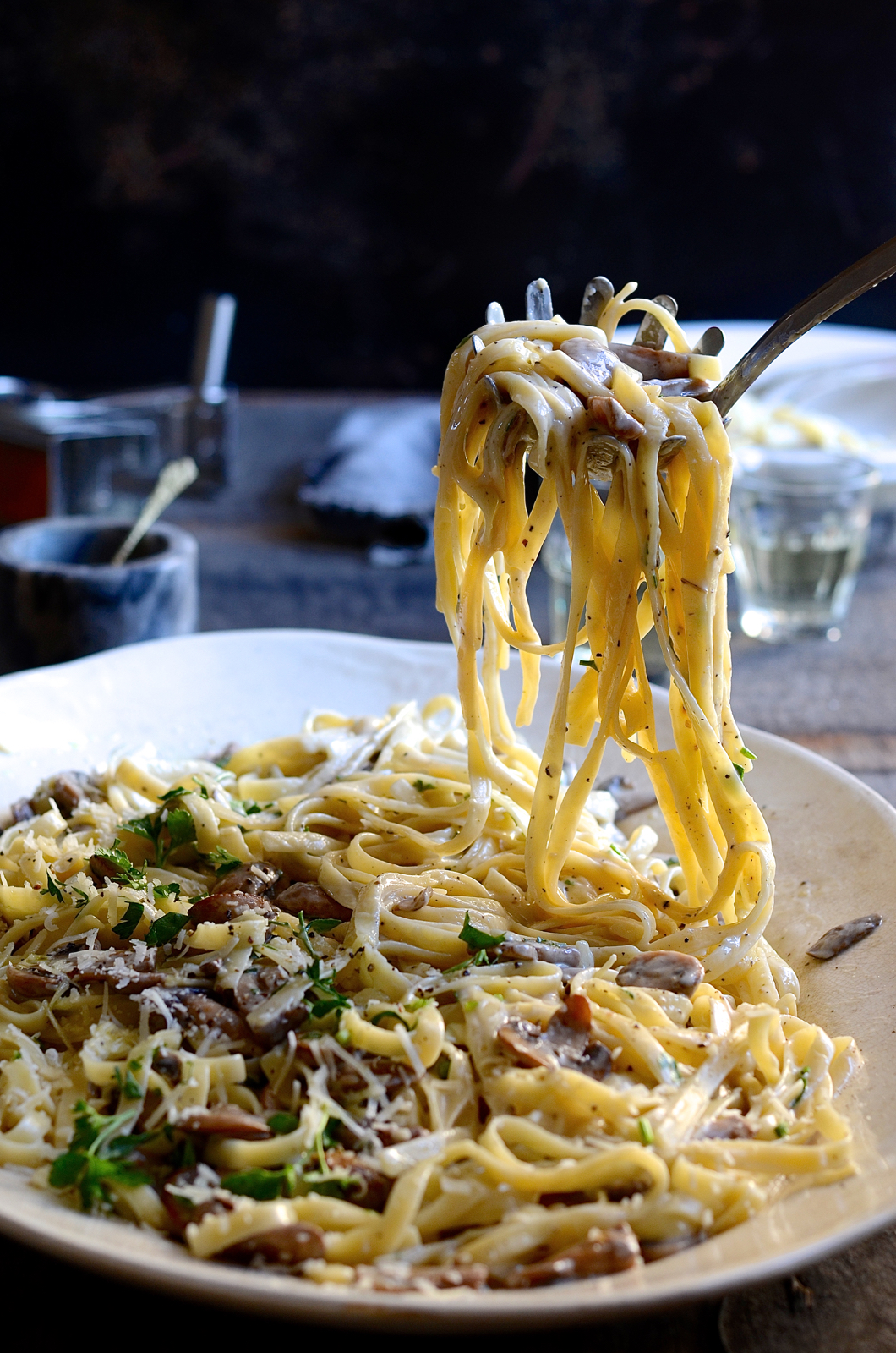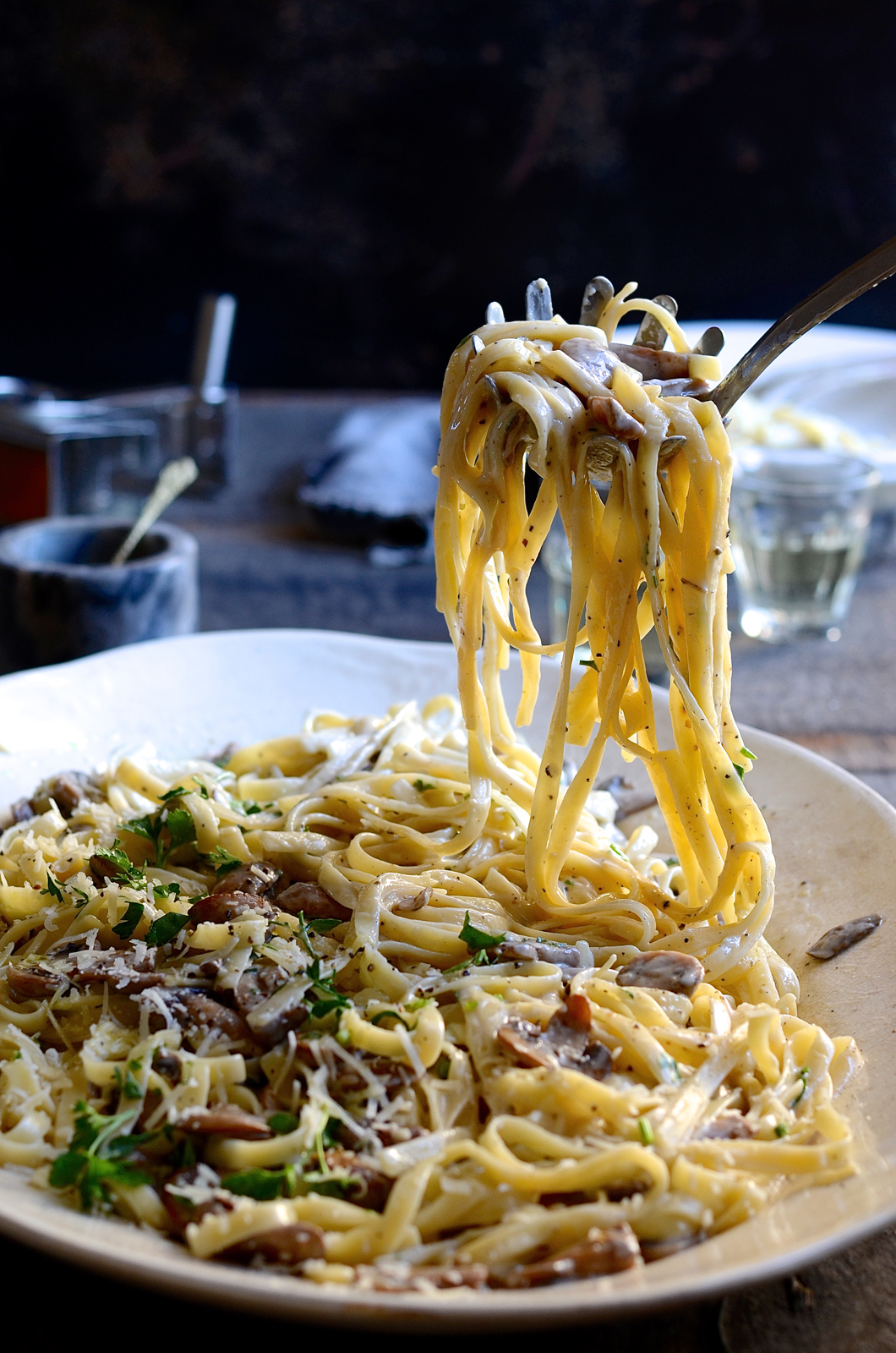 There's nothing quite as comforting as ribbons of pasta dripping with sauce. Add a panful of meaty mushrooms sautéed in white wine with woody herbs and dinner is sorted. It's my simple yet very satisfying Lemon cream mushroom tagliatelle. Hearty food for easy midweek suppers.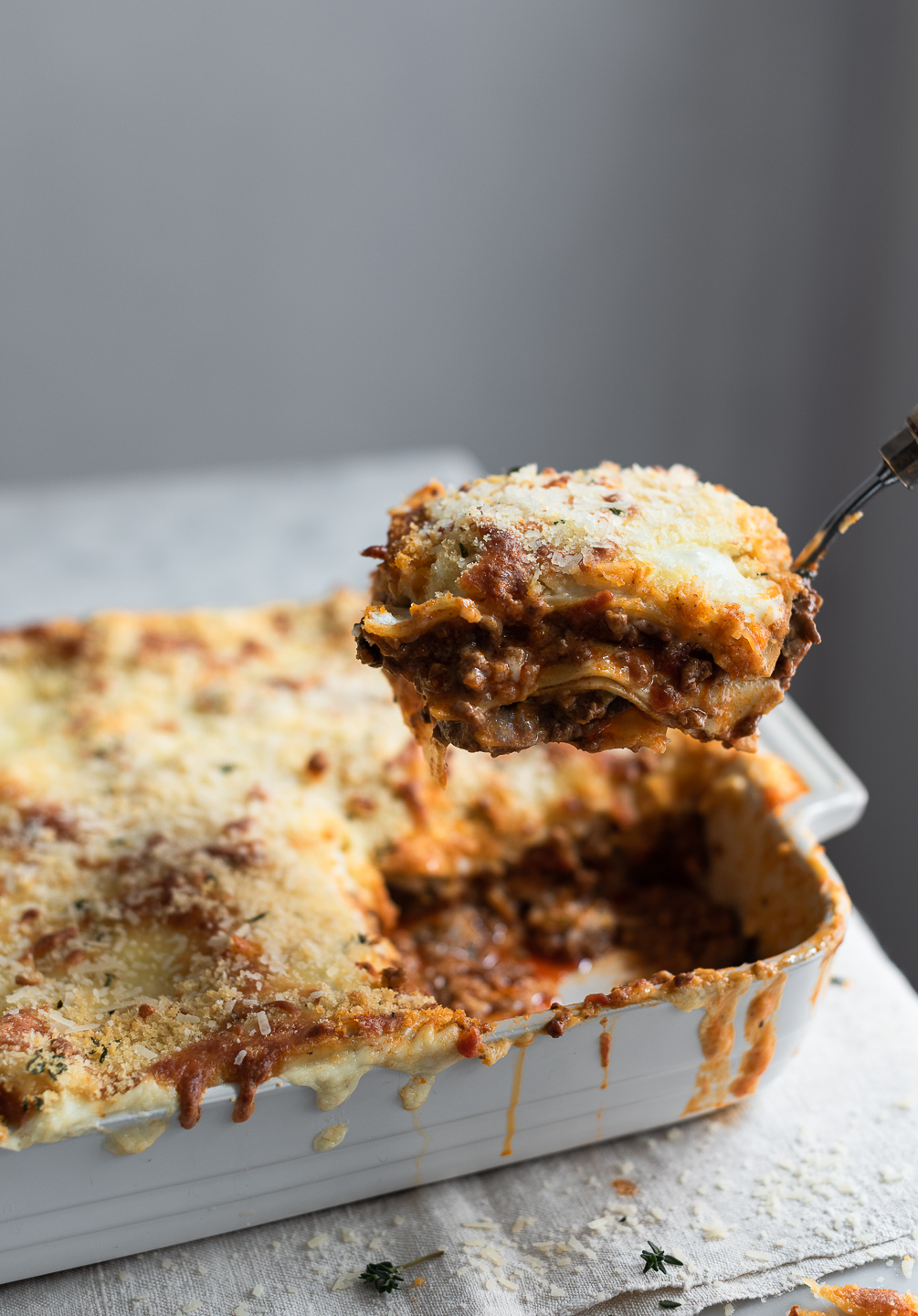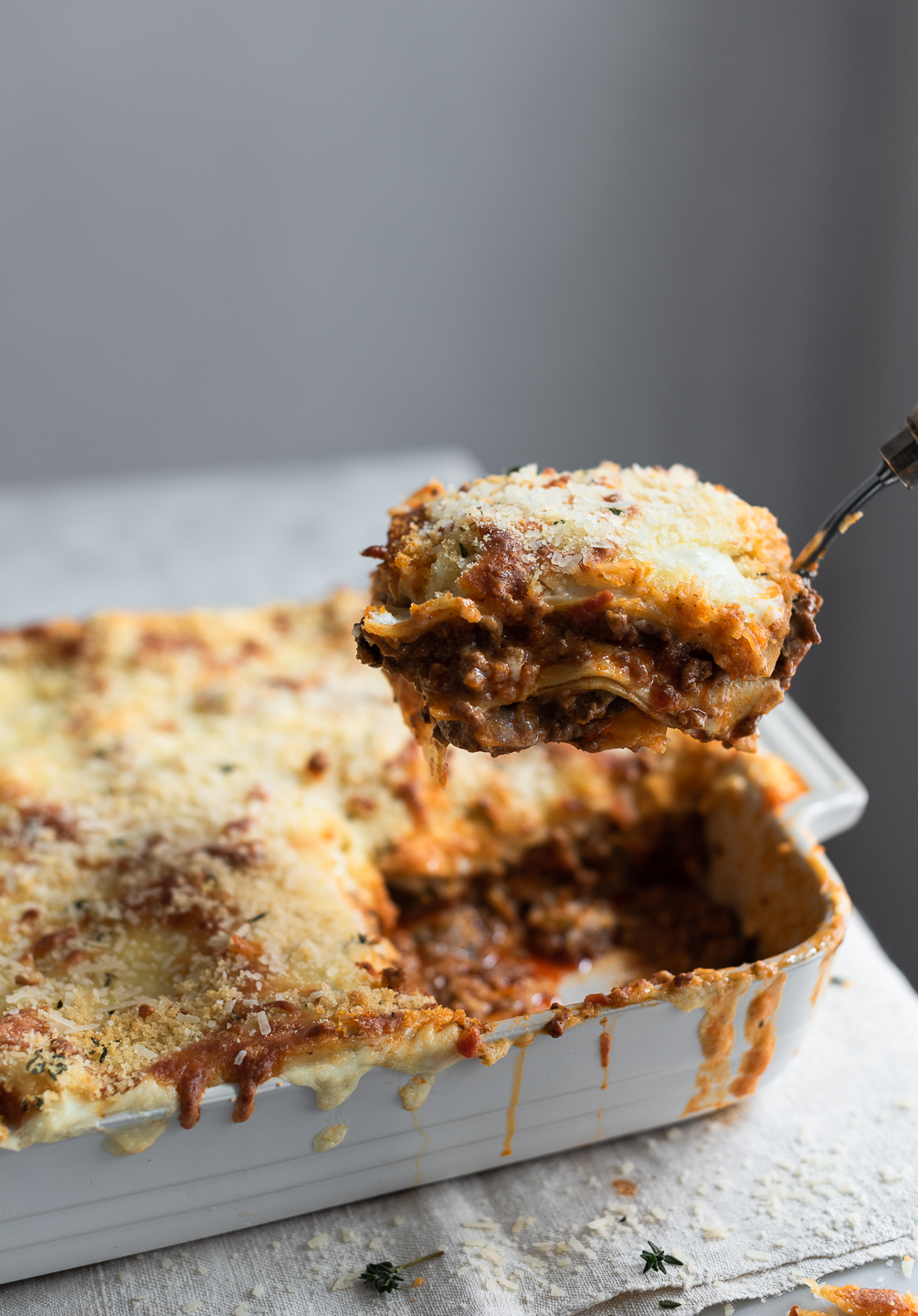 Who doesn't love a good lasagna? Here is my favourite Lasagna recipe, one I return to time and again. It's real home food, comfort food that nods at the convivial and tireless spirit of Italy, revelling in the company of pasta lovers.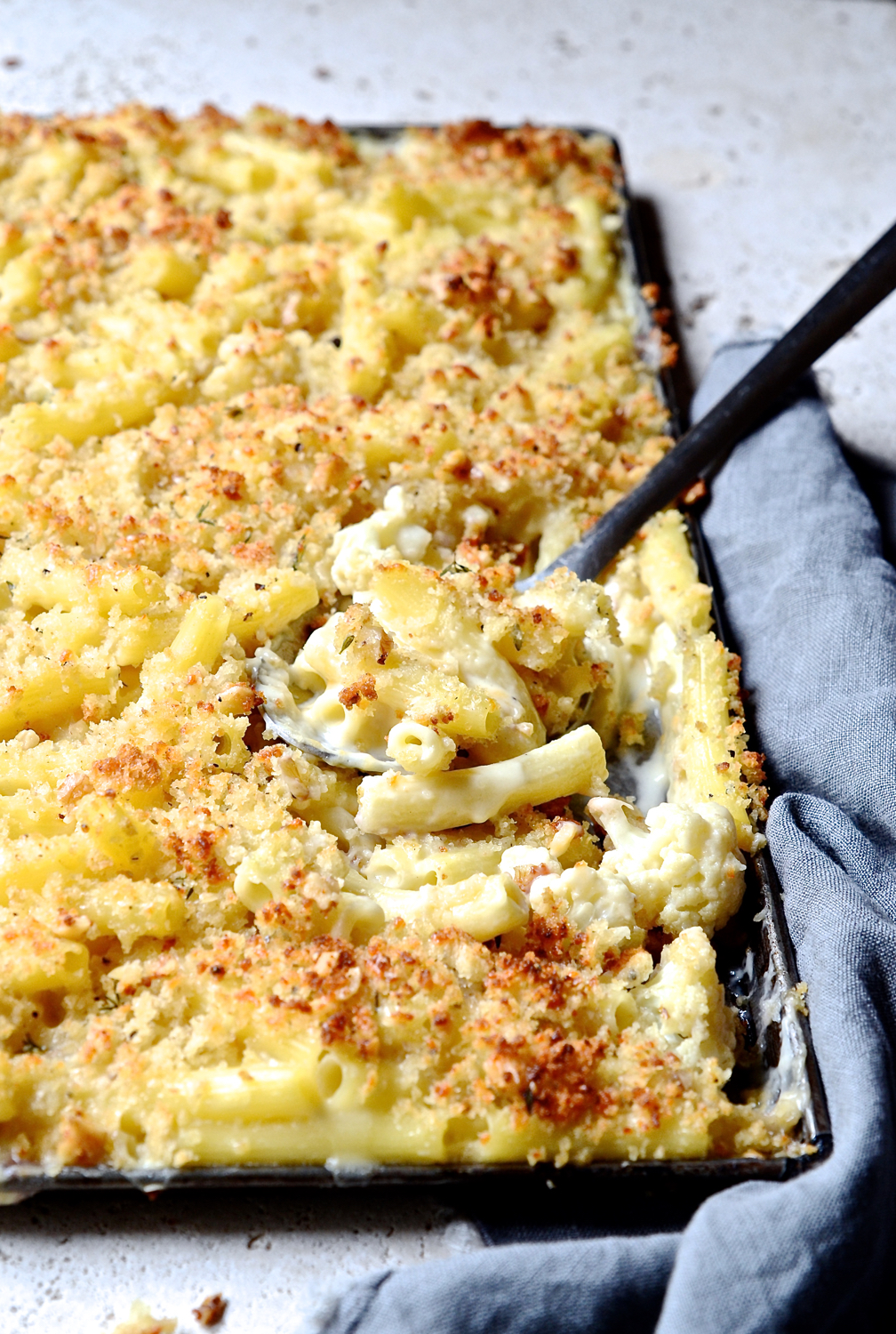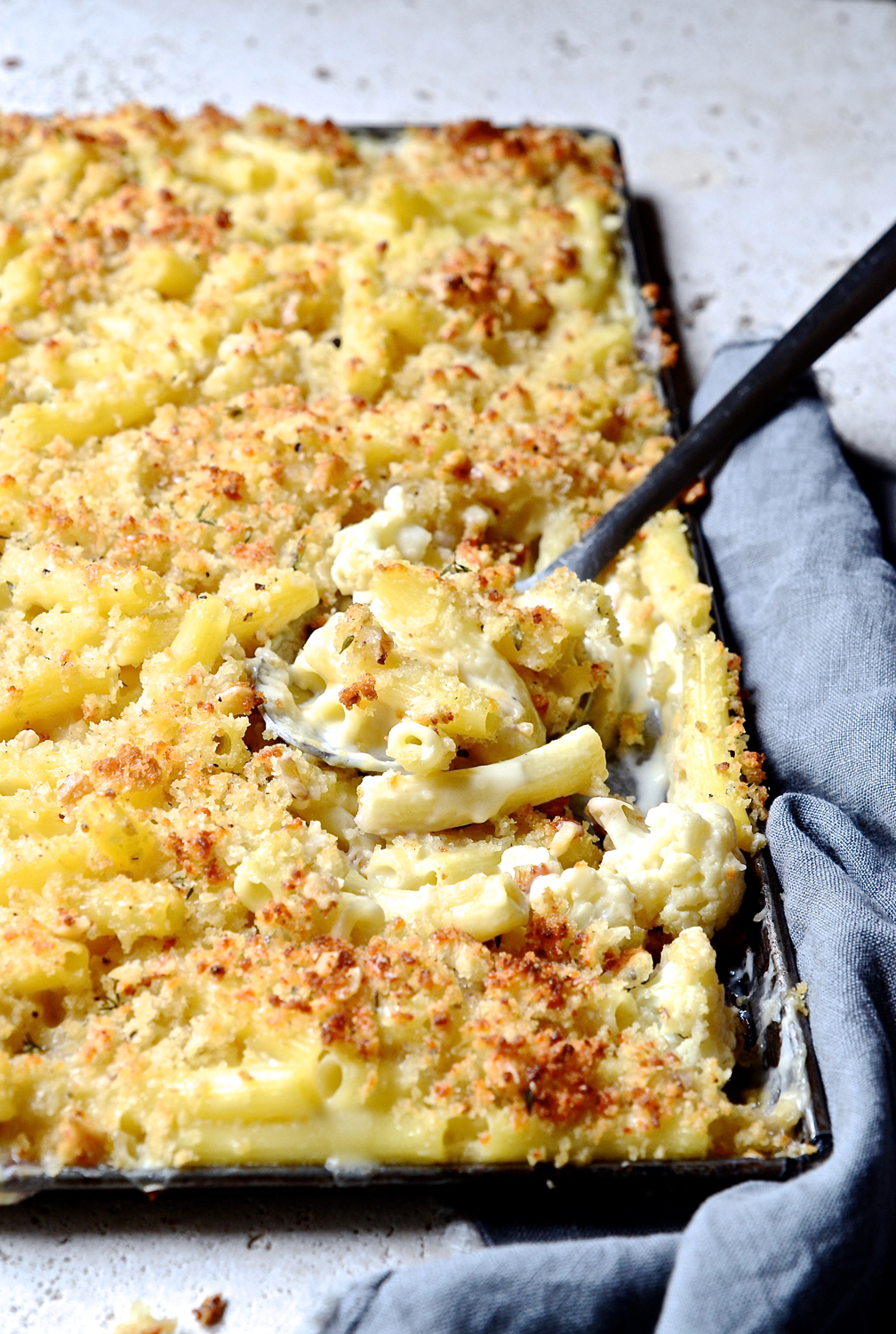 Mac and cheese is sure-fire crowd pleaser. Over the last 7 years of blogging, I've shared have several of our favourite versions, this Roast cauliflower Mac and Cheese being one of the all time favourites. While the recipe is my own, the idea to use a sheet pan is one I found on Food 52. Amanda Hesser explains that a baking sheet is the only way to ensure everyone has their fair share of crunchy toppings.