Tarragon cream chicken with pink peppercorns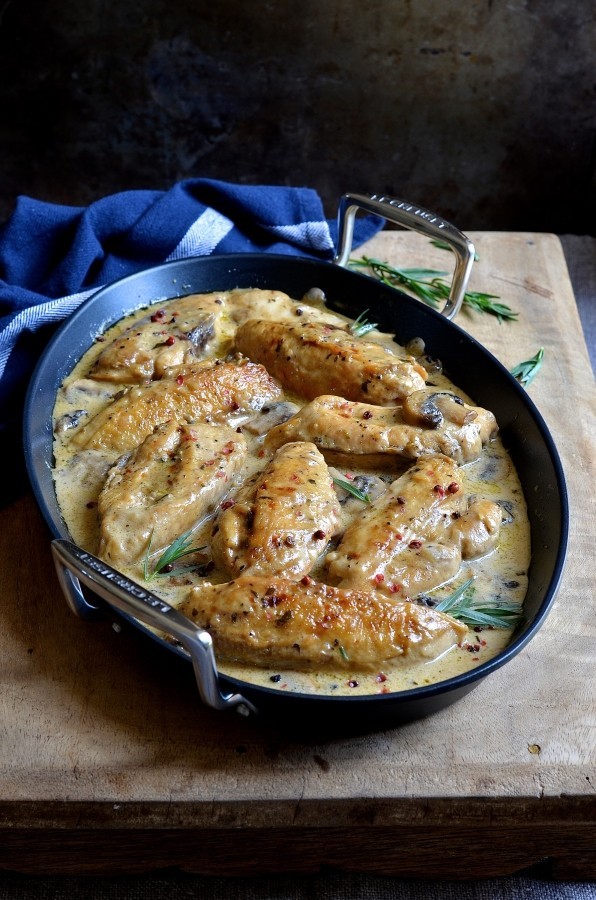 Ambrosial comfort food, a rich and velvety Tarragon cream chicken with pink peppercorns and mushrooms. It's the kind of food I imagine myself eating in a French country kitchen with crusty baguettes bought from the local boulangerie, roughly torn and passed around, along with a casual bottle of wine to wash it all down. Sadly, we're not in Provence, but wherever you find yourself, this chicken casserole is sure to evoke feelings contentment and is at the core, soul food.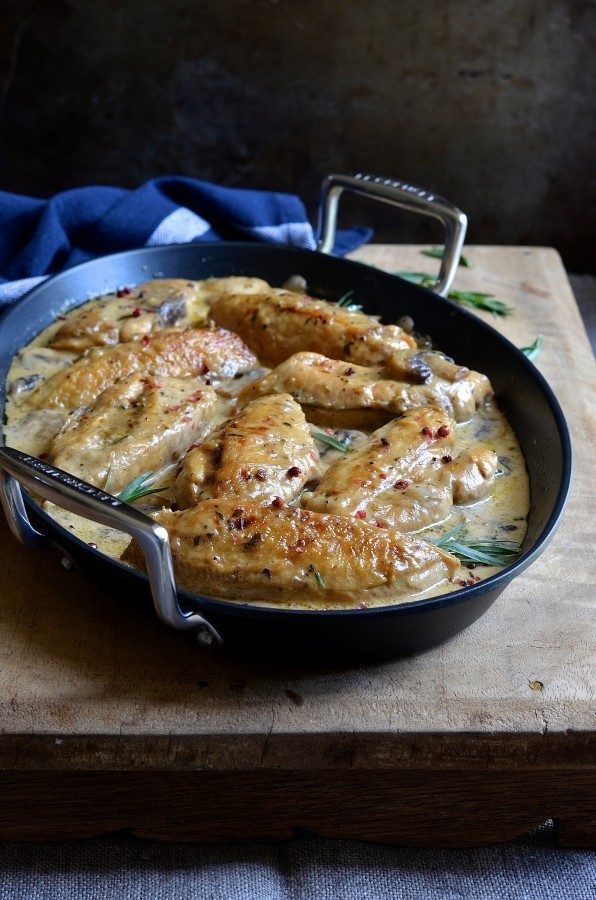 For me, cooking is like breathing. I do it everyday, without a consciousness as to whether I should or the excessiveness of it it all. I love food in its entirety, although there are times when I can honestly say, making toaster, is an effort. But then there are days like this….. A tarragon cream chicken day. You know it's good when the only sound amidst the silence is the gratuitous murmurings.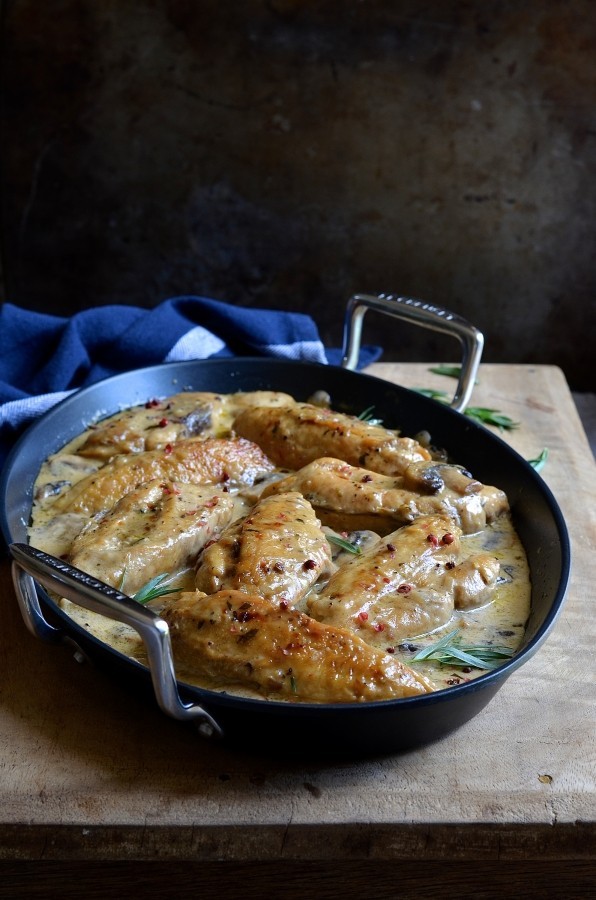 Over the years I've made several different versions of tarragon chicken, mostly with lean chicken fillets. While the sauce tastes the same, bone-in, skin on chicken is infinitely more succulent. Keeping the skin on during cooking prevents the meat from drying out. Discard before serving or slide the casserole under the grill to crisp up the skin, if that's the way you like it.
A word on tarragon. This soft leaf herb isn't always available, so when you see it, snap it up and make this dish. The dried variety has very little taste in comparison and is a poor substitute. Tarragon leaves are delicate but potent, so go sparingly when adding to any recipe. It's liquorice-ness cuts through the richness of the cream sauce beautifully. For Christmas I received a selection of exotic peppercorns. It was one of my favourite gifts. I've been biding my time, waiting for a dish that would benefit from the mild, peppery sweetness of my pink peppercorns. It's a marvellous addition here but if you can't find these spicy pearls, a generous grinding of black pepper will do.
PS For all the locals (SA residents), Poetry Stores stocks The Pepper Trade Collection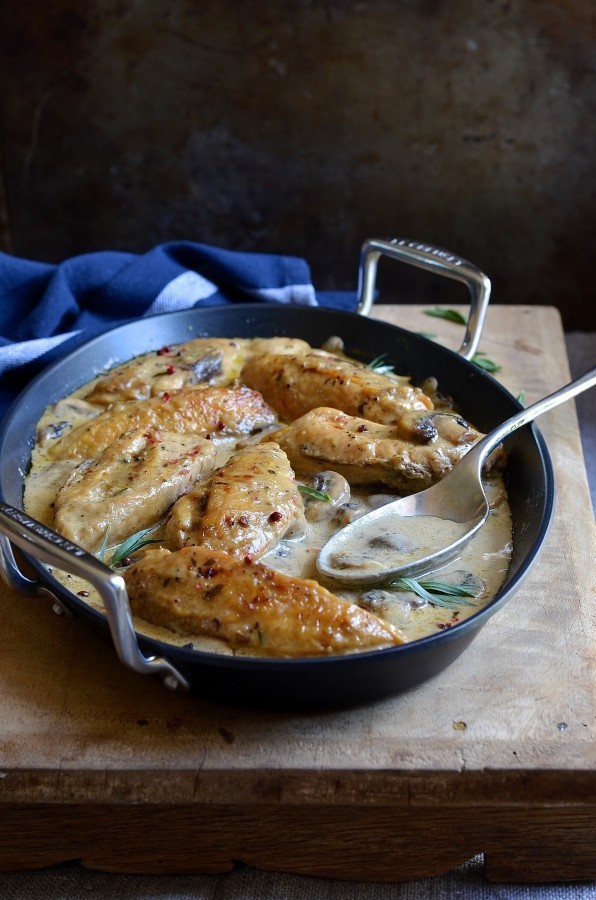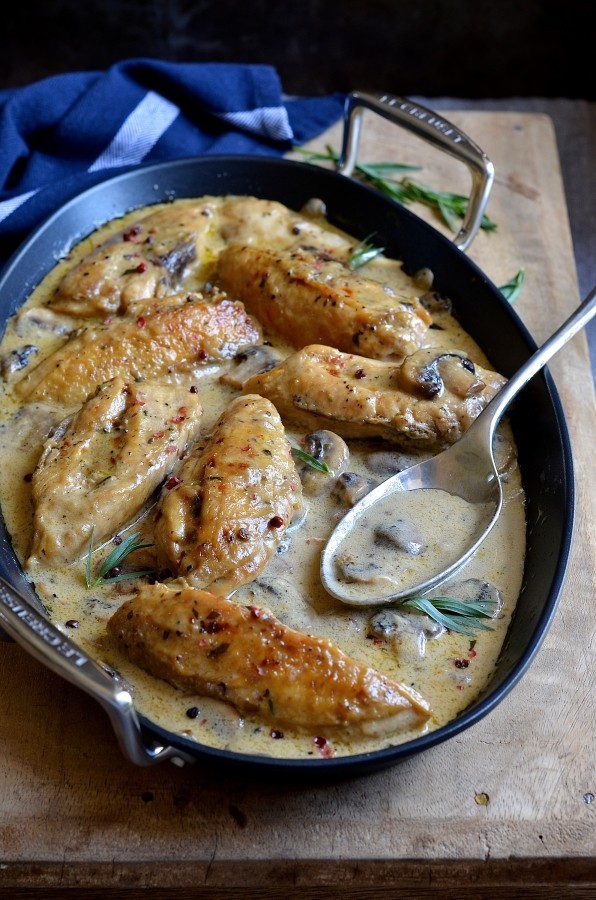 Speaking of the the best chicken recipes ever, you might want to add this Chicken and leek casserole dish to the list. It' the most viewed recipe on the blog. I think the Tarragon chicken might be following soon…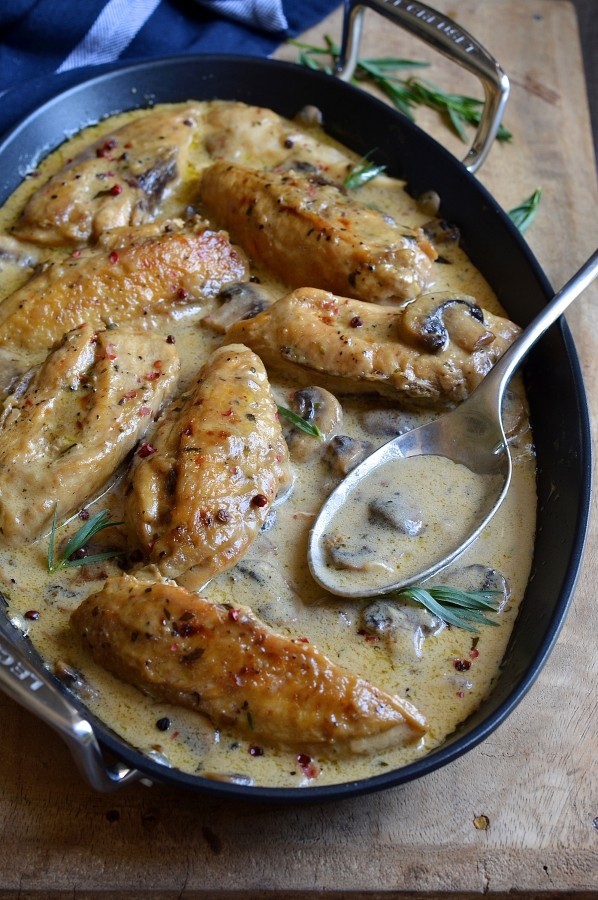 Tarragon cream chicken with pink peppercorns
1 tablespoon olive oil
1 tablespoon butter
8 chicken fillets, bone-in and skin on
2 shallots, diced
250g (2 cups) button mushrooms, sliced
3 stems fresh tarragon, de-stalked
1 cup (250ml) white wine
250ml hot chicken stock
1 cup pouring cream
a squeeze of fresh lemon juice (about 1 tablespoon should do)
1 teaspoon pink peppercorns, lightly crushed
sea salt flakes and cracked black pepper, to taste
Heat 1 tablespoon olive oil in a wide based pan. Season the chicken and brown on both sides.
Remove and set aside. Reserve 1 tablespoon of the pan oil and discard the rest.
Sauté the shallots for several minutes on a medium heat until softened. Add the butter and the mushrooms, turn the heat up and cook until all the water has evaporated. Season the mushrooms with salt.
Add the tarragon and stir through. Deglaze the pan with the wine and reduce by half.
Add the chicken stock, cream, lemon juice and pink peppercorns. Bring up to the boil and return the chicken to the pan.
Cover and simmer for about 30-35 minutes, turning the chicken over once during the cooking time. Remove the chicken skins if you like or place under the grill to crisp up and brown.
Serve with steamed broccoli and baby potatoes.
For more easy family favourites, have a peak at this popular chicken recipe.