Chicken and leek casserole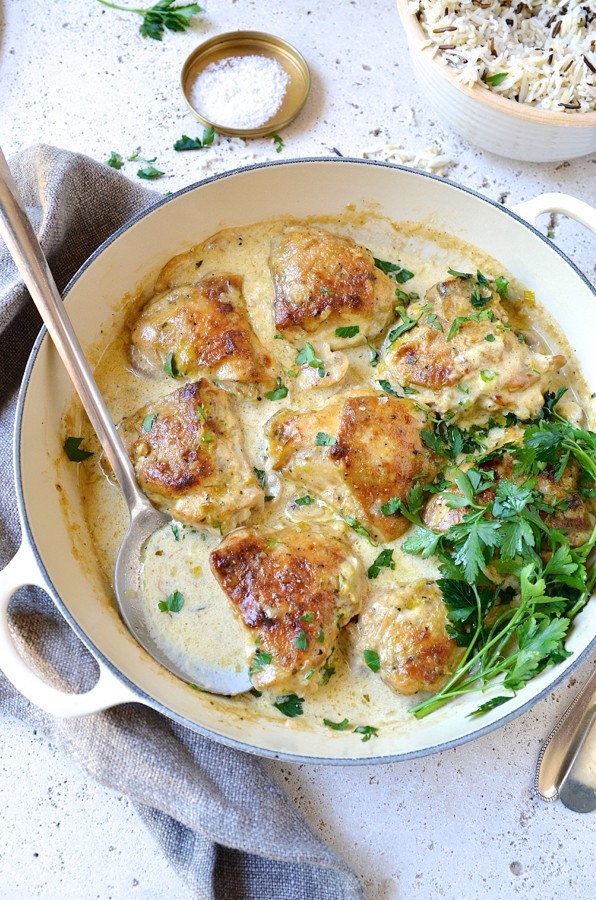 Assuming that I'm not alone in my valiant but seemingly futile attempt at balancing a manic end of year schedule, I'd like to offer a temporary respite from the madness that is November by way of this Chicken and leek casserole. With a creamy white wine and mushroom sauce, this Mid-week supper is rather luxurious, simple to make and a guaranteed crowd-pleaser. In my family, finger-mopping is usually an indication as to the whether the food was average or completely moreish. Needless to say, hunks of crusty bread would come in very handy for the unceremonious plate cleaning that'll follow. It's homely, comforting and just the sort of dish to restore mental and physical calm to a weeknight dinner table.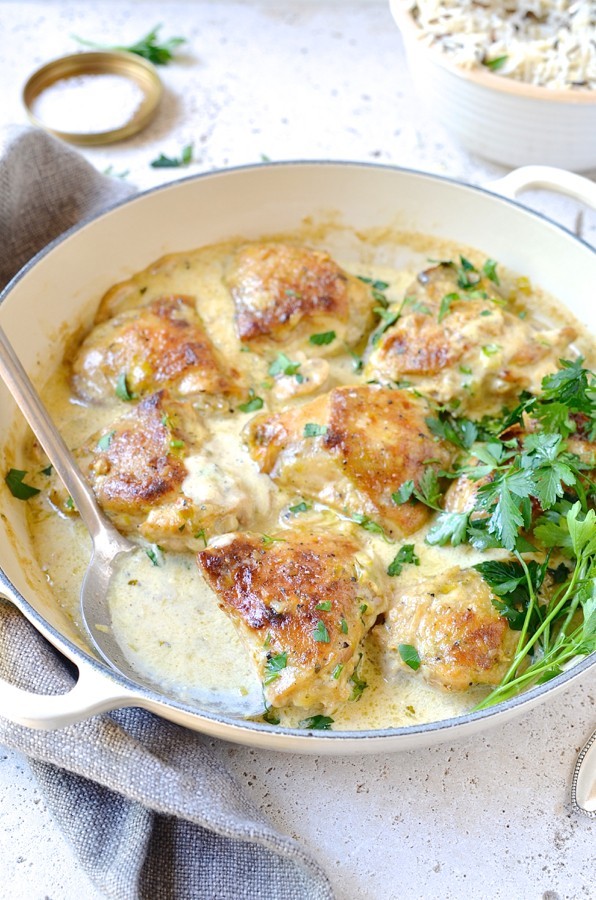 Tonight is a no-fluff kind of story in that there's really no explanation needed. It's as you see it – a gather and feast, help yourself supper. What I really love about this creamy chicken and leek casserole is the simplicity of ingredients. Nothing wild or exotic on the list that requires a food garmin to track down. Just a couple of the usual suspects that can easily find their way into your shopping trolley – Chicken thighs, leeks, mushrooms, a bottle of white, cream and parsley. Friends forever! Another easy stove-top chicken supper that's a complete doddle to make but with bags of flavour is this Sun-dried tomato and basil pesto chicken with marsala cream sauce. These two chicken casseroles recipes are all time family favourites and I'm sure they'll soon have everyone licking the plates!
I use skin-on, bone-in chicken thighs as brown meat is so much more flavoursome than white. Use whichever you prefer. Remember though to reduce the cooking time by at least 10-15 minutes if using the fillets to prevent drying out. Leeks and shallots impart a subtle sweetness to the sauce and partner like champions with mushrooms and chicken. For a herby freshness, adorn with handfuls of flat leaf parsley. Serve with steamed green beans and tender-stem broccoli for an oh so good Banting supper or wild rice, roast butternut and sweet potatoes for the rest of us. And…..we're done!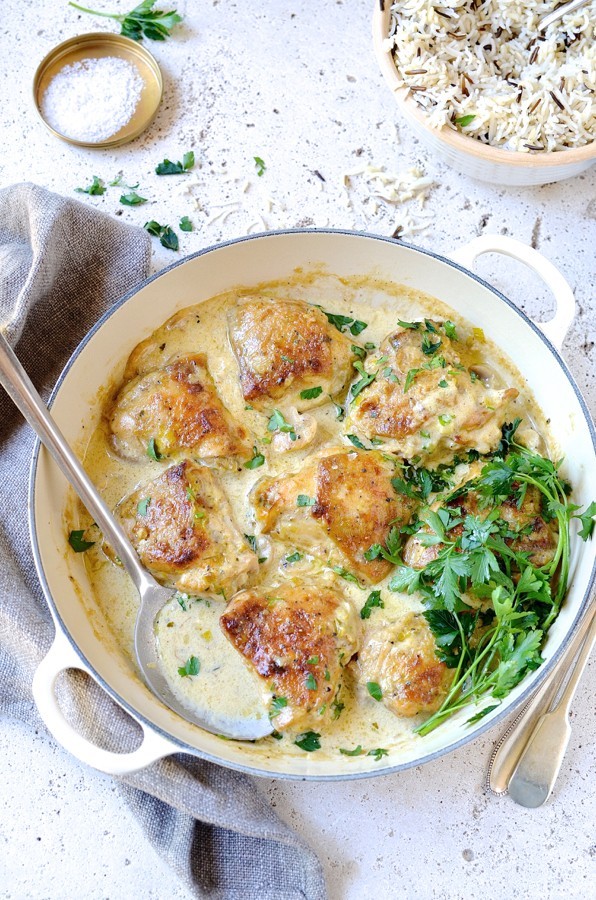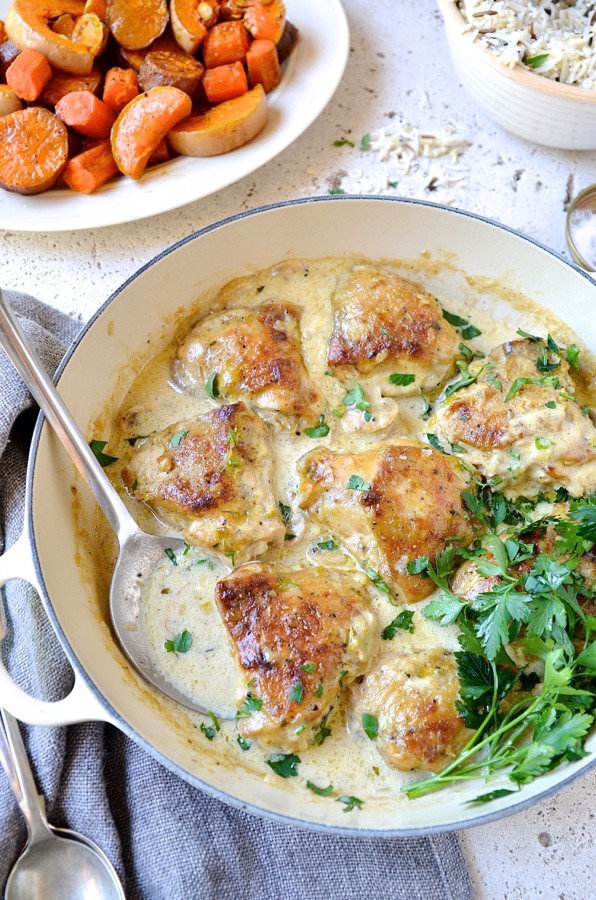 Chicken and leek casserole
Author:
4
olive oil, for cooking
8 chicken thighs, (with or without skin)
1 shallot, finely diced
3 medium sized leeks, thoroughly washed and chopped into rounds
250g button mushrooms, diced
several stems fresh thyme, de-stalked
zest of half a lemon
1/3 cup dry white wine
1 cup (250ml) chicken stock
200ml cream
salt and freshly ground black pepper
flat leaf parsley
Heat 1 tablespoon olive oil in a large based frying pan. Season the chicken with salt and black pepper. Brown on both sides until golden. Remove from the pan and set aside.
Add the shallot and leeks to the pan and sauté for several minutes or until softened. Add the mushrooms and cook on a medium-high heat until all the liquid has reduced. Season with salt, black pepper, thyme and lemon zest. Deglaze the pan with the wine. Reduce down by half and then add the chicken stock and cream. Return the chicken pieces to the pan, cover partially with a lid and simmer for about 40 minutes until the sauce has thickened and the chicken is cooked through. (I usually turn the chicken over once during the cooking time to ensure the flavours is evenly absorbed)
If you're going to be eating the skin, I'd suggest you place the dish under the grill for several minutes to crisp up the skin. Scatter with plenty of flat leaf parsley and serve immediately.
Prep time: Cook time: Total time: Serves: