With just the slightest nip in the air, it is time to embrace slow cooking and hearty casseroles. My one pan saffron and honey chicken casserole is comforting and bright with a gingery orange and saffron stained sauce that hints towards wintery warmth.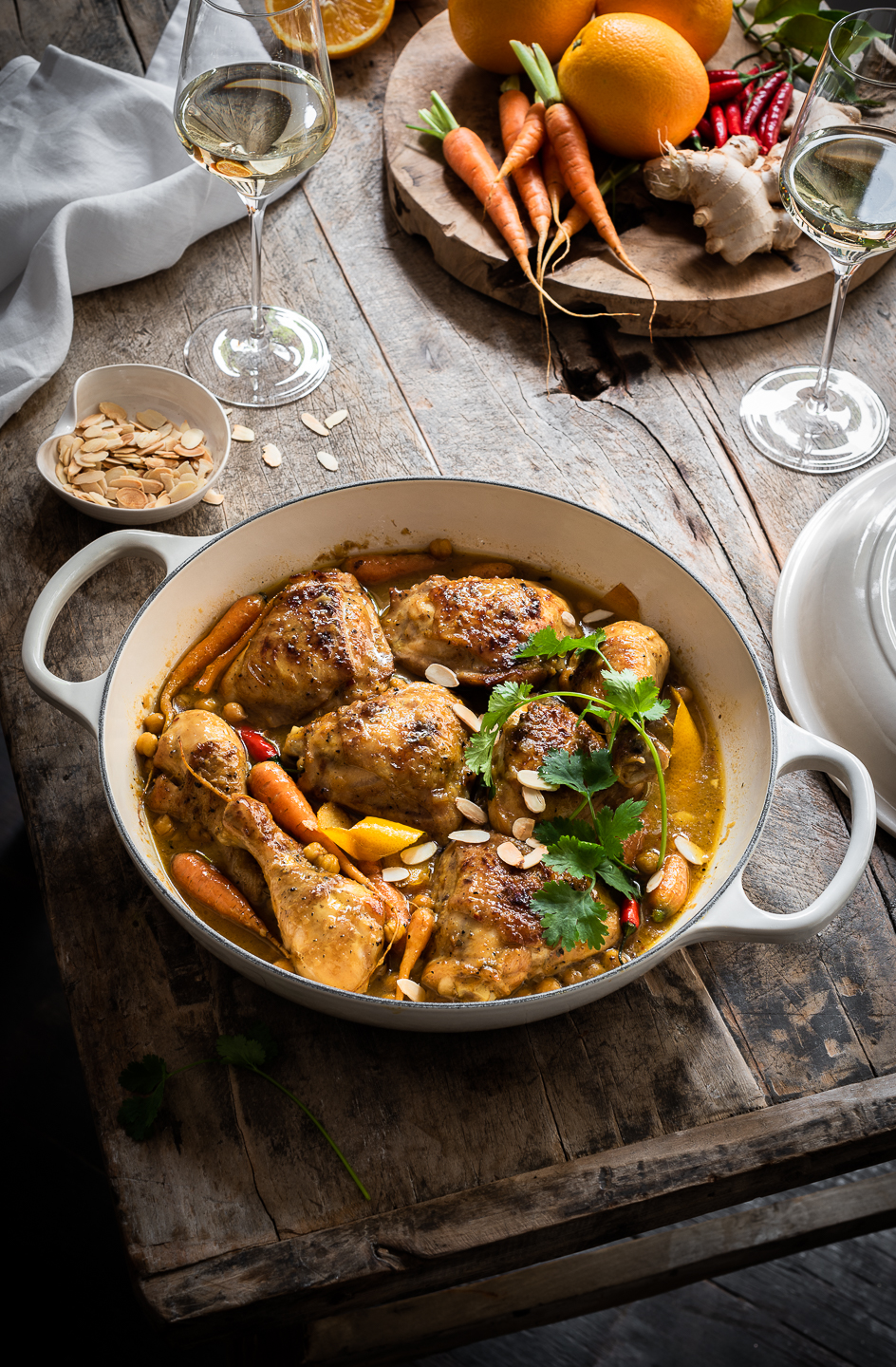 The recipe for this saffron and honey chicken casserole was created for Le Creuset's Farm Fresh Campaign. As you'd expect, the focus is fresh local produce. Here, carrots and oranges are key players. They also happen to partner really well with ginger and chilli. As with all good casseroles, a well-flavoured sauce is the thing that elevates and supports the entire story. It should be slightly thickened, glossy and well seasoned. In other words, clingy enough to coat the chicken and just loose enough to be mopped with torn bread, if that's your thing. Being a fan of texture, colour and vibrantly bold flavours, this chicken casserole is endowed with all. I hope it'll be a regular at your autumn dinner table!

Saffron & Honey Chicken Casserole with Orange & Ginger Sauce
Serves 4-6
30ml (2 tablespoons) olive oil
1kg chicken pieces (thighs and legs)
1 red onion, finely diced
2 cloves of garlic, minced
4cm piece of ginger (1 tablespoon), grated
15ml (1 tablespoon) all-purpose flour
250ml (1 cup) chicken stock
1 red chili, whole, cut lengthways
peel of 1 orange
200ml freshly squeezed orange juice
15ml (1 tablespoon) lemon juice
a pinch of saffron steeped in 30ml hot water
15ml (1 tablespoon) honey
300g baby carrots
400g tin chickpeas, rinsed and drained
50g almond flakes, toasted
fresh coriander, to finish
salt and freshly cracked black pepper
Heat 1 tablespoon oil in a Le Creuset Signature Buffet Casserole. Season the chicken with salt and pepper. Brown on both sides until golden. Remove and set aside.
Add the remaining oil to the pan and sauté the onion until softened, about 6-8 minutes. Stir in the garlic and ginger and cook for another minute. Scatter over the flour and mix to coat the onions. Slowly pour in the stock, stirring constantly until the sauce thickens. Add the chili, orange peel and juice, lemon juice, saffron water and honey.
Return the chicken to the pan, along with any resting juices. Cover and simmer for 25 minutes.
Add the carrots and cook for a further 20 minutes or until the carrots are tender and the chicken, cooked through. Add the chickpeas and heat through, about 5 minutes. Adjust seasoning if needed.
To crisp the chicken skin, place under the grill for several minutes. Finish with almond flakes and fresh coriander.
Here are several of the most popular chicken casserole favourites on the blog:
Pork and shallot casserole with sage and mushrooms
Quick pesto cream chicken casserole