Quick pesto cream chicken casserole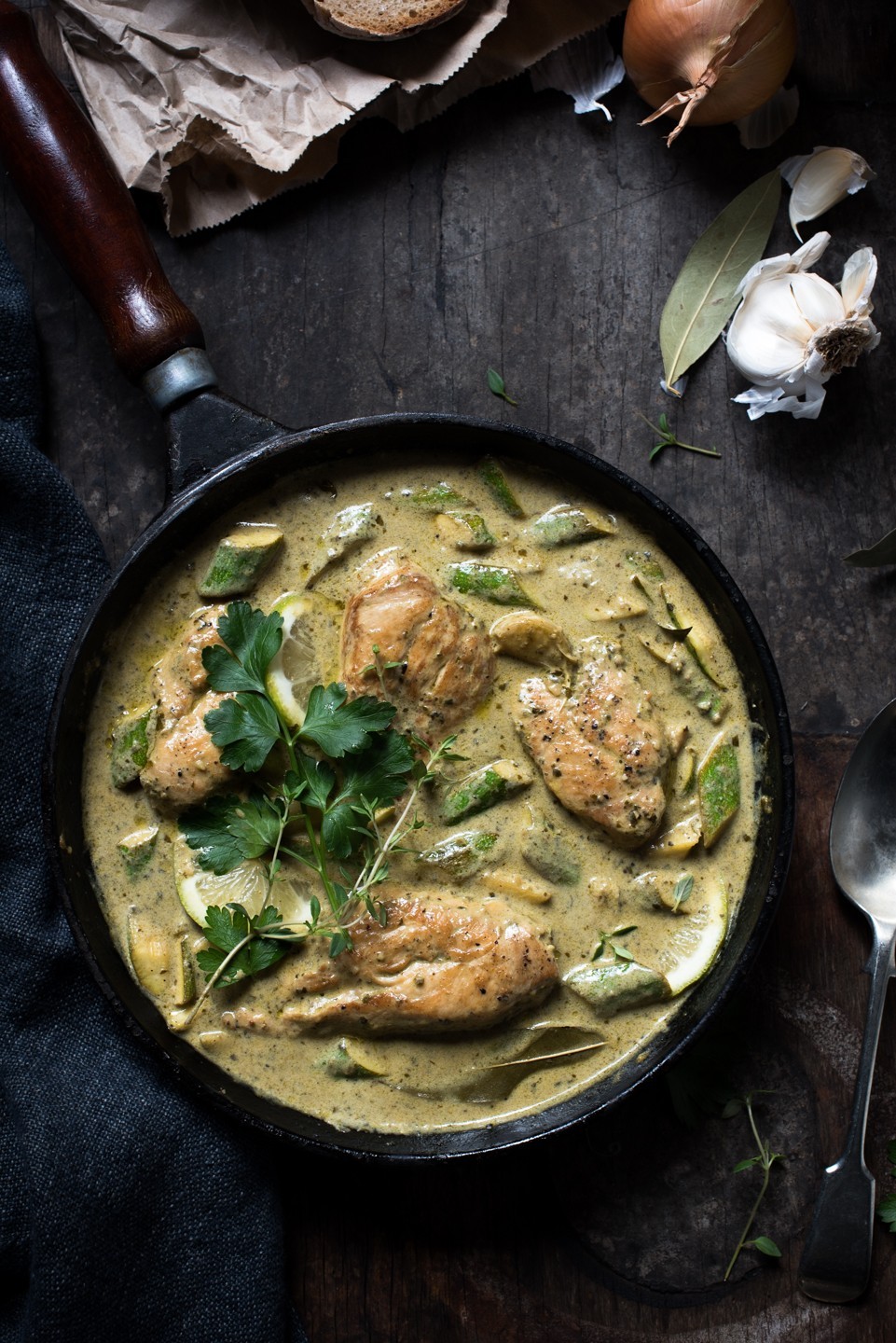 In the true sense of the word, a casserole is 'a kind of stew that's cooked slowly in the oven', which means the recipe for this quick pesto cream chicken casserole is the short cut version. It tastes as mouthwateringly good, but the slow-oven part is replaced with a fuss-free stove-top method. It takes no more than 25 minutes, tops. Monday, needs this dish.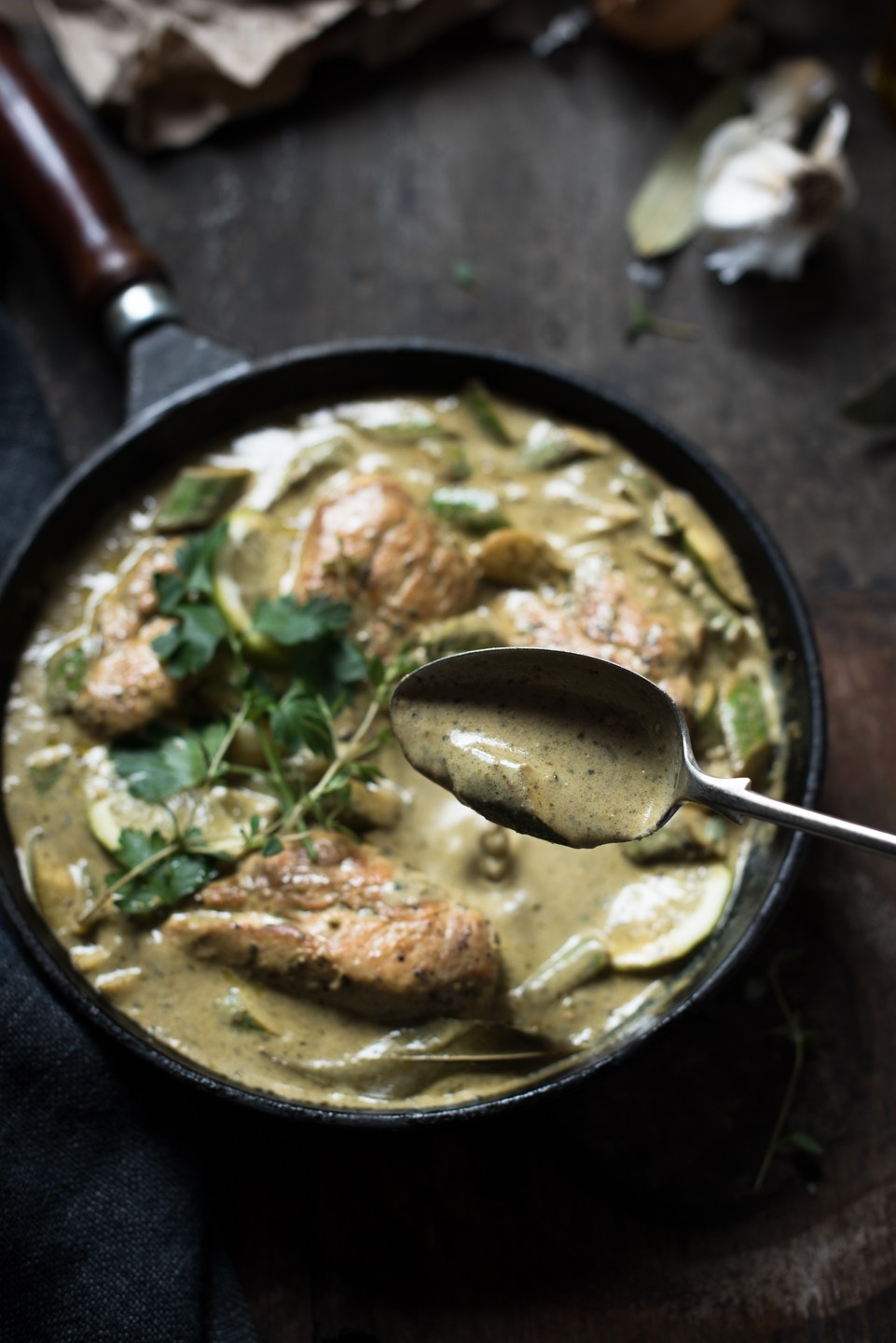 My fridge is always filled with jars of pastes and flavour injectors, homemade pesto being one of our favourites. I always make a double batch of this pesto to toss through wholegrain pasta for an instant supper, or whisked into a comforting tomato soup. Lately, we've taken to spreading it onto our avocado toast, too and it's now a regular at the breakfast table.
For tonight's easy supper, we're relying on the gutsy flavour of pesto to brighten the sauce. It almost makes one think you're somewhere wonderful, like say, Italy. When I want to get dinner done in a snap, one pan recipes that includes vegetables, is even better. I've added zucchini to mine but you can replace it mushrooms or drained, marinated artichokes, if you prefer. A couple of handfuls of cherry tomatoes is  another tasty option. It adds colour and juicy sweetness. Lovely!
There are a couple of ways to serve this chicken, the obvious choice being pasta, creamy polenta or mashed potatoes. All three are fitting and simple. If you go the pasta route, cut the chicken into strips or bite-sized pieces before frying. A warm ciabatta bread is an eager bedfellow here and is, in fact, the quintessential sauce-mopper for most saucy situations. I hope your week is off to a great start. I'll see you back here next Monday.
Quick pesto cream chicken casserole
Serves 4
Ingredients
olive oil, for frying
4 free range chicken fillets
1 onion, finely diced
1 clove garlic, minced
6 smallish zucchini, sliced 'penne' style
45ml (3 tablespoons) pesto
150ml hot chicken stock
250ml fresh cream
2 bay leaves
15ml (1 tablespoon) lemon juice
lemon slices, to serve (optional)
a handful of flat leaf parsley, roughly chopped
Method
Heat 1 tablespoon olive oil in a wide-based pan. Season the chicken with salt and freshly ground black pepper.
Brown the chicken on both sides, about 2-3 minutes per side. Remove from the pan.
Add a drop more oil to the pan and sauté the onion for several minutes, until softened. Add the garlic and zucchini and cook for a further 2-3 minutes.
Once the zucchini takes on some colour, add the pesto, chicken stock, cream and bay leaves. Bring the sauce up to the boil and return the chicken to the pan.
Turn the heat down to medium and simmer without a lid for 10-15 minutes, until the sauce is thickened and the chicken, cooked through.
Add the lemon juice, lemon slices and scatter with chopped parsley. Toss with cooked pasta or on a bed of fluffy mashed potatoes.