A simple sundried tomato soup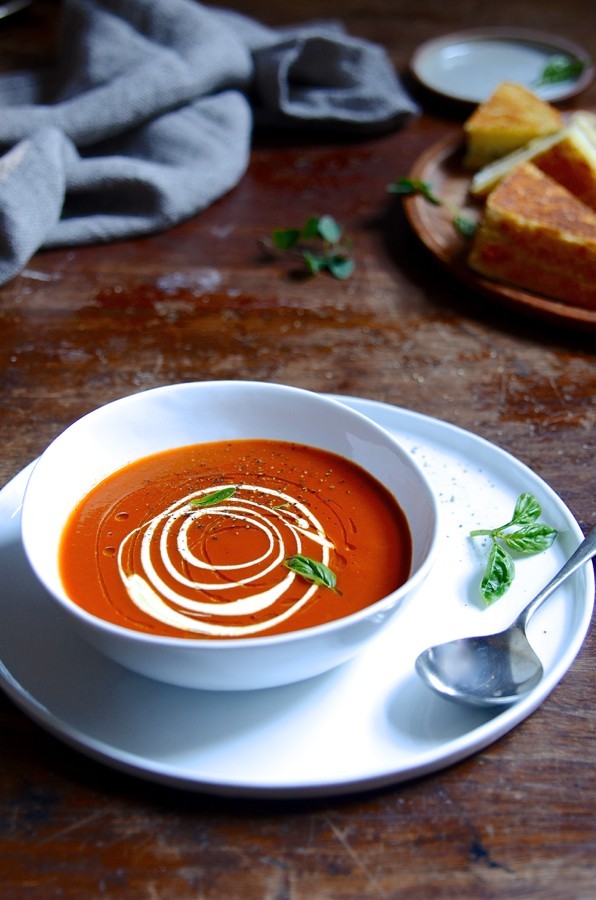 The sound of rustling leaves underfoot is a gentle reminder that it's time for 'souping'. With mildly warm days here on the Highveld and chilly nights, Autumn remains my favourite time of year. I'm easily drawn to the warmth of our kitchen, pulling chairs in closer to huddle around the hearth, steaming bowls of soup clutched between our hands. Easing us into soup season, we have this light and simple sundried tomato soup. It's uncomplicated and clean, the taste distinctly tomatoey. Vine ripened tomatoes – slightly tart with flavours that sing red. To amplify the taste and add depth of flavour, I've included a few darkened, oil-soaked sun-dried tomatoes.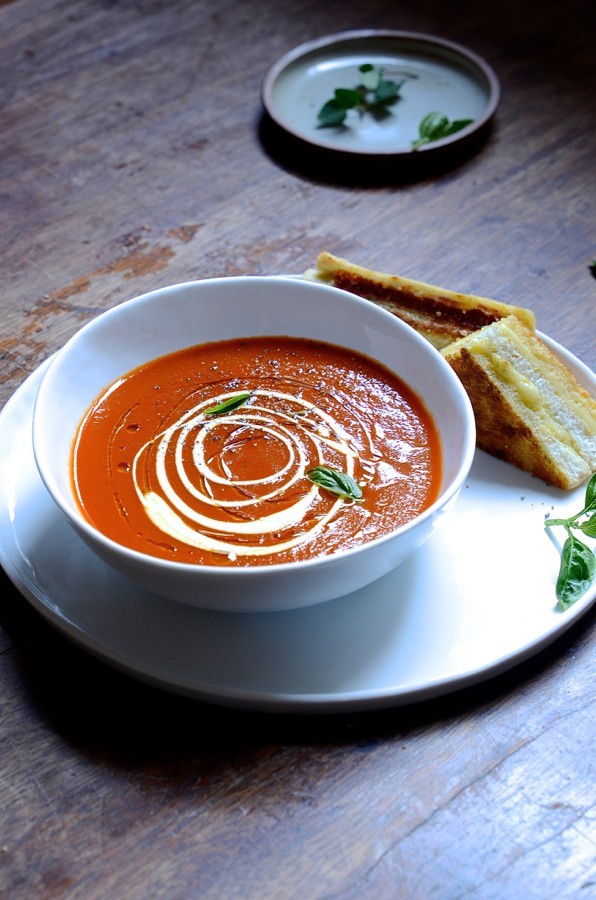 A glistening bowl of red, with swirls of ivory cream, droplets of extra virgin olive a scattering of basil – Quintessential classic Italian brilliance. The power of red, white and green prove yet once again how a few simple ingredients can deliver big flavours to the table. I serve this soup with triple decker basil pesto and mozzarella toasties. According to my daughter, who has proclaimed herself the pesto queen, there are few things that don't benefit from the addition of this nutty, green paste. It's the easiest condiment to blitz together and homemade always trumps bottled. This walnut and rocket basil pesto is one of my kitchen staples. It's especially good for pesto chicken pasta and of course, wintery soups like this one.
While tinned tomatoes are my no 1 go to pantry ingredient, I used fresh roma tomatoes in this recipe. The taste is infinitely fresher and more tomatoey, if that's possible. Use either, depending on what's to hand. I always recommend to everyone that attends my winter cooking classes, when making soup, double up. Soup freezes particularly well and is the best stand-by dinner. This tomato soup is ideal for freezing. Serve it dressed up for an elegant dinner party or Harry casual-style straight from the pot for family suppers. Either way, if you make one new soup this season, let it be this. Oh yes, it's cheap as chips, good for Banting buddies, vegetarians and vitamin – C antioxidant seekers.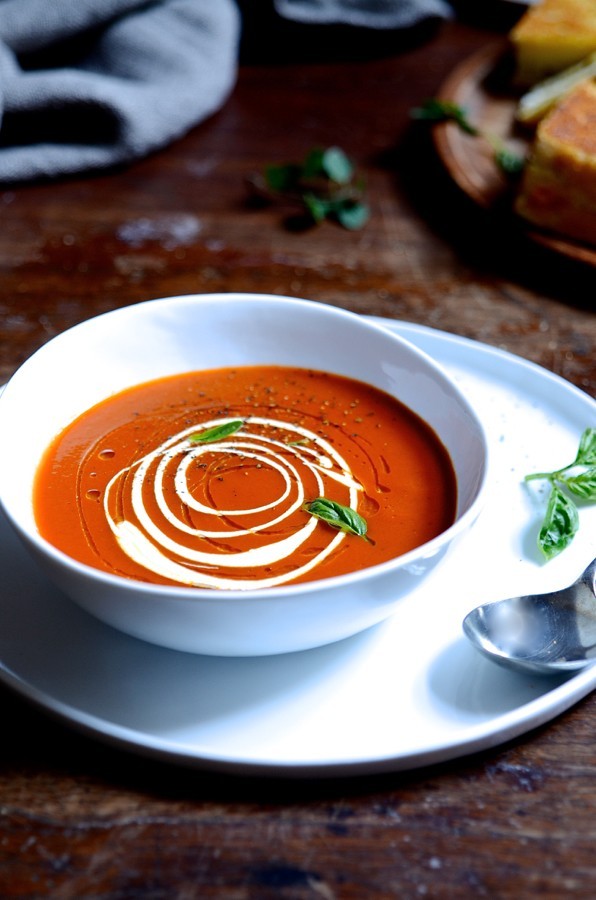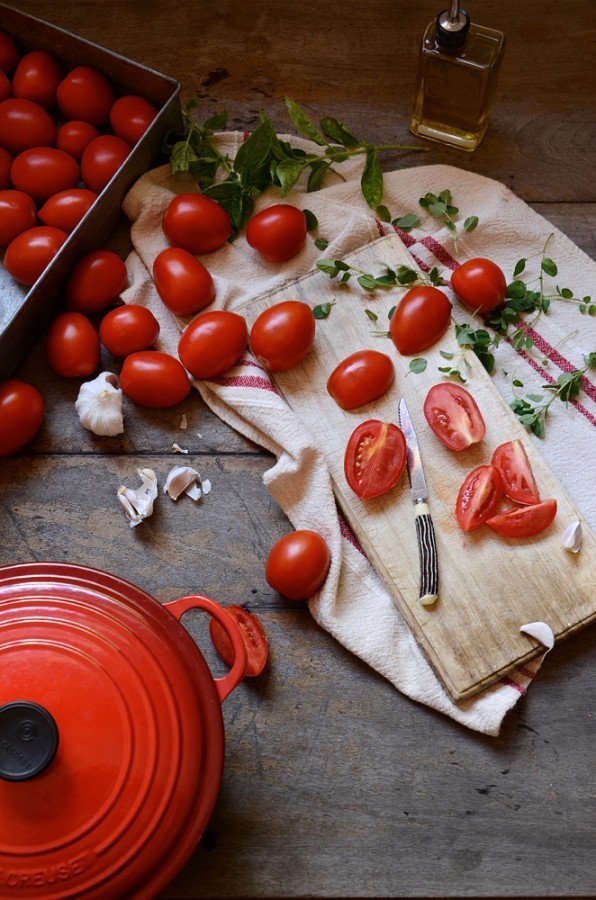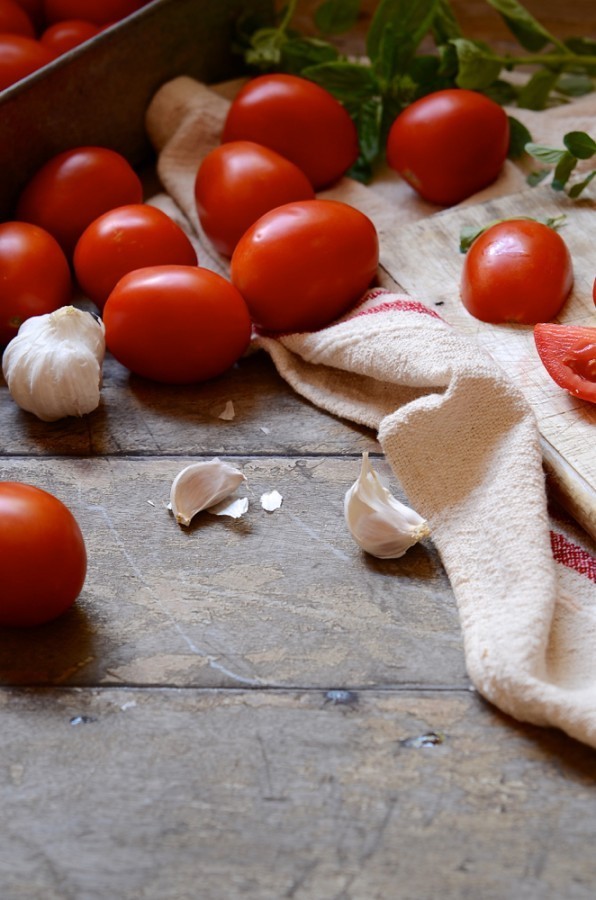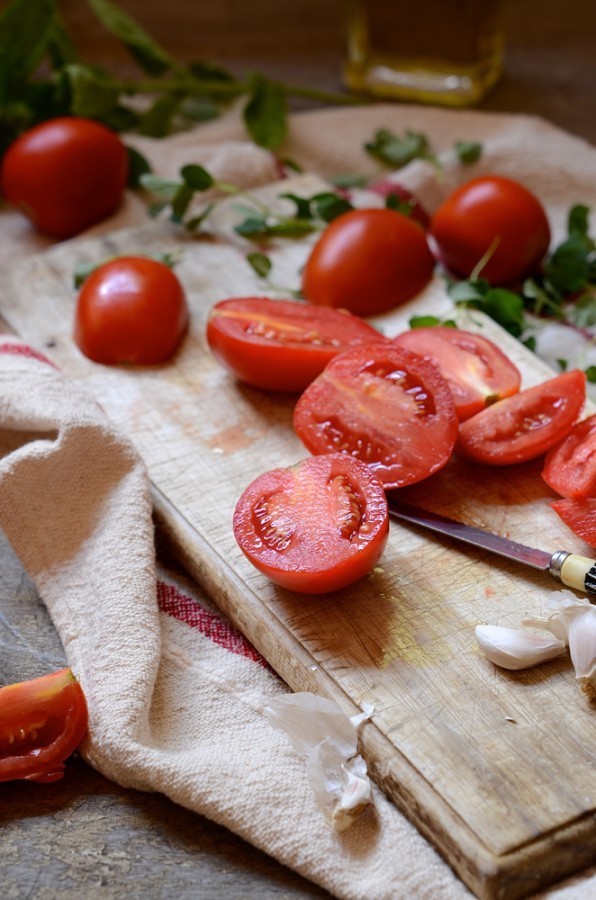 A simple sundried tomato soup
Ingredients
2 tablespoons olive oil
2 -3 garlic cloves, peeled and thinly sliced
2kg ripe Roma tomatoes or the same weight, whole tinned tomatoes
6 large sundried tomatoes (preserved in oil)
several stems fresh oregano, de-stalked and roughly chopped
1 tablespoon sugar or xylitol (or slightly more depending on the acidity of the tomatoes)
1.8 litres chicken stock or vegetable stock , if doing a vegetarian version
salt and freshly ground black pepper
large handful basil, roughly torn
cream, to serve
extra virgin olive oil, to finish
Instructions
Rinse the tomatoes under cold water. Cut into quarters and then halve once more.
Heat the olive oil in a large, deep sided saucepan.
Fry the garlic for several minutes over a medium heat, being careful not to burn it.
Add all the tomatoes and sauté for about ten minutes until the juices are released and the tomatoes are softened.
Stir through the sundried tomatoes, oregano and sugar. Season generously with salt and pepper.
Pour in the stock and simmer on a medium high heat without a lid for about an hour. You want the liquid to reduce quite substantially so leaving the lid off is key. Depending on the water content of the tomatoes, you might need to reduce it down for a further 15-20 minutes.
Add the basil and cook for another minute or two. Transfer the soup to a blender and blitz until smooth.
For an extra smooth consistency, strain the soup through a sieve. Return the soup to the pot and heat through. Correct the seasoning with salt and freshly ground black pepper.
Drizzle with cream, extra virgin olive oil and a few sprigs of basil.