Harira vegetable soup with barley and quinoa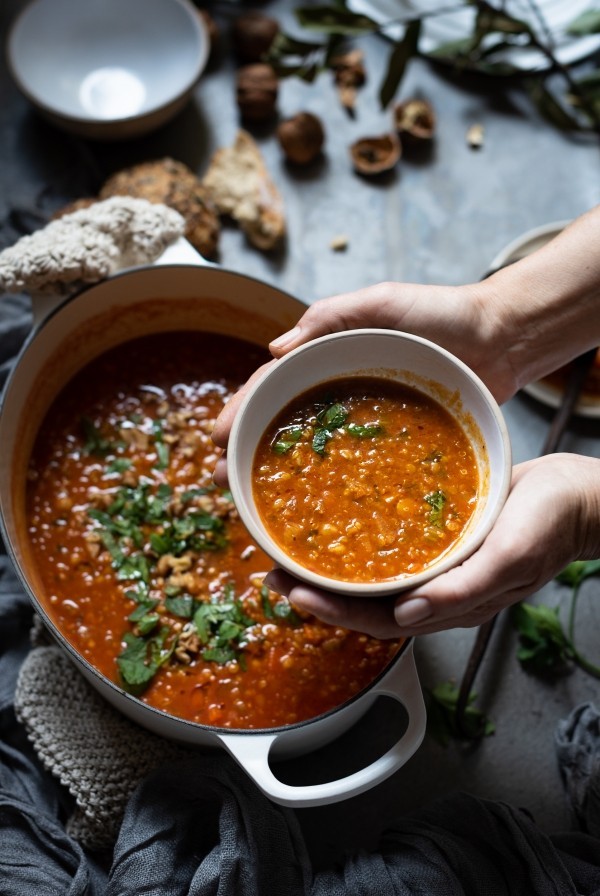 Soup speaks of cozy comfort, a kind of food respite that nods at casual suppers and informal gatherings. And when nothing other than hearty warmth will do, this Harira vegetable soup is sure to quell a wintery hunger. Although traditionally made with lamb and eaten during Ramadan, to break the fast, I've given it a vegan make-over by packing it full of plant-based protein, barley and quinoa. It's everything I hoped for and perhaps, a little more.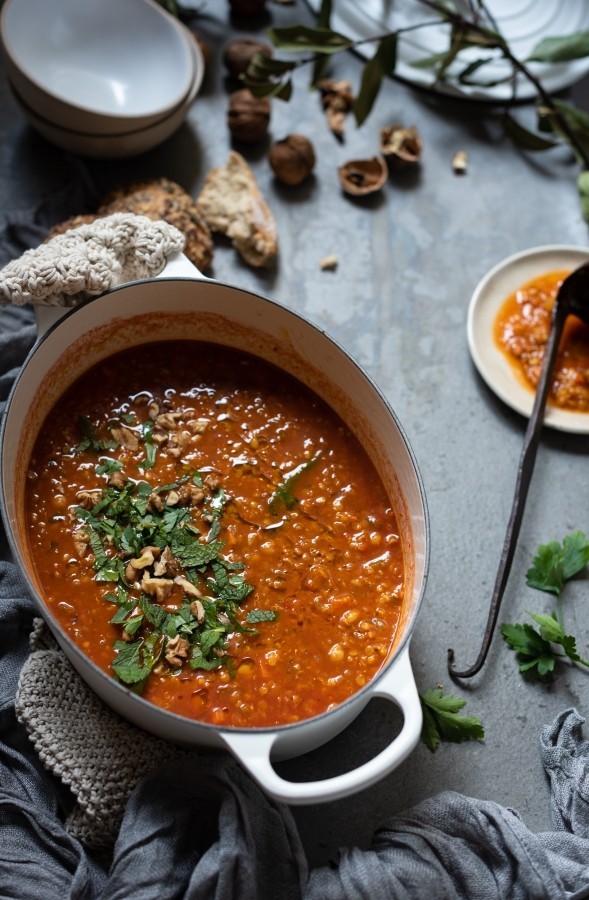 Whilst the list of ingredients is quite substantial, the method itself is hardly any effort. Being a vegetable based recipe, it cooks in less than half the time than if using meat. The flavour of this traditional Morrocan soup is earthy with just a hint of smoky heat. Rather than hot, there's a mellow gingery heat that lingers gently on the tongue. I like soup to be either smooth and creamy or wholesome with some chewable texture. Today, it's the latter. I've used barley to thicken the soup and quinoa for added protein and a delicious nutty flavour. You can of course use bulgur wheat or freekeh, if you prefer. Even wild rice is a good substitute. This recipe makes a generously large pot of soup that'll easily feed a crowd. Serve it with a handsome sourdough and cheerful company.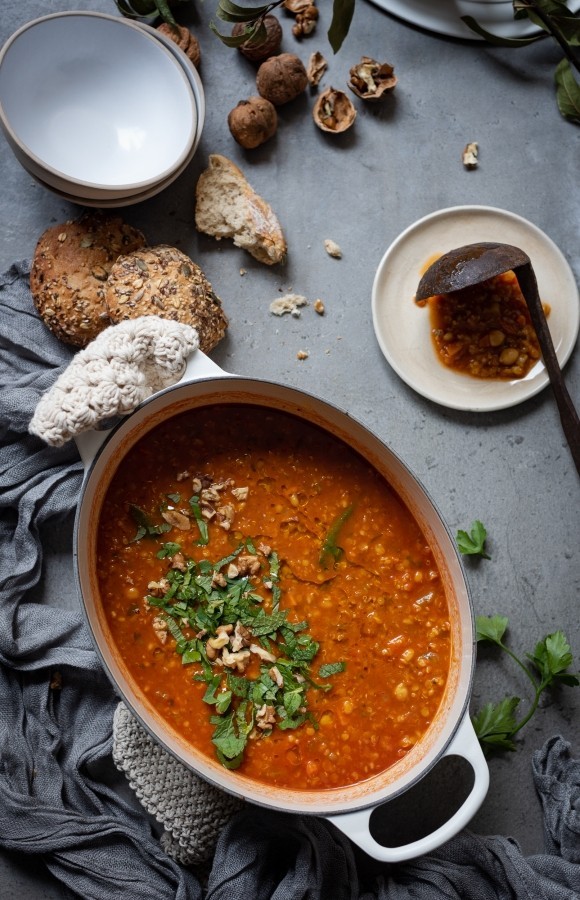 Harira vegetable soup with barley and quinoa
2 teaspoons cumin seeds
30ml (2 tablespoons) olive oil
1 large brown onion, diced
2 stems celery, chopped
3 carrots, peeled and chopped into 1 cm dice
1 fat clove garlic, minced
3cm piece of ginger, grated
1 teaspoon turmeric
½ teaspoon ground coriander
1 teaspoon smoked paprika
zest of 1 lemon
3 tablespoons tomato paste
400g tin chopped tomatoes
300ml tomato passata
⅔ cup red lentils, rinsed and drained
½ cup barley, rinsed and drained
6½ cups vegetable stock
¼ cup quinoa, rinsed and drained
400g tin chickpeas
1 tablespoon lemon juice
chopped flat leaf parsley and mint, to serve
2 tablespoons walnuts, toasted and roughly chopped
Method
Heat a small pan over a medium heat and dry toast the cumin seeds until fragrant, about 4-5 minutes. Crush lightly in a mortar and pestle.
In a large saucepan, sauté the the onions in the olive oil for several minutes. Add the celery and carrots and cook for several minutes, then add the garlic and cook for another minute.
Add the ginger and all the spices, including the crushed cumin and lemon zest. Stir through and toast for just a minute or so until you smell the lemony oils.
Stir in the tomato paste and add the chopped tomatoes, tomato passata, lentils, barley and stock. Bring the soup up to a boil, cover with a lid and simmer for 20 minutes.
Now add the quinoa and simmer for a further 15-20 minutes or until the barley is tender and the quinoa is softened and swelled.
Add the chickpeas and lemon juice and heat through.
To serve, scatter with a handful of the herbs and chopped walnuts.
For more Meatless Monday inspiration, these recipes are some of my fall-back favourites: Leftover roast vegetable harissa soup