Roast sweet pepper soup with corn salsa
3 July 2019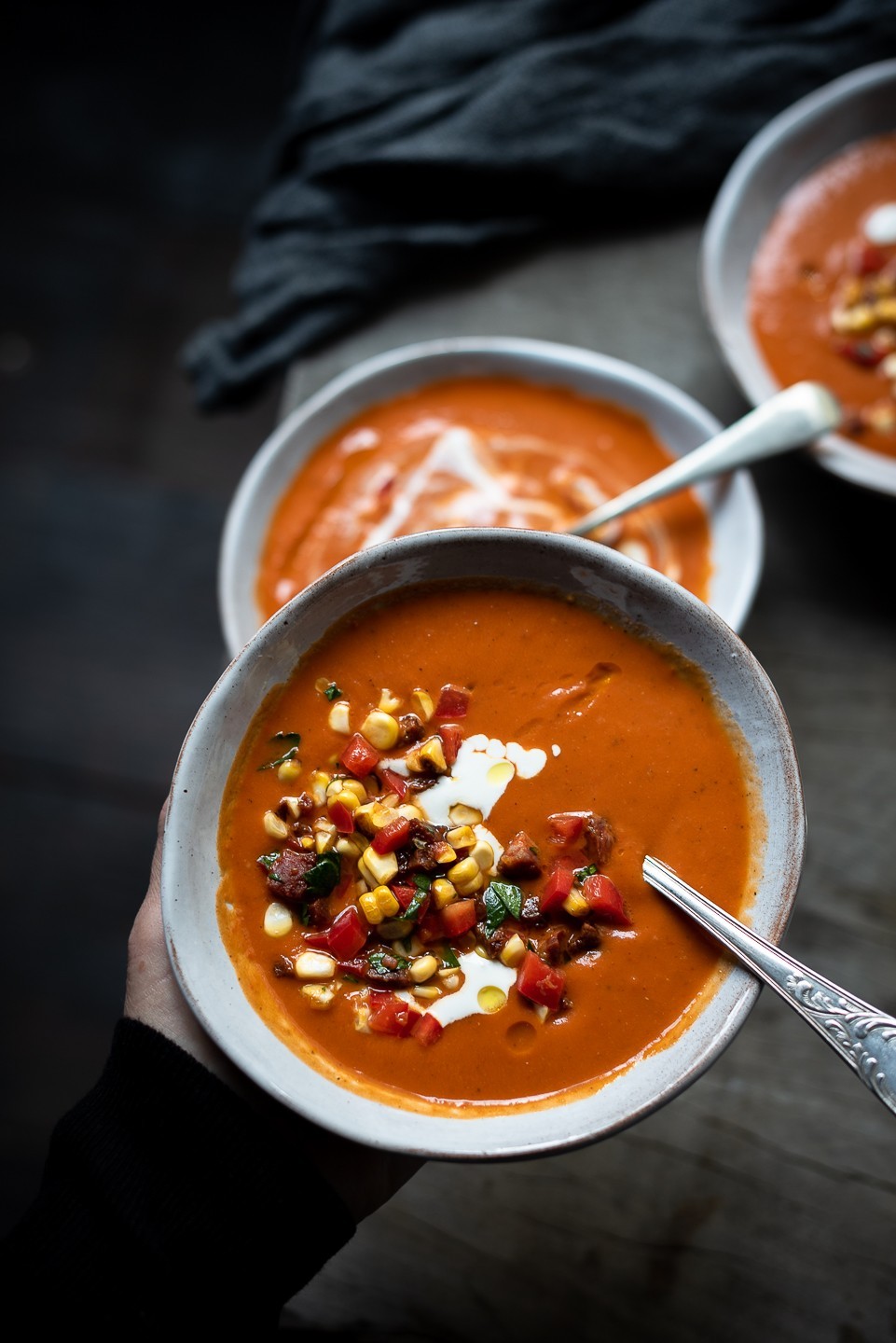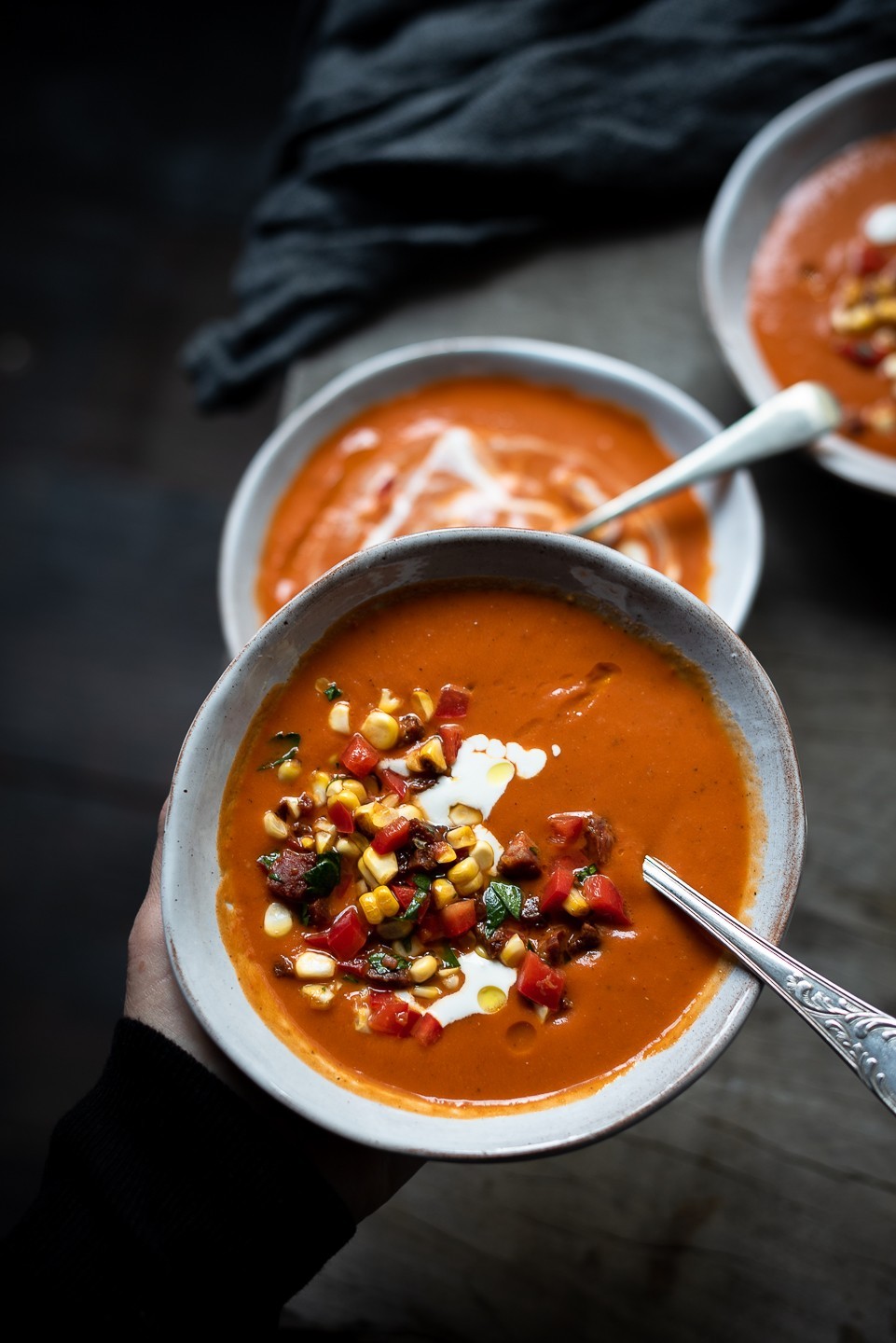 I think of soup as the quintessential winter food. Soups are mostly an easy one pot affair, and wholesome, the kind of food that needs little else other than good bread for dunking to make it a complete meal-in-a-bowl. For this roast sweet pepper soup, I've added a colourful chorizo and corn salsa.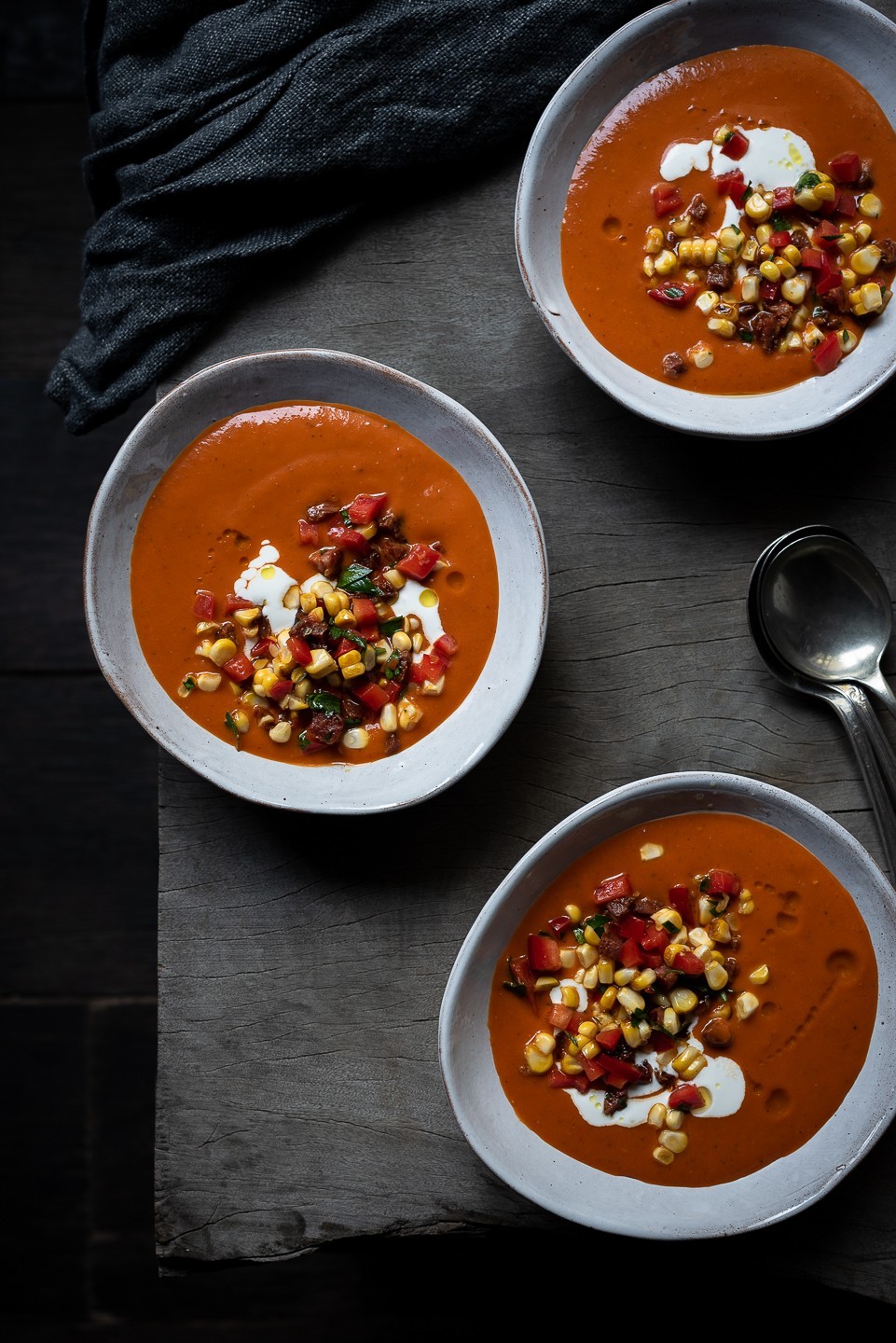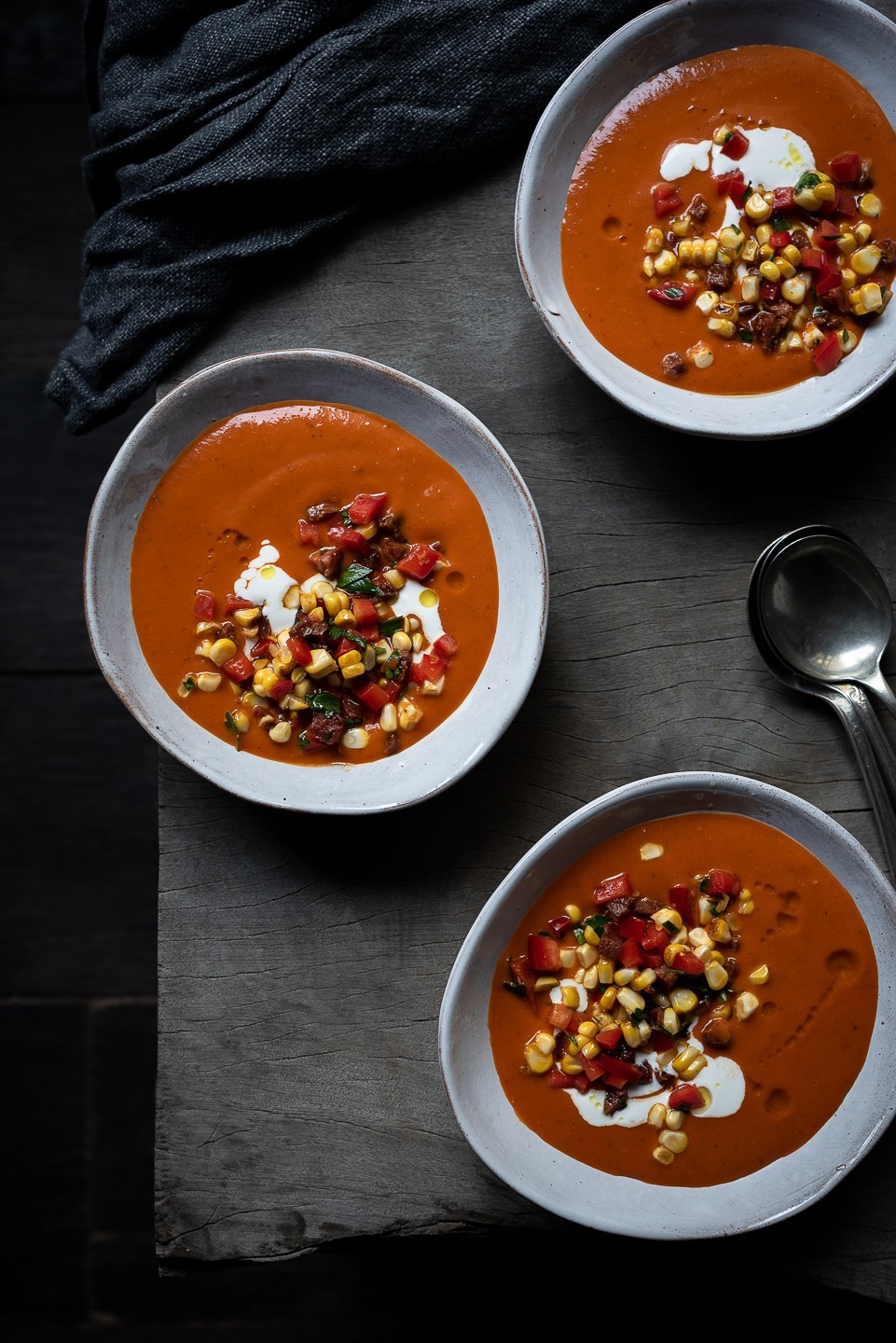 I start the recipe by oven-roasting all the vegetables until the edges are just shy of scorched and the flesh, soft and collapsed. Only dry oven heat can manage to elicit all those lovely sticky sugars, rendering a toffee-like quality to the vegetables. The onions in particular, should look mangled and dark, a sign of intense deliciousness. Some blackened edges are encouraged, adding a courageously smoky flavour that hovers gently in the background. Rosa tomatoes, sweet peppers and red onions are the musketeers in this recipe. 
The soup is perfectly good just as it is, but the sweet-salty salsa makes it memorable. For the salsa, I mimic the red peppers in the soup. Uncooked though, they're juicy and crisp. If you're making it vegetarian or vegan, replace the chicken stock with vegetable stock and omit the chorizo from the salsa. 


Roast sweet pepper soup with corn and chorizo salsa
Serves 4-6
30ml (2 tablespoons) olive oil

500g Romanita (or rosa) tomatoes, halved

3 sweet red peppers, seeded and roughly quartered

1 large red onion, peeled and cut into wedges

1 clove garlic, peeled

5ml (1 teaspoon) smoked paprika

several sprigs of each, thyme and oregano

3 cups vegetable of chicken stock

salt and pepper, to taste
Salsa
20ml olive oil

1 ear corn

100g smoked chorizo, casing removed and roughly chopped

1 small red pepper, deseeded and finely diced

a handful flat leaf parsley, roughly chopped

15ml (1 tablespoon) lemon juice
Preheat the oven to 200 C. Arrange all the vegetables, including the garlic, in a large roasting tin. Drizzle with olive oil and season with paprika, salt and black pepper. Tuck the herbs underneath. Roast for 45 -50 minutes.

 

Remove the hard herb stems, then scrape the roast vegetables and sticky pan juices into a saucepan. Add the stock and simmer for about 10 minutes. Transfer to a blender and blitz until smooth. Adjust seasoning if needed.

 

For the salsa, heat 1 teaspoon oil in a pan and toast the corn until slightly charred on all sides. Remove and set aside. In the same pan, fry the chorizo for several minutes.

 

When cool enough to handle, cut the corn off the cob. In a bowl, combine the corn, chorizo, sweet pepper, parsley and lemon juice. Drizzle over the remaining 15ml olive oil and toss together.

 

Ladle the soup into bowls and spoon over a heaping tablespoon of salsa. Serve with warm garlic buttered bruschetta.

 
Here are several more comforting soups to ward of the cold:
Harira vegetable soup with barley and quinoa
The everything-in vegetable soup
Tuscan Farro bean soup with pancetta