The Everything in Vegetable Soup
25 July 2016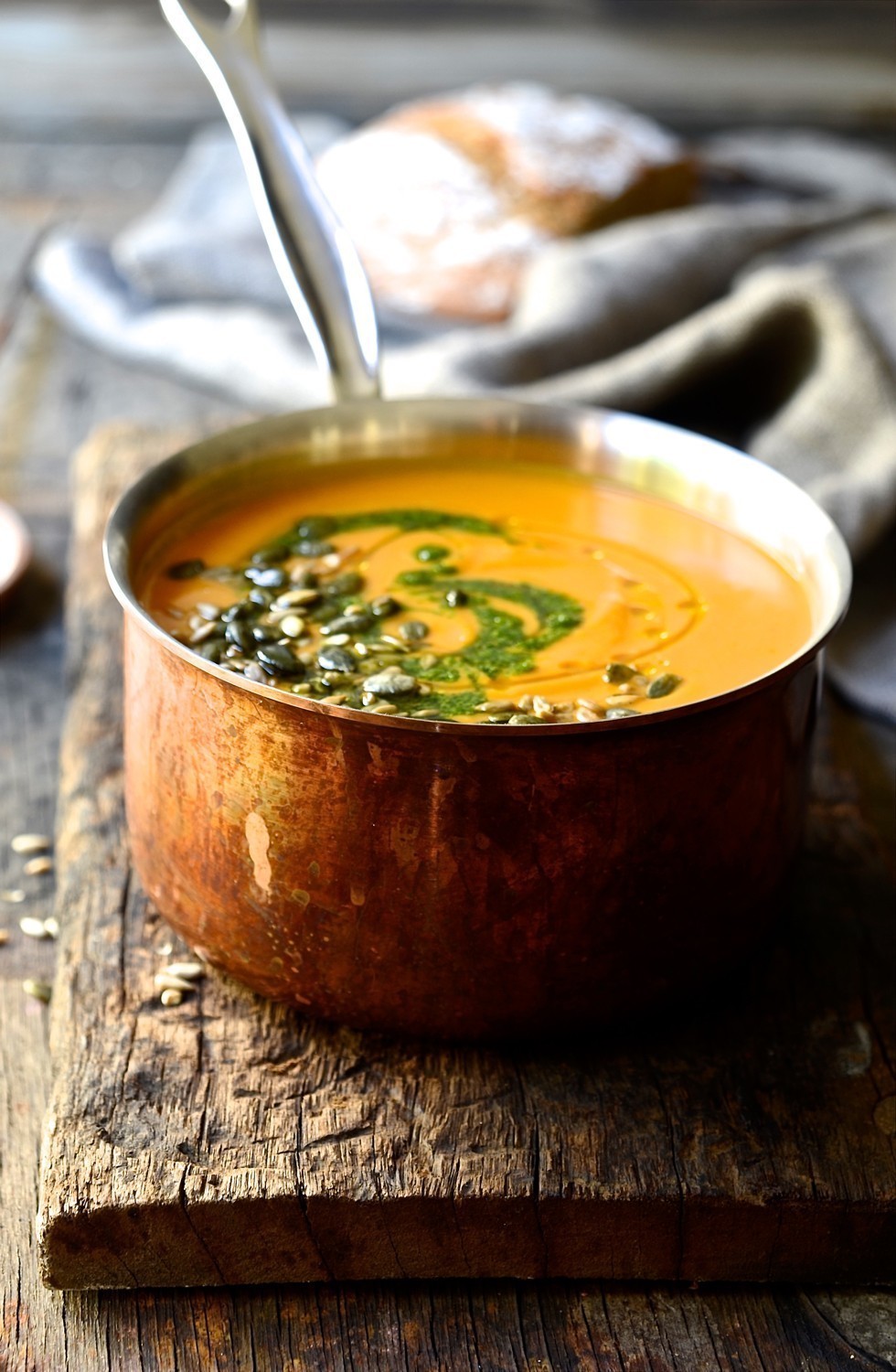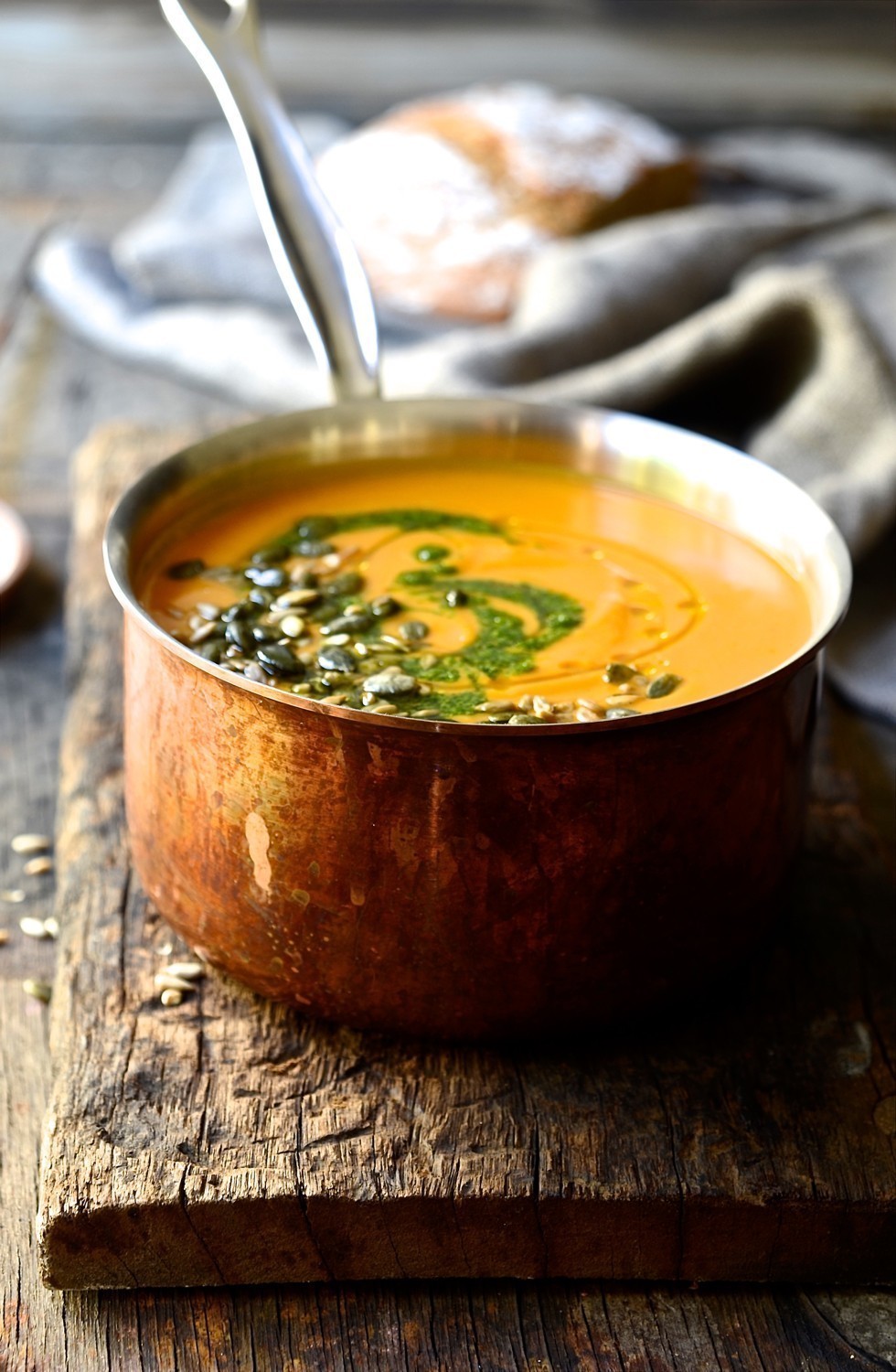 After last week's chocolate affair, I felt it only proper to redeem myself with this Everything in Vegetable Soup. Besides it's wholesome character, it is the ultimate fridge clear recipe. The bright green pesto swirls are optional but deliciously fresh and punchy. This soup is a joy. It will have you ladling-up seconds.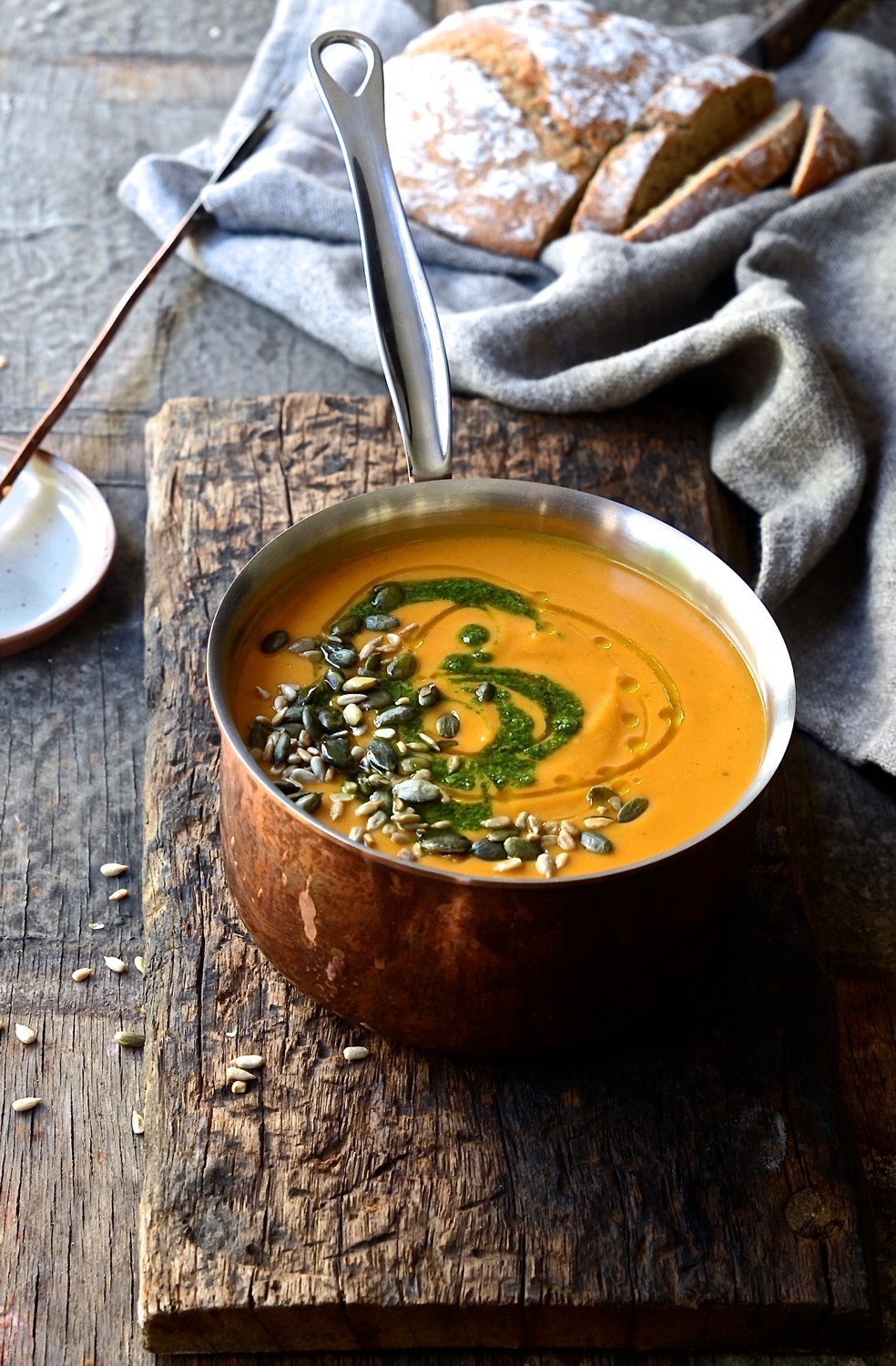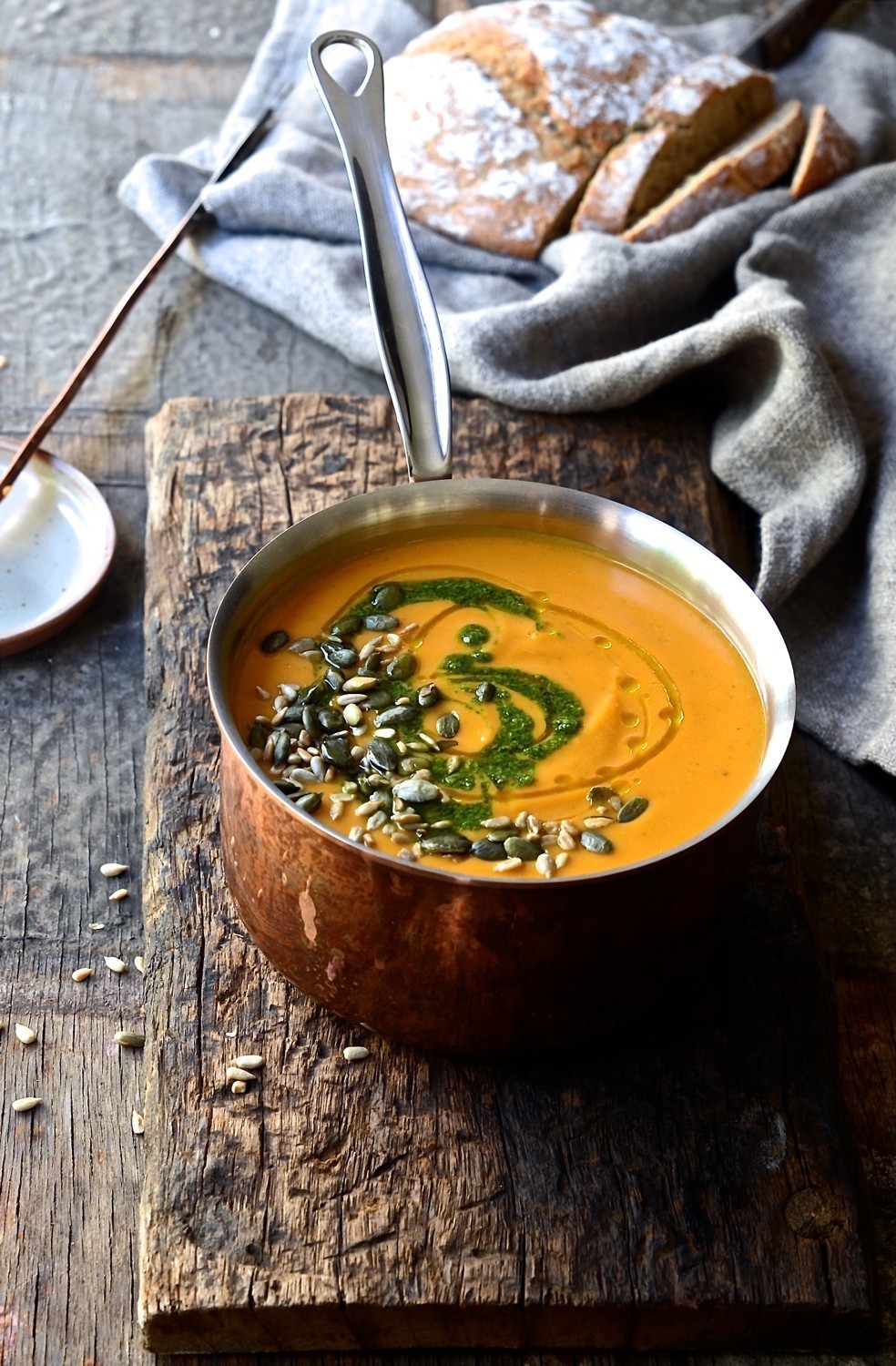 If you're looking to make your own pesto, this is the recipe I fall-back on time and again. It combines wild rocket, basil and walnuts for a bold peppery taste. Alternately, Pesto Princess makes the most delectable range of pesto. The Greek pesto with olives and feta is a particularly good match with this golden soup.
This is literally the easiest soup I've ever made. It'a bang everything in, simmer, blitz and serve recipe. As simple as that. There's no fancy knife skills or 'cheffiness' to it. You can virtually close one eye and have a glass of wine while cooking supper. How bad can that be? It bears mentioning that this recipe makes enough soup to feed a village, which can only be good news for anyone intent on beating the system. Invite a crowd over for a casual soup and rolls evening or freeze half for midweek back-up. I strongly suggest you get your vegetable quota in with at least three bowls of this nutritious soup. I serve this golden soup with a no-knead wholemeal loaf. Alternatively, bruschetta with crumbled feta are perfect soup-dippers.

The everything-in vegetable soup
2 tablespoons olive oil
1 large brown onion, diced
1-2 garlic cloves, minced
2 smallish leeks, diced
3 stems celery
2-3 carrots
500g butternut
2 orange sweet potatoes (kumara)
3 medium sized zucchini
half a head of broccoli
half a head cauliflower
800g tinned chopped tomatoes
handful fresh oregano, roughly chopped
1 stem fresh rosemary, de-stalked and finely chopped
1/2 teaspoon dried red chilli flakes (optional)
1.75 litres vegetable or chicken stock
1 cup milk
salt and black pepper
2 tablespoons pesto
toasted pumpkin and sunflower seeds, optional
Peel the carrots, butternut and sweet potatoes. Chop and dice all the vegetables.
Heat the olive oil and sauté the onion until soft. Stir in the garlic and cook for another minute or two.
Now add the leeks, celery and carrots to the onions and cook for about 4 minutes.
Add all the remaining vegetables, chopped tomatoes and herbs. Season with salt and pepper. Pour in the stock, cover partially with a lid and simmer for about 40 minutes until all the vegetables are fork tender.
Transfer to a blender and blitz until smooth.
Return the soup to the pot and add the milk. Heat through. Adjust the seasoning if necessary and add a little more water or milk if you prefer a thinner soup.
Serve with swirls of pesto and a handful of toasted seeds.
These are some of my most loved and made soup recipes :