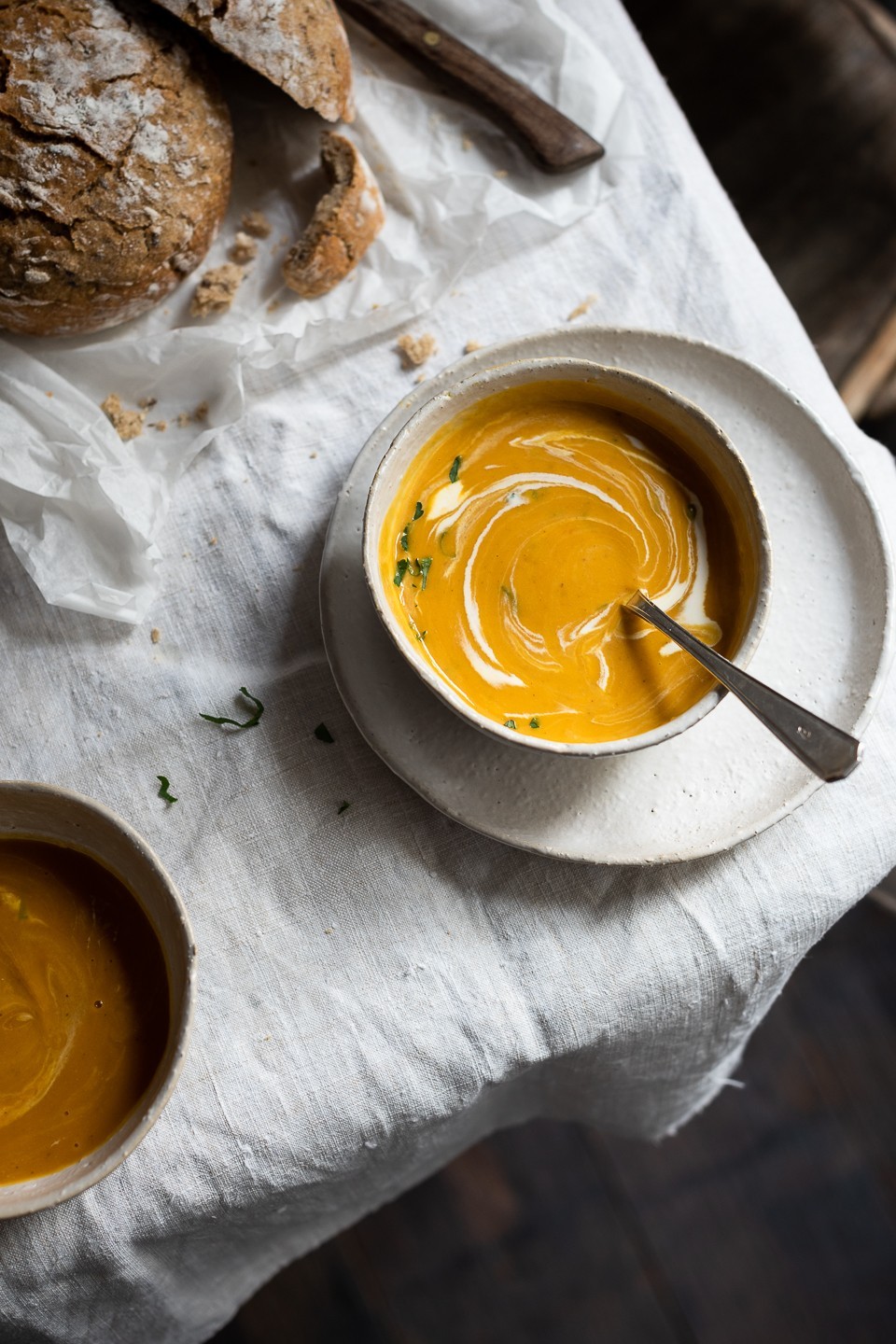 There are more butternut soup recipes than you can swing a stick at. And yet, it remains one of the most loved soup  recipes. I've lost count of how many versions I've made. This roast butternut soup with chickpeas and leeks is the latest. It has heaps of personality with sweet caramelised leeks and onions. At the last minute I added some chickpeas too. We can't get enough of it!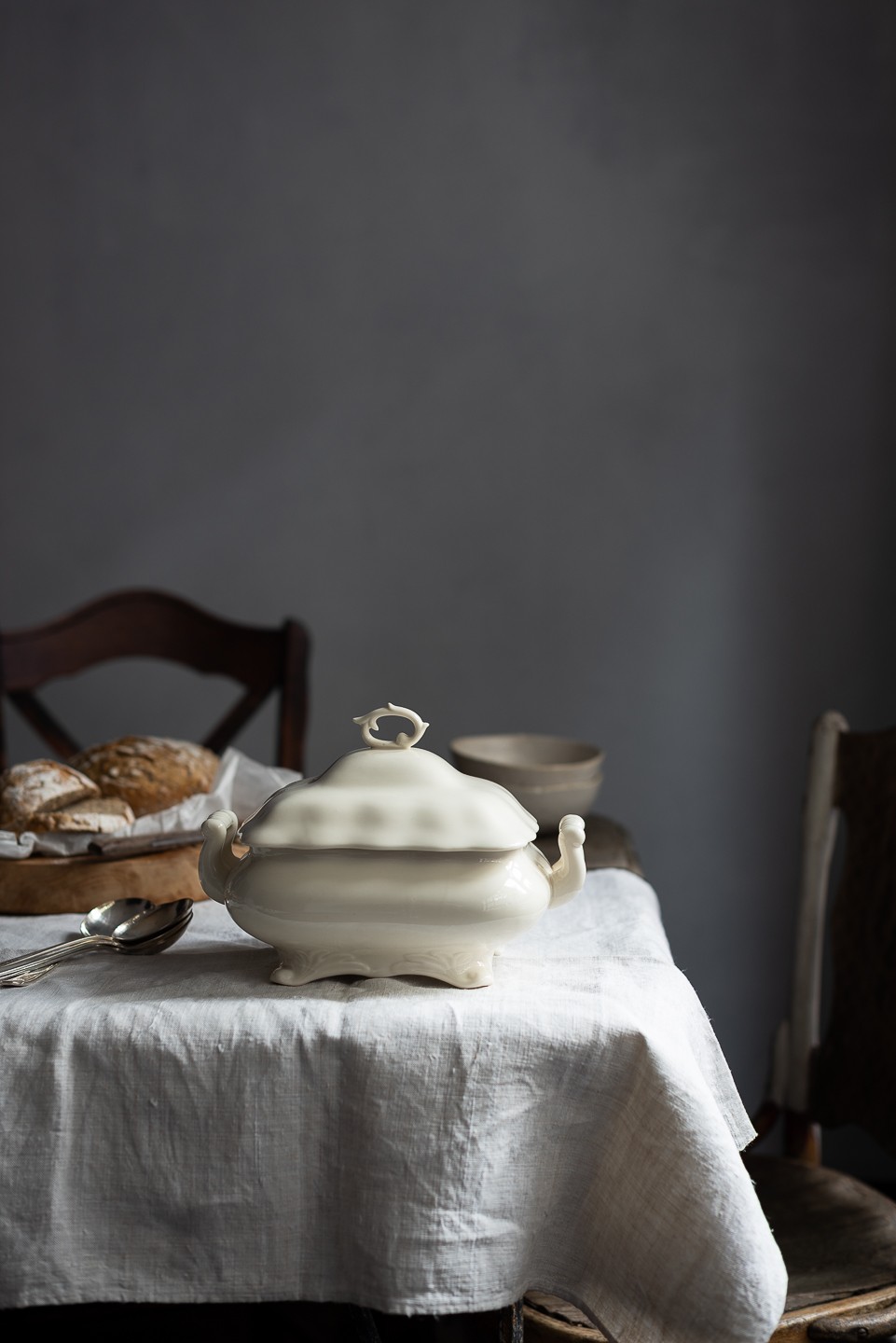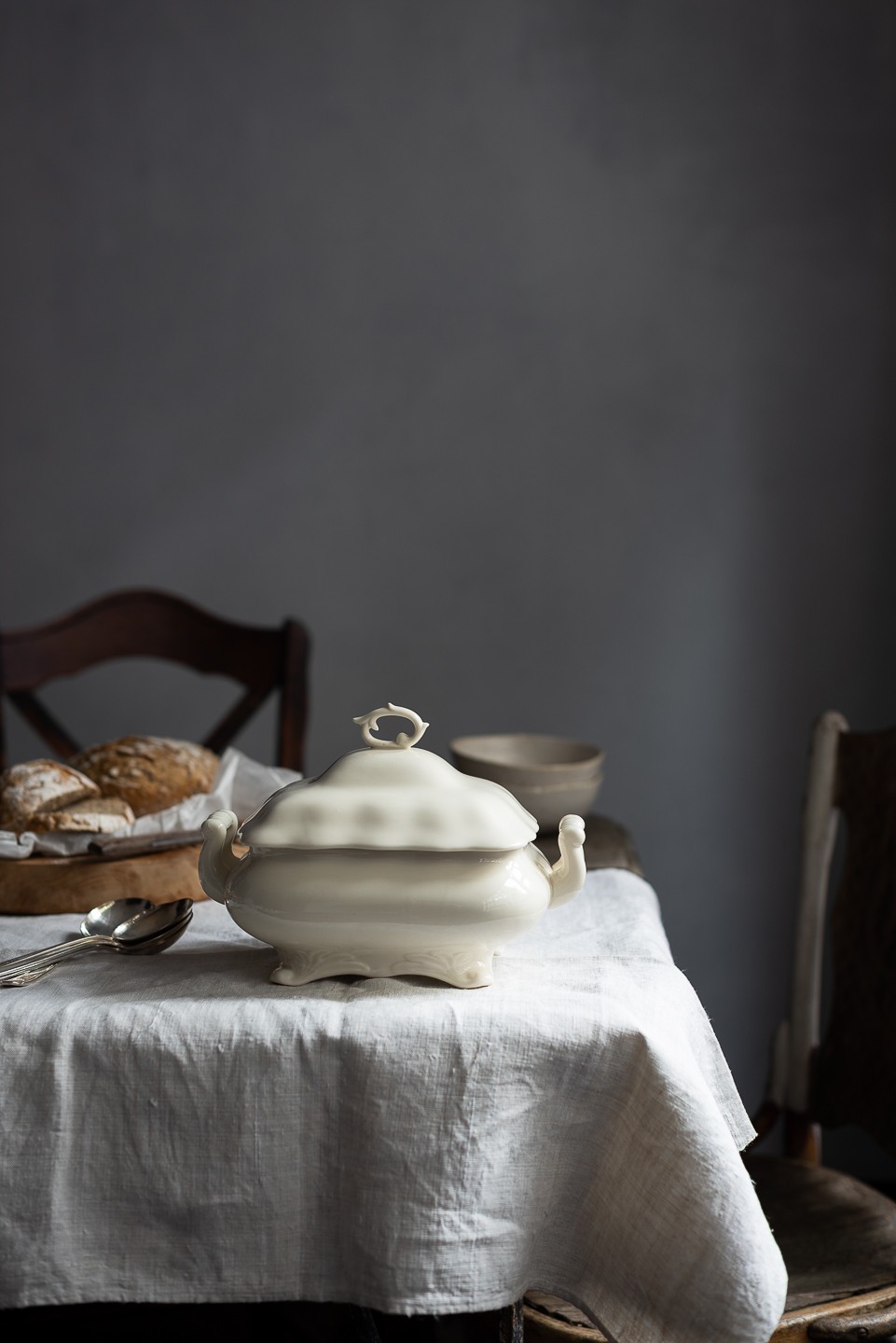 Butternut has to be one of the most versatile vegetables. It also responds particularly well to heat. For this recipe I roast the butternut and sweet potatoes until the edges are charred and sticky. The seasonings for roasting are simple – salt, pepper and a generous pinch of ground nutmeg.
Next on my list to try, is Mary Berry's butternut squash soup. She uses red pepper, ginger and honey in her recipe. Quite an unusual combination, not one that I've tasted before. I'll let you know how that goes.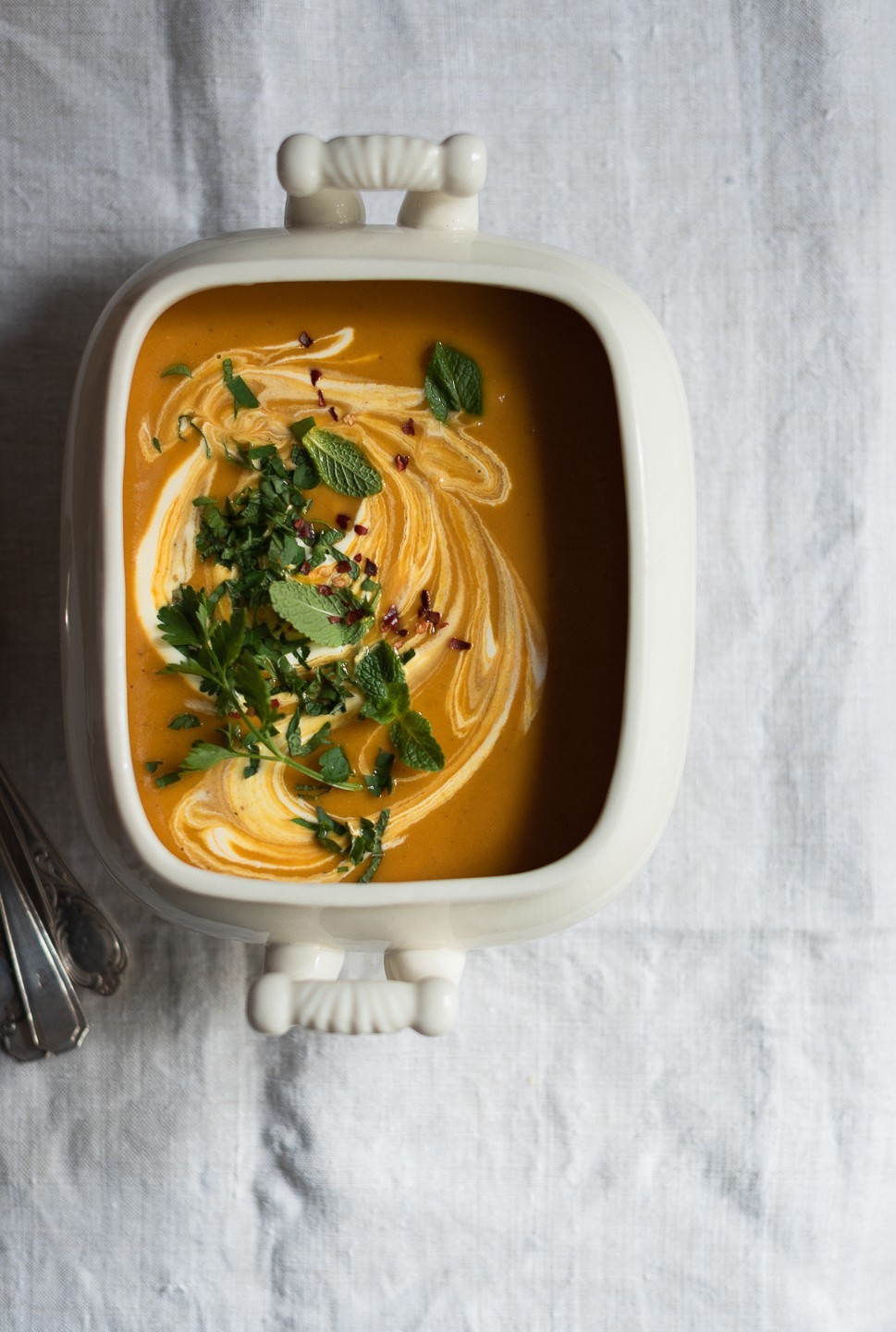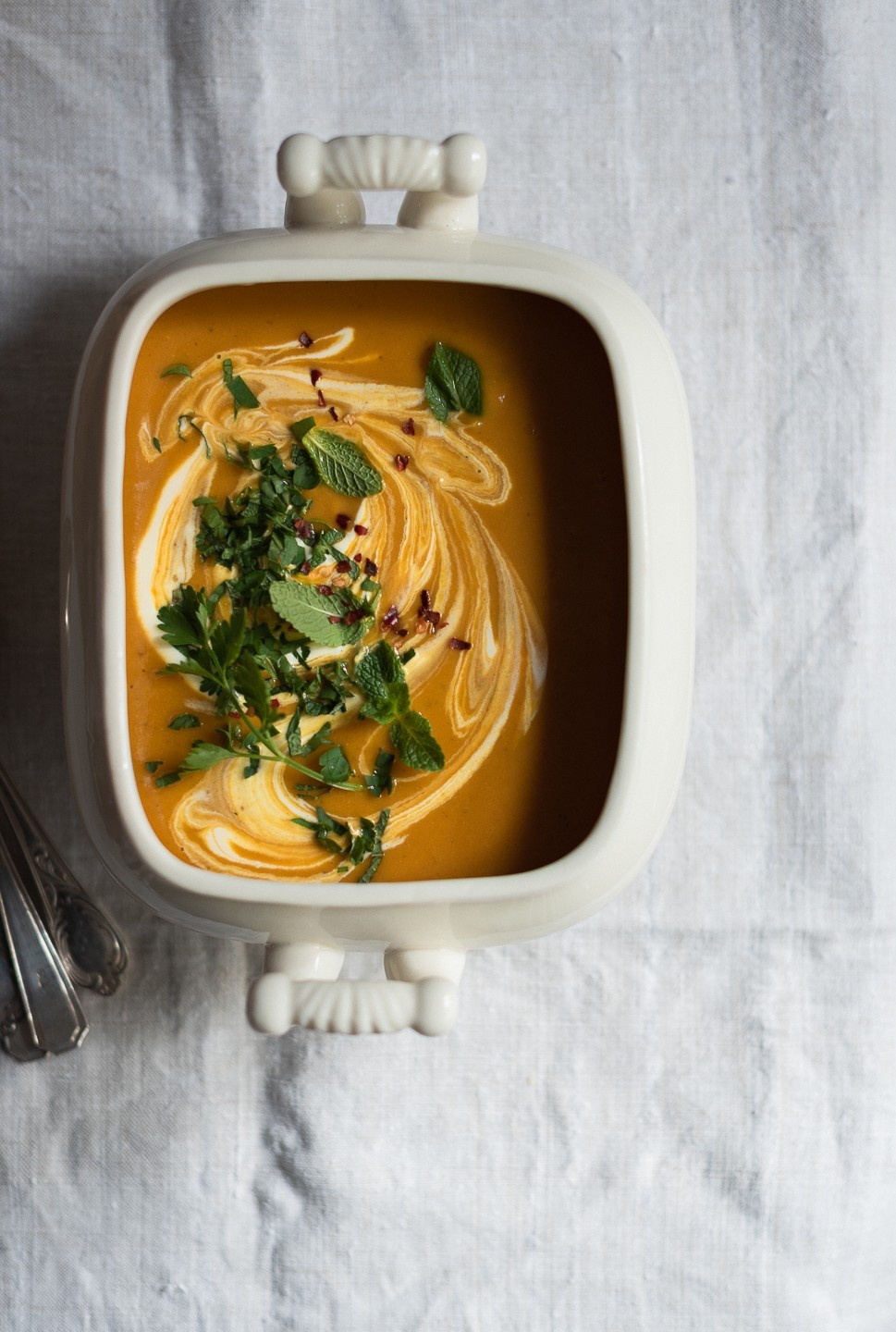 There are times when throwing everything into the pot seems like a good idea but, building layers of flavour can turn simple into sensational. Here, softening the leeks and onions over a low heat takes time but adds a gentle sweetness to the soup. To contrast, I use a spicy harissa paste for warmth. This Middle Eastern paste is a real kitchen staple. To balance heat and add creaminess to soups and stews, I use coconut milk. If you prefer, regular full cream milk will be fine too. Serve the soup with some crusty bread or sourdough toast. This recipe makes a lot, too much for one meal. I usually freeze half – perfect for cold, lazy evenings when you want to eat supper in your slippers.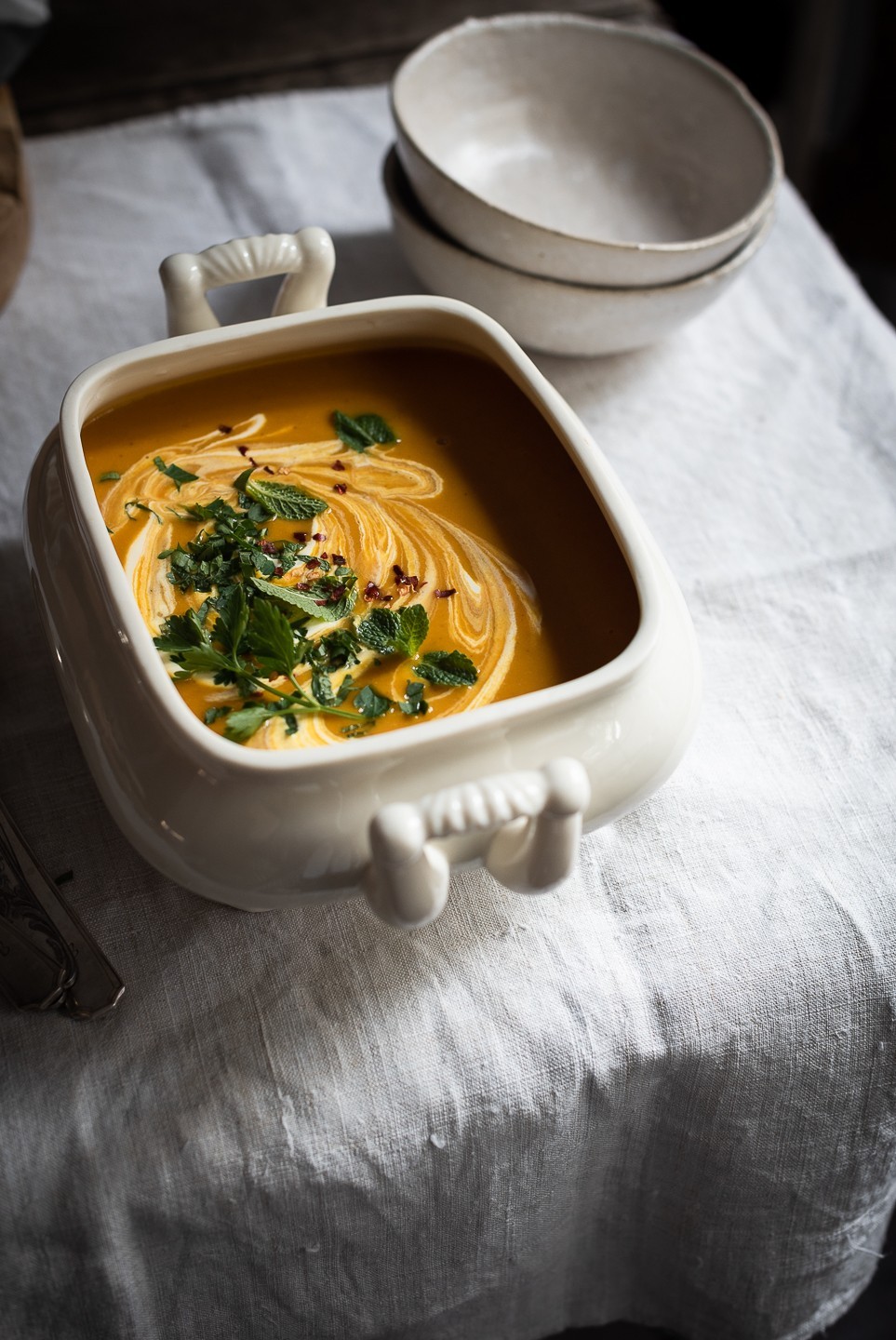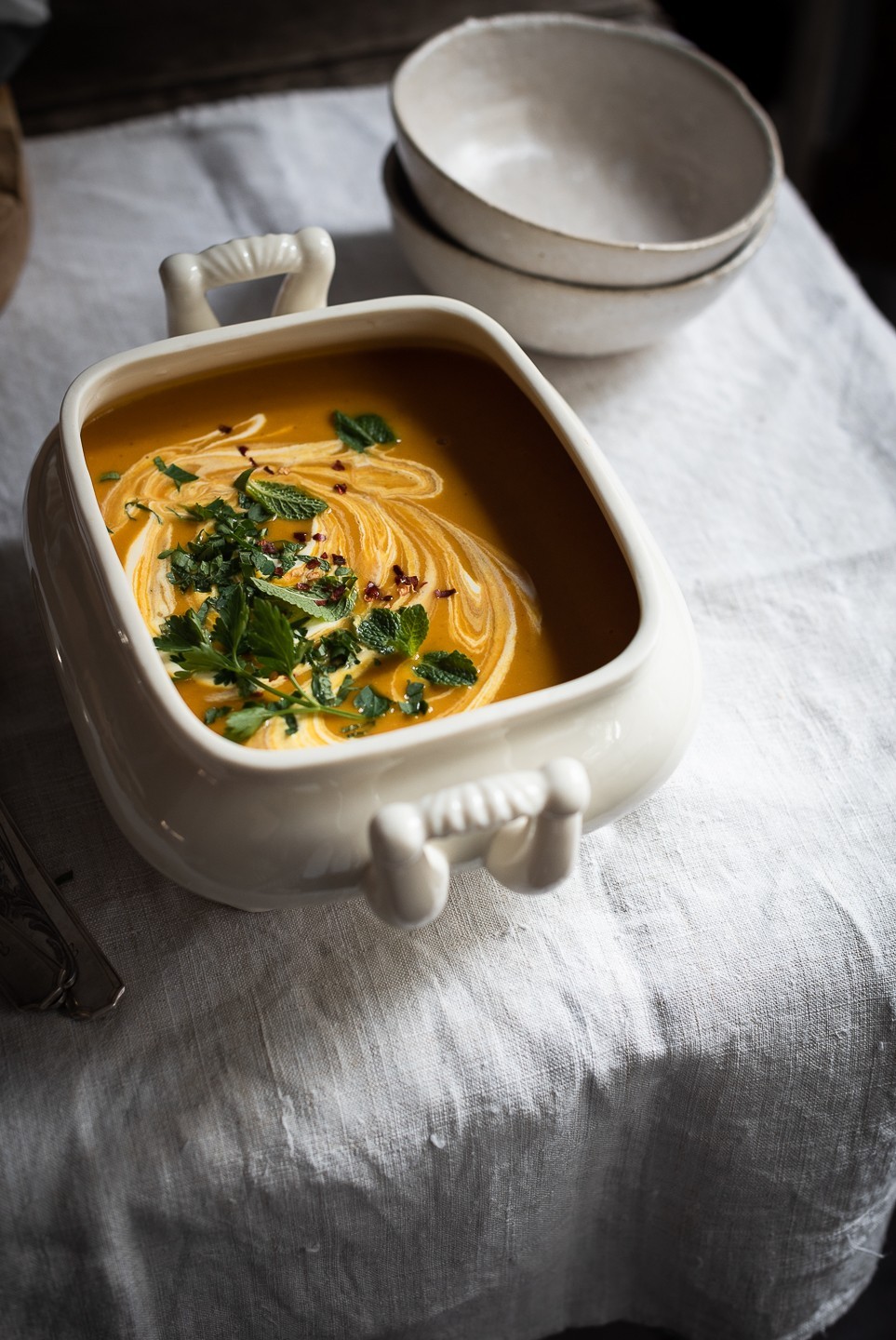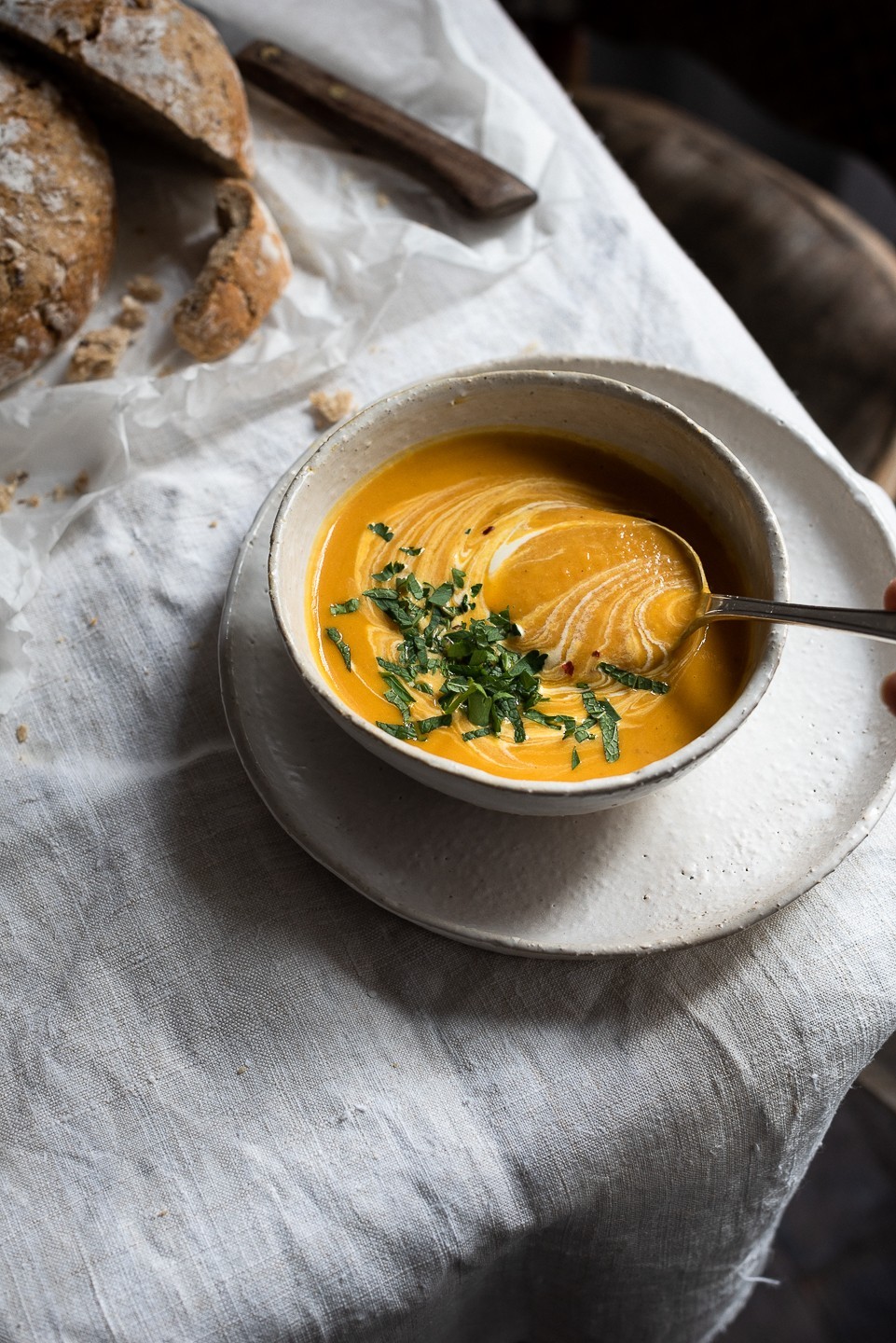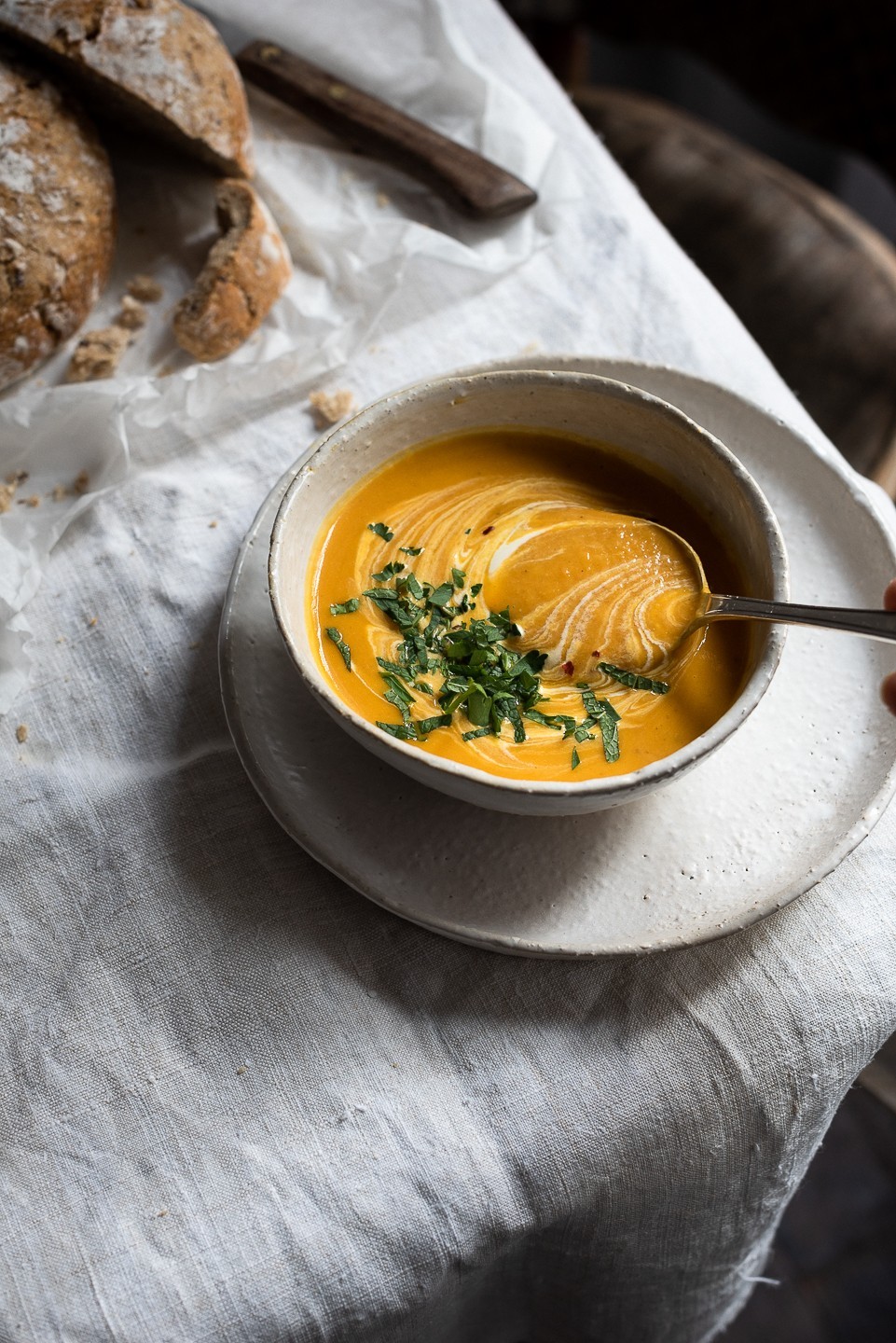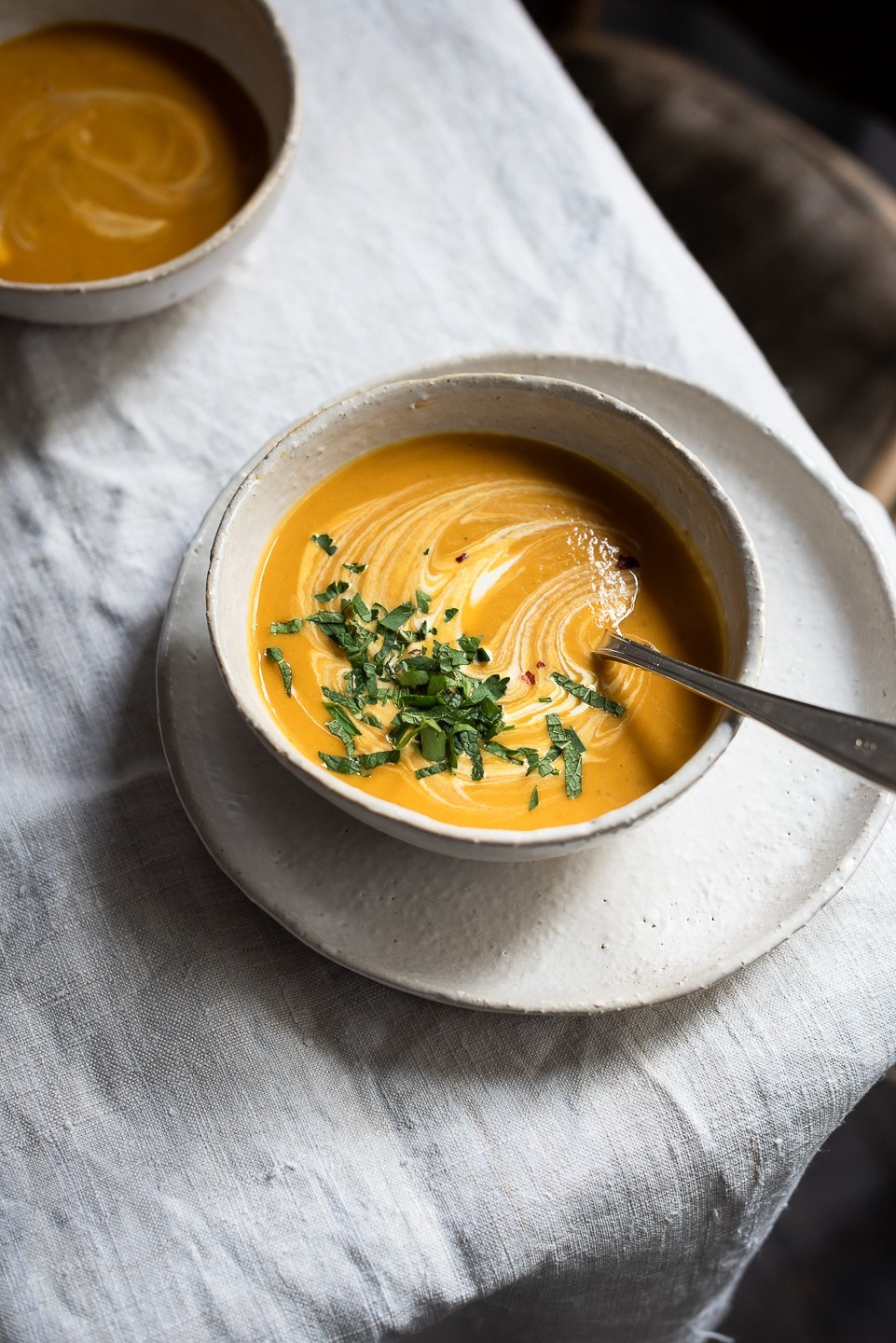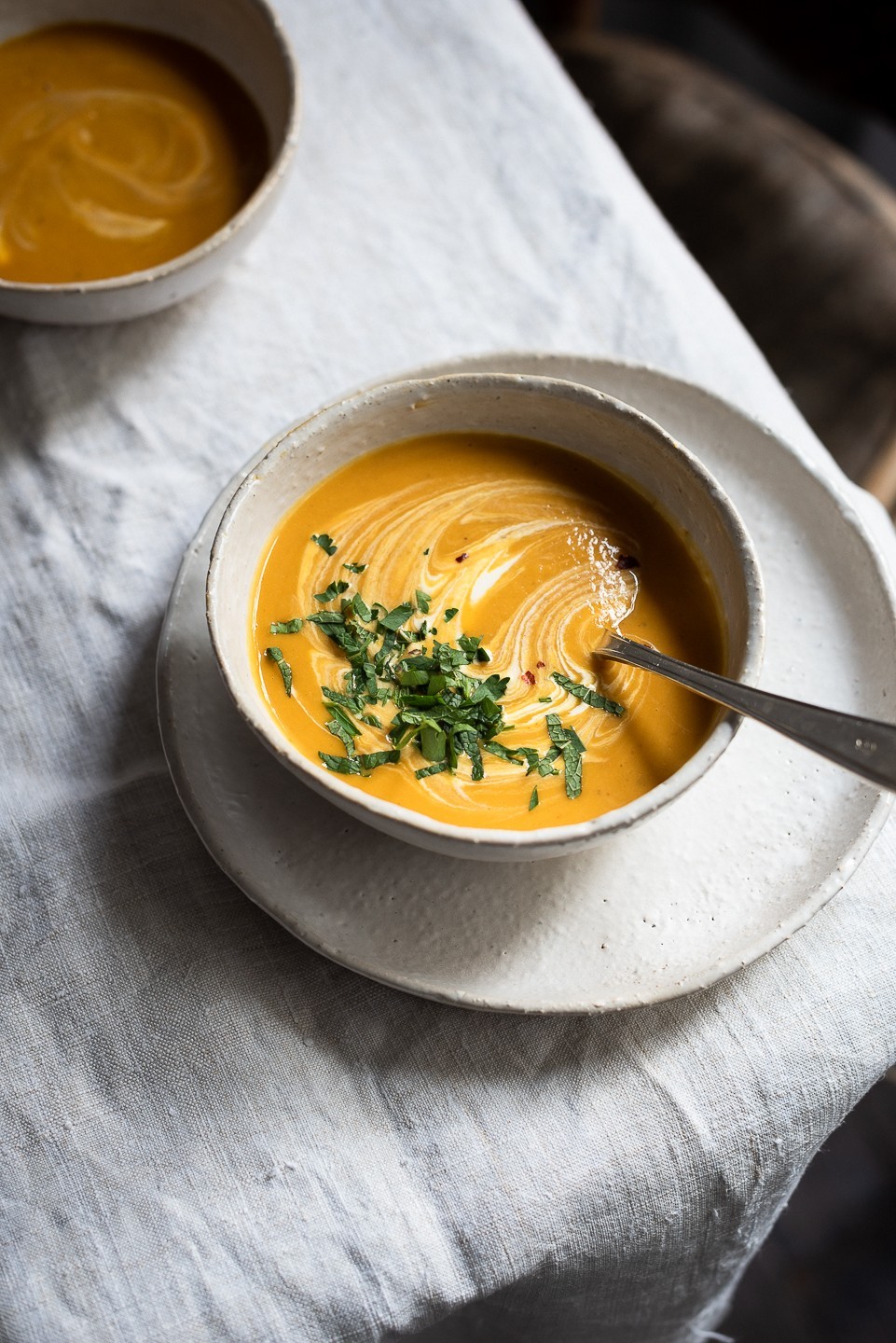 Roast butternut soup with chickpeas and leeks
Makes 10 cups
olive oil, for roasting
1 kg butternut chunks
300g orange sweet potatoes, peeled and roughly chopped
1/4 teaspoon ground nutmeg
1 large white onion, diced
1 clove garlic, minced
3-4 small leeks (about 1 cup in total) sliced into rounds
2.5ml (1/2 tsp) ground coriander
7.5ml (1 1/2 tsp) ground cumin
30ml (2 tbls) harissa paste
zest of 1 lemon
1.25 litres (5 cups) vegetable stock (chicken stock is perfect if not making it vegetarian)
400g tin chickpeas, rinsed and drained
400g tin (400ml) coconut milk
30ml (2 tbls) lemon juice
Salt and freshly ground black pepper
Preheat the oven to 200º C. Arrange the butternut and sweet potato on a large roasting sheet. Drizzle with olive oil, then season with nutmeg, salt and black pepper. Roast for about 45 minutes until caramelised around the edges and tender.
In a large saucepan, sauté the onion and leeks over a medium heat until softened, with just a bit of colour, 8-10 minutes. Add the garlic and cook for another minute.
Add the coriander, cumin, harissa paste and lemon zest. Cook for about a minute, until the spices smell fragrant. Scrape the roast butternut and sweet potato in and stir to coat in the spice paste. Add the chicken stock, chickpeas and coconut milk. Bring up to the boil, then simmer for about 10 minutes.
Allow the soup to cool slightly before transferring to a blender. Blitz until smooth. I usually do this in 2 or 3 batches. Place the soup back on the heat, add the lemon juice and season to taste with salt and black pepper.
Serve with feta or goat's cheese sour dough toast.
For more soup butternut inspired recipes, these are blog favourites.
The everything-in vegetable soup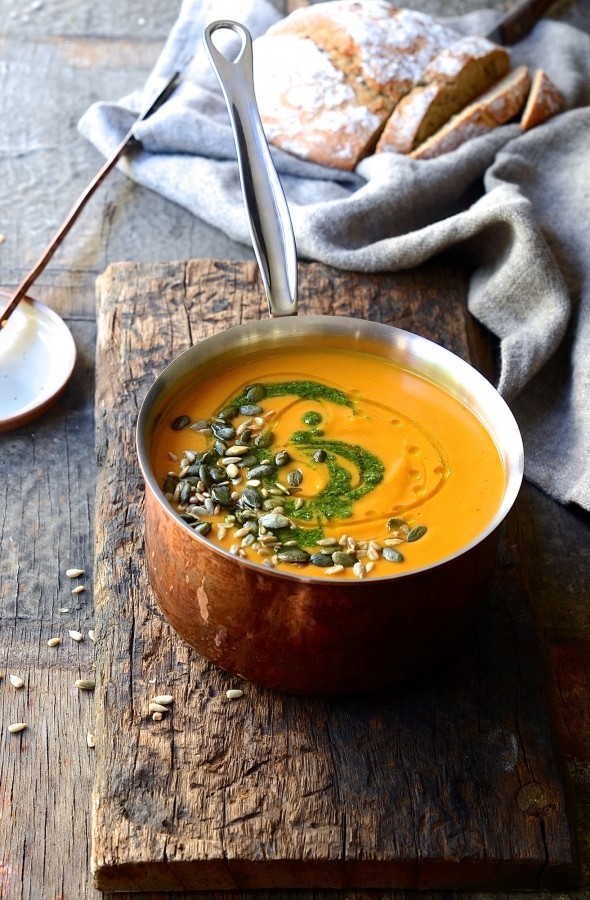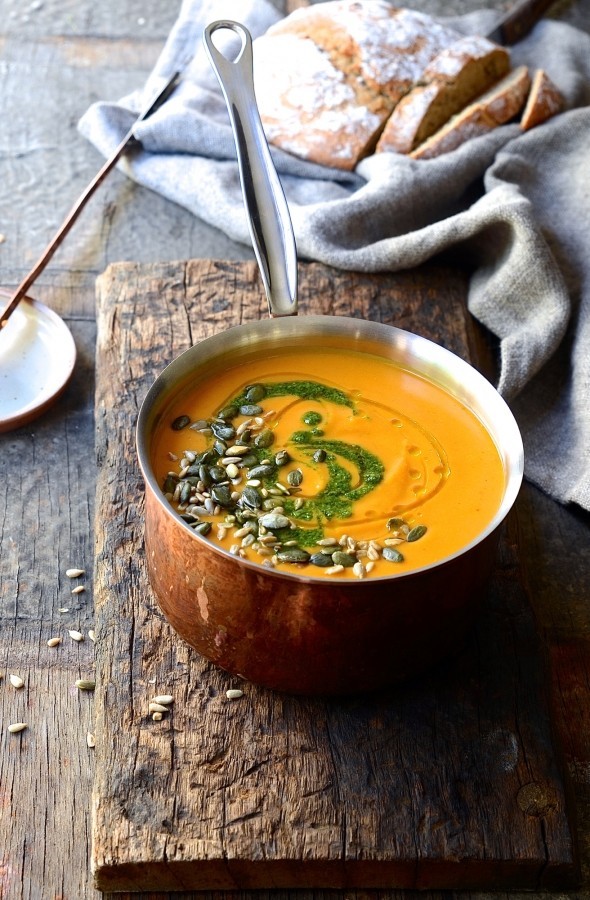 Red Thai butternut soup with poached chicken and Kan-To noodles