Red Thai butternut soup with poached chicken and Kan-To noodles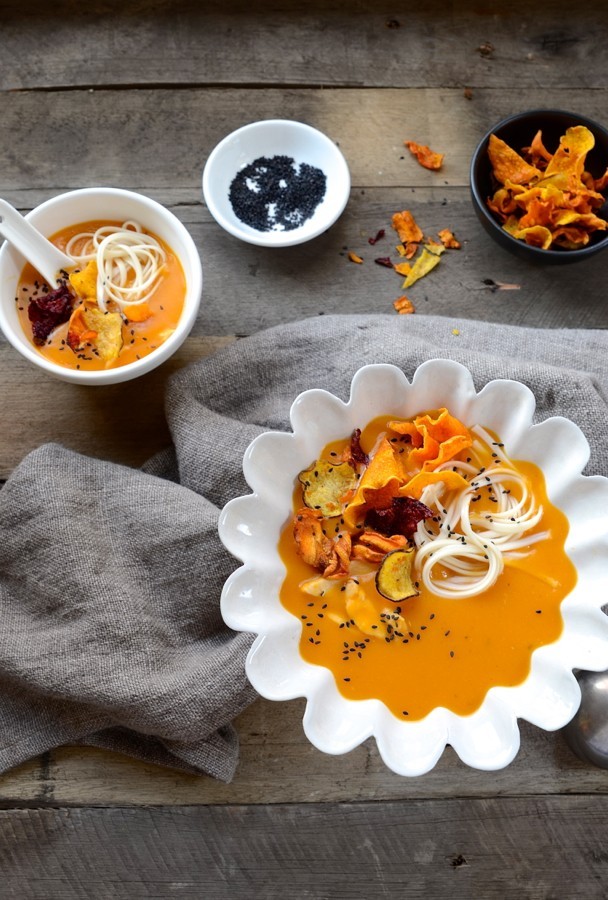 Who can resist a warming bowl of wintery comfort? My Red Thai butternut soup with creamy coconut milk and Kan-To noodles is a hearty and delicious Meat-free soup. It does however serve as a perfect base for the addition of tenderly poached chicken, should you prefer something with a little more meat around the edges?
Each winter this soup takes on a new 'persona'. I've made it more times than I can remember, mostly because it's incredibly simple and uses only a few key ingredients. I make a double quantity and freeze half for those days that I'm just too busy to think of what to put on the table. This is particularly helpful if not essential, on cold winter nights when everyone's ravenous and you need something cosy and soulful. This year I've added strips of chicken to the soup which poaches in under 8 minutes. It's tender and moist. I've also swirled in slippery flat white noodles, toasted black sesame seeds and beetroot crisps, which looks uber-chic and will attract some serious compliments.
We all know that short cuts are completely acceptable with Midweek suppers and as my mother says, if someone offers you a hand, take it! A ready made curry paste is your friend. There are plenty of really good quality brands available, but note that if you use an authentic Thai curry paste from Asian food stores, you stand the risk of some serious heat! They're usually super-hot so rather add the paste cautiously until you reach the level of heat you're comfortable with.
A note : Slippery flat whites, noodles that is, will elicit some serious slurp work, so get the napkins ready. You're going to need it.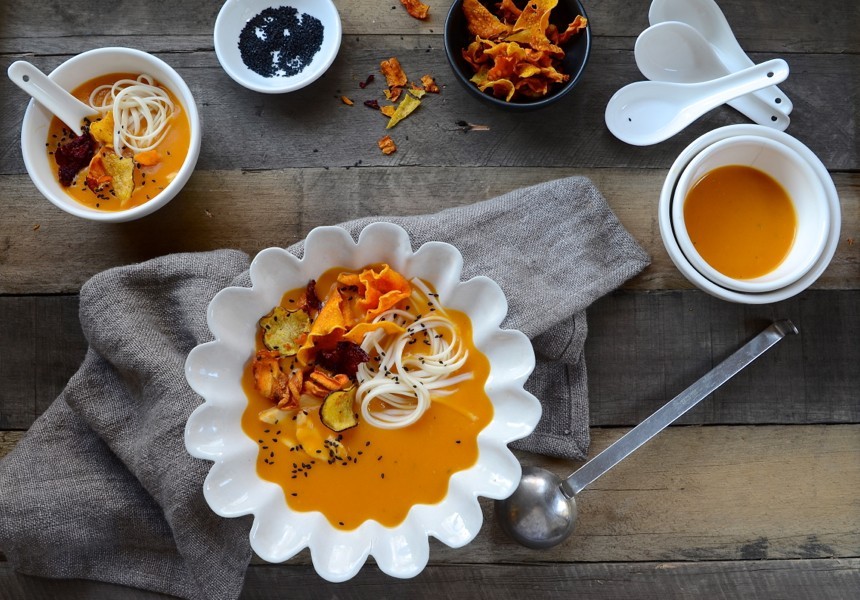 Red Thai butternut soup with poached chicken and Kan-To noodles
Prep time:
Cook time:
Total time:
Ingredients
Red Thai butternut soup with poached chicken and Kan-To noodles
2 tablespoons vegetable oil
2 teaspoons sesame oil
1 tablespoon Red Thai curry paste
500g chopped butternut
300g peeled and roughly chopped orange sweet potatoes
750ml chicken stock, or vegetable stock if you're doing vegetarian option
400g tin coconut milk
lime or lemon juice
2 free-range chicken fillets, cut into slithers
50g Kan-To noodles or similar rice noodles, cooked
toasted black sesame seeds
vegetables crisps, sweet potato and beetroot (optional)
Instructions
Heat the vegetable and sesame oil in a saucepan. Stir in the curry paste and cook for several minutes to flavour the oil. Add the chopped vegetables, season with salt and pepper and stir to coat in the curry paste. Pour in the stock, cover partially with the lid and simmer on a medium high heat for 25-30 minutes.
Puree with an immersion blender until smooth. Add the coconut milk and a squeeze of lime juice to brighten the flavours. Add the chicken pieces and poach for about 8 minutes until cooked through. Serve with cooked noodles, sesame seeds and crunchy crisps.