Roast butternut barley risotto with Swiss chard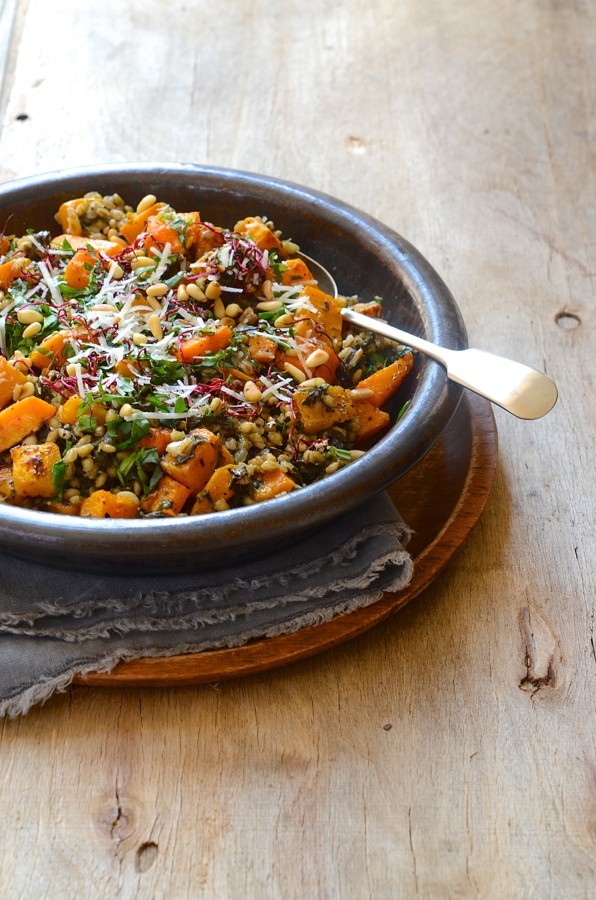 I love the simplicity of bowl food, especially when it's packed with colourful vegetables and wholesome grains. The combination of barley, roast butternut, spinach and leeks partner up for a flavourful supper of wintery goodness. Unconventional as far as risottos are concerned, but very comforting in the best possible way. Meat-free Monday is pure pleasure.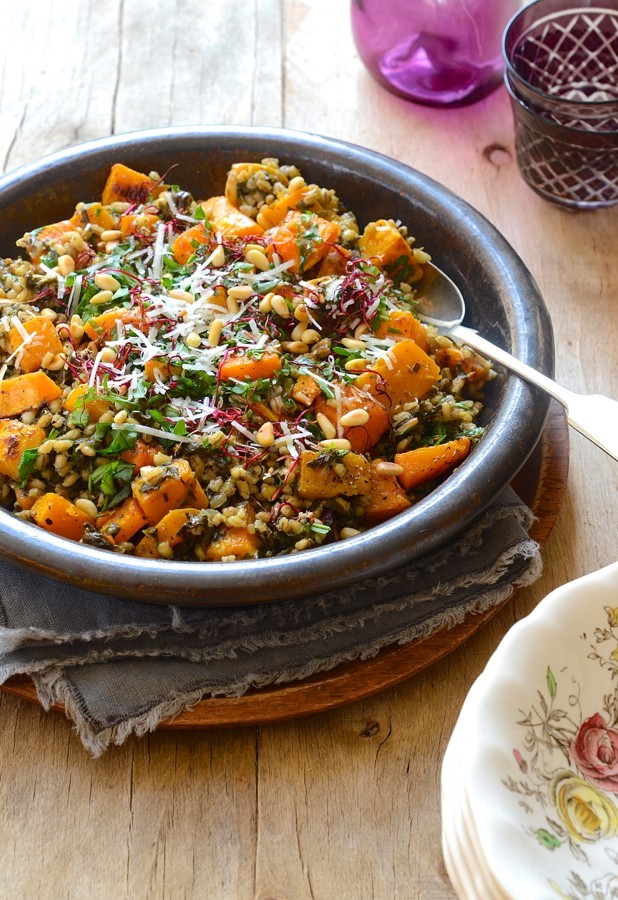 Barley risotto won't have the same consistency or texture as a traditional risotto, like this brown butter mushroom risotto with prosciutto pangrattato. This nutritious grain lacks the starchy character of arborio rice, but is more than compensated for by the health boosting benefits. Barley, one of the earliest cultivated grains has a nutty taste and toothsome bite. It'ssrich in dietary fibre, vitamin B1 and selenium. Contrary to a classic risotto which requires repetitive stirring and slow ladle by ladle addition of stock, my barley version requires little attention. All the stock is added in one addition and left to bubble away gently until tender. Rather than cooking the butternut with the barley, I roast it in the oven, which adds depth of flavour and a sticky caramelisation. Vibrant food is all about contrasting flavours, texture and colour.
Sautéing the leeks and shallots slowly will release their natural sweetness. For a fresh peppery contrast, I throw in some wild rocket just before serving. Toasted pine nuts and plenty of parmesan will finish off this vege-bowl with gusto and deliver instantaneous Meat-free Monday gratification. The best part of this whole story is that barley risotto is very obliging and will reheat perfectly for take to work lunches.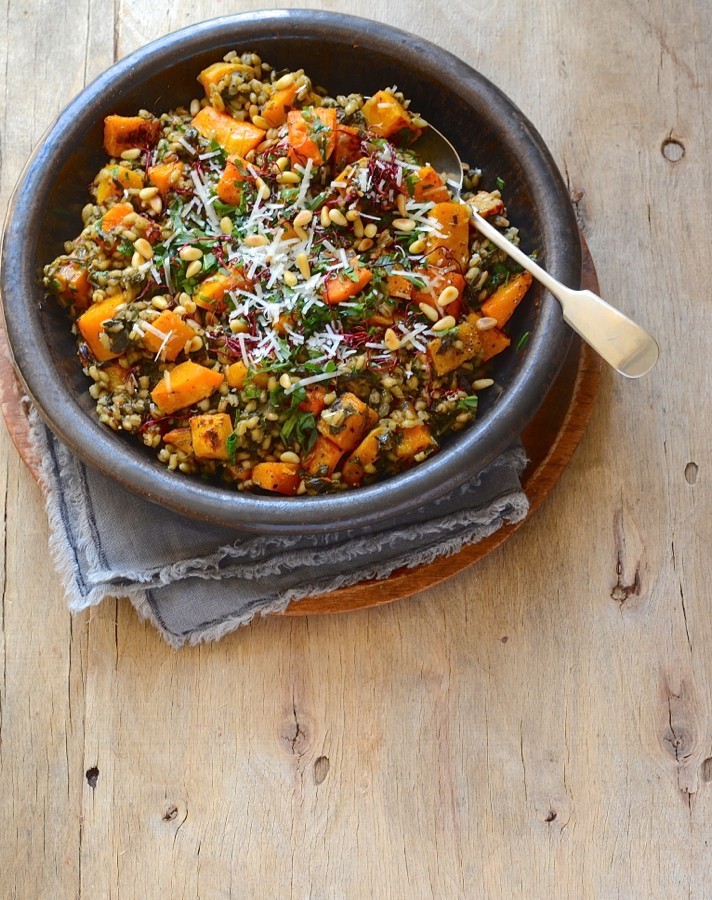 Roast butternut barley risotto with Swiss chard
Serves 4
3 tablespoons olive oil
500g butternut, cut into chunks
1/2 teaspoon dried oregano
1 tablespoon butter
2 leeks, diced
1 shallot, finely diced
1 bunch Swiss chard, centre stem removed and shredded
zest of half a lemon, plus juice
1/4 teaspoon chilli flakes
1 stem fresh rosemary, de-stalked and finely chopped
1 heaped cup (225g) barley
1/3 cup white wine
800ml weak vegetable stock
1/2 cup parmesan cheese
1 pack wild rocket (about 30g), finely chopped
generous handful toasted pine nuts
salt and freshly ground black pepper
Preheat the oven to 200º C. Line a baking sheet with parchment paper and spread the butternut out on the sheet. Drizzle with 2 tablespoons olive oil and season with oregano, salt and pepper. Roast for about 40-45 minutes until caramelised and tender.
Heat the remaining olive oil and 1 tablespoon butter in sauté pan. Add the leeks and diced shallot. Cook over a medium heat until soft and translucent. Add the chard, lemon zest, chilli and rosemary. Once the spinach has wilted down, stir in the barley. Deglaze the pan with the wine and reduce down by half. Pour in all the stock, cover with a lid and allow to simmer for about 30 minutes. The stock should be completely absorbed and the barley tender to the bite.
Add half the parmesan cheese and a generous squeeze of lemon juice. The risotto should be creamy and loose, so add a little more water if you think it's needed. Now gently fold through the roasted butternut and rocket. Serve immediately with the remaining parmesan and toasted pine nuts. For additional texture, colour and flavour, I scatter over some beetroot threaded sprouts.