Butternut flatbreads with beets and goat's cheese truffles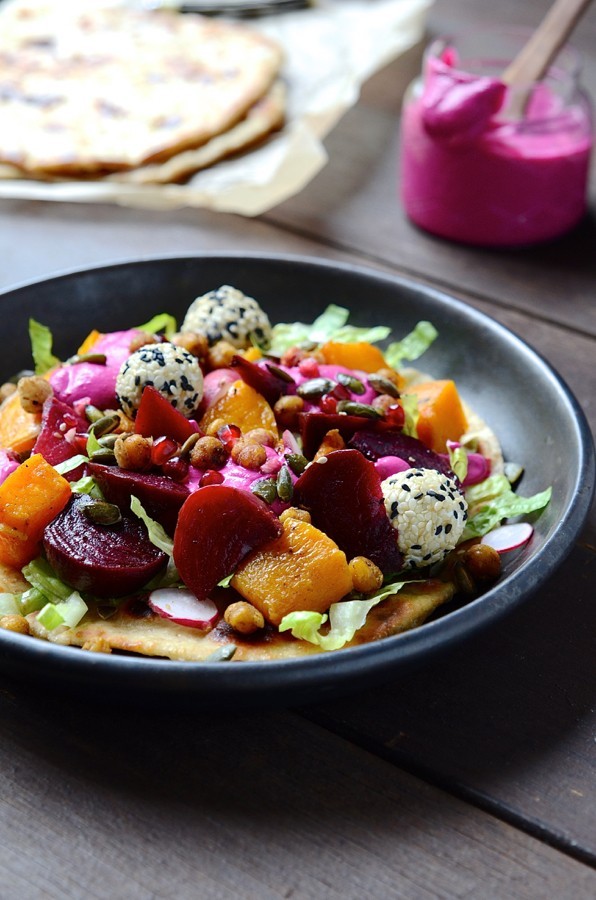 Aimed at banishing the Monday blues, this riotously colourful vegetarian feast will hopefully debunk any existing theories that meatless meals are flavourless drudgery. Buttery flatbreads piled high with the inseparably successful vegetable duo of butternut and beetroot. Sure to raise a few eyebrows at tonight's meat-free Monday dinner table are these Butternut flatbreads with beets and goat's cheese truffles. The ratio of yum per bite is off the hook! But the story doesn't end here. There's more. Like pan-roasted cumin chickpeas, beetroot and feta pâté, crunchy radishes, pepitas, and sesame seed coated goat's cheese truffles. Bland and boring? Hardly. Let's shake things up and make these Middle Eastern inspired butternut and beetroot flatbreads. Mother earth will thank you, as will your taste buds.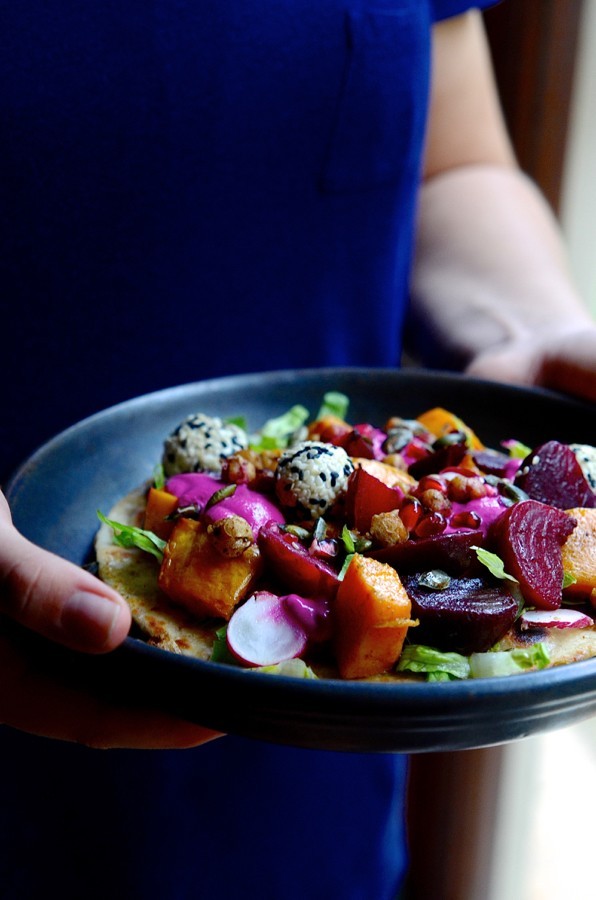 Butternut has to be one of my favourite vegetables, not only for taste, but also versatility in both savoury and sweet foods. It obliges by happily absorbing flavours and is a great vegetable all-rounder. And what better to go with roast butternut than balsamic beets?
The recipe for these vegetable laden butternut flatbreads is not particularly complicated, but it does have quite a few components. As with most things food-wise, preparation is always a good idea, although not everything needs to be made from scratch. Shortcuts are always an option, so gravitate to whichever side of the scale makes sense to you. Here's a quick breakdown of how it goes.
Goat's cheese, rolled into truffle-sized balls and tossed in toasted sesame seeds
Make your own flatbreads or use a good store-bought version (Turkish flatbreads, tortillas or wraps)
Beets – store bought will do fine or roast in the oven along with the butternut
Pan-fried spicy chickpeas
Definitely whip up a batch of this beetroot and feta pâté. You can find the recipe here
Shred some crunchy cos lettuce, toss with peppery rocket and it's a wrap!
PS I have to say that the yum-factor hinges around the beetroot and feta pâté. It's salty, sweet and uber luscious, providing the 'saucy' element that pulls the whole dish together. It's like a savoury smoothie. Add lashings!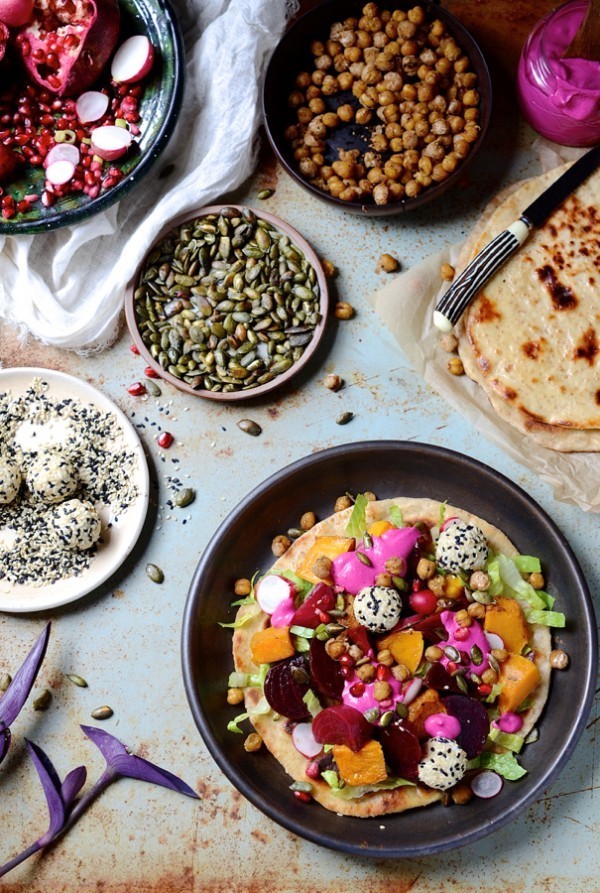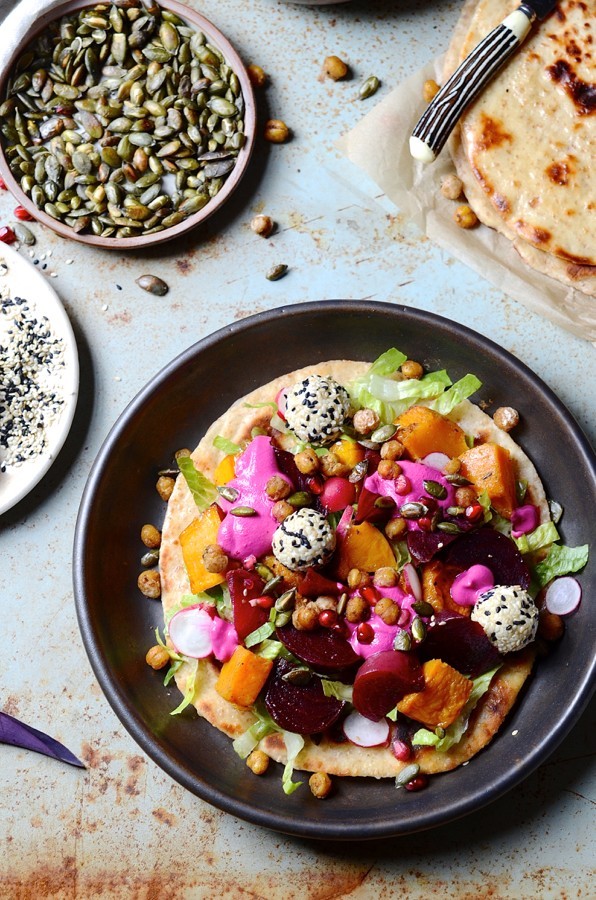 Butternut flatbreads with beets and goat's cheese truffles
Butternut flatbreads with beets and goat's cheese truffles
Prep time:
Cook time:
Total time:
Ingredients
500g butternut, roughly chopped
2-3 tablespoons extra virgin olive oil
1/2 teaspoon ground mixed spice
salt and pepper, to taste
400g tinned chickpeas, rinsed and thoroughly drained
2 tablespoons olive oil
1 teaspoon ground cumin
1/4 teaspoon dried red chilli flakes
1/2 teaspoon paprika
salt and black pepper
125g goat's cheese
2 tablespoons white and black toasted sesame seeds, mixed
4 flatbreads
balsamic roast beets
beetroot and feta pâté
toasted pumpkin seeds
handful radishes, thinly sliced
cos lettuce and rocket leaves
pomegranate arils
Instructions
Start with the roast butternut. Preheat the oven to 200º C. Grease and line a baking sheet with foil. Spread the butternut onto the tray and drizzle with olive oil.
Season with the mixed spice, salt and pepper. Roast for about 40 -45 minutes until cooked through and tinged golden around the edges.
To make the chickpeas, heat the olive oil in a frying pan. Toss in the chickpeas and cook on a medium high heat for about 6-8 minutes. Add all the aromatics and continue to cook for several more minutes.
For the goat's cheese truffles, simply roll teaspoon amounts of goat's cheese into balls and toss lightly in the toasted sesame seeds. Cover and chill to firm up until needed.
To assemble the flatbreads, start with a warmed flatbread as the base. Layer up with lettuce, rocket, butternut and beetroot. Scatter over a handful of chickpeas, followed by sliced radishes, pumpkin seeds and pomegranate arils. Dollop on spoonfuls of beetroot and feta pâté and finish with several goat's truffles and serve straight away.