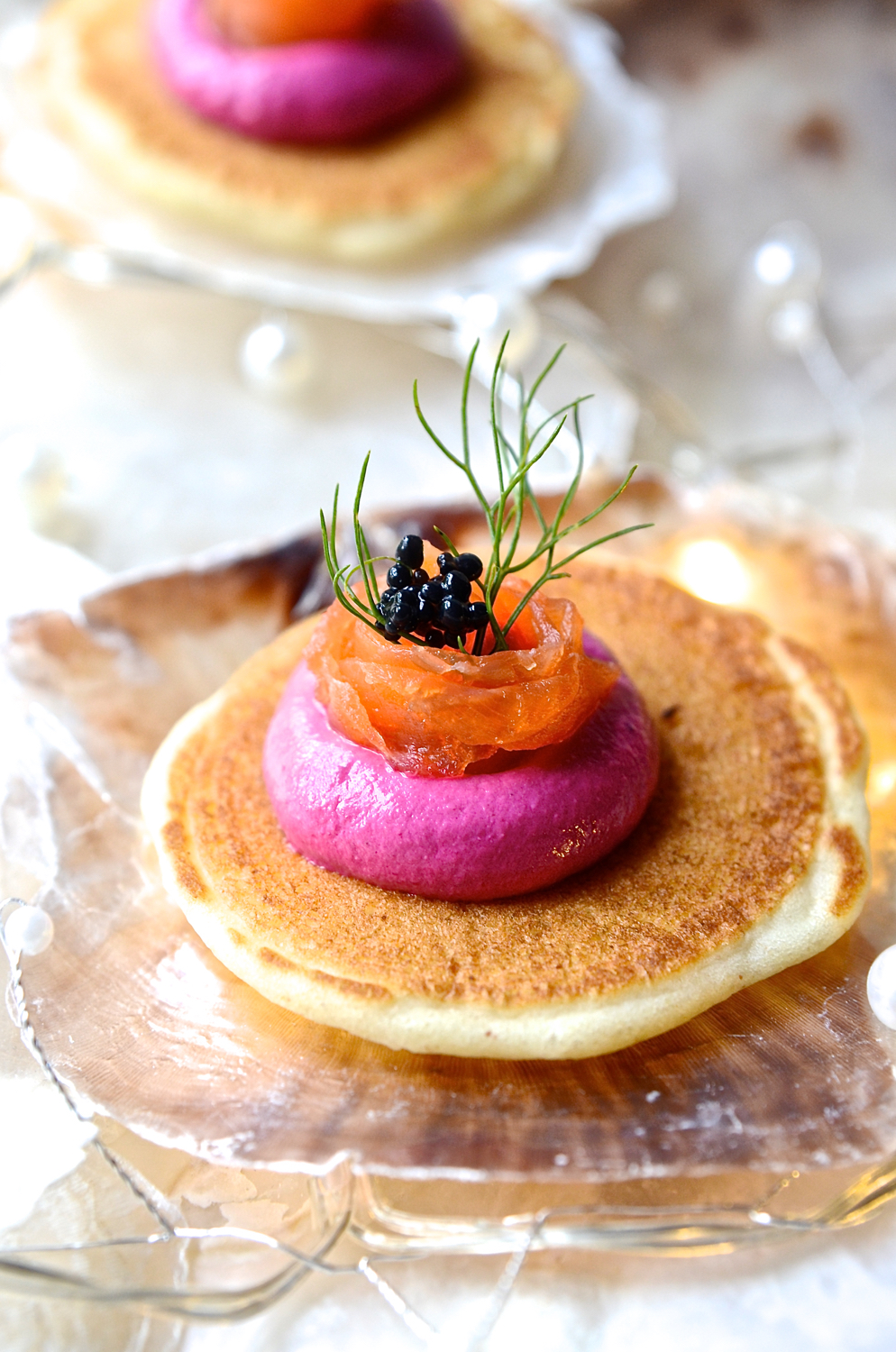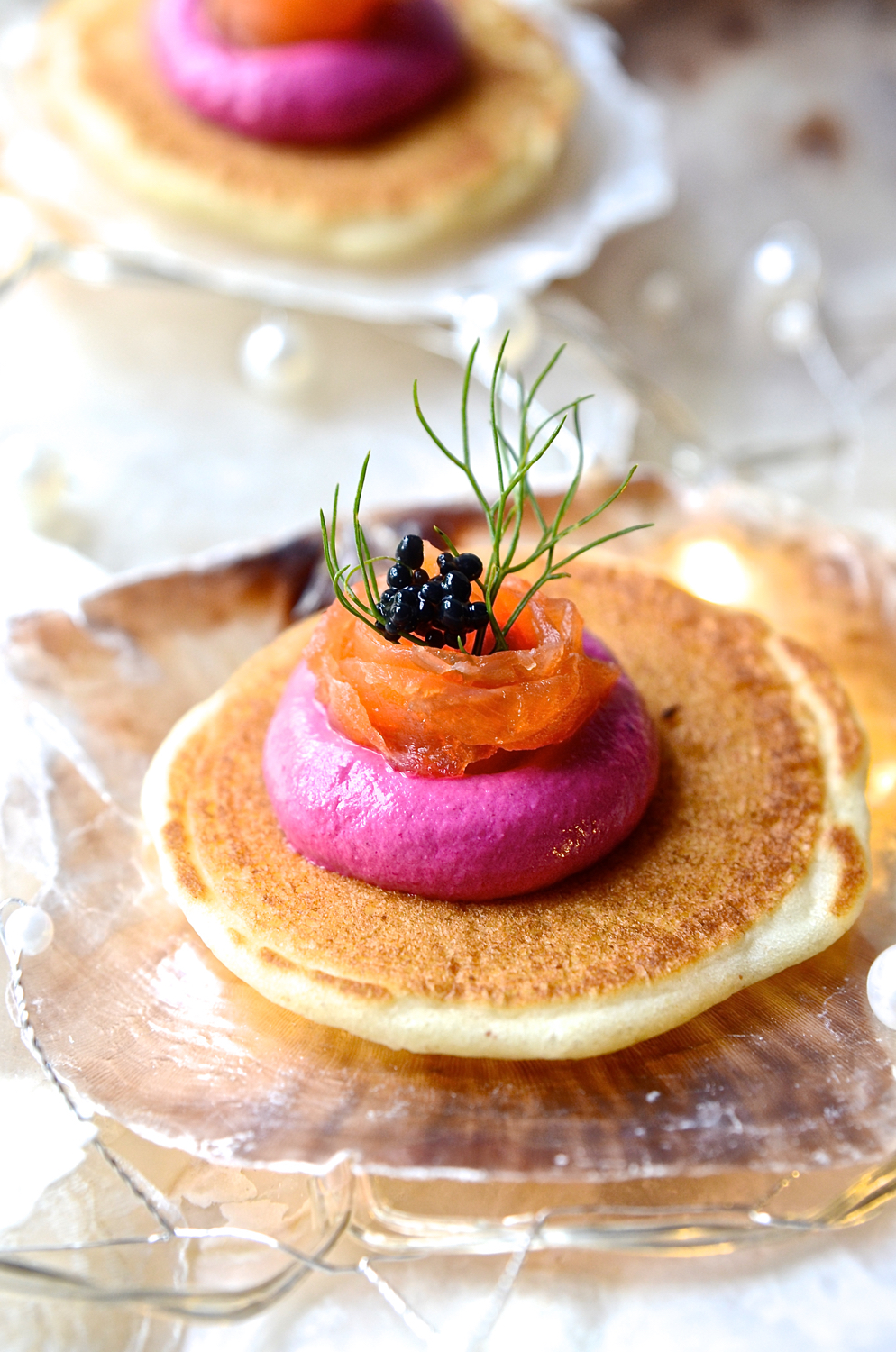 If you're looking for an elegant canapé to wow your guests, these buckwheat blinis with beetroot mousse are sensational. I've topped them with salty salmon ribbons and onyx caviart pearls. Beetroot has a subtle sweetness that contrasts perfectly with the saltiness of feta. Caviart is made from seaweed, a clever vegetarian alternative to caviar. It's glossy and quite salty. You'll find caviart at Woolworths or, you can substitute with balsamic beads too.
Blinis are traditionally made with a yeasted buckwheat batter, but these are slightly milder in flavour. Buckwheat has a distinctive nutty, almost salty taste, so I've used a combination of all-purpose and buckwheat flour to soften the flavour. By replacing the yeast with baking powder, there's no proving time. It's quick and easy. Adding buttermilk makes the blinis light and fluffy. The lactic acid in the buttermilk neutralises the bitter after-taste of baking powder, so it's essential in this recipe.
Cook's Note: This blini recipe also works equally well with sweet toppings for breakfast or as dessert. Drizzle with maple syrup or served with berry compote and a spoonful of Greek yoghurt. So good!

Buckwheat blinis with feta pâté and smoked salmon
Makes 16
For the blinis
1/3 cup all purpose cake flour
1/4 cup buckwheat flour
1 teaspoon baking powder
a pinch of salt
2/3 cup buttermilk
1 egg
25 g melted butter, cooled
For the beetroot and feta mousse
100g cooked beetroot,
40g feta
80g full fat cream cheese
1 teaspoon pomegranate syrup
1 teaspoon olive oil
a spritz of lemon juice
salt and pepper, to taste
8og smoked salmon
dill
caviart or caviar
For the beetroot pâté, place all the ingredients in a blender and blitz until smooth and silky.
Sift together the flours, baking powder and salt. Make a well in the centre and add the buttermilk and egg. With a small balloon whisk, beat together until the batter is smooth and lump-free. Pour in the melted butter and stir through.
Heat a non-stick frying pan and add a drop of vegetable oil to coat the surface. No further oil is required after the first batch, as the pan will now be seasoned. Add a level tablespoon of batter to the pan. Cook on a medium to high heat until tiny little bubbles form on the surface. Turn and cook for a further minute and then set aside on kitchen paper while you finish the remaining batter.
Spoon the beetroot cream into a piping bag fitted with a small, round nozzle. Pipe a generous amount onto each of the cooled blinis. Roll a slither of salmon into a rosette and press lightly onto the beetroot. Top with dill and a few pearls of caviart. Serve with a well chilled Chenin blanc Champagne.
You may like this summery roast salmon too. Perfect for al fresco dining:
Roast salmon with Rosé and shallot yoghurt