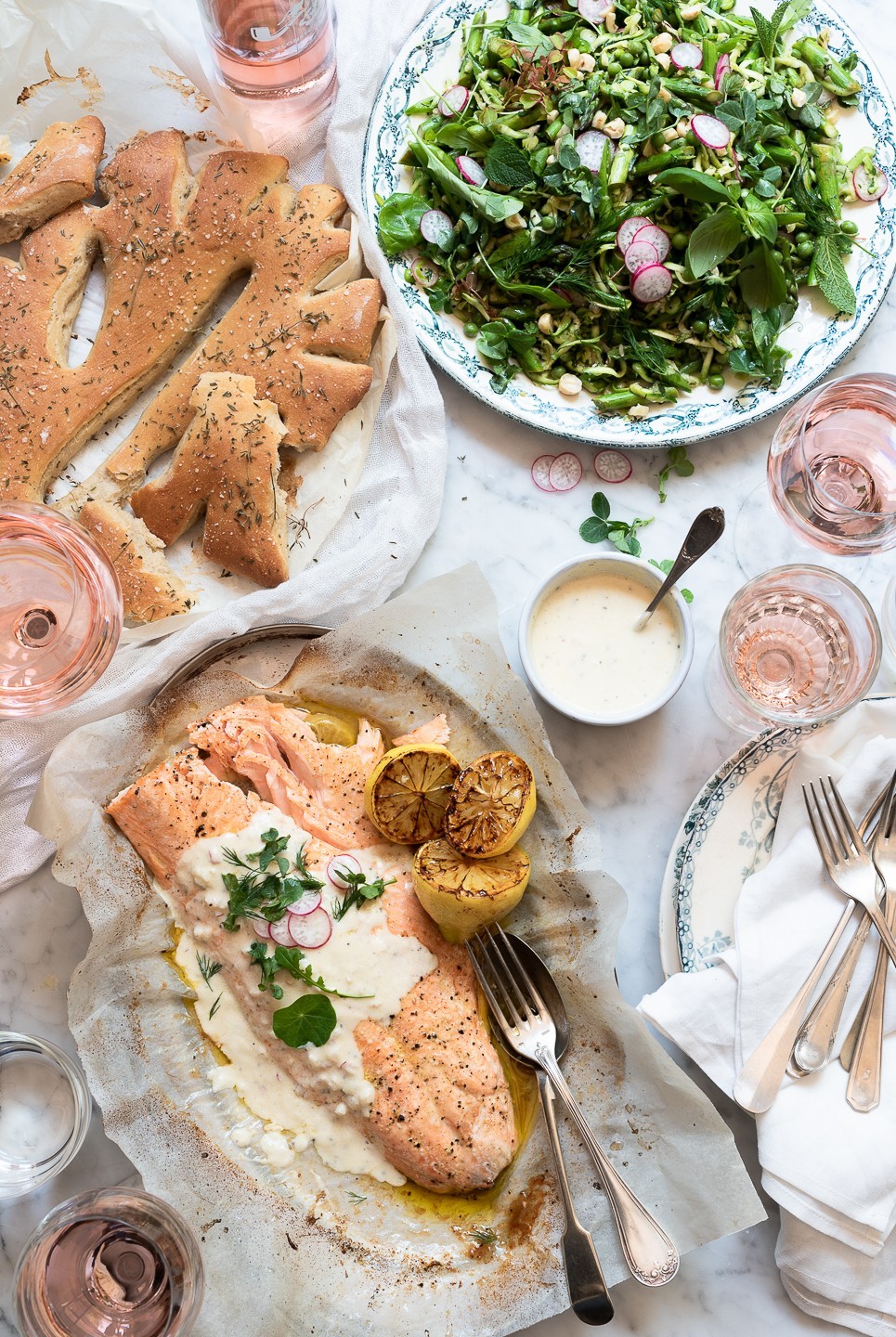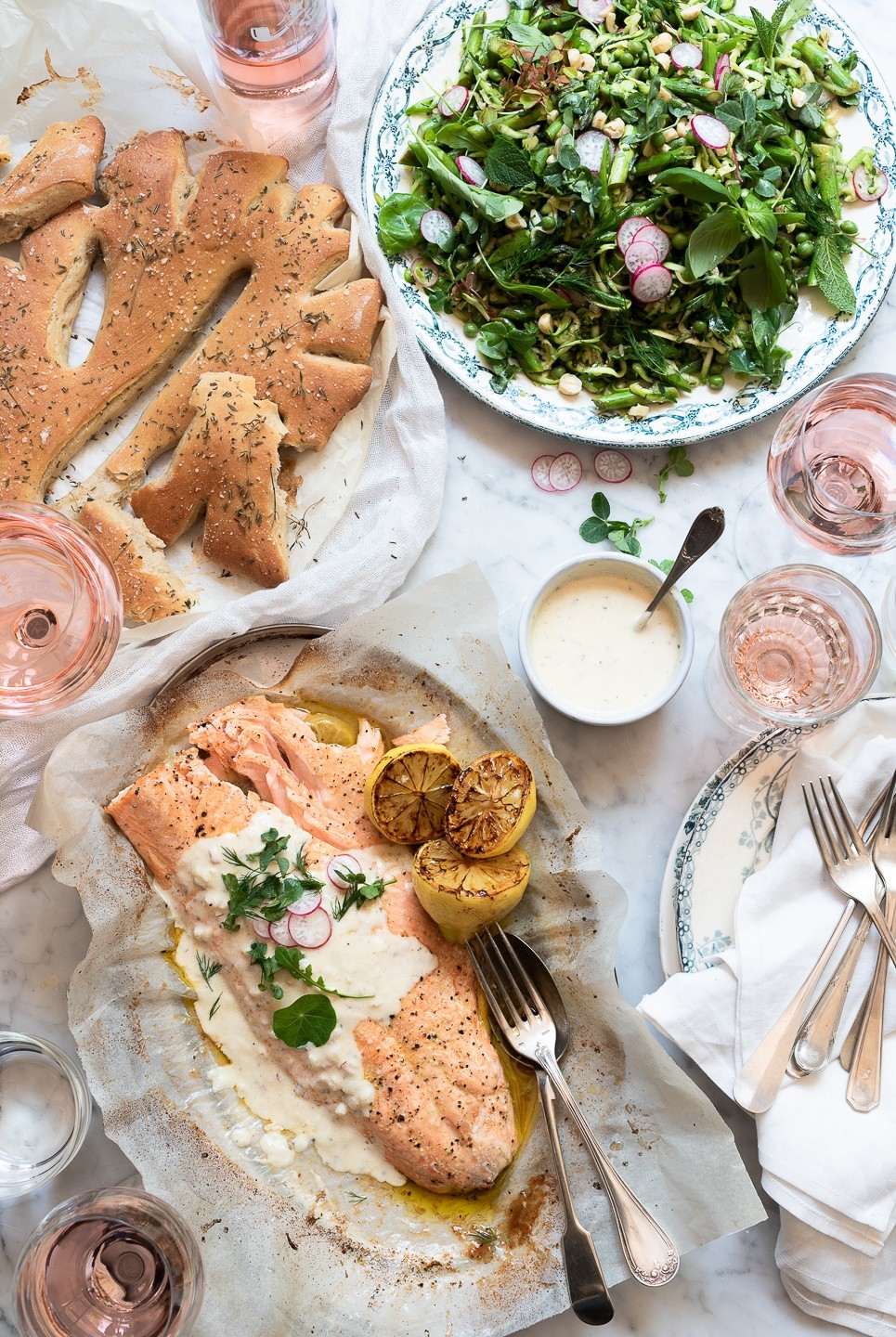 Eating outside is one of summer's simplest pleasures. It's as if the flavours become more intense, almost brighter. When the air smells of jasmine blossoms, we head outdoors for unhurried lunches and dusky casual suppers. There are few things I love more than shared gatherings and a simple table laden with beautiful food – crusty bread, a spectacular spring green salad and a truly memorable main, like this Roast Salmon with Rosé and Shallot Yoghurt.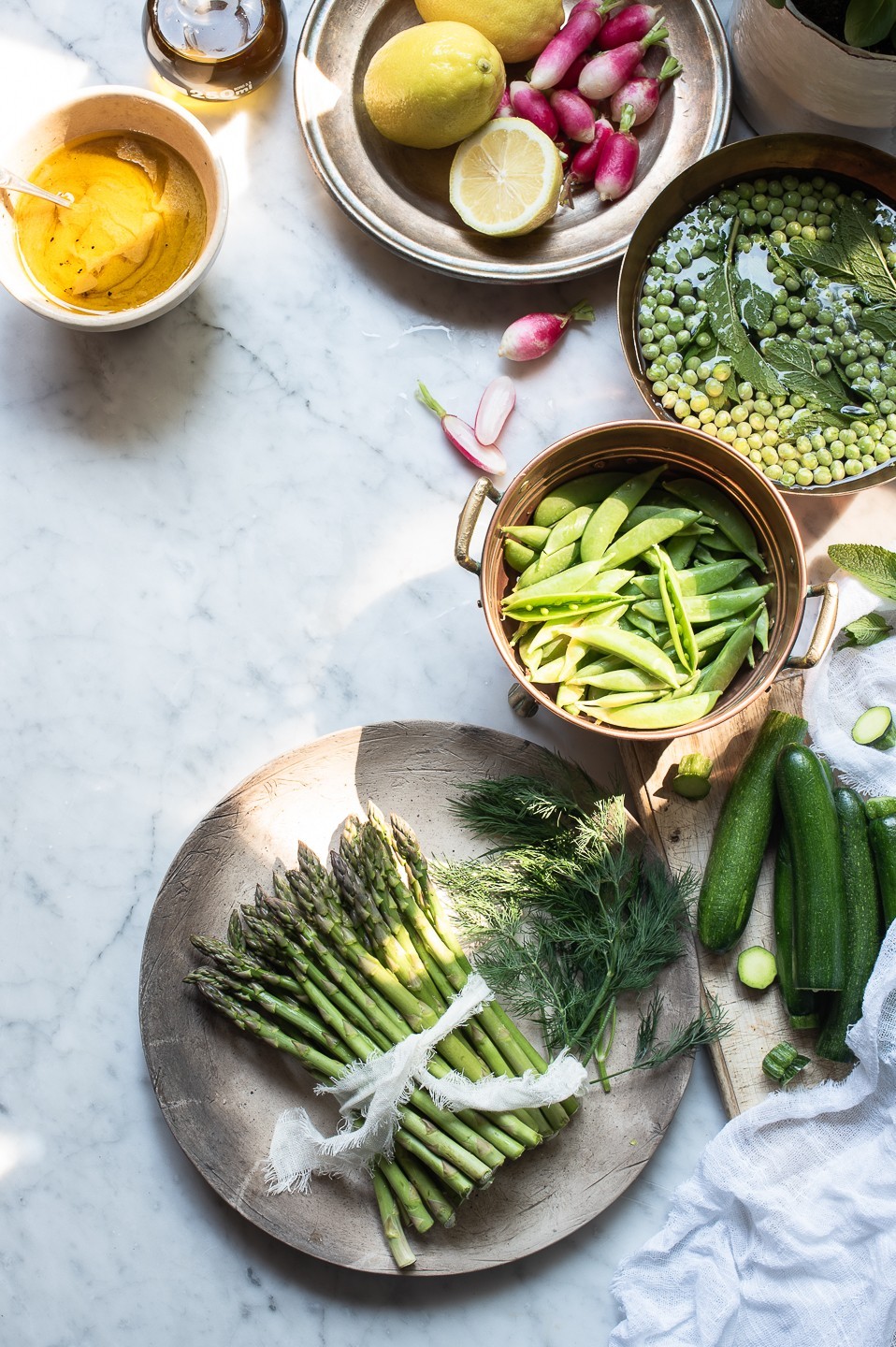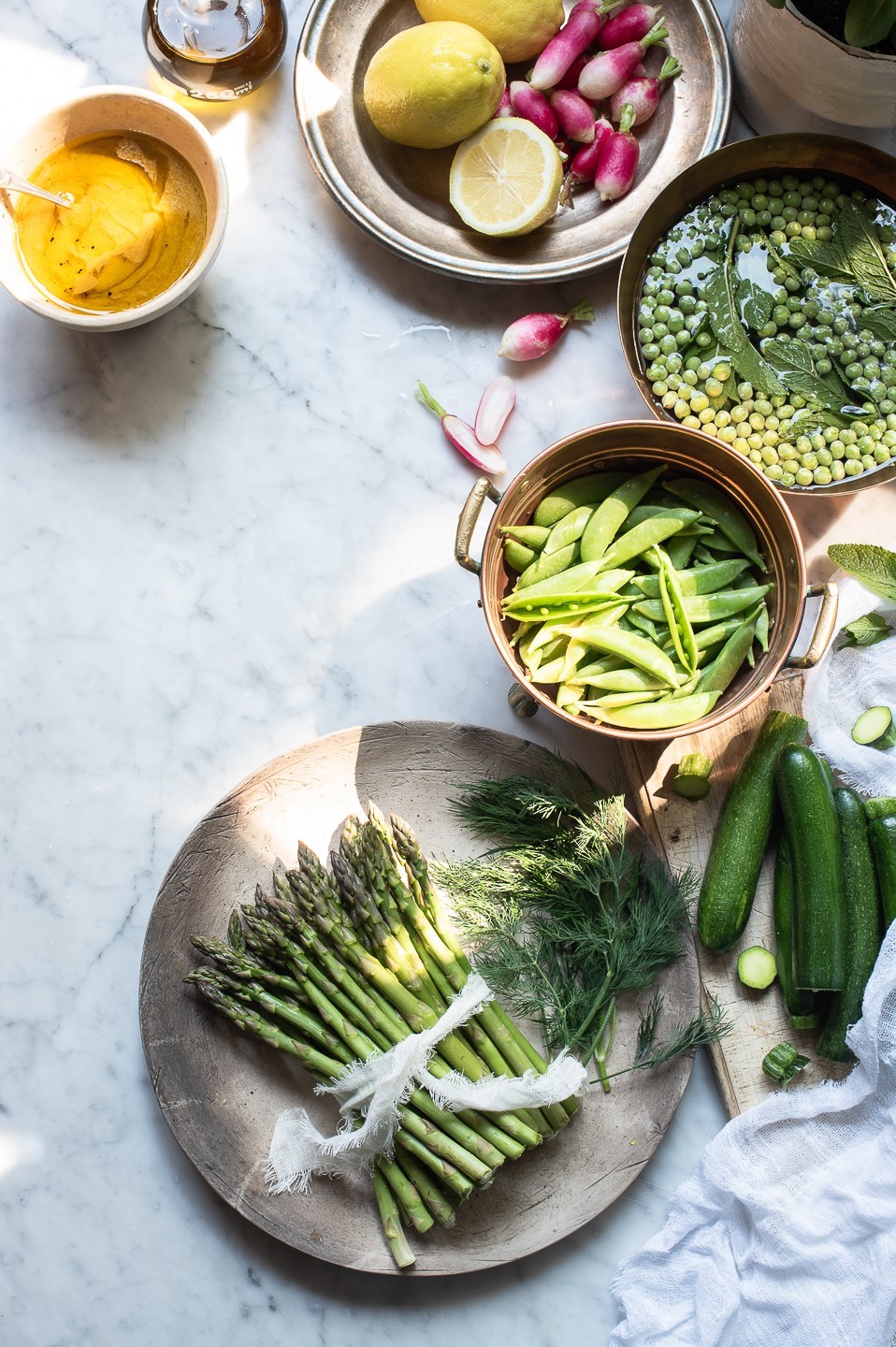 I think this could be my new favourite way to lunch although it's more than adequate for an elegant supper, too. I serve it with crusty bread, in this instance a rosemary-salted fougasse. It makes a lovely little savoury something to nibble on while sipping on Mourvèdre Rosé aperitifs. Also, it seemed the only decent thing to do for a Mediterranean style lunch, such as this. Rosé is the new summer wine of choice. It's classy, slightly casual and very conversational.
For my second Babylonstoren Mourvèdre Rosé inspired recipe, I've tried to showcase the versatility of this blushing wine in both cooking and food pairing. The key to this veritable feast is a simple master dressing. I then adapt it by adding several ingredients, transforming it from dressing to glaze and finally, a creamy yoghurt drizzle to serve alongside the roast salmon. Quite the multi-tasker, this dressing!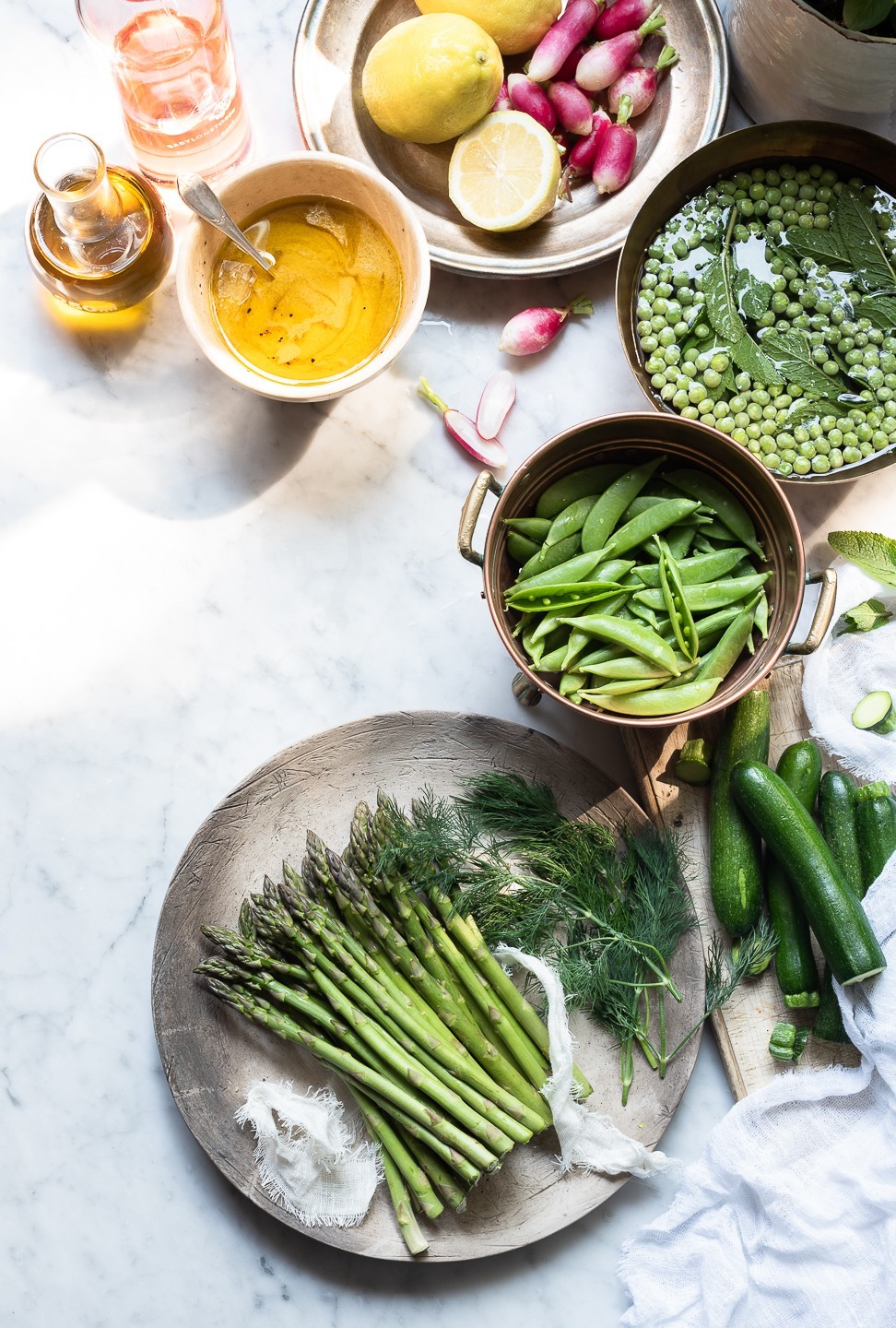 The asparagus and spring green salad is a complete joy. It celebrates the lightness of spring with heaps of texture and vibrant colour. There's a fair chopping, but nothing challenging at all. When preparing the zucchini, remember to press out as much of the water as possible. Dress the salad just before serving to prevent it from becoming watery.
Salmon is inherently rich, with a soft, delicate texture. It's pairs more than amicably with the salad and playfulness of the Rosé. For ease and simplicity, I've oven-roasted the salmon using the master dressing as a glaze to keep it succulent. To the remaining dressing I add Greek yoghurt and chopped shallots. It's creamy yet light with a zesty tangy that counters the oiliness of the salmon beautifully.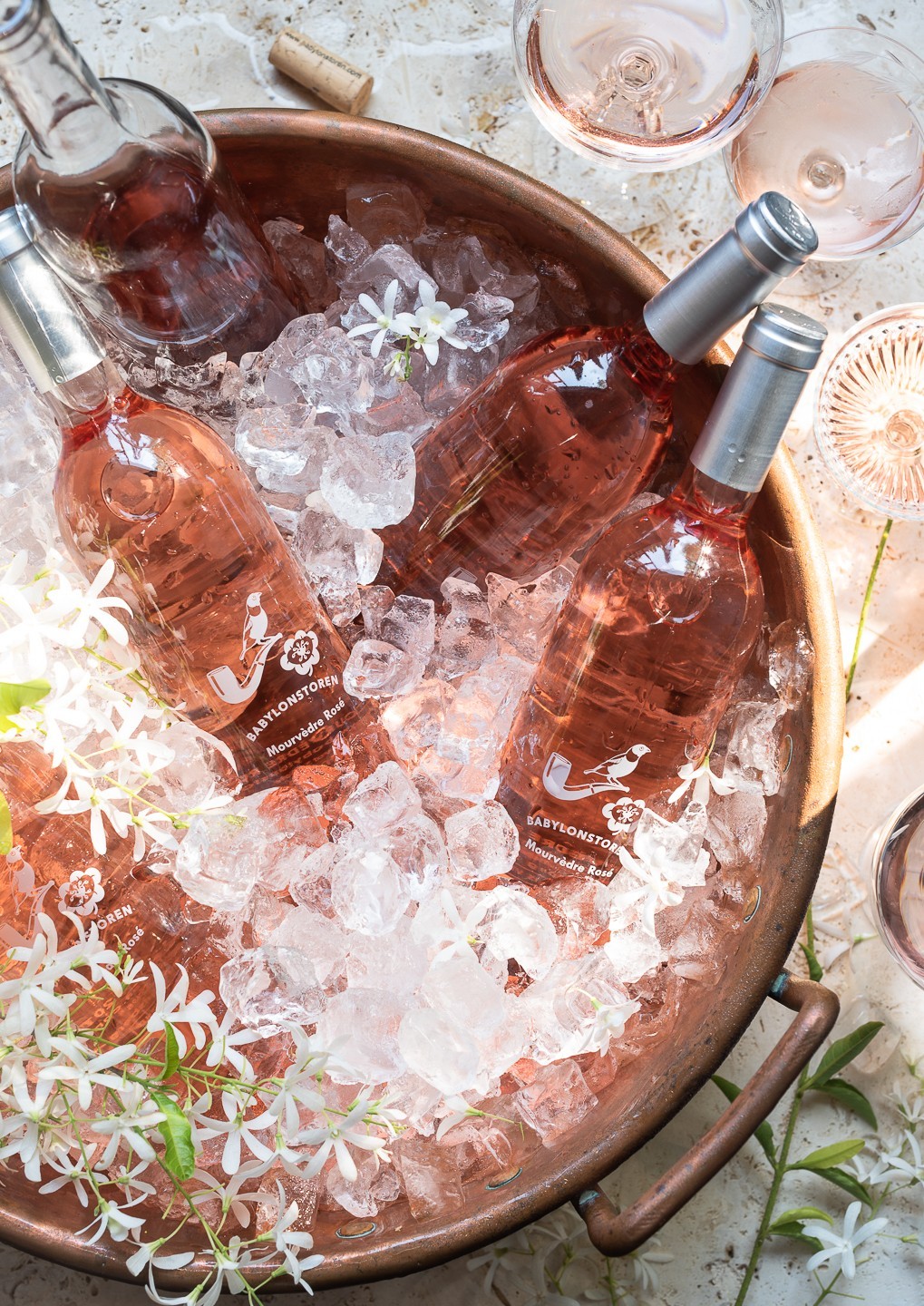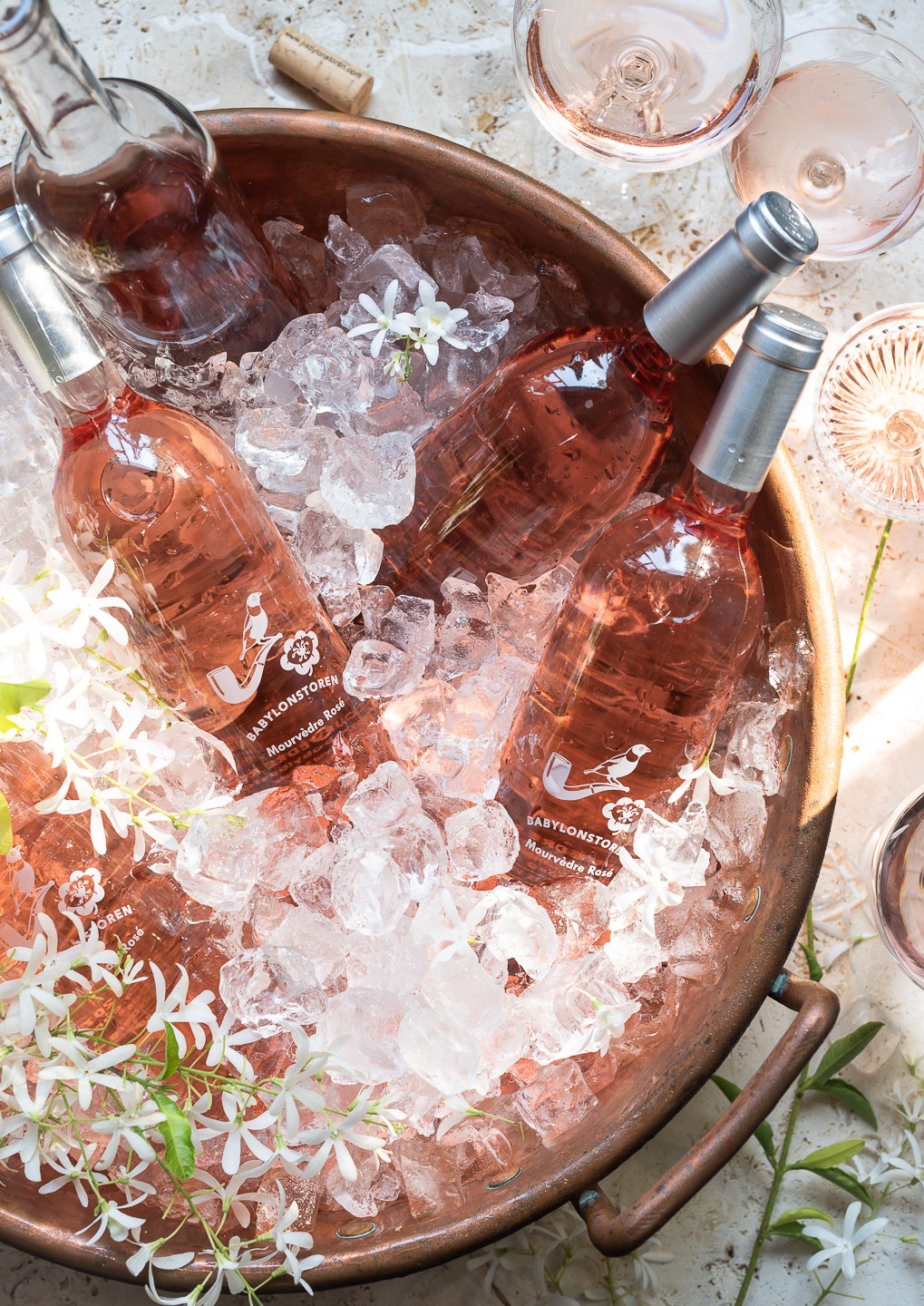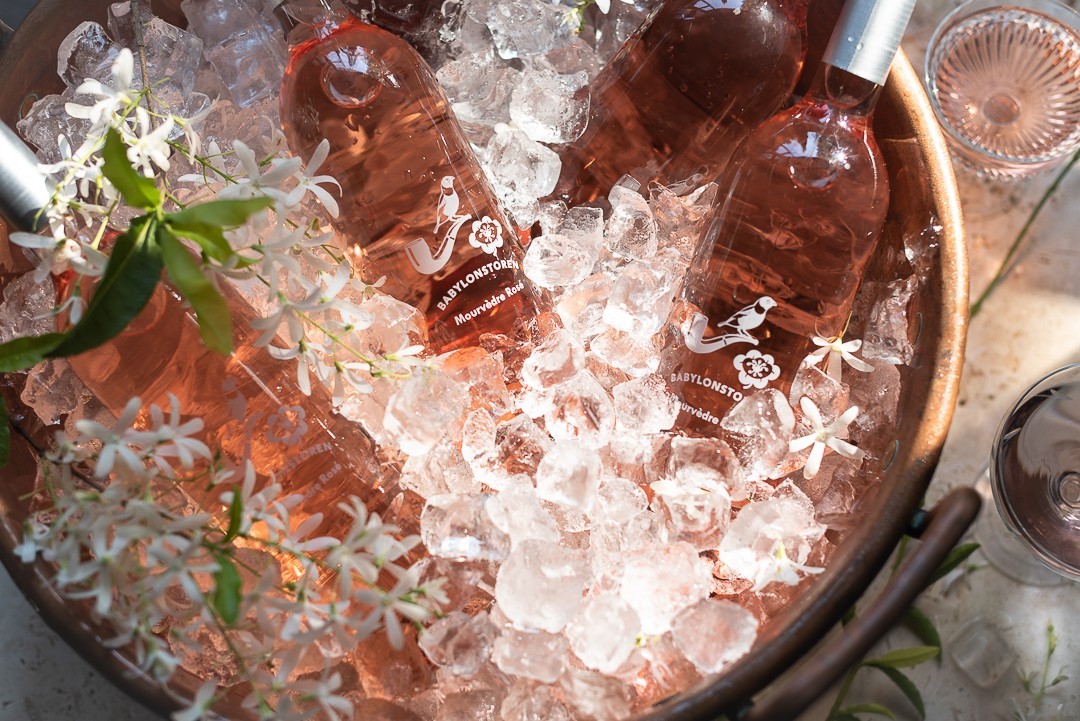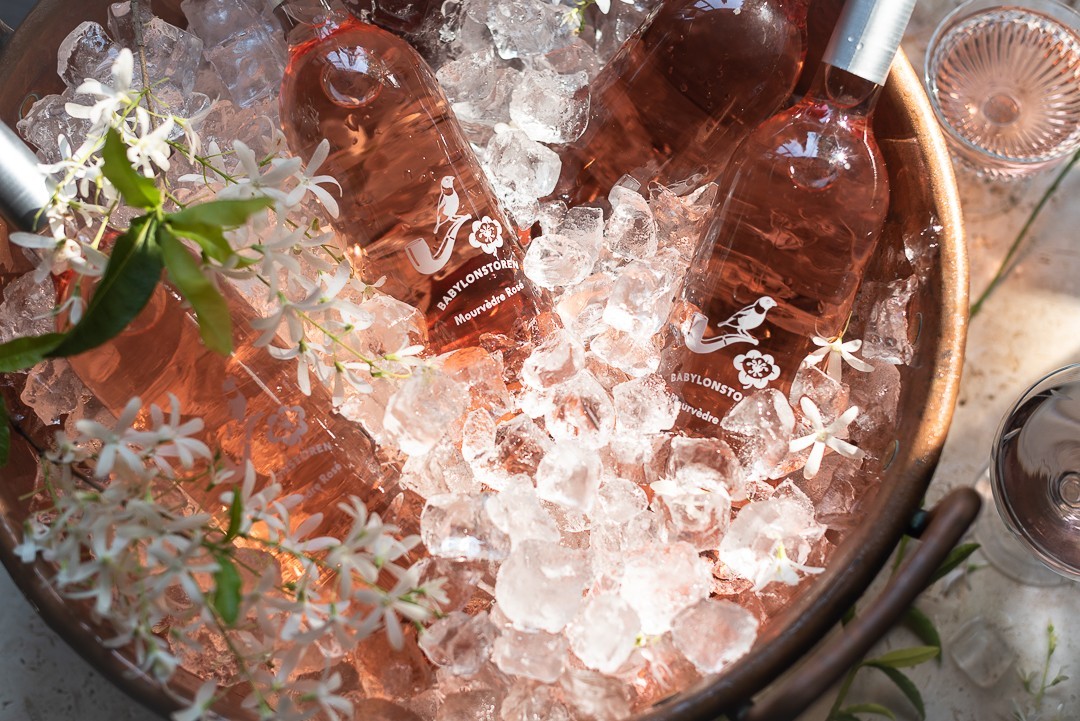 Mourvèdre Rosé is playfully light in character yet quietly elegant, with a blushed salmon colour. Wisps of raspberry and rose petal mingle cheerfully with creamy strawberry yoghurt and the ethereal lightness of candyfloss. A truly delicious way to Sip on Spring. The gentlest countering of acidity brings balance and harmony to what is, the quintessential summer wine. Babylonstoren Mourvèdre Rosé is a dry wine that pairs beautifully with food and is equally good enjoyed as an aperitif. For the month of October buy 4 bottles of Rosé and receive a bottle of extra virgin olive oil for free. I'd grab it now. Next Monday's recipe is a savoury feast that celebrates both. Here's the link to place your order.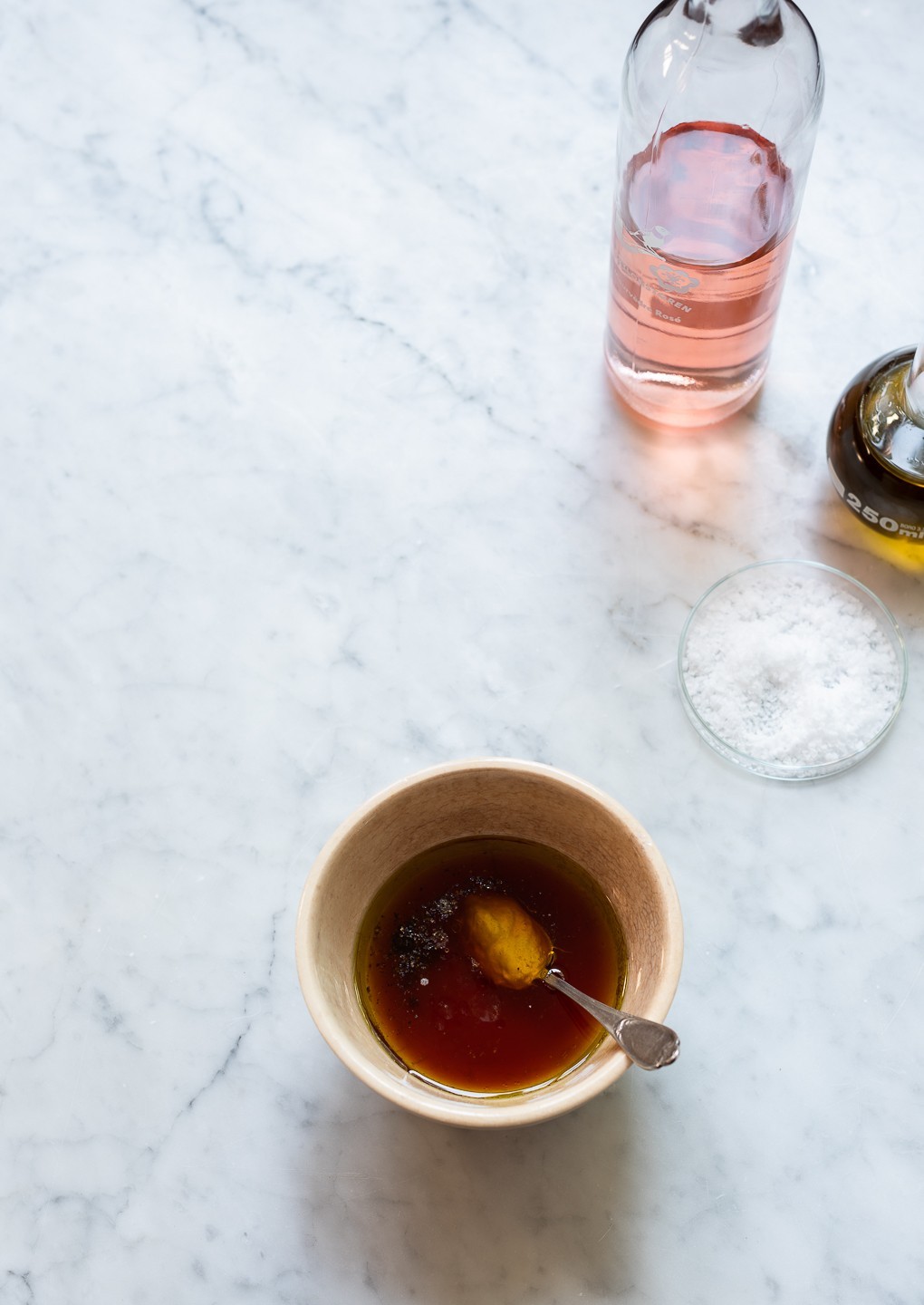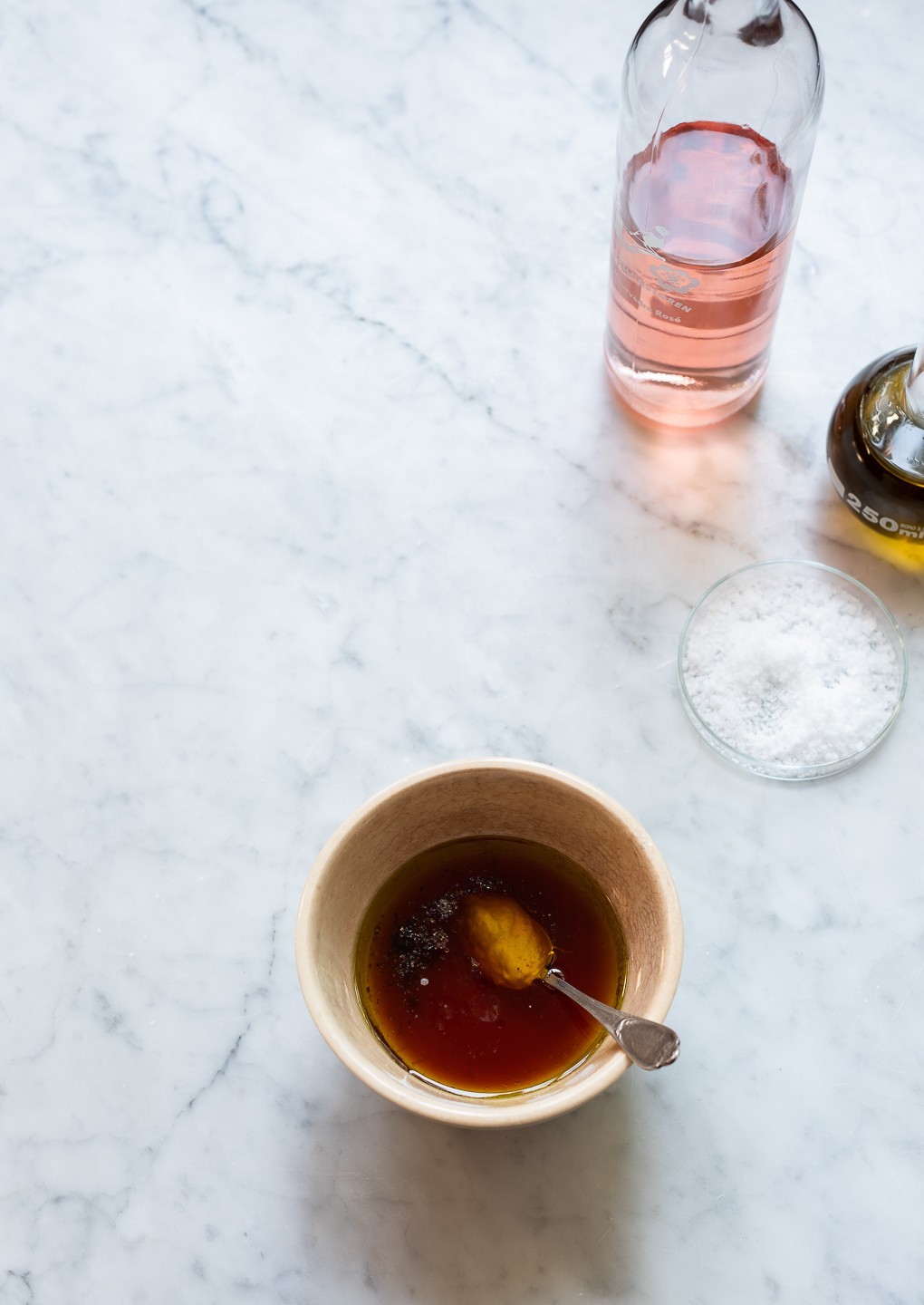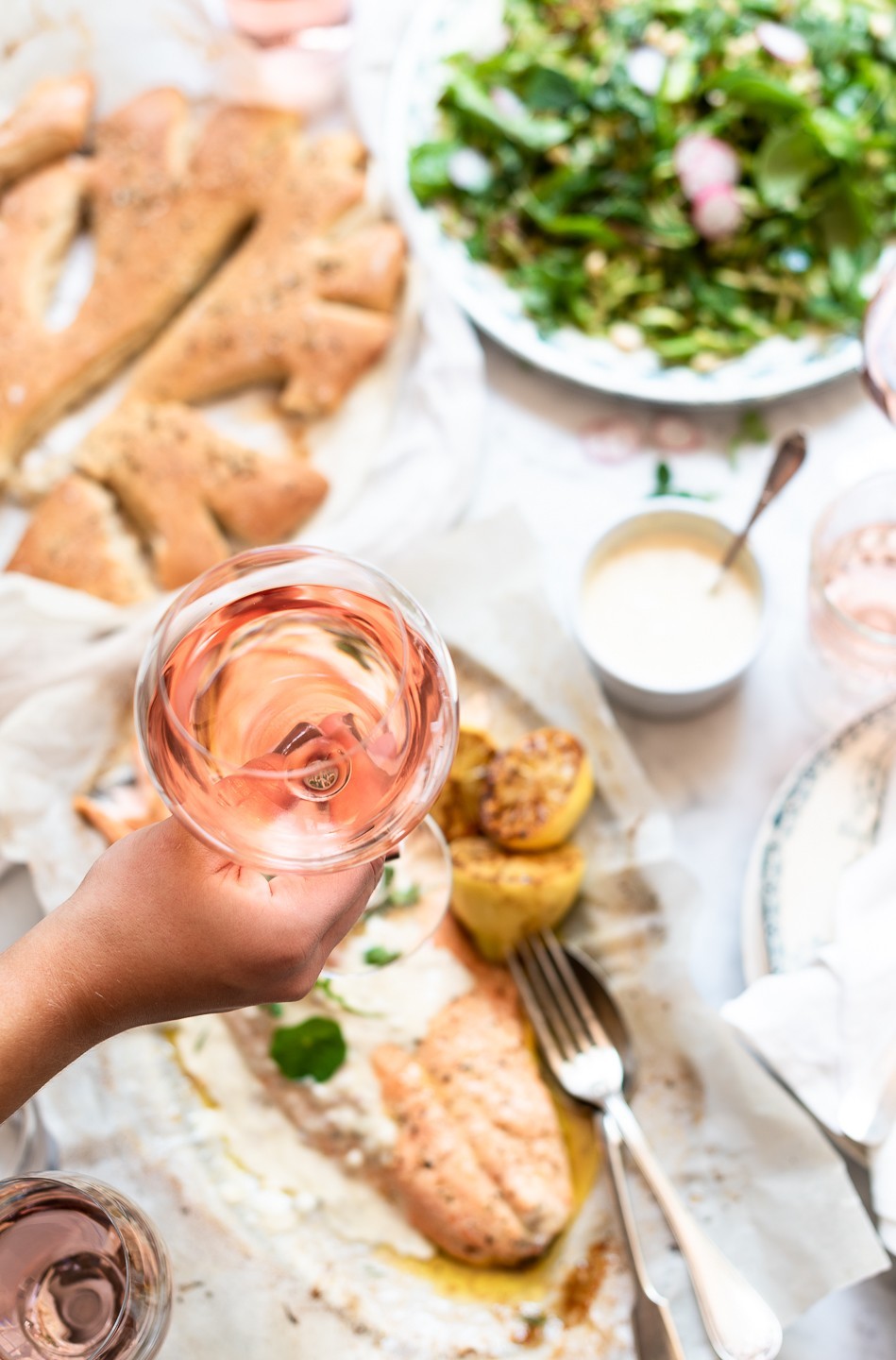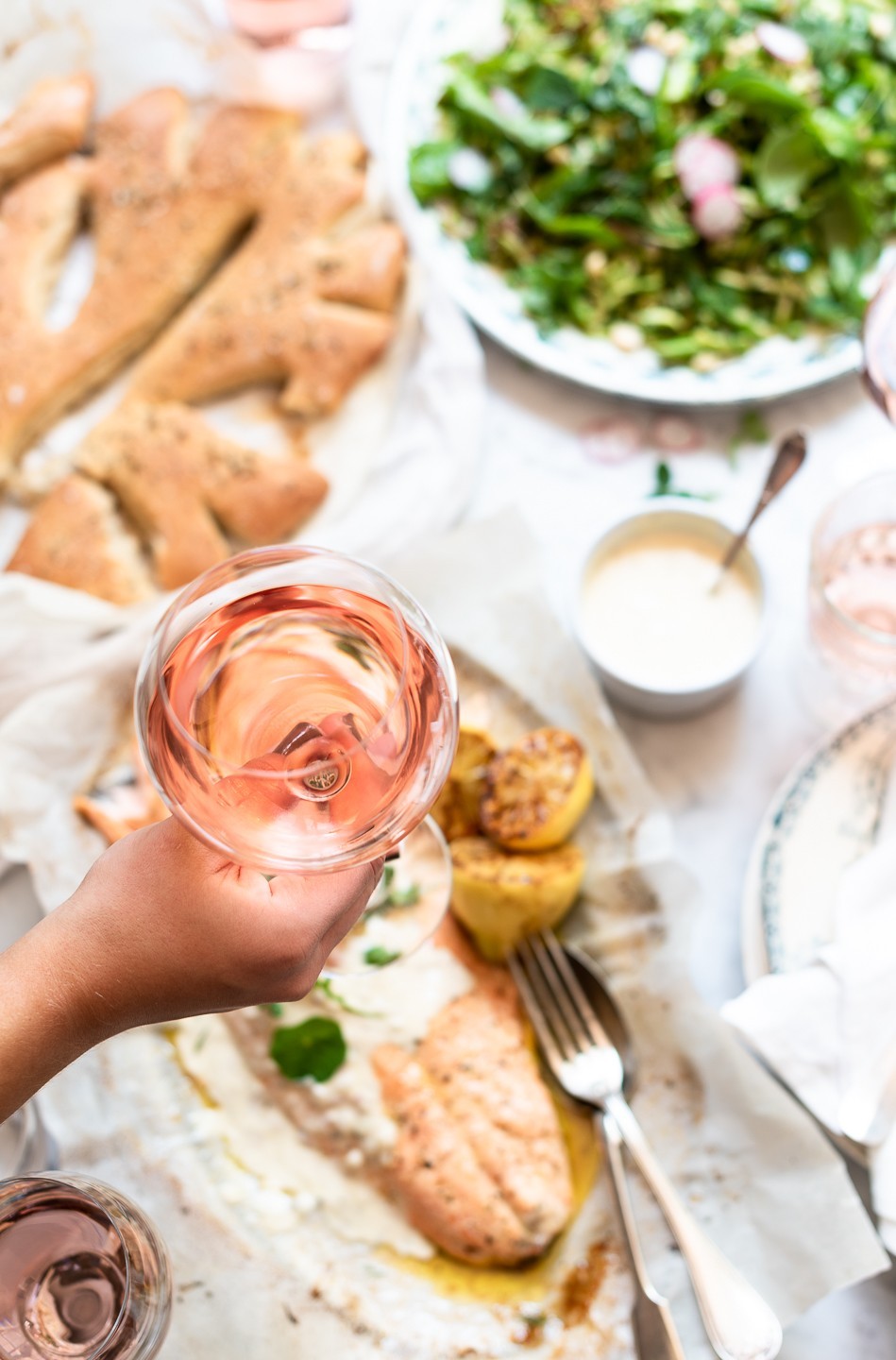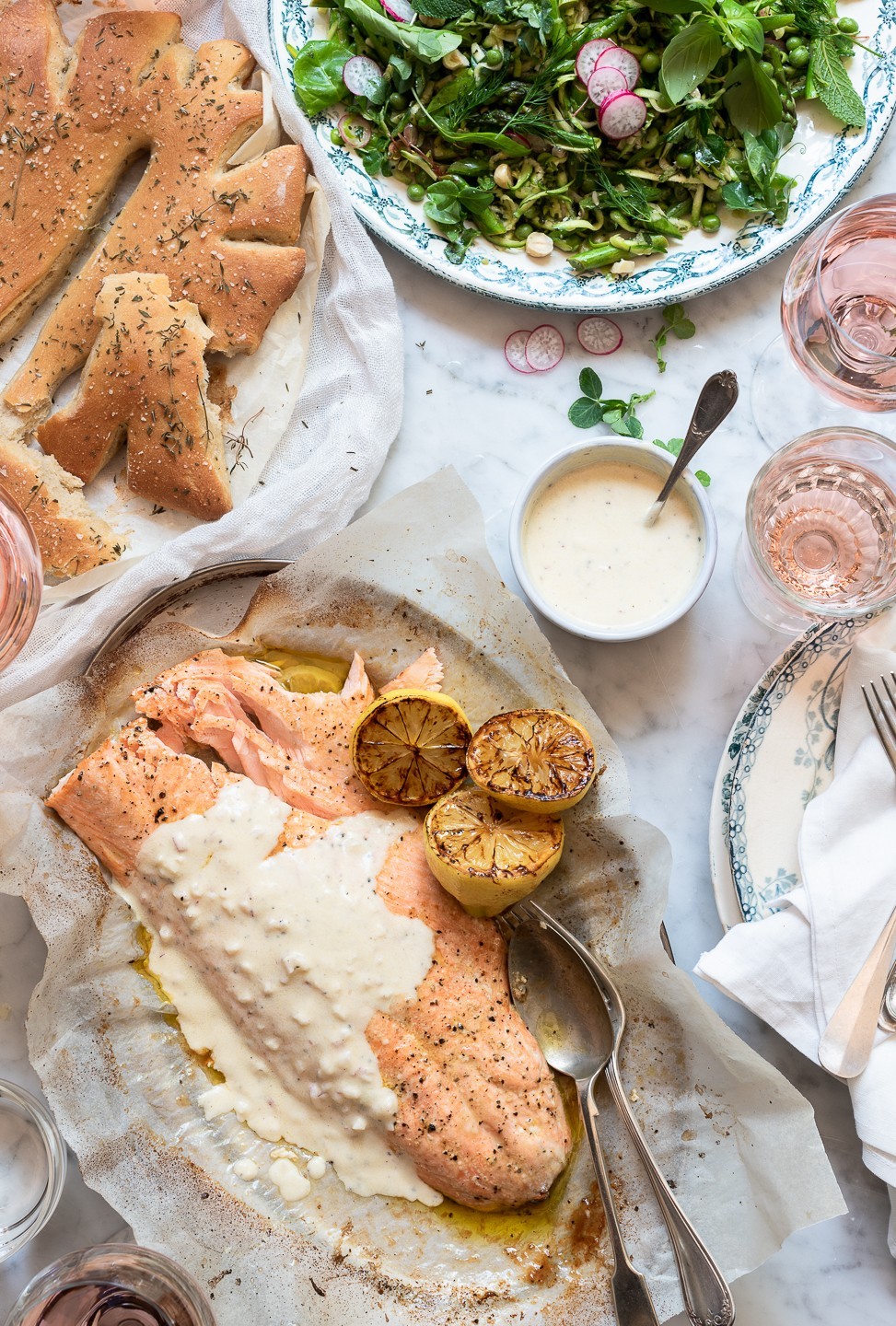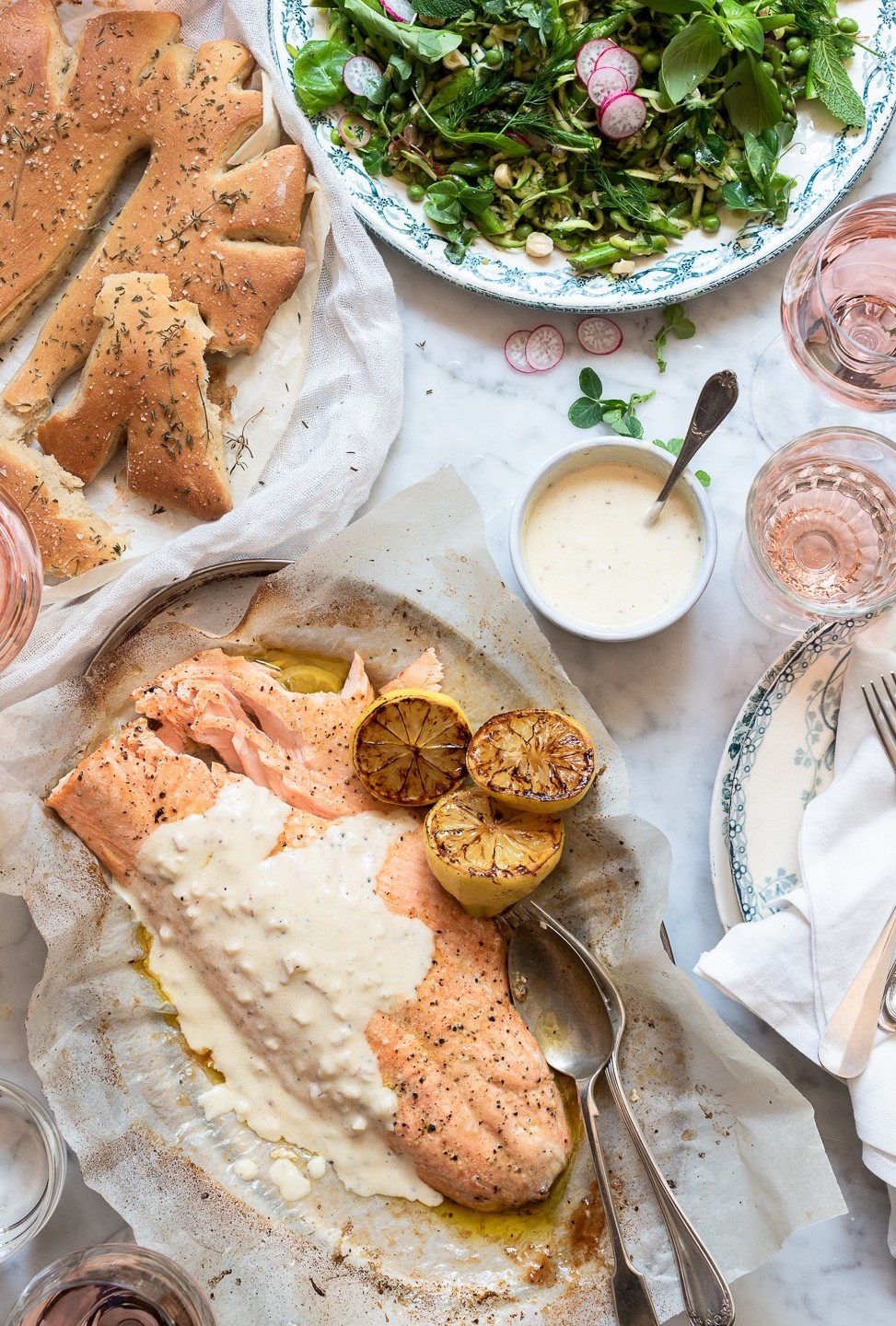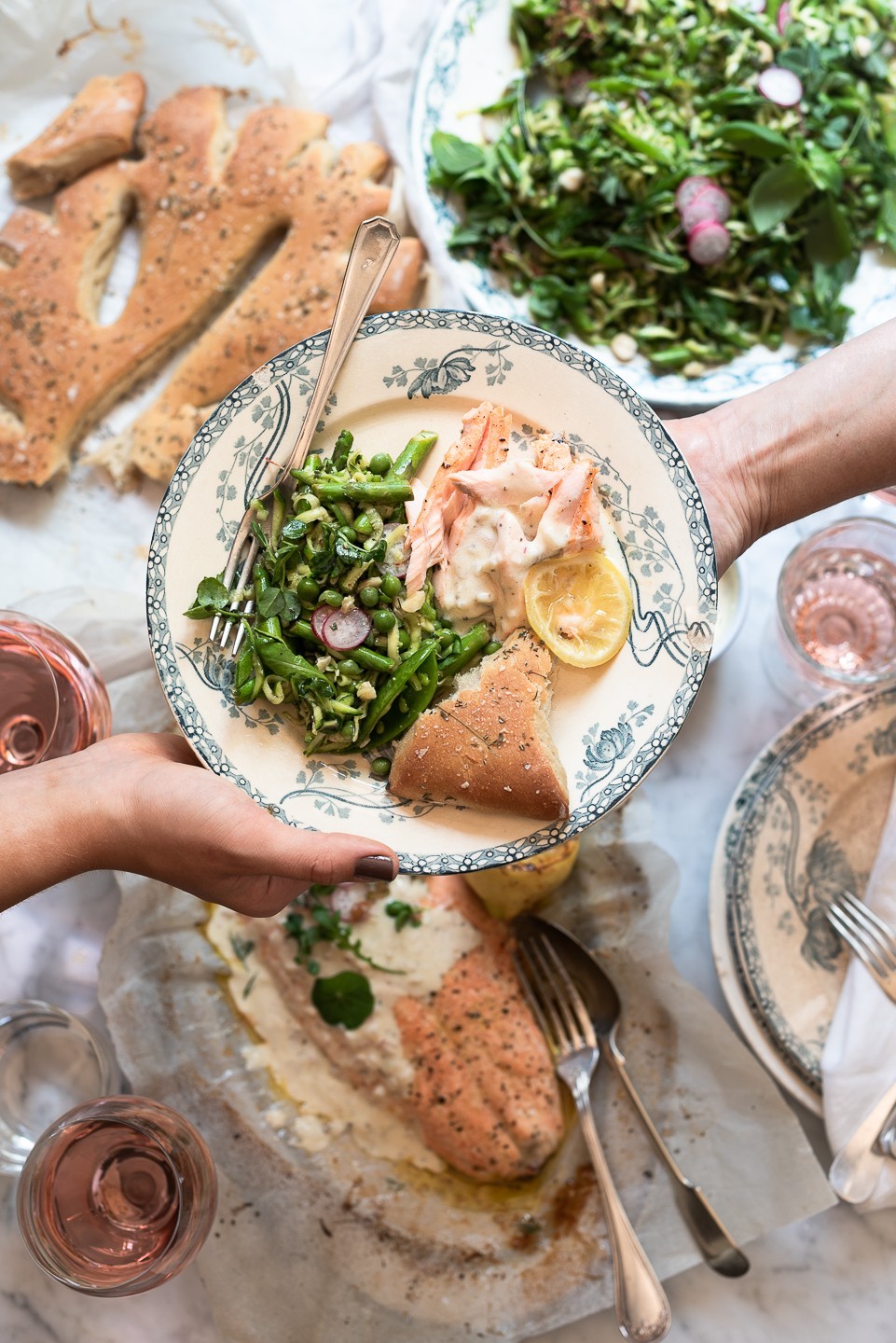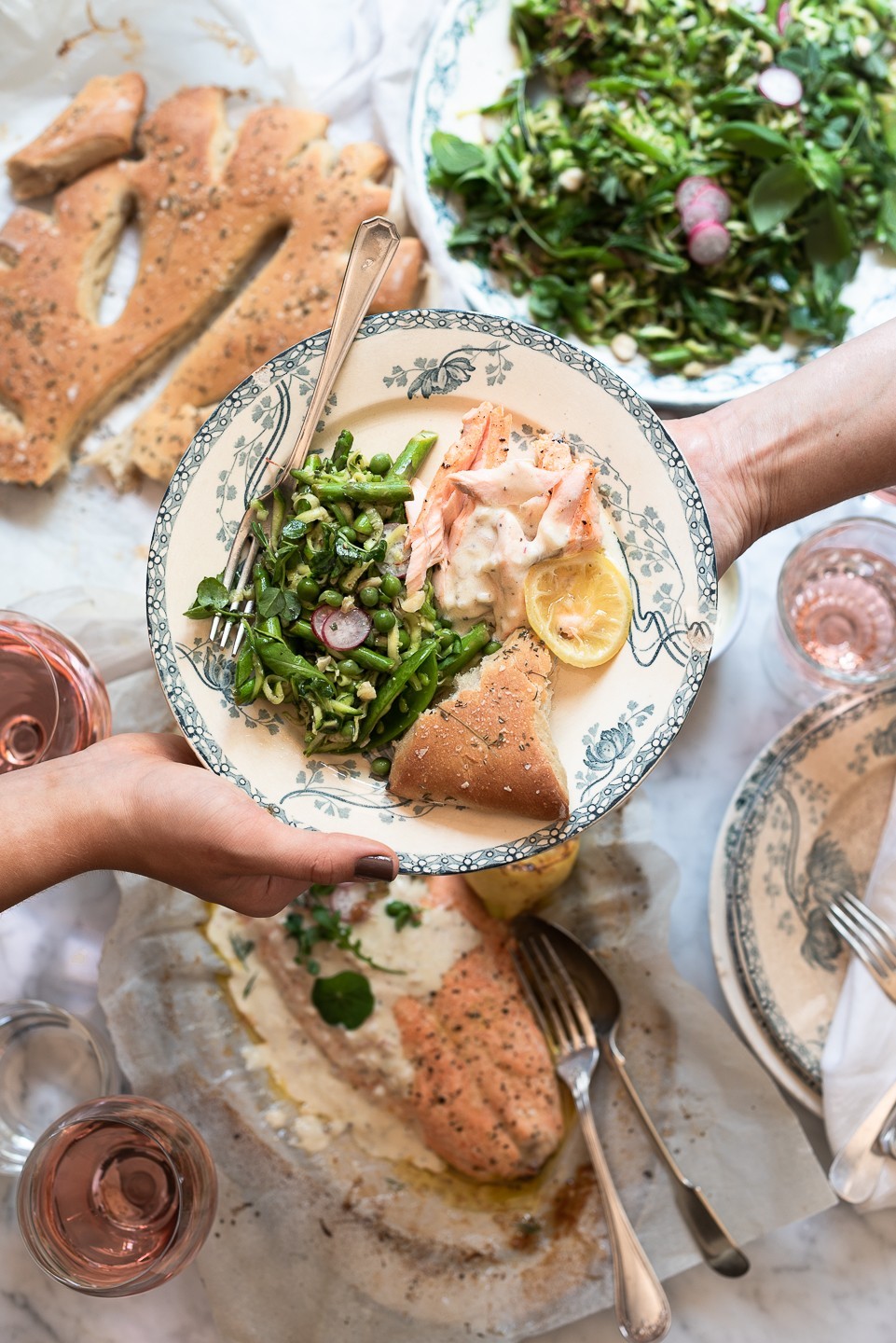 Roast salmon with Rosé and shallot yoghurt
Serves 6
Master Rosé dressing
60ml (1/4 cup) Babylonstoren Mourvèdre Rosé
30ml (2 tablespoons) red wine vinegar
30ml (2 tablespoons) lemon juice
45ml (3 tablespoons) honey
15ml (1 tablespoon) Dijon mustard
125ml extra virgin olive oil
sea salt flakes and freshly ground black pepper, to taste
olive oil, for roasting
750g salmon side, skin-on
1 lemon, thinly sliced
sea salt flakes and freshly ground black pepper
80ml (1/3 cup) Master Rosé dressing, for glazing
Rosé and shallot yoghurt
125ml (1/2 cup) Master Rosé dressing
160ml (2/3 cup) Greek yoghurt
15ml (1 tablespoon) lemon juice
1 shallot, finely chopped
sea salt and black pepper
dill, to finish
Asparagus and spring green salad with Rosé dressing
 Serves 6-8
Salad ingredients
10ml (2 teaspoons) olive oil
350g (2 packs) asparagus, trimmed and sliced into thirds
400g (7 medium zucchini) grated – large grate
200g (1 ½ cups) fresh peas
200g (2 cups) sugar snaps, thinly sliced
8 baby radishes, thinly sliced
a large handful of each, mint, dill and basil
4 spring onions, thinly sliced
zest of 1 lemon
50g (half a cup) hazelnuts, toasted
pea shoots and baby leaf herbs, to finish
100ml Master Rosé dressing
15ml (1 tablespoon) lemon juice
sea salt flakes and freshly ground black pepper, to taste
To make the master dressing, place all the ingredients in a jug and whisk together. Make sure it is well seasoned. Divide the dressing into three separate quantities – 80ml for the salmon glaze, 100ml for the salad dressing and 125ml for the shallot yoghurt.
For the salmon, preheat the oven to 200º C. Line a roasting tin with parchment paper.  Place the sliced lemon on the base. Drizzle the salmon with olive oil and season lightly on both sides with salt and pepper. Lay on top of the lemon and roast for 10 minutes. Pour the reserved 80ml master dressing over the salmon and return to the oven for another 10 minutes.
In the meanwhile, heat 10ml olive oil in a pan until hot. Add the asparagus and flash-fry for 2 minutes. Season lightly, then set aside to cool. To remove excess water from the zucchini, press firmly together to extract the juice or wrap in a clean tea towel and ring lightly.
Place the zucchini and all the remaining vegetables, herbs, spring onion and lemon zest in a large bowl. Add the 15ml lemon juice to the 100ml Master dressing.
To make the shallot yoghurt, add the yoghurt, lemon juice and shallots to the 125ml Master dressing. Taste and season with salt and a generous grinding of black pepper.
Just before serving, add the asparagus to the salad. Drizzle with 100ml Master dressing and toss to coat. Add the hazelnuts, pea shoots and baby leaf herbs and toss lightly. Transfer the salad to a serving platter.
Serve the salmon with the shallot yoghurt and roughly chopped dill. Pan-grilled lemon halves alongside are also a good idea.
In paid partnership with Babylonstoren. As always, opinions and comments remain authentically honest and the recipes in keeping with the Bibby's Kitchen cook from scratch philosophy.
For dessert, you might like to try this Honey pannacotta cake.
To read more about South Africa's spectacular working farm, Babylonstoren take a quick tour here.