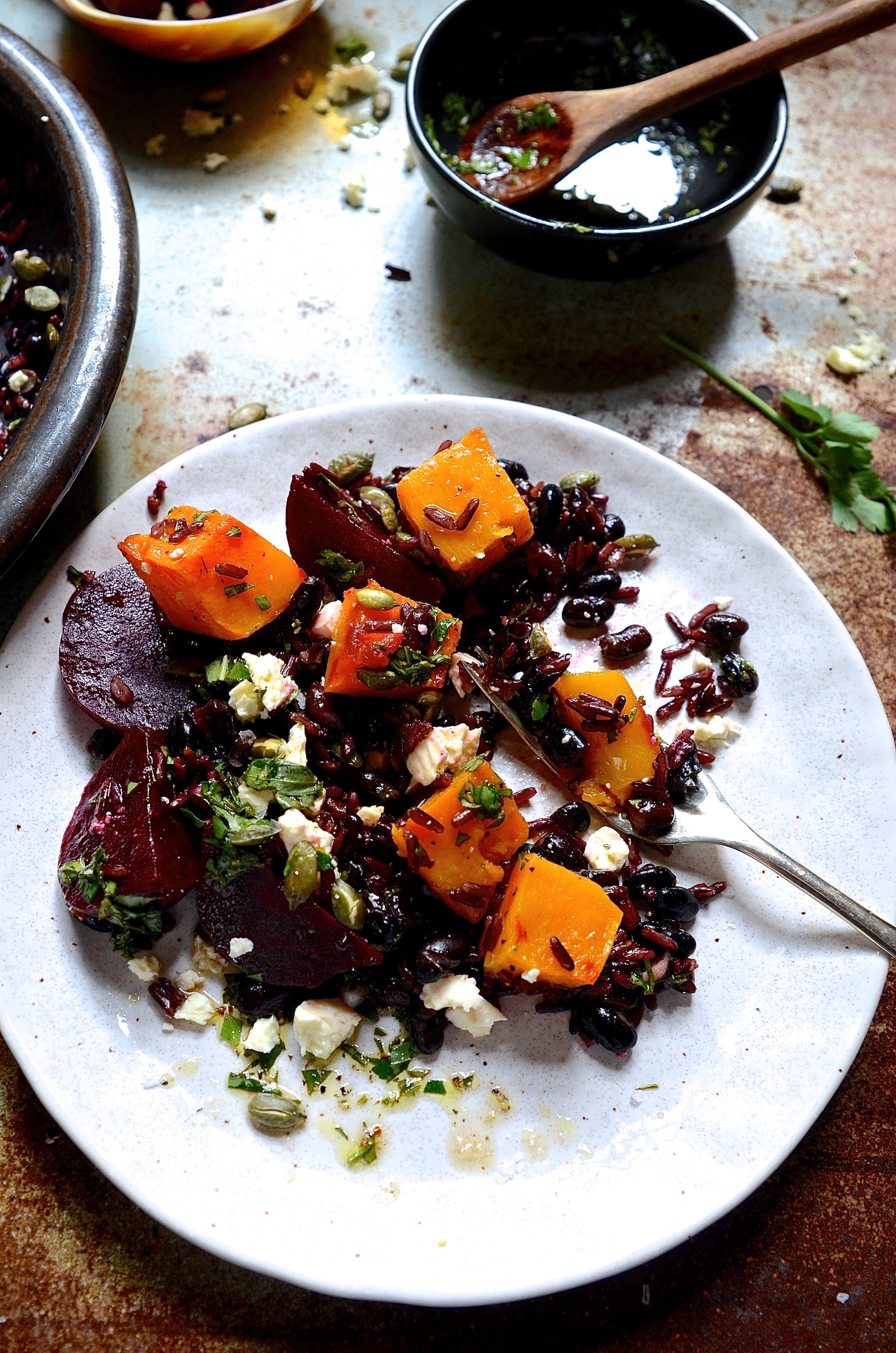 Some things are just better together, like beetroot and butternut. This dramatic black rice salad includes both, salty feta and some toasted pumpkin seeds for texture and crunch. The honey and red wine vinegar dressing is fresh and herby. It's one of my most loved salad recipes. So delicious!
More reasons to make this salad……
– Nutrient powerhouse
– Vibrant colours
– Insane flavour
– Meat-free, Happy Monday supporter!
– Black rice and black beans
– Salty and sweet
– Vamped-up herb dressing
– Lunch box potential  (one job, double reward)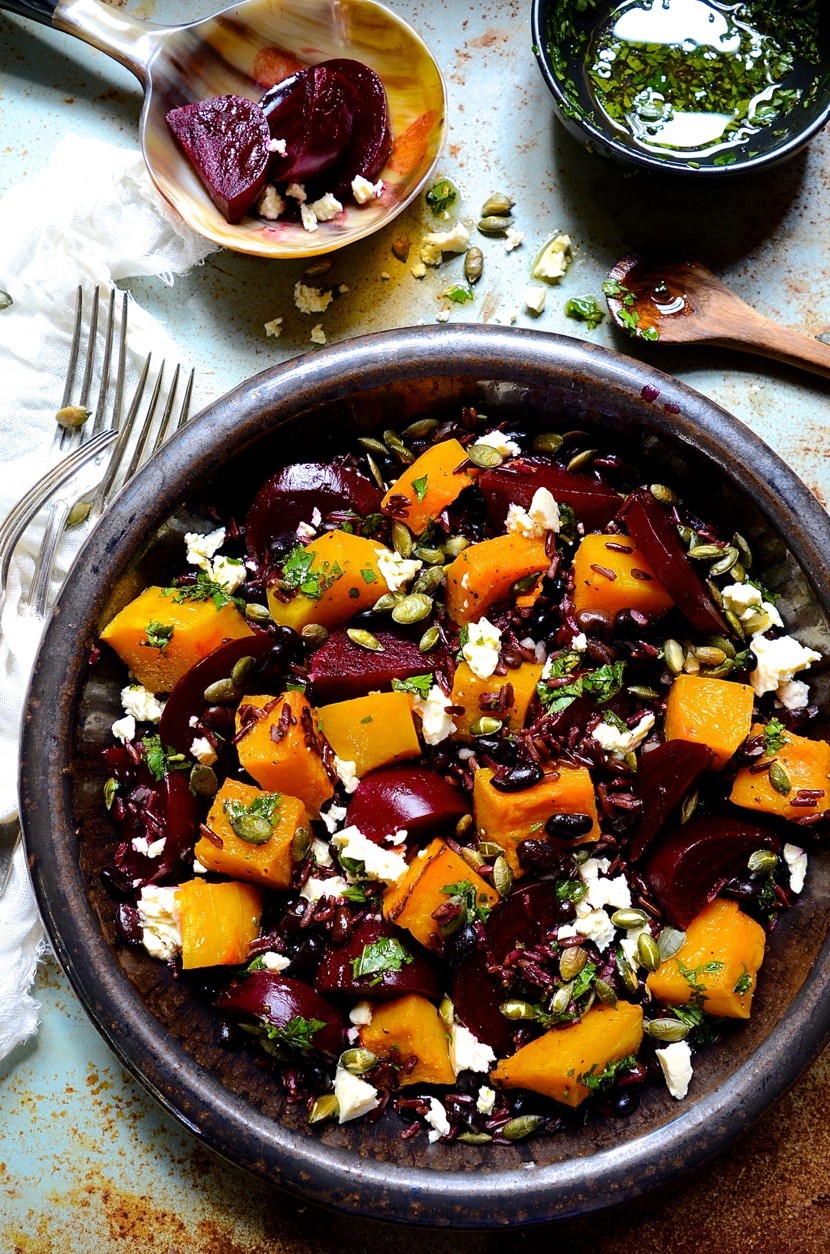 If you haven't yet tried black rice, give it a go. With high levels of iron,vitamin E and antioxidants, it's the new grain on the block. The flavour is mildly nutty, the black outer shell turning purplish when cooked. Black rice is also good for risottos and chocolate rice puddings – nero style.
Serve it with marinated rib-eye steak or this paprika roast chicken. Any leftovers can be packed for take to work lunches. Remember to bring it up to room temperature before serving. Fridge cold rice salad is so not worth it.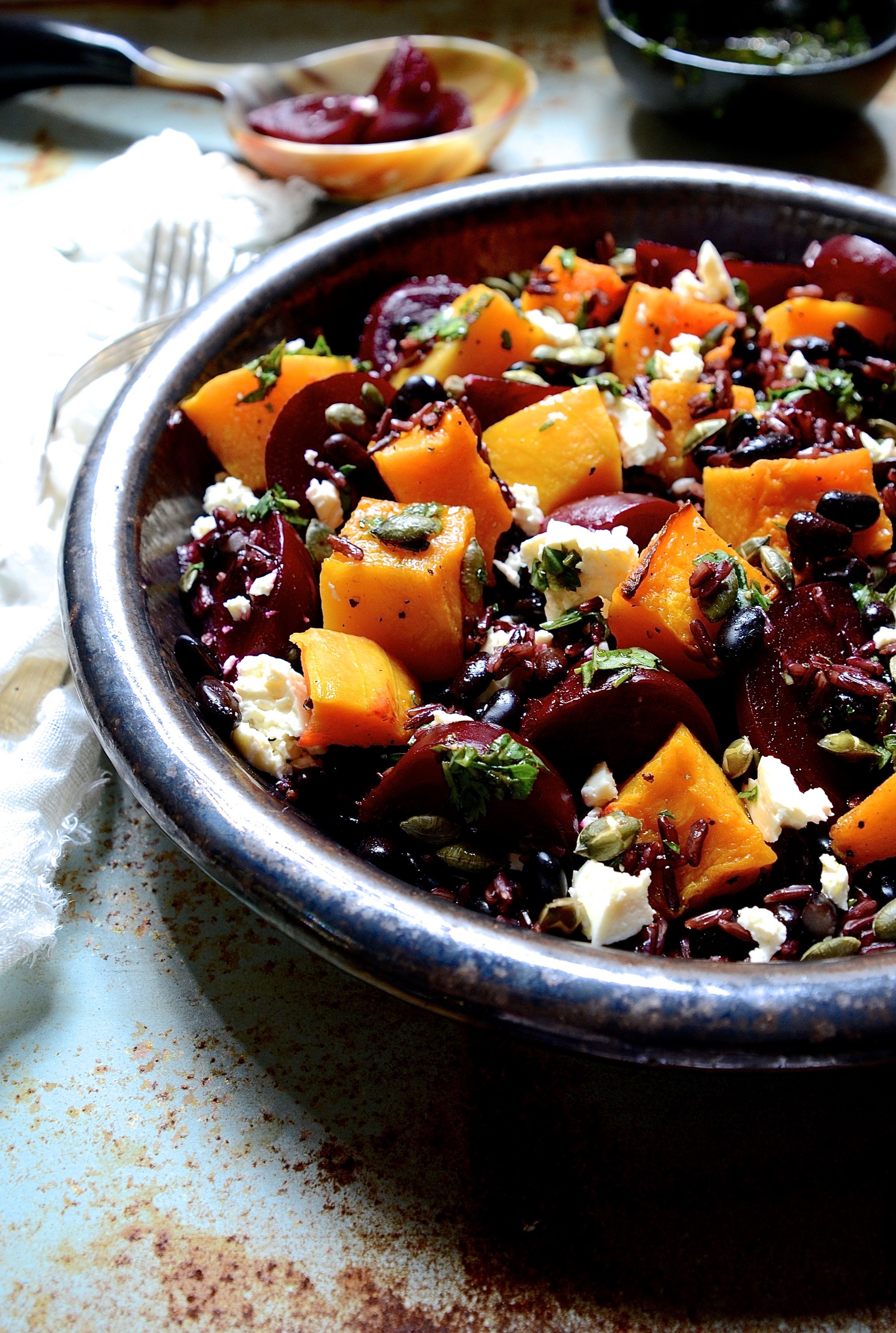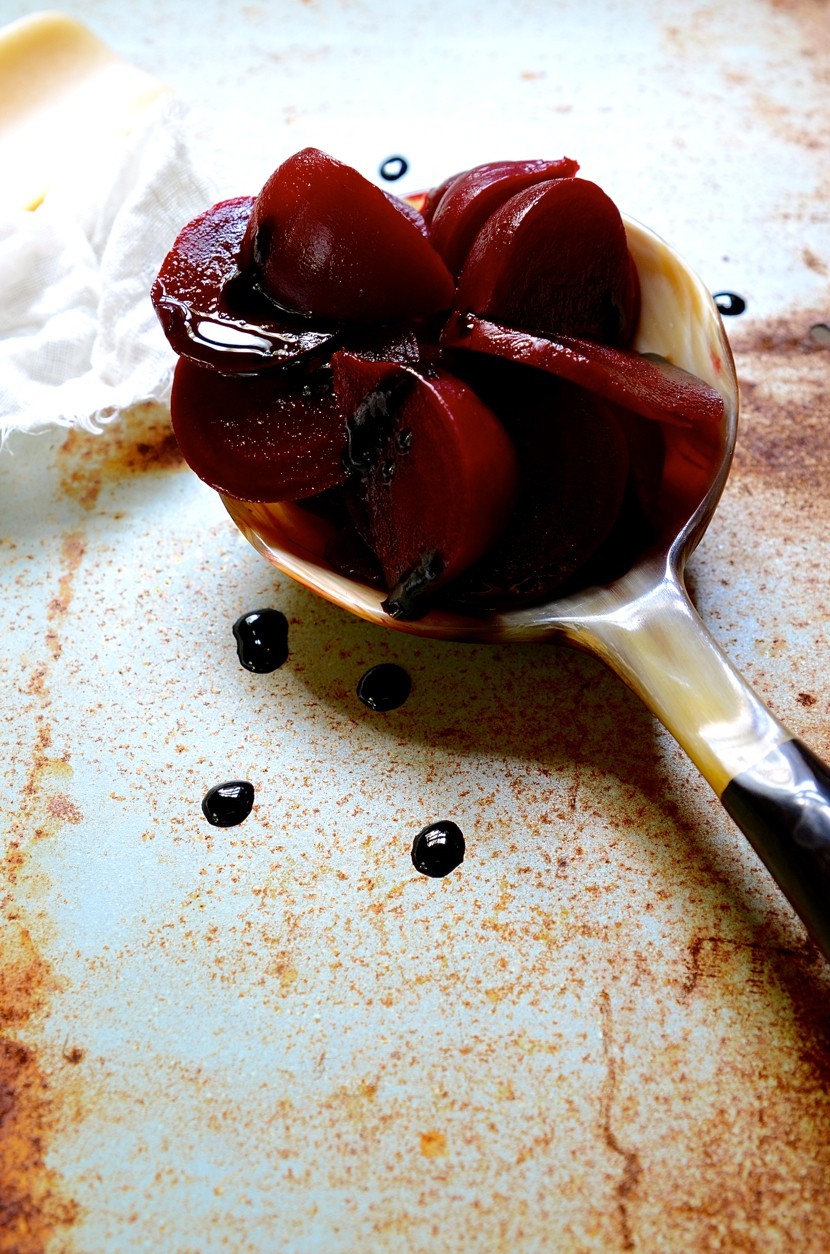 Black rice salad with balsamic beets and butternut
Serves 4
1/2 cup black rice
400g tinned black beans, rinsed and drained
2 tablespoon olive oil
1 small butternut, peeled and cut into chunks
5-6 raw beets
1 tablespoon balsamic glaze (not the vinegar)
100g feta, crumbled
1/4 cup toasted pumpkin seeds
For the dressing
3 tablespoons olive oil
2 tablespoons red wine vinegar
1 tablespoon lemon juice
1 teaspoon honey
1/2 teaspoon salt
black pepper
a large handful of each, flat leaf parsley and basil, finely chopped
Rinse the rise and drain. Place in a saucepan and cover with 2 cups of water and a pinch of salt. Boil for 20 minutes. Check that the rice is tender and then rinse under cold water. Drain well.
Preheat the oven to 200º C. Place the butternut on a large, lined baking sheet and drizzle with 2 tablespoons olive oil. Season well with salt and black pepper. Roast for 45 minutes until tender and  nicely coloured.
If you're using fresh beetroot, wash to remove grit. Place in a saucepan, cover with water and simmer for 45 minutes until tender. Drain, cool and peel. Quarter the beets and toss in the balsamic glaze. Set aside.
For the dressing, place all the ingredients in a jam jar and shake together.
To assemble the salad, mix together the rice and black beans. Pour half the dressing over and toss to coat. Lay the beetroot and butternut on the rice, crumble over the feta and scatter with the pumpkin seeds. Drizzle the remaining dressing over and finish with black pepper.
More rice recipes to love that tick the delicious box:
Saffron risotto stuffed tomatoes
Fried rice with five-spice chicken