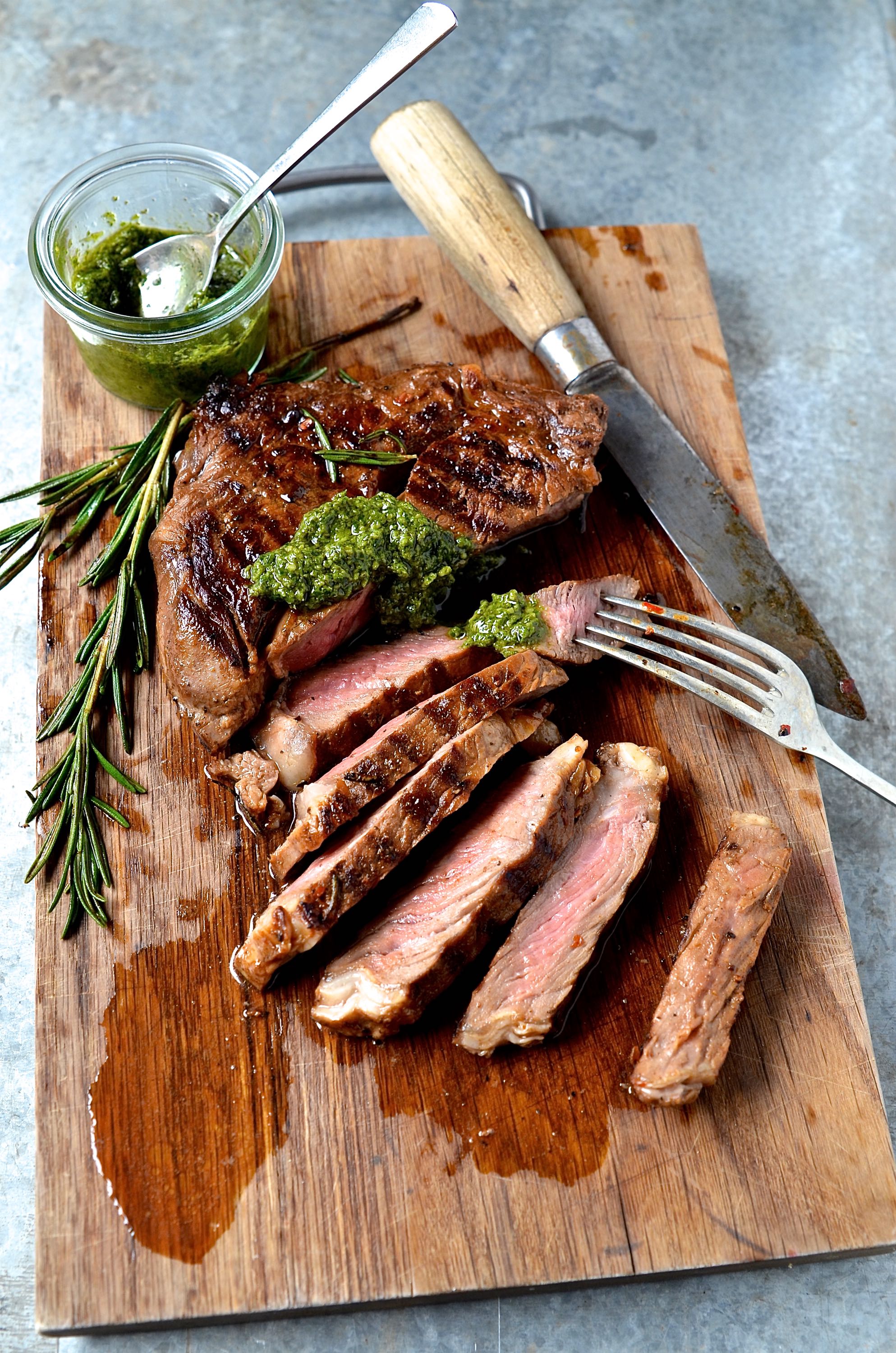 If you're lighting the fires this weekend, be sure to try this recipe for the Best marinated rib-eye steak. Left to marinate overnight, this has to be the best way to 'flavourise'  your meat. Rib-eye is my first choice for the grill or barbecue. Moderate fat marbling helps keep the meat juicy and acts as a built in-baster, so be sure to choose a good cut.
When meat is the hero of the dish, it's so important to choose the best quality you can afford. It's worthwhile to source free-range, grass-fed beef as the taste is without a doubt superior. The fat or marbling will look slightly more yellow that white, which indicates that the cattle are grass-fed. Rump, sirloin or beef fillet are good alternatives. Remember that fillet is extra lean and needs care when cooking.
I've kept the measurements for the marinade simple and easy to remember. It's literally 2 of everything which makes this a super-handy recipe to fall back on.
Sides and salads are as important as what goes onto the grill.  Whether you prefer garlicky spuds, a fresh corn and halloumi salad or maybe a nutty bulgur wheat salad, make sure there's plenty of variety and options for guests to choose from.
For beautiful wine pairings, make sure you visit Michael Olivier's site for the best recommendations. Click Here his comments.

Best Marinated Rib-eye Steak
Marinade ingredients
2 tablespoons of each, olive oil, lemon juice, soy sauce and Worcestershire sauce
1 large stem rosemary, de-stalked
1 clove garlic, bruised
generous pinch dried red chilli flakes
freshly ground black pepper
olive oil, for frying
2 rib-eye steaks
Place all the marinade ingredients in a bowl and mix to combine. Coat the meat in the marinade, cover and chill overnight.
Remove the meat from the fridge and bring to room temperature. If you're pan frying, heat a griddle pan until searingly hot. Drizzle a little olive oil on the meat and season with salt. Place the meat in the pan and cook for about 3 – 4 minutes. Turn and cook for an additional 3 minutes or to your liking.
Pour the remaining marinade over the meat to deglaze the pan and turn the meat to coat in the sticky pan juices.
If you're doing the meat over the coals, baste the rib-eye with the left-over marinade while on the coals. Cover the meat with foil and rest for a couple of minutes before carving. Serve as is or with pesto and sides.