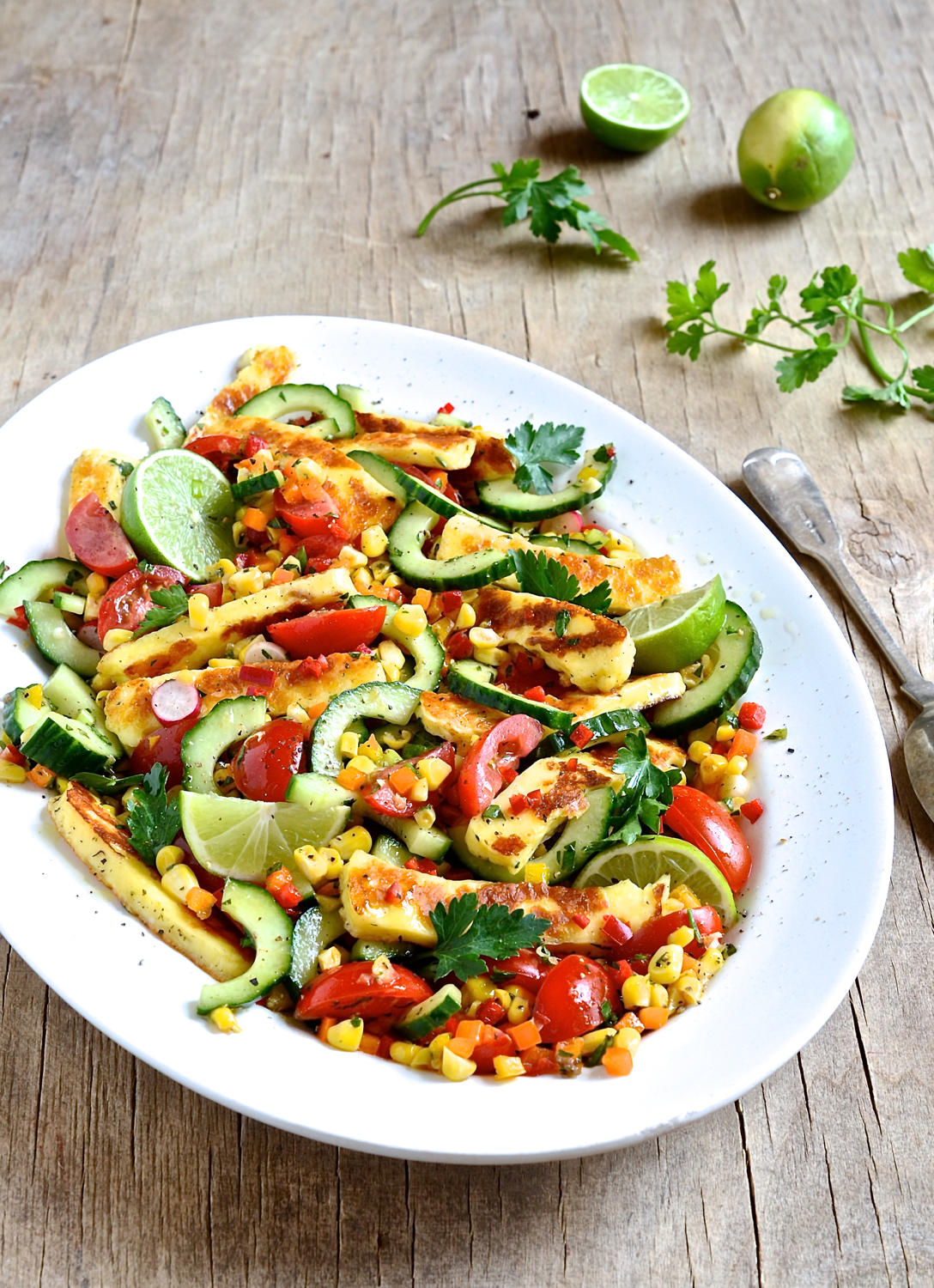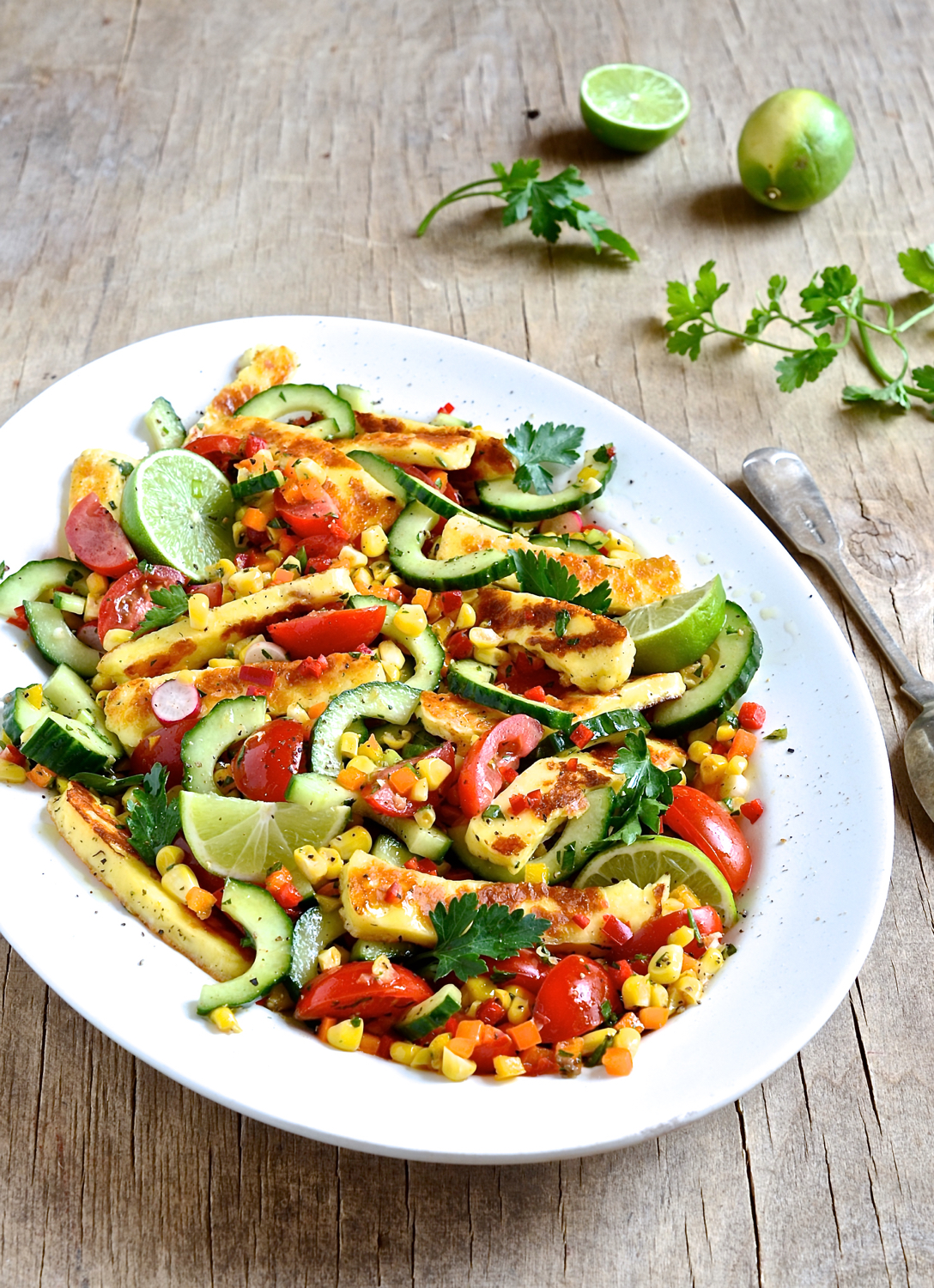 Roasted corn and halloumi salad is summer on a plate. Jewel coloured sweet peppers with pan-roasted corn, cherry tomatoes, cucumber and chewy halloumi. Tossed in a minted chilli dressing, it's vibrant and fresh, I'll definitely be bringing this rainbow coloured salad to the table on Braai Day.
The sweetcorn is pan-fried in cumin and paprika. The flavours are decidedly Mexican. To this I add a mixture of yellow, red and orange sweet peppers. You can throw in a green pepper if you like but they tend to be a little bitter, so I leave it out. Note: Cucumber is mostly water so remove the seeds to prevent the salad becoming watery. If you don't, it'll dilute the flavour.
Let's face it. There's never enough halloumi. Make more than you think you'll need. A generous spritz of lemon or lime juice on fried halloumi is essential. For additional crunch and texture I've thrown in a few thinly sliced pink radishes and spring onions. Delicious!
A great salad dressing is as important as using the freshest produce. Olive oil and lemons are my two kitchen staples.  Serve this halloumi salad with this paprika spiced roast chicken or a juicy rib-eyed steak.
Quick side note: Dress and toss the halloumi salad just before serving to avoid it becoming watery.
Roasted corn and halloumi salad
Serves 6
For the corn
1 tablespoon olive oil
3/4 teaspoon ground cumin
1/2 teaspoon smoked paprika
2 ears fresh corn, shucked
For the salad
half an English cucumber, deseeded
1 of each red, yelllow and orange sweet peppers
200g cherry tomatoes, halved
handful baby pink radishes, thinly sliced
3 stems spring onions, diced
1 red chilli, membrane and seeds removed and finely diced
handful fresh mint and flat leaf parsley, roughly chopped
250 – 300g halloumi cheese, sliced
2 tablespoons lemon juice
2 tablespoons extra virgin olive oil
salt and black pepper
Heat the olive oil in a pan and add the corn. Season with cumin and paprika and fry on a high heat for several minutes, tossing the corn over all the while. The corn should still be crunchy and with a firm bite. Season with salt and freshly ground black pepper. Set aside to cool.
Slice the cucumber into half moon shapes. Dice the peppers into small jewel-like cubes. Place the cucumber, peppers, tomatoes, radishes, spring onions, chilli and herbs in a large mixing bowl. Once the corn has cooled to room temperature, add to the salad.
Heat a drop of olive oil in a non-stick frying pan. Cook the halloumi for about a minute on both sides until golden brown. Season lightly with salt a spritz of fresh lemon juice.
To finish, season the salad with salt and pepper, drizzle with the 2 tablespoons lemon juice and olive oil. Toss together. Transfer the salad to a serving platter and top with the halloumi.