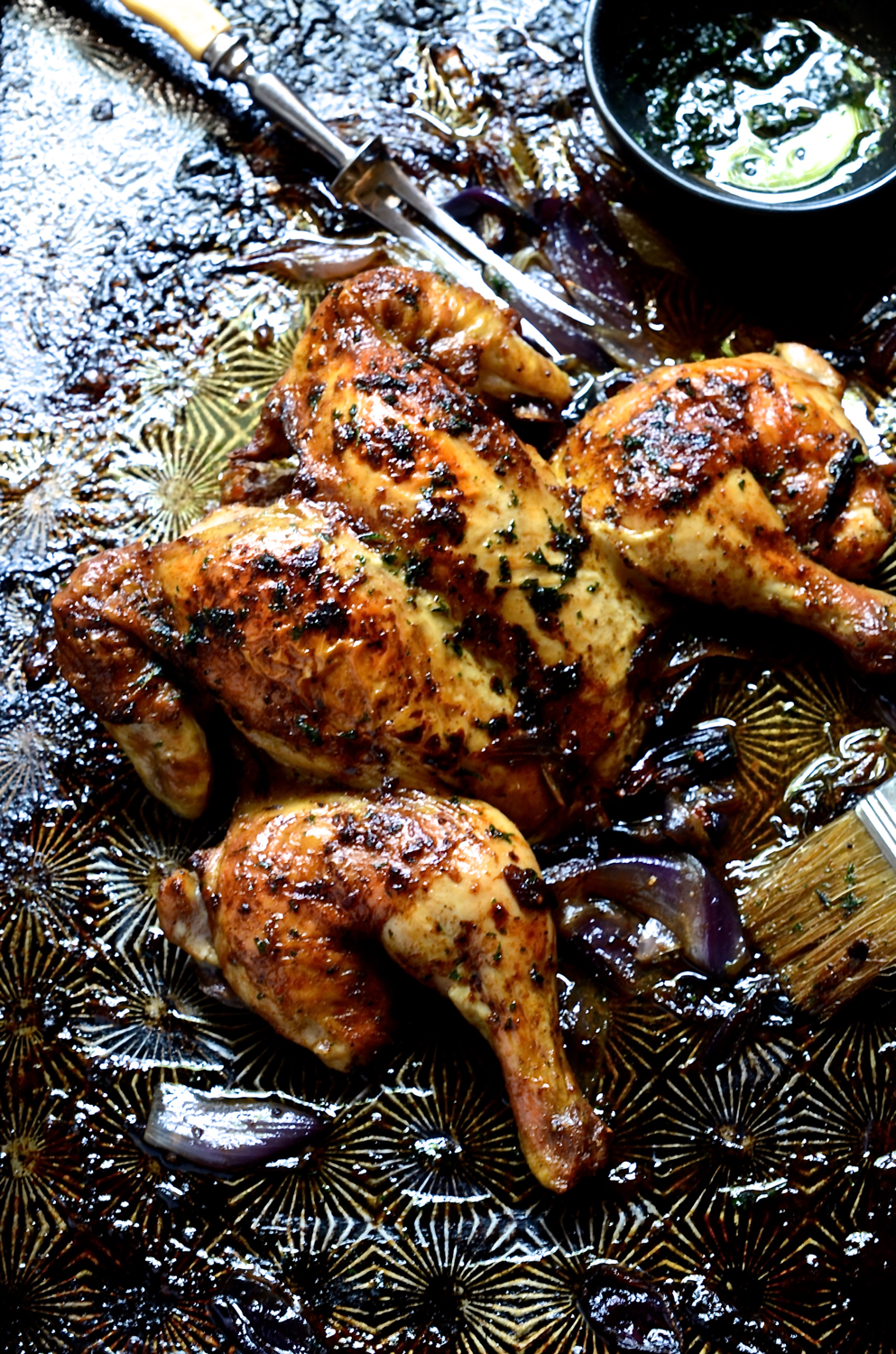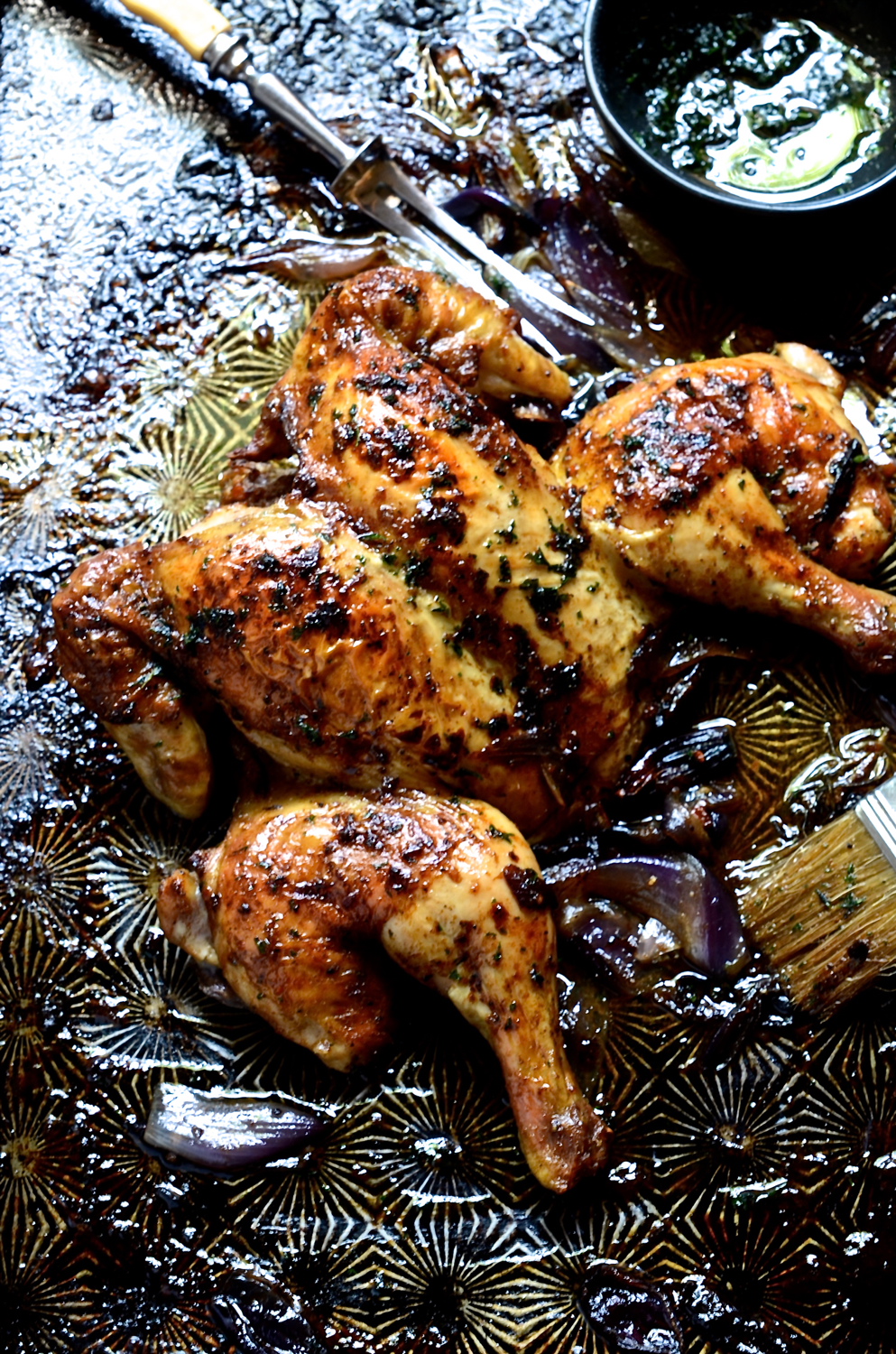 What can be simpler than a sheet pan roast? For easy midweek suppers or Sunday roasts, this Paprika Roast Chicken is just the ticket. Marinated in rosemary, garlic, lemon and cumin and just enough chilli to warm things up, it couldn't be simpler. That Nando's bird is going to have to step it up a gear to keep up. Oven roasted with sticky red onions and a splash of white 'cause chicken loves wine loosen up those marmitey bits. This juicy roast chicken is basted with a herb butter just before serving.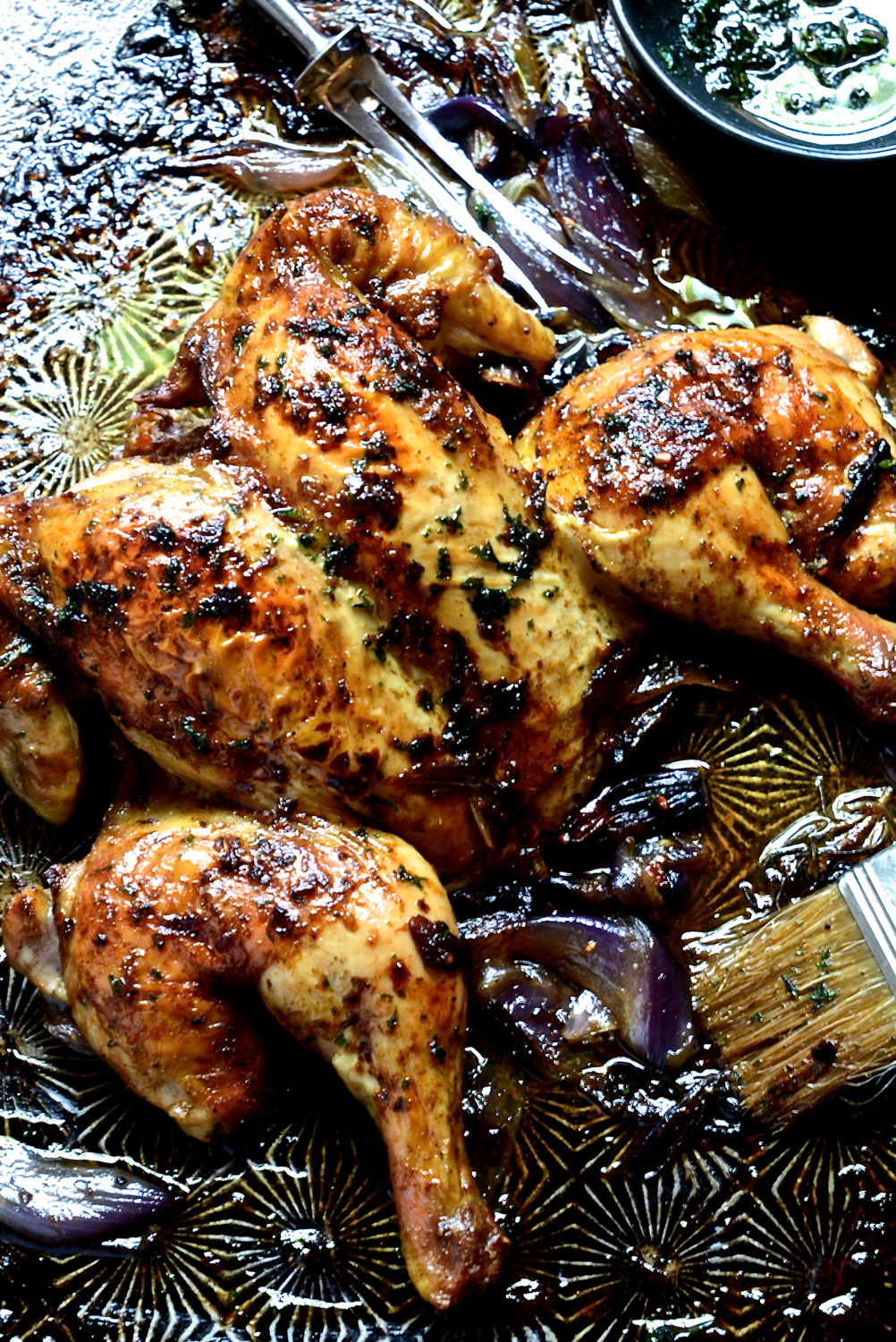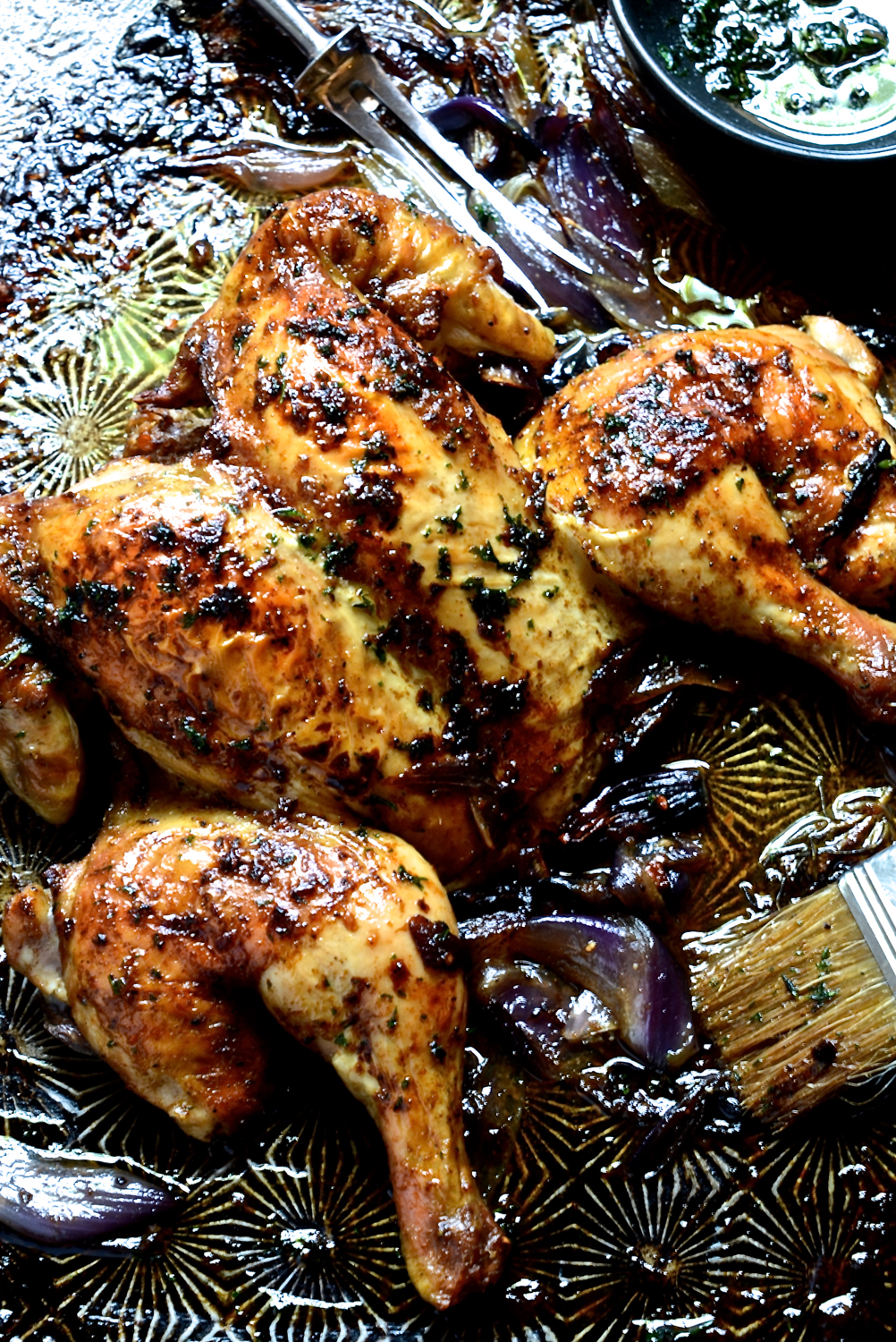 Secrets to the best paprika roast chicken
Marinating is key to getting flavour into the chicken so don't negate this step. Overnight is best. To speed up the cooking time and ensure even cooking,  spatchcock the chicken. Alternately, roast the chicken as you'd normally do but, increase the cooking time to 1 hour 15 minutes. To check if the chicken is cooked through, pierce with a skewer between the thigh and leg. The juices should run clear.
Dominant flavours are rosemary, paprika and chilli. I've added a drizzle of honey for to balance the heat. The herb butter is not essential but adds a rich nutty taste. I've included plenty red onions wedges to roast alongside. They render into a soft onion-like jam and are so good served with the spicy chicken.
To serve, you might like to try these roast sweet potatoes. For the perfect wine pairings, whether it's chicken, fish or meat, visit Michael Olivier's site for recommendations and expert advice.
Paprika Roast Chicken
Serves 4-6
Marinade for Paprika Roast Chicken
1 garlic clove, bruised (crushed)
3 tablespoons olive oil
2 stems rosemary, de-stalked and finely chopped
zest and juice of 1 lemon (about 45ml)
1 teaspoon ground cumin
1 teaspoon smoked paprika
1/2 teaspoon dried red chilli flakes
2 teaspoons honey
1/2 teaspoon salt
freshly cracked black pepper
1 free range chicken, spatchcocked
2 tablespoons olive oil
4 red onions, cut into wedges
1/3 cup dry white wine
Herb butter
generous handful of flat leaf parsley, finely chopped
several stems fresh thyme, de-stalked
2 tablespoons butter, melted
1 tablespoon extra virgin olive oil
1 tablespoon lemon juice
pinch of sea salt flakes
To make the marinade, place all the ingredients in a bowl and stir to combine. Place the chicken on a wooden board with the breast-side facing down and the legs towards you. With a kitchen scissor or sharp knife, cut down on either side of the backbone. Remove the centre bone and turn the chicken over. Press down to flatten.
Place the chicken in a non-metallic dish. Pour the marinade over and rub into the chicken. Cover and refrigerate for several hours or overnight.
Preheat the oven to 200º C. To prevent sticking, I spray a roasting tin with non-stick spray or line with foil. Season the chicken on both sides with salt and pepper and place in the tin, skin side up.
Drizzle 1 tablespoon olive oil over the onions and season with salt and freshly ground black pepper. Arrange the onions around the chicken. Add 3 tablespoons of water to the tray to prevent the marinade from burning.
Roast for 30 minutes. Baste the chicken with the juices. Add the wine to the pan around the sides, not over the chicken. Return to the oven and continue to roast for another 20 minutes. To get a dark and crispy skin, grill for several minutes. Remove the chicken from the oven, cover with foil and rest for 10 minutes before carving.
For the herb butter, place all the ingredients in small bowl and stir to combine. Brush liberally over the chicken. Any extra herb butter can be served on the side.
More easy and finger-licking chicken recipes:
Chakalaka marinated roast chicken
10 Minute pan fried Greek chicken breasts
Chinese mandarin chicken tray bake