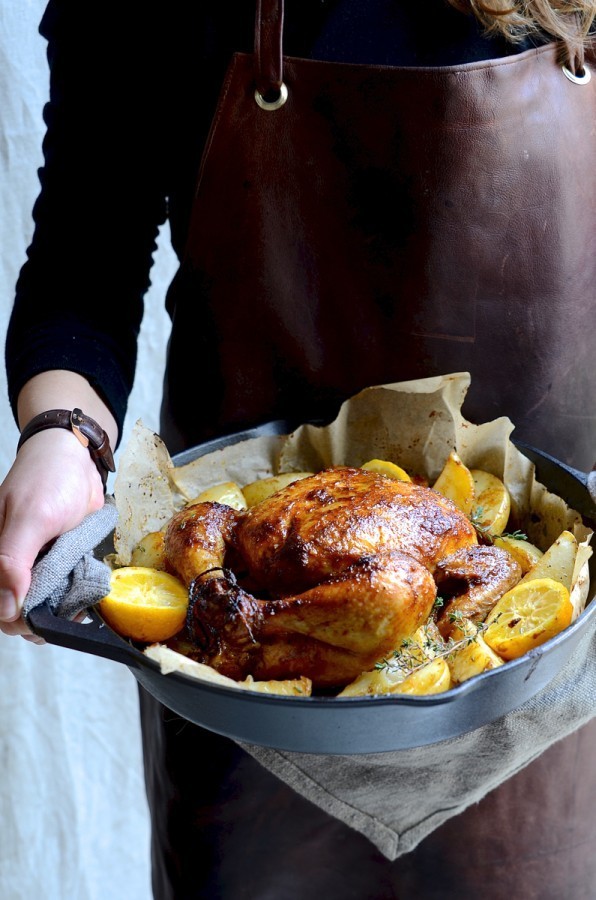 I've made roast chicken more times than I can remember, but never before with chakalaka. The idea was sparked by a recent cook-off at the Capsicum culinary school. Cooking in pairs, we were challenged to recreate an Asian inspired dish, expertly prepared by Jodi-Ann Pearton, but with an African twist. The only ingredients to choose from were chakalaka, spicy salt and squash. The possibilities seemed bleak. Truthfully, I've never cooked with chakalaka before and now I'm wondering what took me so long. There's loads of lively stuff happening in there. And yes, it comes out of a Koo tin. Reserve judgement until later. I'm now eating my words as well as this succulent roast and it's incredibly good!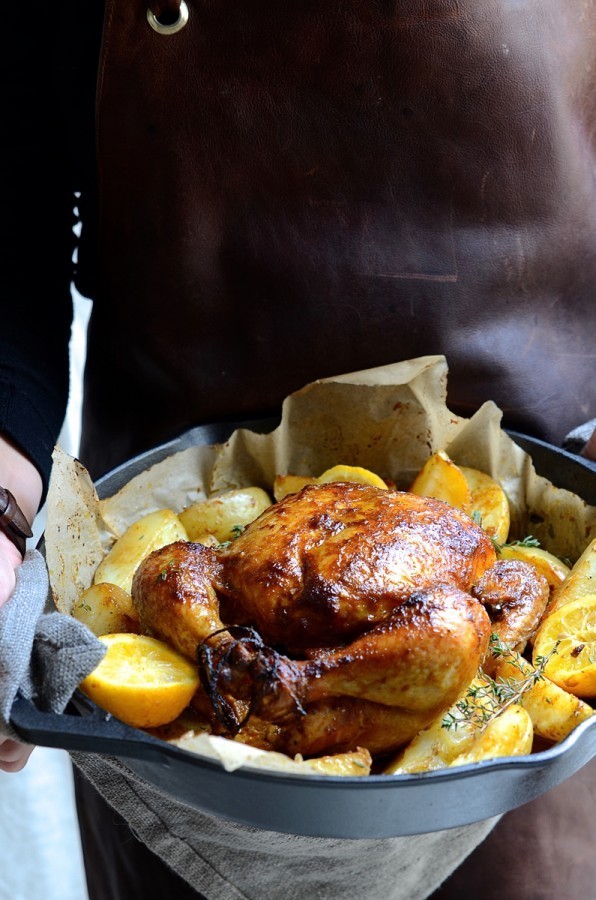 Roast chicken remains top of the most searched recipes on Google. Chicken is one of the easiest proteins to cook. There's no guessing as to its doneness, like say, red meat or duck. Rare, medium rare, well done aren't an option. Here's it's cook until the juices run clear. Chicken also offers a choice of dark or white meat. For lazy days and hands-free cooking, nothing beats a all in one sheet pan supper. This Spanish roast chicken is super simple and makes short work of weekday suppers.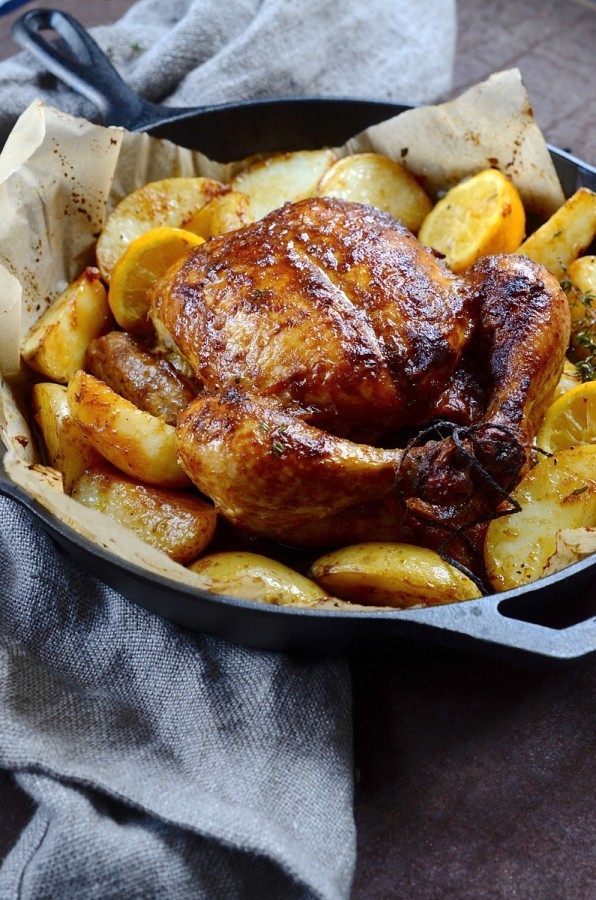 For this recipe I wanted to incorporate the flavours of chakalaka but without a chunky textured sauce. That's where the marinade comes in. Chakalaka, fresh ginger, soy sauce, molasses sugar and lemon makes up the paste. I add it all to the blender and whizz it together. The taste is mildly sweet and spicy.  Marinating the bird overnight is best but not essential. If you only have an hour to spare, that'll do. I throw a hefty portion of potatoes in too. As the chicken roasts all the pan juices coat the potatoes and they cook down marmitey and delicious.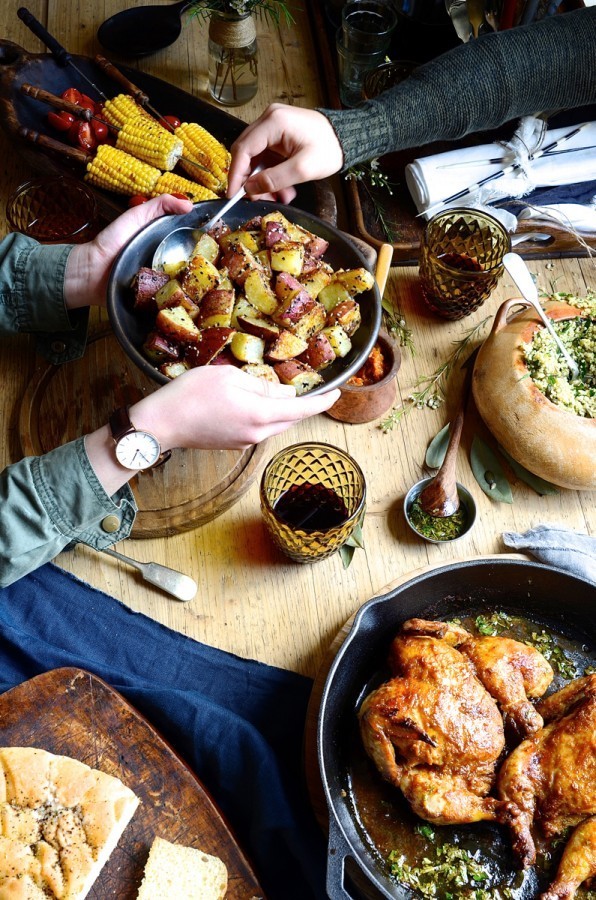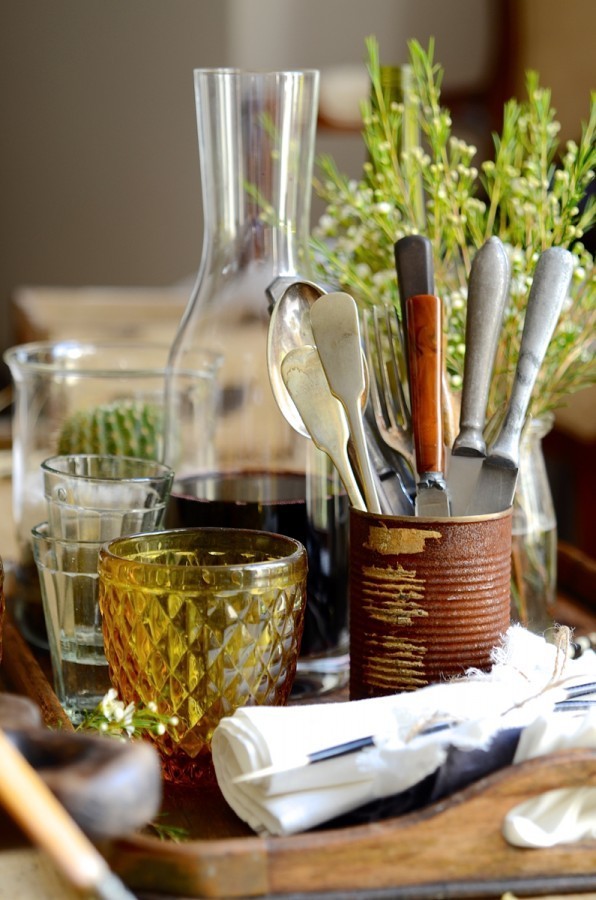 Chakalaka marinated roast chicken
Marinade ingredients
3 heaping tablespoons chakalaka (hot and spicy)
2 tablespoons soy sauce
3cm knob ginger, grated
zest of 1 lemon plus juice of half
1 teaspoon honey
2 tablespoons olive oil
1 tablespoon melted butter
1/2 teaspoon salt
black pepper
1.5kg free-range chicken
8-10 roasting potatoes, washed and cut into wedges
extra lemon wedges, to serve
Place all the marinade ingredients into a processor and blitz until smooth.
Smear the whole chicken with the marinade, cover and set aside for at least an hour or preferably overnight in the fridge.
Bring up to room temperature before roasting. Preheat the oven to 180º C.
Transfer the chicken to a roasting tray. Season with sea salt and freshly ground black pepper.
Arrange the potatoes around the sides, drizzle with olive oil and season generously with salt and pepper.
Cover with foil and roast for about 45 minutes.
Remove the foil and turn the oven up to 200º C. Baste the bird and potatoes with the pan juices and roast uncovered for a further 50-55 minutes until the skin is golden and the juices of the chicken run clear when pierced. Check that the potatoes are fork tender.
Cover with foil and rest for about 10 minutes before carving.