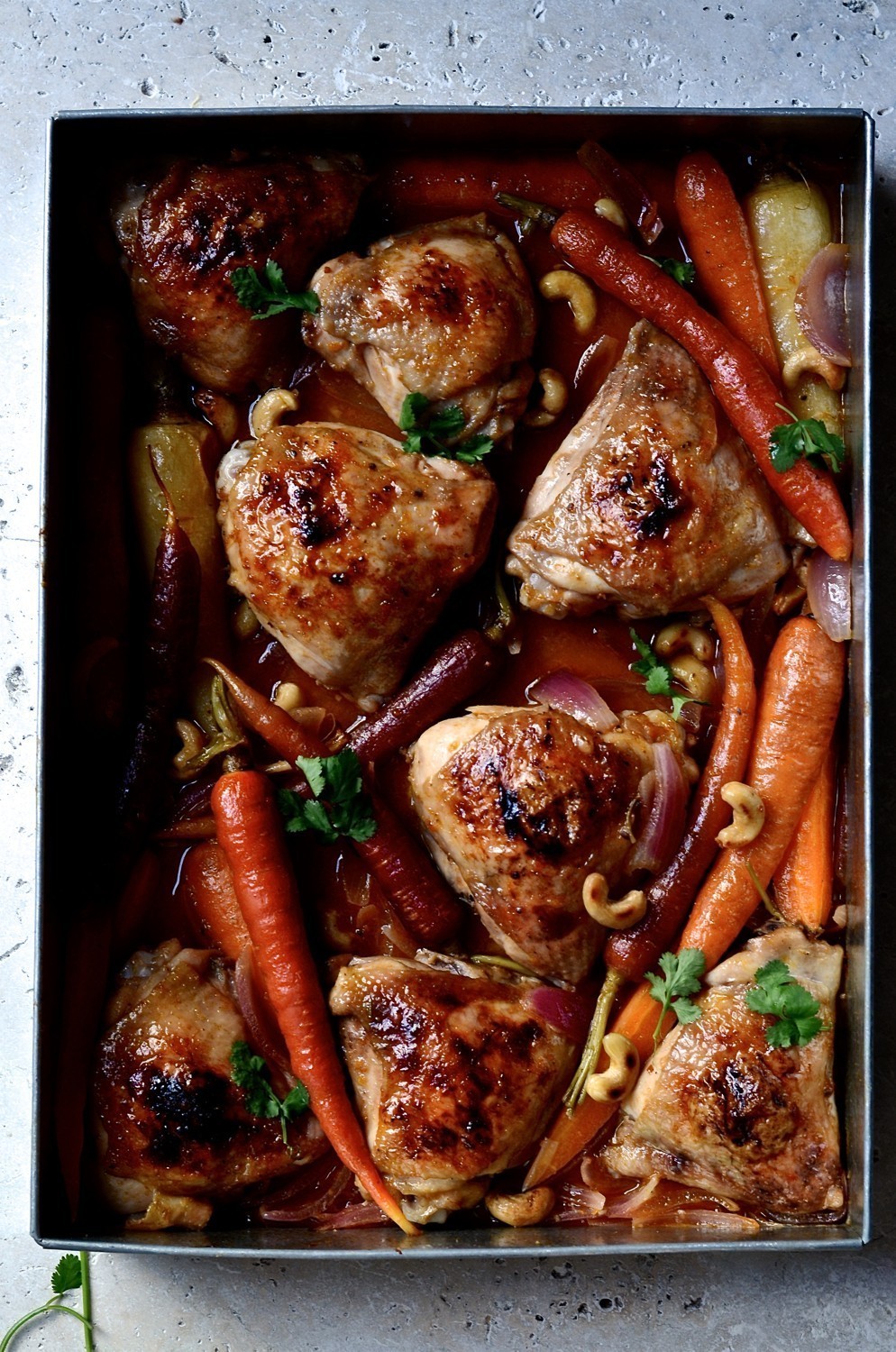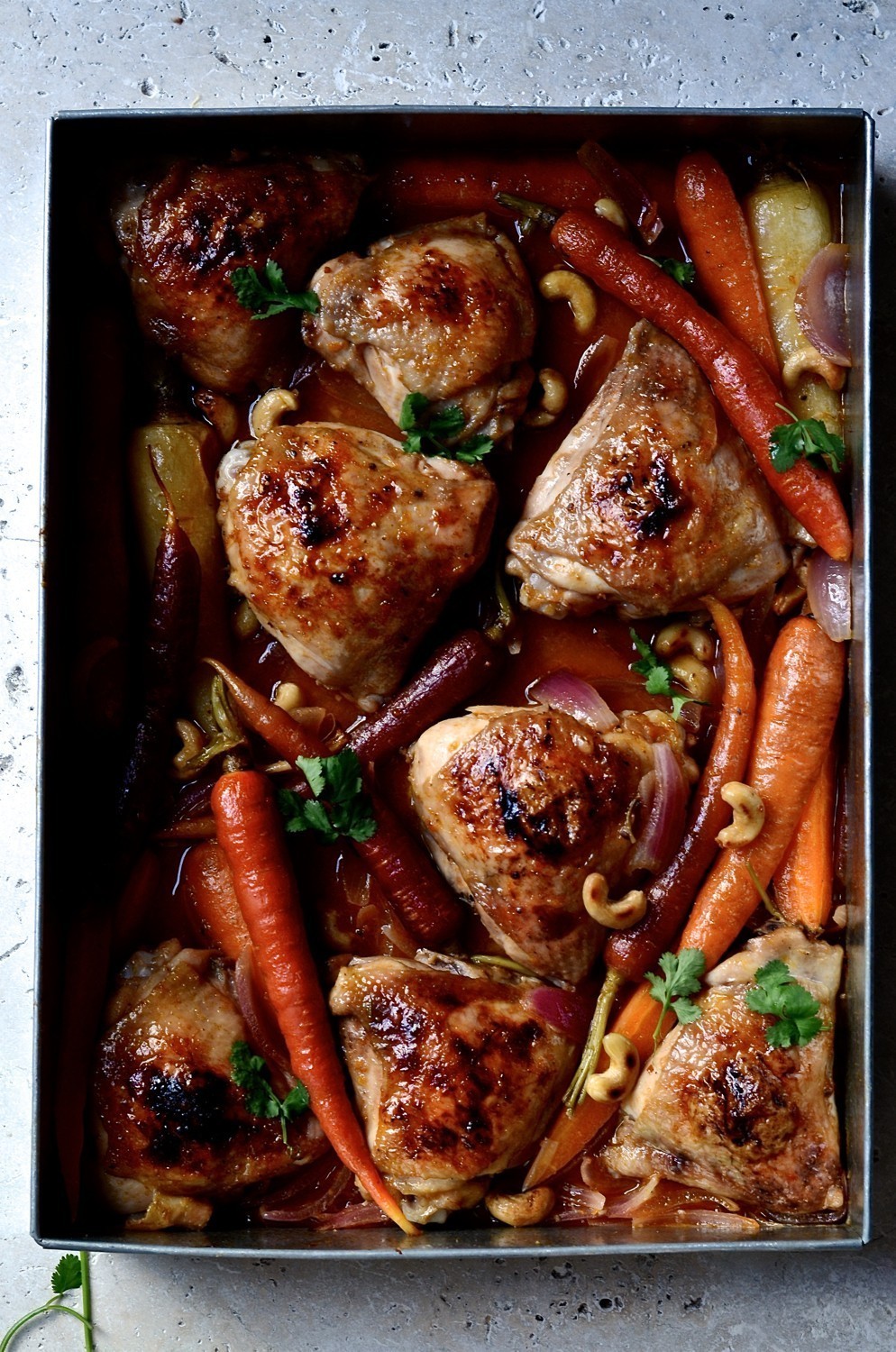 Tray bakes are essentially the easiest route to simple yet satisfying, all-in-one suppers. They get by with minimal prep and deliver maxed-out flavour. This Chinese mandarin chicken tray bake is no exception. After an inspiring afternoon spent at The Living Room in Jozi's Maboneng precinct with the passionate owners and partners of Clemengold, a spate of citrus infused recipe ideas followed. With it's origin etched firmly in oriental soil, a sticky honey glazed Chinese chicken dish seemed a fitting place to start.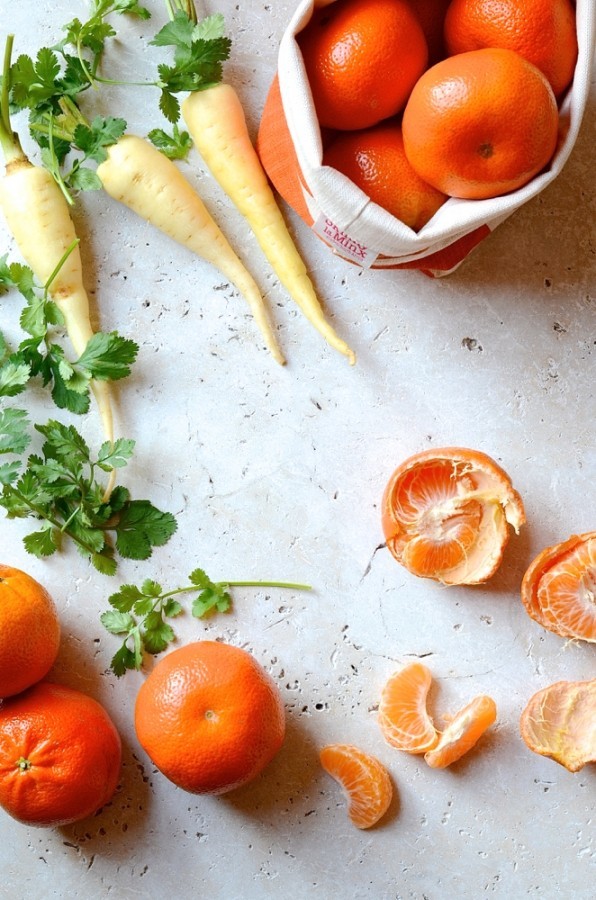 If you're a regular visitor to the blog, you'll know I'm a huge fan of savoury-sweet flavour combinations. I also love cooking in tandem with the seasons so including heirloom carrots and Clemengold mandarins were an obvious choice. This then forms the basis for tonight's tray bake. Growing up we only knew about naartjies, but these winter fruits have since advanced to include seasonal varietals that are seedless, sweet and super juicy with an intensely perfumed, oily skin.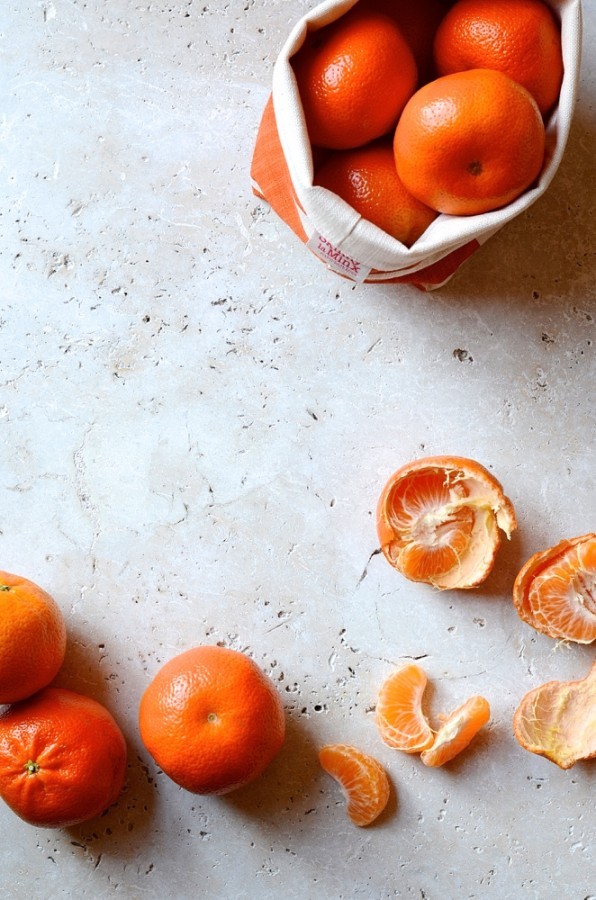 Asian cuisine is celebrated for its vibrantly fresh taste with a well balanced ratio of savoury, sweet, acid and heat. This hot sauce and honey glaze is punchy and bright, helped along of course, by the zesty juice of mandarins. Once the chicken skins are blistered and the sauce reduced, a scattering of fresh coriander and toasted cashew nuts is all this home-cooked 'take out' needs. The beauty of a tray bake is tossing everything together in a haphazardly casual way and letting the oven do all the work, which is what a speedy Monday supper is all about.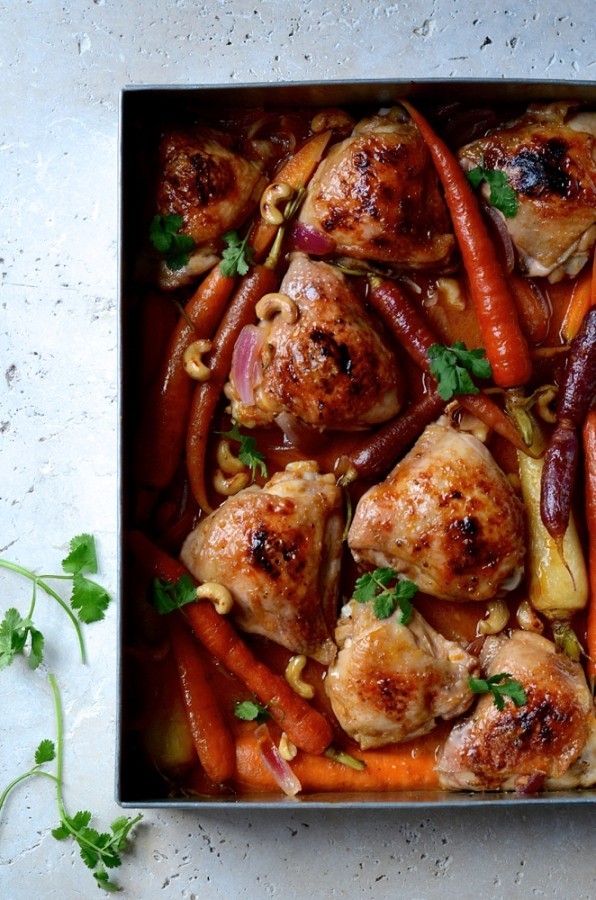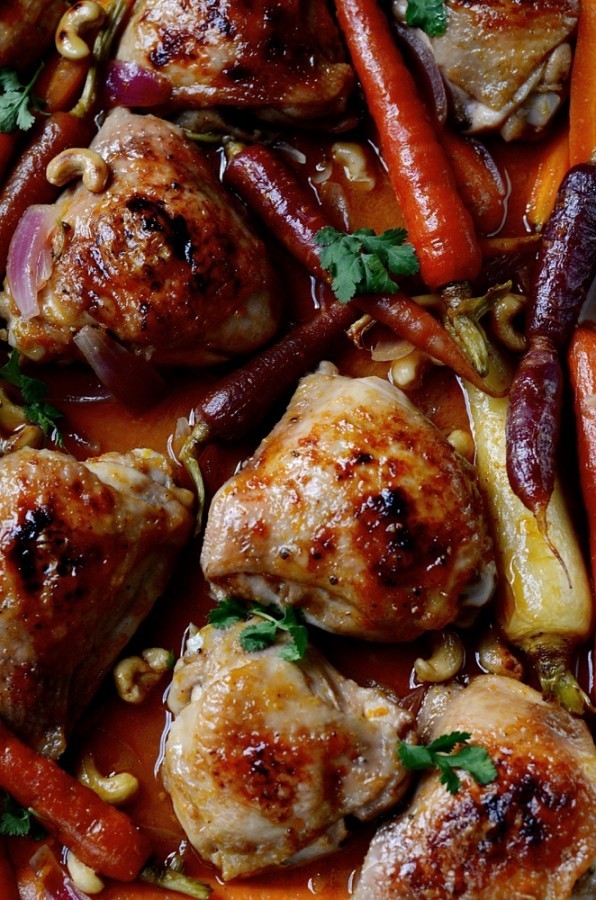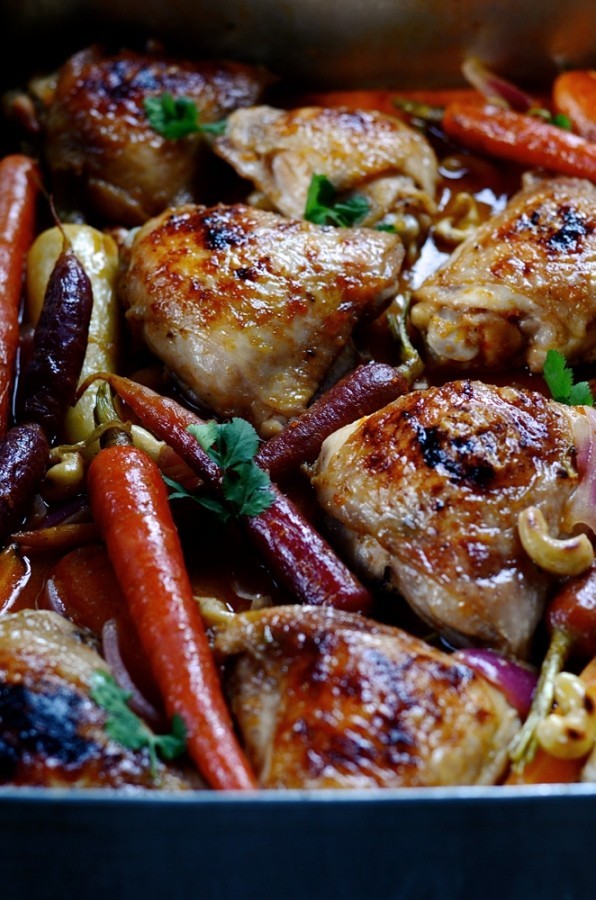 Side note: Clemengolds are available from Woolworths. Alternatively, clementines, naartjies or oranges will be a good substitute.
Recipe broadly adapted from here
Chinese mandarin chicken tray bake
8 free-range chicken thighs, skin on and bone in
2 red onions, peeled and cut into wedges
1 small bunch heirloom carrots, scrubbed
2-3 standard orange carrots, scrubbed
1 tablespoon vegetable oil
2 teaspoons sesame oil
salt and freshly cracked black pepper
1/2 cup (50g) toasted cashew nuts
fresh coriander, to finish
For the glaze
zest and juice of 1 mandarin and 1 lemon
1/4 cup (60ml) honey
1 tablespoon soy sauce
generous pinch dried red chilli flakes
1 teaspoon dried coriander
15ml (1 tablespoon) hot (chilli) sauce
10ml (2 teaspoons) tablespoon rice wine vinegar
1 tablespoon tomato paste
Preheat the oven to 200º C.
Grease and line a large sheet pan with foil.
Trim the tops off the carrots and cut the larger ones in half. Leave the smaller carrots whole.
Toss the chicken, onions and carrots in the vegetable and sesame oil. Season with salt and black pepper.
Spread out on the sheet pan and roast for 30 minutes.
Combine all the glaze ingredients and pour over the chicken and vegetables. Return to oven for a further 35 minutes.
Half way through the cooking time, spoon the glaze over the chicken.
Add the cashew nuts to the pan and toss together with the chicken and vegetables.
Turn the oven onto grill (broil) and move the tray to the upper rack.
Grill until the chicken is golden, crisp and sticky.
Scatter over the fresh coriander and serve with steamed rice.
Here are two of my favourite sweet and savoury recipes on the blog.
Roast leg of lamb with caramelised onion marmalade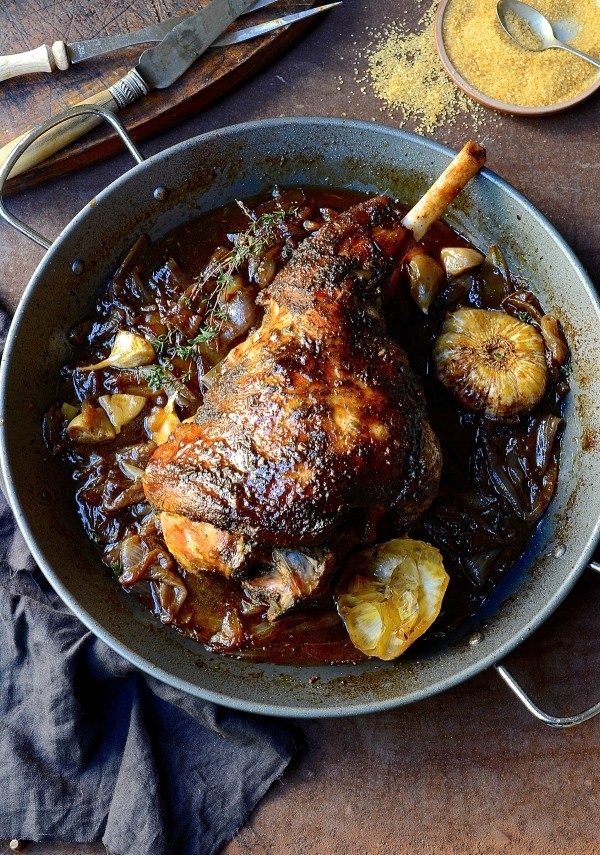 Mexican chipotle chicken casserole