Roast potatoes with rosemary, garlic and lemon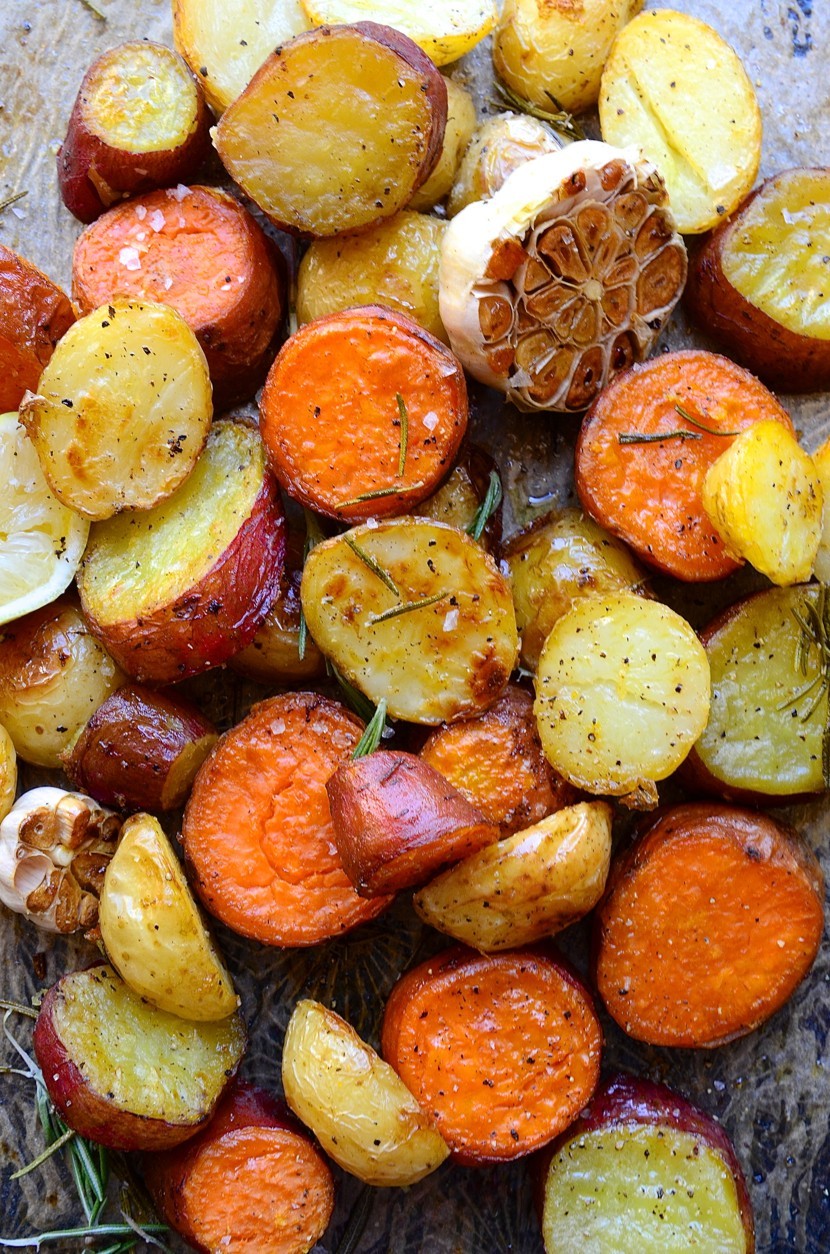 Today's story goes something like this…. 1 potato, 2 potato, 3 potato…….. four. Okay, it's only three! Crisp baby potatoes, orange kumara and white fleshed sweet potatoes, infused with garlic, rosemary and lemon zest. Pure potato heaven. A golden tray of sunshine, stacked with flavour and sticky goodness.
This is a 3-way potato deal. It's kind of Greek with the rosemary, garlic and lemon. We then head over to North America where these orange fleshed potatoes, also known as yams, originate from. Brought to Africa and cultivated locally with the intent purpose of increasing the intake of vitamin D levels, the sweet potato has become a South African favourite. We then take a brief swing past Ireland, where the potato is king of the vegetable world, before finally settling down to a comfortable fusion between all three. A punchy hit of rosemary, garlic and lemon lifts and melds everything into perfect potato harmony. Whichever way you choose to roast these spuds, sweet or savoury, they're utterly delicious. There, no more talking, let's roast!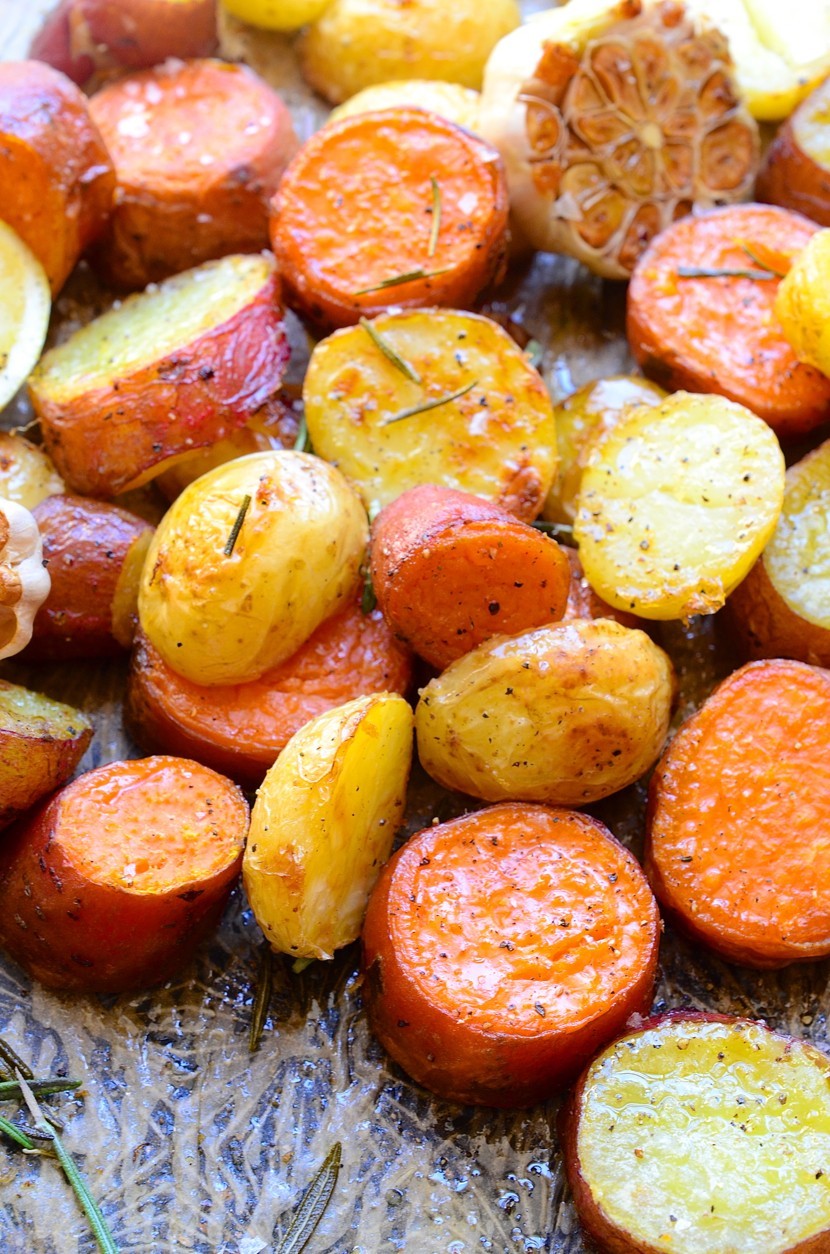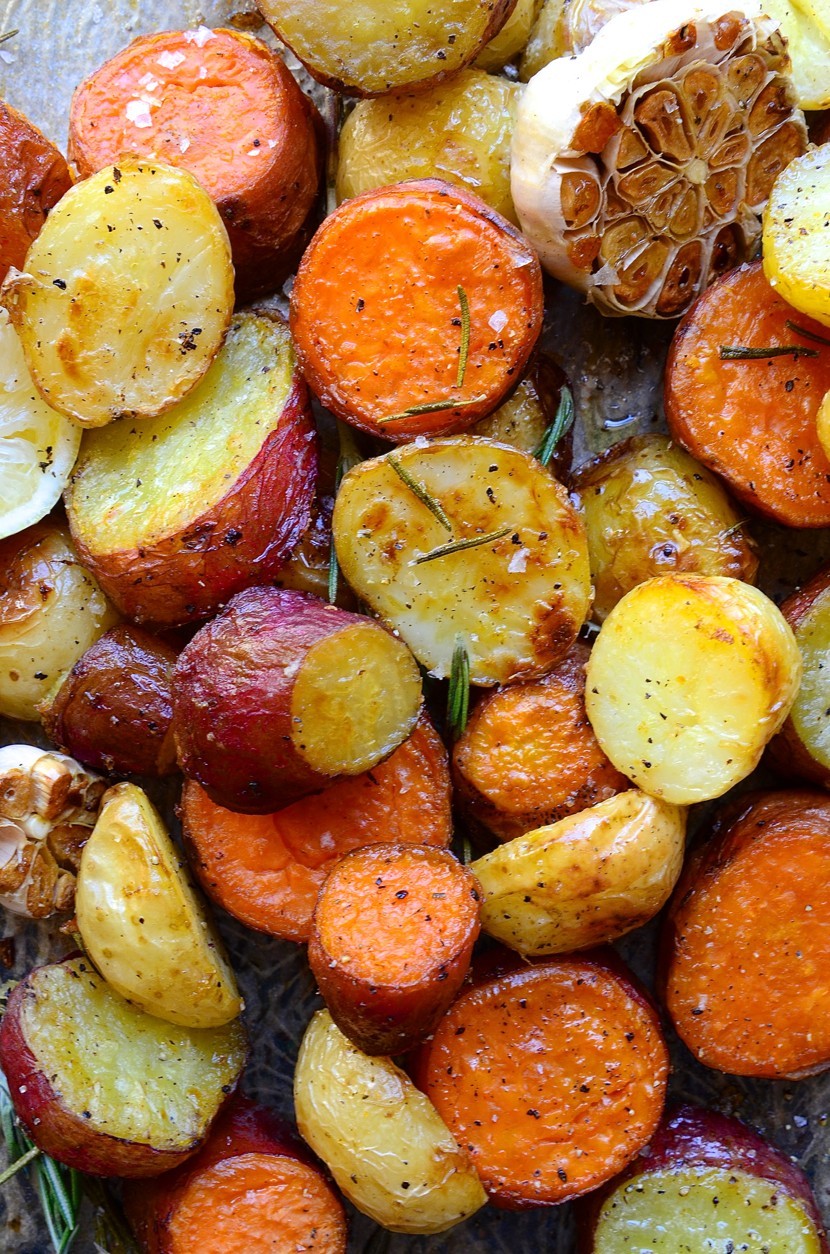 Rosemary roast potatoes with garlic and lemon
Serves 4-6
300g baby potatoes, washed
2 large kumara sweet potatoes, scrubbed
2-3 white fleshed sweet potatoes, scrubbed
2-3 tablespoons olive oil
several stems rosemary
garlic bulb, sliced in half, horizontally
zest of 1 lemon
salt and pepper, to taste
Preheat the oven to 200º C. Line a large baking sheet with foil or parchment paper. Slice the sweet potatoes into 3cm chunks or rounds. Place the baby and sweet potatoes in a large saucepan. Cover with water and season with a generous pinch of salt. Bring the water up to the boil and simmer for 15 minutes. Pour the water off and allow to drain thoroughly.
Cut the baby potatoes in half and lay all the potatoes onto the baking sheet. Drizzle with olive oil, scatter over the rosemary, lemon zest and season well with salt and pepper. Tuck the garlic halves in-between and toss  together to coat the potatoes in the oil. Roast for 30 minutes, turn over and continue to roast for another 30-40minutes until nicely browned and crisp around the edges. Serve alongside a succulent roast chicken for Sunday lunch or toss with fresh rocket, goat's cheese and toasted pumpkin seeds for a satisfying vege main.