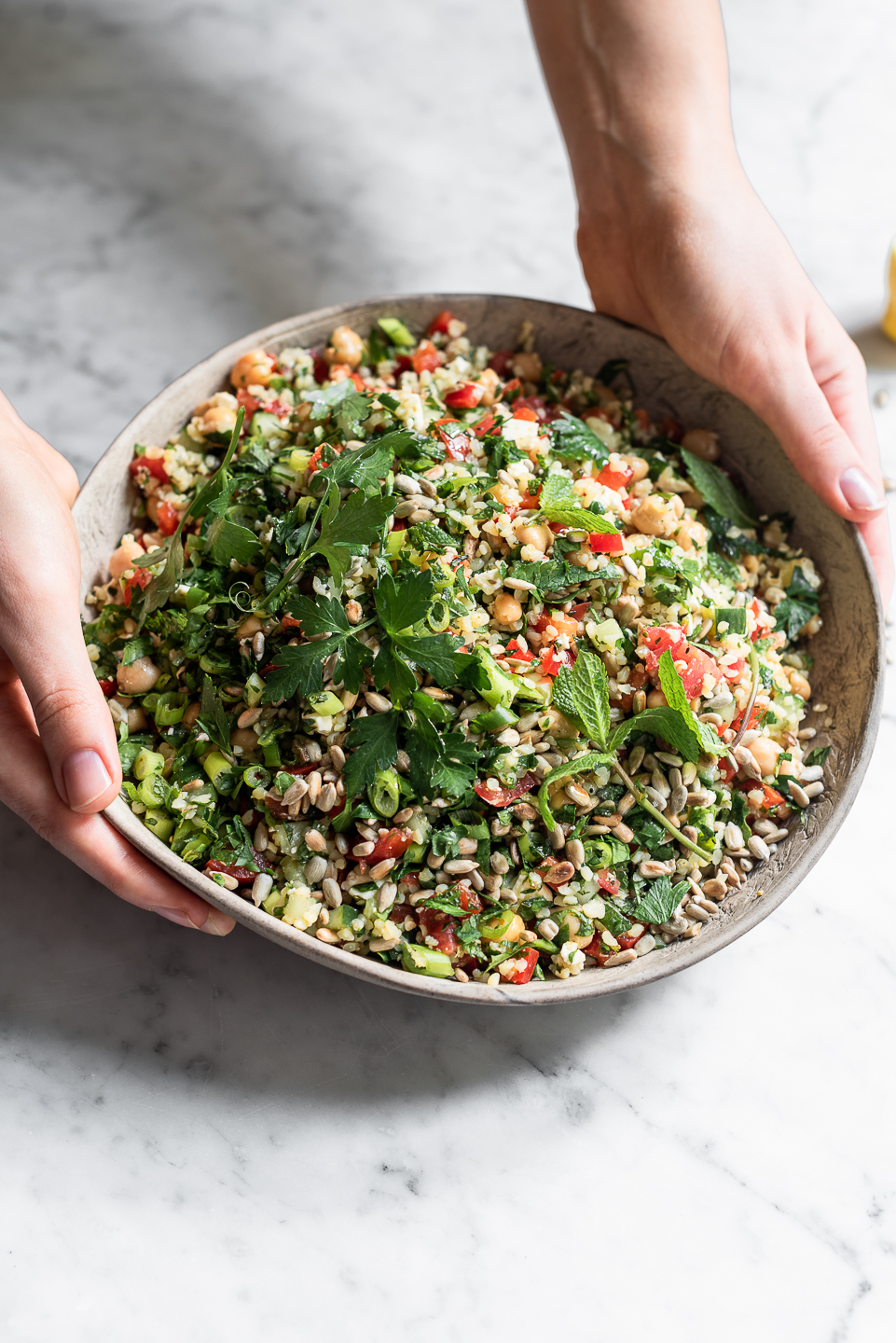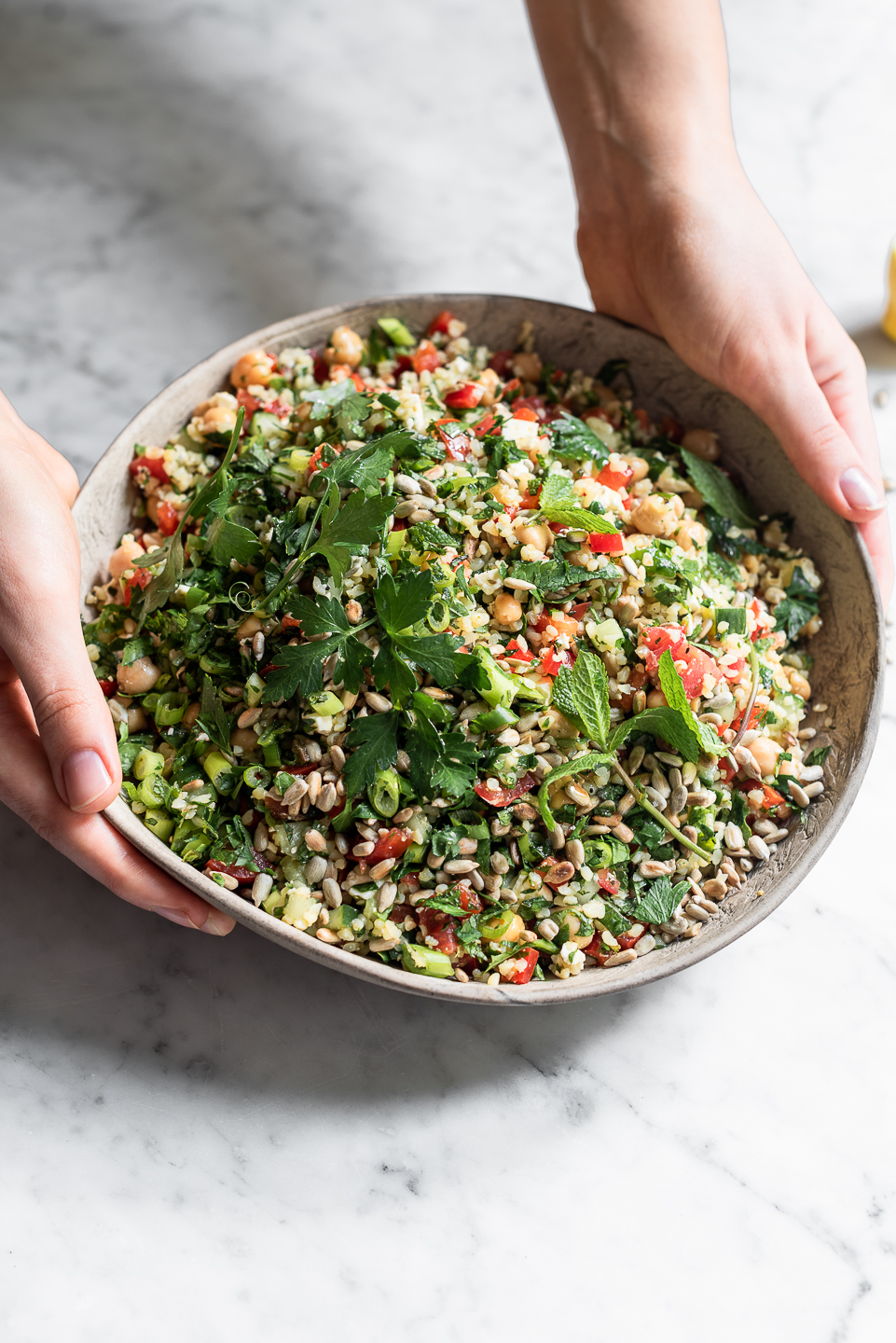 Vegetarianism isn't what it used to be. In the early 90's when my husband and I decided to embrace a plant based lifestyle, vegetarian options were limited, dull and predictable, Creamed spinach, baked potato, maybe with a dollop of sour cream and sweetish pumpkin. Thankfully, so much has changed! Plant-based recipes can be incredibly delicious and possibly one the most exciting ways to eat. Whether you're trying to reduce your red meat consumption just make more plant-centred dishes, my Middle Eastern inspired Tabbouleh bulgur wheat salad is one of the tastiest places to start.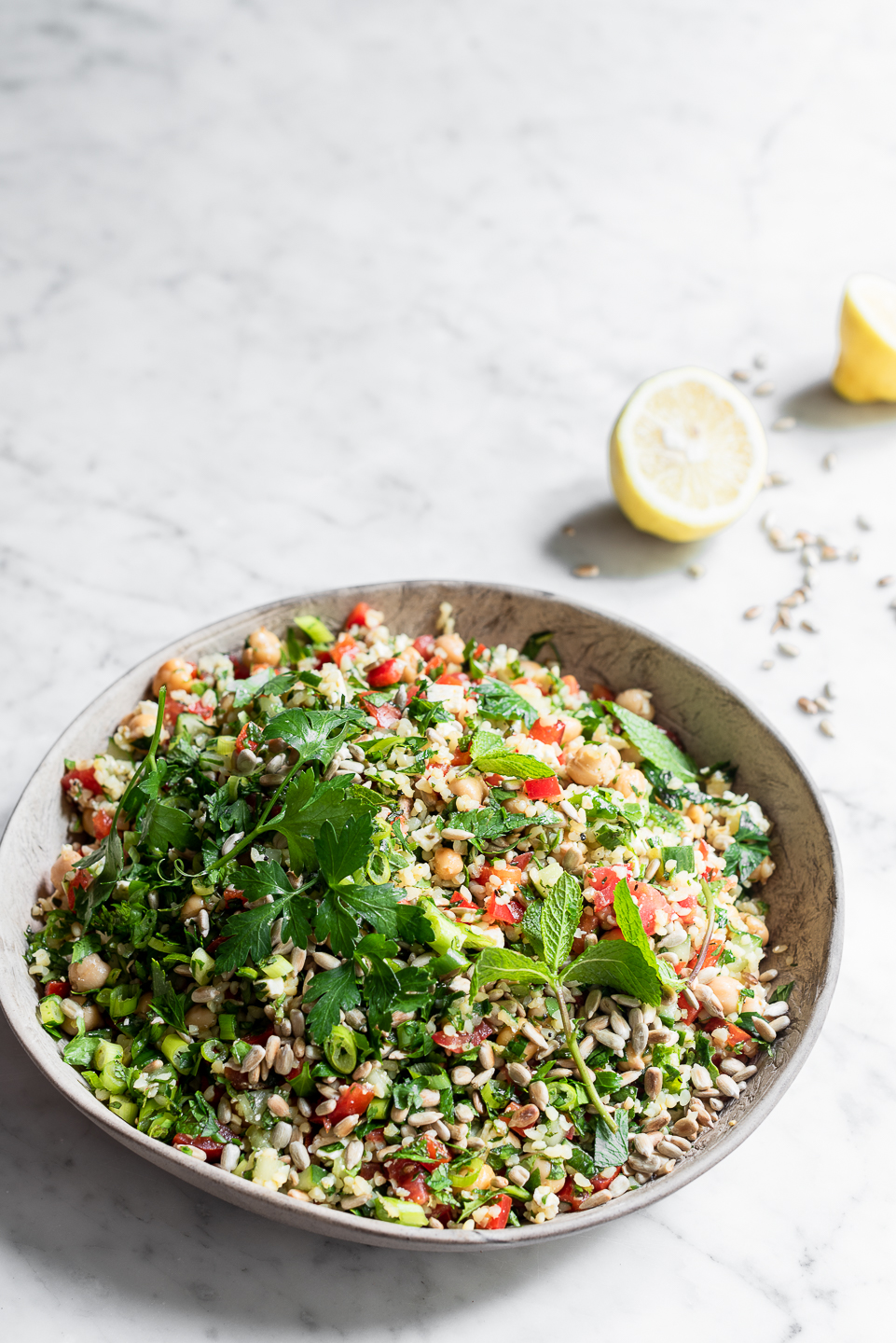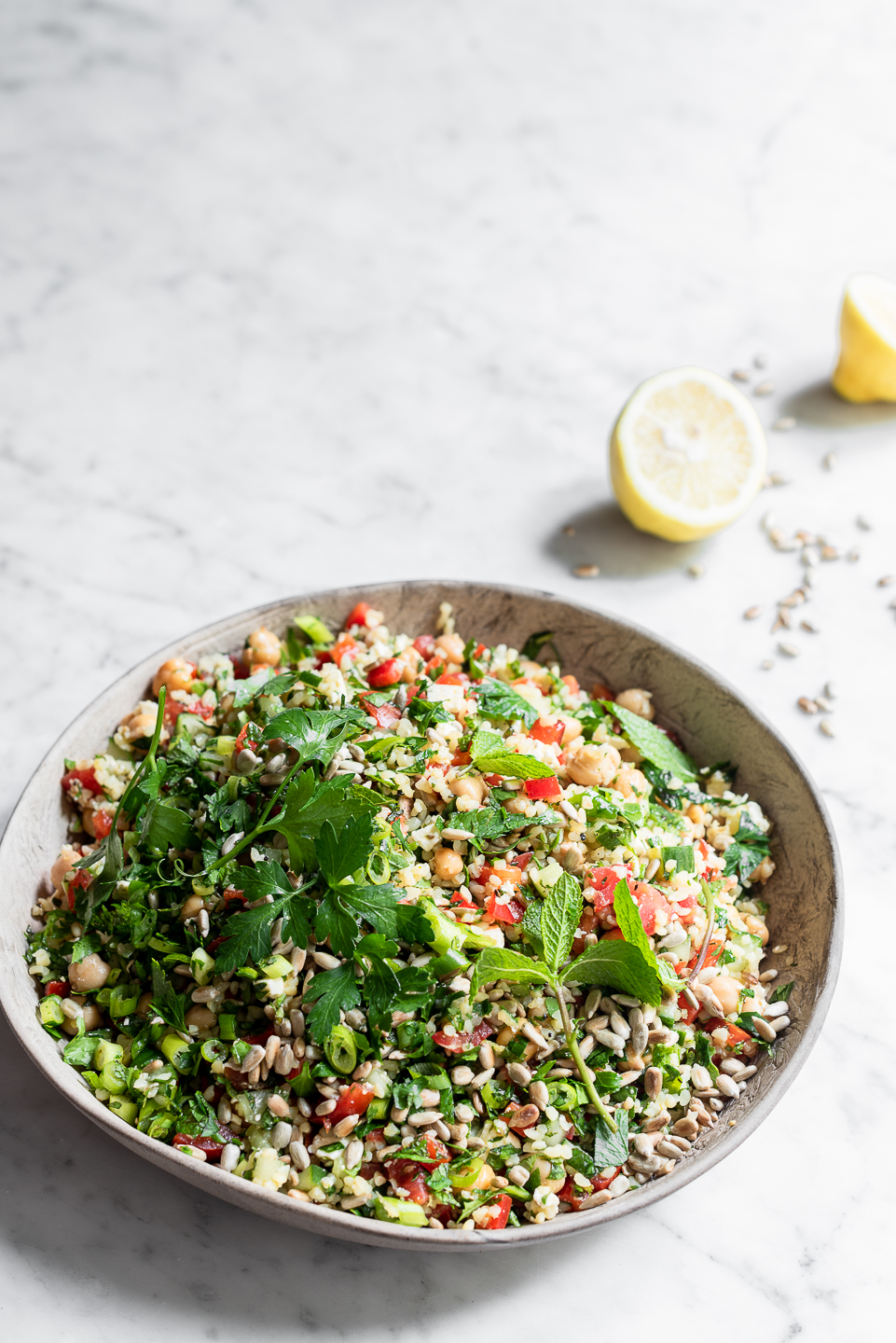 Not everyone gets excited about a salad, but this loosely structured tabbouleh is very satisfying. To serve as a main, replace the feta with peppery goat's cheese and a generous handful of seeds and nuts. If you're not quite ready to pass up on the meat, roast lamb shawarma or barbecue chicken kebabs are excellent alongside.
An authentic Palestinian tabbouleh is all about the parsley and plenty of it. Westernized versions are slightly more relaxed when it comes to the ratio of bulgur to parsley,  a Lebanese tabbouleh having just a tablespoon or two of wheat. Using the basic flavours of this Middle Eastern salad, I've added plenty fresh ingredients. In addition to the parsley, I've included mint and rocket which lends a bright peppery taste.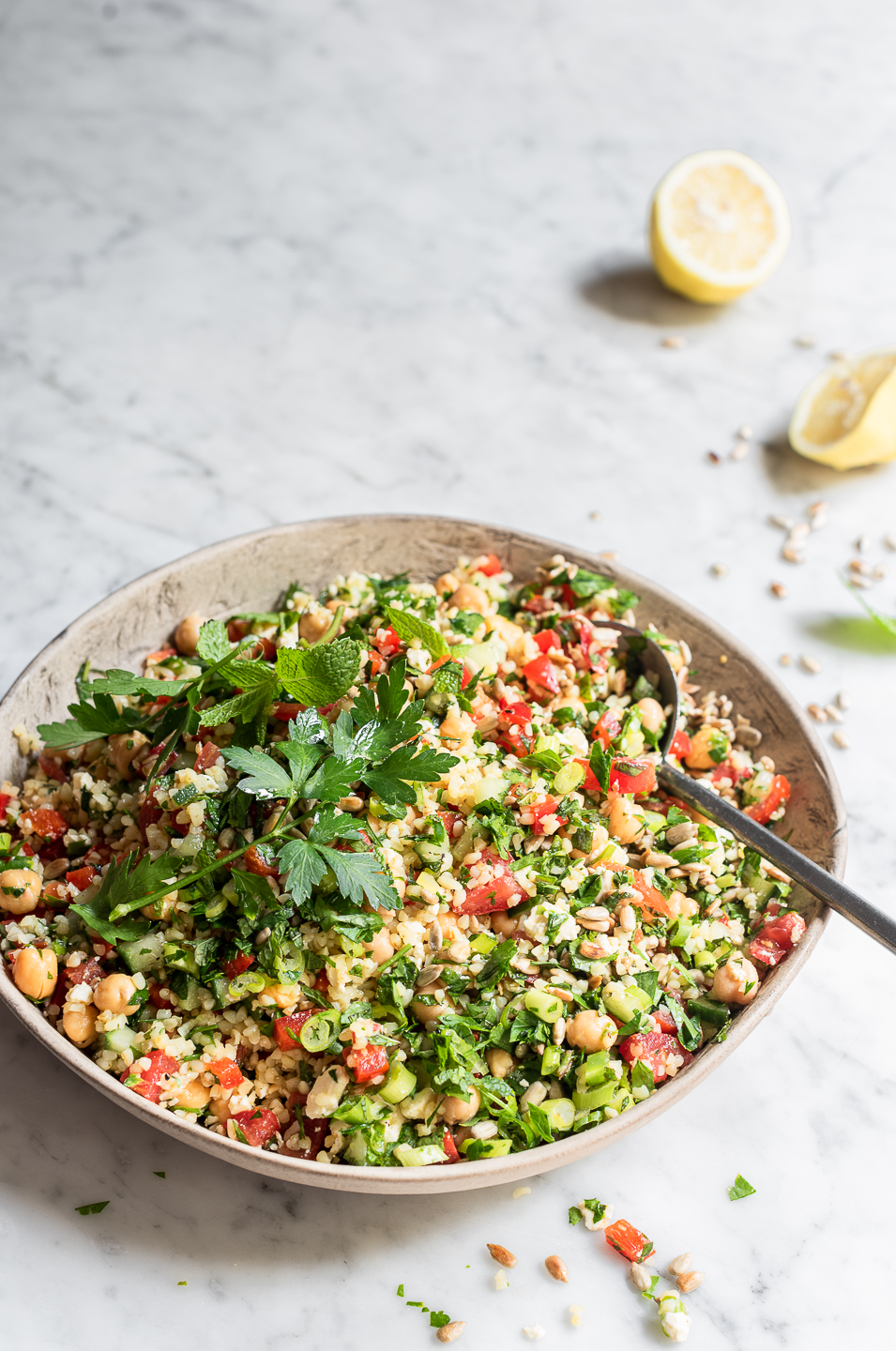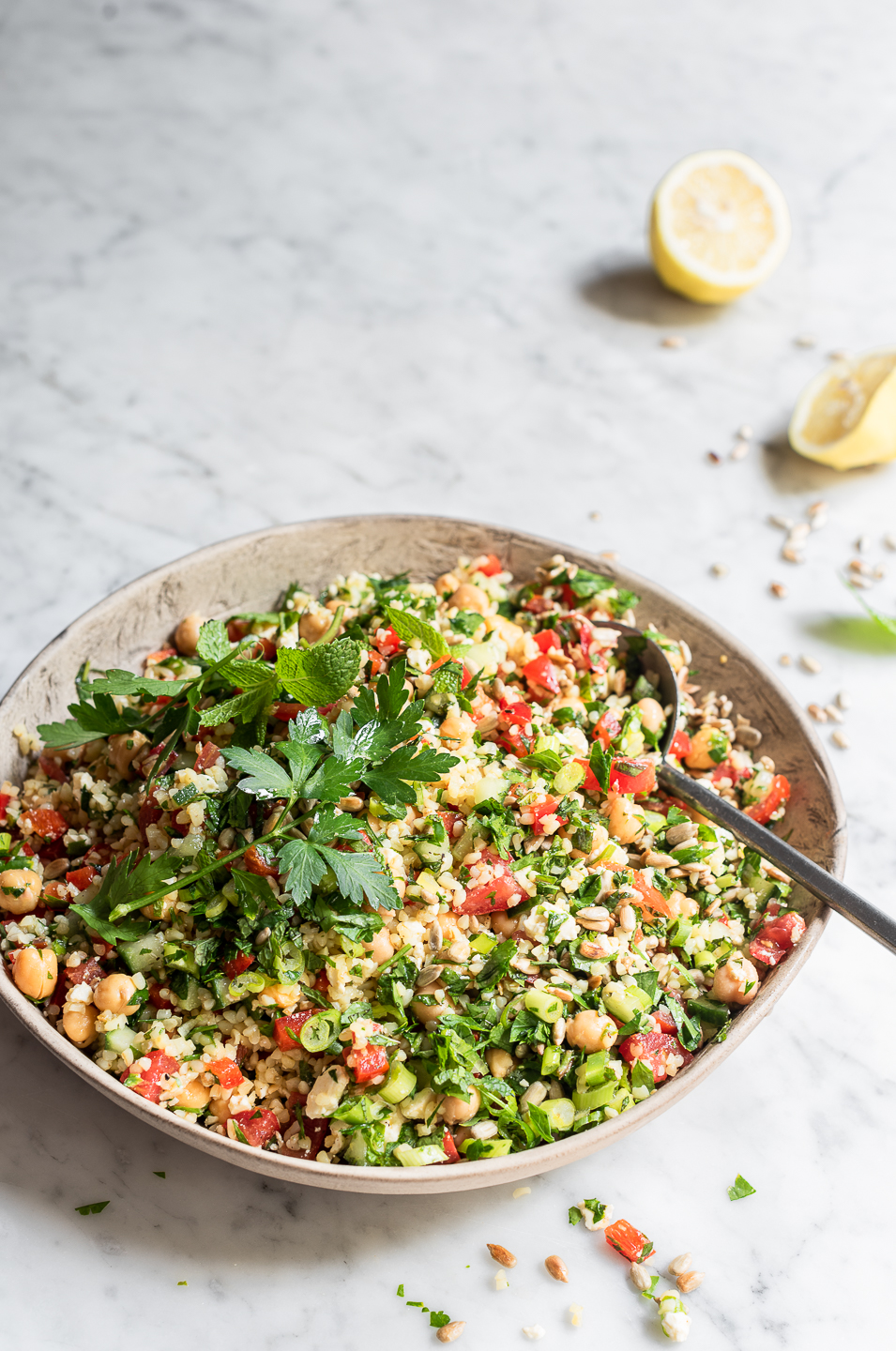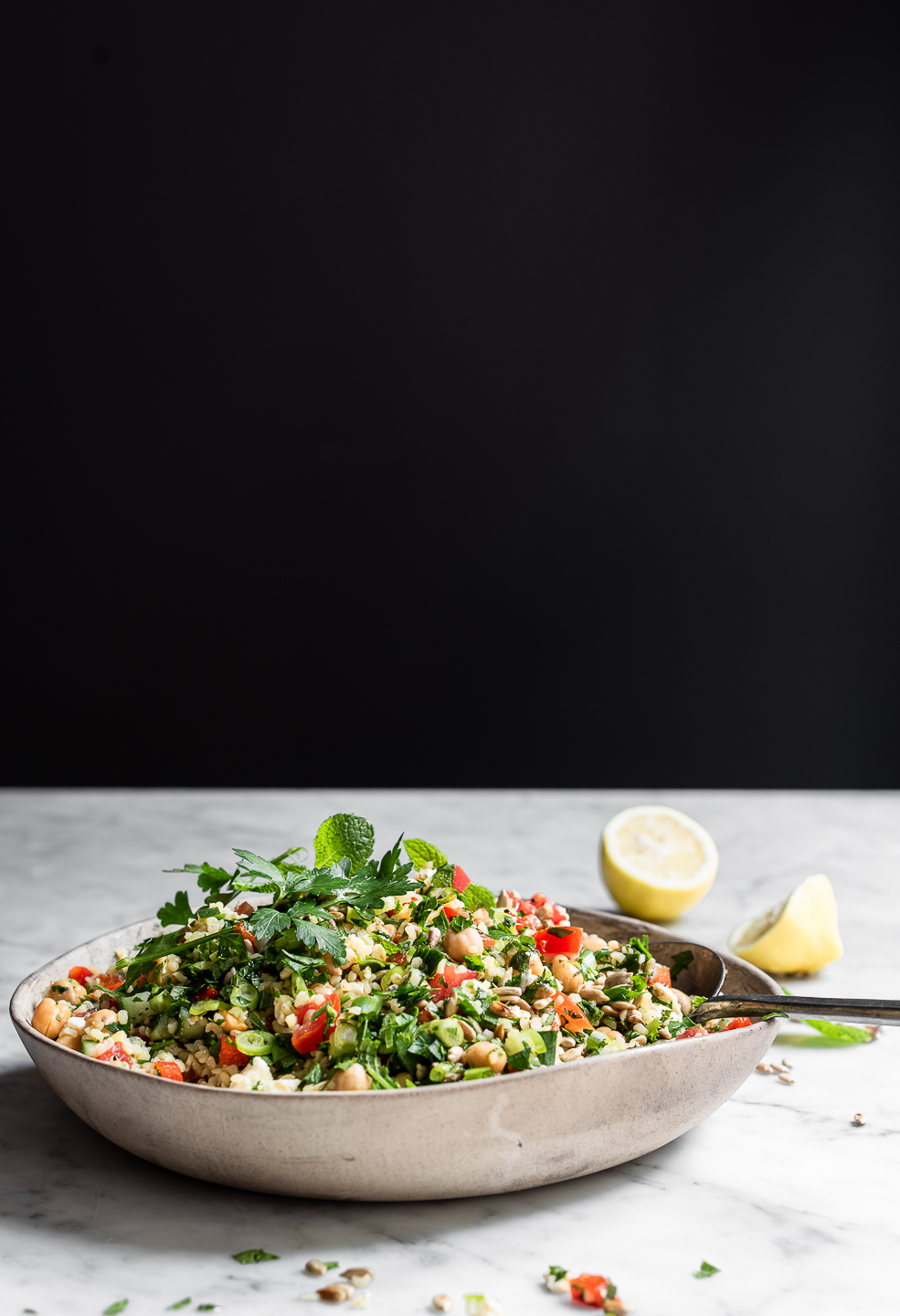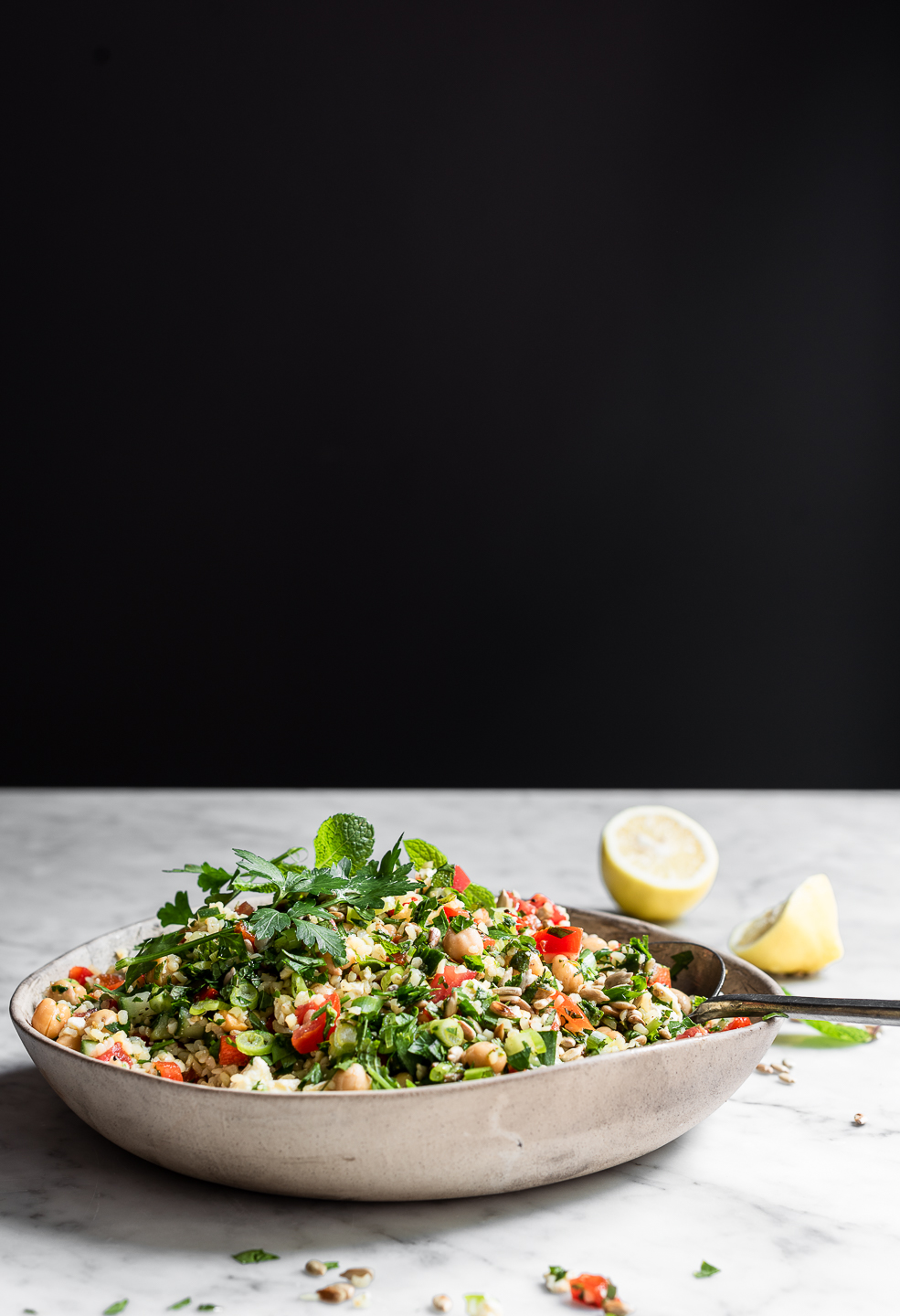 Tabbouleh Bulgur Wheat Salad
For the salad
125ml (1/2 cup) bulgur wheat
160ml boiling hot vegetable stock
200g rosa tomatoes, halved
1 mediterranean cucumber
half a red and yellow pepper, deseeded
2-3 spring onions
400g tin chickpeas, rinsed and drained
100g feta, cubed
a large bunch flat leaf parsley, stalks discarded
a handful of each, mint and rocket
1/4 cup toasted sunflower seeds (optional)
For the dressing
45ml  (3 tablespoons) olive oil
30ml (2 tablespoons) lemon juice
zest of 1 lemon
salt and pepper, to taste
Place the bulgur wheat in a heatproof bowl and pour over the stock. The liquid level should just cover the wheat. Cover over with cling film and set aside for at least 10 minutes to allow the wheat to rehydrate. When all the stock has been absorbed, fluff the bulgur with a fork to separate the grains.
Quarter the cucumber and deseed. Cut the quarters in half again and then into fine dice. Do the same with  sweet pepper.
Bundle together all the herbs and roughly chop. Dice the spring onions and  add to the bulgur wheat, along with the cucumber, peppers, chickpeas and tomatoes.
For the dressing, place all the ingredients in a jam jar and shake together. Pour the dressing over the salad and toss to combine. Check the seasoning and add a little more lemon if you prefer more acidity. Scatter over the sunflower seeds, if you're using. This salad is best served at room temperature as the flavours will be more prominent.
BK Handy tip : This salad makes a great packed lunch and summer picnic food. If you like, add some roasted chicken pieces and baby spinach.
If you like Middle Eastern flavours, you may like to try these:
Roast Aubergines with miso and pomelo