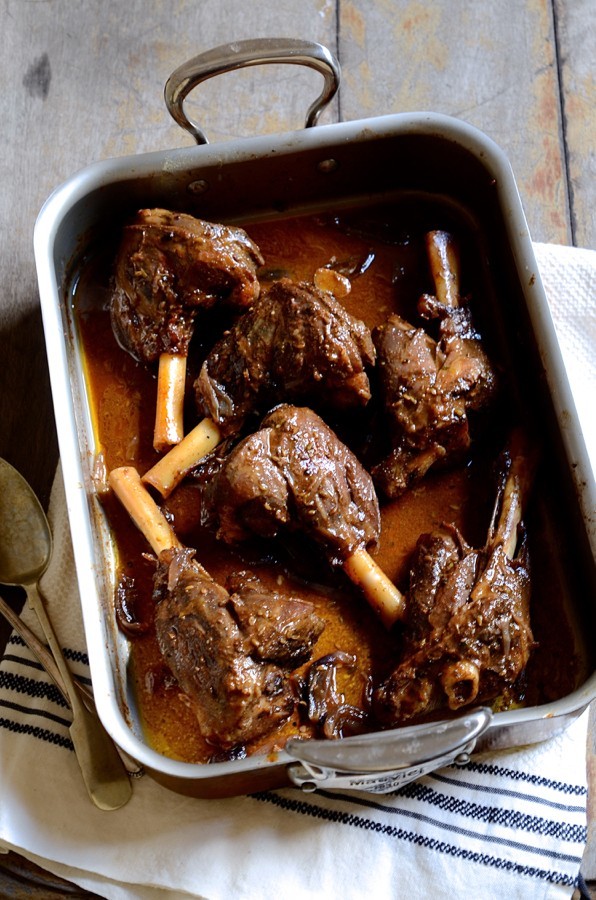 Lamb is synonymous with Easter. It's also the perfect opportunity to invite good friends and family around to share a feasting lunch. And what better than a roast? Marinated overnight in garlic, cumin, fennel and paprika, these shanks are slow-roasted until fall-off-the-bone tender. The fennel adds a subtle aniseed flavour which contrasts well against the fattiness of the lamb.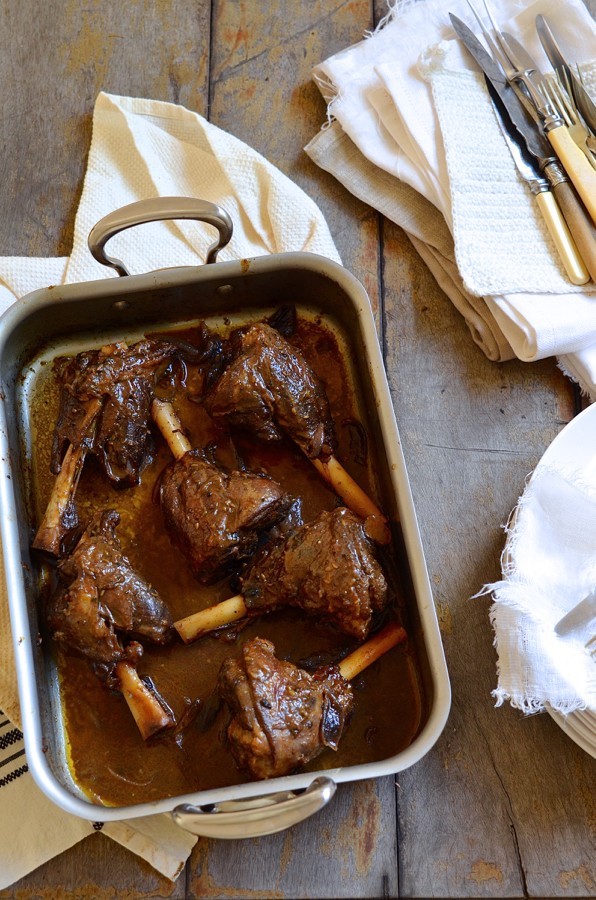 This year, rather than a roast leg of lamb, I've decided on lamb shanks. It does away with carving and allows everyone to jump right in and help themselves. The recipe however is suitable for both cuts of meat. Lamb lends itself to any number of flavour combinations from Greek to Italian, not forgetting our traditional South African saddle of lamb. Today however, I'm leaning towards the Middle East where use of bold spices help to create food that's truly unique in flavour.
Since my first trip to Israel in 1989 to work on a kibbutz, I've been struck with a deep affection for the tastes of this ancient land. On leaving the Kibbutz, we explored the bustling cobbled streets of Old Jerusalem, slowly making our way to a more modern and vibrant Tel Aviv. Sleeping on side walks and ramshackle rooftop hovels, street food meal was the highlight of our day. Pita breads stuffed with slithers of pink lamb, fresh salads and tahini. Pure heaven.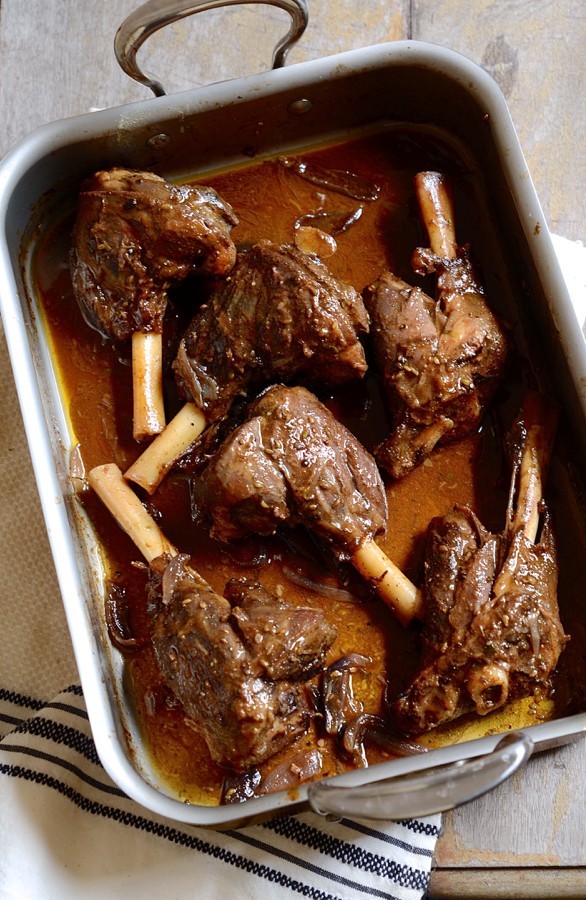 Lamb shawarma's iconic status reaches well beyond the borders of the Middle East. Come to think of it, what better way to eat a roast than in a casual pita-pocket. Genius!  I've deviated slightly from tradition by including a splash of red wine and a little stock for a gravy. The result is a chestnut-coloured pan gravy that coats the meat and will have everyone licking their fingers.
As Ottolenghi, our Middle Eastern guru explains in his book, Jerusalem. – The best way to eat a shawarma is with warm pita pockets piled high with slices of warm lamb, finely chopped onion, parsley and a smattering of sumac. Finish with the quintessential salad of fresh tomato and cucumber. If your Easter celebration leads you in this direction, I'd include a bowl of hummus and a tabbouleh inspired bulgar wheat salad. Alternatively, roast potatoes with all the trimmings are not bad either.
What's for dessert then? Chocolate, of course. This Nutella chocolate mousse cake will hit the spot and still any chocolate cravings. Happy Easter ♥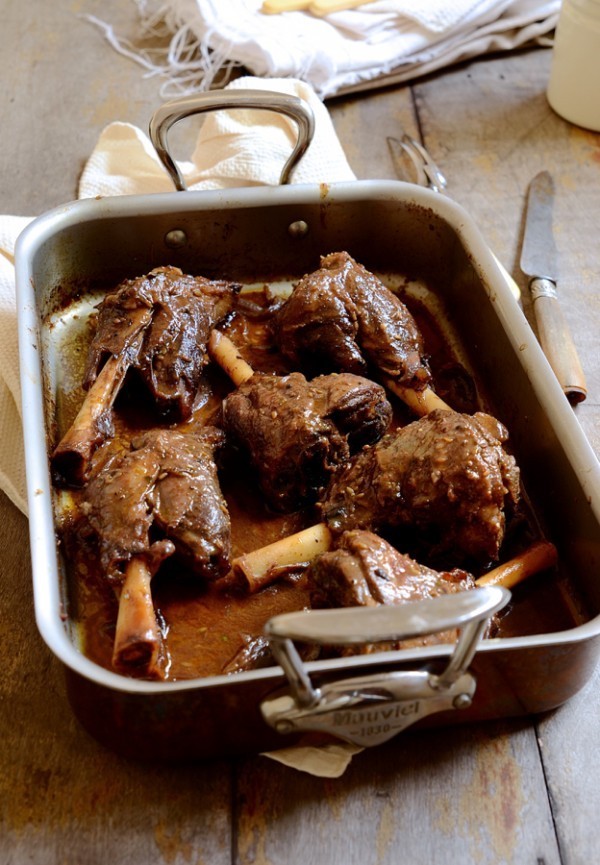 Slow-roast lamb shawarma
2 garlic cloves, minced
1/4 cup extra virgin olive oil
1 teaspoon fennel seeds, crushed
2 teaspoons smoked paprika
1 1/2 teaspoons ground cumin
1/2 teaspoon ground mixed spice
1 teaspoon salt
1/2 teaspoon dried, red chilli flakes
1/2 cup red wine
3/4 cup weak meat stock
6 free-range lamb shanks, excess fat trimmed
2-3 red onions, peeled and cut into wedges
a generous squeeze of fresh lemon juice, to finish
For the marinade, place the garlic, olive oil and all the aromatics into a bowl. Stir to combine.
Pour the marinade over the meat and rub in. Massaging the marinade in by hand is the best way to do this.
Place the shanks in a non-metallic dish, cover and allow to marinate overnight in the fridge.
Preheat the oven to 170ºC. Bring the lamb up to room temperature.
Transfer the lamb to a roasting tin. Season with salt and drizzle with extra virgin olive oil.
Cover with foil and roast for 2 hours.
Turn the shanks over. Add the onions to the roasting tin and pour in the red wine and stock.
Cover with the foil and roast for a further 90 minutes. If the liquid reduces too rapidly, just add a little extra water.
Remove the foil and baste the meat with the pan juices.
Turn the oven temperature up to 200ºC and roast for a further 20-30 minutes.
Add a generous squeeze of fresh lemon juice, cover with foil and allow to rest for about 10-15 minutes before serving.