Easter egg cups with white chocolate mousse and lemon curd yolks + Baked Nutella chocolate mousse torte

Food doesn't always need to be so serious. Thankfully, Easter presents us with the perfect opportunity to indulge in some candy coloured fun-tastic feasting. How about an edible chocolate egg shell, filled with pillowy white chocolate mousse and lemon curd yolks? I'll have two, soft boiled please! Hold the toast….
These funky eggs are just the treat to get you into the sweet-swing of things. The white chocolate mousse filling is super simple to make and completely un-flopable (yes, that's a new word). Using marshmallows as the base for the mousse, the consistency becomes stable and holds its shape beautifully. As I've often mentioned, I love to find multiple uses for one recipe. To make a dark chocolate mousse, replace the white chocolate with 70% dark chocolate and perhaps a splash of orange liqueur. A mousse duo will also be delicious, served in dainty martini glasses for an elegant dinner party dessert. If you missed yesterday's post for my 4 minute Lemon curd, glance back to catch up or use a good quality store bought curd. Let's go like – shiny, happy people here and collect them eggs! Wishing you all a very blessed and happy Easter.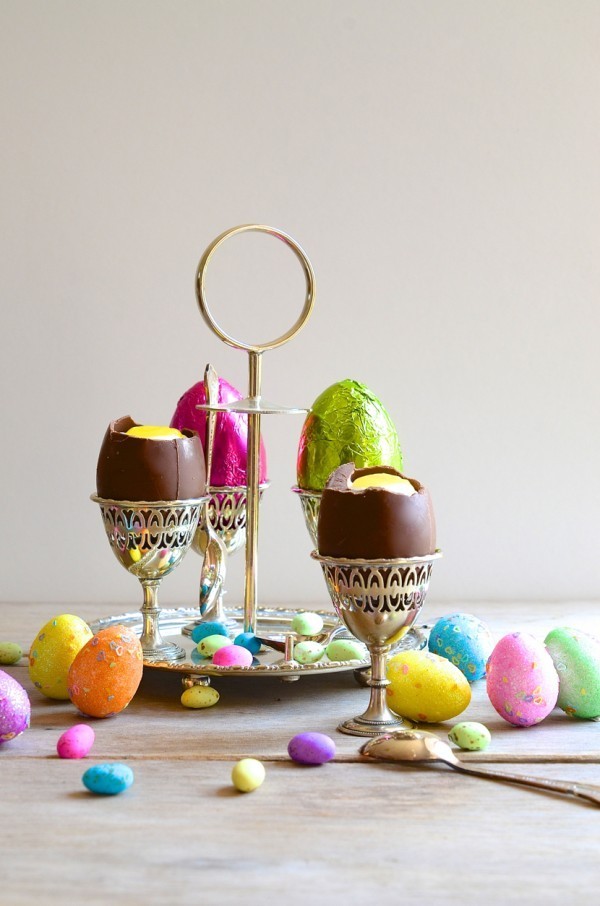 Easter egg cups with white chocolate mousse and lemon curd yolks
Makes 4-6 depending on the size of the chocolate eggs
For the white chocolate mousse
65g mini white marshmallows
100g white chocolate
1 tablespoon water
1 tablespoon rum (omit if making for children and replace with water)
25g butter
50ml cream
200 ml single, whipping cream
To finish
4-6 medium or large hollow, chocolate eggs
lemon curd, for the yolks
Place the marshmallows, white chocolate, water, rum, butter and 50ml cream in a heat resistant bowl. Position over a pot of simmering water and stir until the chocolate and marshmallows are melted. You could also microwave on high at 40 second intervals until melted. Whisk until completely smooth. Set aside to cool to room temperature.
Whisk the 200ml cream until soft peaks form. Fold the whipped cream gently into the marshmallow mixture. Go slowly and be careful not over-mix as the mousse can easily split. Refrigerate until needed.
To assemble, carefully crack open the top of the chocolate eggs. Fill a piping bag with the mousse and pipe into the hollow eggs. The piping bag method is the simplest way to fill the eggs, but if you're patient, just spoon in carefully. Place the filled eggs in egg cup holders and finish with a teaspoon amount of lemon curd. Chill until ready to serve.
This recipe was inspired by the super talented and creative Steph from Raspberricupcakes.com.  You can read here how Steph filled her chocolate eggs with cheesecake filling and passionfruit yolks.
http://www.raspberricupcakes.com/2012/04/cheesecake-filled-chocolate-easter-eggs.html
Baked Nutella chocolate mousse torte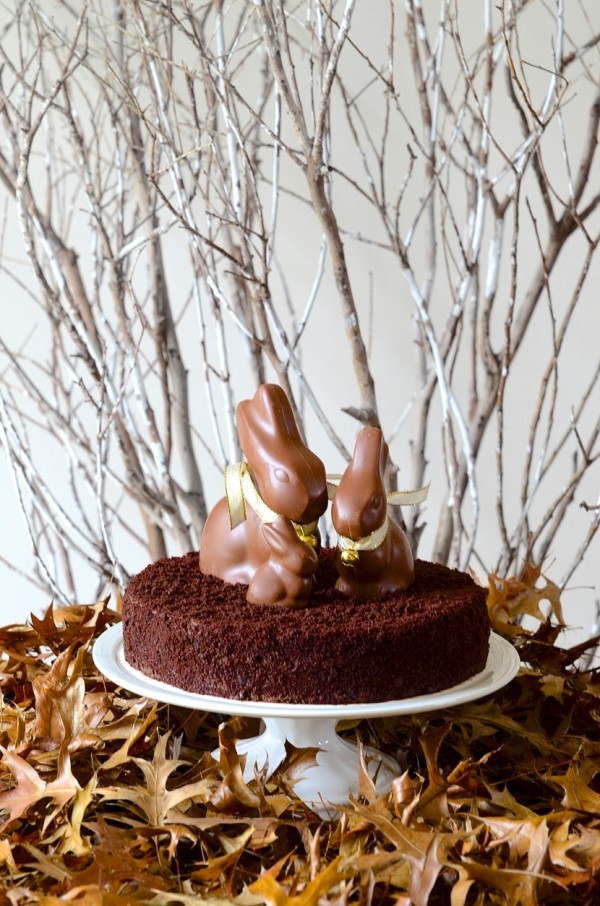 Baked Nutella chocolate mousse torte
Playful, yet impressive, this dark and decadent chocolate torte takes centre stage at the Easter celebration table. And, what would Easter be without the gold ribboned bunny? So, here's my cosy little family of three, sitting atop the chocolate mousse torte with cocoa crumble. I can't decide if I should start with the torte or the bunnies!
A little more about the cake then. The texture of this cake is unlike any cake I've eaten before. It tends to fall somewhere between a torte and a baked chocolate mousse cake. It's dense, moist and as you can imagine, sublimely rich. The torte is covered with a thin layer of chocolate frosting, which serves mainly as the 'glue' for the cocoa crumb to stick to. The crumb is made of oven roasted chocolate muffin crumbs and creates an interesting, crunchy contrast. As far as the kids are concerned and trumping all the aforementioned yum factors, is the Easter bunny trio. Be warned, blink slowly and they'll have hopped.
A classic torte calls for ground nuts or breadcrumbs rather than flour, which yields a moist, densely textured cake. I've chosen to use flour to give it a lighter, more even texture but, if you'd like to make it gluten-free, by all means, use ground almonds. So although not 100% a torte, the balance of the ingredients and method follows the torte profile. Either way, it's superbly delicious. I'd serve the torte for dessert on Easter Sunday, but if you prefer to keep it simple, dust the unfrosted torte with cocoa powder and serve with a dollop of whipped cream.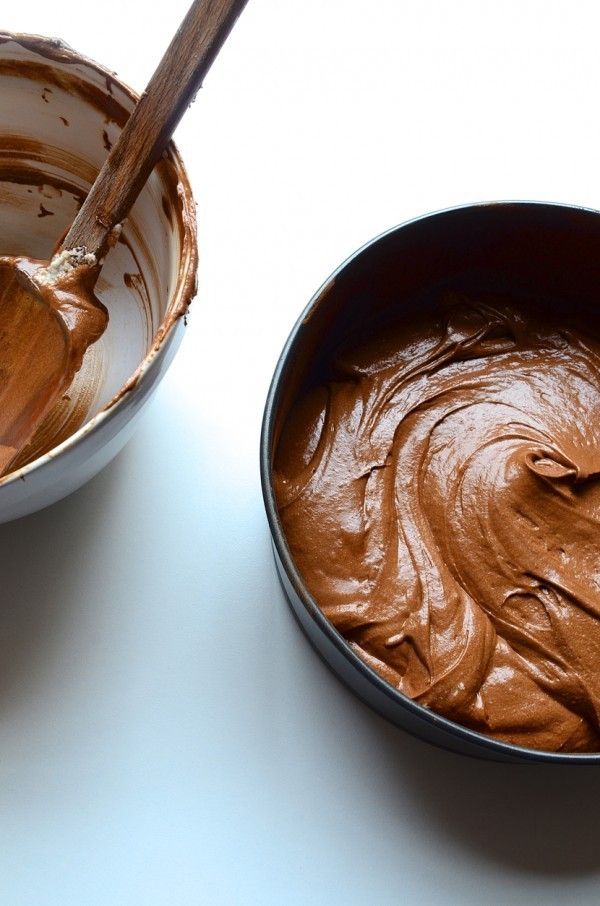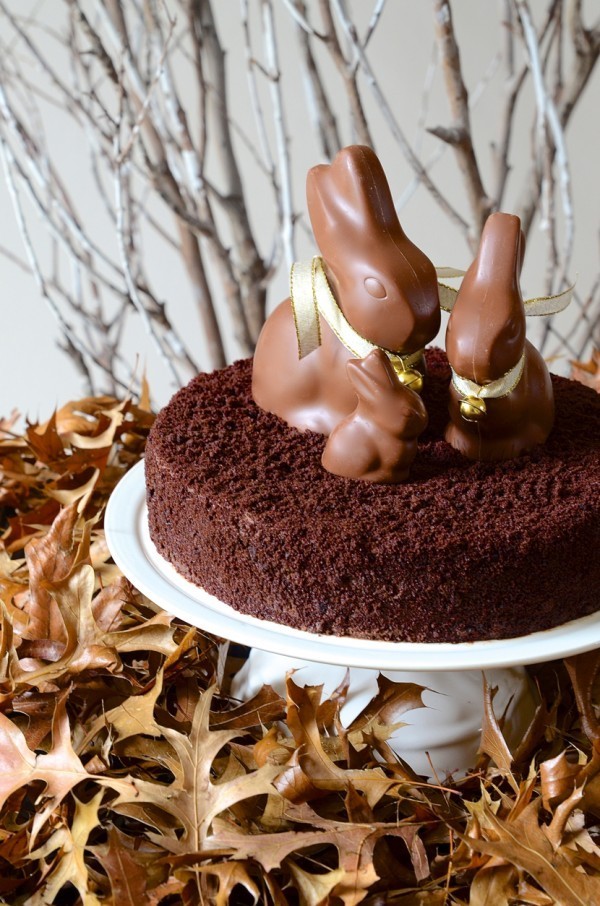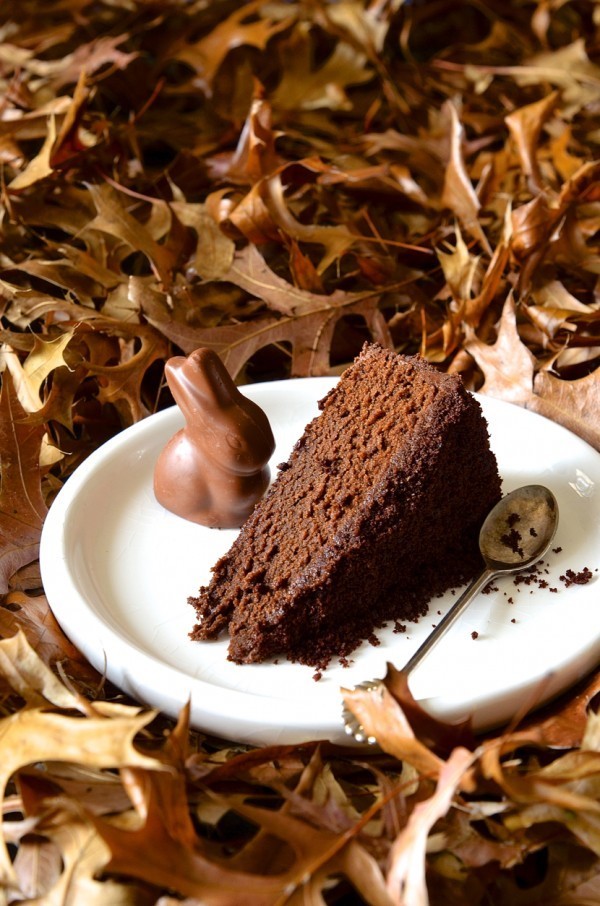 Baked Nutella chocolate mousse torte
Serves 12
120g dark chocolate (Lindt 50% or 70% if you prefer a darker and less sweet cake)
50g Nutella chocolate spread
100g salted butter
110g castor sugar, plus 2 tablespoons extra for the egg whites
1 shot espresso (30ml)
1 teaspoon vanilla extract
3 eggs, separated
100 g all-purpose cake flour
20g cocoa powder
pinch of salt
Preheat the oven to 180º C. Grease and line the base of a 22cm springform cake tin and dust the sides with flour or cocoa. Melt the chocolate over a pot of simmer water until smooth. Remove from the heat and whisk in the Nutella. Set aside.
With an electric whisk, beat the butter and castor sugar together until pale and well creamed. Add the espresso and vanilla extract. Whisk in the egg yolks, one at a time, until well combined. Fold the Nutella chocolate into the egg mixture. Sift in the flour, cocoa and salt. Fold to combine.
Whisk the 3 egg whites with a pinch of salt to form soft peaks. Add 2 tablespoons castor sugar to the whites and beat until stiff and meringue-like in texture. Fold one third of the whites into the batter to loosen it up. This can be done quite briskly. Now fold the remaining whites in, but more gently this time to keep the batter light and aerated.
Pour the mixture into the cake tin and bake for 25 minutes. Remove from the oven and allow to cool in the tin for at least 15 minutes. Run a knife carefully around the sides to loosen. Leave to cool completely.
For the chocolate frosting and cocoa crumbs
40g softened butter
200g confectioner's sugar
20g cocoa powder
40g dark chocolate, melted
1 tablespoon milk
2 store bought chocolate muffins
For the chocolate frosting, beat the butter until creamy and light. Sift in the confectioner's sugar and cocoa powder. Whisk until combined. Add the cooled, melted chocolate and the milk. Mix until the chocolate is well incorporated. NB If the chocolate is not cooled to room temperature, it will seize up when added to the buttercream. Also, ensure that the butter is softened and at room temp before commencing.
To make the cocoa crumbs, whizz the muffins in a processor until fine. Spread out onto a baking sheet and bake in a 180º C oven for around 10 minutes until crisp and crunchy. Set aside to cool.
To assemble, turn the torte over onto a cake stand with the base of the cake facing upwards. Cover the sides and top of the cake with a thin layer of frosting. Gently press the dried cocoa crumbs onto the sides and the top top of the cake. Carefully brush away any excess crumbs. Top with the Lindt bunnies. This torte will keep well for 4 days.