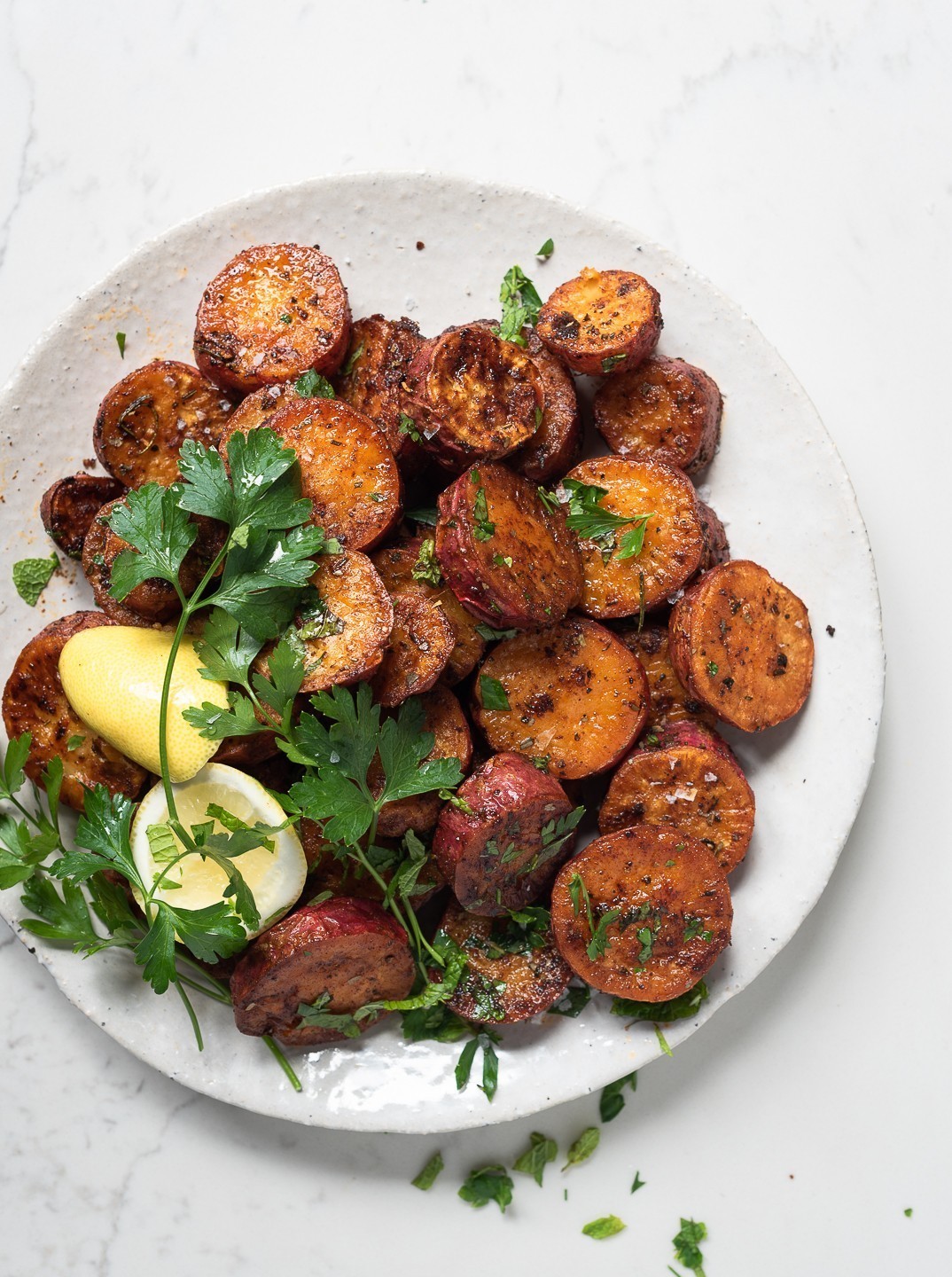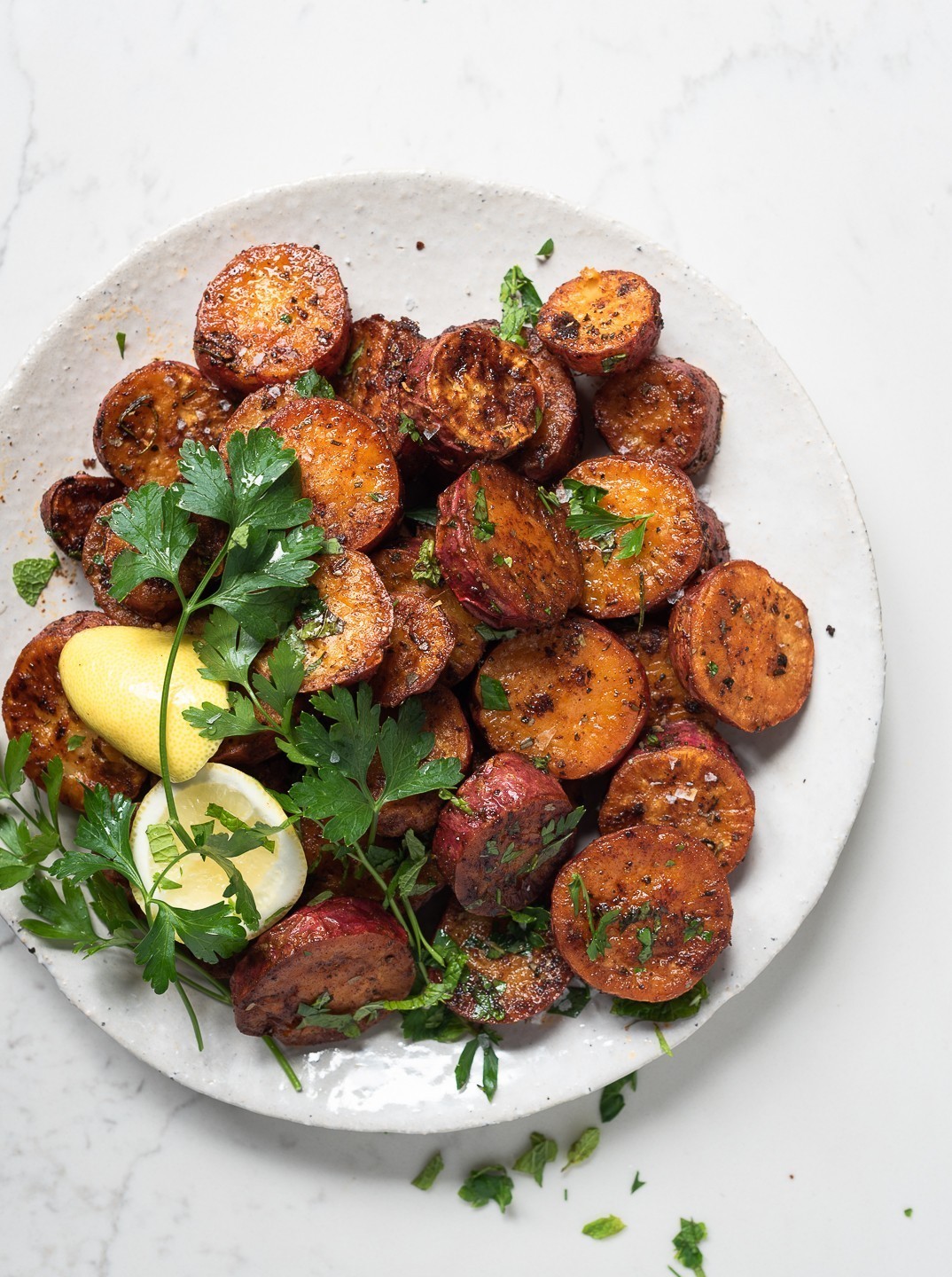 There are sweet potatoes and then there are these Paprika roast sweet potatoes. A sweet potato is a thing of joy, not fancy or finicky to cook, either. Needing little more than a decent slick of oil and some uplifting flavourings, they're easily transformed from everyday common to absolutely fabulous. Glistening with character and bright herbaceous flavour, these coral beauties are gnarly on the outside with yeildingly-soft centres. Overwhelming impressive. For a humble spud.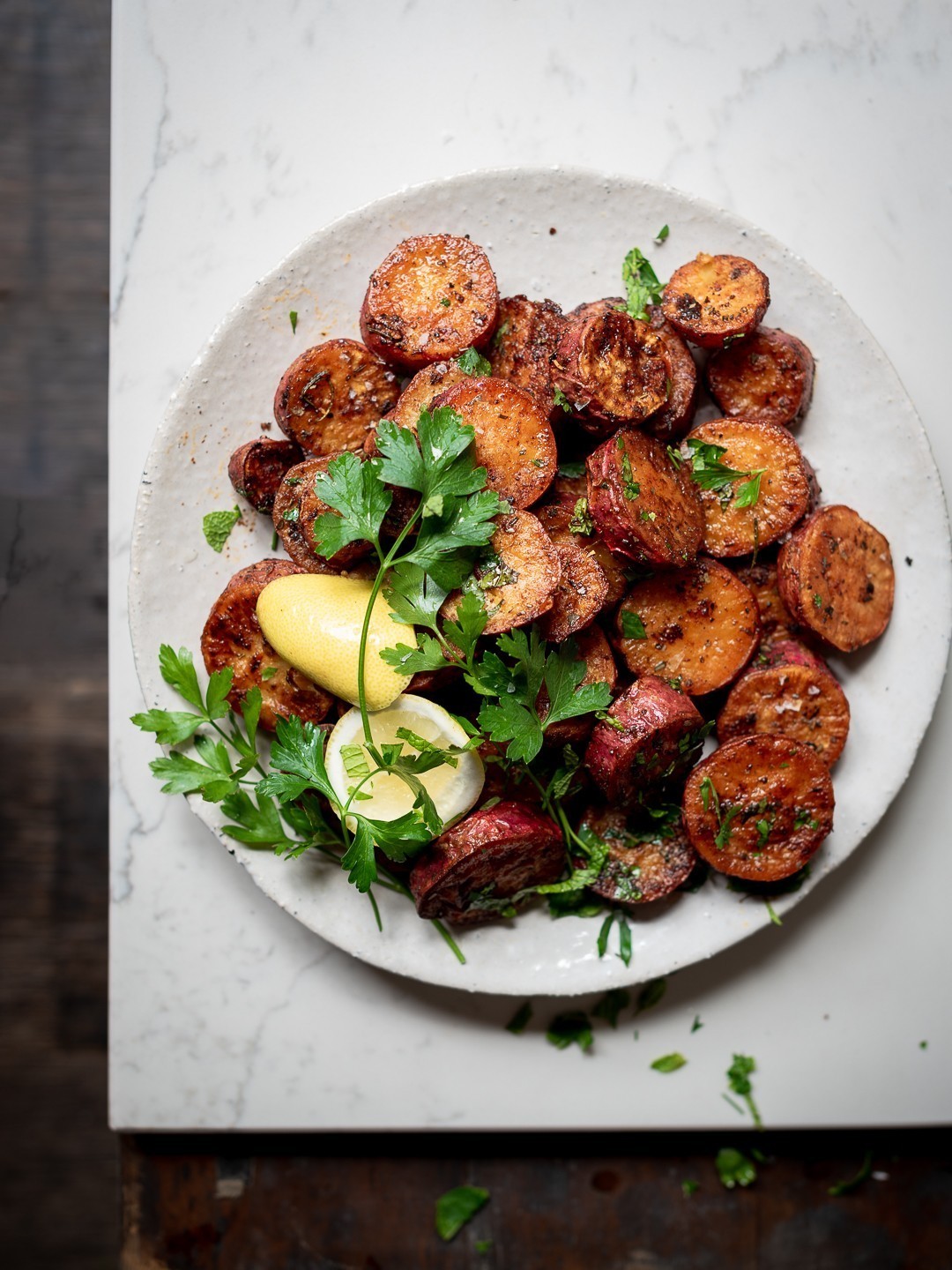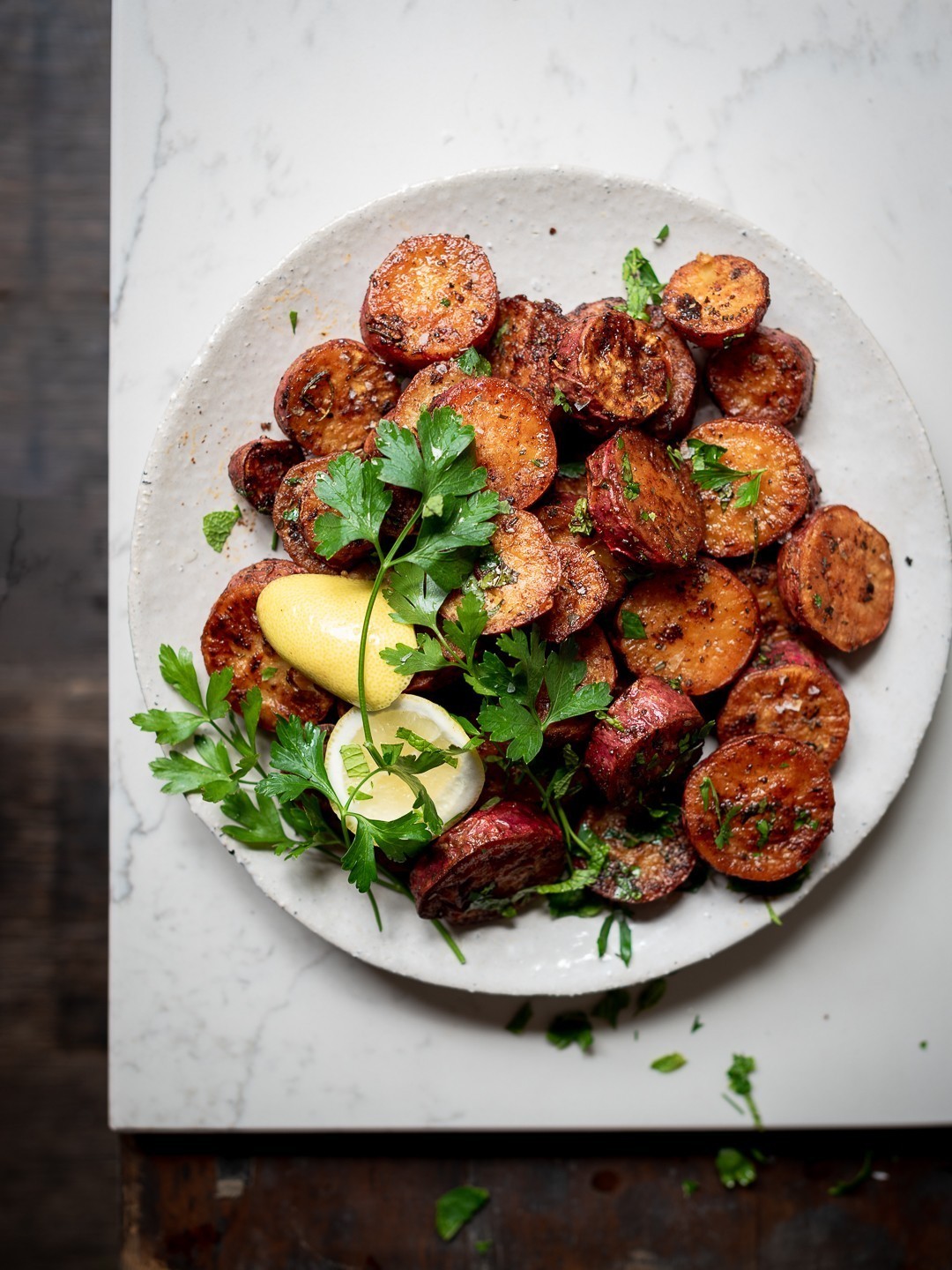 Like with most things, a little care goes a long way. There are a couple of helpful hints to roasting, space being the first. When roasting, ensure each starchy round has room to move. No over-crowding. Secondly, take the time to turn them over half way through the cooking time. This ensures even browning and sticky edges. Lastly, be open-handed with flavourings. Here, the fragrant hardiness of rosemary and hot paprika take them some place wonderful. Just before serving, I add a spritz of lemon. Citrus does a marvellous job of opposing sweetness, as does mint and soft-leaf parsley. This is a recipe to bank!
PS The quantities in the recipe are generous, enough for tonight's dinner and maybe a few meal prepping lunches,  following the cook once eat twice rule. Any leftovers can be add to the Life Changing wild rice salad from last week.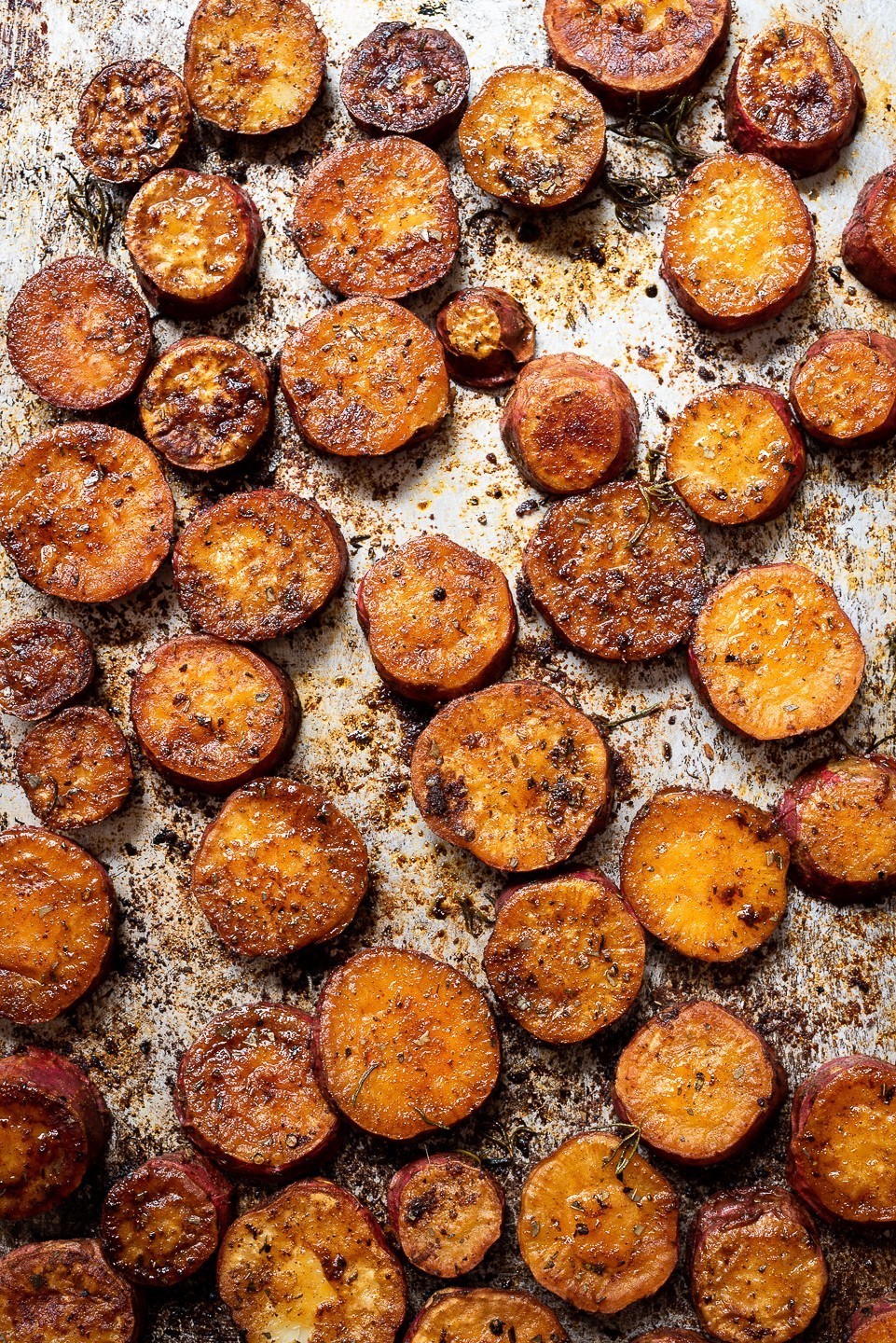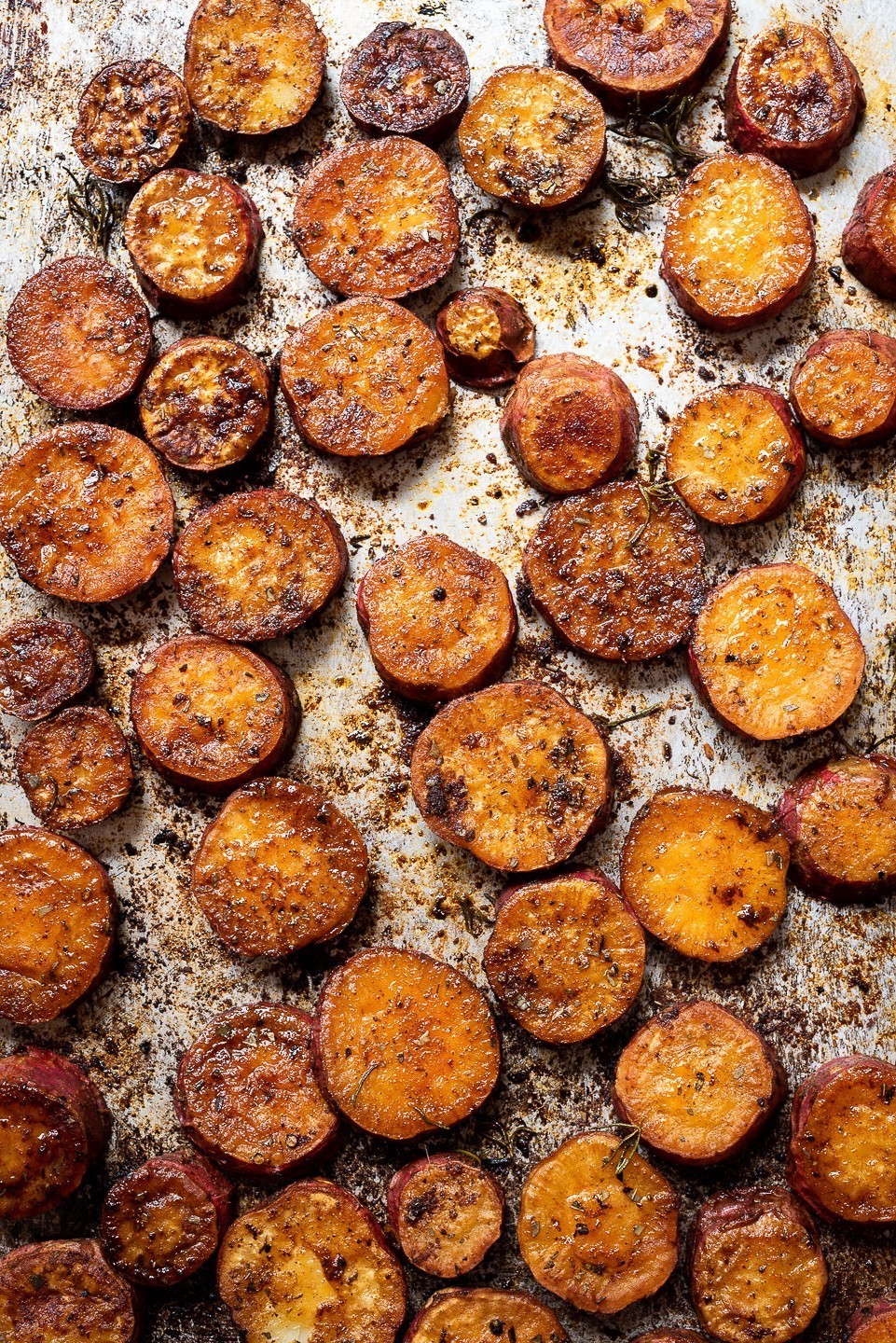 Paprika roast sweet potatoes
Serves 8
olive oil, for roasting
1.5 kg large sweet potatoes, scrubbed and cut into thick rounds
2 stems rosemary, leaves picked and finely chopped
12.5ml (2 1/2 teaspoons) smoked paprika
zest of 1 lemon plus 15ml (1 tablespoon) juice
salt and freshly ground black pepper
a handful of mint and flat leaf parsley, roughly chopped, to finish
Preheat the oven to 200 º C.
Arrange the sweet potatoes on a large roasting sheet. Drizzle generously with olive oil. Season with rosemary, paprika, salt and black pepper.
Roast for 30 minutes. Turn each round over, return to the oven and roast for a further 20-25 minutes.
Scatter over the lemon zest, then drizzle with lemon juice. Finish with chopped mint and parsley.
On another note. This Saturday, 7th March, I'll be hosting a book event with The Beautiful Life Store in Parkhurst. I've attached the invitation below. If you'd like to join us for a glass of wine and some casual conversation, please confirm with me via email for catering purposes. We'll be talking food, wine and books, and all the tasty bits in between.