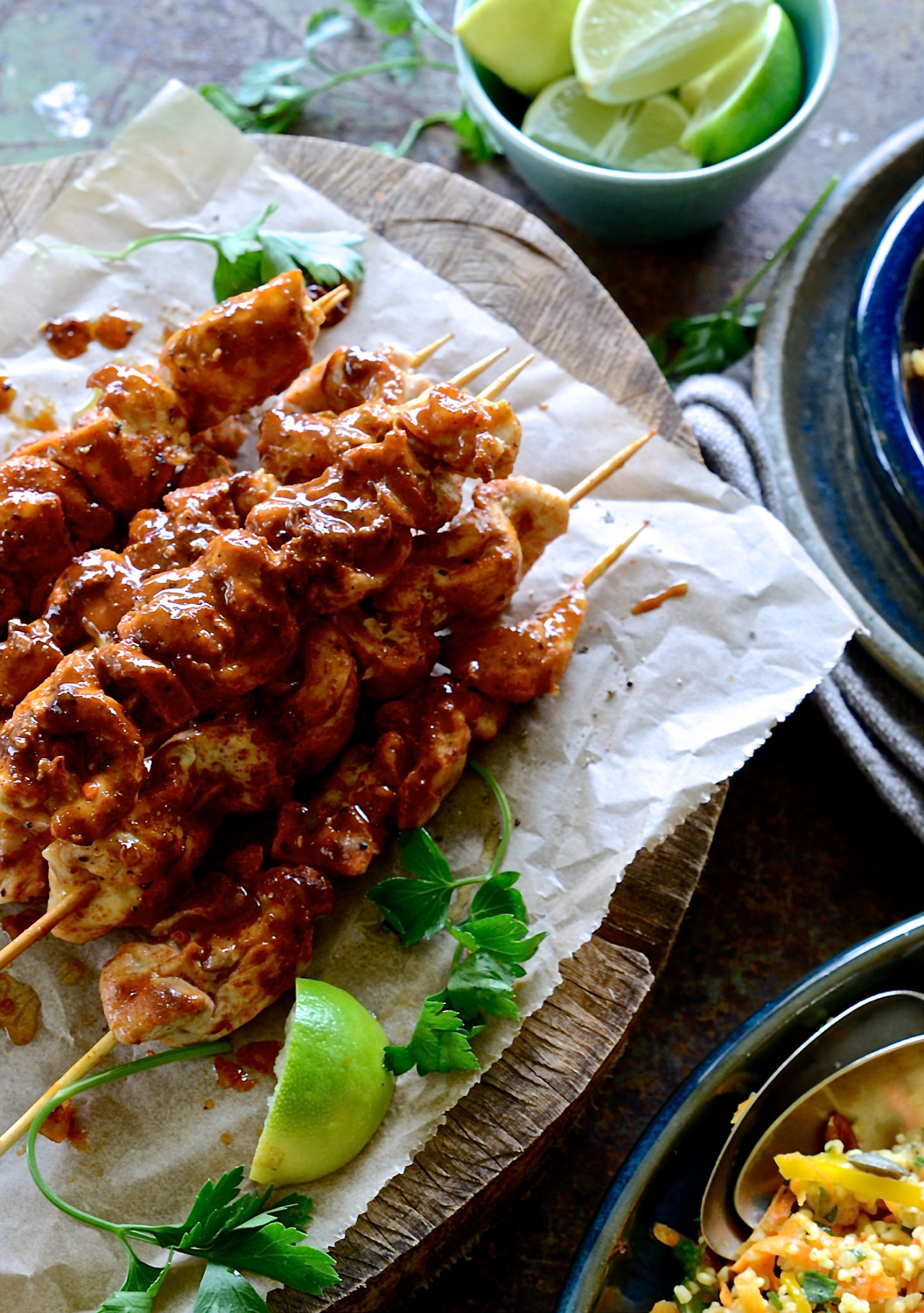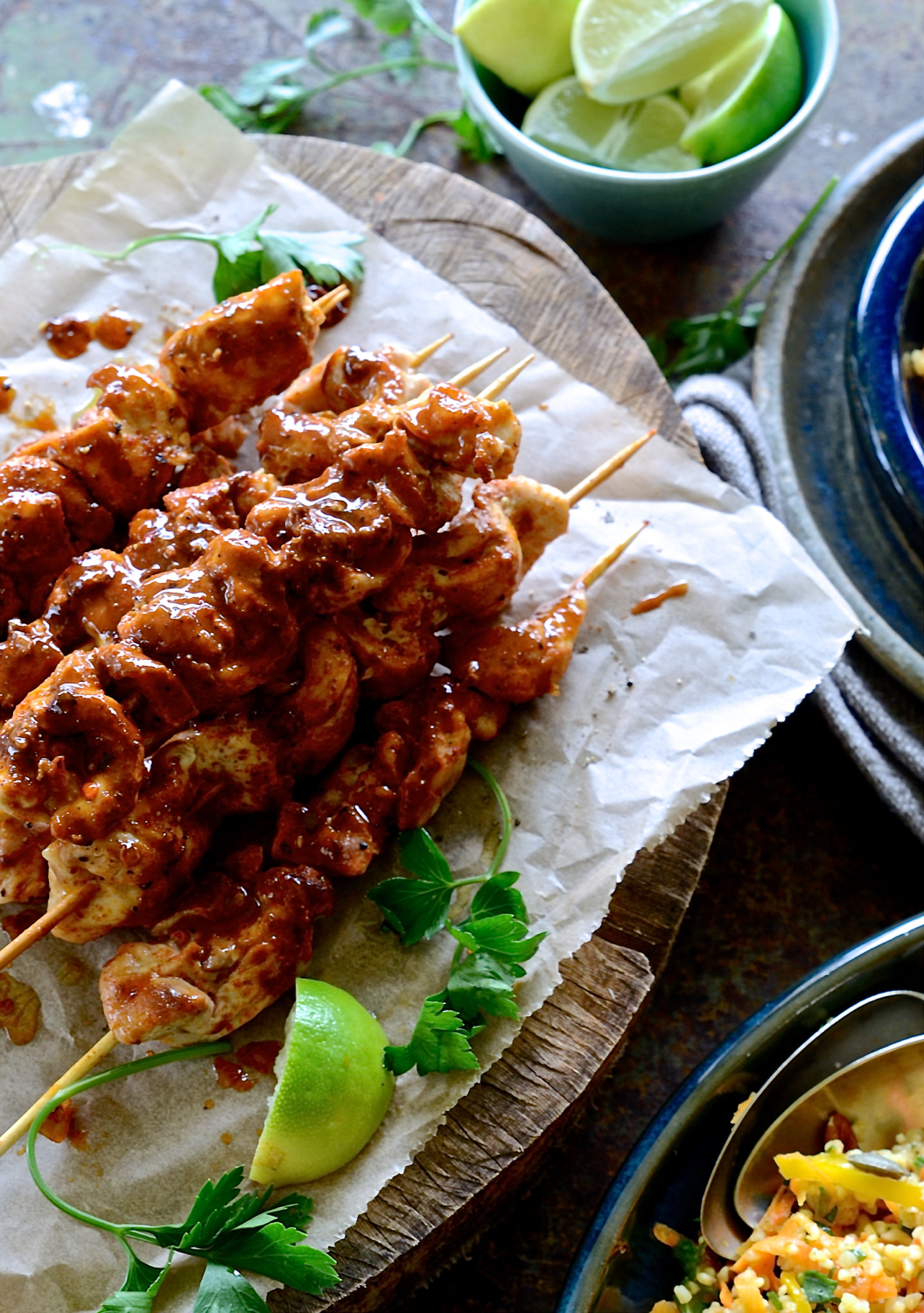 Whether you grill kebabs over the open coals for a deep, smoky flavour or cook them stove-top, these spicy chicken kebabs are succulently delicious. I serve them with a nutty bulgur wheat salad and extra lime wedges for a zingy freshness.
The kebabs are spiced with paprika, coriander and chili. Simple but really flavourful, almost Middle Eastern, which is of course, my favourite kind of food. I've used chicken thighs here, although chicken fillets will work too. The brown meat takes a little longer to cook through but is so much more flavourful than the fillets. For the bulgur wheat salad, simply rehydrate the grains in hot stock for 10-15 minutes before adding the vegetables. It's an excellent vegetarian dish and ideal as a side with grilled meat or chicken. It also makes easy picnic food and convenient packed lunches. I usually make double, then add shredded chicken, roast butternut and creamy goat's cheese.
Spicy chicken kebabs
Serves 4-6
For the kebabs
2 tablespoons olive oil
1 heaped teaspoon ground coriander
1 teaspoon smoked paprika
a generous pinch of red chilli flakes
zest of 1 lemon and the juice of half
salt and pepper
12 boneless, skinned chicken thighs
wooden skewers
For the chicken kebabs, start with the marinade. Whisk together the olive oil, coriander, paprika, chilli flakes, lemon zest, salt and pepper. Cut each chicken thigh portion into 4 and thread onto the wooden skewers. Rub the marinade into the chicken and place in a non-metallic dish, cover and set aside for at least half an hour. If you have the time, leave to marinade overnight in the refrigerator.
To cook the kebabs, heat a griddle pan until hot. Add the kebabs and cook until well coloured on one side. Continue to cook and turn until all the sides have good charring and the chicken is cooked through. Degalze the pan with a generous spritz of lemon juice and a quarter cup of water. Reduce down by half and turn the kebabs around in the juices until well coated.
Serve immediately with the salad and lemon wedges on the side. I know I've mentioned this before, but always remember to serve a grain salad at room temperature for best flavour. Fridge-cold grains will not yield the best results.
For the bulgur salad
200g bulgur wheat
25g currants
25g golden sultanas
1 teaspoon vegetable stock powder
2 large carrots, coarsely grated
1 small red and yellow sweet peppers, cut into slithers
zest and juice of 1 lemon
juice of half an orange (about 45ml)
2 tablespoons olive oil
a generous pinch of castor sugar
half a teaspoon ground coriander
1 small pack wild rocket, finely chopped
a good handful of flat leaf parsley, finely chopped
salt and freshly ground black pepper
half a cup mixed nuts and pumpkin seeds, pan roasted
30g dried cranberries
100g feta, crumbled
To make the salad, start by placing the bulgur wheat, currants and sultanas in a heatproof bowl, season lightly with salt and add the dry stock powder. Pour over just enough boiling water to cover, about half a centimetre above the wheat level. Give it a good stir through and cover with cling film. Set aside to rehydrate for 15 minutes. Now fluff and separate the grains with a fork. Add the grated carrot and sweet peppers to the bowl.
For the salad dressing, whisk together the lemon zest, the juice of both the lemon and orange, olive oil, sugar, coriander, salt and pepper. Pour the dressing over the wheat and toss together. Add the rocket, parsley, feta and cranberries. Check the seasoning and adjust with either a little extra Maldon sea salt, lemon juice or a grinding of black pepper. Turn the salad out onto a large serving platter and scatter over the toasted nuts.