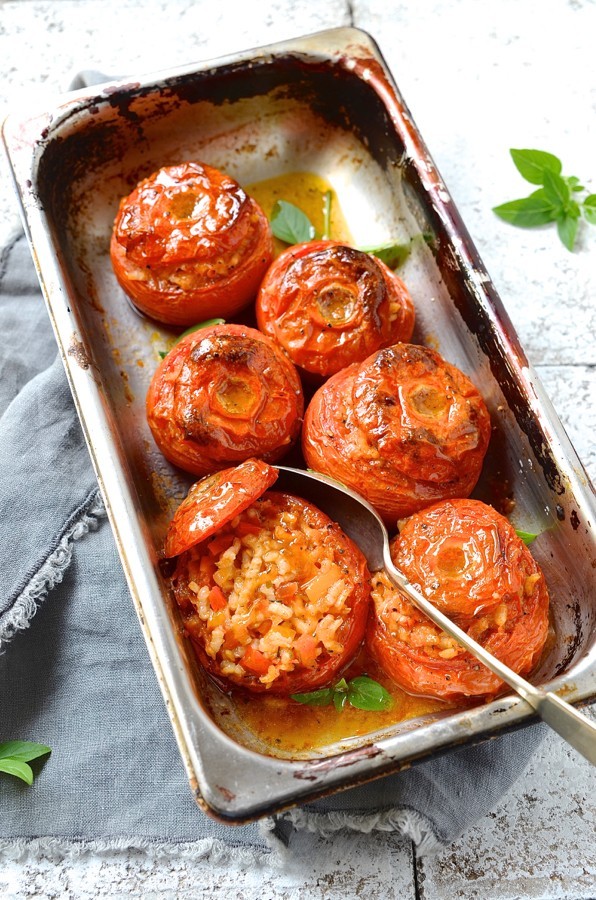 Italian food without tomatoes is like a chair with three legs – unthinkable and non-functional! Although many of the most well-loved and famous tomato dishes are Italian – think Margherita pizza, Napoletana sauce and Caprese, we have the Spanish and Aztecs to thank for introducing the rest of the world to this versatile fruit. Brought to Italy after the defeat of Napoli in 1503, whereafter Southern Italy became known as one of the major producers of tomatoes, second only to Catalunya in Spain.
The Italian word for tomato is pomodoro which means 'golden apple' and in France it's known as pomme d'amour, meaning 'fruit of love'. I've combined two of my favourite Italian classics into one meatless wonder – Roast tomatoes and risotto, which is currently my 'new found food-love'. Plump red tomatoes filled with saffron risotto and oven roasted to a blistered-skin deliciousness. Scattered with basil and coated in golden resting juices, Meat-free Monday might just be my favourite day of the week!
Tomatoes have a distinctive aroma that tells you when they're ripe, sweet and ready to eat. In Italy, vine ripened tomatoes are harvested at the end of summer when they're full of flavour. Although fresh is always best, good quality tinned tomatoes are used throughout the year. When I used tinned tomatoes, I mostly buy whole plum tomatoes without flavourings. It's my store-cupboard essential that can be used as a base for a myriad of different dishes.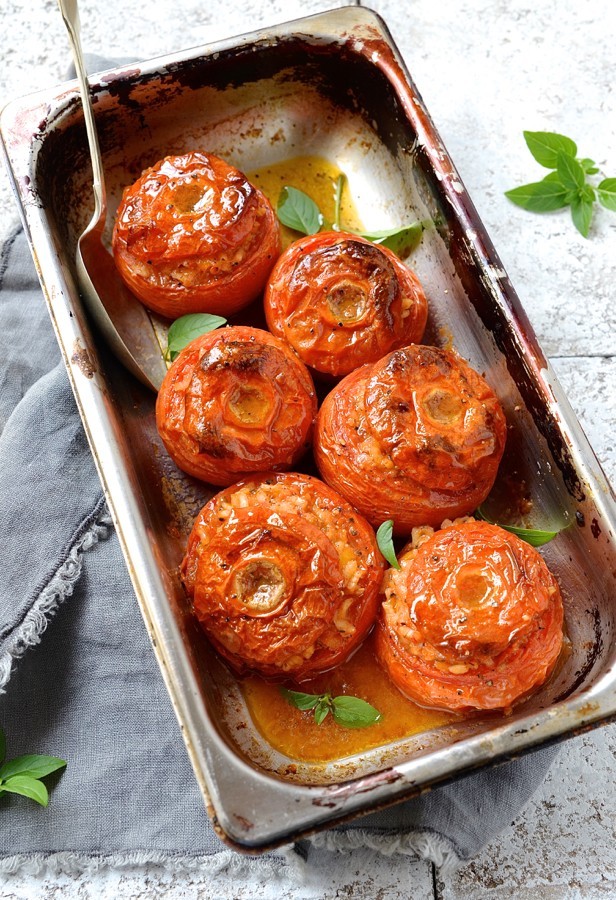 For these saffron risotto stuffed tomatoes, it's advisable to use ripe but still firm skinned tomatoes which makes scooping the inner flesh out more manageable. For the pasta filling I've combined arborio rice with sweet peppers, which incidentally are a close relation to the tomato – no surprise then as to why they partner so well. Be cautious when adding the saffron though, as too much of this costly spice and your risotto could taste slightly medicinal. Although this dish is a meat-free marvel, I'd definitely not relegate it to a Monday-only special. It's food fit for the whole of summer. Serve as a starter or side alongside your Sunday roast.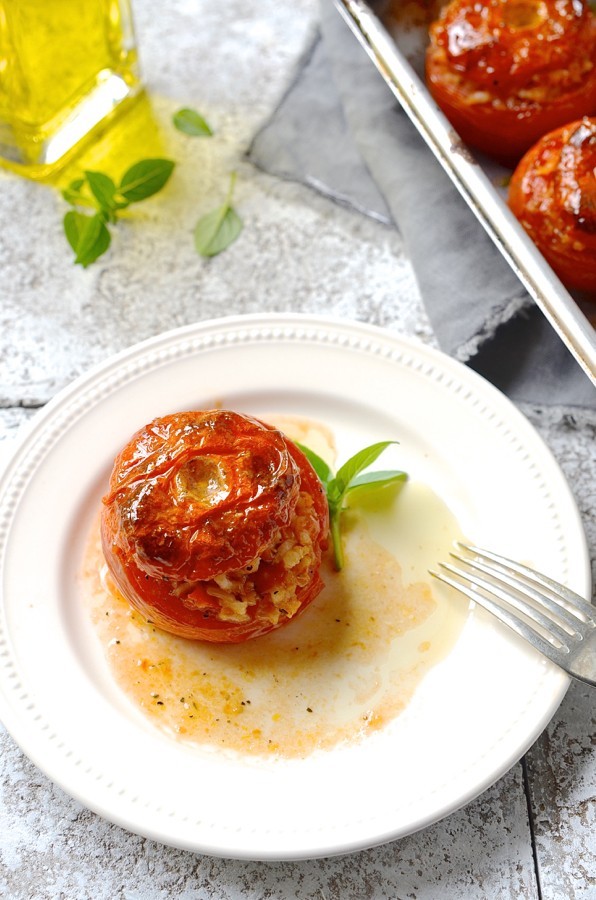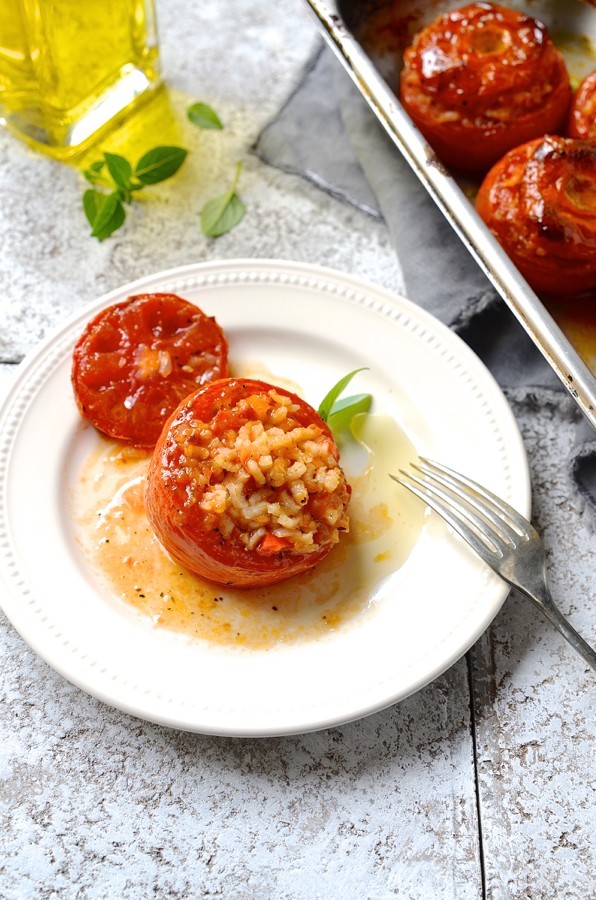 Saffron risotto stuffed tomatoes
Yields 6
olive oil, for cooking
6 large, ripe tomatoes
several stems fresh oregano
1 small brown onion or shallot, diced
1 clove garlic
1 of each, red and yellow sweet peppers, finely diced
3/4 cup arborio or carnaroli (risotto) rice
1/2 teaspoon dried oregano
1/2 teaspoon paprika
a generous pinch of saffron threads
1/4 teaspoon dried red chilli flakes
1/3 cup white wine
1 cup (250ml) vegetable stock
salt and freshly ground black pepper
fresh basil, to serve
Preheat the oven to 200° C. Slice the tops off the tomatoes to create a lid, about 1cm thick. With a spoon, scoop out and remove the inner flesh and chop as fine as possible. Reserve this tomato pulp for later. Turn the tomatoes upside down to drain.
Heat 1 tablespoon olive oil in a pan and sauté the onion until soft. Add the garlic and chopped sweet peppers and cook for several minutes more. Stir through the risotto rice. Season with oregano, paprika, saffron, chilli and a pinch of salt. Coat the rice with all the aromatics in the pan and dry-fry for a minute or two to toast the rice. This will enhance the flavour and lend a slight nuttiness to the overall taste. Deglaze the pan with the wine and reduce by half. Add the reserved tomato pulp and vegetable stock. Simmer for about 5 minutes.
Turn the tomatoes right side up and season inside with salt and freshly ground black pepper. Place a sprig of oregano into the tomatoes and fill generously with the risotto mixture. Place the lids on top, drizzle liberally with olive oil and a scattering of sea salt flakes. Roast for 50 – 60 minutes until the skin is blistered and the tomatoes are soft. Baste with the pan juices half-way through the cooking time. Finish with fresh basil, a drizzle of extra virgin olive oil and serve with crusty ciabatta bread and a fresh garden salad.