Candied Tomato bruschetta with ricotta & goat's cheese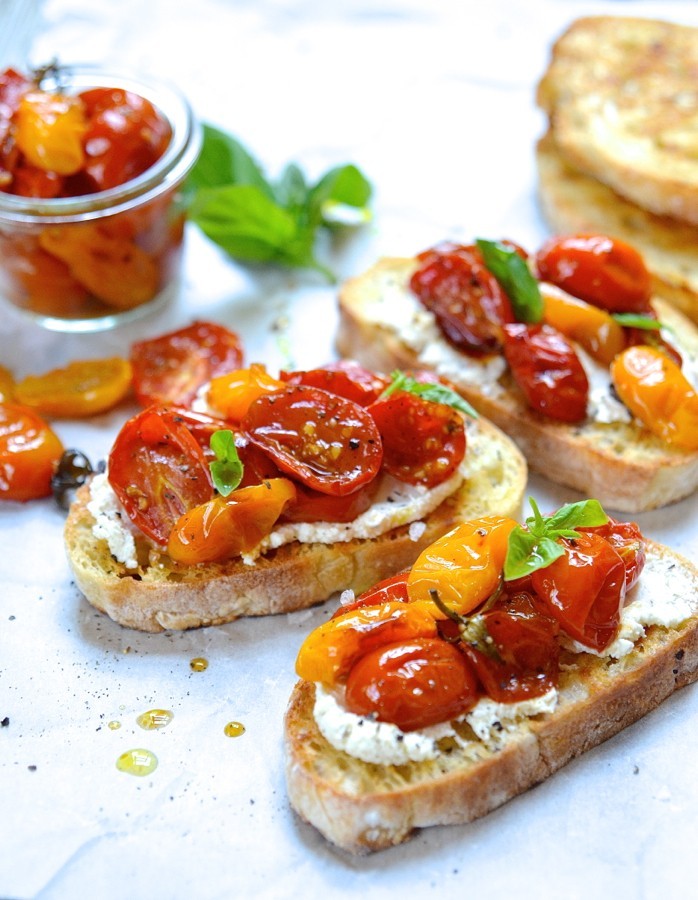 Antipasti, meaning 'before the meal' is all about tasty little savoury bites. Its purpose is to stimulate the appetite rather than satisfy. This custom dates back to Ancient Roman times when a variety of light dishes where served before the feast. Modern day antipasti platters include cured meats, preserved vegetables, cheese and of course, bread. This is my style of antipasti – Candied tomato bruschetta with creamy ricotta and the slight tang goat's cheese. So easy yet completely delicious.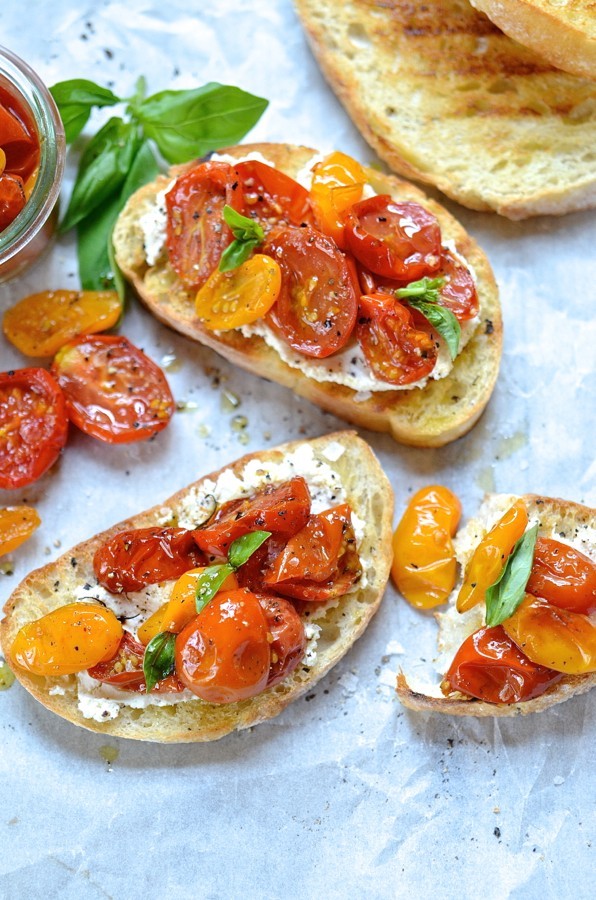 This tricolore Candied tomato bruschetta is my interpretation of a classic combination – tomatoes, ricotta and basil. It's a game changer. Roasting the tomatoes intensifies the natural sugars and renders them softened and candy-like. All this deliciousness is then piled onto hot bruschetta with ricotta and tangy goat's cheese – summer on a plate.
If like me, you're looking for multi-pupose recipes, these tomatoes make a really good Napoletana sauce. Scrape the tomatoes into a blender and blitz briefly. Toss the sauce through pasta and serve with fresh basil and parmesan. For a luxurious tomato soup, add 500ml hot chicken stock and a cup of cream. Blitz until smooth, heat through and serve with buttered crostini. It also makes a great omelette filling together with a handful of rocket and a generous crumbling of salty feta. A delicious, carb free breakfast.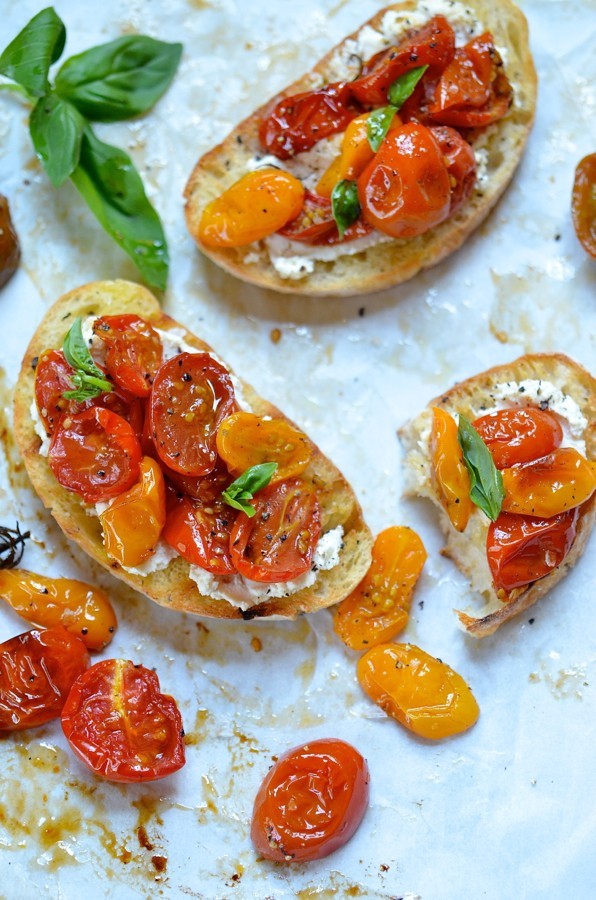 Candied tomato Bruschetta
Serves:
12
500g cherry tomatoes or mixed exotic tomatoes, halved
2 tablespoons olive oil
20ml balsamic vinegar
1 teaspoon castor sugar
A pinch of chilli flakes (optional)
several stems fresh thyme
salt and pepper
For the Bruschetta
1 ciabatta loaf (you can also use a good sourdough or rye bread)
olive oil
100g ricotta
125g goat's cheese
fresh basil (baby basil leaves)
salt and pepper, to taste
Preheat the oven to 190°Celsius. Line a baking sheet with parchment paper and spray with non-stick baking spray. Spread the tomatoes onto the sheet, drizzle with olive oil and balsamic vinegar. Scatter over the sugar, chilli, thyme, salt and pepper. Toss together and turn the tomatoes to face cut side up. Roast for 40-45 minutes or until the liquid is reduced.
In the meanwhile, mix together the ricotta and goat's cheese. Add a light drizzle of olive oil and season with salt and pepper.
Slice the ciabatta and brush with olive oil. Toast on both sides, preferably in a griddle pan or in a hot oven until the bread is crisp and golden. If you lovvvvve garlic, rub a cut clove over the hot bread to get your flavour on!
Spread a generous layer of cheese onto each bruschetta. Pile on the tomatoes and top with basil. Drizzle with a little extra virgin olive oil and freshly ground black pepper.