Brown butter risotto with exotic mushrooms and chorizo pangrattato crumbs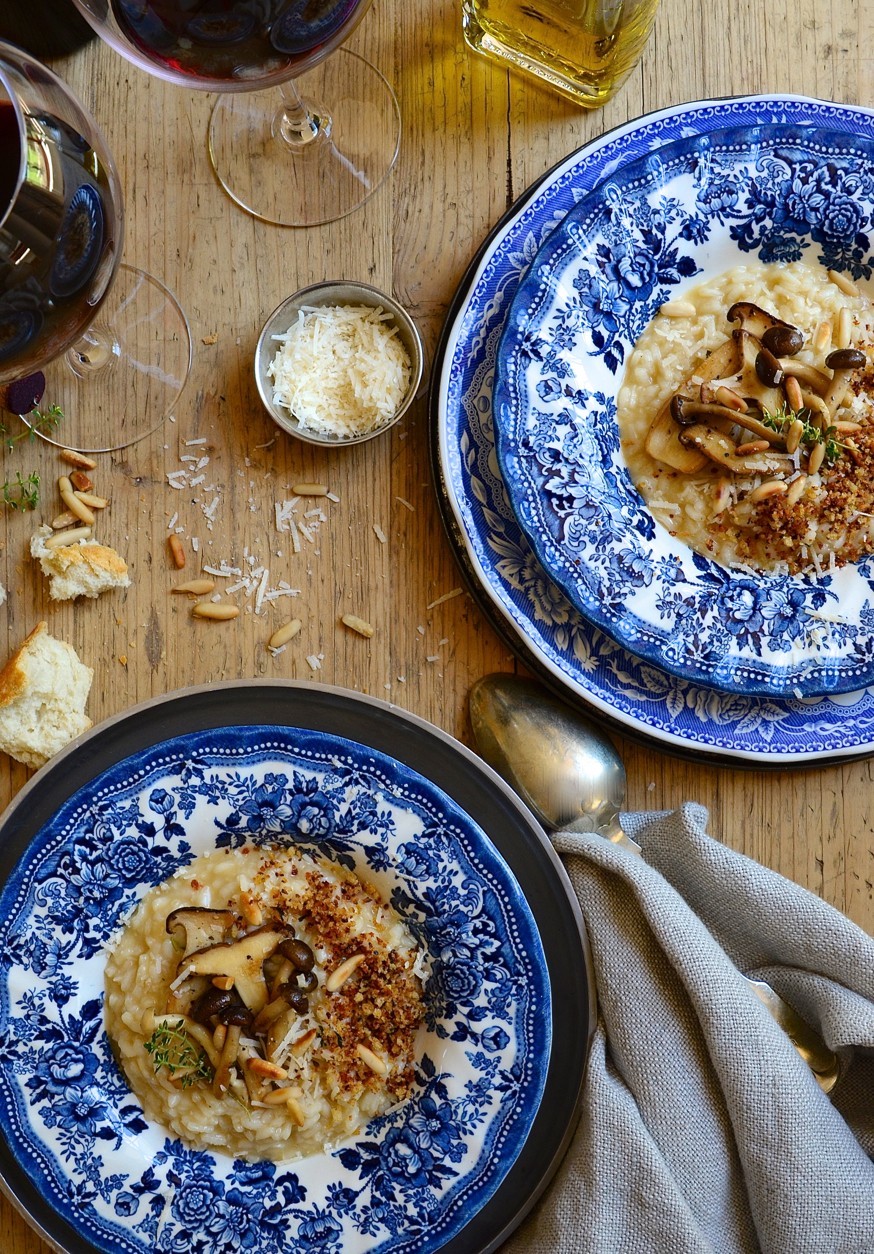 "Cooking is like love. It should be entered into with abandon or not at all."  –  Harriet van Horne       Let's throw caution to the wind and stir up some love with a brown butter risotto. An intimate stay-in Valentine's dinner for two, made with love, which, as we all know, is the 'secret' ingredient to the best food.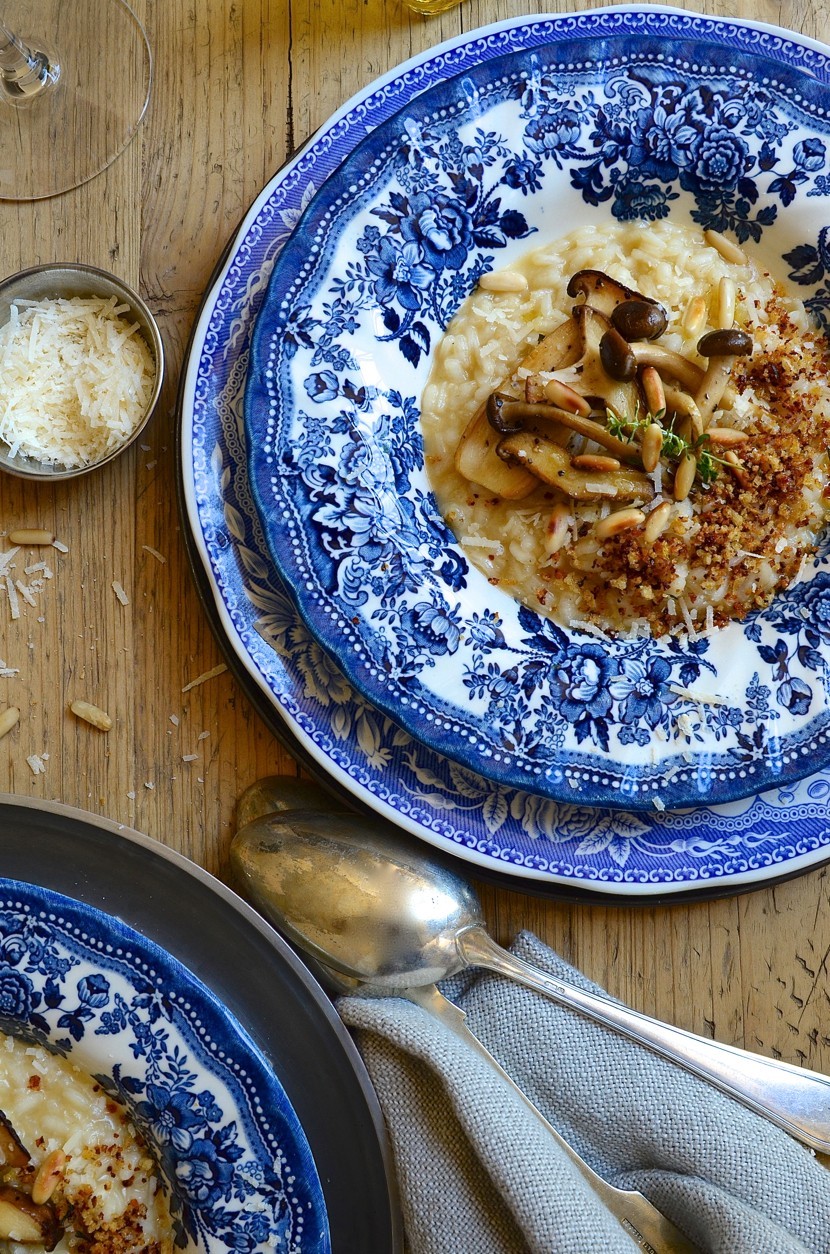 Roma's Italian reastaurant, 1991. The food, Tortellini with a parmesan creamed sauce. The occasion, Valentine's dinner date……….
The pasta itself was unfussy and quite simple but must've been good, really good, or perhaps it had more to do with the company, but my then dinner date, is now my husband. So, I thought it fitting to revisit the 1991 pasta affair, but with make it brown butter risotto instead. This year for Valentine's we're staying in and taking a seat at The table for two. It serves as a reminder to put aside time to cherish and value the person whom you've chosen to witness your life. Since that first dinner date there have been countless memorable meals and some, best forgotten.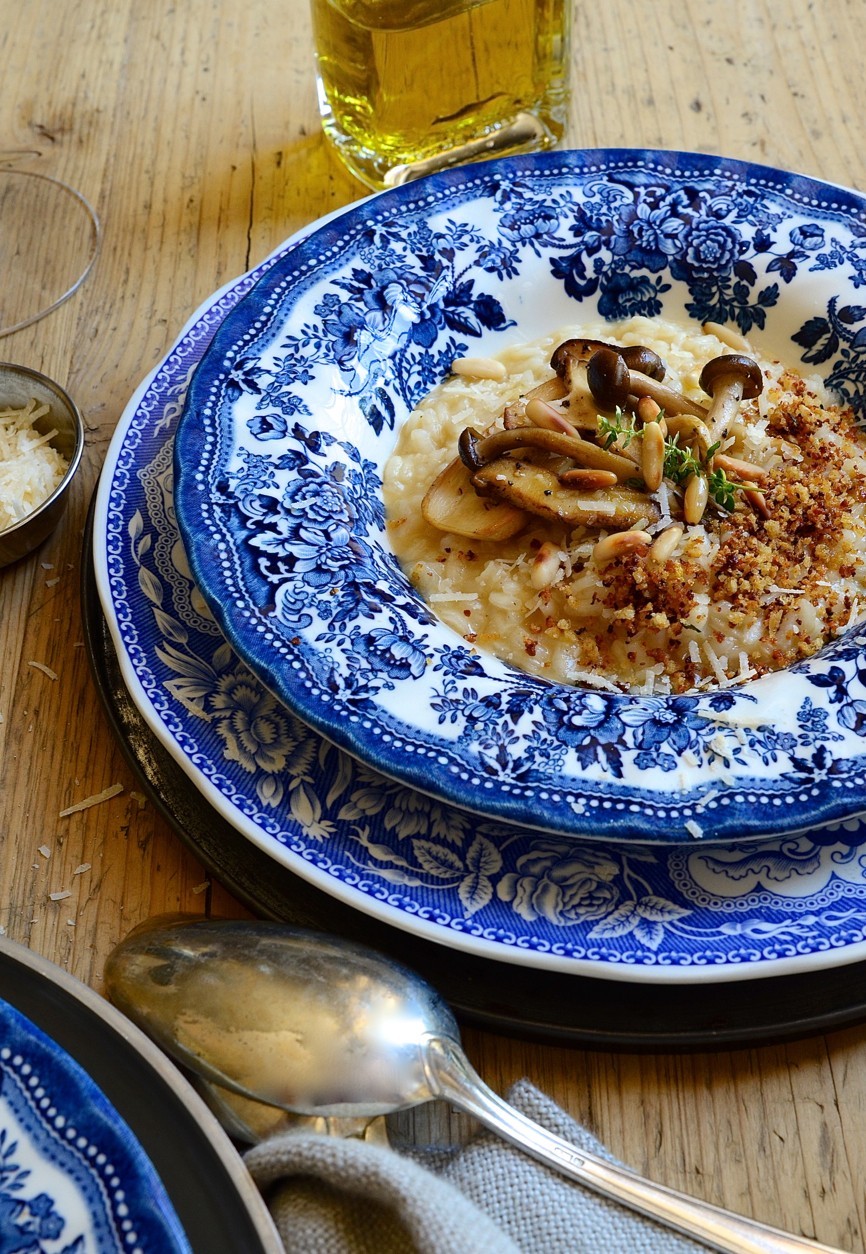 On the menu we have only two options, a main and a shared dessert platter. It sounds sparse but it's a case of less is more. Think quality, not quantity. Although not fussy or flamboyant, the brown butter risotto is luxurious with great depth of flavour. As with most Italian dishes, it speaks of conviviality and comfort. Similarly, well worn relationships and marriage reflect these qualities, a space that allows for honesty and transparency with the assurance that it'll be perfectly acceptable, appreciated and valued for the uniqueness, that is you.
To the Risotto, then. It's not difficult but does require a level of commitment. Constant stirring is key to a creamy risotto. Arborio and carnaroli are short grained, starchy rice and therefore best suited to risotto. Stirring agitates the outer starchy layer, which gives the risotto its signature creaminess. As any Italian will attest to, an authentic risotto does not require additional cream.
As this is a special occasion, a good bottle of wine is essential. For expert advice and suggestions on food and wine pairing, I recommend a to visit Michael Olivier's site. Michael is a food and wine writer, who's knowledge and experience in both the food and wine industry, will undoubtedly steer you in the right direction. Just click on the link to follow his latest writings and wine recommendations www.michaelolivier.co.za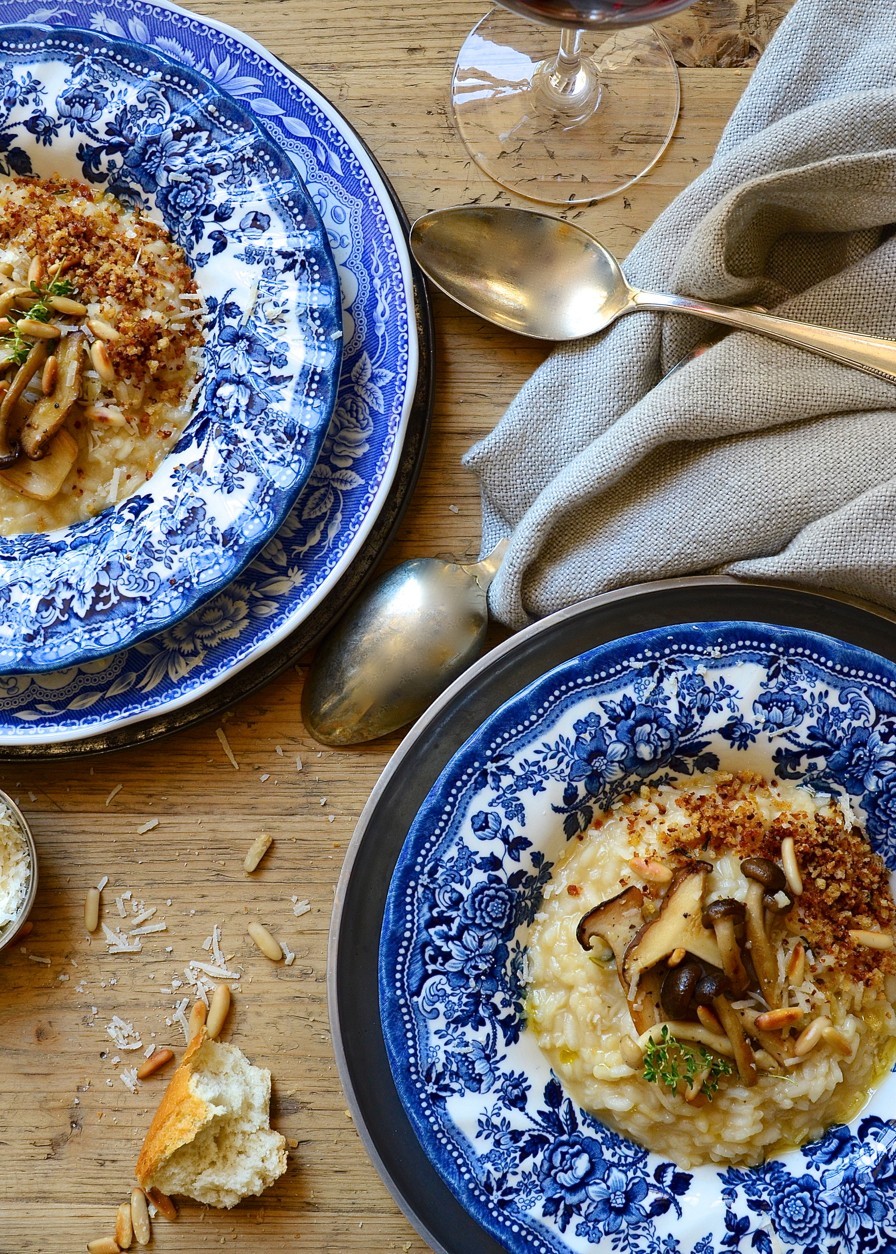 Footnote : Check back here tomorrow for dessert. It's super simple but wow!  Brace yourself……..
Brown butter risotto with exotic marsala mushrooms and chorizo pangrattato crumbs
Serves 2
Marsala mushrooms
100g mixed exotic mushrooms
1 tablespoon olive oil
1 stem lemon thyme
2 tablespoons marsala wine (you could use white wine or sherry instead)
a spritz of lemon juice
salt and black pepper, to taste
Risotto
2 tablespoons butter
1 tablespoon olive oil
1 small shallot, finely diced
zest of half a lemon
125g arborio or carnaroli rice
1/4 cup white wine
500 – 600ml chicken stock
1/4 cup parmesan cheese
salt and black pepper
extra parmesan, to serve
toasted pine nuts, to finish
Pangratatto
Makes 1/2 cup (enough for 4 servings)
3-4 slices day old ciabatta bread, hard crusts removed
1 chorizo sausage (80g), outer casing removed and broken up
1 tablespoon olive oil
a pinch sea salt flakes and freshly ground black pepper
For the pangrattato, place the ciabatta, chorizo, olive oil, salt and pepper in a food processor. Pulse briefly to break down the ciabatta and chorizo. Heat a drizzle of olive oil in a pan and add the crumb mixture.Toast over a medium heat, stirring regularly, until the crumbs and chorizo are crisp and a dark brown colour. Spread onto kitchen paper to drain any excess oil. Set aside to cool.
Heat 1 tablespoon olive oil in a pan and only when the pan is really hot, add mushrooms. Fry for about 3-4 minutes on a high heat. Add the thyme, season lightly and deglaze the pan with the Marsala wine and a squeeze of lemon. Reduce the wine down completely. The mushrooms should be glossy but with no excess liquid. Set aside and keep warm while you make the risotto.
To make the risotto, heat 2 tablespoons butter in a saucepan. Allow it to bubble and foam until it starts turning a deep, nut brown. This should take about 5-6 minutes. Add 1 tablespoon olive oil to the butter, then add in the chopped shallot. Turn the heat down and sauté over a medium heat until the shallots are soft and translucent. Add the the lemon zest and arborio rice to the shallots and stir through to coat in the buttery oil. Once the rice is hot, deglaze with the wine and reduce down by half.
Place the chicken stock in a small saucepan on the hob to keep it hot. Slowly start adding the stock to the rice, one ladle at a time, stirring all the while. Once the stock is absorbed into the rice, add another ladle of hot stock and continue to stir. This process should take about 22-25 minutes, at which point the rice should be tender. You may not have to use all the stock, but do ensure that the risotto has sufficient liquid to keep it loose and moist. Whisk in the parmesan. Check the seasoning only after adding the parmesan as the cheese itself is quite salty. Remove from the heat, cover with a lid and rest for a minute or two.
To serve, ladle into warm bowls, spoon over the marsala mushrooms, scatter with pangrattato crumbs and pine nuts. Serve immediately with extra parmesan on the side.
NB note : Risotto should be loose which means, if your spoon can stand upright, you've gone way left. Depending on the heat at which you cook the risotto, you might need to add a little extra water at the end. Do not add more stock as this would over salt the dish.