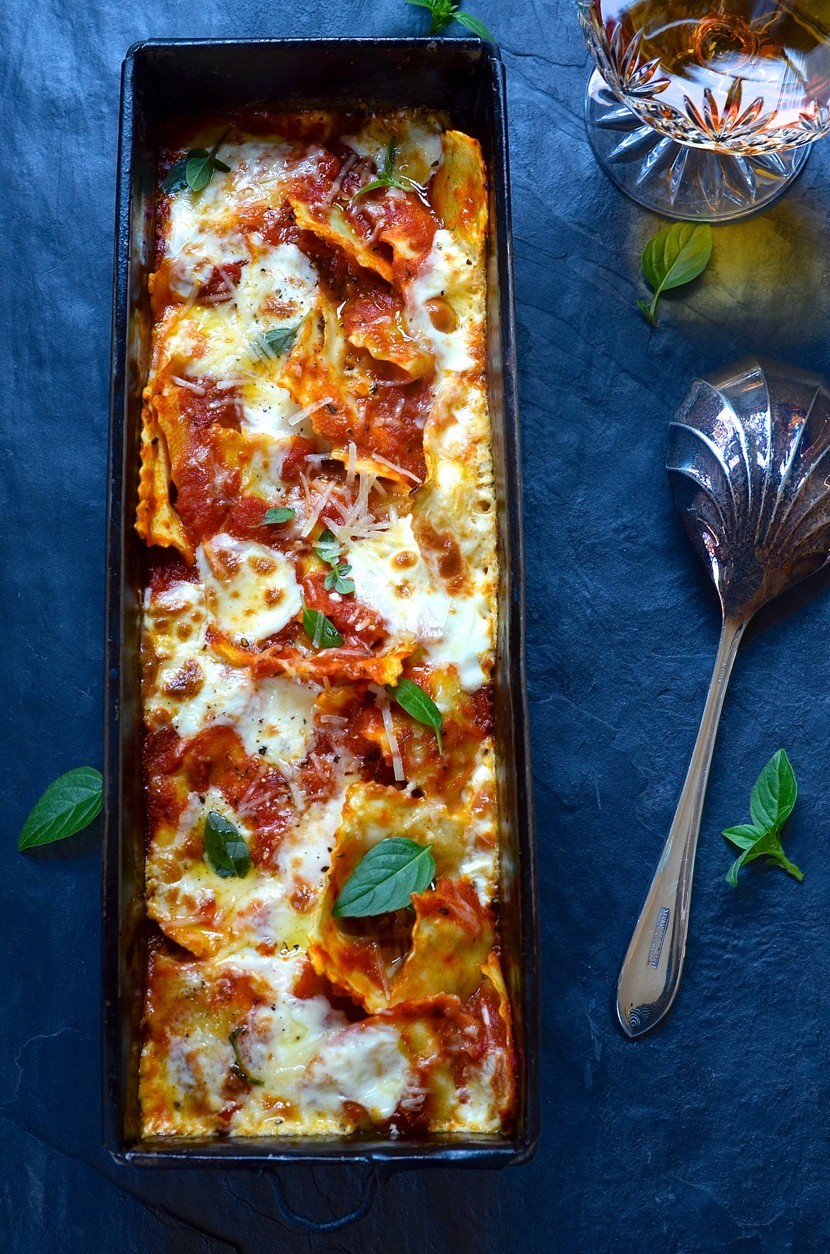 My Arrabbiata Napoletana ravioli pasta bake is comfort food all the way. Pillowy soft spinach and ricotta ravioli smothered in a spicy tomato sauce. Arrabbiata, meaning angry in Italian, is slightly given a kick of heat with the addition of dried red chilli flakes.
This is the kind of recipe you want to bank. I usually make a large batch and freeze them in portions, ready for those days when supper inspiration is lacking. It's a versatile sauce that can be tossed with penne pasta or topped with ricotta, basil and fresh parmesan for a simple but tasty supper. The ravioli is shop bought, so make sure you choose a one that's made with fresh egg pasta. With fillings varying from butternut to spinach or a tender beef ragu, there's plenty to pick and choose.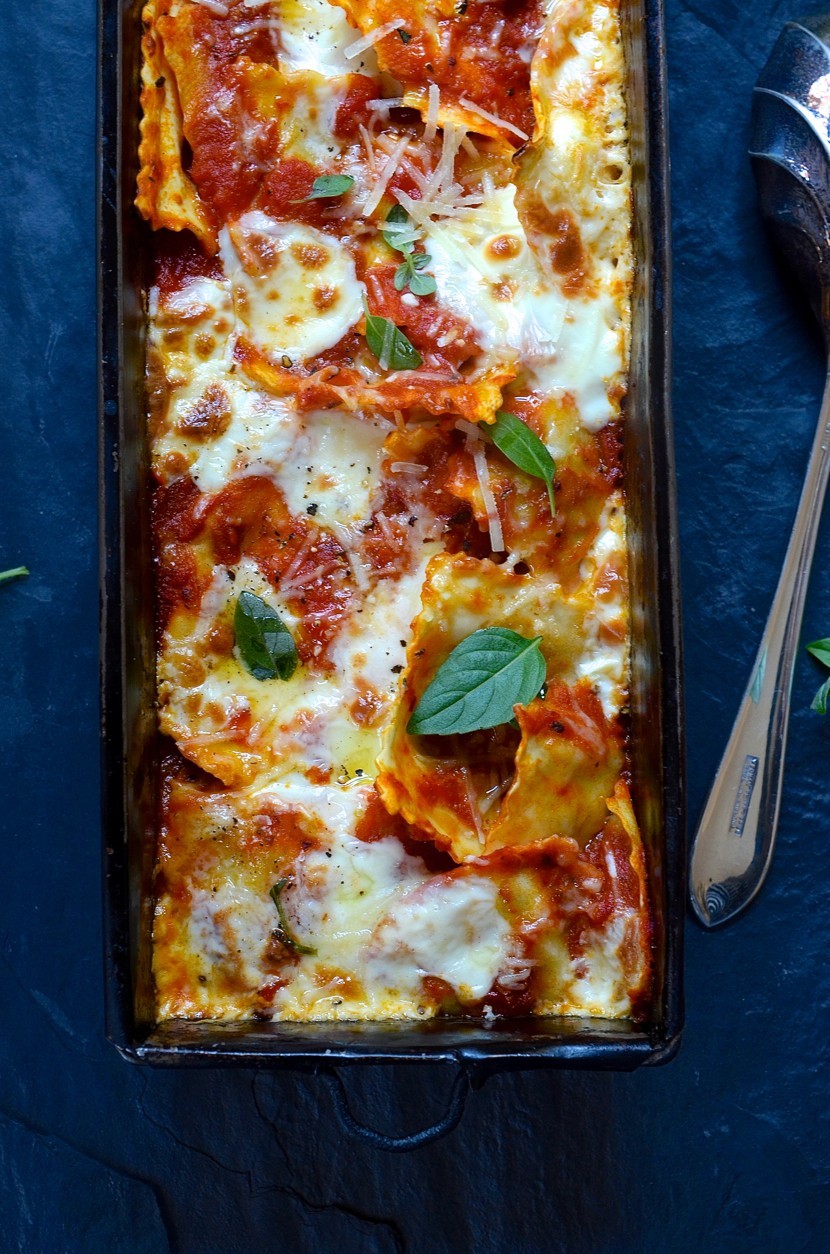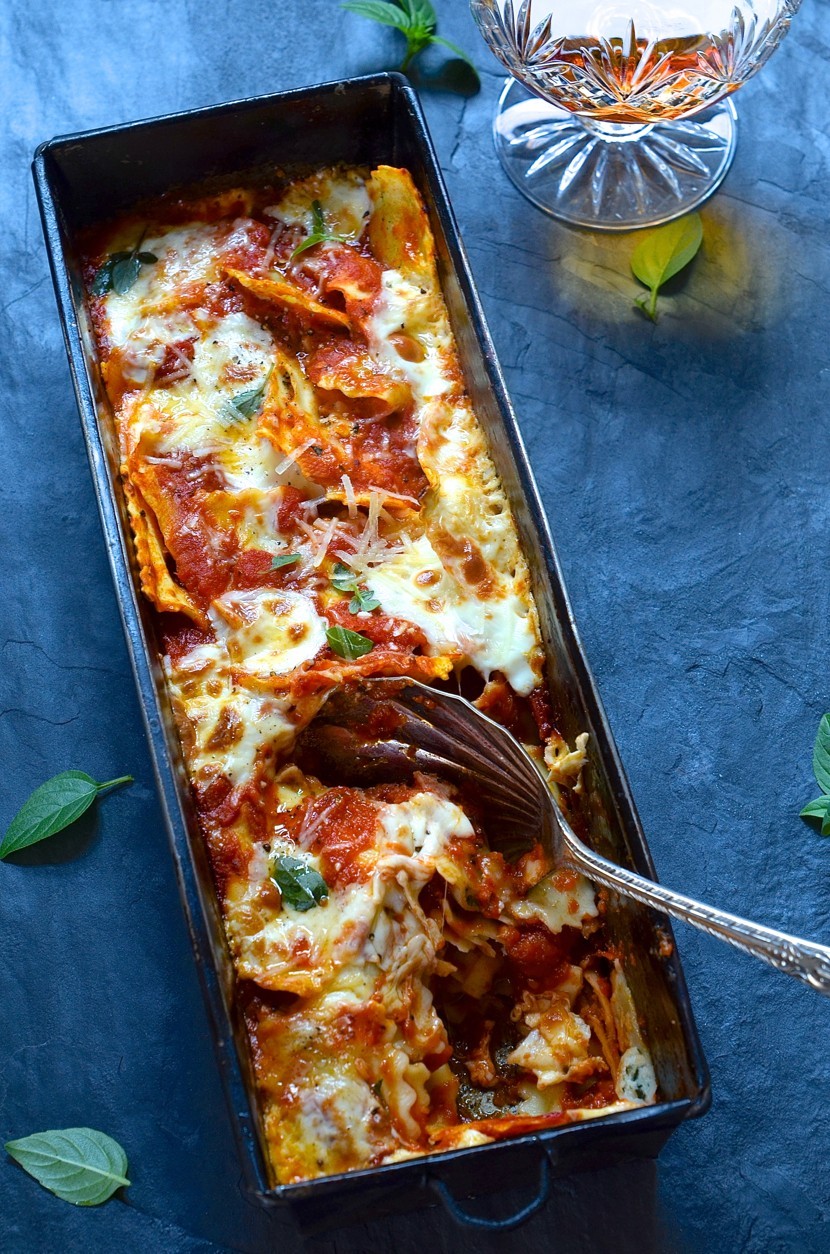 Arrabbiata Napoletana ravioli pasta bake
Serves 4
For the sauce
2 tablespoons olive oil
1 garlic clove, minced
800g tinned whole tomatoes, mulched
1 teaspoon dried oregano
1/2 teaspoon dried red chilli flakes
2 teaspoons sugar
salt and freshly ground black pepper
For the pasta bake
500g spinach and ricotta ravioli
mozzarella
freshly grated parmesan cheese
baby basil leaves, to finish
Preheat the oven to 200º C. Spray an ovenproof baking dish with non-stick cooking spray. Heat the olive oil in a saucepan and sauté the garlic for 2 minutes. Add the tomatoes, oregano, chilli flakes, sugar, salt and black pepper. Bring up to the boil, cover partially with a lid and allow to bubble away for 25 minutes until reduced and the flavour is concentrated. Always taste the sauce to see whether it requires adjusting. If the tomatoes are very acidic, add a little more sugar.
Cook the ravioli according to the packaging instructions. Drain the pasta thoroughly. Tip the ravioli into the hot tomato sauce and toss gently to coat. Transfer the pasta into the baking dish, top with chunks of mozzarella and a handful of grated parmesan. Bake in the oven for about 6 minutes. Turn the oven onto grill and lift the rack to the highest level. When the top is golden and bubbling, remove from the oven, top with basil and serve immediately with extra parmesan on the side.
For more family favourites pastas, you may want to try these easy recipes:
Lemon cream mushroom tagliatelle pasta
Creamy cauliflower Mac and Cheese
20-Minute chicken and spinach pasta