Arrabbiata Napoletana ravioli pasta bake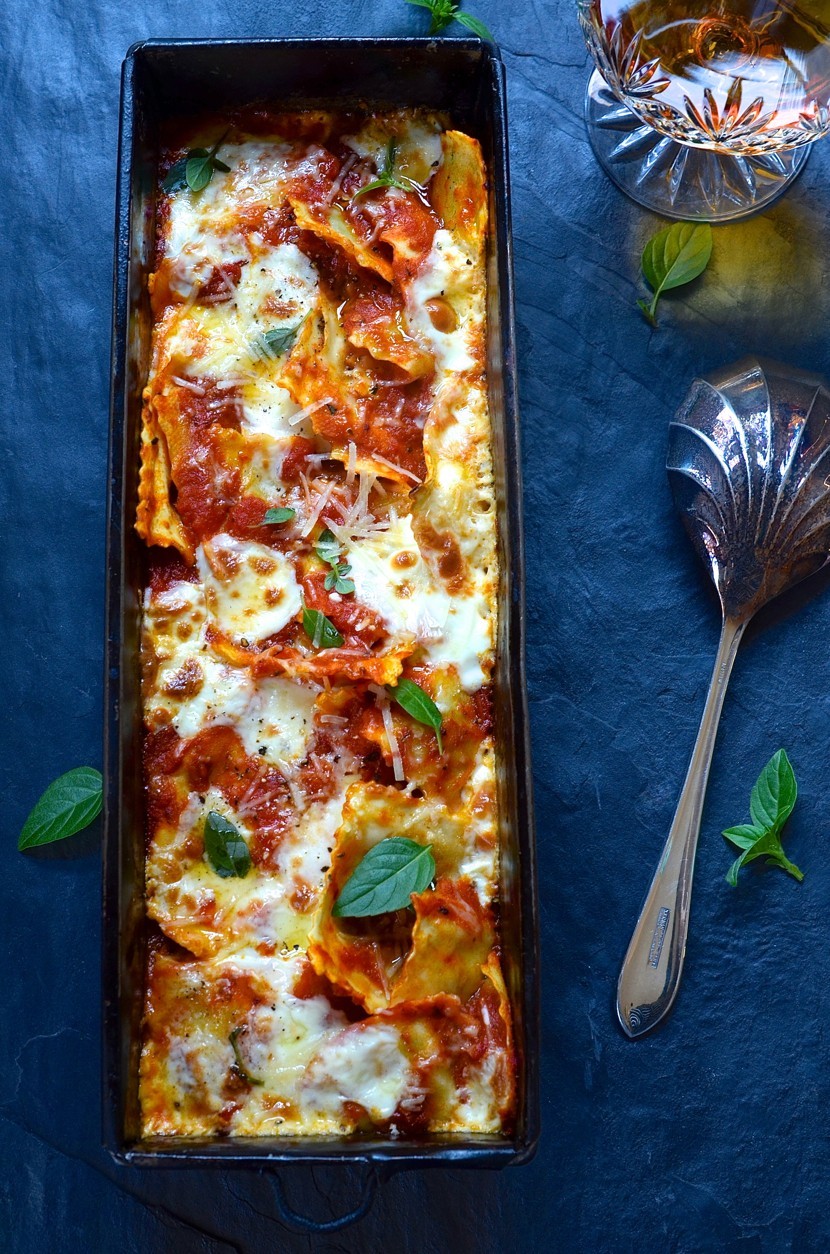 In South Africa we have full cream, low fat and what I call skinny milk (fat-free to everyone else), the latter of which can only be described as cloudy water. So, when I was first offered half and half with my coffee aboard an American cruise liner, I clearly had no idea where it fell within our local milk department, so decided I'd take it black until further notice. Fortunately I'm now equipped with this 'crucial' piece of information, safely tucked away in the event that I'd need it again at some point or should it be required of me to appear particularly intelligent and well versed in all matters American. I'm sure you're wondering what this story has to do with a pasta bake, so here's the link…..
Tonight is all about half and half. Half the dish is made from scratch by you. The other half, which is equally important is thankfully supplied by Woolworths. It's easy comfort food all the way. Who can resist a cheesy Arrabbiata napoletana ravioli pasta bake? As I've mentioned before, a good great sauce is key to holding a dish together and this arrabbiata tomato sauce will do just that. An authentic Italian Napoletana sauce unfortunately does not come in a bottle and with it being one of the simplest sauces to make, I'd definitely opt for homemade. Arrabbiata, literally means angry in Italian, which in this instance translates to a hot and spicy tomato sauce with garlic and chilli. Thankfully, there'll be no angry faces when you make this, only blissfully happy ones, begging for more. This is a basic recipe to bank. Make a large batch and freeze in portions, at the ready for those days that have too few hours. It's a versatile sauce that can be tossed through penne, topped with ricotta, basil and fresh parmesan for a super easy, tasty supper. The ravioli is store bought, so make sure you choose a really good quality brand made with fresh egg pasta. The ravioli filling is a personal choice, but the mellow gentle flavour of ricotta and spinach work for me. You should be done and dusted with this pasta in 35 minutes with time to spare. I'm getting hungry looking at these images, so I'm off……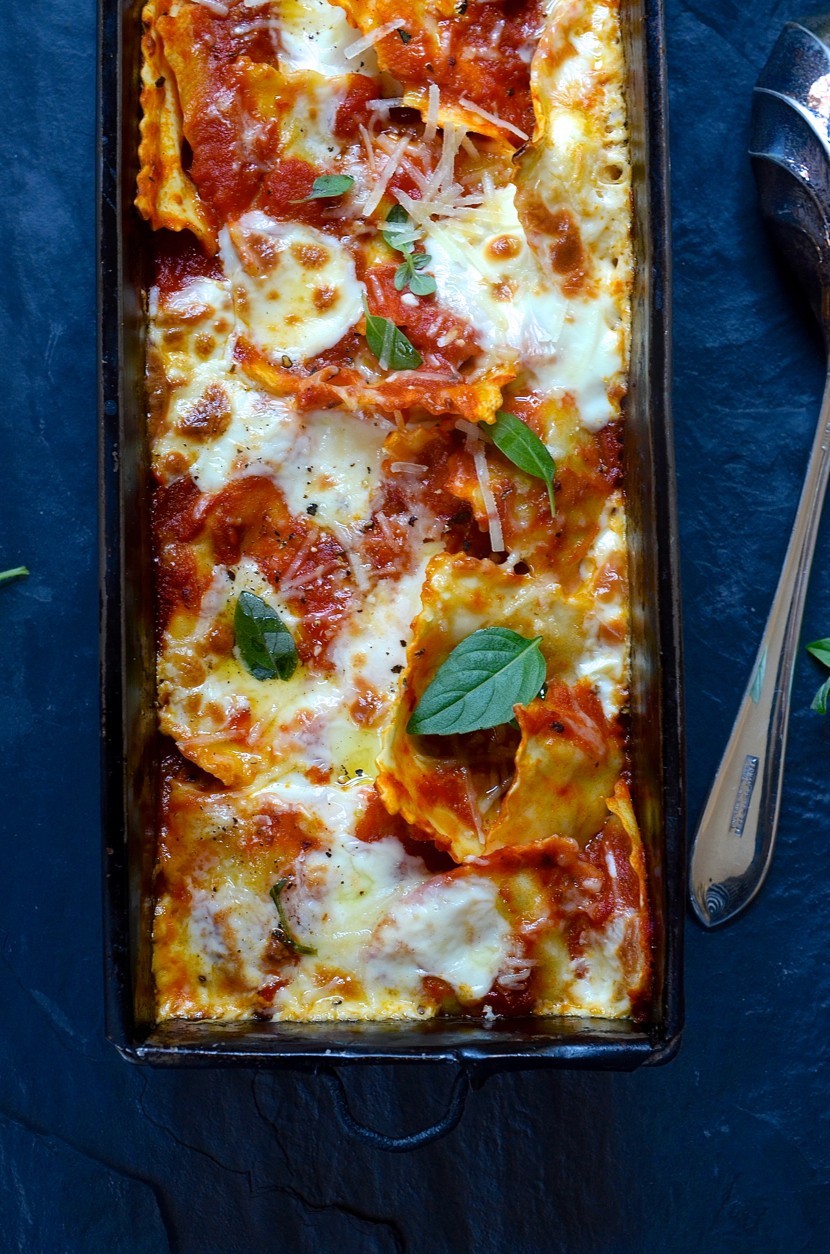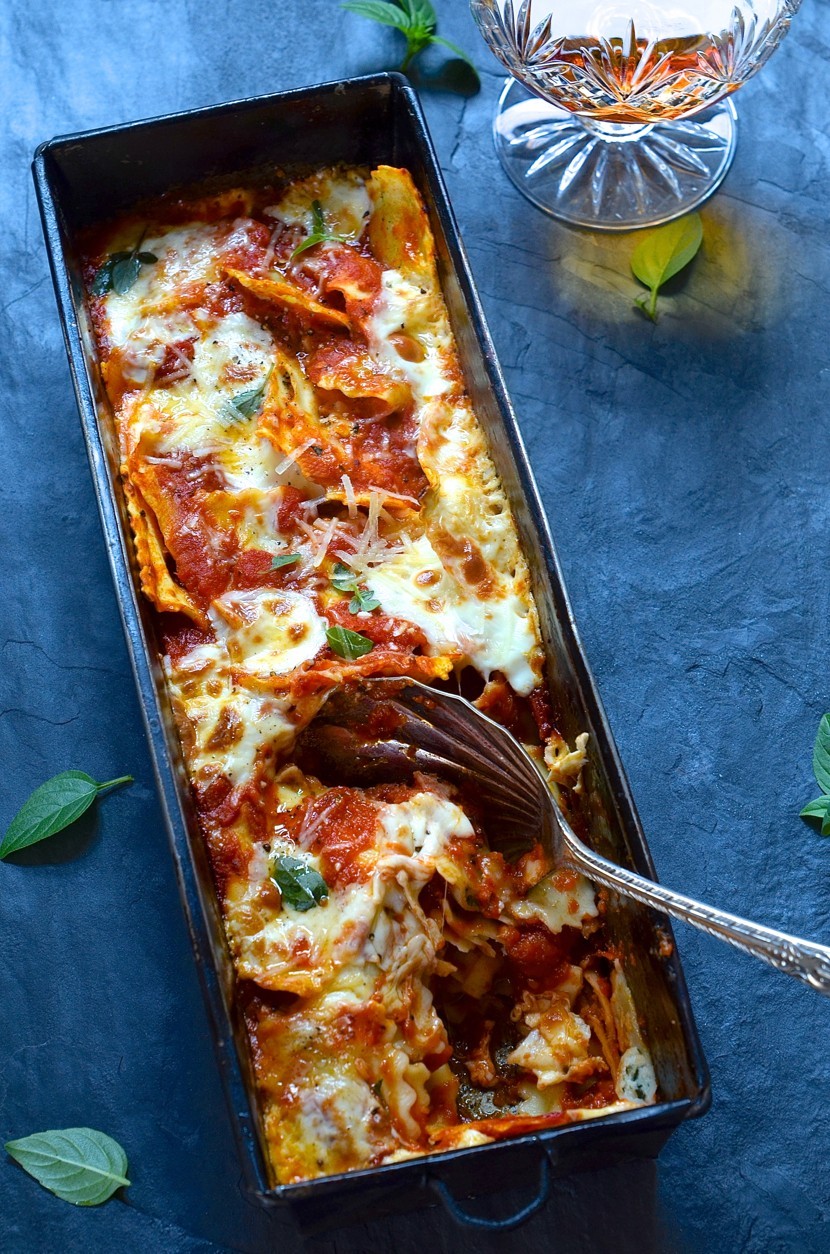 Arrabbiata Napoletana ravioli pasta bake
Serves 4
For the sauce
2 tablespoons olive oil
1 garlic clove, minced
800g tinned whole tomatoes, mulched
1 teaspoon dried oregano
1/2 teaspoon dried red chilli flakes
2 teaspoons sugar
salt and freshly ground black pepper
For the pasta bake
500g spinach and ricotta ravioli
mozzarella
freshly grated parmesan cheese
baby basil leaves, to finish
Preheat the oven to 200º C. Spray an ovenproof baking dish with non-stick cooking spray. Heat the olive oil in a saucepan and sauté the garlic for 2 minutes. Add the tomatoes, oregano, chilli flakes, sugar, salt and black pepper. Bring up to the boil, cover partially with a lid and allow to bubble away for 25 minutes until reduced and the flavour is concentrated. Always taste the sauce to see whether it requires adjusting. If the tomatoes are very acidic, add a little more sugar.
Cook the ravioli according to the packaging instructions. Drain the pasta thoroughly. Tip the ravioli into the hot tomato sauce and toss gently to coat. Transfer the pasta into the baking dish, top with chunks of mozzarella and a handful of grated parmesan. Bake in the oven for about 6 minutes. Turn the oven onto grill and lift the rack to the highest level. When the top is golden and bubbling, remove from the oven, top with basil and serve immediately with extra parmesan on the side.