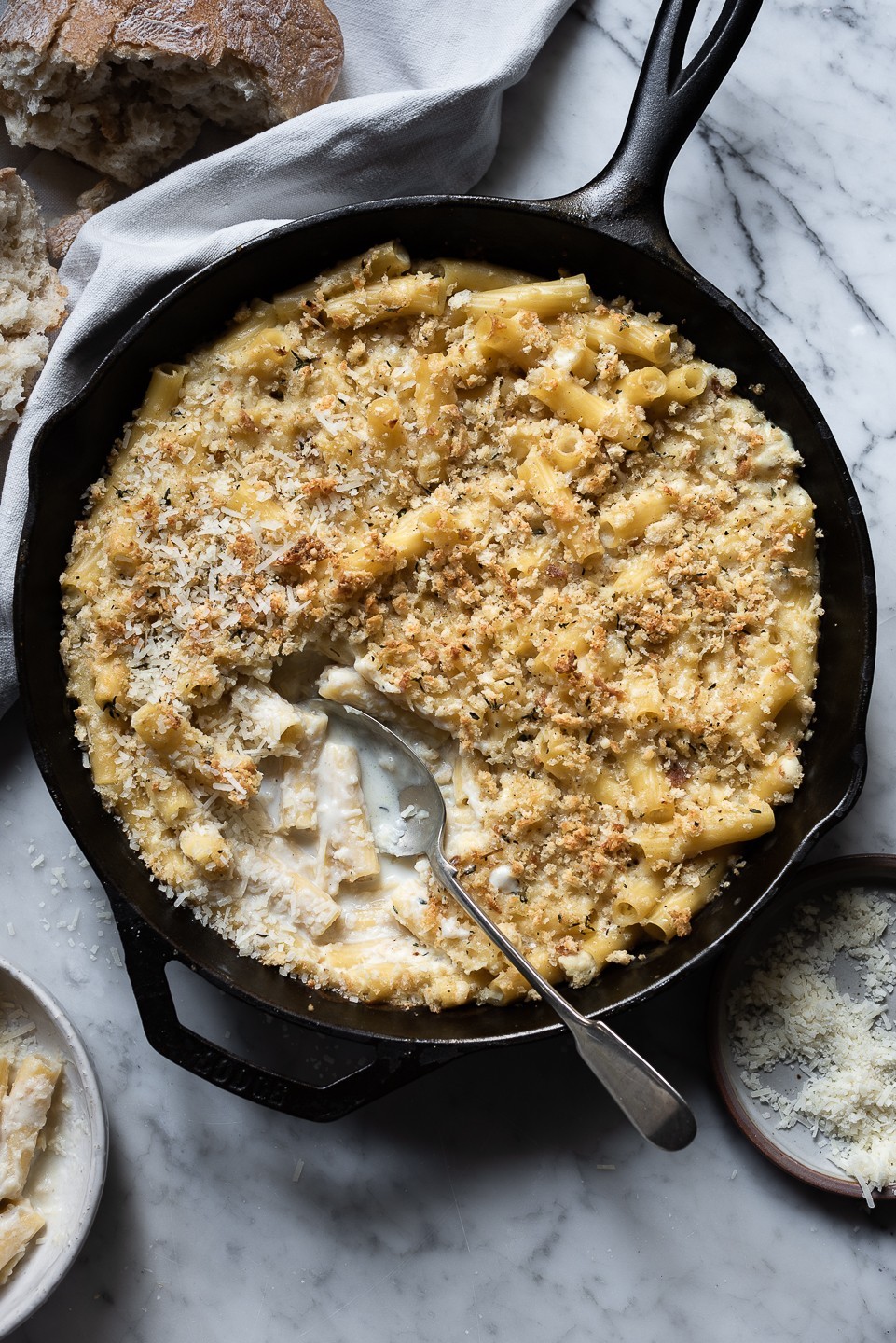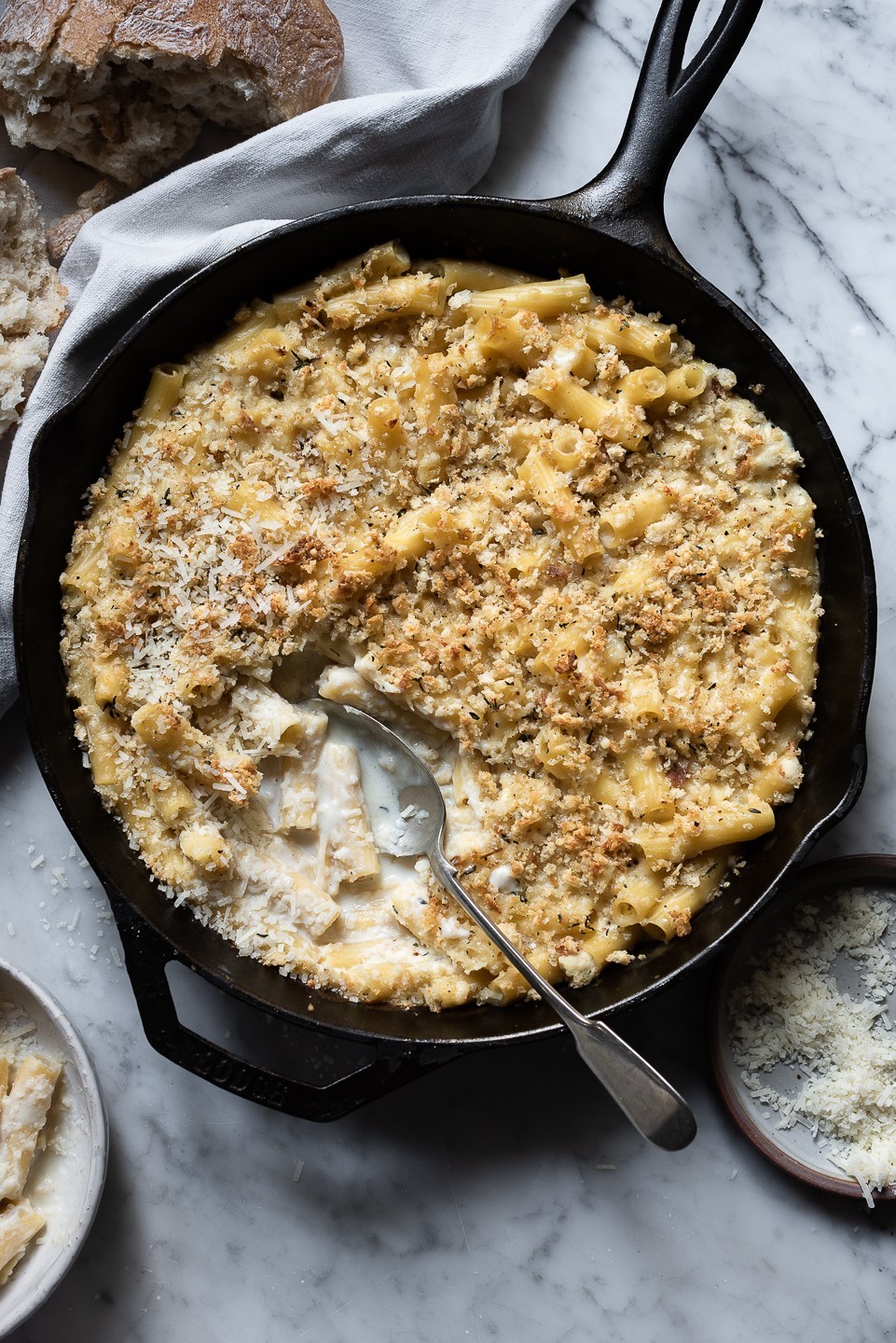 A simple head of cauliflower turned into a creamy cauliflower Mac and Cheese. If this sounds like your kind of easy, chances are you're going to love this simplified pasta bake.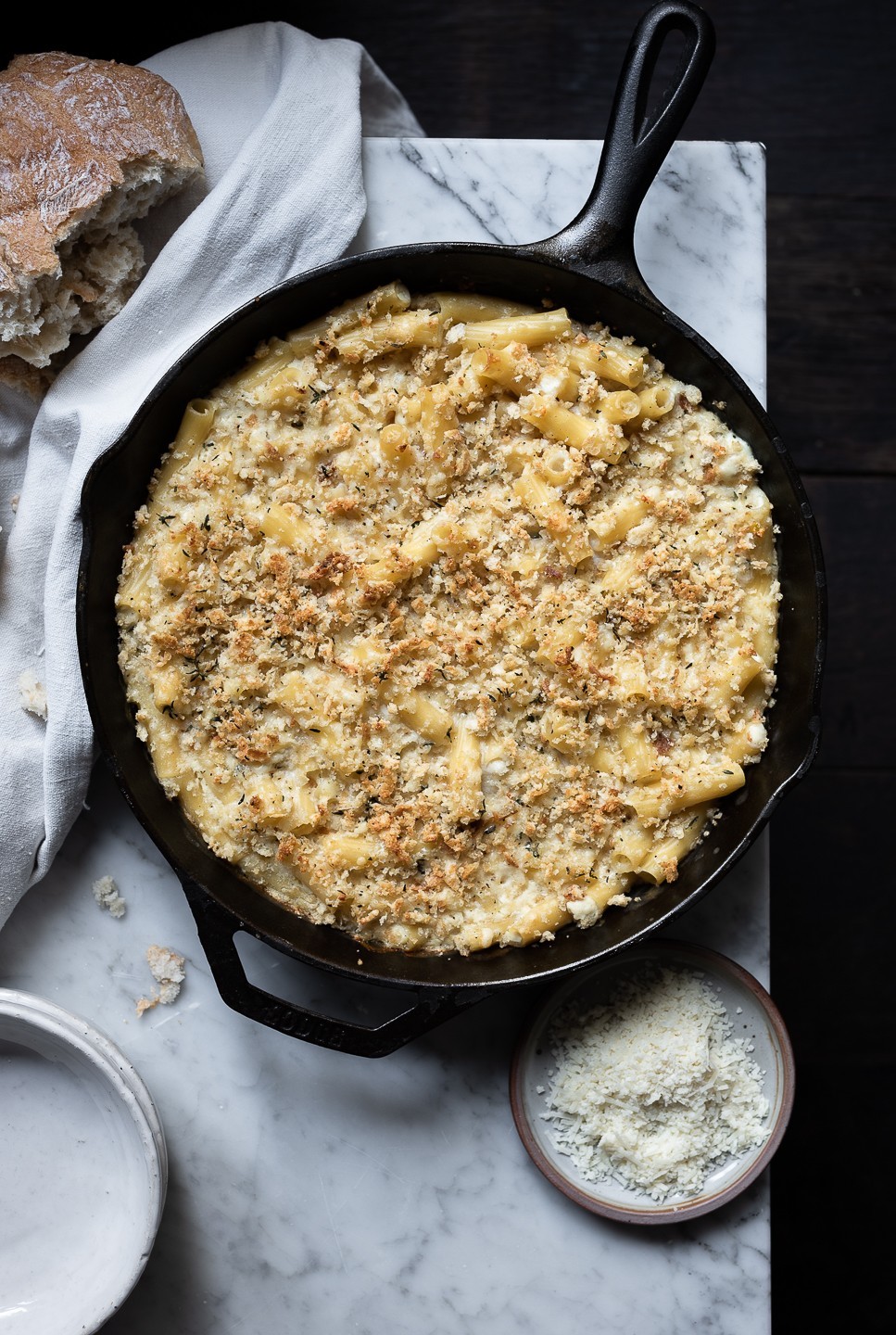 There are endless versions of Mac and Cheese, most of which, are made using a classic cheese or béchamel sauce. This one is slightly different, if not easier than any I've made before. I guess you can say it's a cheat's white sauce? It does away with the roux part and dives headlong into a two-step method that delivers a surprisingly creamy sauce while adding to the daily veggie quota.
To make the sauce, everything goes into a saucepan – cauliflower, stock, milk and flavourings. Cook for 20 minutes, blitz and toss with the pasta. Most tubular pasta shapes will oblige – elbow macaroni, penne or rigatoni, are up for the job. By now, everyone is on board with Mac and Cheese toppings, so there's a generous flurry of thyme and parmesan crumbing. Bake until golden and serve straight from the oven, maybe with a bitter leaf and arugula salad, if you like.
BK note: As with most pastas, the sauce will reduce once baked, and even more so, when left to rest. Pasta is always best eaten immediately.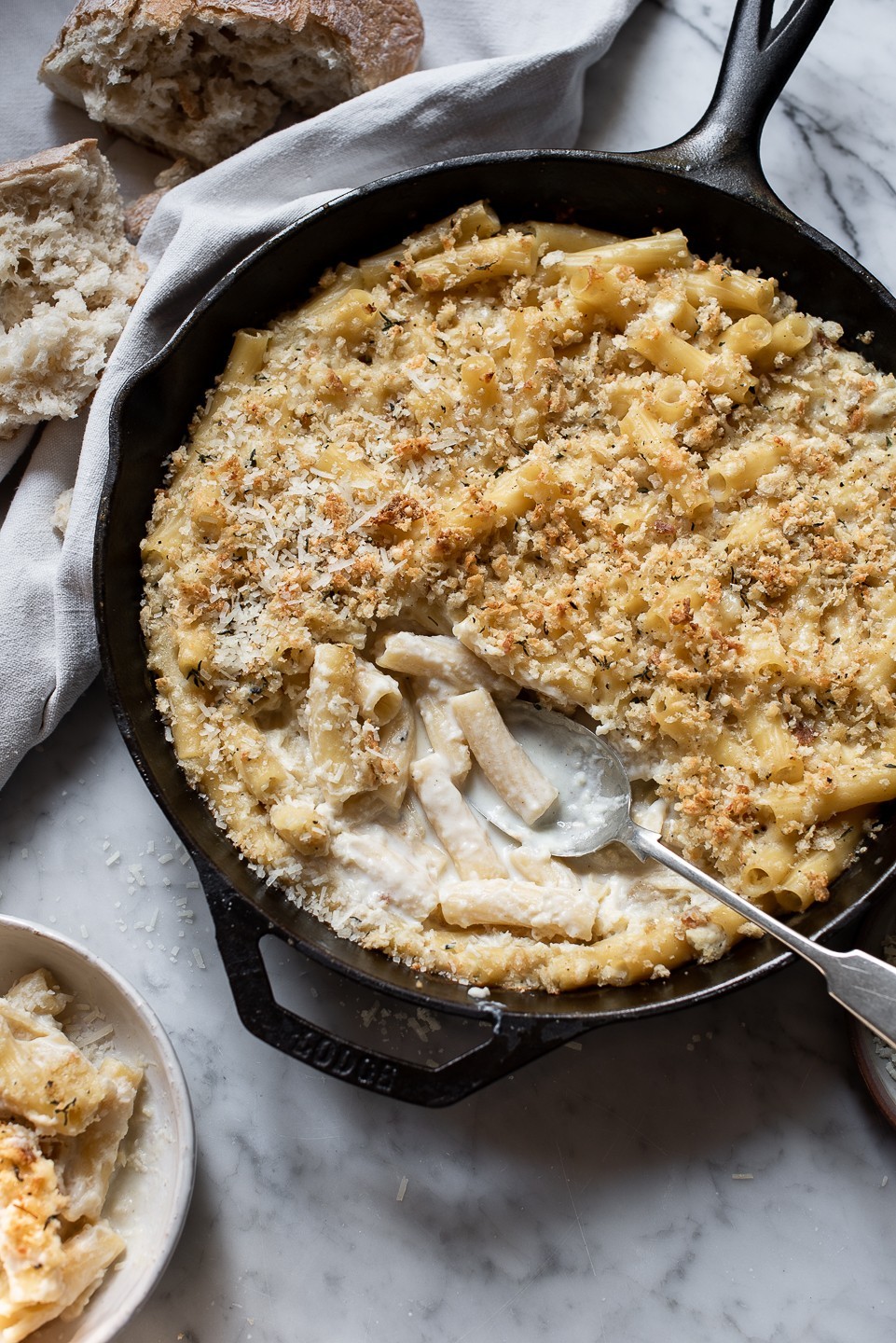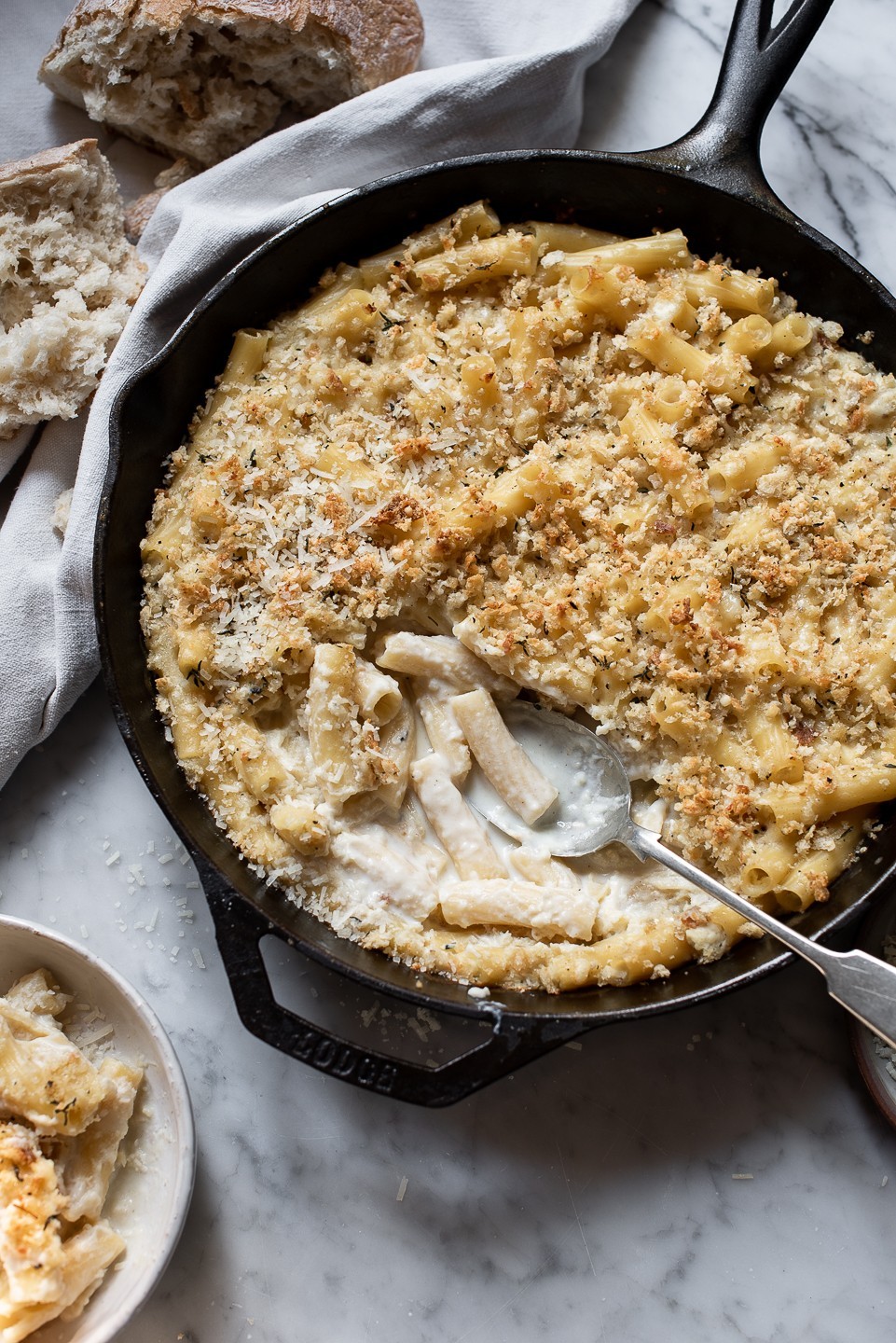 Creamy cauliflower Mac and Cheese
Serves 6
15ml (1 tablespoon) olive oil
1 garlic clove, sliced
1 head cauliflower (about 500g) cut into florets
250ml (1 cup) hot stock (vegetable or chicken, if not making vegetarian)
1 litre (4 cups) low fat milk
5ml (1 teaspoon) Dijon mustard
3/4 teaspoon fine salt
pinch of white pepper
1 1/2 cups mature white cheddar cheese, grated
30ml (2 tablespoons) olive oil
400g pasta, cooked as per pack instructions
Crumb topping
2 slices day old ciabatta breadcrumbs
3 sprigs thyme, leaves picked
1/2 cup grated parmesan cheese, plus extra to serve
15ml (1 tablespoon) olive oil
a pinch of sea salt flakes and cracked black pepper
Make the crumb topping first. Place all the ingredients in a bowl and toss together.
In a large saucepan, sauté the garlic for a minute or two. Add the cauliflower, stock, milk, mustard, salt and pepper. Bring up to the boil and simmer, uncovered, until the cauliflower is tender, about 20 minutes. Stir from time to time.
Add the cheese and stir through. Puree with an emersion blender or in a food processor. Taste and adjust seasoning if needed. Add the olive oil and stir through.
Toss the cooked pasta and cauliflower sauce together, then transfer to a baking dish. Scatter over the crumbs and bake for 20-25 minutes at 210º C. Serve immediately.
More crowd-pleasing pasta recipes:
Roasted cauliflower Mac and Cheese
Arrabbiata Napoletana ravioli pasta bake
Lemon cream mushroom tagliatelle pasta
The ultimate green basil pesto pasta