Roasted cauliflower Mac and Cheese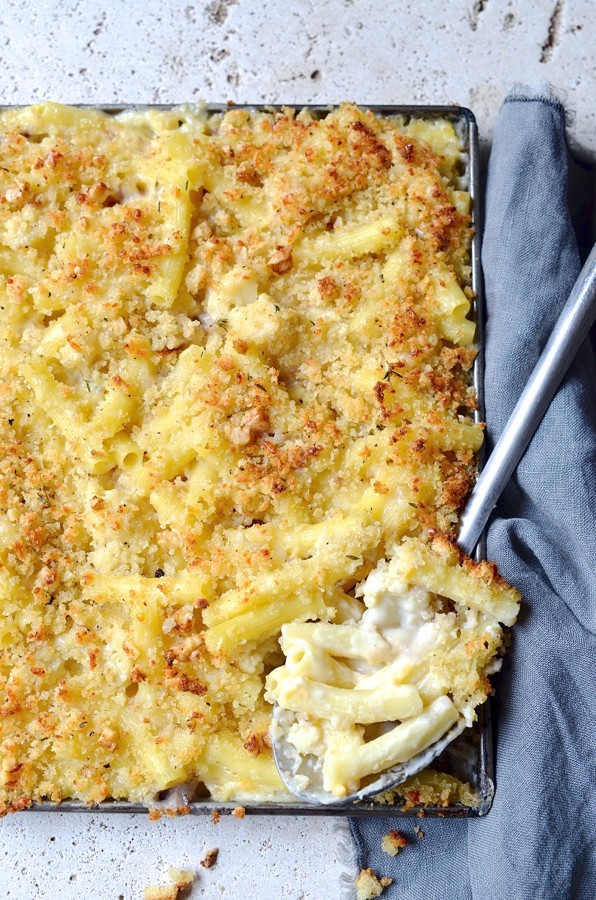 Mac and cheese, a sure-fire crowd feeder and pleaser. It's one of those, more bang for your buck success stories. I have several versions, this being one of my family's favourites. While the Roasted cauliflower Mac and cheese recipe is my own, the idea to do a sheet pan bake is one I found on Food 52. Amanda Hesser cleverly explains why a shallow baking sheet is the way to go. Much like the Oprah show where everyone gets a free gift – You get one and you get one and you! It's crunchy toppings for everyone!! With the creamy pasta spread thin, there's more space for even distribution of parmesan and herb crumble. Arguing over who got more will dwindle and peace in the home shall be restored.
Cheap and cheerful. These are buzzwords to bear in mind for 2016. My mission (sounding all official-like), is to dispel any notions that inexpensive food is second rate. Notice I said cheap and cheerful, not cheap and nasty! I'll be tackling obstacles like how to feed a crowd without dipping into your access bond and why store cupboard ingredients can become your new best friends.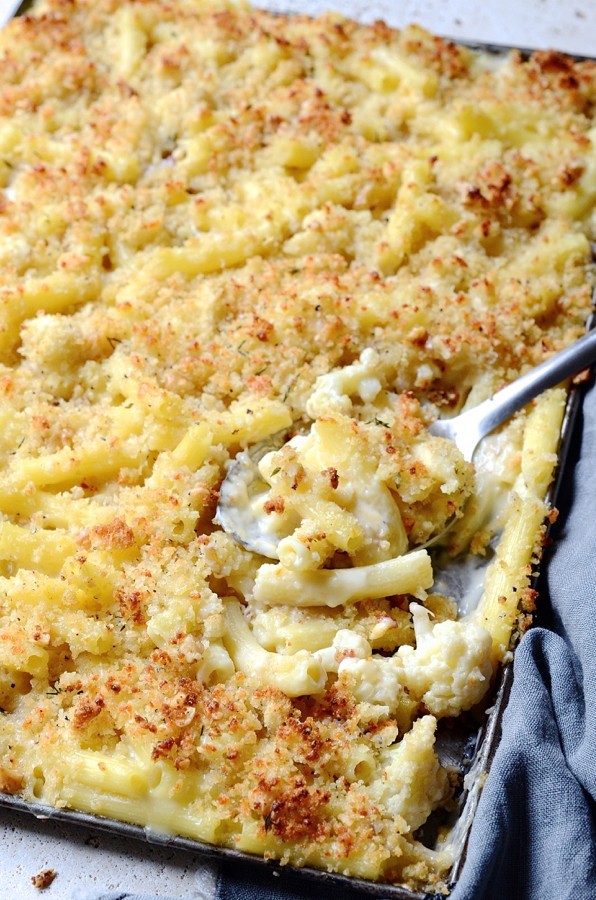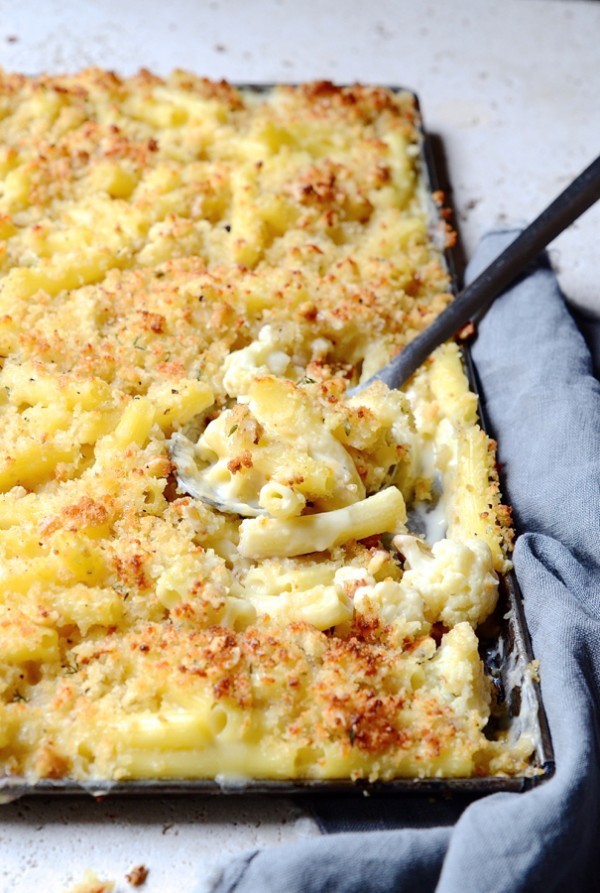 To make this family favourite supper even more attractive, we have the current reigning star of the vegetable kingdom, cauliflower, nestled neatly in between. A quick oven roast will build additional flavour but if you're pushed for time or just couldn't be bothered, add the cauliflower florets to the boiling pasta water for the last 4 minutes of cooking. If Meat-free Monday fills your family with dread, save this recipe or this Ravioli pasta bake to your 'must make it tonight board' and see how your score card gets a big smiley face stamp.
The ingredient list is quite lengthy, but don't panic. There's no foraging in the woods for weird and wonderful produce. Most items will be everyday staples like milk, bread, butter and cheese. See, we're halfway there already. Parmesan and walnuts are optional, not essential. I would however recommend using parmesan as its flavour is unrivalled and a little goes a long way. Substitute with mature cheddar or if you prefer a stringy cheese topping, mozzarella would be good. Big important note: Eat straight from the oven. Pasta waits for no man…..
This recipe is featured on The Feedfeed along with 50 more mac & cheese's. A must visit for serious pasta lovers!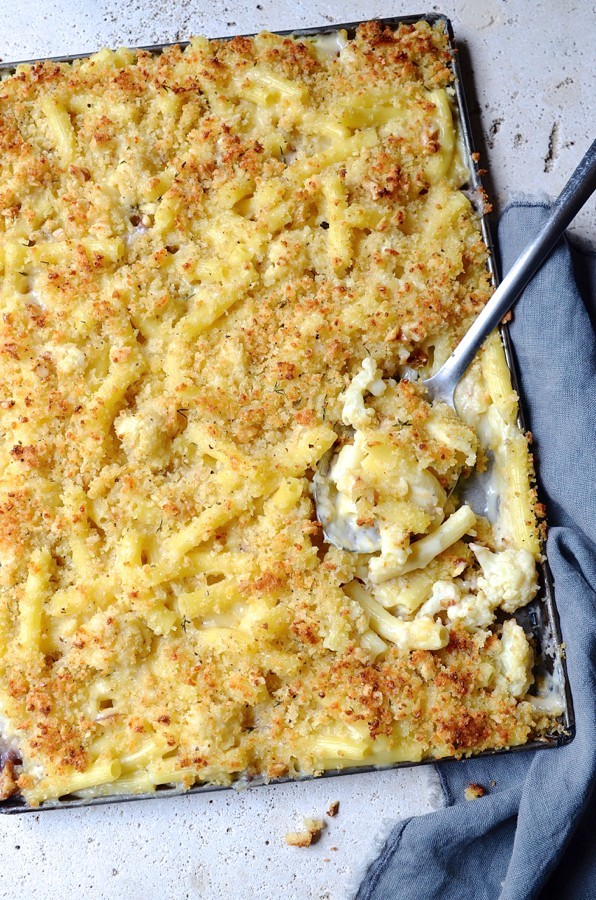 Roast cauliflower mac and cheese
Cheese sauce
60g butter
50g all-purpose flour
750ml milk
1 teaspoon Dijon mustard
1/2 teaspoon salt
1 1/2 cups mature cheddar, grated
The pasta part
1 head cauliflower, broken into small florets
2 tablespoons olive oil
salt and pepper, to taste
350g macaroni pasta, cooked and drained
Parmesan and walnut crumb topping
2 cups ciabatta breadcrumbs
3 tablespoons melted butter
1/4 cup roughly chopped walnuts
1/2 cup finely grated parmesan cheese
2 sprigs fresh thyme
salt and freshly ground black pepper
Method
Start with the cheese sauce. Melt the butter in a saucepan. Add the flour and whisk into the foaming butter until combined. The roux will be quite firm at this point. Add the milk in stages, whisking all the while. Once the milk is absorbed, repeat the process several times until you have used all the milk. This method ensures a lump-free consistency and eliminates a 'raw' flour taste. Stir through the Dijon mustard and season with salt. Add the cheese to the white sauce and stir until melted.
Preheat the oven to 180º C. Spread the cauliflower florets onto a roasting tray, drizzle with olive oil and season. Toss to coat and roast for about 20 minutes.
For the crumb topping, mix all the ingredients together in a bowl. Rub through by hand to ensure the breadcrumbs are well coated.
Turn the oven up to 200º C. To assemble the Mac and Cheese, pour the cheese sauce over the cooked macaroni. Add the cauliflower and fold through. Transfer to a baking sheet and spread the parmesan crumbs on top. Don't press down as you want the crumble to be light and chunky. Bake for about 15 minutes until golden.