Broccoli chicken casserole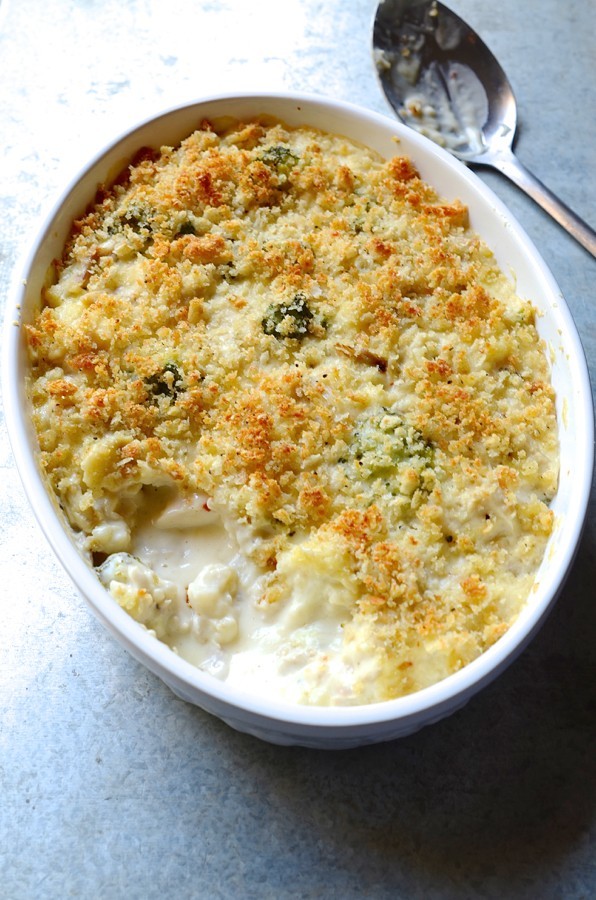 Broccoli chicken casserole is a crafty way of weaving healthy and comfort into one irresistibly good family supper. The familiar is a form of comfort, so too the memory of something delicious that you recall eating as a child. For me, Broccoli chicken is one such dish. Not gastronomically weird, just honest homestyle food. It's this kind of comfort that emits sighs of gratitude and pleasure whenever it lands on the supper table. With broccoli, cauliflower and chicken a creamy cheese sauce, this crunchy crumbed casserole is an all-in-one supper that never disappoints.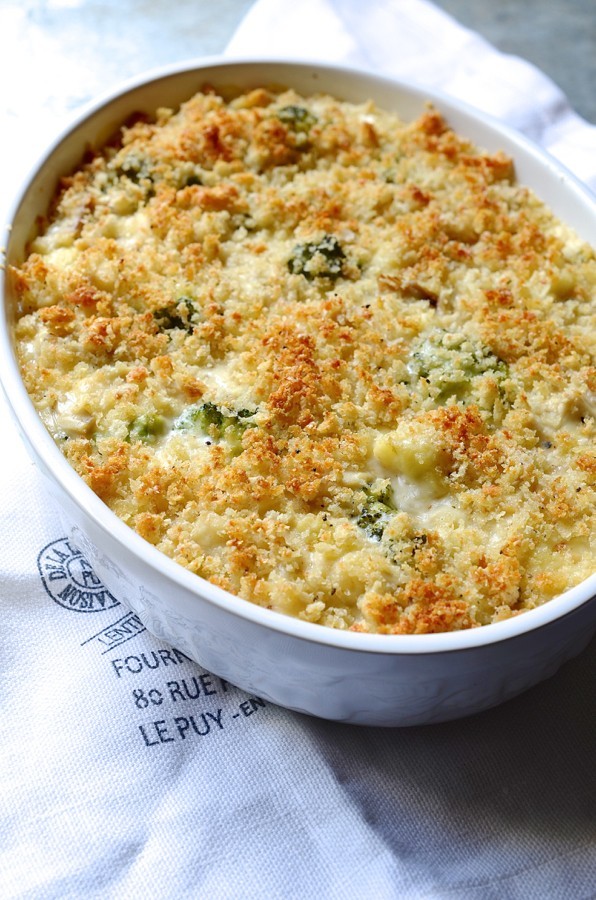 Let's be honest. Finding creative ways to include more vegetables into the family's diet is on every mother's invisible to do list. This broccoli chicken casserole is the perfect time to sneak in a couple of extras. As we all know, cauliflower loves a good cheese sauce, as does broccoli, so let's throw them both in here. These veggies can be rather blah, so a flavour boost is a definite must. Instead of boiling or blanching, I've pan-roasted the florets in lemon-infused olive oil with a smattering of chilli flakes. It's not essential, but adds extra punch. Taking this route will prevent water-logged and sadly overcooked veg.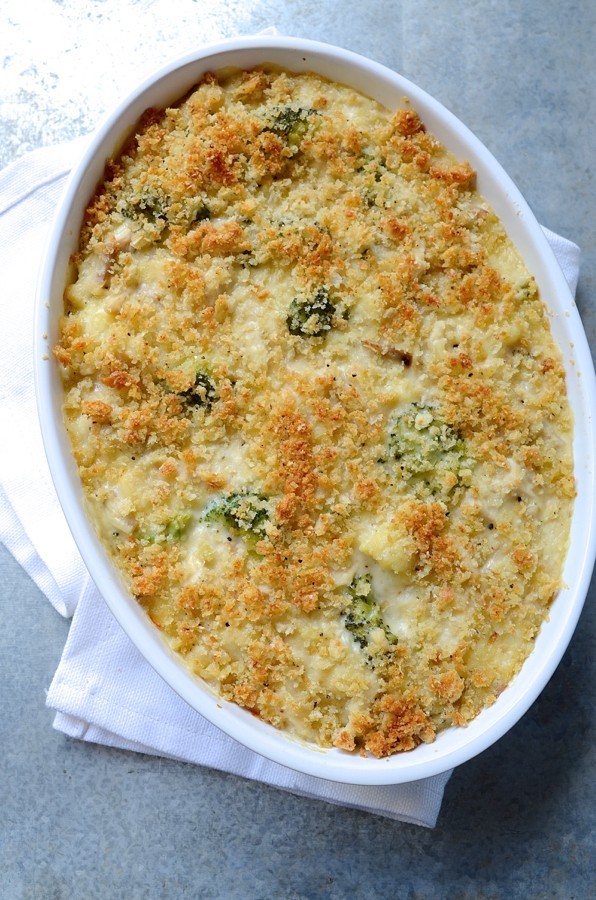 In the food world, toppings are everything. From muffins, to streusels and even smoothies. So fairly then, this casserole should receive equal treatment. A little crunch goes a long way, especially when you say parmesan crunch. Day old sourdough or ciabatta bread is perfect for this, providing the all important rubble-textured crumb topping. I coat the crumb and parmesan mixture in lemon enhanced extra virgin. Baking in the oven, you can literally smell the lemony deliciousness wafting through the kitchen. And as we all know, smell is the precursor to taste and this one's going to be bang on! As to how many servings it'll yield? It depends. It should feed 6 hungry mouths, but regrettably we only managed four! In our defence, we didn't have sides or rice, which makes our greedy appetites sound completely acceptable?
PS. Make ahead and freeze for a weeknight stand-by. A casserole is also one of the most welcomed 'get better friend' meals, so spoil someone in need of a little TLC.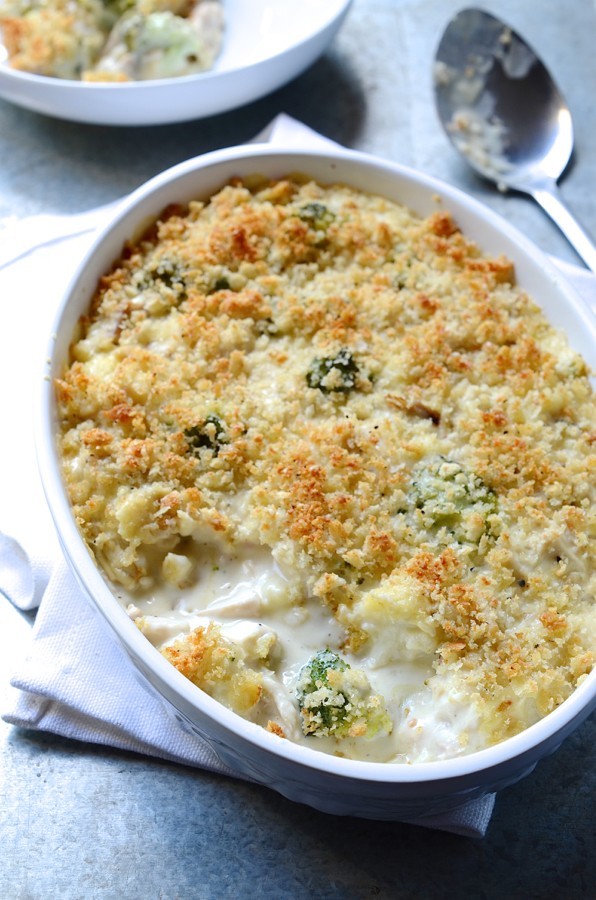 Broccoli chicken casserole
Broccoli chicken casserole
Prep time:
Cook time:
Total time:
Ingredients
2 tablespoons lemon-enhanced extra virgin olive oil
1 medium head of cauliflower, cut into florets
1 medium head of broccoli, cut into florets
pinch of chilli flakes
squeeze of fresh lemon juice
3 cups cheese sauce (see Cauliflower mac and cheese recipe)
2 cups roasted chicken, cut into bite sized pieces
1/2 cup mature cheddar cheese, grated
1/4 cup milk
1 cup day-old bread crumbs
1/3 cup grated parmesan cheese
2 tablespoons lemon-enhanced extra virgin olive oil
Instructions
Preheat the oven to 200ºC.
Heat the olive oil in a wide based pan. Add the cauliflower and broccoli florets and stir-fry for several minutes. Season with salt, pepper and chilli flakes, if using. Add a splash of water (about 3 tablespoons) and allow to steam for about 5 minutes until the water is completely evaporated. Squeeze over the lemon juice and set aside.
In a large bowl, combine the broccoli, cauliflower, cheese sauce, chicken, grated cheddar cheese and milk. Check the seasoning. This casserole likes freshly ground pepper, so I add a little extra. Transfer the entire mixture to a lightly greased, ovenproof dish.
For the topping, combine the bread crumbs, parmesan cheese and lemon-enhanced olive oil. Rub together to coat the crumbs. Scatter liberally over the chicken mixture and bake for 25-30 minutes until golden and bubbling.