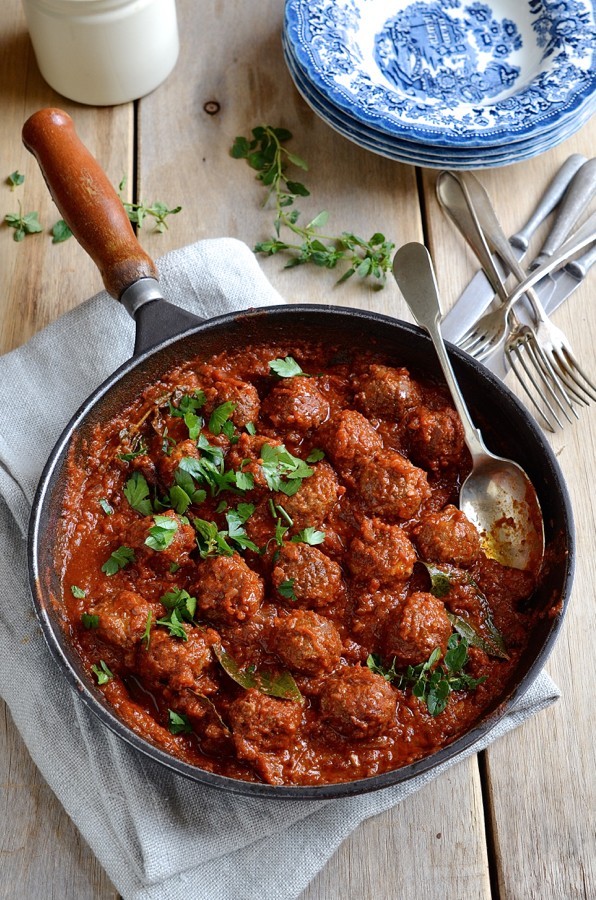 Furrowing its way between a thoroughly festive feed, is this midweek supper. Offering solace from the sweetest of Christmas bakes, these Moorish, spicy Spanish meatballs with a burgundy red tomato sauce brings savoury relief. For want of a better description, think of it as a one-pan tapas party in the comfort of your very own kitchen. Awesome!
In the midst of a bustling morning in the kitchen whipping up berry jellies, pannacotta puds and caramel date slices, dinner inspiration was rather lacking. Okay, completely non-existant really. Random thoughts darted off in every direction as to what I could throw together with the least amount of effort and still taste amazing? After much contemplation, I finally settled on meatballs. This seems to happen rather often. Other meatball favourites are these North African Chermoula meatballs or juicy Italian Prosciutto meatballs and spaghetti. I've never met anyone who doesn't like meatballs. When gathered 'round the kitchen table and everyone start to count the balls for exact divisible portions, you know they're kind of special.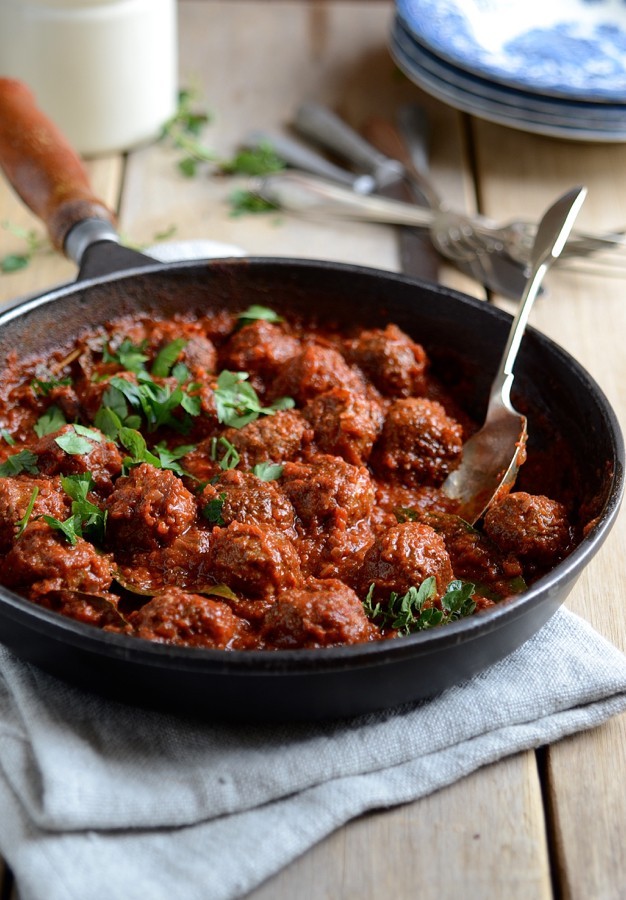 The Spanish are masters of the spice route. Warm, earthy aromas of cumin, coriander, chilli, paprika and oregano mingle with a gutsy red wine to deliver bang-on Spanish flavours. This post was completely unplanned but it turned out so delicious that I thought I'd quickly share it with you. I'm serving mine with a butter bean mash, which is super-creamy, simple and a healthy carb alternative. Fluffy mashed potatoes or polenta will be equally good. If you need to make these gluten-free or Tim Noakes friendly, omit the breadcrumbs and replace with ground almonds.
Spanish Meatballs
Prep time:
Cook time:
Total time:
Serves: 4
Spanish meatballs
For the meatballs
500g free-range beef mince
1/3 cup fresh white breadcrumbs
1 egg
5ml (1 teaspoon) ground cumin
2.5 ml (1/2 teaspoon) ground coriander
1 teaspoon dried oregano
1/2 teaspoon red chilli flakes
3/4 teaspoon salt
freshly ground black pepper
For the tomato sauce
2 tablespoons olive oil
one large red onion, diced
1 -2 garlic cloves, minced
5ml (1 teaspoon) ground cumin
A heaped teaspoon smoked paprika
1/3 cup (80ml) red wine
2 x 400g tinned, chopped tomatoes
2 teaspoons brown sugar or xylitol
3 bay leaves
2 stems fresh oregano
salt and pepper, to taste
Place all the ingredients for the meatballs in a large bowl and mix together until well combined. Roll into evenly sized balls and rest in the fridge to firm up for about half an hour.
Heat the olive oil in a large based pan. Brown the meatballs on both sides. Remove and set aside. In the same pan, sauté the onions until soft and translucent. Add the garlic and cook for a further 2 minutes. Add the spices and stir through. Return the meatballs back into the pan and deglaze with the wine. Reduce down by half. Now add the tomatoes, sugar, bay leaves and oregano. Season with salt and freshly ground black pepper. Simmer on a low heat for about 20 – 25 minutes until the meatballs are cooked through and the tomato sauce has thickened.