Prosciutto Meatballs and spaghetti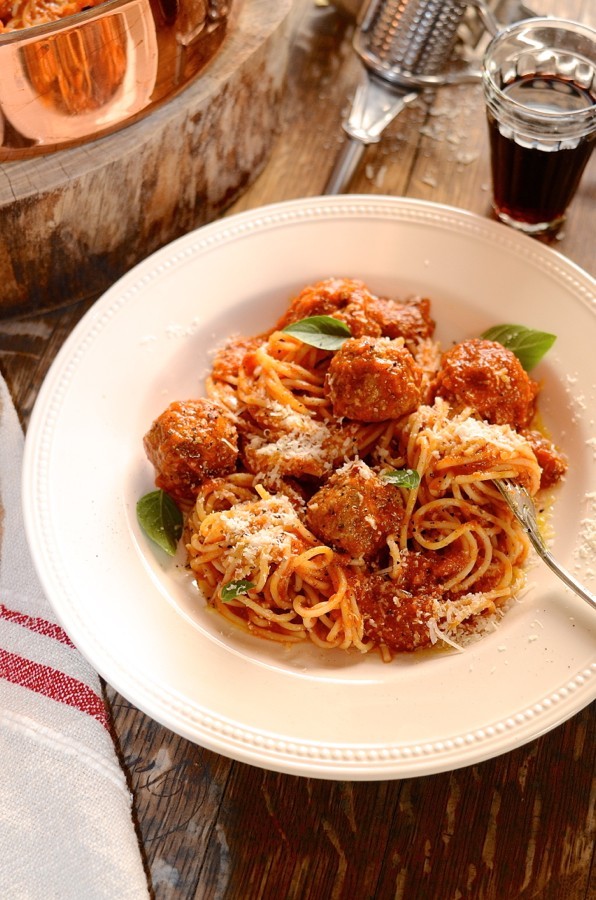 Forecast for the weekend – Cloudy Sunny, with a Chance of  'Amazeballs' Meatballs. Amazeballs! Is that even a word? Absolutely, according to the Oxford Dictionary, who recently published a list of hip and happening words that are now perfectly acceptable to throw around.
Trending along are a few other very descriptive and thought provoking expressions. Here are a couple that grabbed my attention, a few of which I'm keen to try – air punch, sub tweet, bro hug, binge-watch (what I think teenagers do at weekends) and strangely enough, the all new fashionable neckbeard?  The official meaning of amazeballs is extremely good or impressive and this is exactly how I'd describe this pasta. Nostalgic comfort food that remains a family favourite, no matter how words or the world changes.
Although spaghetti and meatballs is not strictly an Italian idea, but rather the invention of early 20th- Century Italian immigrants in New York, it has earned iconic status and remains ever popular. Every Italian Nonna has a secret family recipe that is heavily guarded, but this is my version with a modern twist.
There are a couple of rules to cooking pasta correctly, but here are several which are most important. Cook the pasta in plenty of  well salted, boiling water. When the water is at a rolling boil, add the pasta and stir to keep the strands from sticking together. Oil shouldn't be added to the water. Also, do not rinse the pasta as this washes  the away the starch. Always reserve a little of the cooking water to add to the sauce if necessary.
Lastly, toss the pasta and sauce together, ensuring that the first bite is as good and delicious as the last. When mixed together, the sauce clings to the starchy strands of pasta, which is exactly what you want, especially when serving long stranded spaghetti or linguine.

Prosciutto Meatballs and spaghetti
500g lean beef mince
40g prosciutto, finely chopped
1/2 cup white breadcrumbs
1 teaspoon salt
1/2 teaspoon dried oregano
a handful flat leaf parsley, finely chopped
2 tablespoons grated parmesan
zest of half a lemon
1 egg
1 tablespoon olive oil
Sauce ingredients
2 small shallots or 1 medium brown onion, finely diced
1 clove garlic, minced
a splash of balsamic vinegar (about 1 tablespoon)
2 x 400g cans chopped tomatoes
3 sun-dried tomatoes, mulched into a paste
1 tablespoon tomato paste
1 teaspoon sugar
a dash of chilli flakes
60ml water
salt and pepper to taste
300g spaghetti or linguine pasta
freshly grated parmesan, to serve
To make the meatballs, place all the ingredients in a large bowl and mix together, preferably by hand, but a fork will also do. If you over mix the mince using a spoon, the texture of the meatball becomes dense and compact. Roll into golf ball sized rounds or slightly smaller. Try to keep them the same size so that the meat cooks through evenly.
Heat a tablespoon of olive oil in a large pan. Add the meatballs and cook until browned on both sides. Remove the meatballs from the pan, cover and set aside.
In the same pan, add a little more olive oil and sauté the onion and garlic for 5-7 minutes until softened. Deglaze the pan with the balsamic vinegar. Add the chopped tomatoes, sun-dried tomatoes, paste, sugar, chilli and water. Season lightly with salt and pepper.
Place the meatballs back into the sauce. Cover with a lid and simmer for 20 minutes on a medium heat. Adjust seasoning to taste.
In the meanwhile, cook the pasta in salted boiling water until al dente. Drain the pasta and tip into the sauce. Turn the pasta gently through the sauce to coat evenly. Add a little of the reserved cooking water if you think the sauce needs it. Serve with fresh basil and grated parmesan.