20-Minute chicken and spinach pasta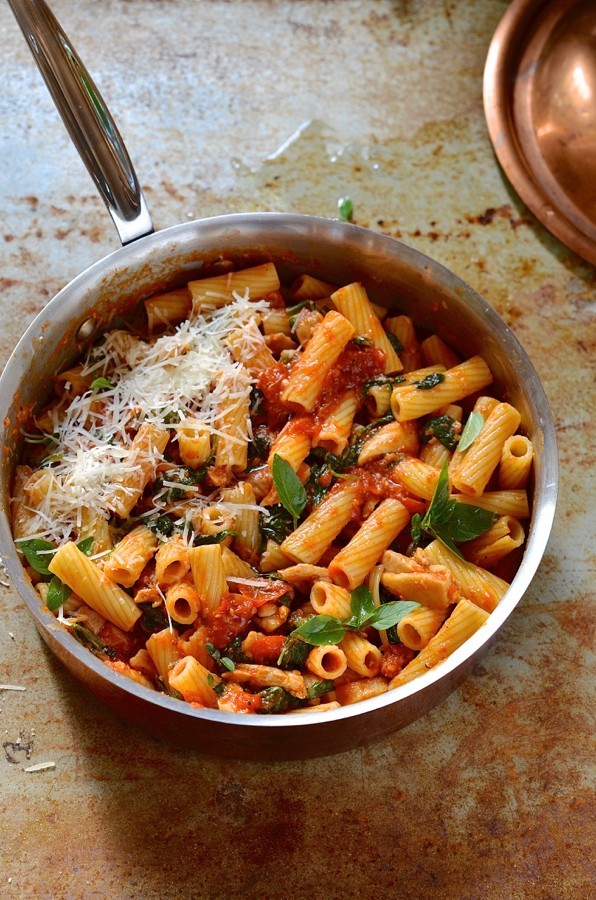 Foremost in my thinking when making this pasta was how to get supper on the table in less than 20 minutes. Bearing in mind, it has to be quick, easy and completely delicious. Challenging criteria for a mid-week supper. The outcome however, could well be the easiest and most rewarding family-style supper served up this week. Ridged pasta tubes coated in a chilli tomato sauce with tender chicken and spinach, finished of course with a liberal scattering of basil and parmesan. Clean and honest ingredients with bold flavours. It's always a good idea to have a couple of timesaving pasta recipes on standby for those crazy-busy weeks. These are a few of my favourites that never disappoint: chicken pesto pasta, raviolii pasta bake and orecchiette pesto pasta.
Italians are known for their clever use of simple ingredients. They've mastered the art of treating produce respectfully without too much manipulation. Coupled with this is the use of both seasonal and regional ingredients. Personally, this less is more approach can been rather challenging. Setting aside western tendencies to overcomplicate a dish has required a measure of discipline, but is one that's been rewarded with this colourful pan pasta.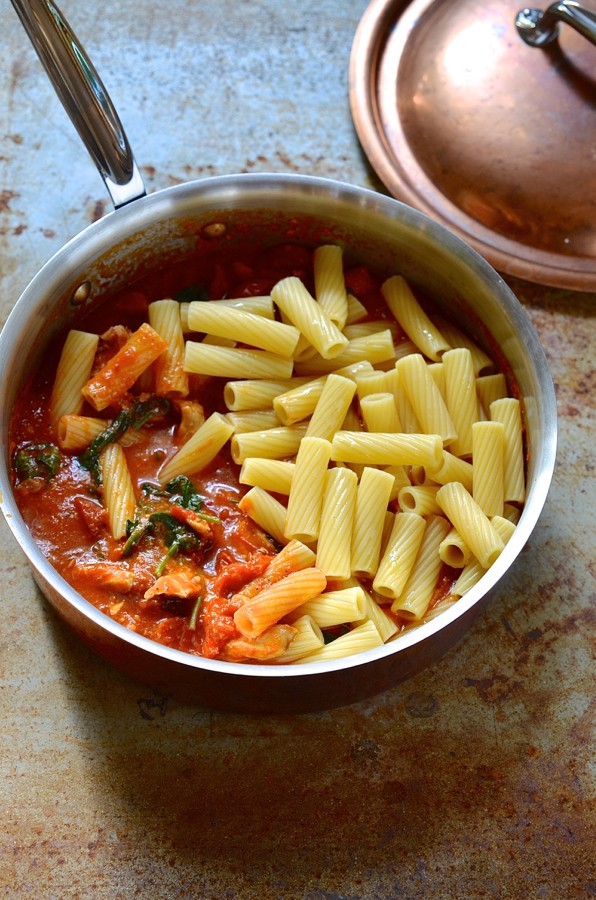 The combination might not be 100% traditional but, it's definetly a parred-down approach that eliminates the need for fussy methods and extensive shopping lists. With November being the most insane month of the year (it's the end of the year people, not the end of the world!!), simple, fast and awesomely delicious is good, if not completely necessary.
I actually had my timer set to see if it was accurate to flaunt this dish as a 20-minute meal. Truthfully, you have to get your head in the game. There's no time for aimless dawdling. Tie on that pinny (or apron for those arriving after the 60's) and turn up the heat. Casual derailment for a glass of red will inevitably occur as reaching the mid-week mark unscathed at this point is rare, if not impossible. So cut yourself some slack, breathe deeply and inhale all the nuances of the good life, Italian-style.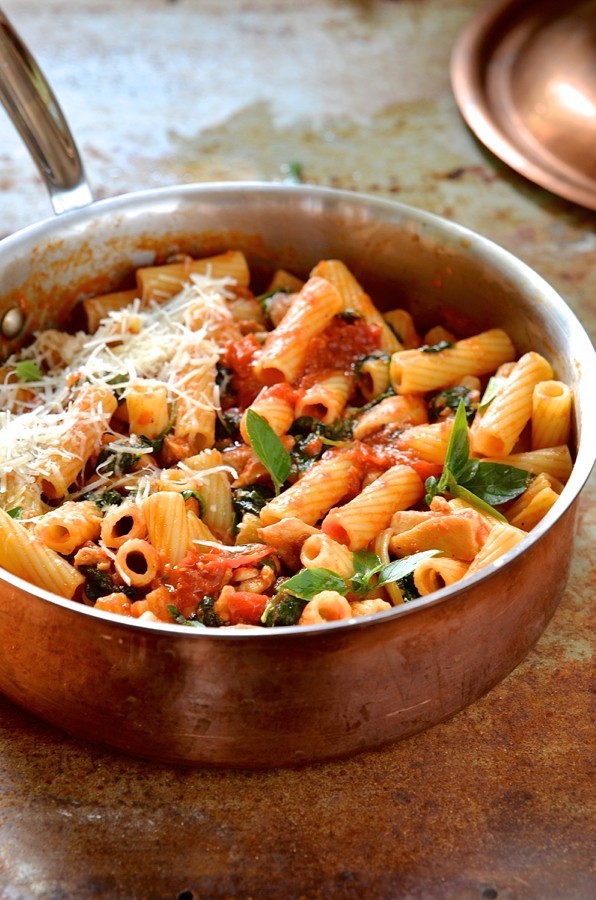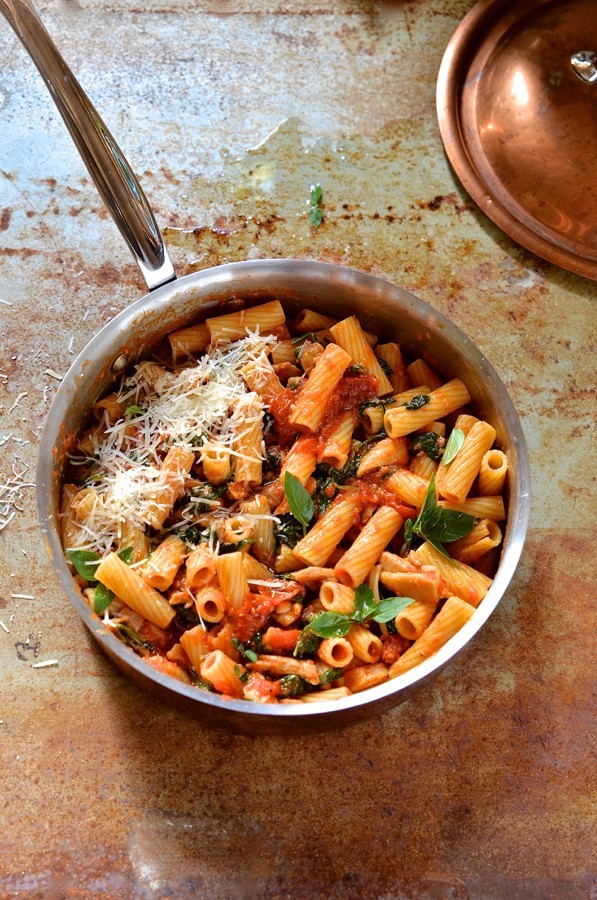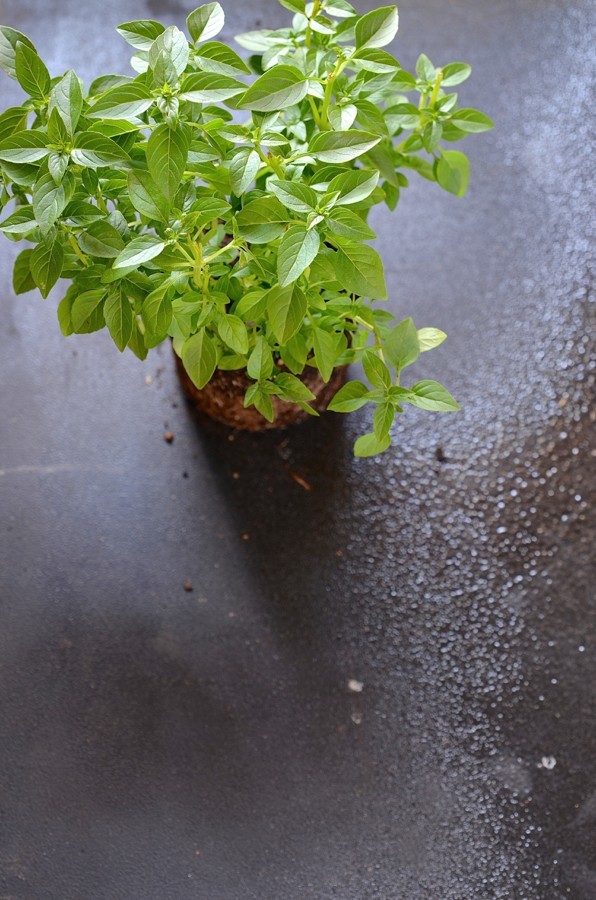 20-Minute Chicken and spinach pasta
Serves 4
1 tablespoon olive oil
400g chicken thigh pieces, skinless and deboned, cut into strips
1 garlic clove, minced
1 red chilli, deseeded and finely diced or use 1/2 teaspoon dried red chilli flakes
800g tinned chopped tomatoes
1 teaspoon sugar
100g baby spinach leaves
handful basil leaves, roughly torn
1/2 cup parmesan cheese
300g pasta, rigatoni or penne
Heat the olive oil in a deep sided pan. Season the chicken and brown on both sides. Add the garlic and chilli and cook for a further minute. Add the chopped tomatoes and sugar. Season the tomato sauce with salt and pepper. Cover partially with a lid and let it bubble away quite vigorously for about 10 minutes.
In the meanwhile, bring a pot of salted water up to the boil and cook the pasta until al dente. Drain but remember to reserve 1 cup cooking water for later. Fold the baby spinach into the pasta sauce and allow to wilt down. This should take only a minute or two. Empty the drained pasta into the sauce and toss to coat. I always add some of the cooking water to thin the sauce down as the pasta will continue to absorb liquid when mixed into the chicken. Add a generous handful of basil and half of the parmesan cheese. Fold through to combine with the sauce.
Serve immediately with additional parmesan and freshly ground black pepper.