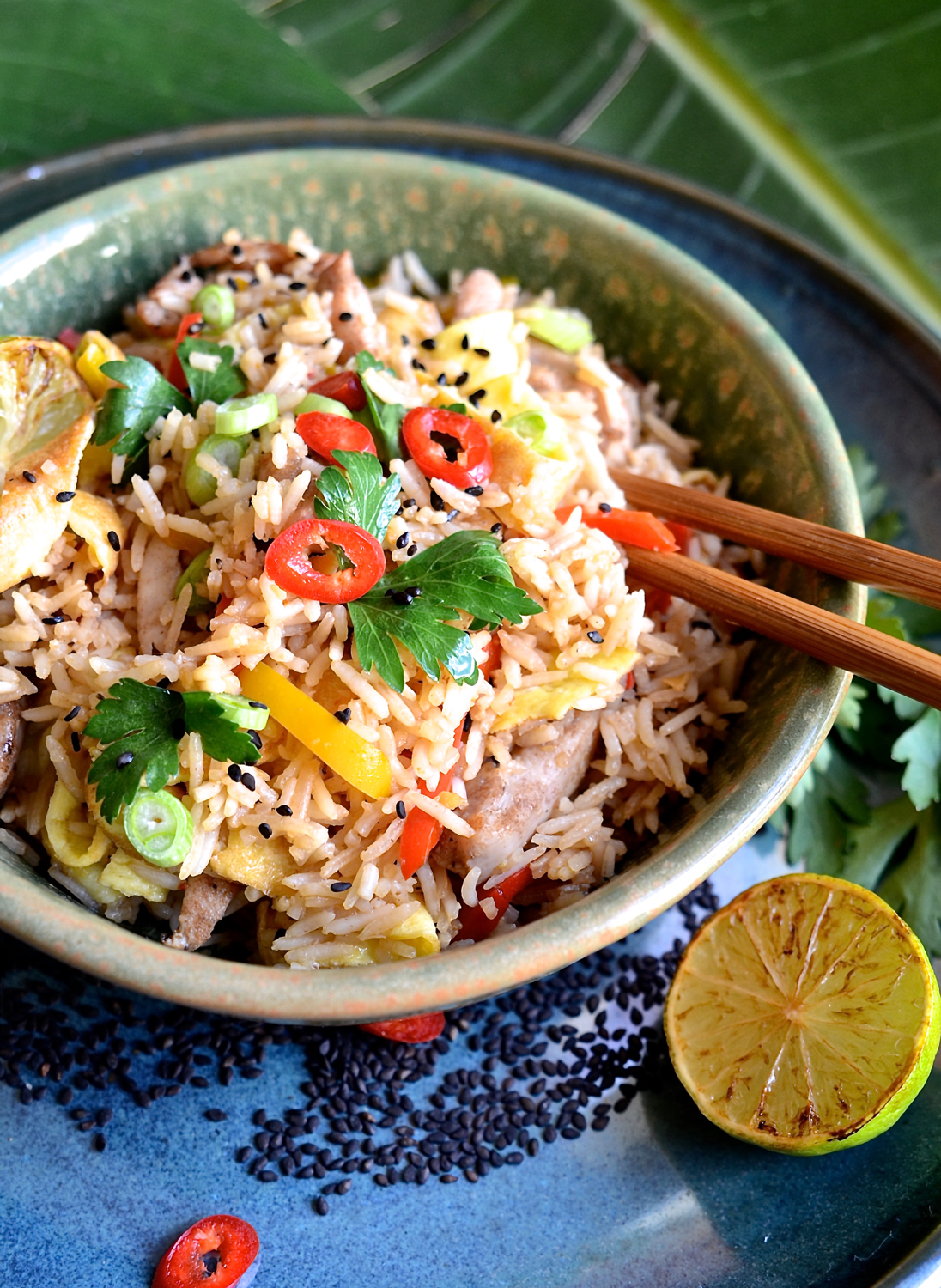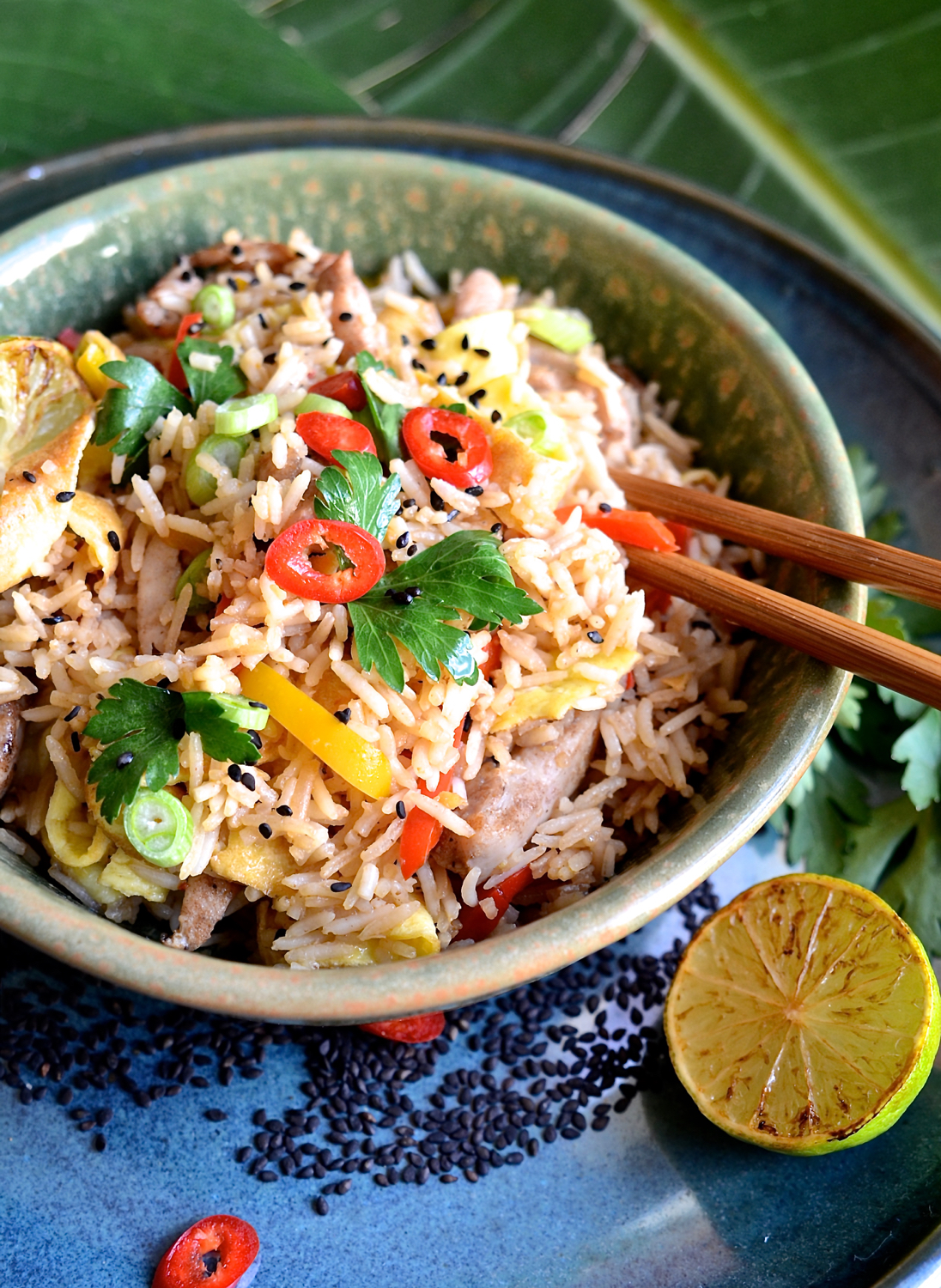 Midweek suppers should require minimal effort and offer stress-free cooking with just a few key ingredients and store-cupboard  staples. This Asian inspired fried rice dish is packed with bold flavours and is better than takeouts. A stir-fry is perhaps the least intimidating cooking method and makes everyday dinners a breeze.
For a vegetarian fried rice option, omit the chicken and add a combination of your favourite vegetables such as exotic mushrooms and a generous handful of mixed sprouts. Courgettes, cabbage and baby corn also work well. Fried rice is the ideal time to make use of any leftover vegetables that would otherwise go to waste. The five-spice is not essential but adds a definite Chinese slant to the dish with its unique blend of cinnamon, star anise, fennel, Szechuan pepper and cloves. The ginger provides sweet heat and rounds off the well balanced flavour profile that you'd expect from great Asian food – salt, sweet, sour and heat.
Easy Fried Rice 
Serves 4
2 eggs, whisked together with 1 tablespoon water and a pinch of salt
2 1/2  cups cooked basmati or jasmine rice
1 tablespoon vegetable oil
2 teaspoons sesame oil
1 heaped teaspoon Chinese five-spice powder
6 chicken thigh fillets, cut into thin strips
1 red pepper, julienned, or a combination of red and yellow
1 small shallot
a pinch of red chilli flakes
a thumb sized knob of ginger, grated
3 tablespoons low sodium soy sauce
2 limes
3 scallions, finely diced
toasted black sesame seeds
fresh coriander, to finish
Heat a drop of vegetable oil in a medium-sized non stick frying pan and pour in the egg mixture. Cook through on a gentle heat, slide out of the pan and roll up to form a panckae. Slice into 1cm wide strips to form a type of egg noodle.
Heat the vegetable and the sesame oil in a wok or large frying pan. Rub the five spice powder into the chicken strips and add to the pan when the oil is super-hot. Once the chicken has taken on some colour, add the peppers, shallot, chilli and ginger. Stir-fry for several minutes until the chicken is cooked and the vegetables are just tender, but still have a bit of crunch. Add the rice to the chicken and warm through. Pour over the soy sauce and spritz with the juice of a lime. Fold through the egg noodles and finish off with a scattering of sesame seeds.
Serve with fresh coriander, lime cheeks and extra diced chilli, if you like a bit of extra heat.
BK Handy hint: To save time, cook extra rice when next you make a curry and then do this dish the following day. For a short cut, cook the egg in the same pan for a minute or two, just before you add the rice to the chicken.