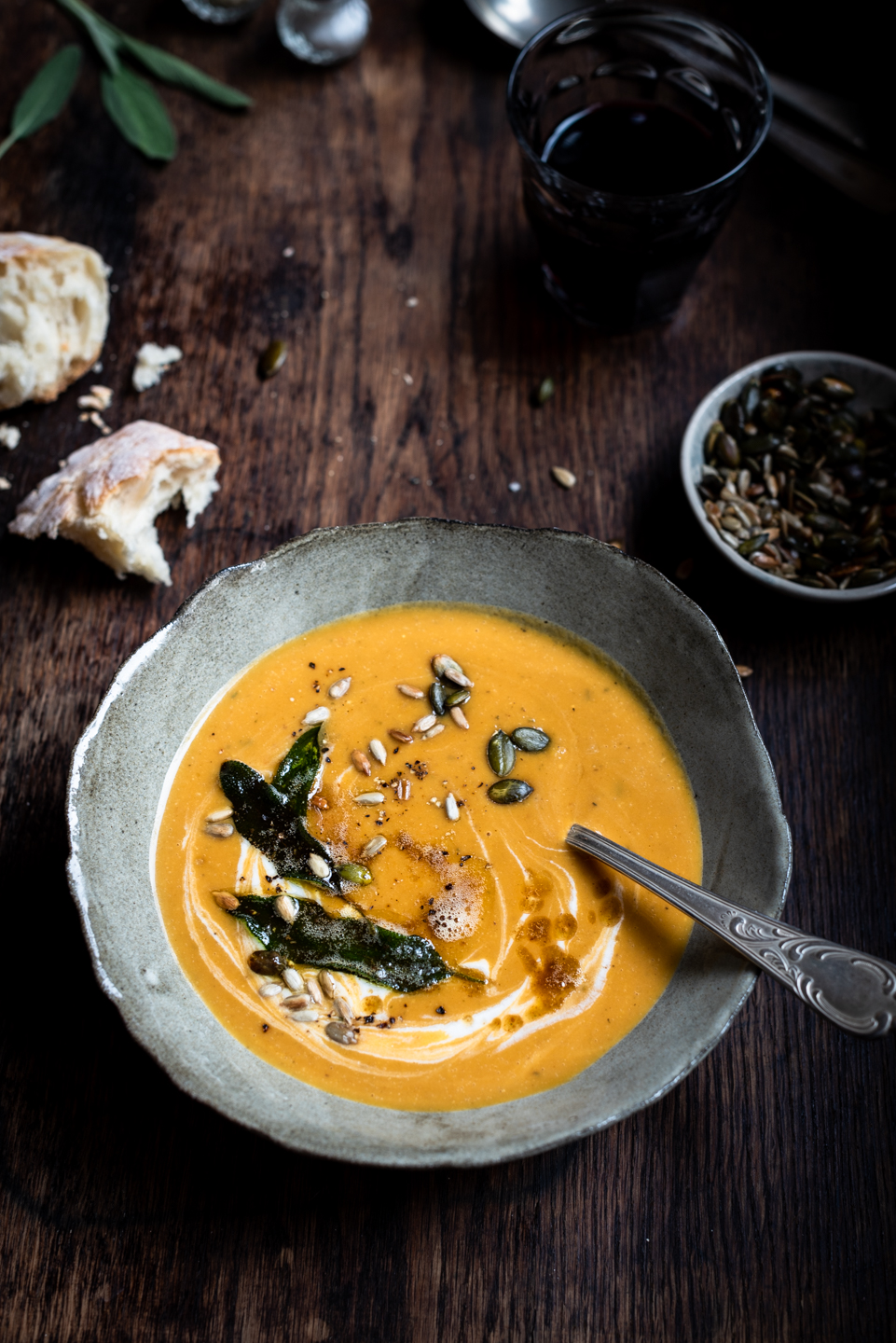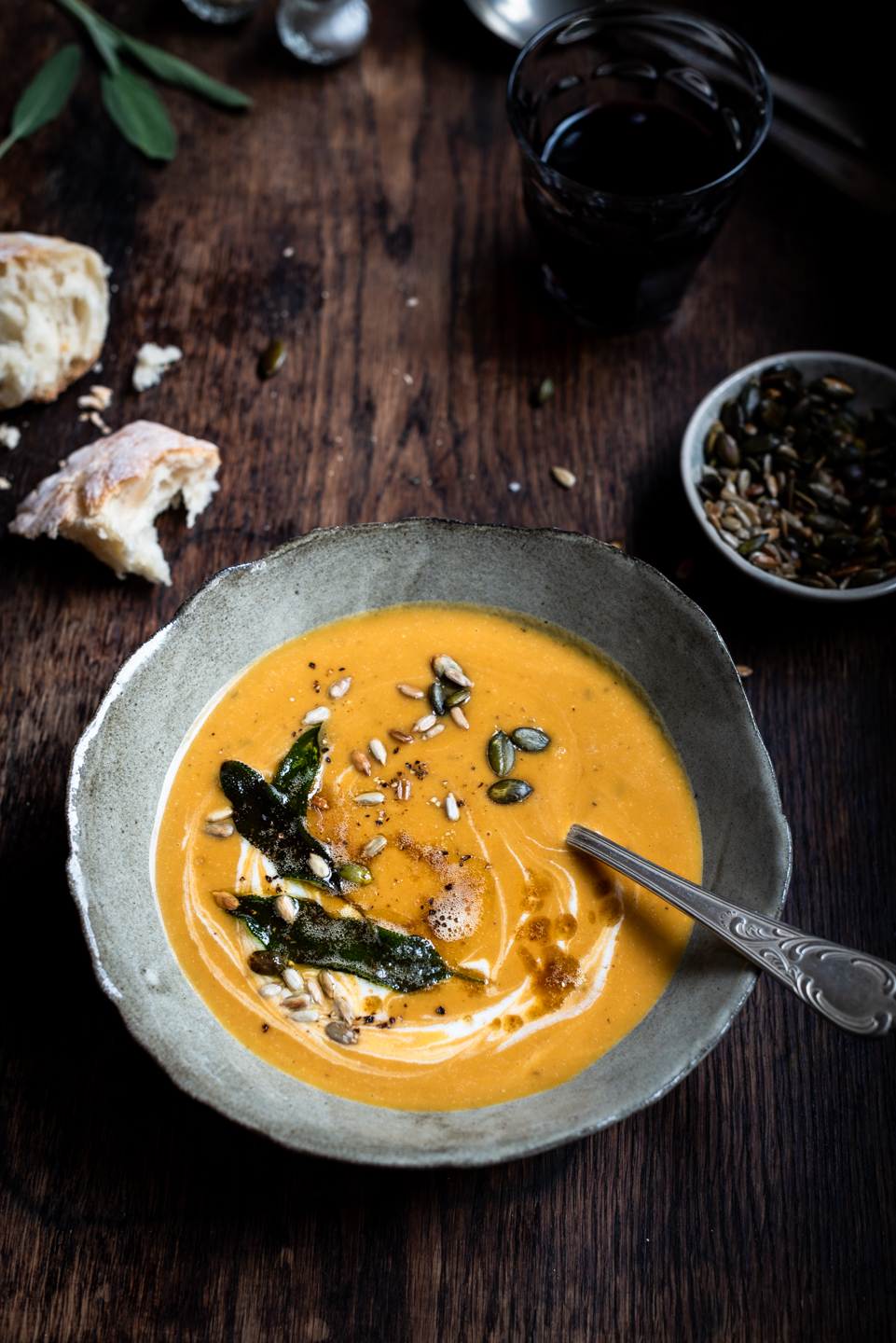 Tomorrow is publishing day for my new Ebook! I cannot wait to share what's been happening in the kitchen for the past four months. In the meantime, here is one of my most loved roast butternut and sweet potato soup recipes that just missed making it into my first book. It's easy, plant-based and completely delicious.
Butternut responds well to hardly herbs like rosemary and sage. There are times when dried herbs can do the work. This is not one of them. Fresh rosemary and sage guarantee vigorous flavour which'll be sadly lacking if you do otherwise. There are two parts to this Italian inspired soup, starting in the oven and brought together on the stove. Roasting the vegetables and herbs together elicits all sorts of wonderful nutty aromas. A bit of over-charring is highly recommended. Those blackened edges add sticky toffee-like sweetness. The sage butter is optional, but who wouldn't want buttery herb crisps with their supper?
Side note: For the sage butter, melt 3 tablespoons salted butter in a pan. Once foaming and nutty, add a generous handful of picked sage leaves and toss to coat. Season lightly with sea salt flakes and freshly ground black pepper.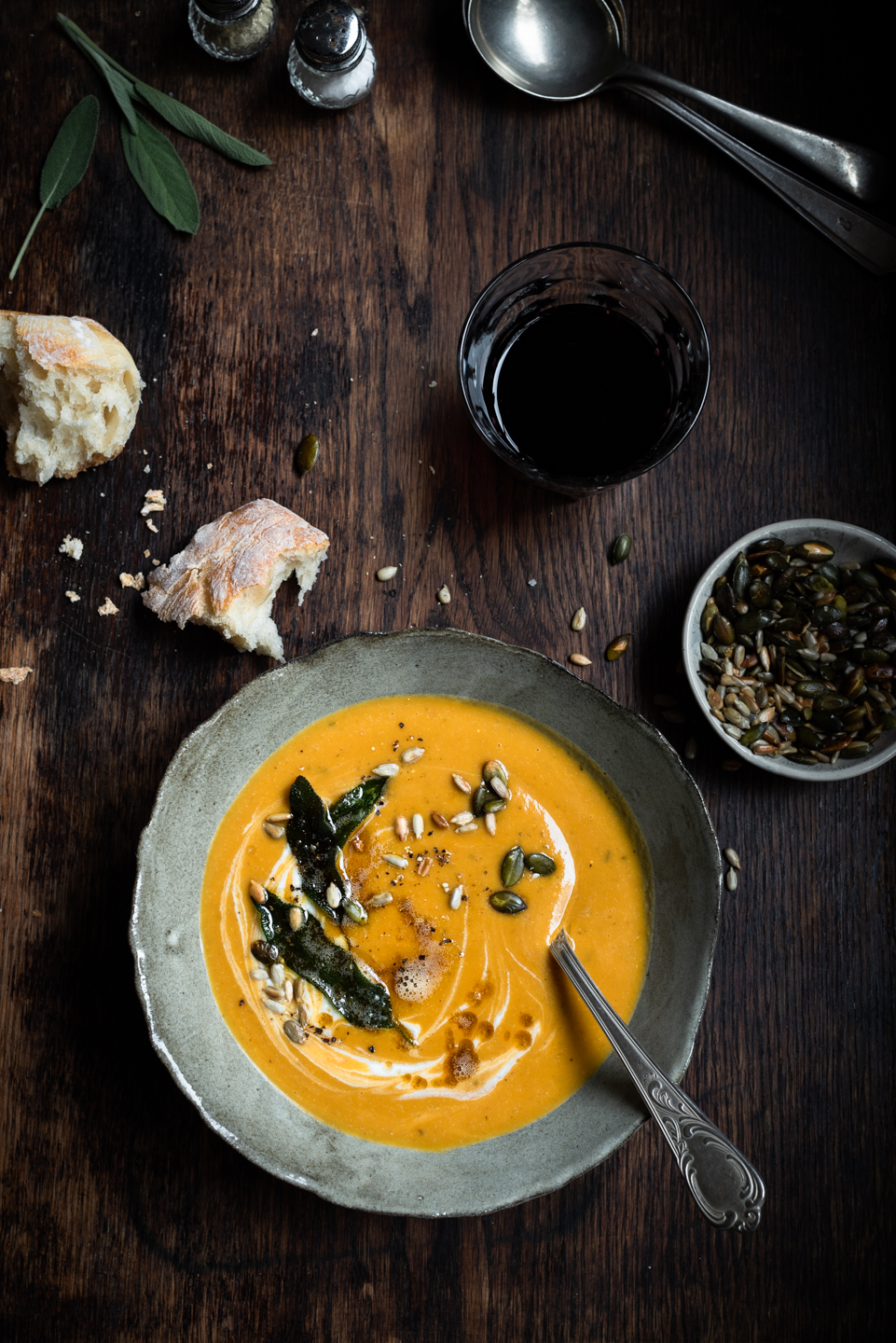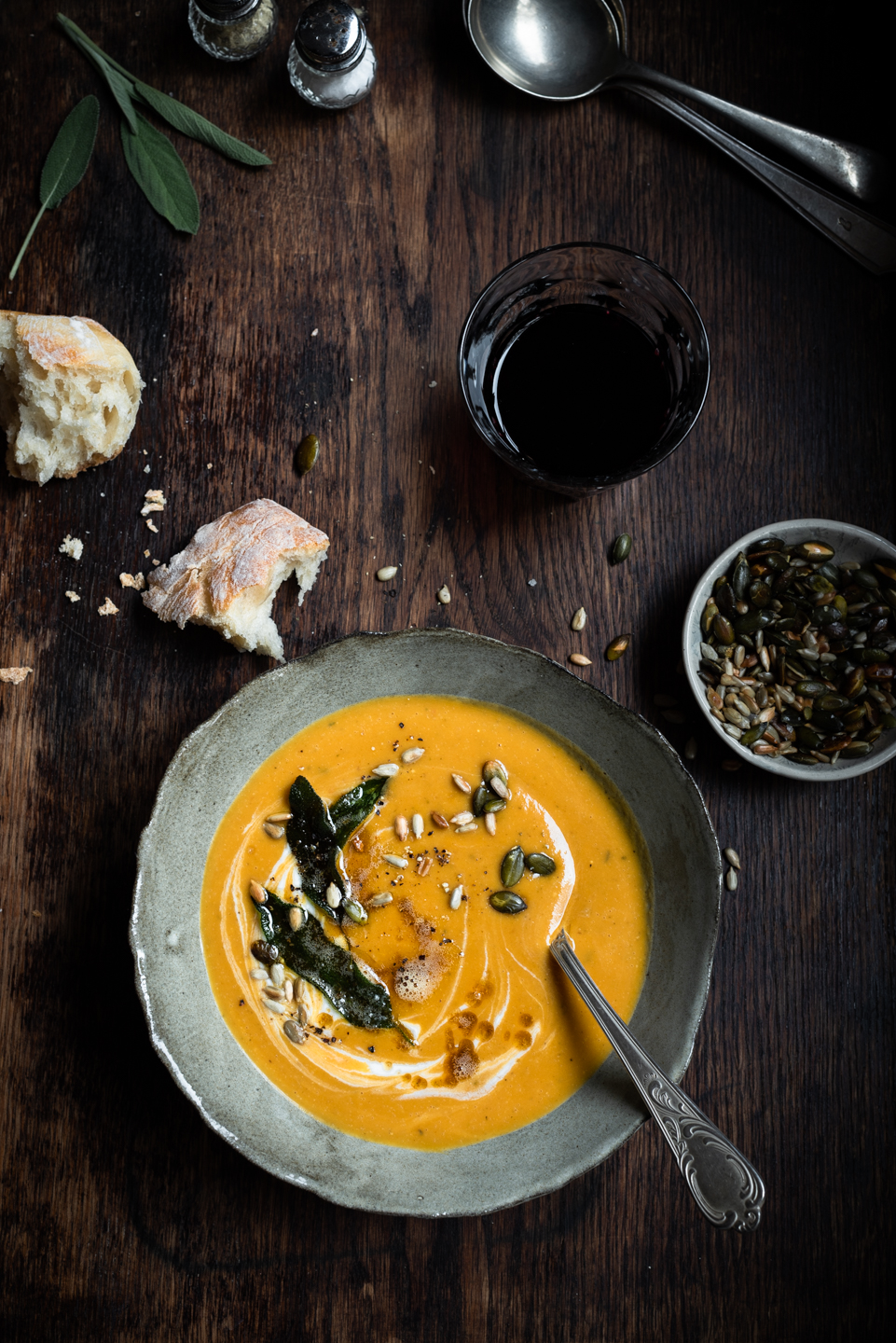 Roast Butternut and Sweet Soup
Serves 6-8
45ml (3 tbls) olive oil
15ml (1 tbls) butter
2 orange sweet potatoes, peeled and chopped
750g butternut chunks
10 -12 sage leaves, finely chopped
1 large sprig rosemary, destalked and finely chopped
¼ teaspoon dried red chilli flakes
zest of half a lemon
2 shallots, diced
¼ teaspoon ground nutmeg
800ml chicken stock
1/2 cup freshly grated parmesan
300ml milk
salt and black pepper, to taste
Preheat the oven to 200 Celsius. Spread the butternut and sweet potato onto a baking sheet. Drizzle over 2 tablespoons olive oil and season with sage, rosemary, chilli, lemon zest, salt and pepper. Roast for 45-50 minutes until tender and the edges are tacky and scorched.
Heat the remaining olive oil and butter in a saucepan and sauté the shallots until soft and caramelized, about 8-10 minutes. Scrape the roast vegetables into the pan. Add the nutmeg and the stock and simmer for about 8 minutes on a medium heat.
Stir in the parmesan, then puree with an emersion blender. Add the milk and heat through. Serve with sage butter and toasted pumpkin seeds, if you like.
For more cozy soups to ward off the cold, here are some blog favourites:
Harira vegetable soup with barley and quinoa
Roast butternut soup with chickpeas and leeks
Roast sweet pepper soup with corn salsa
The Everything in Vegetable Soup