Roast chicken and spelt salad bowl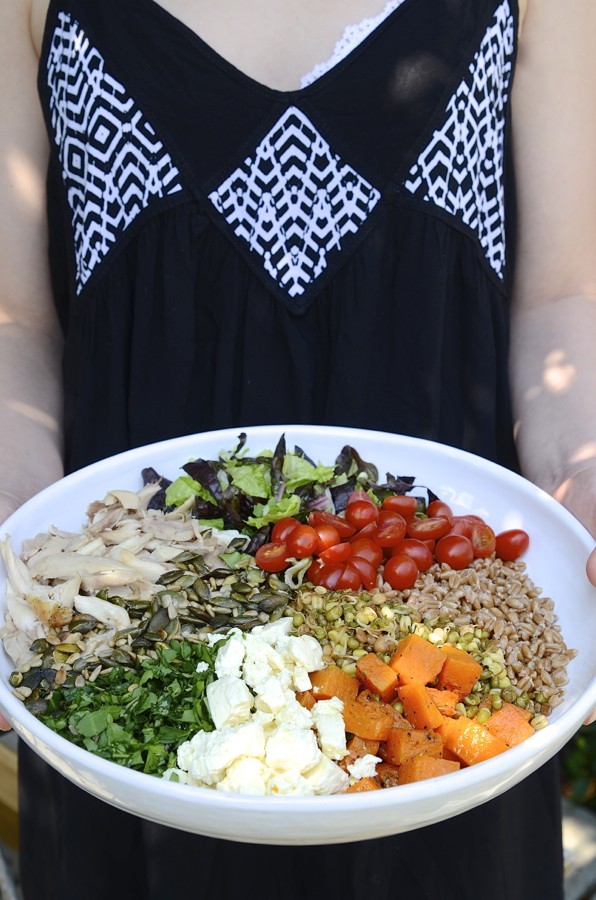 New beginnings call for change and as today's the 1st day of Spring, I'm happily changing lanes and plunging headlong into the new season and all that is deliciously fresh and healthy. Of course this doesn't mean tasteless, limp and leafy vegetables, but robust salad bowls crammed with texture and rainbow coloured goodness. This Roast chicken and Spelt salad bowl is the type of food I love best. An abundance of honest and fresh ingredients, all piled into one exuberantly colourful salad bowl.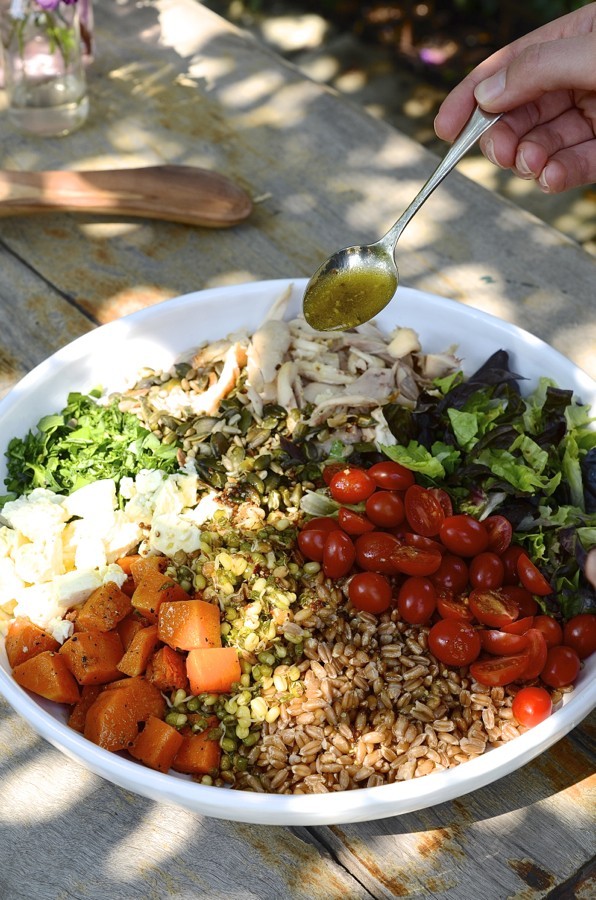 Here's what's happening in my first of many summer nourish salad bowls:
– Spelt, an ancient grain with a nutty flavour and chewy texture, rich in dietary fibre, protein and vitamins
– Rotisserie chicken, lean protein and conveniently roasted by Woolworths
– Roasted pumpkin and sunflower seeds, a good source of plant based omega-3's
– Salty feta, because seriously, anything with cheese is just better!
– Tiny cherry tomatoes, sweet and juicy vitamin – C booster
– Super-sprouts, with a good dose of vitamins and minerals
– Roast butternut, just because I think butternut belongs everywhere.
– Going green with mixed lettuces, rocket, basil and parsley for freshness and a peppery hit
All this awesomeness is tossed with a zesty lemon, wholegrain mustard and honey dressing. This is THE dressing to bottle and use all summer long. It's a versatile and simple recipe to which you can add fresh herbs, garlic or chilli for alternative flavour combinations. No need to buy preservative laden condiments when you can shake up a jar of do-it-yourself salad dressing.
NOTE If you cannot find spelt, this salad is equally good with bulgur wheat, barley or wild rice.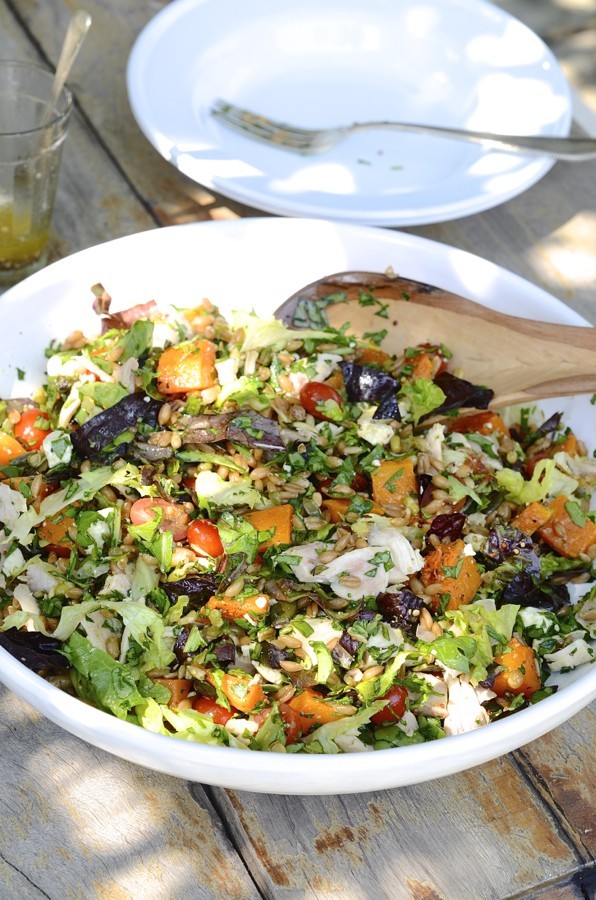 Just so that you know, salad-ing through summer is going to fill a considerable space on the Bibby kitchen page. The sun is out (at least it is on the Highveld) and the days are full of promise of relaxed al fresco dining, which means we'll be feasting on my essential summer staple – salads. Of course, if we're doing 80% right, the remaining 20% could just maaaaaaybe be filled with the other all-important seasonal must have – ice cream! More on that later….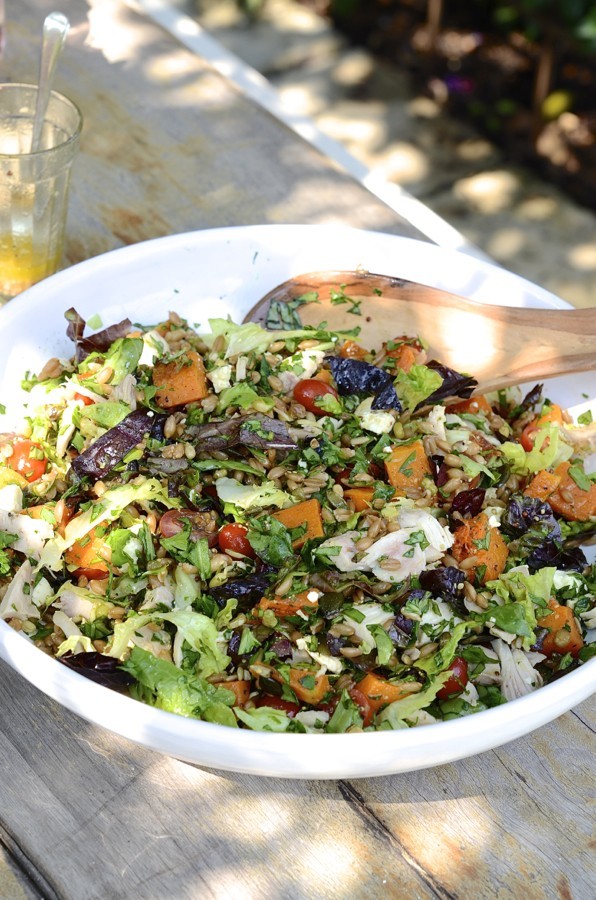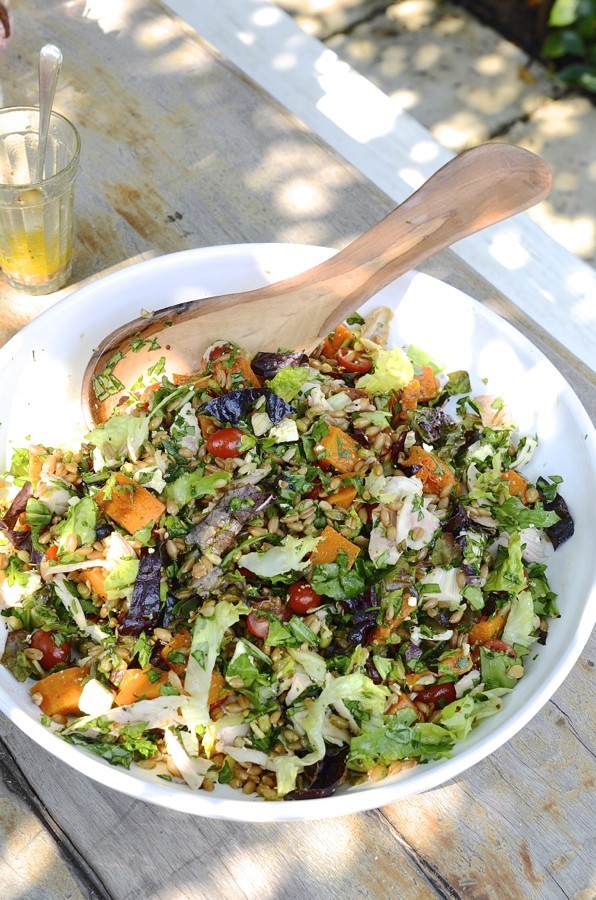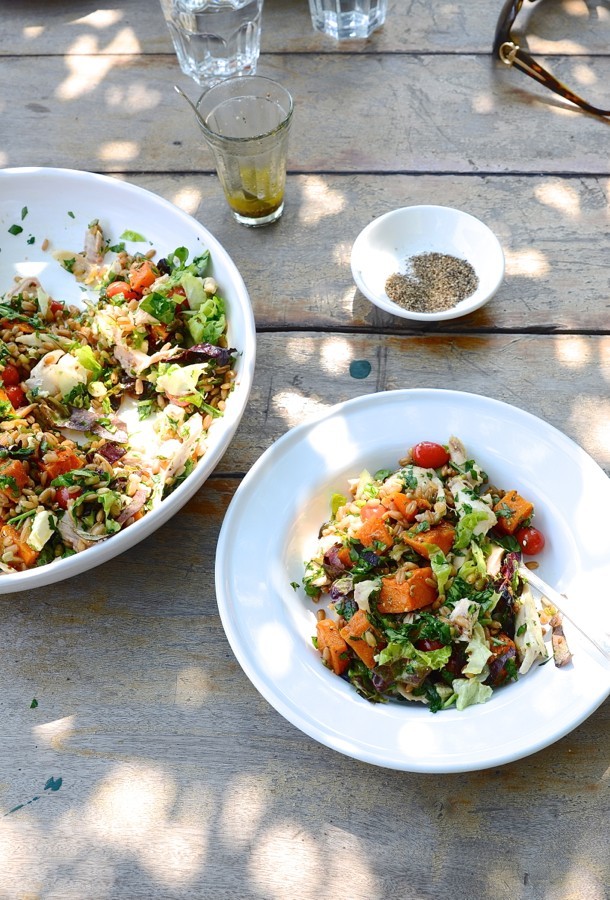 Roast Chicken and Spelt Salad Bowl
Serves 4-6
3/4 cup spelt
2 tablespoons olive oil
500g butternut, cut into 2cm cubes
1/3 cup mixed bean sprouts
2 cups roast chicken, roughly chopped
250g cherry tomatoes, whole or halved
100g feta, broken into chunks
1 bag (20g) rocket
1/2 bag mixed salad leaves
generous handful basil and flat leaf parsley
1/4 toasted sunflower and pumpkin seeds
Dressing
zest of half a lemon
2 tablespoons fresh lemon juice
3 tablespoons olive oil
1 teaspoon honey
1 teaspoon wholegrain mustard
salt and black pepper, to taste
Preheat the oven to 200º C. Spread the butternut out onto a greased baking sheet. Drizzle with 2 tablespoons olive oil and season with salt and black pepper. Roast for 35 minutes until tender and tinged gold around the edges. Set aside to cool.
Rinse the spelt thoroughly and place in a saucepan. Cover with 2 cups of water, add 1/4 teaspoon salt and boil for 30 minutes until soft. Drain off any excess water.
In a pan, heat 1 teaspoon olive oil and pan-fry the bean sprouts on a high heat for several minutes. Season lightly with a pinch of sea salt. Gather the parsley, basil and rocket together and chop finely. Cut the mixed salad leaves into 1cm wide shreds. For the dressing, place all the ingredients in a jam jar and shake together.
Place all the salad ingredients in a large bowl, pour over the dressing and toss together to coat. Rest for about 15 minutes to allow the flavours to be absorbed by the spelt. Serve at room temperature with extra seeds scattered on top.