Roast butternut crustless quiche with feta and pine nuts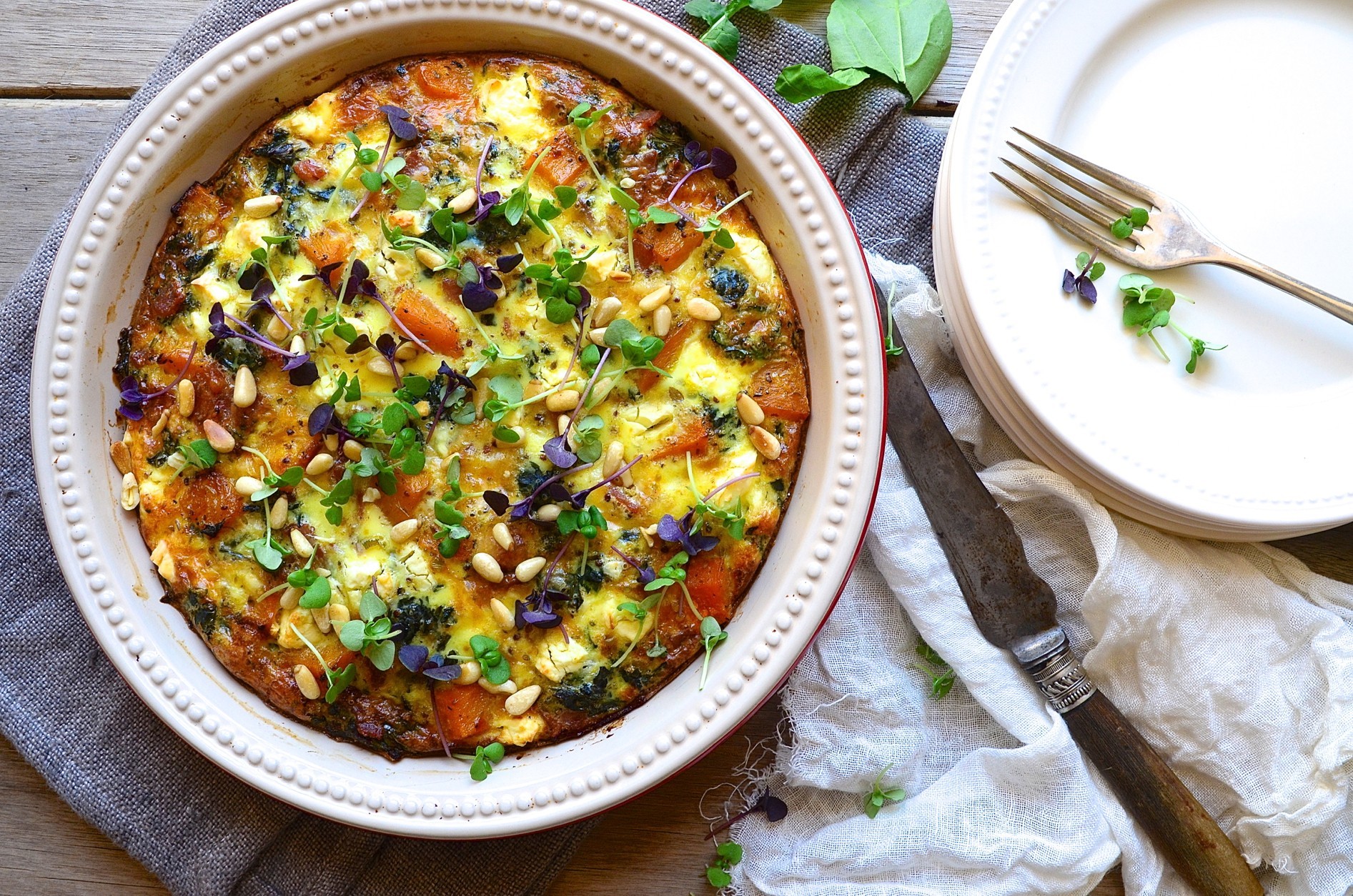 If you've exhausted your Meat-free Monday night supper options and the family are casting their eyes heavenwards for deliverance at the mere mention of the word, meatless, then this crustless roast butternut quiche is the bomb. (Not sure if you're permitted to say 'bomb' on a public platform, but it is !) My vegetarian offering for tonight's supper is almost a soufflé-ish kind of frittata-quiche. It's prefect for Meat-free Mondays, Midweek suppers or take to work lunches. I'm positive you're going to be hitting the REPEAT button on this one way before next Monday rolls by again.
According to the dictionary a quiche is an open-faced pastry, usually filled with a meat or savoury filling and a creamy egg custard. As tonight's all about Meat-free fare, I think we'll stick to the open-faced style, no meat, hold the pastry and the cream 'cause we're going light and easy. AND, there are banters out there who'd also  like a piece of the pie.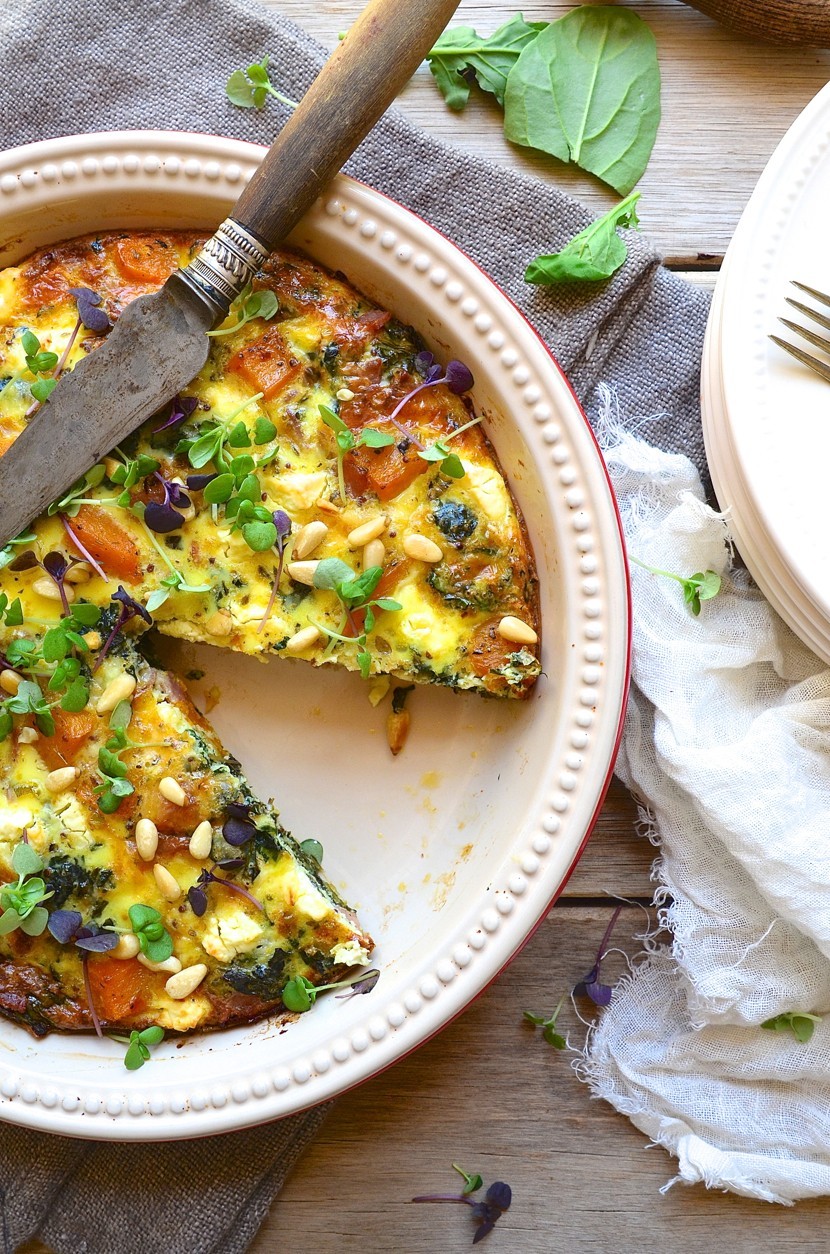 If you have eggs in the house, there's meal potential right there. I use this simple egg custard as a base for a variety of combinations. It's also a cost effective and simple way to use up whatever vegetables you have lurking at the back of your fridge. Here are a two alternatives that could also help you up your five-a-day count.
– Roasted red peppers, mushrooms, aubergines, sun-dried tomatoes and taleggio cheese
– Kumara sweet potatoes, kale, caramelised onions and blue cheese
Grilled or roast your vegetables before combining with the egg custard. Water is released from raw vegetables when cooked and will result in a watered down and poorly flavoured quiche. This recipe is really versatile and can also be baked as individual muffins for picnics and school lunches. These cheesy spinach muffins are another tasty way to get children to eat their greens. So good and super-healthy to boot!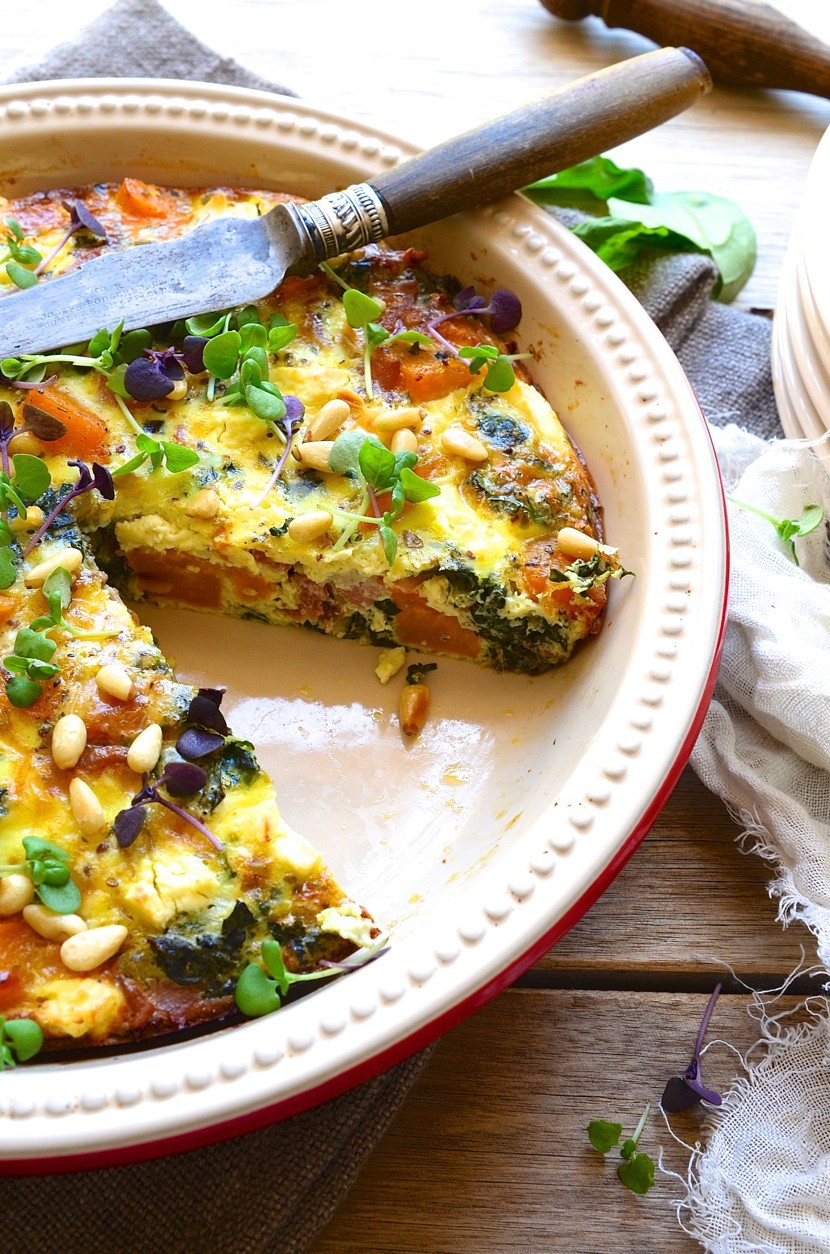 Roast butternut crustless quiche with feta and pine nuts
Prep time:
Cook time:
Total time:
Ingredients
Roast butternut crustless quiche with feta and pine nuts
3 tablespoons olive oil
1 medium sized butternut, peeled and chopped into chunks (about 600g)
1 shallot, finely diced
3 leeks, sliced into rounds
200g young spinach, roughly chopped
zest and juice of half a lemon
a pinch of nutmeg
6 eggs
1/4 cup milk
1 teaspoon wholegrain mustard
1/2 teaspoon dried oregano
1/3 cup mature cheddar cheese, grated
100g feta
a handful of pine nuts
salt and freshly ground black pepper
Instructions
Preheat the oven the oven to 200º C. Line a baking sheet with foil or parchment paper. Place the butternut onto the tray and drizzle with 2 tablespoon olive oil. Season with salt and black pepper. Toss to coat and roast for 40 minutes.
Heat the remaining olive oil in a frying pan and sauté the shallot for several minutes until softened. Add the leeks and cook for 2 more minutes. Pile in the spinach and allow to wilt down. Add the lemon zest plus the juice and season with nutmeg, salt and pepper.
In a jug, whisk the eggs, milk, mustard and oregano. Add a pinch of salt and the grated cheddar cheese. Grease a 22 cm round ovenproof dish. Place the roast butternut on the base of the dish, followed by the cooked spinach. Pour over the egg mixture and dot with crumbled feta. Scatter over the pine nuts and bake for 30-35 minutes until the top is golden and puffed. Serve with a rocket and avocado salad.