Tuscan Farro bean soup with pancetta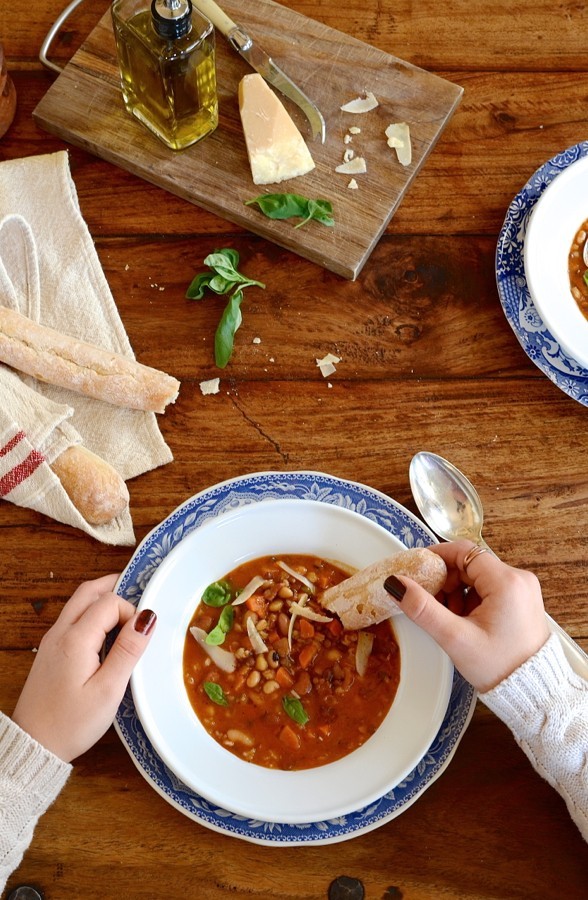 With just several weeks to go before Spring, I'm taking full advantage of what's left of Winter to edge in two more soup recipes. First up is this Tuscan inspired bean soup, with pancetta, mixed beans and farro. Simmered gently over a slow and lazy heat for several hours until the beans are tender and meltingly soft. To finish, drizzle with extra virgin olive oil and shavings of parmesan cheese for a simplistic soup that's heart-warmingly good. Serve with crusty ciabatta bread and a good bottle of red. Cosy nights in are looking rather inviting.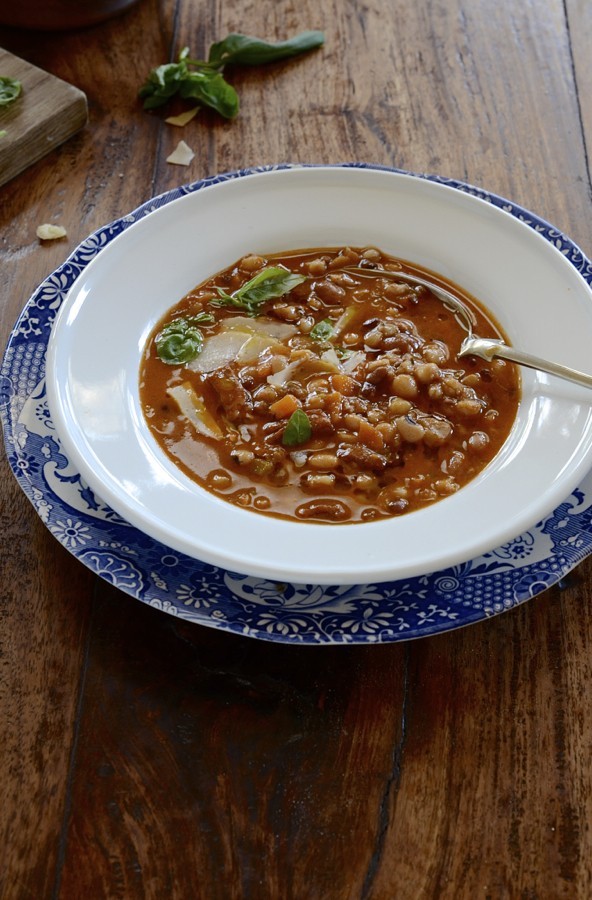 The Italians are known for their clever use of both seasonal and regional ingredients. Waste is scorned upon and so maximum use is made of all produce. Bean soups are particularly popular in the Tuscan region of Italy. This soup is a thrifty way of using store-cupboard staples to produce a delicious and satisfying meal. Dried beans are also an economical and convenient plant based source of protein. Farro is one of my favourite grains and is very similar to spelt with a chewy texture and nutty flavour. If you can't lay your hands on farro, barley is a good alternative. It's common practise to add a parmesan rind to minestrone soups which lends a subtle, cheesey taste. You'll be pleasantly surprised by what a difference this makes to the overall flavour. As mentioned before, nothing goes to waste. When I'm done with a wedge of parmesan, I wrap the leftover rind in plastic wrap and freeze until needed. Remember to remove the rind from the soup before ladling up.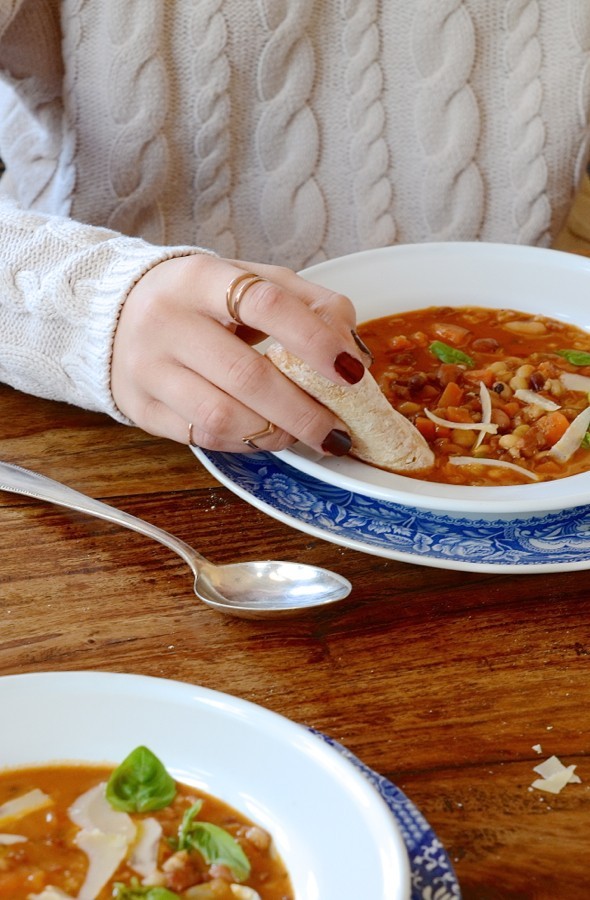 The base of the soup starts with onion, carrots and celery, also known as soffritto. This trio is used in most stews and soups and are considered kitchen staples. For this recipe I've used a combination of beans – black-eyed beans, borlotti, cannellini, chickpeas and spilt peas. You can use whichever you prefer. The key is to soak the beans overnight. A long, slow cooking time is essential for the beans to soften and absorb the flavours in the soup. Beans, lentils and legumes are like sponges and absorb whatever seasoning you offer them. This version has pancetta or bacon, which you can omit if you're going with a vegetarian option. Serve with warm ciabatta bread, a drizzle of extra virgin olive oil and fresh basil scattered on top.
Note: The short cut version is to use tinned beans instead of soaking and cooking your own beans, in which case I'd recommend a combination of cannellini and borlotti beans. Remember to rinse and drain thoroughly before adding to the soup. Substitute with 800g cooked beans in total. Reduce the stock to 750-850ml and cook the vegetables for 30 minutes before adding the beans. Simmer for a further 5 minutes to heat through. If you don't have a parmesan rind on hand, add a handful of freshly grated parmesan to the soup and stir through just before serving.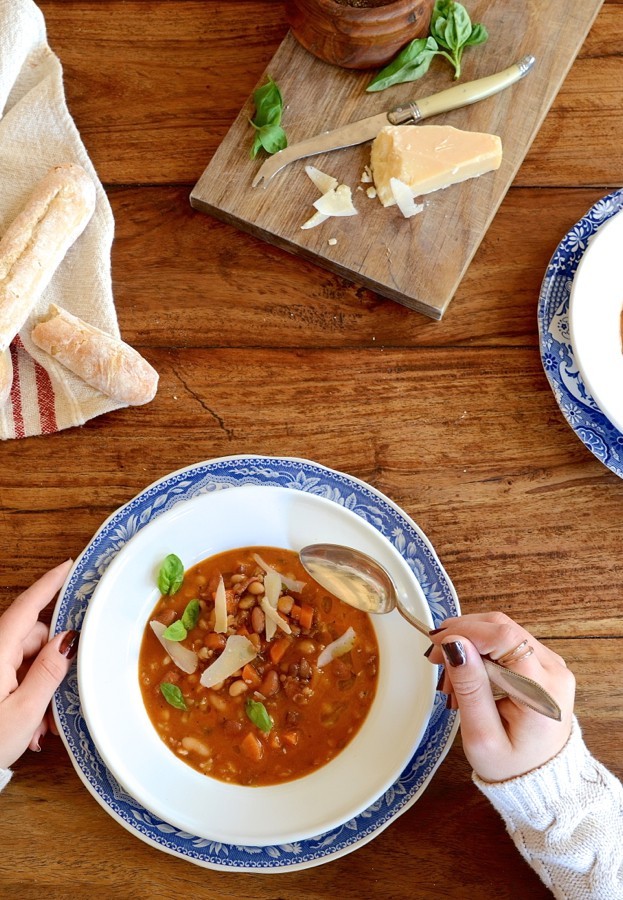 Tuscan Farro bean soup with pancetta
Serves 6
200g mixed, dried beans
2 tablespoons olive oil
1 large brown onion, finely diced
2 carrots, peeled and diced
2 sticks celery, diced
125g pancetta or smoked bacon, sliced
1 garlic clove, minced
1 stem rosemary, finely chopped
2 stems fresh oregano, chopped or 1/2 teaspoon dried
1.5 litres chicken stock
2 parmesan rinds
1/3 cup farro, spelt or barley
1 tablespoon fresh lemon juice
salt and pepper, to taste
Place the beans in a bowl, cover with water and leave to soak for at least 7 hours or overnight. In a deep saucepan, sauté the onion until soft. Add the carrots and celery and cook for several minutes more. Add the pancetta and fry for 3 minutes before adding the garlic, rosemary and oregano. Drain the beans and add to the pot. Pour in the stock and add the parmesan rinds. Cover partially with a lid and simmer for 2 hours. Add the farro and cook for another hour or until the beans are completely soft. Add a little more water if the liquid has reduced too much. Season with salt and pepper and a squeeze of lemon juice. NB Don't forget to remove the parmesan rind!