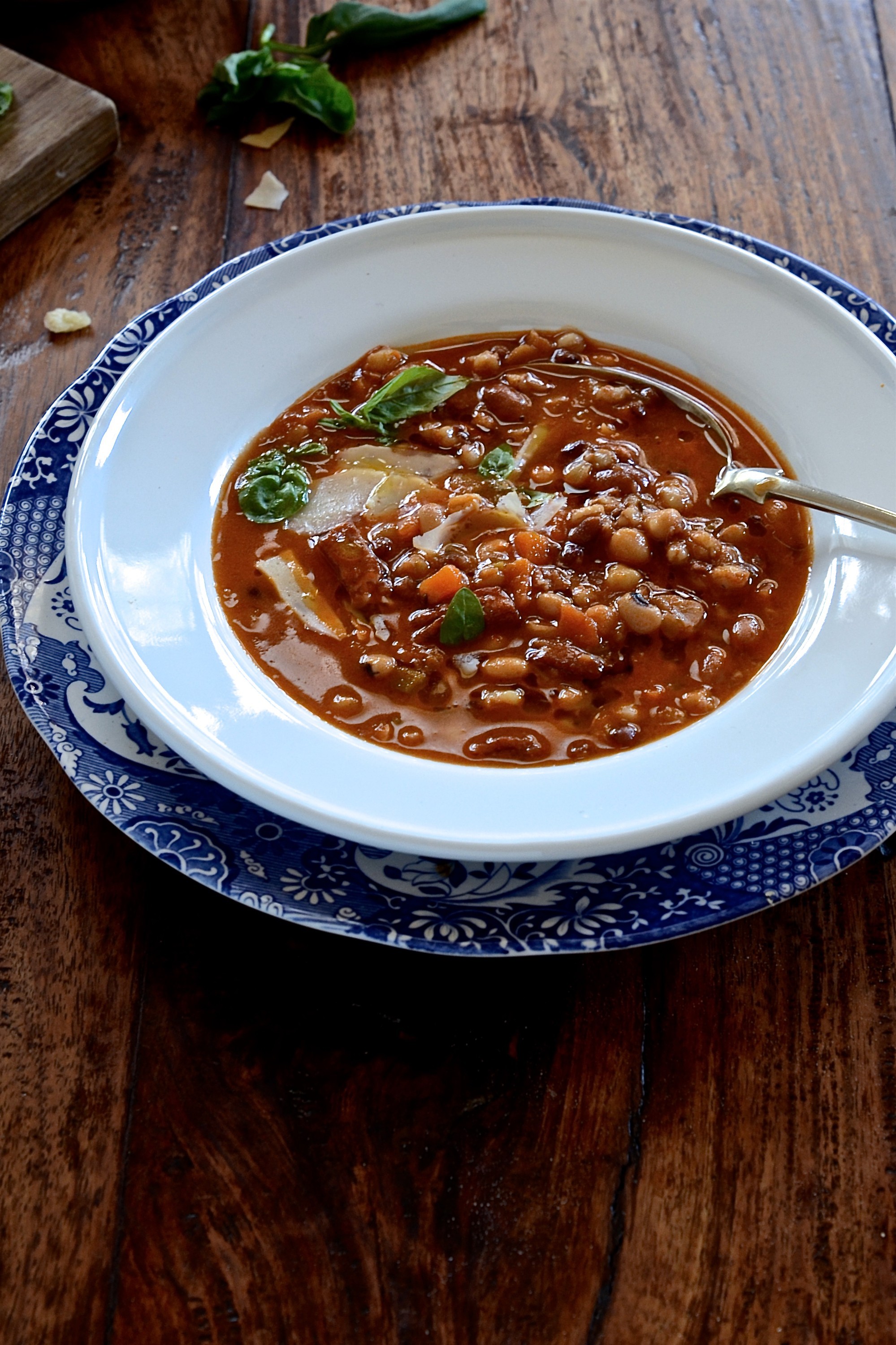 My Tuscan farro bean soup is the kind of wholesome comfort food I'm happiest eating. I like to serve it with parmesan shavings and a drizzle of extra virgin olive oil. Crusty ciabatta and a good bottle of red won't go amiss, either. It's cosy nights in, kind of food.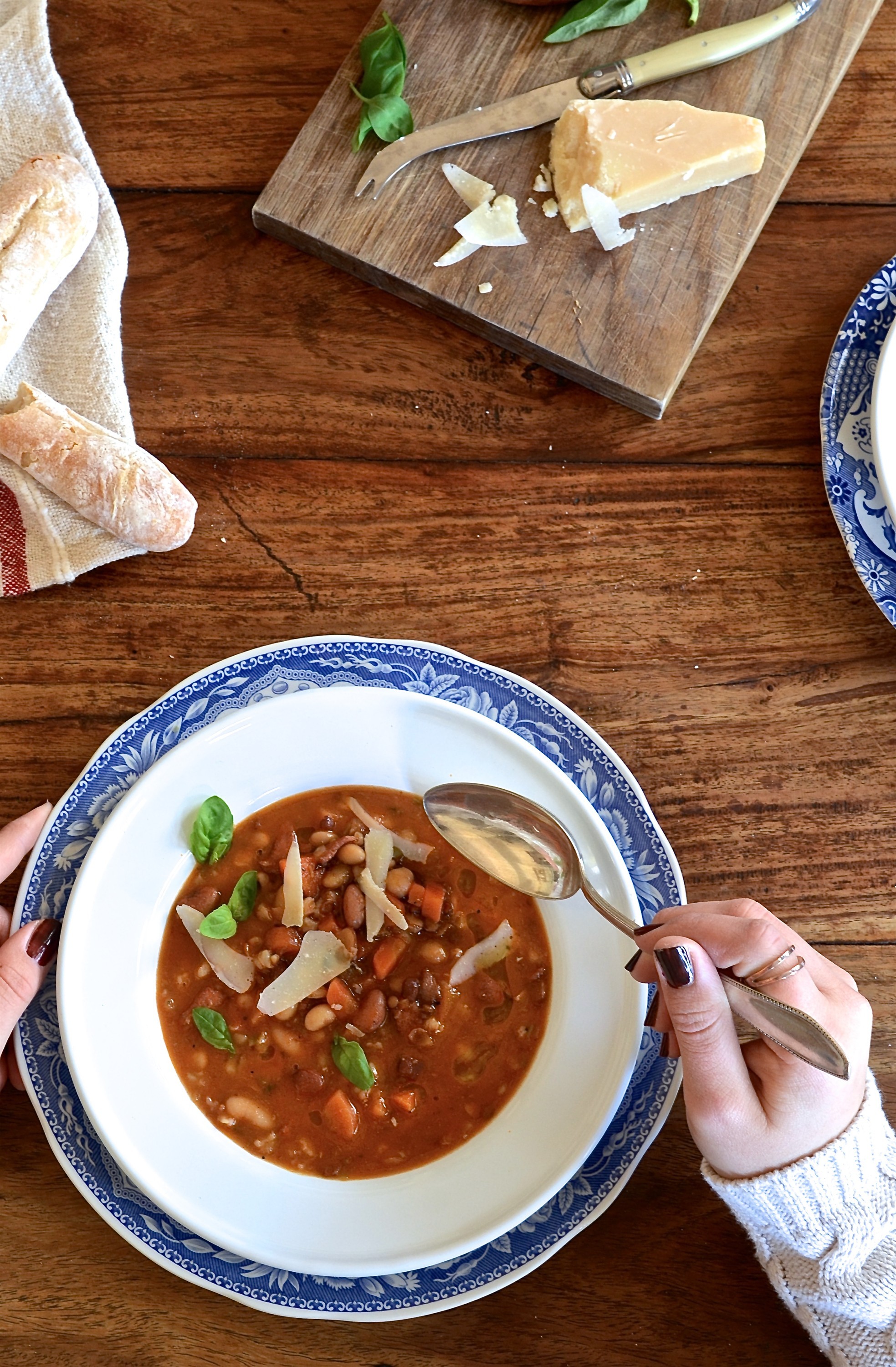 The base of the soup starts with onion, carrots and celery, also known as soffritto. This trio is used in most stews and soups and are considered kitchen staples. For this recipe I've used Mixed beans – chickpeas, borlotti, cannellini and red beans. Any combination will work so long as the tinned weight is 800g. Beans are like sponges. They absorb flavour well. I've also added pancetta or bacon to mine, but feel free to omit if making it vegetarian.
Bean soups are particularly popular in the Tuscany. It's a thrifty way of using pantry staples to make a delicious and satisfying supper. Besides being a thrifty way to cook, tinned beans are also convenient. Farro is one of my favourite grains to cook with. It's similar to spelt with a chewy texture and nutty flavour. If you can't find farro, barley is a good alternative. In Italian cooking, nothing is wasted, especially parmesan rind. These get added to soups and stews to bolster the flavour. The taste is subtle but very definitely there. You'll love it. Remember to remove the rind from the soup before ladling up.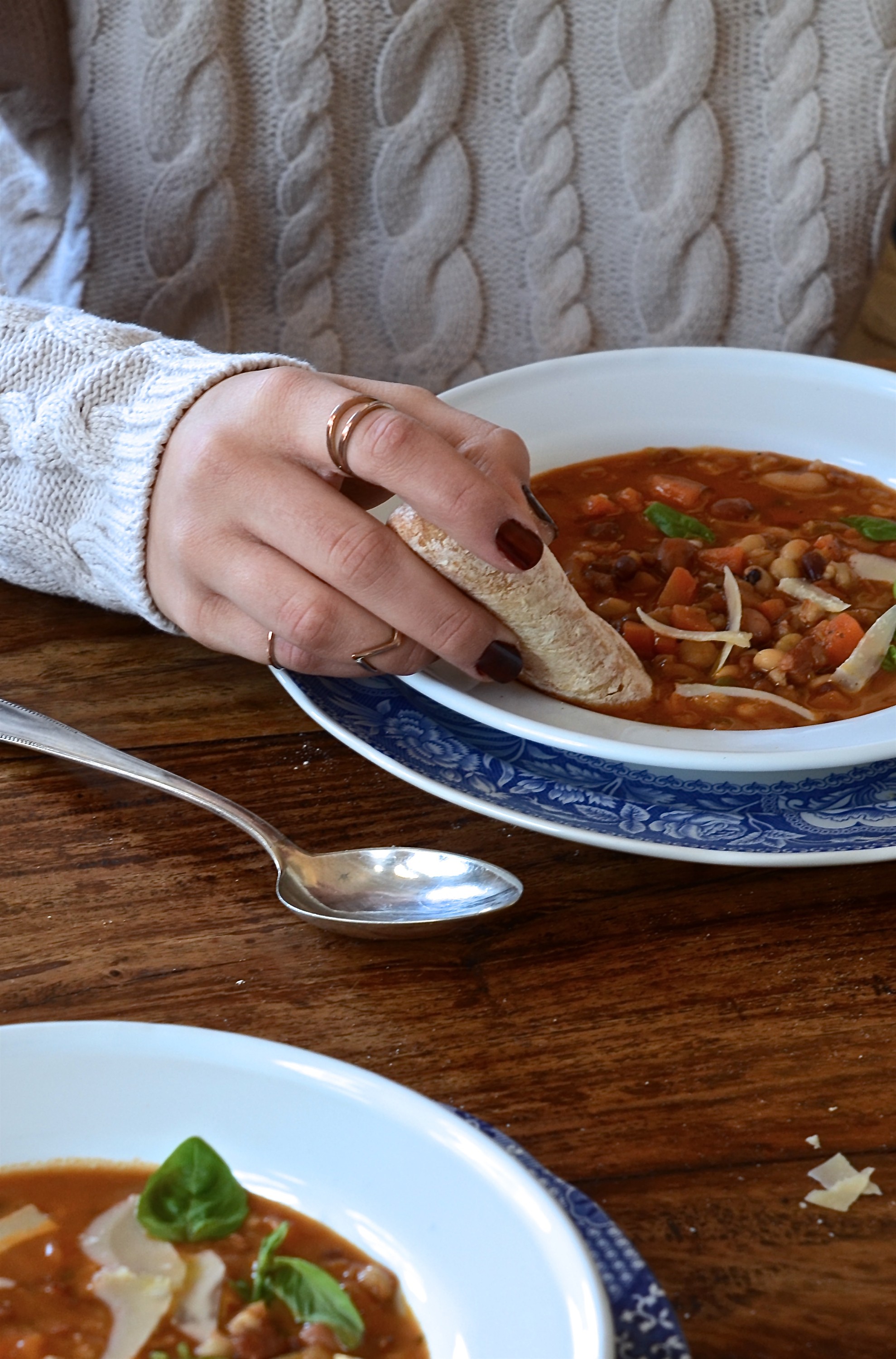 Tuscan Farro bean soup with pancetta
Serves 6
1 tablespoon olive oil
1 large brown onion, finely diced
2 carrots, peeled and diced
2 sticks celery, diced
125g pancetta or smoked bacon, sliced
1 garlic clove, minced
1 stem rosemary, finely chopped
2 stems fresh oregano, chopped or 1/2 teaspoon dried
1/3 cup farro or barley
800ml chicken or vegetable stock
2 parmesan rinds
2 x 400g mixed beans, rinsed and drained (borlotti, black eyed beans, chickpeas, cannellini)
1 tablespoon fresh lemon juice
salt and pepper, to taste
In a deep saucepan, heat the olive oil and sauté the onion until soft, about 7 minutes. Add the carrots and celery and cook for 3-4 minutes. Add the pancetta and fry for 3 minutes before adding the garlic, rosemary and oregano. Add the farro or barley, pour in the stock and add the parmesan rinds. Cover partially with a lid and simmer for 35-40 minutes. Stir in the beans and heat through. Season with salt and pepper and a squeeze of lemon juice. NB Don't forget to remove the parmesan rind before serving.
You might want to add these two wholesome soup recipes too.
Harira vegetable soup with barley and quinoa