Pork and shallot casserole with sage and mushrooms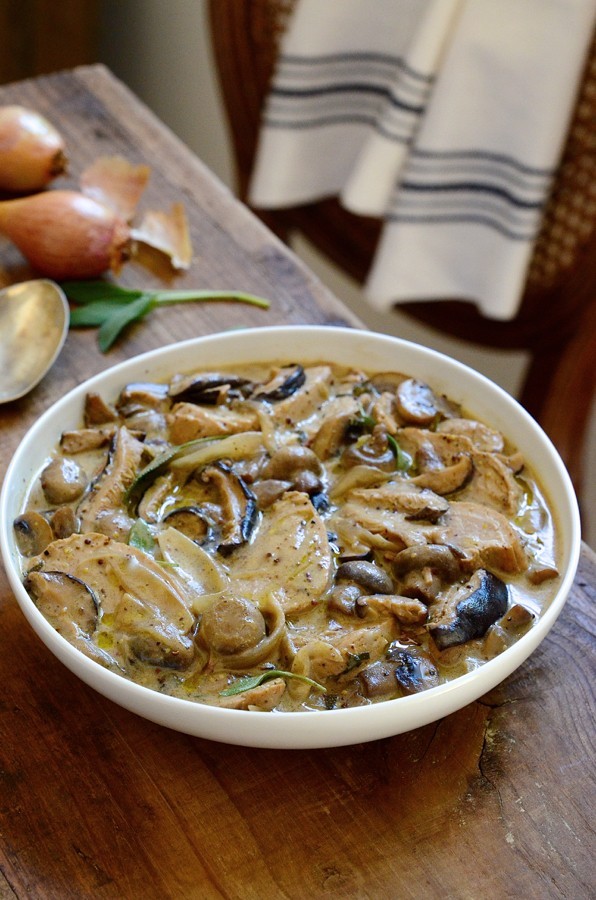 Pork and shallot casserole with sage and mushrooms. There's something homely about the word 'casserole'. Rolling lazily off the tongue, encouraging an informality that permits elbows on the table, bowl mopping and casual end of day banter. It's also the kind of dish that welcomes new neighbours to the street and fortifies the poor in spirit. Living up to it's reputation, tonight's midweek supper is a splendid pork tenderloin with mushrooms and caramelised shallots. The sage and marsala cream sauce pulls it all together. AND this, on a week night? For sure. Good eating isn't reserved solely for weekends. Every meal is an opportunity to revel in this, the simplest of daily rituals – gathering around the table for the customary pleasure of sharing a meal.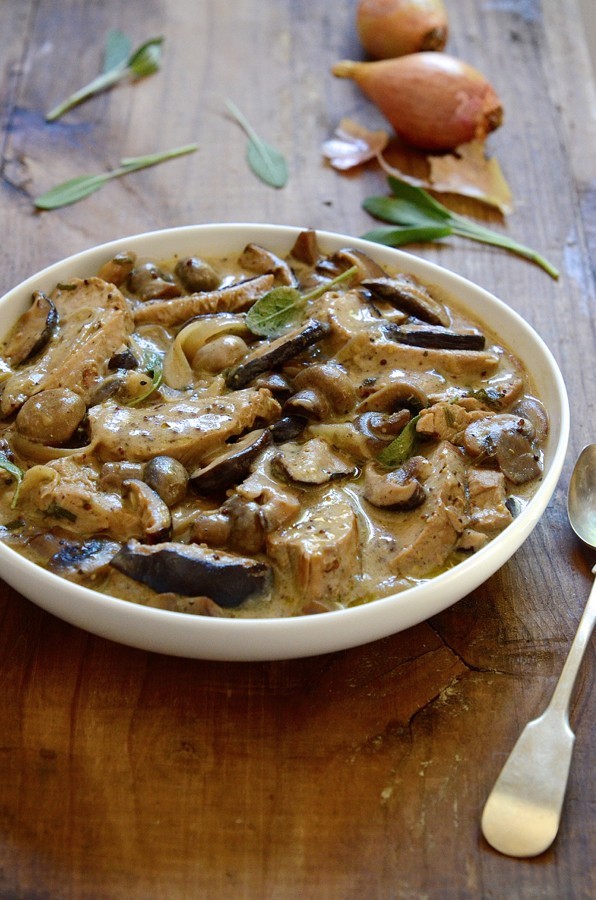 Although there are a couple of bold characters in this casserole, they all work intuitively together to deliver a rich but well balanced sauce. I've used Dijon and wholegrain mustard, each of which lends a different type of heat. Wholegrain is gentler, hardly hot at all, while Dijon mustard packs a heftier punch. And then there's sage. I love this hardy herb. It's earthy and fragrant, holding its own against contenders. This is my herb of choice to partner with pork and mushrooms. Shallots aren't always available, in which case, brown onions will do as well.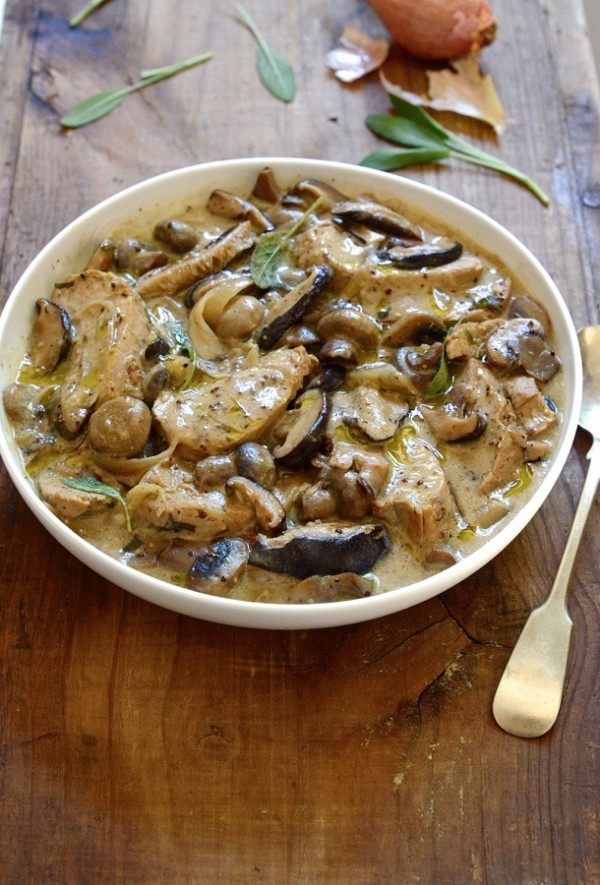 To finish, I added a liberal splash of Morgenster lemon enhanced extra virgin olive oil. With a citrusy spike, it off-sets the richness of the pork and adds another dimension of flavour. Great food is the marriage of contrasting textures, tastes and aromas all working harmoniously together to create one outstanding mouthful after another.
In keeping with a low-carb diet or for anyone wanting to keep it Banting friendly, serve with cauliflower mash. Alternatively, a bowl of buttered tagliatelle will provide a bed of slurp-worthy comfort. Or if all else pales, there's always good old fluffy mashed potatoes.
For more quick as a flash, superbly delicious midweek supper inspiration, this Chicken and leek casserole ticks all the boxes and then some. There's good reason why it's the most viewed recipe on the blog. For wine pairings that partner well with pork, read Michael Olivier's recommendation for the perfect bottle of white.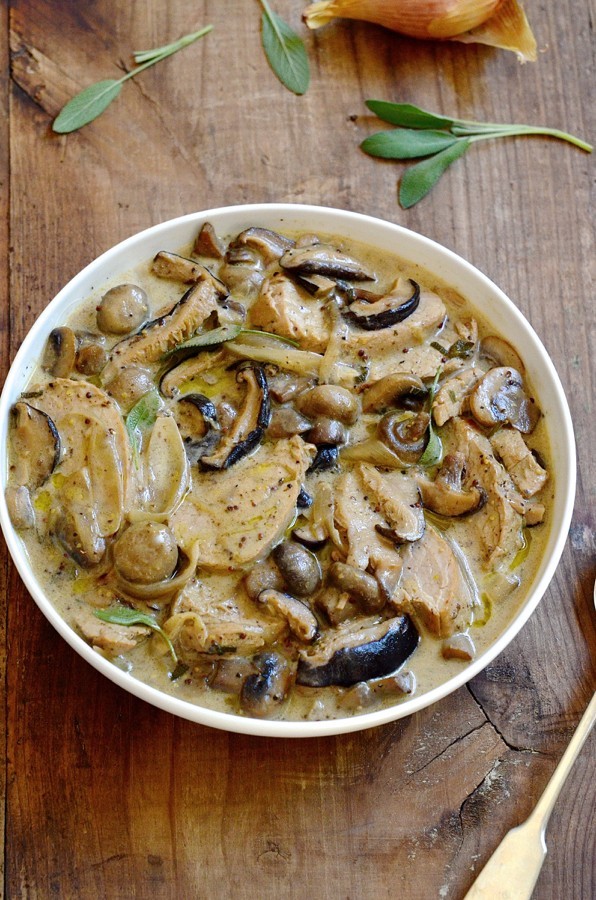 Pork and shallot casserole with sage and mushrooms
2 tablespoons extra virgin olive oil
1 tablespoon butter
400g pork fillet (loin)
2 teaspoons Dijon mustard
4 shallots, peeled and quartered
1 clove garlic
250g button mushrooms, halved or sliced
60g dried porcini or shiitake mushrooms
1 cup boiling water
about 6-8 fresh sage leaves, roughly chopped
60ml (1/4 cup) sherry or Marsala wine
1 teaspoon wholegrain mustard
60ml (1/4 cup) reserved mushroom soaking water
1/2 cup vegetable or weak chicken stock
a spritz of fresh lemon juice
250ml (1 cup) cream
salt and freshly ground black pepper
Heat 1 tablespoon olive oil in a wide based pan. Brush the Dijon mustard evenly over the pork fillet. Season with salt and black pepper. Place in the hot oil and brown on all sides. Remove from the pan and set aside.
Place the dried mushrooms in a heatproof bowl and cover with the boiling water. Set aside to rehydrate and plump up. Heat the remaining oil in the same pan and sauté the shallots for around 8 minutes until softened. Add the garlic and cook for a minute or two.
Add the butter to the shallots. Drain the shiitake mushrooms, retaining 60ml of the soaking water. Add the fresh button mushrooms and the shiitake mushrooms to the shallots and cook on a high heat until all the water has evaporated. Season with salt and add the sage. Deglaze the pan with the Marsala wine and reduce by half. Stir through the wholegrain mustard and pour in the reserved 1/4 cup soaking water, stock, lemon juice and cream. Return the pork fillet to the pan. Spoon some of the sauce and mushrooms over the pork fillet. This will prevent the meat from drying out while cooking.
Cover partially with a lid and simmer for 20-25 minutes. I usually turn the fillet over once during the cooking time to ensure even cooking. The sauce should be reduced and slightly thicker than pouring cream. Set aside for 5 minutes.
Remove the fillet from the pan and slice into 1 cm thick slices. Place the sliced pork back into the sauce, cover with the sauce and reheat slowly until warmed through.
To finish, drizzle with lemon infused extra virgin olive oil and serve with cauliflower mash or fresh tagliatelle.