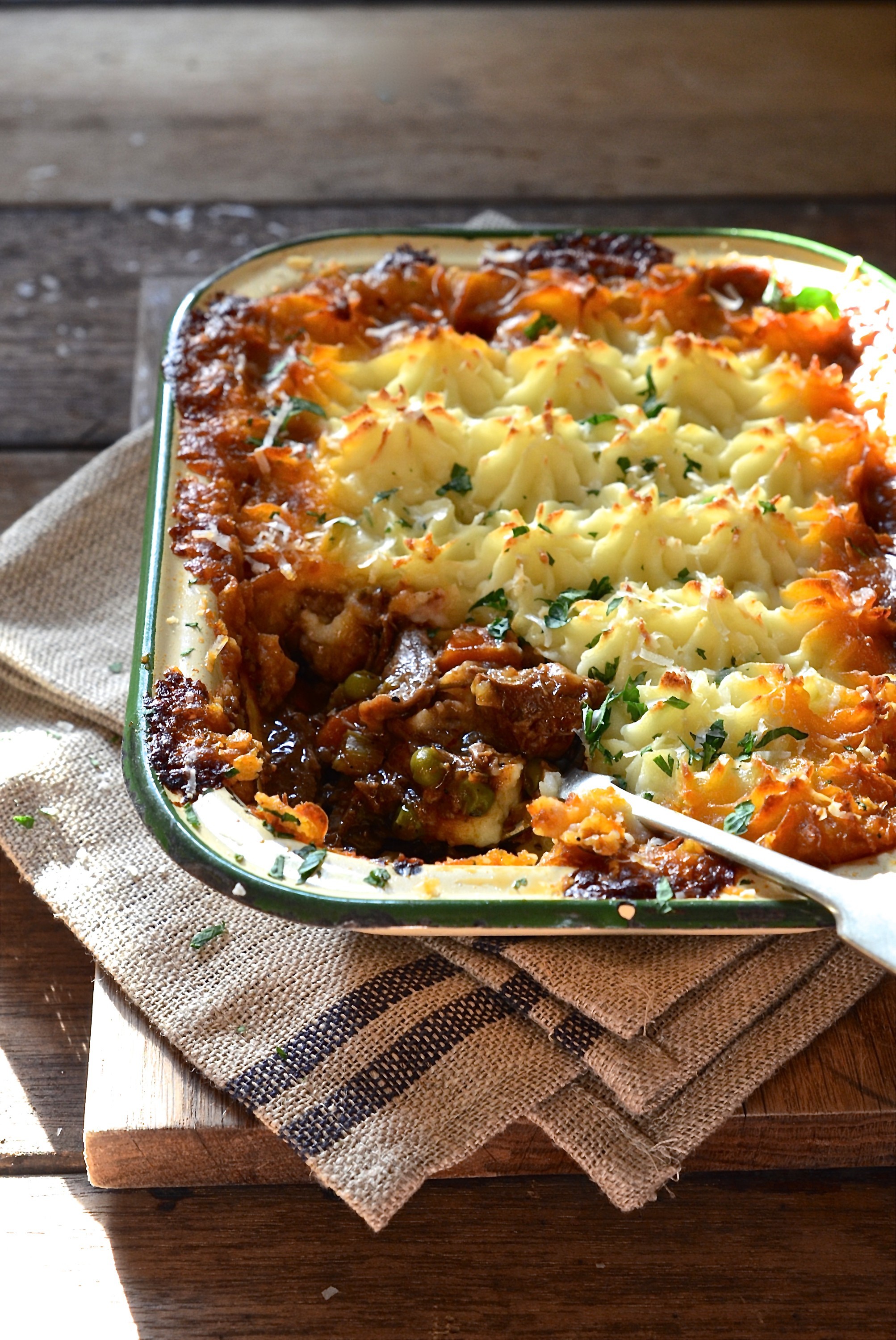 In my cooking classes, I'm  often asked about the difference between Shepherd's pie and Cottage Pie. Growing up, I remember my mother making cottage pie but Shepherd's pie was a rarity. Traditionally, cottage pie is made with ground beef, while Shepherd's pie uses lamb. In our home.The savoury gravy flavour is balanced by the sweet fattiness of the lamb and buttery mashed potato topping.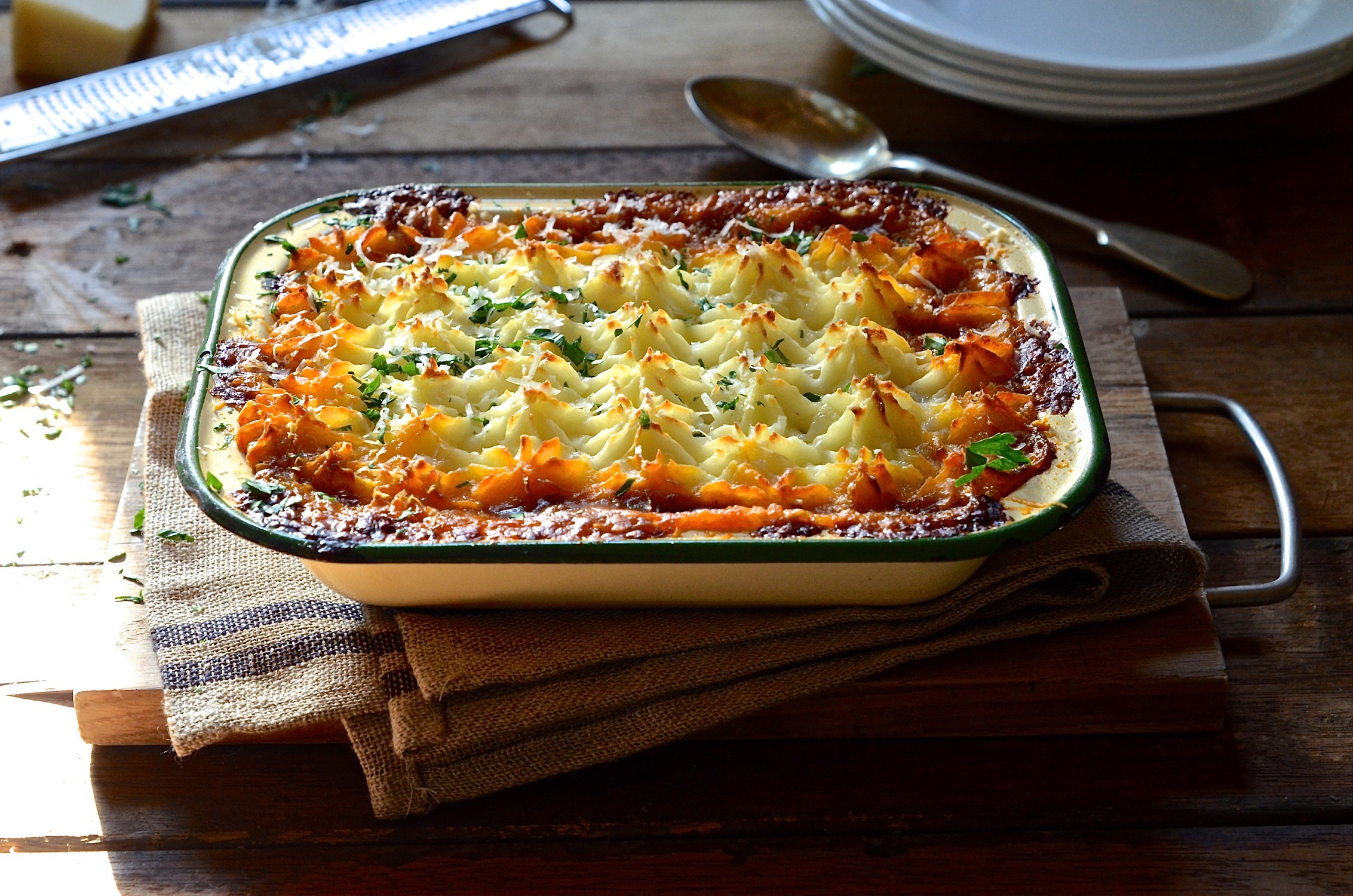 Food in the 70's was cheap and cheerful which meant that lamb rarely made it onto our dinner table, let alone into a pie! Forty years later, I'm married to a Liverpudlian and so, Shepherd's pie was bound to make it onto the menu. I had no family recipe to reference, so this is my take on it. I make it with brown sauce and Worcestershire. It's deeply savoury and completely delicious. We call it Bibby's Shepherd's pie.
For this Shepherd's pie, you're going to need the leftovers from a Sunday lunch lamb roast. If you don't have a go-to lamb recipe, this lamb shawarma is one the most popular meat recipes on the blog. The choice of vegetables depends largely on what's in your fridge. I use this as a general clear the fridge cook, with leeks, carrots, celery, mushrooms and whatever else I find in the veggie draw, though frozen peas are a must! No decent Shepherd's pie should be without these greens. Piped mash is a little fancy but fun. Pile on will do just as nicely.

Bibby's Shepherd's pie
Serves 4-6
1 tablespoon olive oil
1 brown onion, diced
2 stems celery, diced
3 carrots, cut into 1 cm dice
1 clove garlic, minced
1 teaspoon rosemary, finely chopped
2 tablespoons tomato paste
3 tablespoons Worcestershire sauce
2 tablespoons brown sauce (I use good old HP sauce)
1 teaspoon Dijon mustard
1 1/2 cups weak beef stock
2 cups (about 400g) left over cooked lamb, cut into chunks
1 teaspoon cornflour dissolved in 30ml cold water
3/4 cup peas (petit pois are lovely and sweet)
2 cups prepared mashed potato
flat leaf parsley, to serve
Preheat the oven to 200º C and grease a 2 litre baking dish.
Heat the olive oil in a pan and sauté the onion until softened, about 8 minutes. Add the celery and carrots and cook for a further 5 minutes.
Stir in the garlic and cook for a minute before adding the rosemary, tomato paste, Worcestershire, HP sauce, mustard and beef stock. Bring the sauce up the boil, then add the lamb. Cover and simmer for about 35 minutes or until the carrots are tender.
Add the cornflour slurry and simmer to thicken. Remove from the heat and stir in the peas.
Transfer the meat filling to a baking dish and top with mashed potato. Bake for 25-30 minutes until bubbling and golden. Scatter over a handful of freshly chopped parsley and serve with some extra brown sauce or tomato sauce on the side.