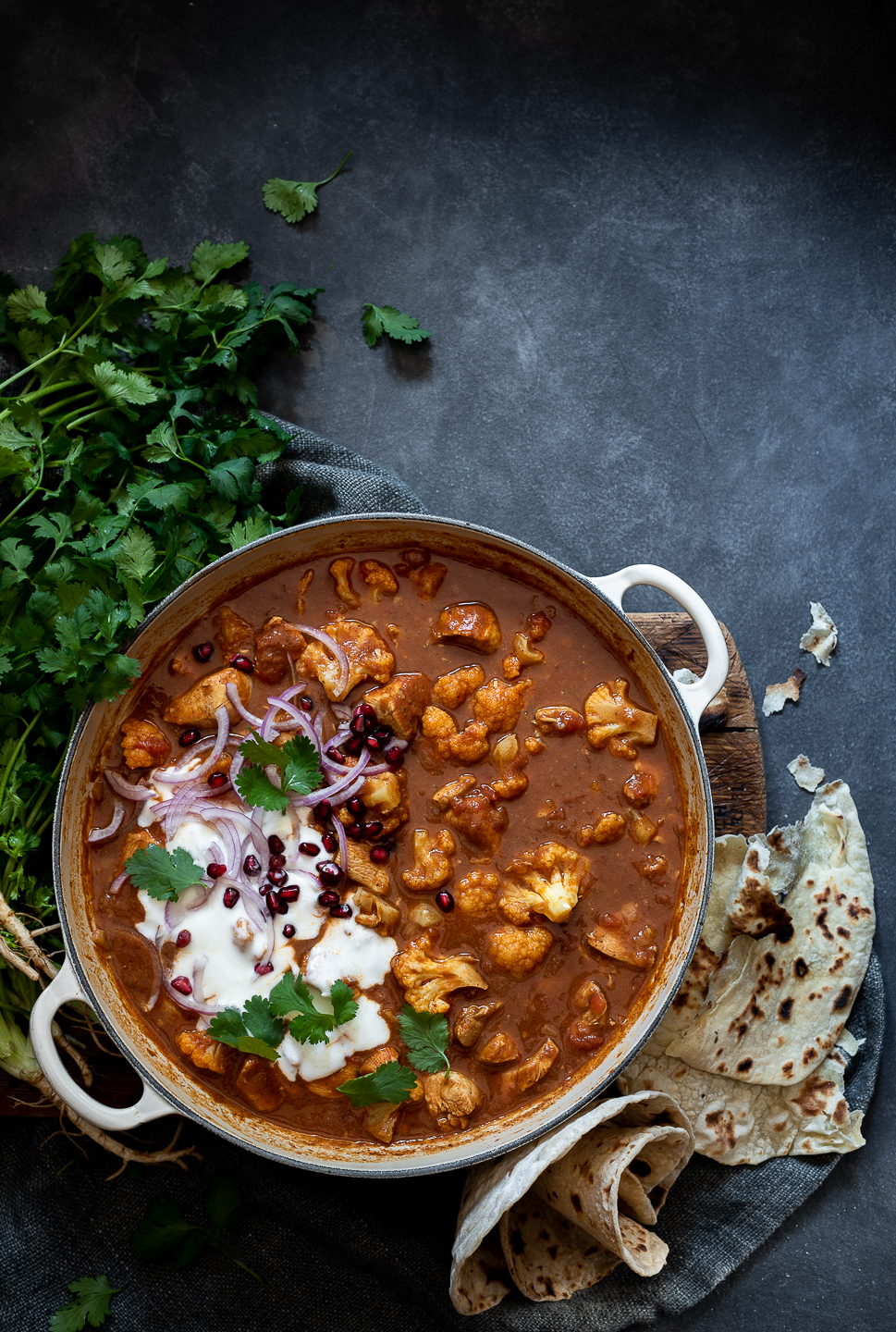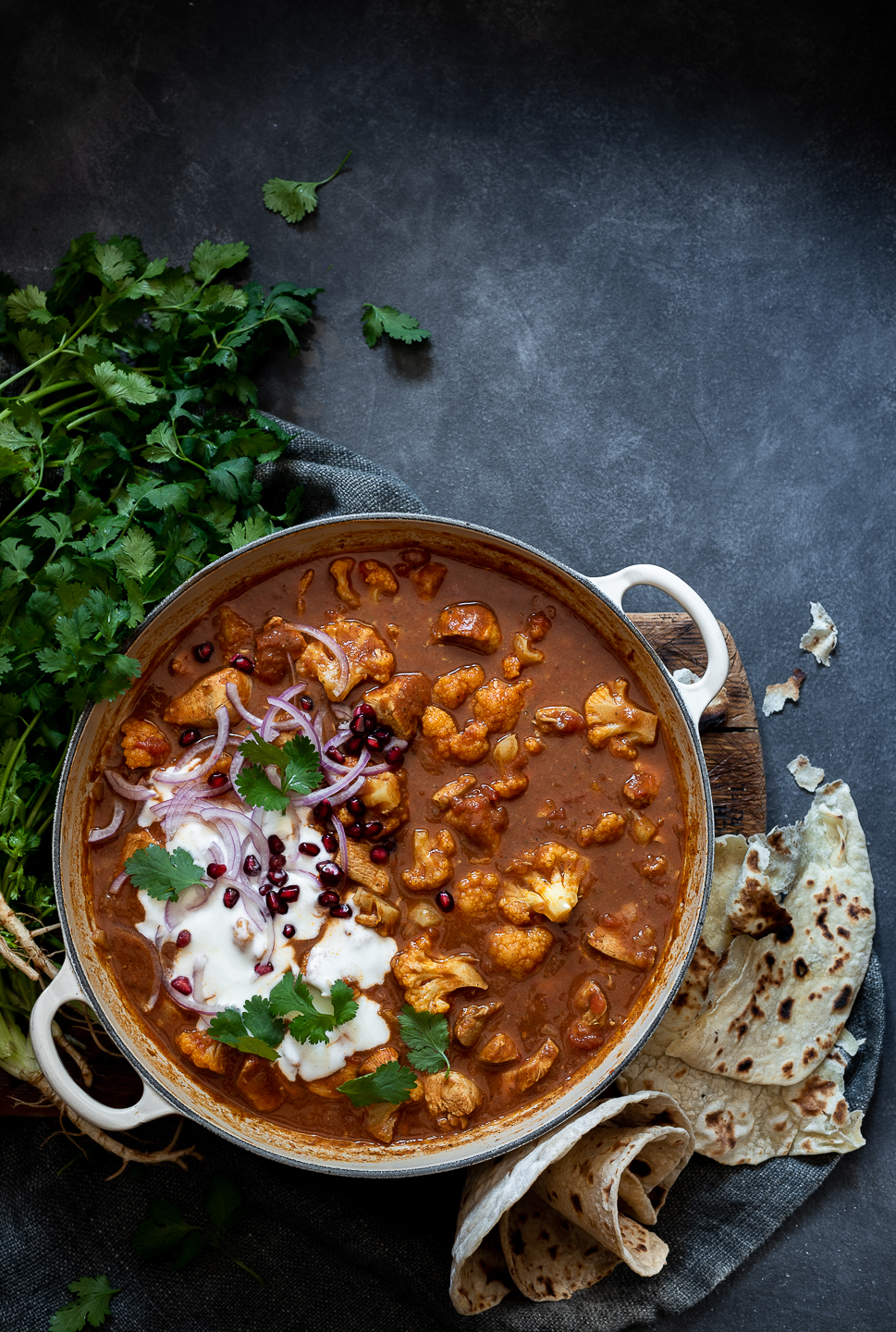 The recipe for tonight's Chicken and Cauliflower Korma is the work of mere minutes. It's the kind of food you want to make when you need everything to happen in one pot. No fancy cooking, just good food, made simple. And because we all need short-cut support every now and then, we're leaning on a handful of kitchen staples like tinned tomatoes, coconut milk and a ready made Korma curry paste from Woolworths.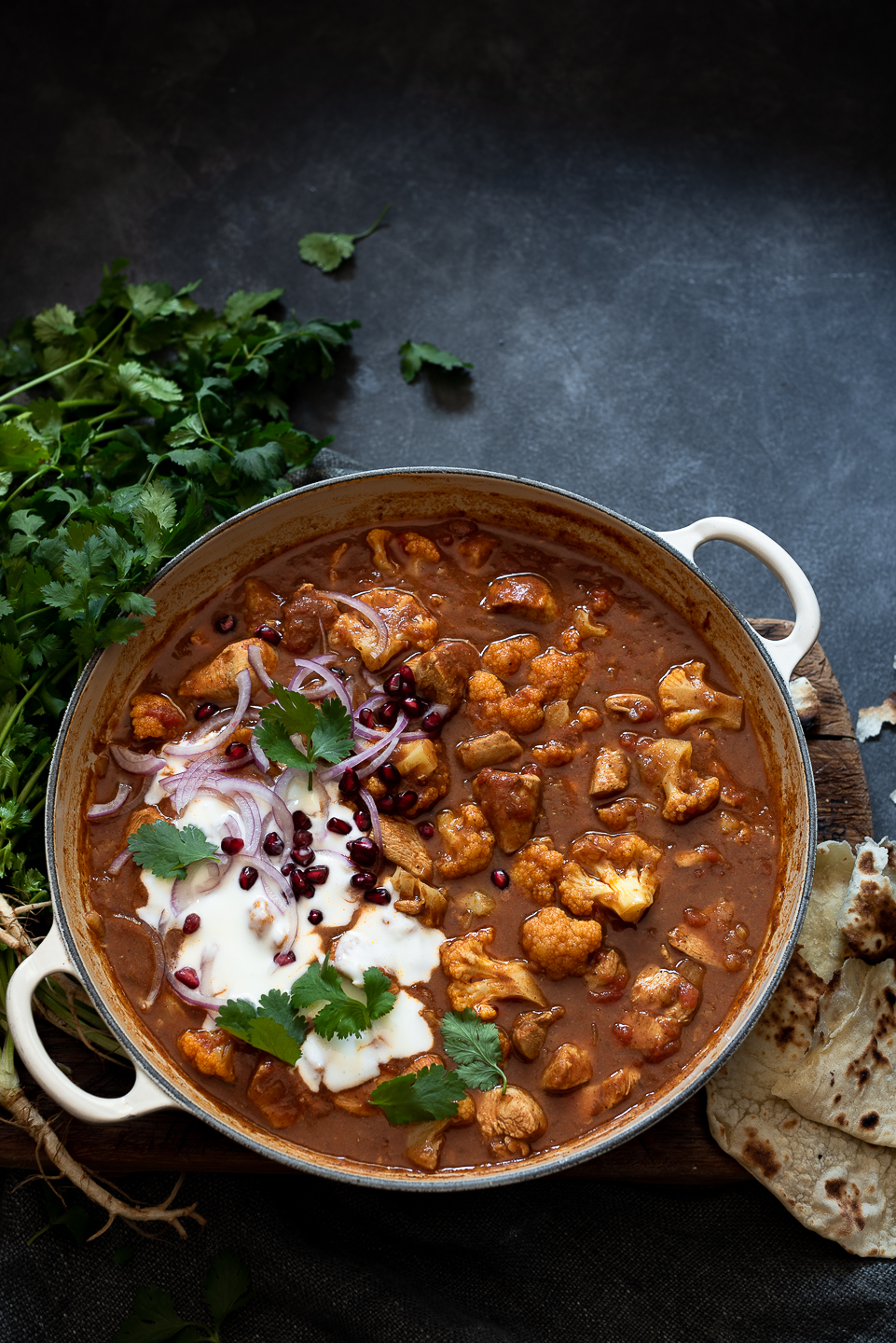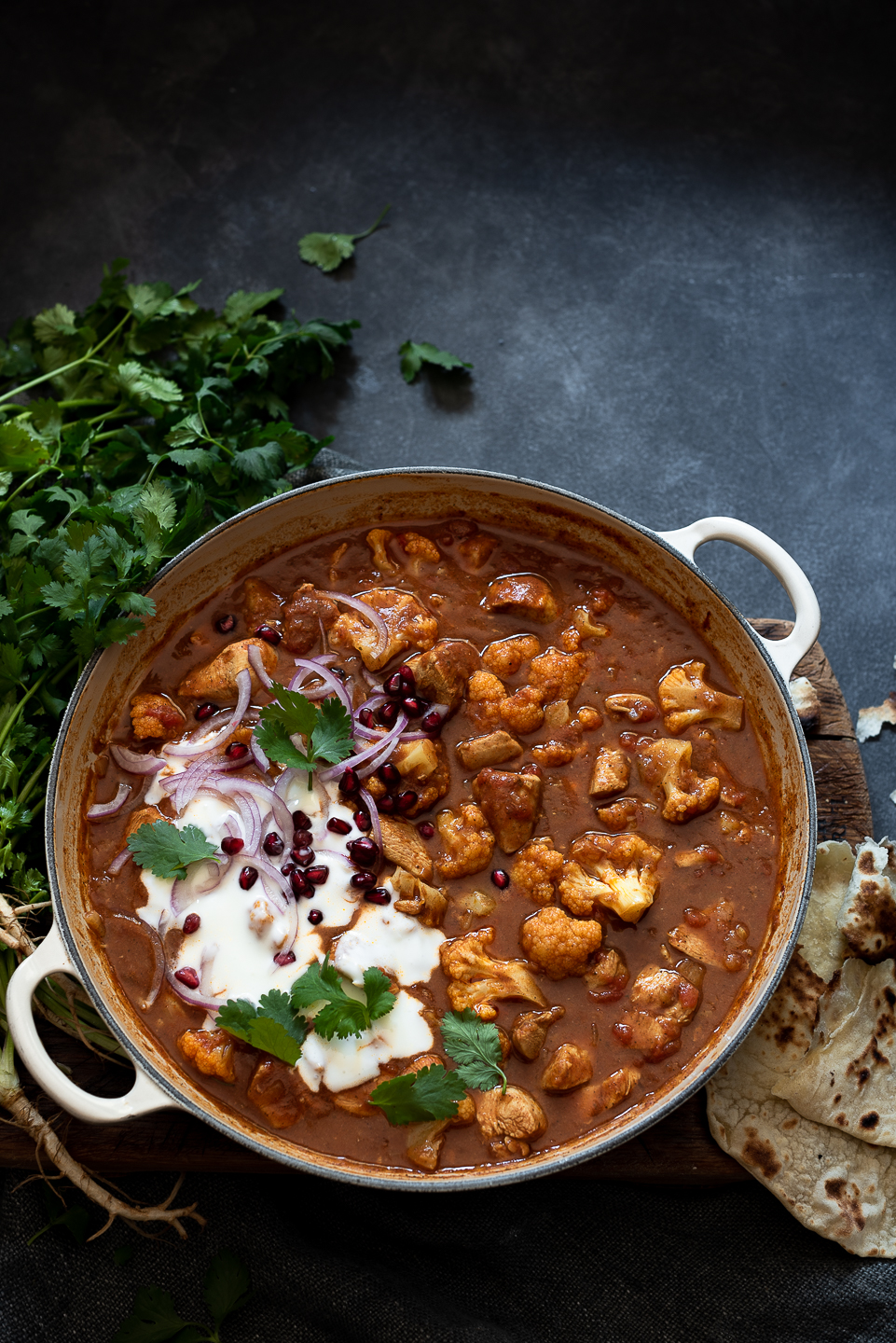 One of the things we've missed the most during lockdown, food-wise, is the Woolies roast chicken. With this kitchen staple more scarce than hen's teeth, we've been making every other chicken dish to replace the buttered bird. This chicken and cauliflower Korma was one of them. There's also been a meat-free version with roast sweet potato, butternut, red peppers and 2020's pantry hero, tinned chickpeas. For the vegetarian Korma, simply roast all the vegetables together in a hot oven for about 45 minutes before adding to the sauce. A few flatbreads on the side are just the thing for sauce-dipping and cleaning the plate.
The flatbreads on the side are in fact the fluffiest floured tortillas leftover from a recipe I've been developing for my new Ebook. Eight tests later, it's 100% ready. Keep an eye out for the Ebook. Fingers crossed it'll launch the first week of July. It's filled with beautiful home food that tastes like love, community and togetherness. I hope you're going to love it!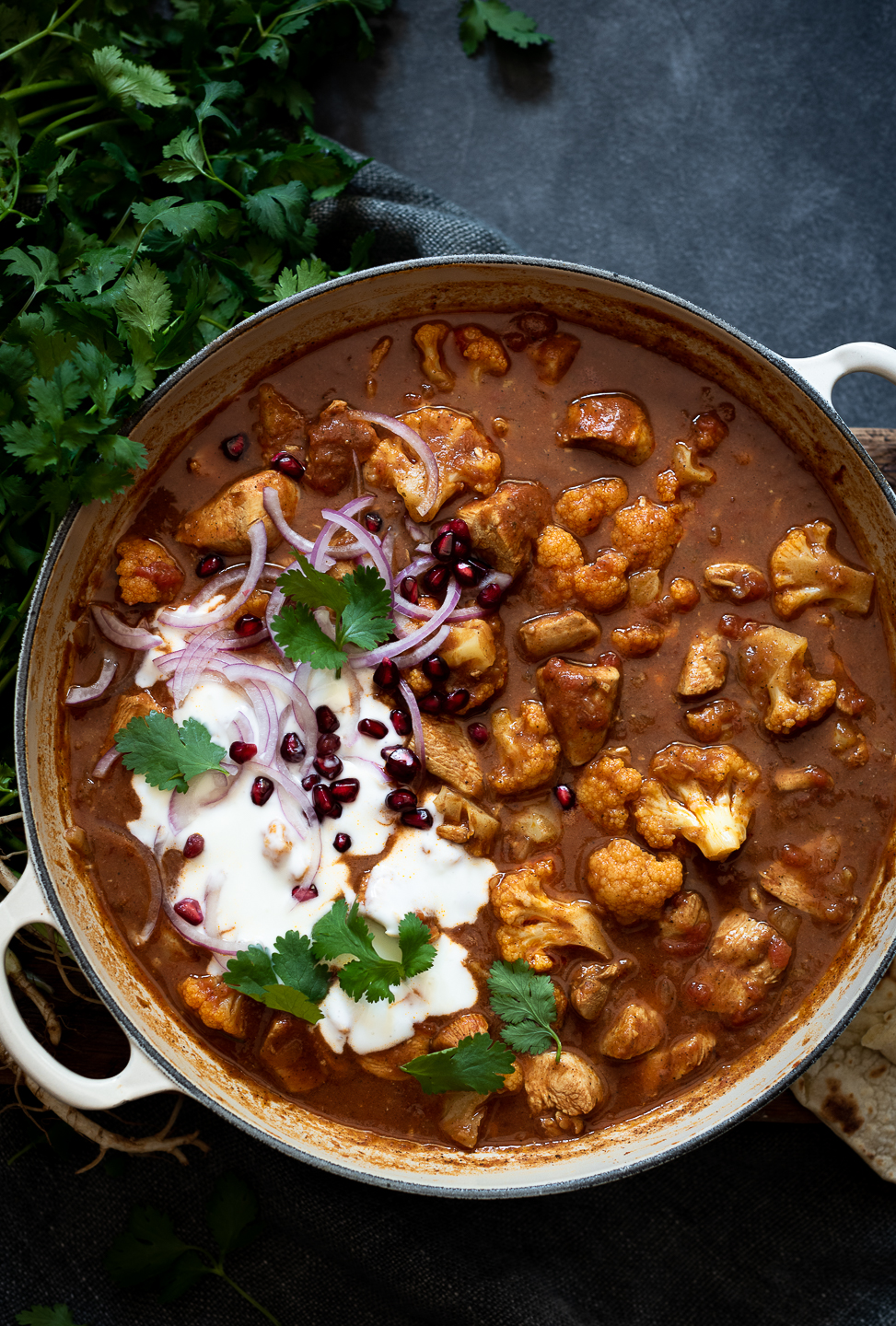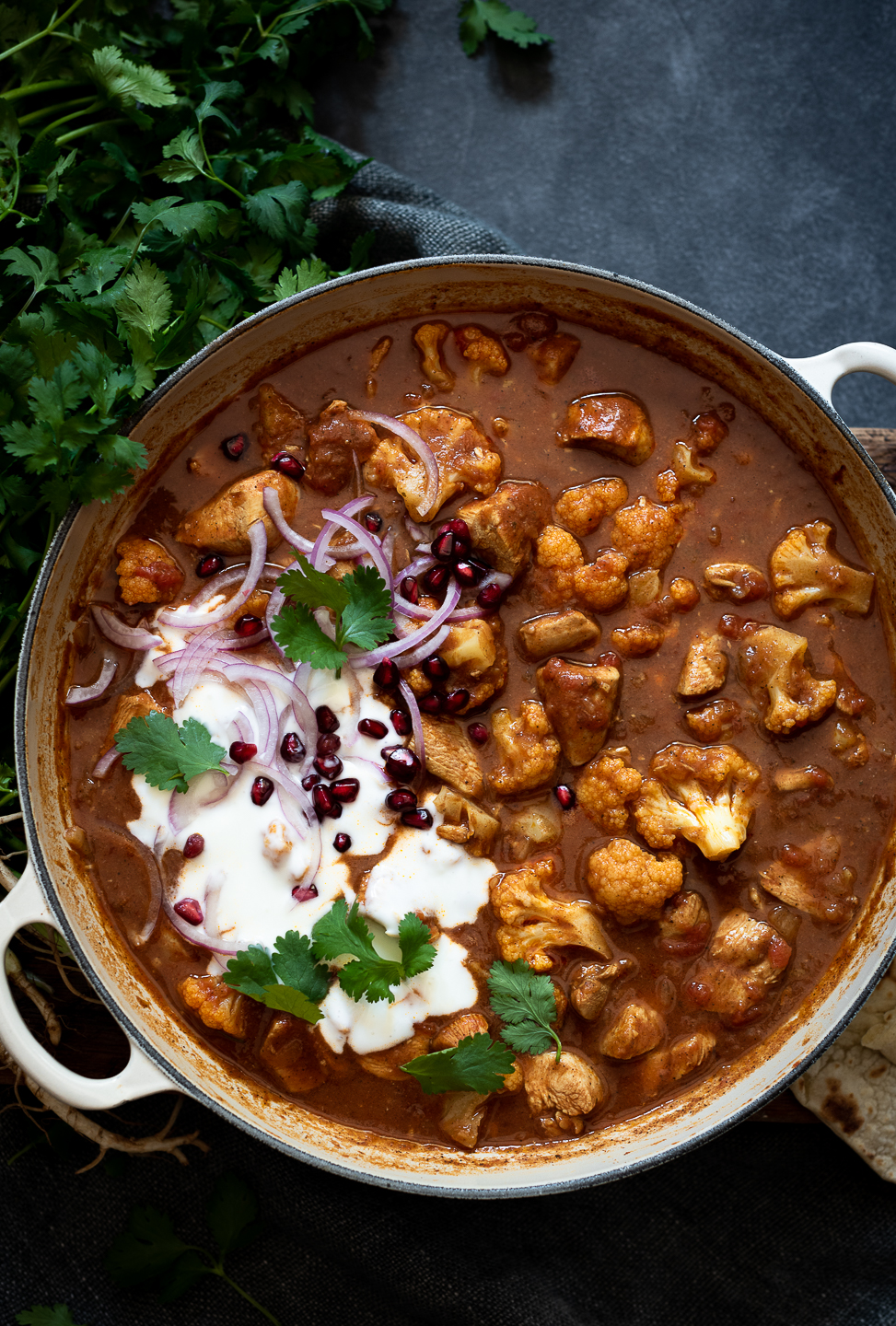 Chicken and cauliflower Korma 
Serves 6 -8
coconut or vegetable oil, for cooking
1 large red onion, diced
1-2 cloves garlic, minced
1 thumb-sized piece of ginger, finely grated
30ml (2 tablespoons) Korma paste
45ml (3 tablespoons) tomato paste
1 kg chicken fillets (about 8 large fillets), cut into 3cm portions
400g tin chopped tomatoes
400g tin coconut milk
80ml (1/3 cup) chicken stock
1 head cauliflower, cut into florets
salt and freshly ground black pepper
fresh coriander and yoghurt, to serve
Heat 15ml oil in a wide-based casserole. Add the onion and sauté over a medium heat until soft and caramelised, about 8 minutes. Stir in the garlic and ginger and cook for a minute or two. Add the Korma paste, tomato paste and chicken pieces. You may need to add a little more oil to coat the chicken. Season with salt and black pepper and pan-fry briefly, just long enough for the chicken to absorb the spice paste flavours.
Add the tomatoes, coconut milk and stock. Stir through, cover partially with a lid and simmer for about 35 minutes. Add the cauliflower florets and simmer with the lid off for another 10 -12 minutes. The cauliflower should be fork tender, but not soft and the sauce, thickened.
Serve with brown basmati rice, thick yoghurt and fresh coriander, if you like.
Here are some of the most loved curry recipes on the blog:
Cape Malay chicken curry with roasted bananas