Lamb curry with mango atchar and masala cashew nut salad
A profusion of diverse threads are wondrously woven into cultural tapestries. People own their culture. When we say, local is lekker, our virtual wanderings instinctively transport us back to nostalgic foods that remind us of our childhood. For me, hazily hot African summers with mirage-like braaivleis smoke, rugby, sunny skies and the recently returned Chevy, are firmly cemented in my food memory bank. We also understand that 'dipping an Ouma' is figurative, a habitual pleasure of early morning coffee-soaked rusks. And, that no fete is replete without bowls of spicy curry & rice topped with spoonfuls of Mrs Ball's tangy chutney. This distinctive combination of savoury and sweet is as much a part of our local cuisine as milk is with the tart. #Melktertbaby!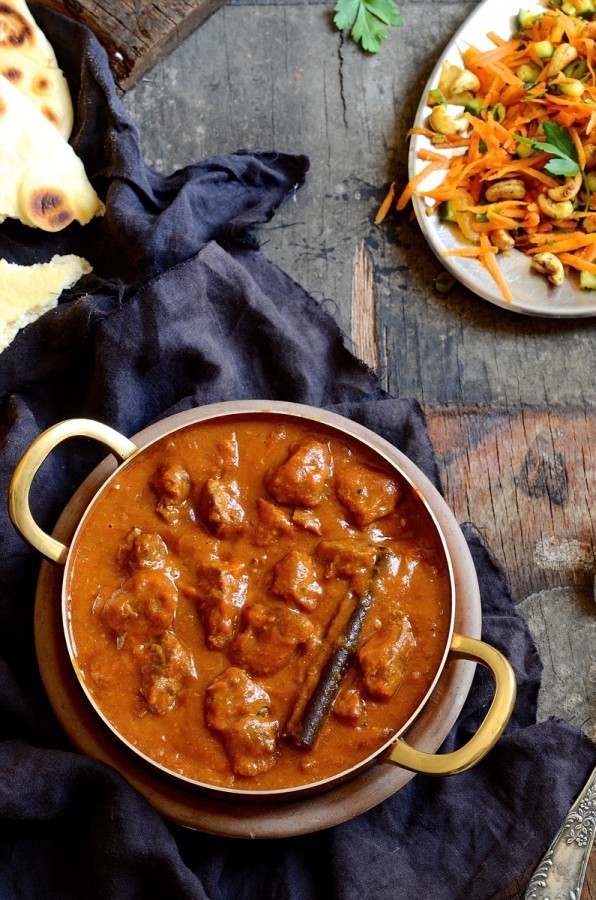 As a nation of flavour seeking eaters, South Africa embraces a melting pot of exciting cuisines. It's no surprise then that Indian food is one of our most loved favourites. With its bold use of spices and heat levels ranging from mild to hell hot, it's an explosive gastronomic journey that's hard to beat. Influenced primarily by regionality, Indian food encompasses a myriad of interesting dishes with a broad palette of flavours. Typically, a meal at home might consist of meat or fish, vegetables and pulses, bowls of rice or blistered flatbreads and of course, a fresh relish or chutney.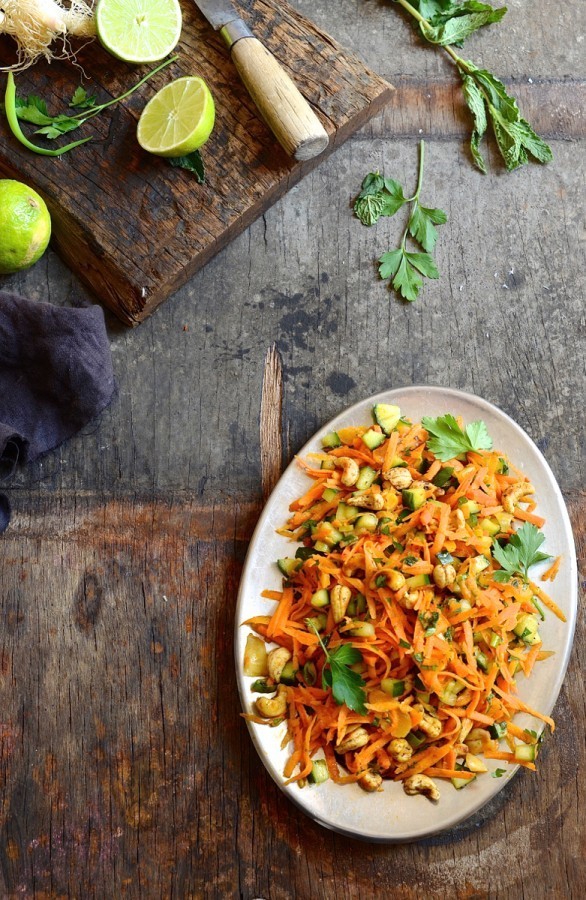 Today I'm partnering with South African food brand, Peppadew, who recently introduced a range of #AwesomeAtchars to the local market. I'm always excited to experiment with new ingredients, so when Peppadew invited me to develop a recipe using their exclusive atchars, I gladly jumped on board. We're having a thoroughly unique lamb curry, bolstered by piquanté atchars and fresh mangoes. Join me as we travel to the Best Exotic Marigold Hotel and take a seat at the pulsating Mumbai Curry Bar.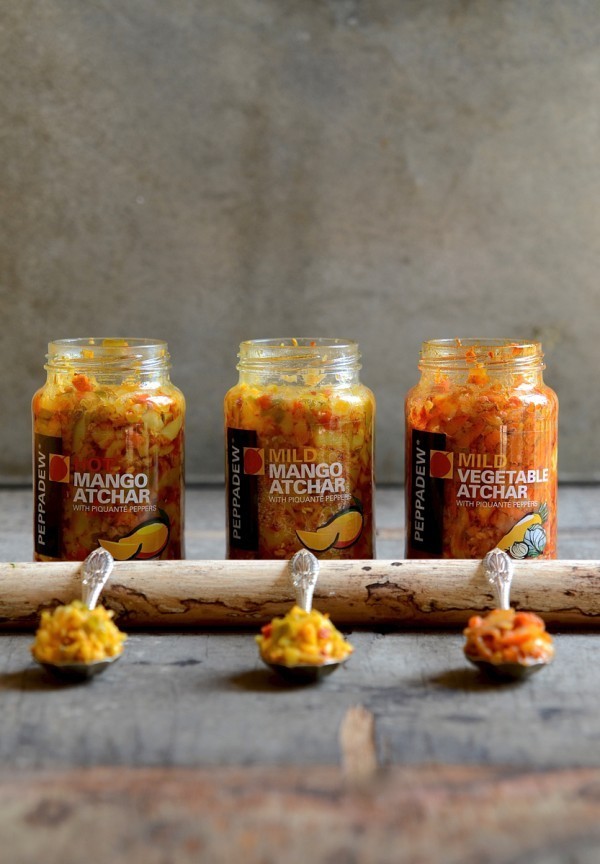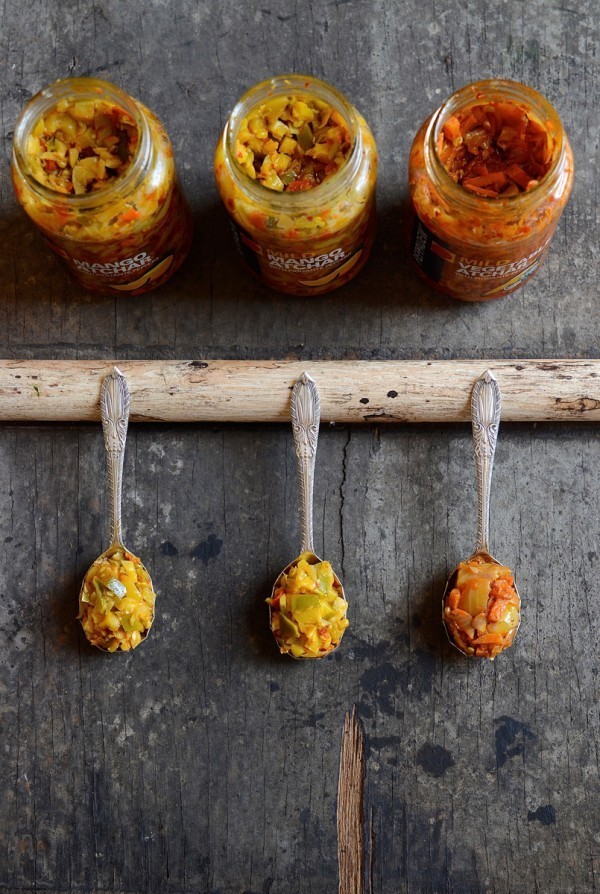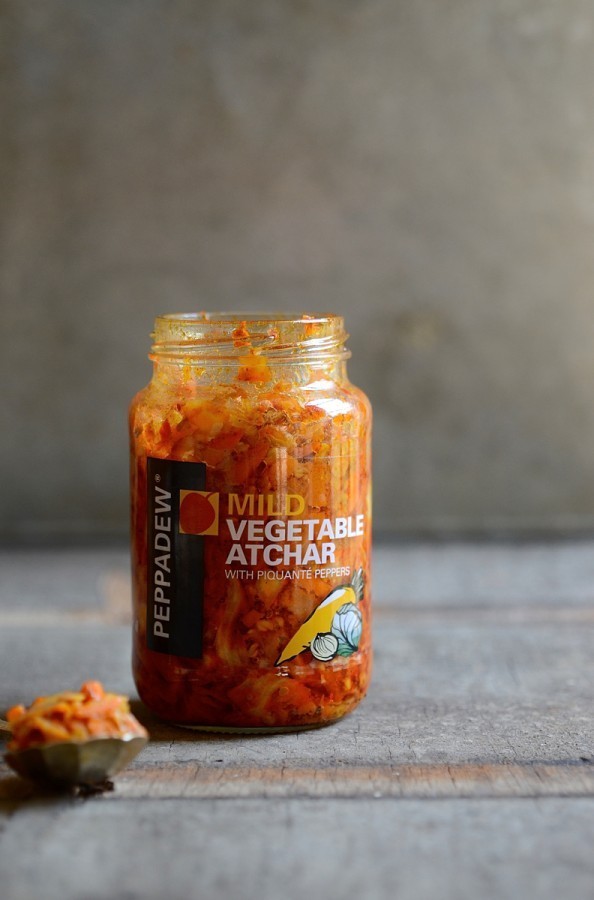 A word on atchars – Recent health food studies show that naturally fermented foods aid digestion and promote good-gut health. All the more reason then to include this age old form of preserved foods in our everyday diets. Traditionally made with either fruit or a medley of vegetables, atchar is rich in lactic acid. With four Peppadew Atchar variants to choose from including a Mango option, we're headed for a mouthwatering sweet and savoury combination. Here's how we're going to do it.
The secret to a good curry is undoubtedly a made from scratch curry paste. Using a combination of Mild and Hot Peppadew Mango Atchar, toasted spices, caramelised onions, ginger, garlic and fresh mangoes cheeks, this is a paste to bottle! Being a firm believer in the art of slow cooking, we're going to allow the oven to do the work. Hours of gentle heat renders a spoonable meat layered with complex flavours and deliciously aromatic nuances. Indian food lends itself to extravagant feasting with an array of tasty morsels to nibble on or serve alongside. I'm serving mine with warm puffy naan breads and a refreshing carrot and masala cashew nut salad. It's a lively textural contrast to the rich lamb and testament to the success of incorporating new ingredients into spectacularly good food.
Lamb curry with mango atchar
Dry spices (enough for 1 quantity curry)
1 teaspoon cumin seeds
1 teaspoon coriander seeds
1/2 teaspoon fennel seeds
2 teaspoons garam masala
1 teaspoon turmeric
1/4 – 1/2 teaspoon dried red chilli flakes (depending on heat preference)
Spice paste
1 tablespoon vegetable oil
1 large brown onion, diced
2 garlic cloves, diced
1 tablespoon ginger, grated
1 quantity dry spice
2 tablespoons Peppadew Mild Mango Atchar with Piquanté Peppers
2 tablespoons Peppadew Hot Mango Atchar with Piquanté Peppers
flesh of 1 medium-sized mango (about 1 1/4 cup), fresh or frozen
1 teaspoon sugar
3-4 tablespoons water
Lamb curry with mango atchar
1 tablespoon vegetable oil
1.2 kg free-range lamb cubes
1 brown onion, diced
2 tablespoons tomato paste
400g tin whole plum tomatoes, mulched
1 cinnamon stick, broken
400ml coconut milk
1 cup weak beef stock
200ml water
1 tablespoon fruit chutney
salt and pepper, to taste
To make the dry spice, toast the cumin, coriander and fennel in a pan on medium heat until fragrant. Add the garam masala, turmeric and chilli flakes, giving it a quick stir through before setting aside to cool.
For the paste, heat 1 tablespoon oil in a pan and sauté the onion until softened. Stir the garlic and ginger in cook for a further 2 minutes.
Add the dry spices, both Peppadew Mango Atchars with Piquanté Peppers and the fresh mango pieces to the onions. Now add the sugar and water and simmer for several minutes. Transfer the paste to a blender and blitz until smooth.
Heat the remaining oil in a heavy based oven-proof saucepan. Season the lamb with salt and pepper. Brown the meat in batches, remove from the pan and set aside.
Sauté the the onion in the remaining pan oils. Add the lamb back to the pan and combine with the caramelised onions. Add the whole quantity curry paste and the remaining ingredients, except the chutney. Cover with a lid and cook in a 180º C preheated oven for about 3 hours until the meat is tender and the sauce thickened.
Adjust seasoning if necessary and stir through the chutney. Serve with carrot and cashew nut salad, steamed rice, naan bread and cucumber raita.
This post was sponsored by Peppadew. Recipes and opinions are my authentically that of Bibbyskitchen