Cape Malay chicken curry with roasted bananas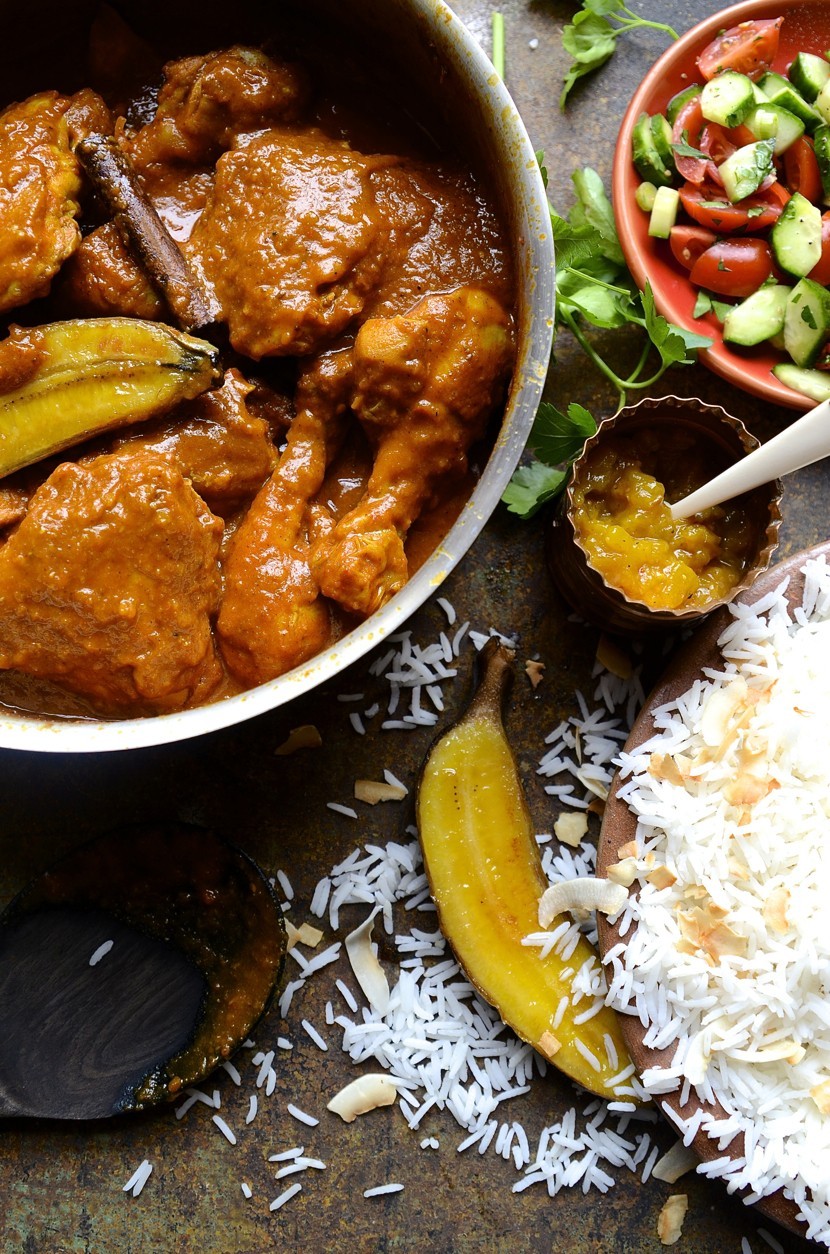 South Africa's rich cultural heritage is peppered with influences from around the world, leaving us with a melting pot of flavours from which to draw inspiration. On any given day, curry is one of my favourite foods. This Cape Malay chicken curry is deeply aromatic with a rich coconut milk tomato sauce. I serve it with mango chutney and caramelized bananas.
Comfort food generally evokes thoughts of cold, wet, London type weather when a warm mental food hug is powerful enough to ward off an actual chill. And then there are certain stressful situations when only a tub of Häagen-Dazs will do. It therefore follows that comfort eating is not restricted to weather conditions. Let's think about India for a moment. It is hot there, most of the time and yet, everyone's eating curry with potency levels ranging from mild, medium, hot and hell hot!  They feast on curry throughout the blistering summer and seem 'happy as Larry', so I'm going to do the same. No waiting around here 'til fall or the onset of winter chills.
Spiced and earthy, this golden hued Cape Malay chicken curry will tick all the boxes and leave you clamouring for more. To round off this truly local hero of a dish, my Spiced Cape brandy pudding with softly whipped cream is where I'd be heading….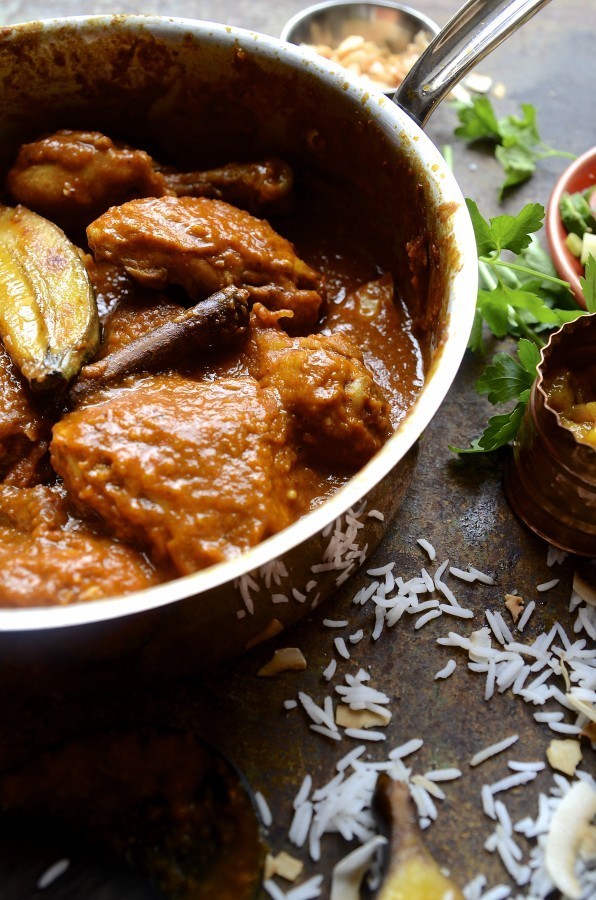 Roasting your own spices might seem a bit tedious but, you'll be rewarded with an aromatic spice mix that'll elevate all your curries to another level. The direct heat of dry roasting whole spices releases the natural oils and intensifies the flavour. Although not traditional, I've made up a Malay spice paste and found this works incredibly well. It's worthwhile making a double batch of paste and storing it in a sterilized jar in the fridge to use later. I find curries to be one of the easiest ways to entertain large groups of guests as all the work is done beforehand which leaves you time to sit back and enjoy the company.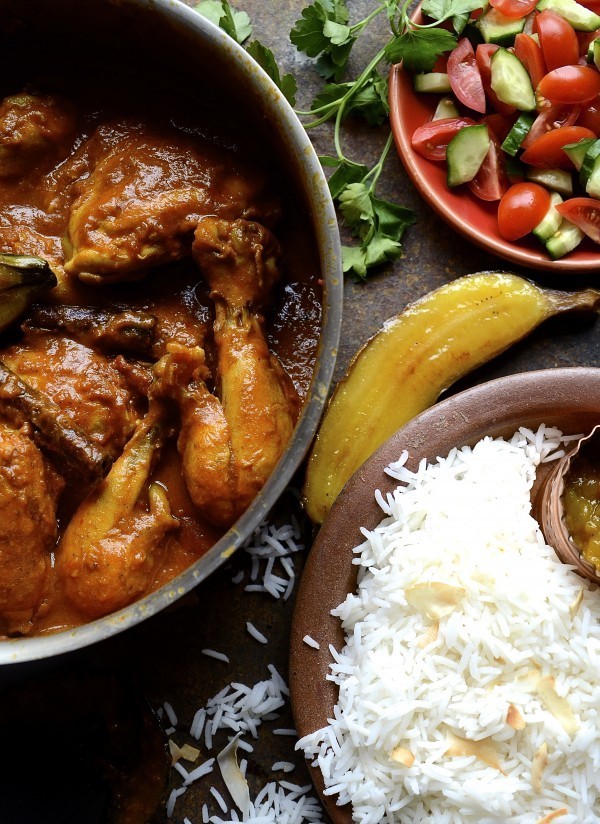 Cape Malay chicken curry
Ingredients
For the spice mix
1 teaspoon coriander seeds
1 teaspoon cumin seeds
5 cardamom pods,crushed and outer husks removed
Toast all the dry seeds together in a pan. Do not add any oil when frying as you want to natural oils of the spices to be released. When a slight dry smoke wafts up from the pan and you can smell the pungency of the spices, remove from the heat. Place the spices in a mortar and pestle and crush until fine or for a finer texture, mill in a coffee grinder.
For the curry
1 tablespoon vegetable oil
12 chicken thigh and drumsticks pieces, bone-in and skin removed
1 onion, diced
2 cloves garlic, minced
1 red chilli, seeds and membrane removed or 1/2 teaspoon red chilli flakes
2 teaspoons garam masala
1 teaspoon turmeric
2 cinnamon quills or sticks
2 teaspoons freshly grated ginger
1 teaspoon sugar
400g tin whole tomatoes, mulched
250ml coconut milk
Heat the oil in a frying pan and brown the chicken pieces in batches until they are well coloured on both sides. Season with salt and pepper, remove from the pan and set aside. Heat a little oil in the same pan and sauté the onion and garlic until softened. This should take about 7 minutes. Add the chilli, garam masala, turmeric, cinnamon, ginger and sugar. Cook the spices and onions together for a minute or two and then deglaze the pan with a splash of water. Scrape the spice mix into a blender and blitz to form a paste.
Add the chicken back into the pan and stir in the paste mixture. Cook for several minutes so that the spicy paste coats the chicken. Stir in the tomatoes and coconut milk. Place the lid on and simmer on a medium heat for approximately 35 -40 minutes. Taste and adjust the seasoning if necessary.
To make the caramelized bananas, slice a just ripe, but slightly firm banana in half. Brush with melted butter and dunk, cut side down, into brown sugar. Caramelize in a hot pan until tender and sticky. Serve whole and scoop out as a topping for the curry.
BK Handy hint: As with most curries, this Cape Malay curry will taste even better the following day as the flavours mature.