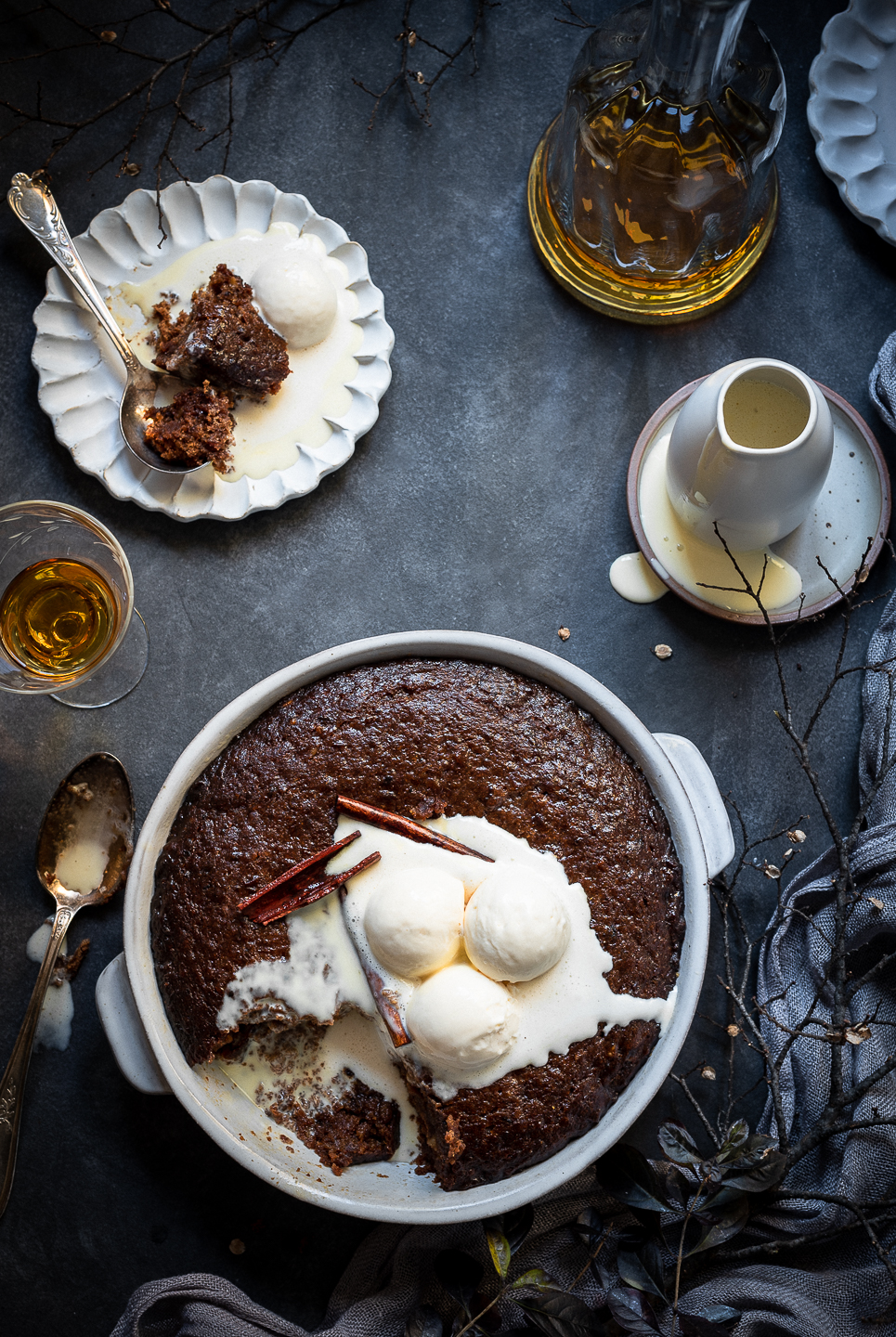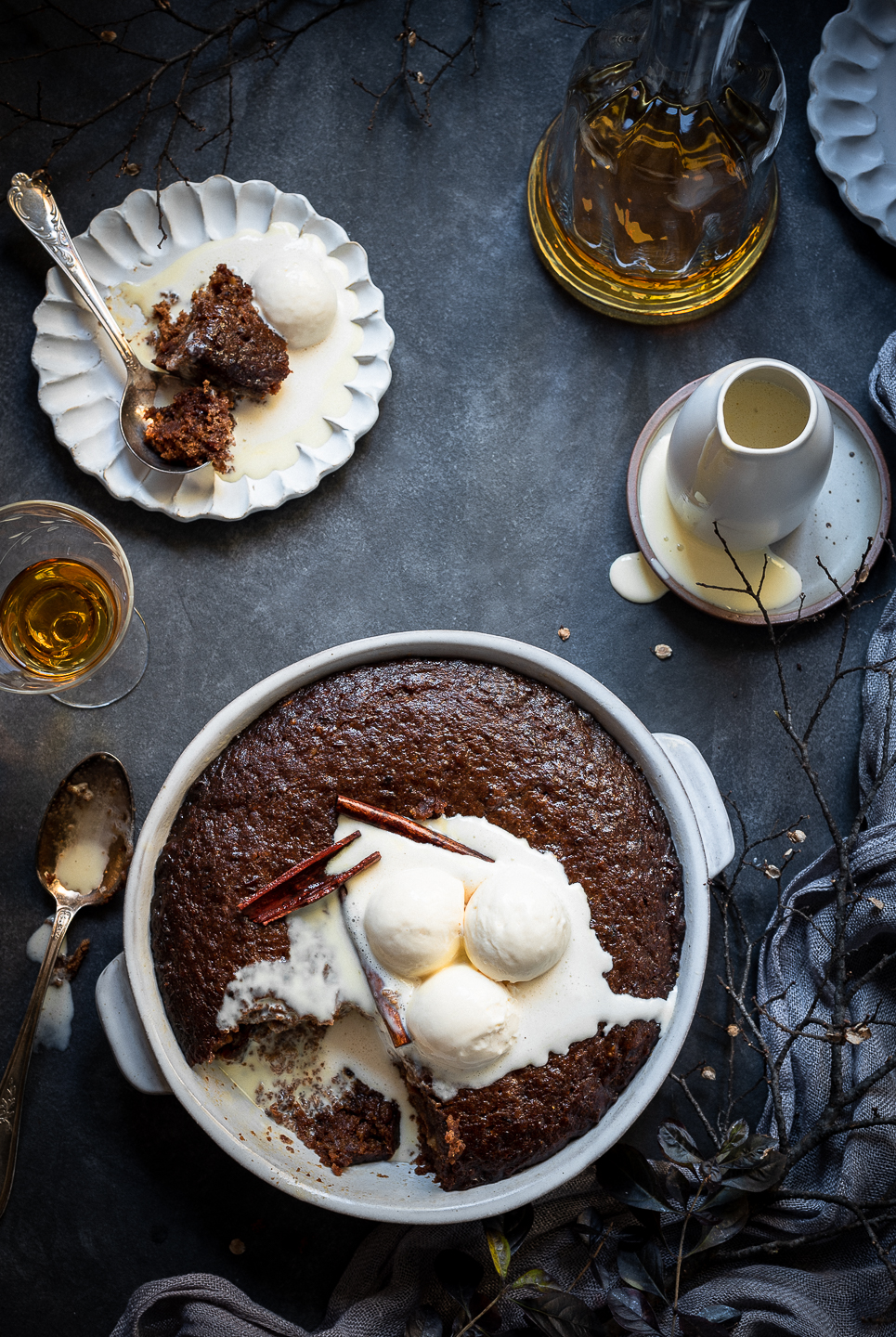 Whether you know it as Cape Brandy Pudding or Tipsy Tart, there's no mistaking the intoxicating vigour of this sticky baked pud. Made with nature's caramel, Medjool dates, pecans and warming spices, it remains one of my most loved winter puddings. It taste like Sunday lunch at my mother's – homely, comforting and doused with nostalgia.
My deviation from the original Cape Brandy pudding is a matter of personal preference but really delicious. Using treacle syrup and demerara sugar in the batter adds a deep toffee-ness to the sponge. For spicy warmth, I add ground cinnamon and mixed spices too. The soaking syrup is infused with whole cinnamon and vanilla beans, a combination that elevates this classic South African Cape Brandy pudding to another level.
Cape Brandy Pudding or Tipsy Tart, as it's also fondly known, is as much about the dates as the distinctive brandy sauce. Without the brandy soaking sauce, it would be more of a date cake. Drenching transforms the spongy cake into a luscious pudding-like texture. When it comes to the sauce, a heavy hand can only be advantageous. If you're going to skimp on the brandy, delegate the task to a generous soul.
The recipe for this Cape Brandy Pudding is rather ample. Whenever I make it, I know there'll be pudding for days. Often I'll divide the batter between 2 baking dishes, freezing one for later. Mostly though, it's portioned off and handed out to family or friends who're in need of some sweet winter comfort on a chilly night. It takes well to being reheated.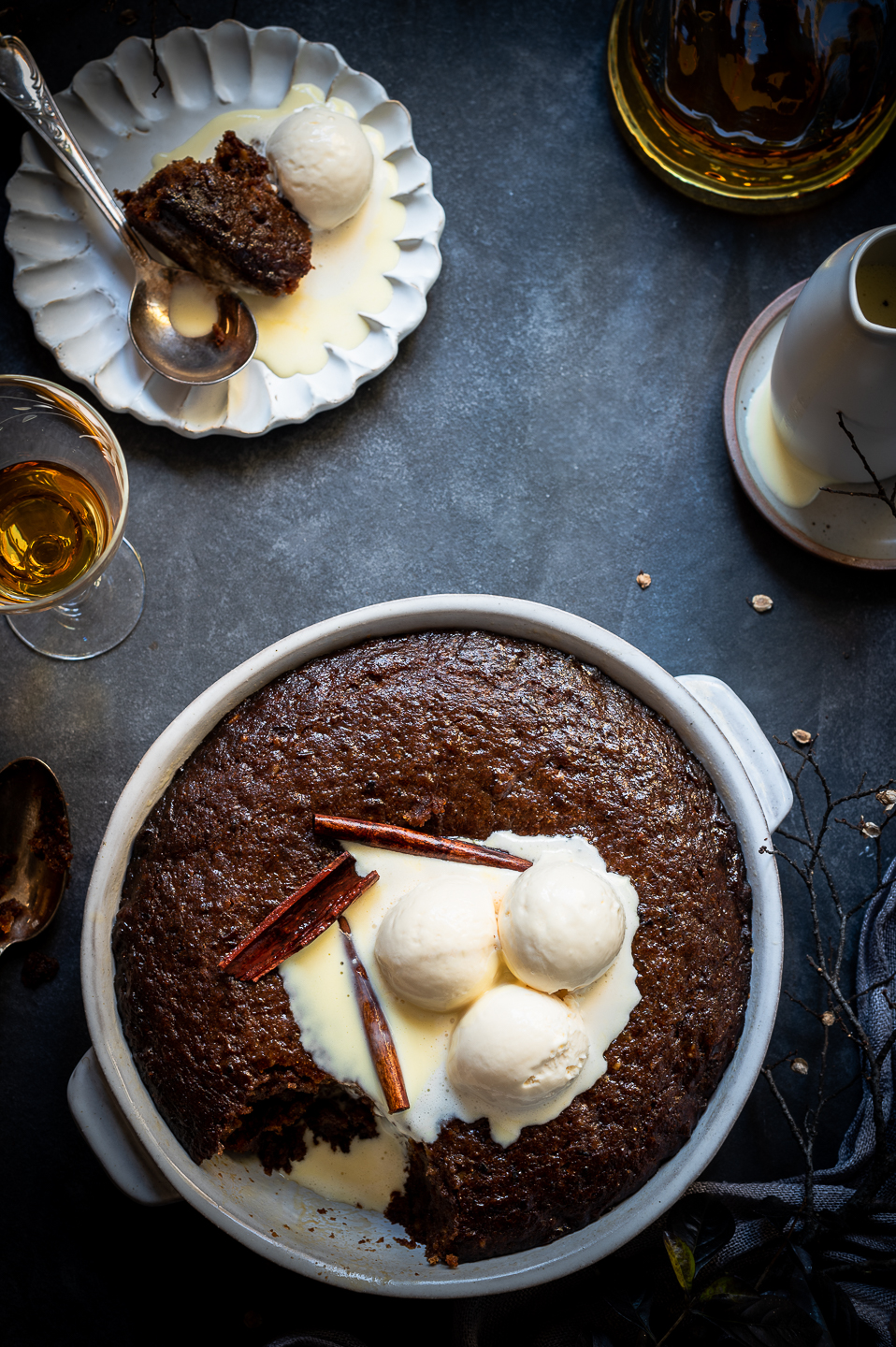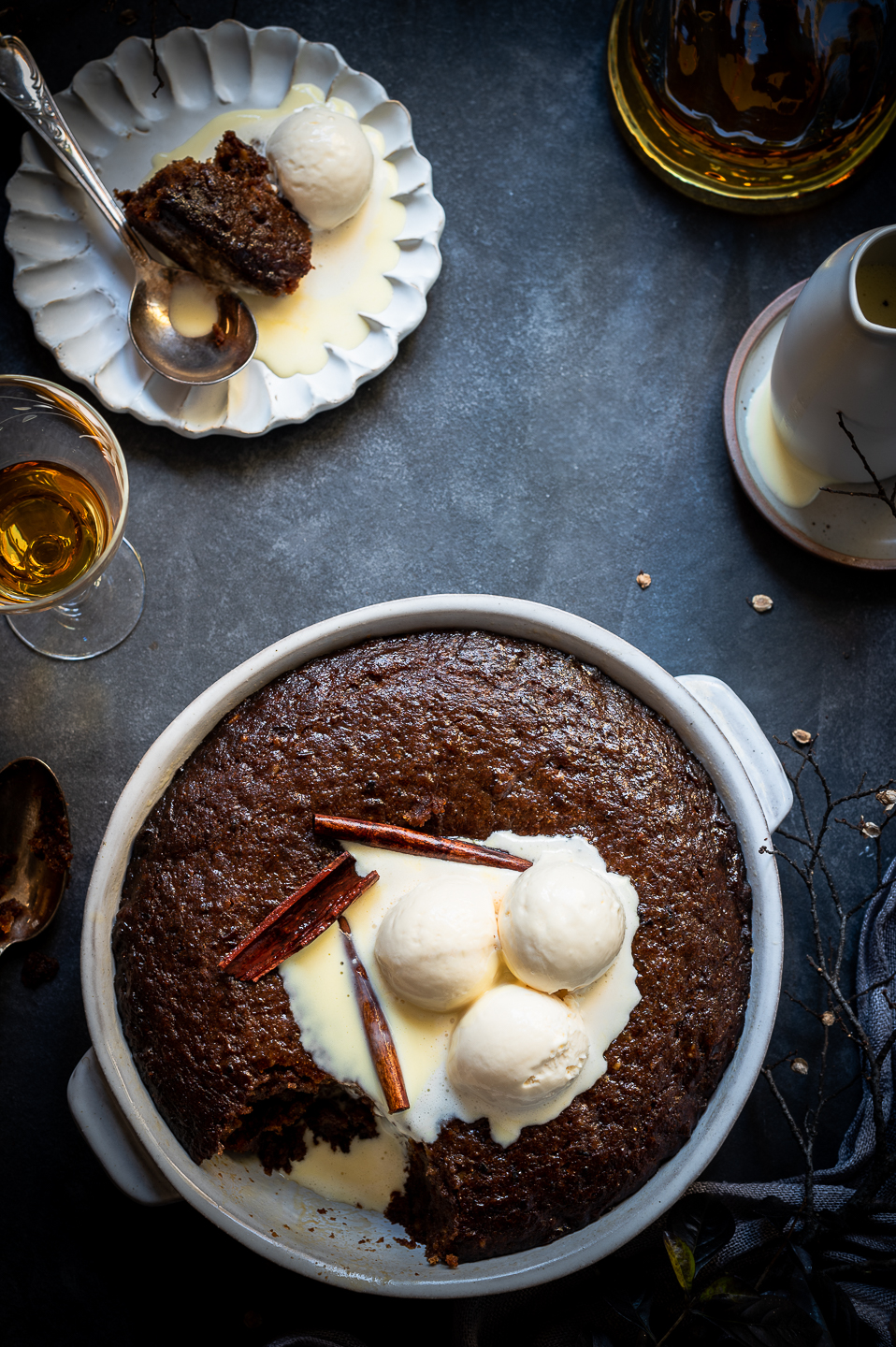 Cape Brandy Pudding
150g solid packed dates, chopped
150g Medjool dates, pitted and roughly chopped
5ml (1 teaspoon) bicarbonate of soda
250ml (1 cup) boiling water
130g butter, at room temperature
3/4 cup demerara sugar
60ml (1/4 cup) treacle syrup
2 eggs
300g (2 cups) cake wheat flour
5ml (1 teaspoon) baking powder
1 1/2 teaspoons cinnamon
3/4 teaspoon mixed spice
1/2 teaspoon ground cloves
1/4 teaspoon fine salt
1 cup (100g) pecan nuts, toasted and roughly chopped
Cape Brandy Pudding Sauce
60g  butter
1 1/4 cups granulated sugar
320ml water
2 cinnamon sticks, roughly broken
1 vanilla pod, split and seeds removed
pinch salt
160ml brandy
Preheat the oven to 180º C. Grease a large (22cm x 35cm) oven-proof baking dish. Place the dates and bicarbonate of soda in a heatproof bowl. Pour the boiling water over the dates and stir through. Set aside for at least 10 minutes for the dates to soften and cool. In a large mixing bowl, cream together the butter, demerara sugar and treacle syrup. Add the eggs one at a time, beating well between each addition. Sift in the flour, baking powder, cinnamon, mixed spice and salt. Beat on a low speed to combine. Fold through the soaked dates and pecan nuts. Spoon into the prepared dish and bake for about 50-55 minutes. Before removing from the oven, always check with a skewer for doneness.
In the meanwhile, make the syrup. Place the butter, granulated sugar, water, cinnamon sticks and vanilla seeds and pod in a small saucepan. Bring up to the boil and simmer for about 5 minutes to reduce slightly. Remove from the heat and add a pinch of salt and the brandy.
Pour the hot syrup over the tart as soon as it comes out of the oven. Serve the brandy pudding warm with softly whipped cream, custard or vanilla bean ice cream.
For more delectable South African classics, here's where to look.