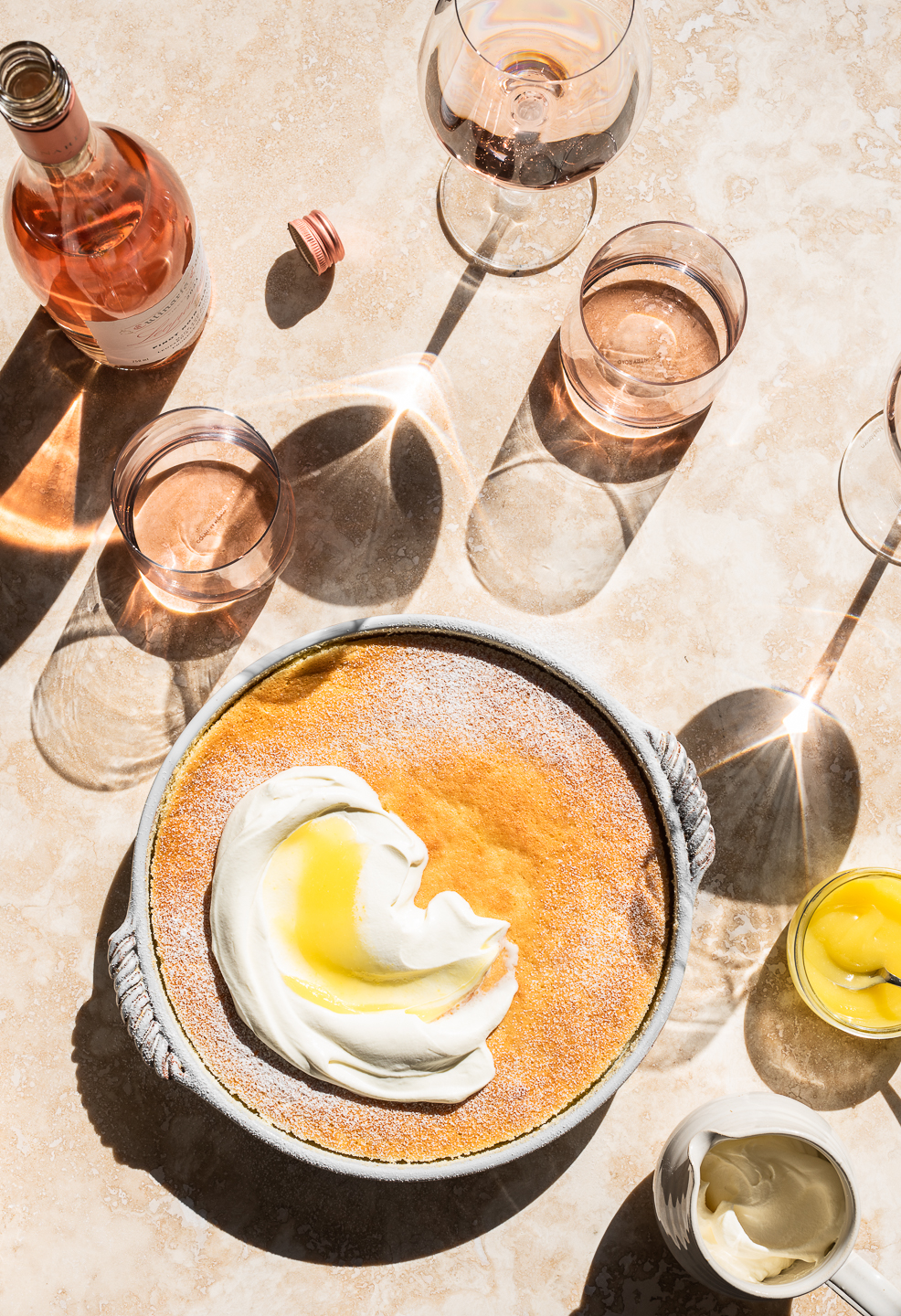 There are always secrets, aren't there? To make the best Lemon Delicious Pudding, adding lemon curd to the batter, ramps up the lemony-ness of what is, my new favourite baked pud. With a souffle-like sponge and lemony sauce, it rivals the best of baked desserts. It's not a self saucer, although similar in taste, but with a thicker, almost creamier sauce beneath the sponge. The sponge texture is lighter than that of a self-saucing pudding, whisked egg whites doing their bit to support the fluffy rise. It's melt in your mouth delicious and even better, served with softly whipped cream and a swirl of golden curd.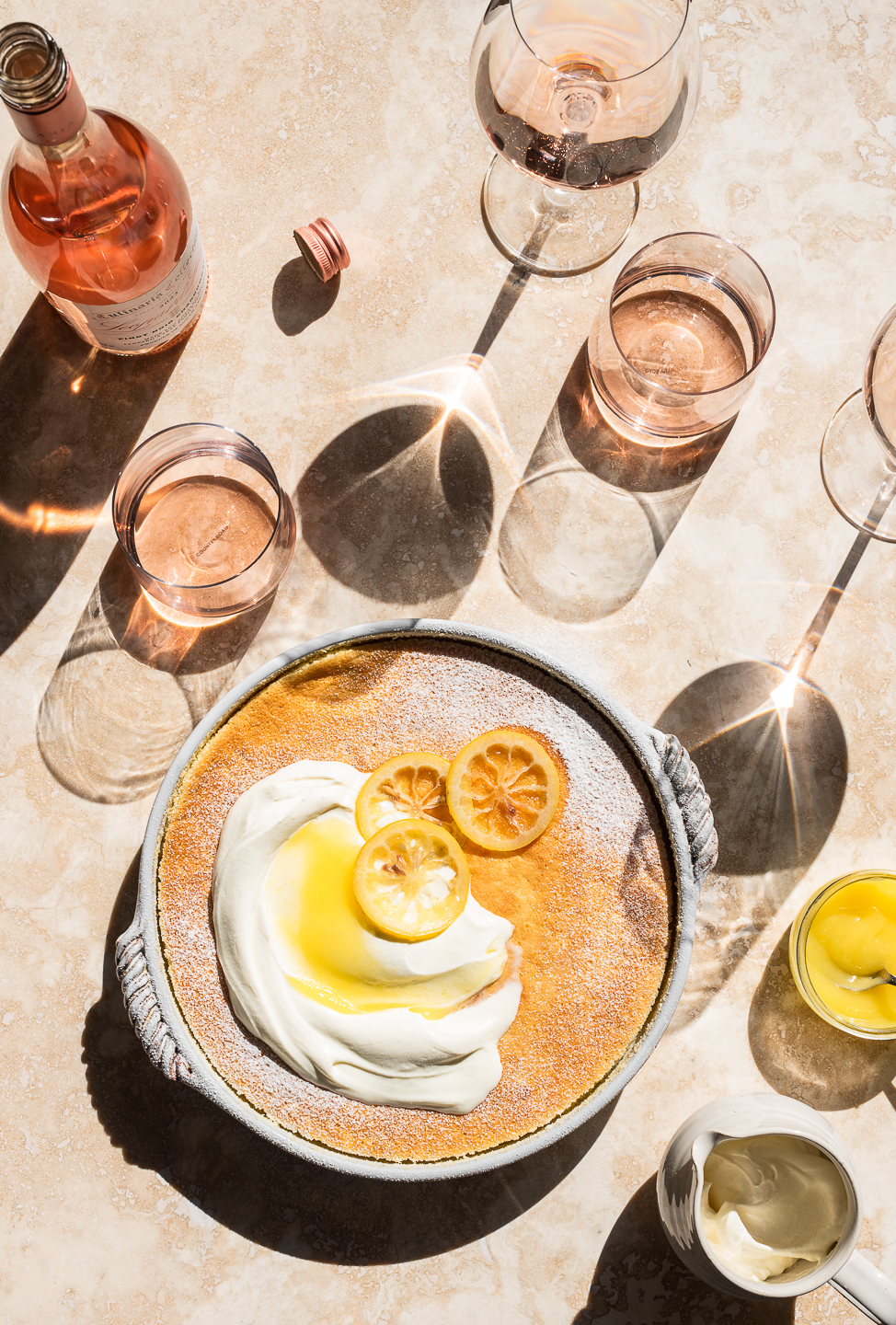 Every cook should have a repertoire of failsafe recipes, not just for convenience, but for when you're in a pinch and in need of a trusty  faithful. This lemon delicious is a go-to. My mother makes a very similar one, but with orange. It's really good, but not quite as gutsy as this lemon version. I love the tartness of it – bright and zingy, not heavy at all. Here, I've paired it with Leopard's Leap Culinaria Pinot Noir Chardonnay. This rosy-hued blend is made up of Pinot Noir 75% and Chardonnay 25%. Both varietals are fermented separately, then expertly blended to create the perfect balance between Pinot Noir and Chardonnay. With an early ripening period, harvesting is early in the season, ensuring prominent fresh fruity flavours – pomegranate, raspberries and grapefruit.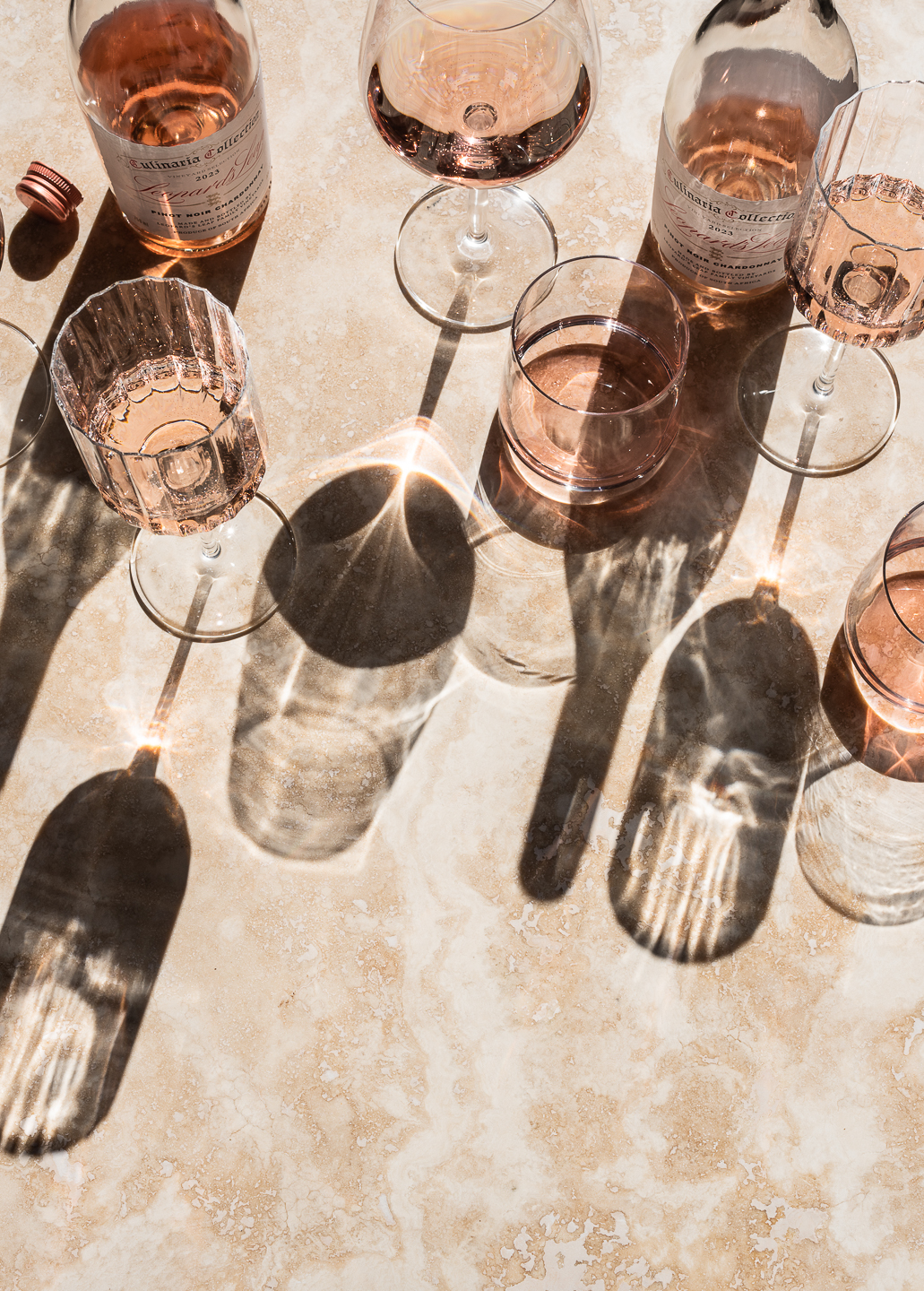 Simple tips for the best Lemon Delicious Pudding
Always use freshly squeezed lemon juice
Eggs size is x large
Homemade lemon curd is best. Here is the one make most often
Baking in a water bath ensures even cooking
Remove the baking dish from the water bath as soon as the cooking time is up.  Left in, it will continue to cook.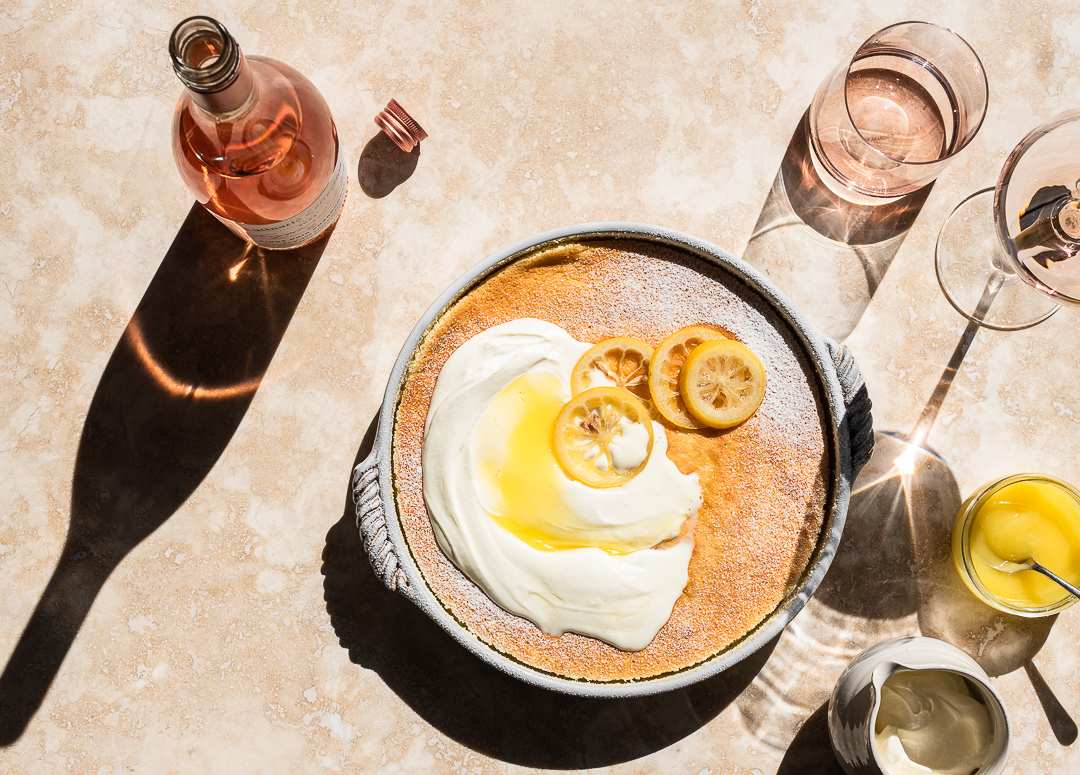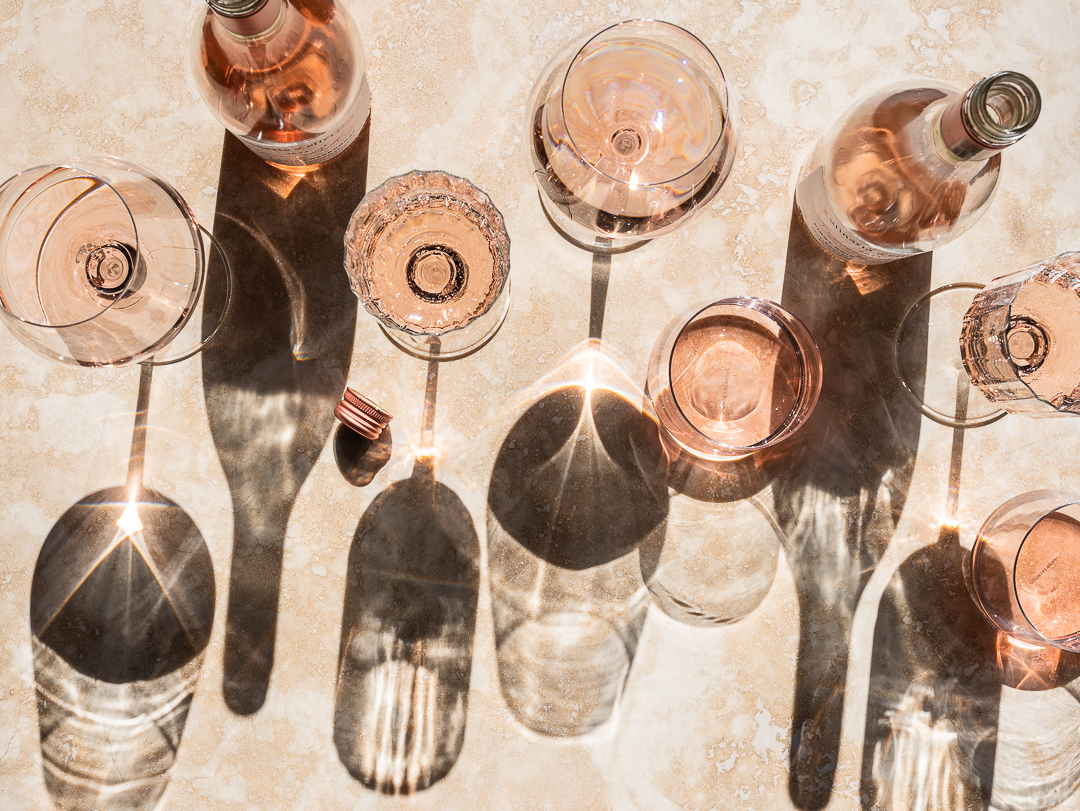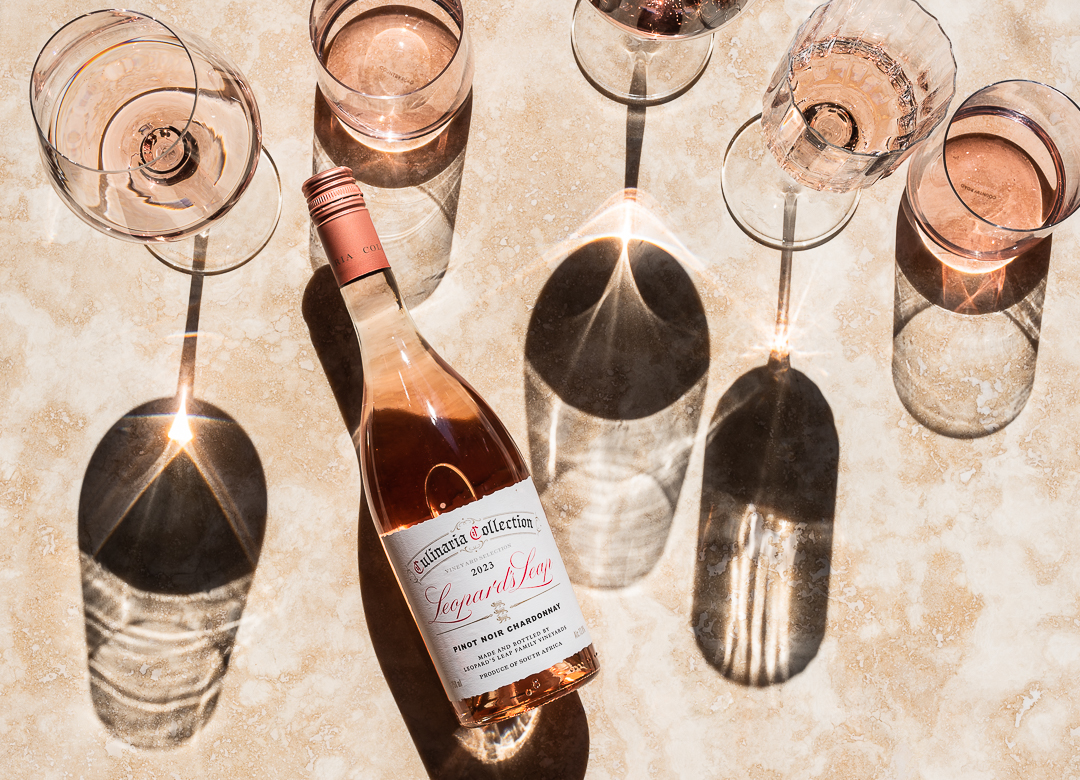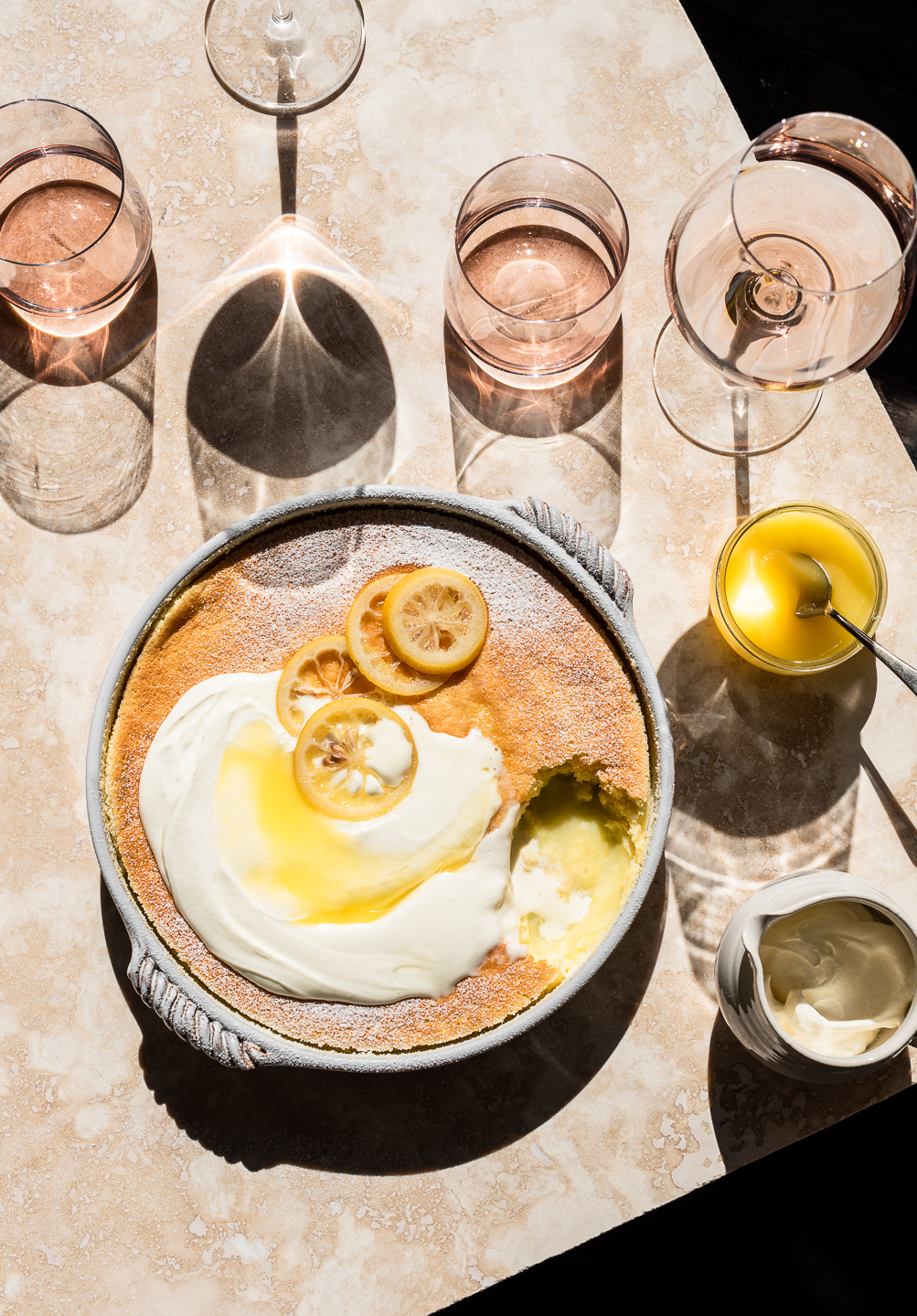 Lemon Delicious Pudding
Serves 8
70g butter, softened
240g castor sugar
4 eggs, separated
zest of 1  1/2  lemons
60ml (4 tablespoons) lemon curd
5ml (1 teaspoon) vanilla extract
70g cake wheat flour
 a pinch of fine salt
100ml  fresh lemon juice
340ml  milk
Preheat the oven to 180 º C.
Butter a 25  – 27 cm baking dish.
Whisk the butter and sugar together until light and creamy.
Add the egg yolks one at a time, whisking well between each addition. Mix in the lemon zest, curd and vanilla.
Sift in the cake flour and salt, mixing on a slow speed until the batter is smooth and free of lumps.
Add the lemon juice and milk in a slow and steady stream.
In a separate bowl, whisk the egg white until soft peak stage. Fold a third of the whites into the batter and mix thoroughly.
Fold the remaining egg whites in gently to retain as much air as possible. Pour into the baking dish.
Place the dish in a large roasting pan  and half fill with boiling water. Bake for 40-45 minutes until golden.
Remove the dish from the water bath immediately to stop the cooking process.
Serve warm with softly whipped cream and a pot of lemon curd on the side, if you like. Or good vanilla ice cream.