Cape Malay Coconut almond date balls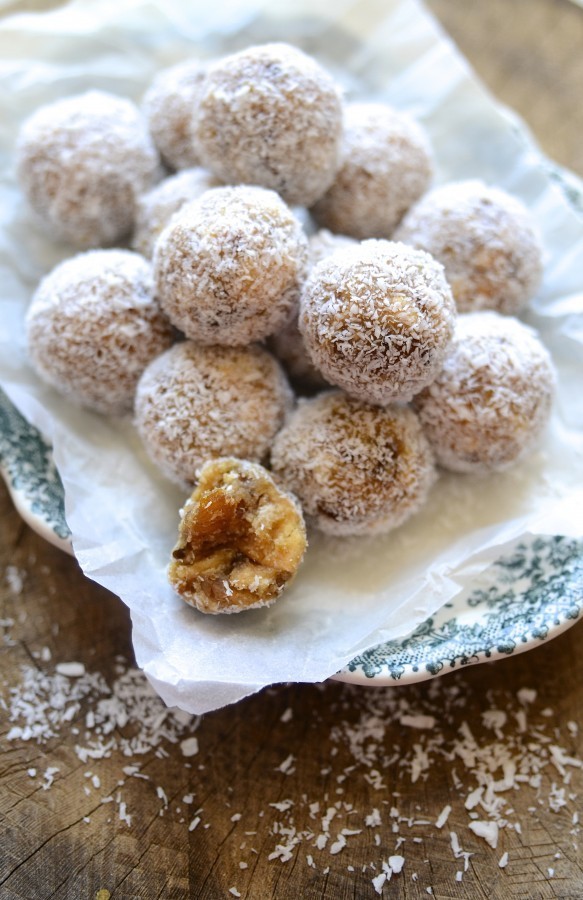 Sweetmeats versus sweetbread. I know. Not really a common or perplexing issue for most, but I'd really like to know who gets to call things as they are, or in this case, as they're not? A sweetmeat is a delicacy made with preserved fruits, such as these date balls. There is no meat involved, I repeat. A sweetmeat is meat-free! What?! Sweetbread on the other hand, better known as offal (a local speciality), consists of brain, tongue and a few other choice parts. The bread connection is completely lost on me. However, what will restore some sense of clarity to all this crazy talk, are these scrummy coconut almond date balls, made from medjool dates, not meat. Just sayin'.
If you're not familiar with medjool dates, they're soft, sticky and almost toffee-like in texture. They're also believed to retard the outer signs of ageing. Whether there's any scientific proof of this, I have no idea. In the meanwhile I'm ploughing through these with the optimistic hope that the theory is true. If I get a Happy 30th birthday card this year, I'll know it's working.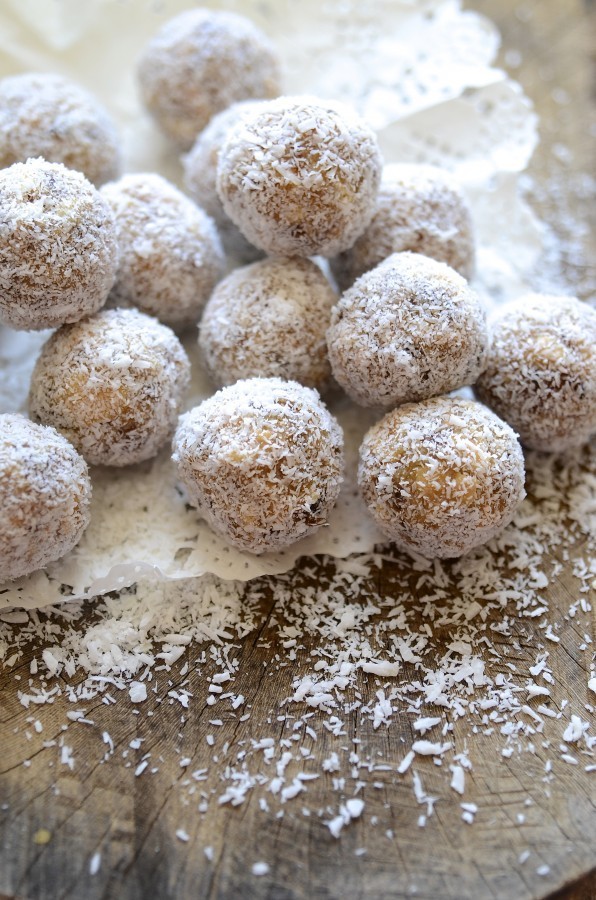 Onto the date balls then. The practicality of bite-sized food means you can just pop one into your mouth, followed by a second, third and at a push, maybe even a fourth. Take meatballs for example. They're right up there, as is Mrs Ball's Chutney (so good with this curried chutney chicken tray roast), which is obviously not a ball, but legendary in South Africa, so worth a mention. These dinky sized sweetmeats are perfect as an in-between snack or to serve with after dinner coffees.
Medjool dates are softer and stickier than dried dates and therefore perfect for these tasty morsels.  I've added some honey and ground almonds which adds a nutty flavour and helps to bind the mixture together. Finished off in a fluff of coconut, these date balls are this weekend's delectable treat.

Cape Malay Coconut almond date balls
250g medjool dates, pitted
15ml honey
20g butter
15ml lemon juice
15ml water
1 egg, lightly whisked
200g coconut biscuits, roughly chopped (Tennis biscuits)
40g ground almonds
desiccated coconut, for finishing
Chop the dates into smallish pieces. Place in a saucepan, along with the honey, butter, lemon juice and water. Stir over a medium heat until the butter is melted and the dates start to break up. Turn the heat off and whisk in the egg. Stir thoroughly and allow the residual heat of the stove to cook the egg.
Add the biscuit pieces and ground almonds. Chill the mixture for 30 minutes before rolling into walnut sized balls and coating with desiccated coconut. Chill for an hour or two until the date balls are cool and firm. Store in an airtight container in the refrigerator.